Dancing on the ceiling
This glowy flowy jellyfish-like pod of ballerina pendants are hanging (or maybe rather "floating"?) from the ceiling in one of Stockholms more popular waterholes – hot spot/resto Sturehof. The design dates back to 1997 and Swedish designer Jonas Bohlin. The retail price of one individual pendant, called "Liv Lampan" (Swedish for "The Life Lamp") is approx 4900SEK (about €560/785dollars/£485)…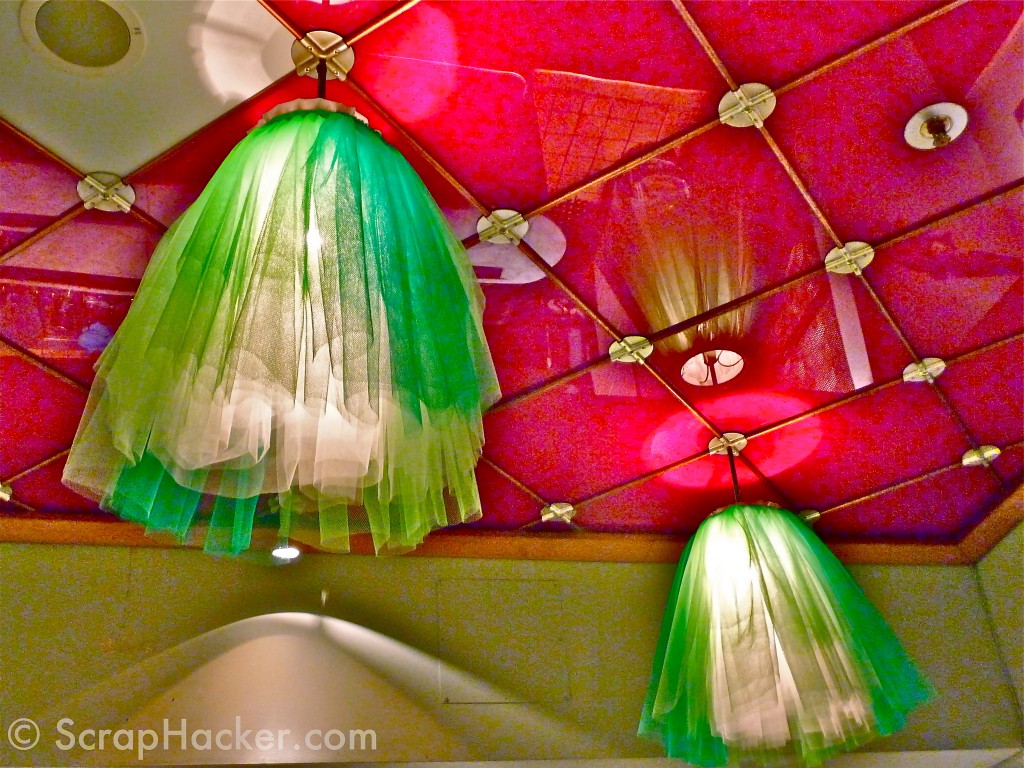 As €560/785dollars/£485 is too pricey for many (or at least to pricey for a whack lamp) i´ve gathered a set of instructions in order for you to make your own ScrapHacked version for less than 5% of the designer retail price… 
The Ballerina Lamp D.I.Y
D.I.Y Ingredients
A naked lamp wire frame (≈15 dollars) Tulle fabric or an old ballerina skirt (≈10 dollars) Needle & Thread (≈50cents) Lamp Lead (≈5dollars) Light bulb (1 dollar) TOTAL: ≈30 dollars…
1. Strip a lamp shade (or buy a naked one…)
Lamp shades of this type are generally available at hardwear stores with a big assortment.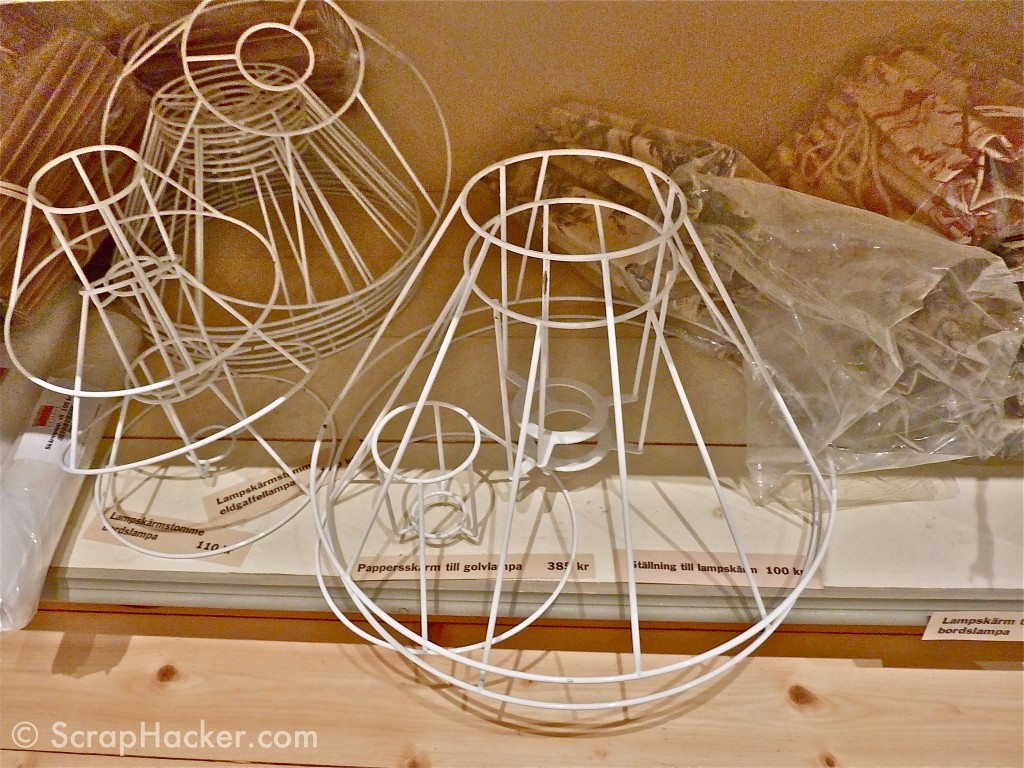 2. Re-Use or Buy some fabric
Have and old ballerina skirt lying around? If not, rest assured…tulle fabric is common, at a fabric store with a decent assortment, you´ll have plenty of colors to choose from. The orginal "Liv" lamp has a couple of layers of different shades of green. It´s your choice to go either multi-color or opt for monochrome…The quantity of fabric needed depends on your choice of "fluffiness" factor. Personally, I kind of like fluff so I´d go with 3 meters.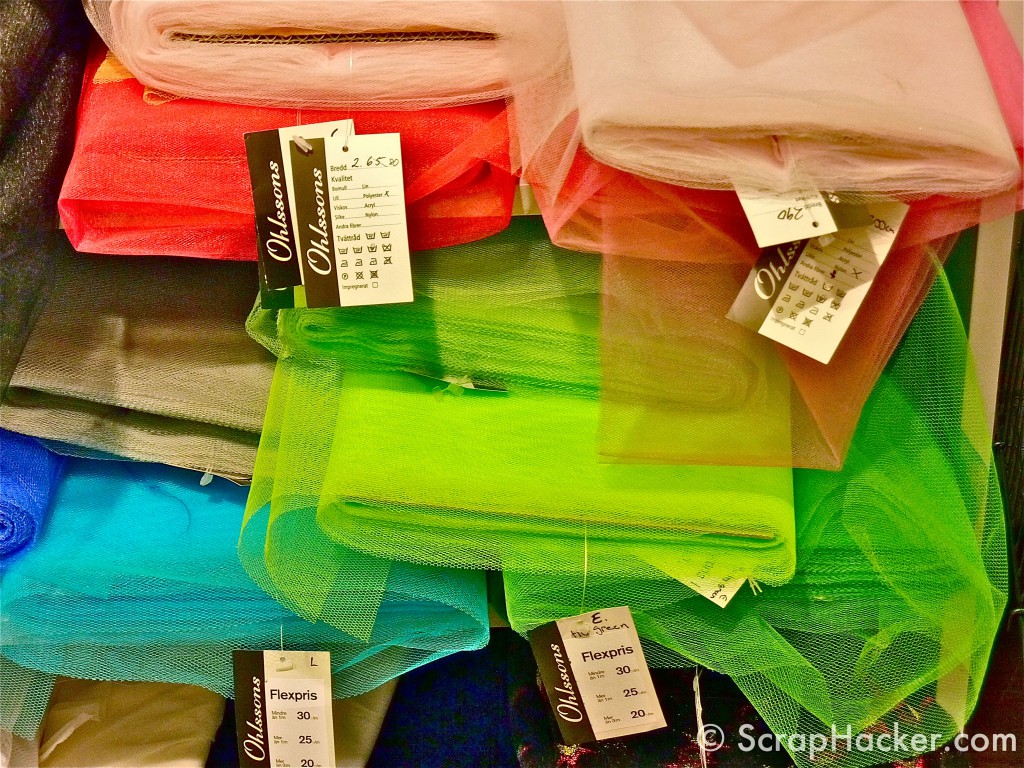 The price at the store I went to was about 25SEK/meter.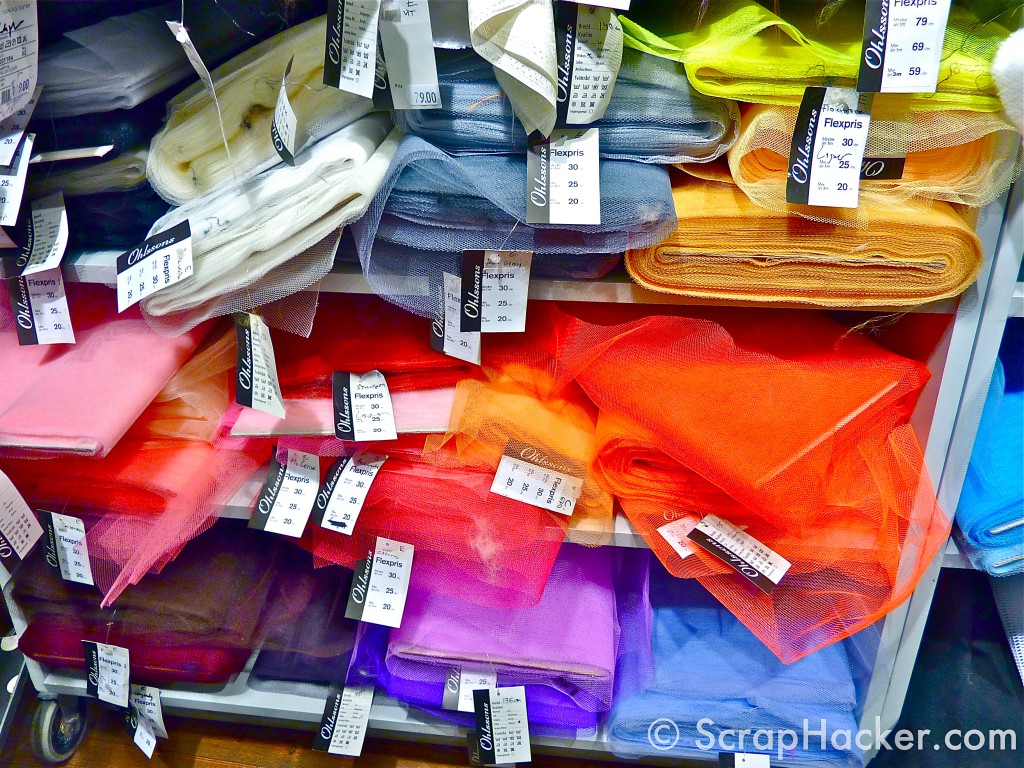 3. Grab your needle & thread…
Feel anxious about this step? Don´t. Nip & tuck layers of tulle on top of the naked lamp shade. Tulle is a very forgiving fabric as its full of holes already – hence, misstakes are easily fixed…Use a thick thread or use a loop/double thread.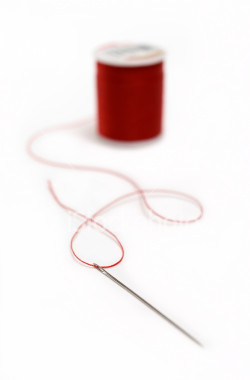 4. Lamp Lead + Bulb
Check the type of socket you have at your house, and go to the hard wear store to find a lamp lead that matches those requirements and that has a cord with an appropriate length for the look you want. This lamp lead example is from ClasOhlson. Regarding the choice of bulb – pick carefully with consideration to the following:
1.) Choose a low Watt-number or any kind that doesn´t easily get overheated! 2.) Respect the potential dangers of overheating –  make sure there´s a safety distance between the fabric and the bulb!

5. Admire the result!
I´m sure it´l look great! And best part is – you will feel great after some great ScrapHacking Action!  Here´s a
pic from a blogger
who also thought of this hack and made a pink version…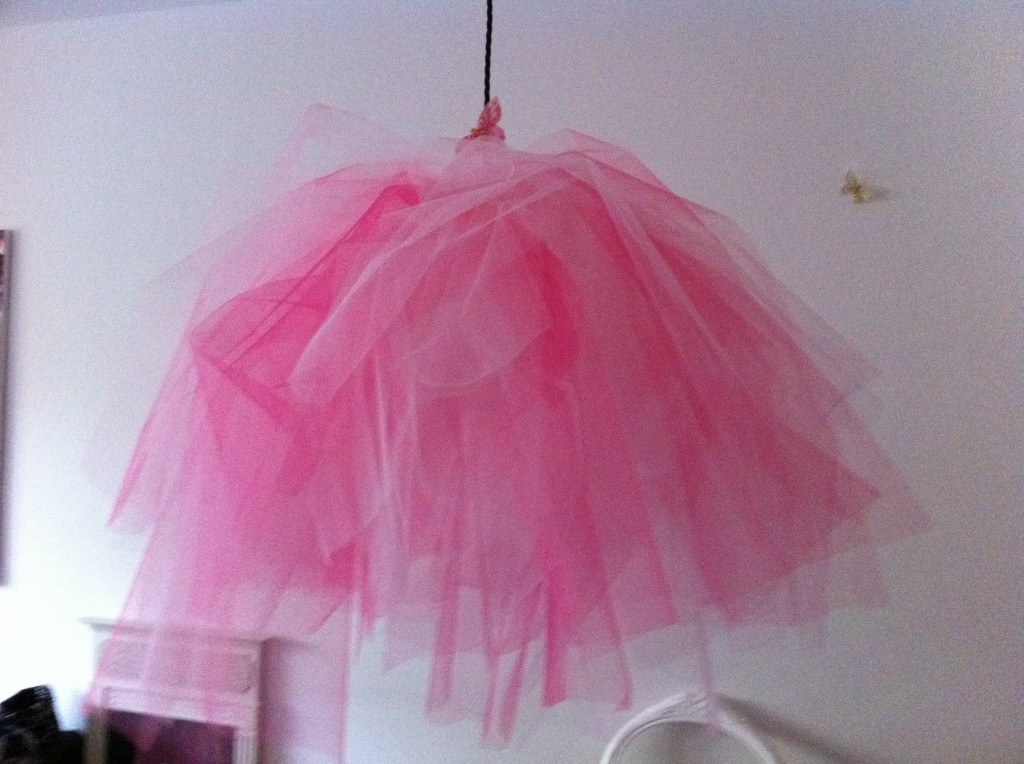 Should you wish to admire the designer glory of the original pendants head here:
Sturehof, Stockholm