Shipwreck Chic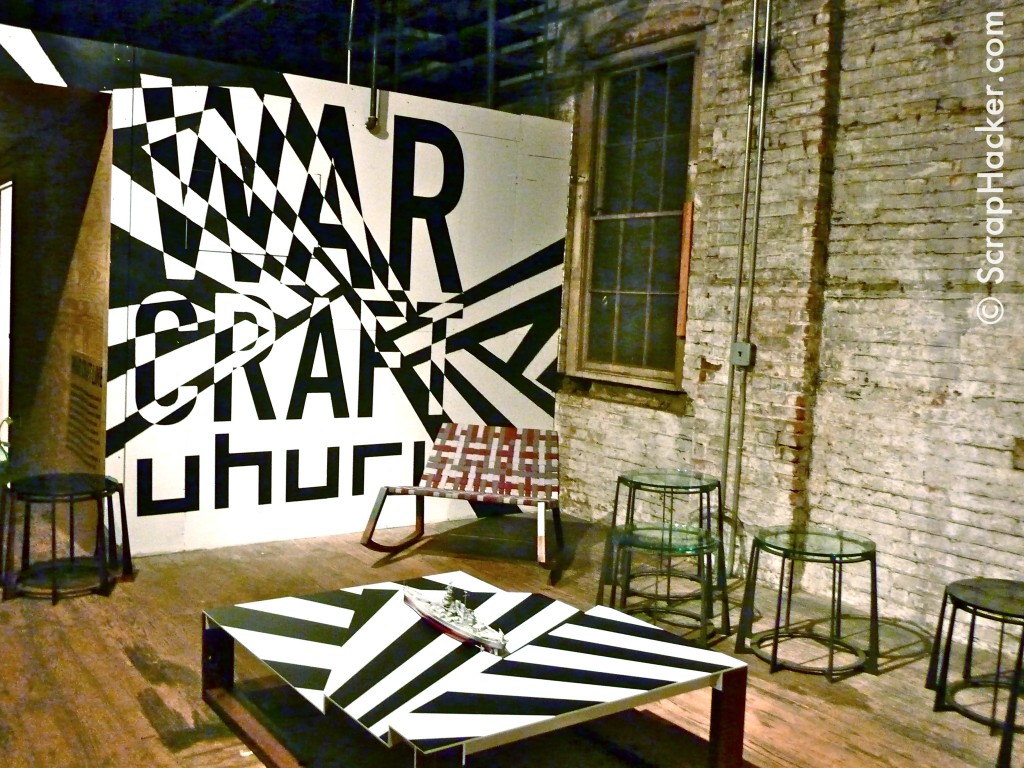 I stumbled across The great War Craft Line by Uhuru at the NDD Space on Manhattans East 3rd Street in May of this year. Immediately, I was struck by the genius of team at Uhuru, which have built the line from reclaimed teak from the upper deck of the decommisioned USS North Carolina, a battle ship that was built in a shipyard in Brooklyn in 1930 and which came to serve during WW2. The War Craft line features 4 distinct pieces, which descriptions I quote from the Uhuru Website:
War Craft Coffee Table Wearing Dazzle
"The War Craft Coffee Table wears an interpretation of Dazzle camouflage that was used on battleships to confuse enemy ships. Through high contrast and disrupted lines, Uhuru graphically breaks up the pattern for a functional coffee table. The levels represent the decks of the battleship, with framework inspired by nautical forms. The top is layered paint on aluminum, and the base consists of solid wood legs"

Image above from www.arthitectural.com
The BB-55 Rocker
"The sturdy shape of the BB-55 Rocker, named after the North Carolina class of battleship, takes cues from naval design. The forms of the base and seat mimic the curves of the hull and the taper of the bridge tower. The teak base of this low, modern rocker transitions into a steel frame above. Cotton webbing, weaved in a random pattern, forms the seat and backrest. With colors inspired by the original ship, the fractal pattern also references Measure 32 camouflage, which was used on the ship to avoid detection when travelling through open water."
The 16/45 End Tables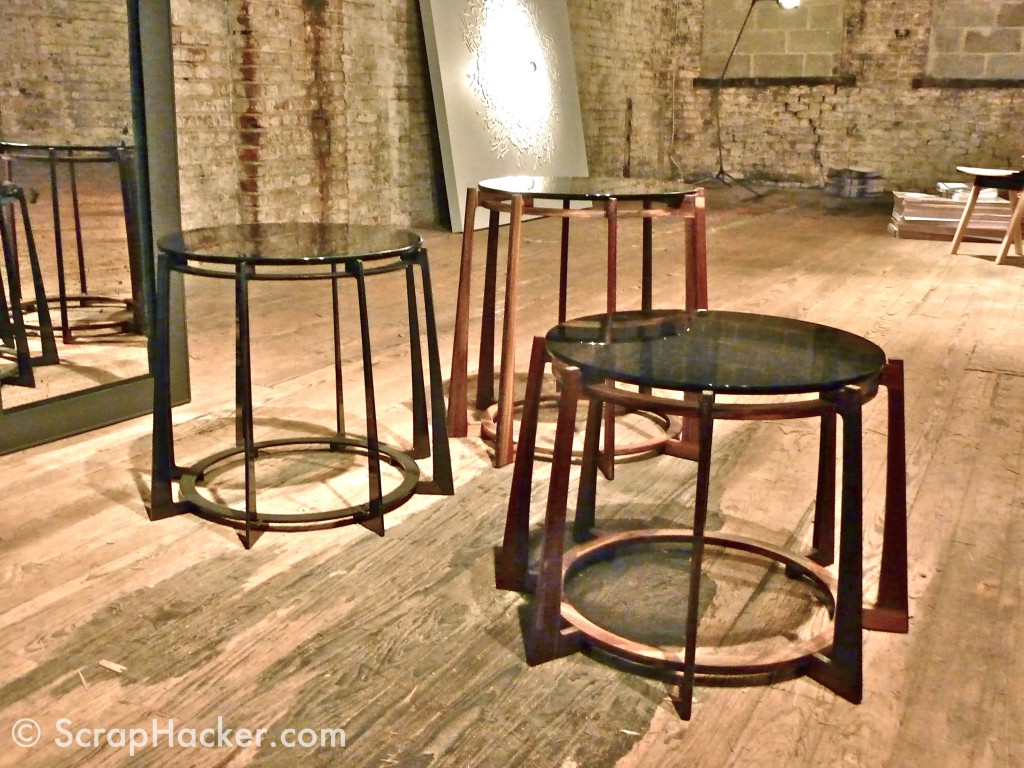 "The 16/45 End Tables vary in size, each referencing the colossal diameter and caliber of the bullets that were onboard the USS North Carolina. The tapered shape of the table supports took subtle cues from the battleship itself. The lightness of the base is a direct contrast to the solid bullets. Crafted out of either teak or cold-rolled steel, the tables support black glass and are available in three heights."
The last piece in the line is the Mark 8 Room Divider which features the life-sife negative silouette of the gigantic bullets that were fired from the ship.  The divider can be seen in middle of the last photo in this post.
Uhuru states that they in the War Craft Line wanted to create a dialogue that respectfully honour souls lost in battle, yet at the same time captures the violence of modern day war craft.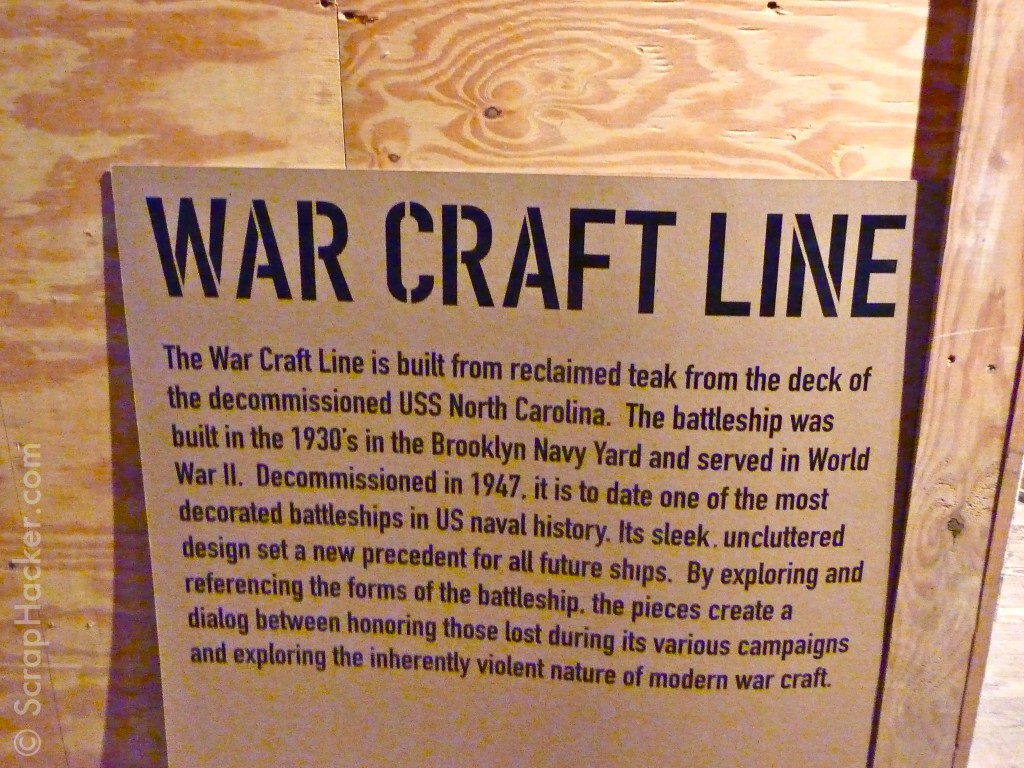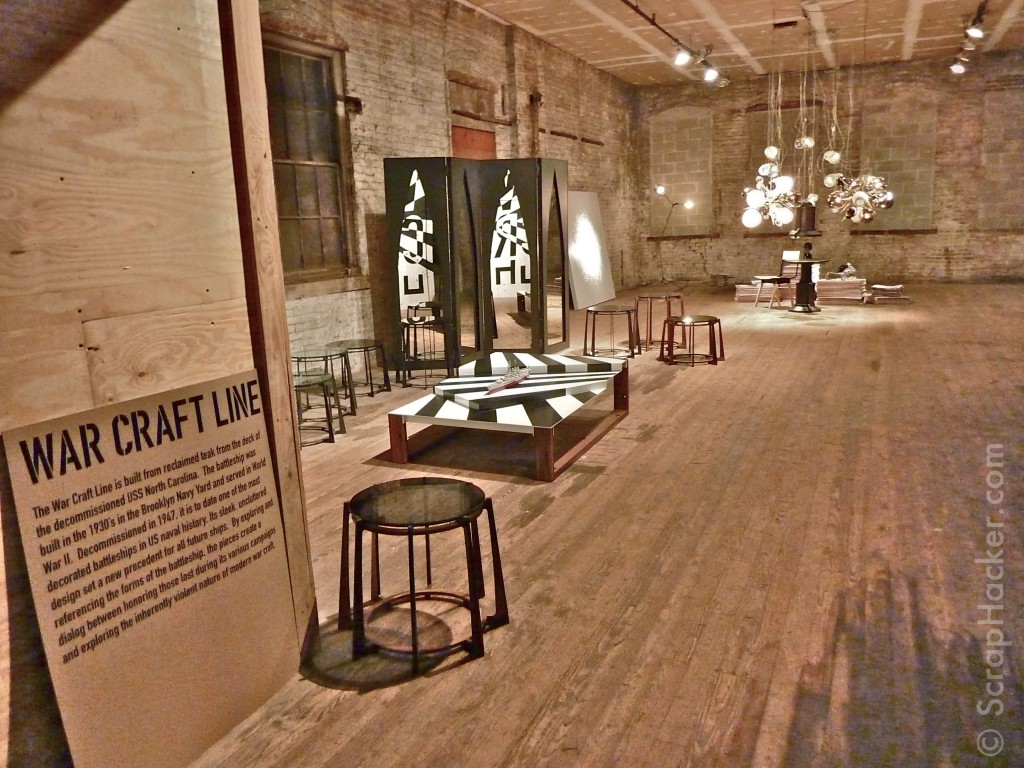 Read more about the War Craft Line on the Uhuru website and find great article about it at ArtHitectural.com (link to article here).