Scrabble Revisited
D.I.Y – Scrabble Magnets inspired by Anthropologie
Basic, simple idea I saw at Anthropologie in London – Scrabble tiles are reborn into a life as magnets.
What you need for the Scrabble Magnet D.I.Y:
1. Buy an old set of Scrabble in a yard sale alternatively, find one in your attic, or use the one you never use…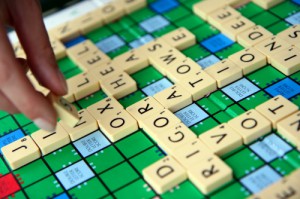 2. Get some magnets from your hardwear store, who often carry Hobby Magnet kits (like this one).

3. Glue the magnet to the back of the Scrabble bits! The magnets have one magnetic side and one non-magnetic side, so make sure you glue the non-magnetic side to the Scrabble bits!
And, voilà – Your very own Scrabble Magnets all ready for action!