Outside the box @ MoMa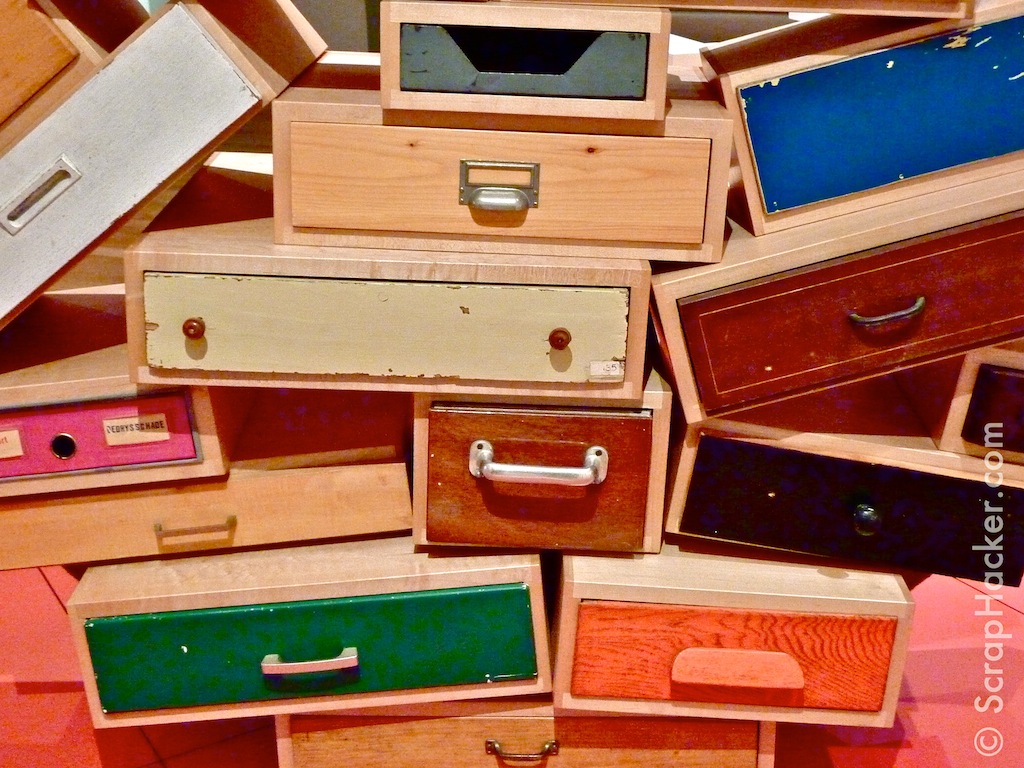 The wonderful "You Can´t Lay Down your Memory" chest of drawers is made out of 20 odd salvaged drawers and held together by a simple buckled canvas strap.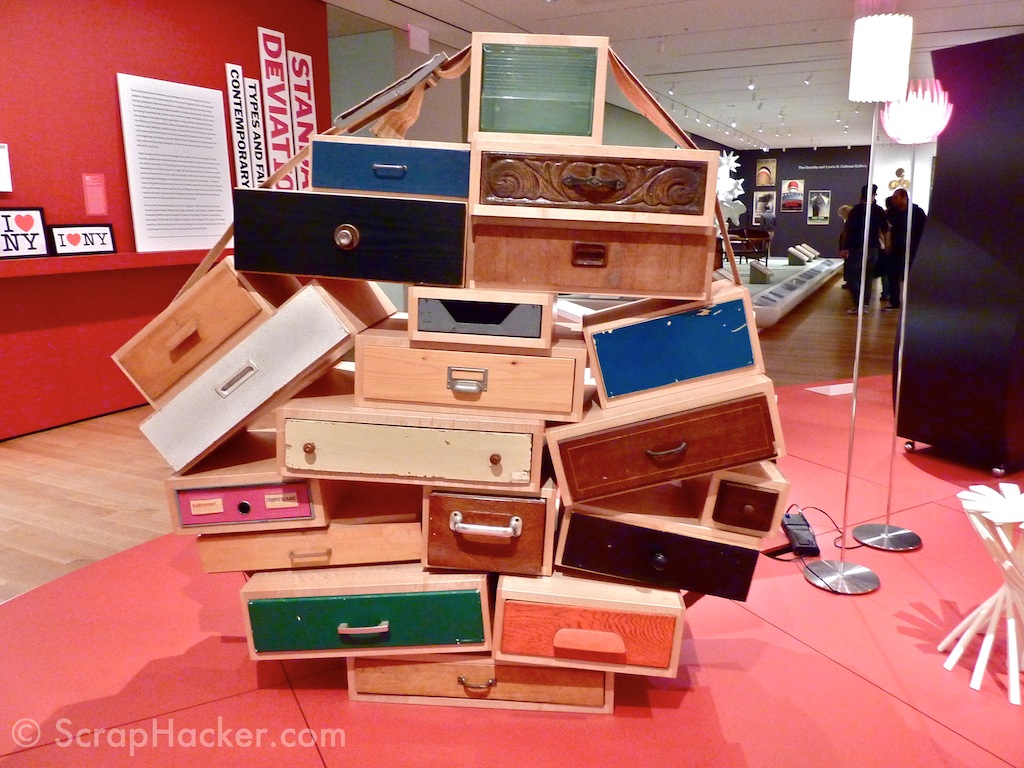 I made the acquaintance of the genius hack at MoMa´s design exhibition on the 3rd floor. The design is by Tejo Remy for Droog and feels more contemporary than its year of birth – 1991.  The clever ScrapHack design makes this beauty ooze with D.I.Y potential!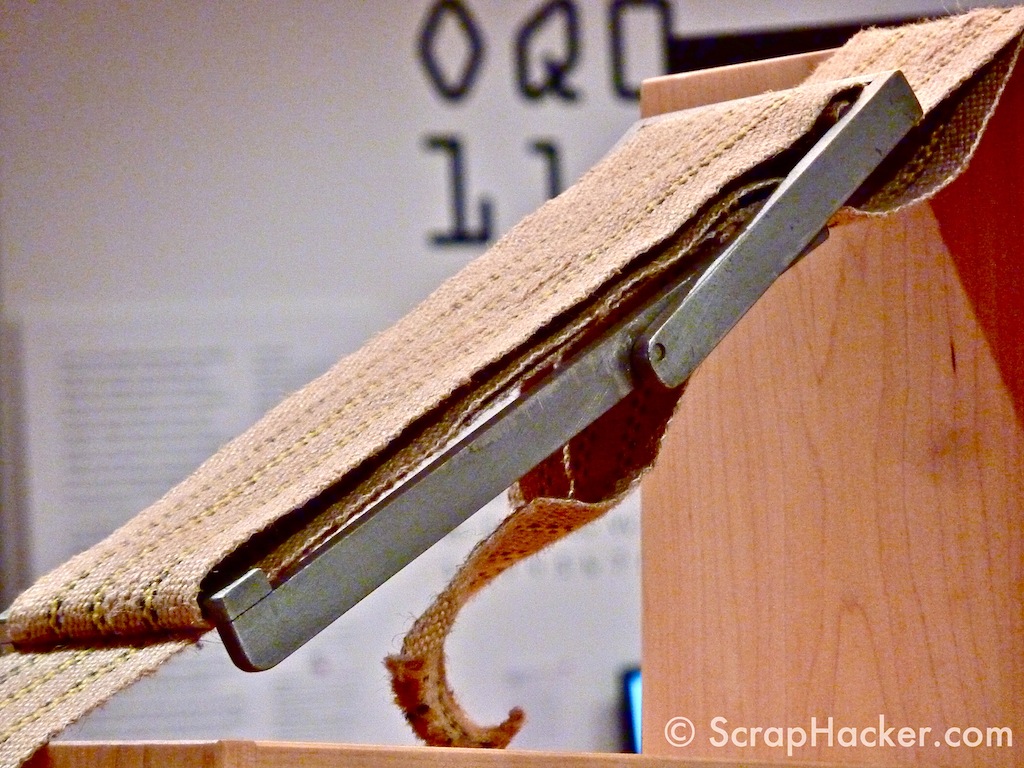 What has been salvaged are the drawer fronts rather than the entire drawers, instead customized new "back office" drawers have been made to suit the set of old fronts – adding an element of consistency and calm to the sprawling creation.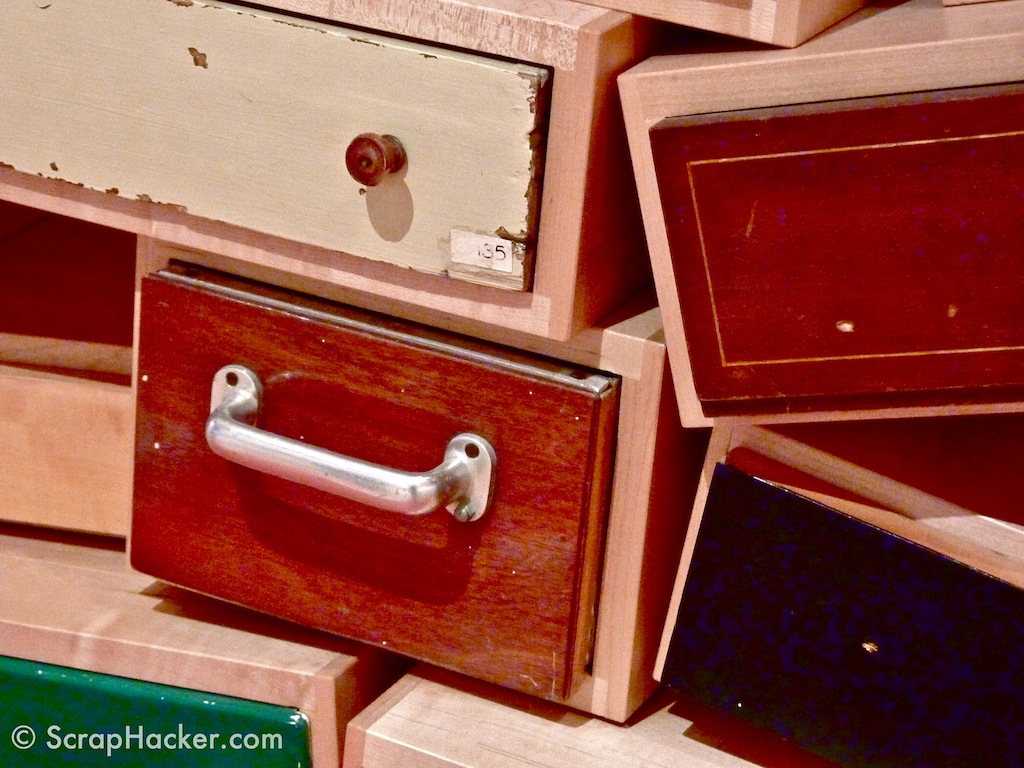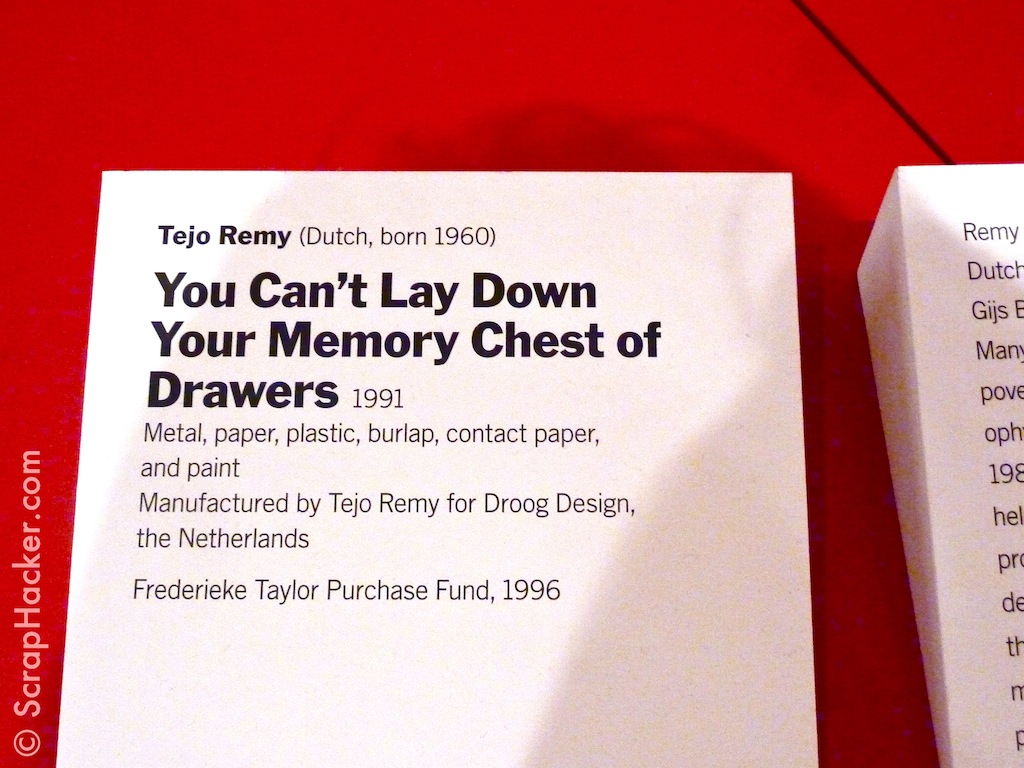 I find the design succeeds in mimicking the complexity of "our stuff", both in a practical dimension and a emotional one. I cant help but think this design says something about how we relate to our things and how our associative networks work. After all, our minds often wander off to places outside the box..Shouldn´t the design in our homes could reflect and embrace that fact? Why does mainstream storage design always want to create the illusion of unison and consistency? Are we not ready to face the complexity of our thoughts and our stuff – Will we ever be?
These questions made me write a short spontaneous essay (scroll to bottom of page if interested).
Visit MoMa @ 11, W 53rd Street, NYC
Same Same but different?
Some thoughts on Black Holes & White Boxes
Black Holes in our universe always seem to have attracted fascinated interest and reflection. Although most of us hardly have one real clue of what they´re about – we know they´re bad and scary. I mean – how else could we relate to a phenomenon that absorbs light sucks everything into a inverted chaotic tornado to destinations unknown?
Whereas the universe struggle with Black Holes – our homes seem to struggle with White Boxes. Just like Black Holes vary in size and gravity, so do our White Boxes. Our White Boxes are the solution to the pressing concern of more storage. White Boxes allows us to stow away that complex network of items we all refer to as "our stuff". White Boxes asks no questions.
However, rather than reflect the inherent complexity of "our stuff", the façade of our White Boxes tells a simplified, censored version. Merely looking at White Boxes from the outside, reveals no clues on what to expect on the inside, a trait shared with Black Holes. If Black Holes absorb light, do White Boxes absorb darkness?
So, what to do? Can we defy the gravity of the White Boxes – the Black Holes of our homes? Or, will everything eventually be sucked in? Will all darkness be swallowed by gleaming White Boxes, just as light is swallowed by bad and scary Black Holes?
By raising those questions I hope to open up for further reflection on the shaping practices in everyday life, and how everyday shapes is shaping behaviors and conceptions about ourselves. Let´s all try to make sure our true needs and instincts are the winners in B&W chess game. Keeping them, and our notion of them, alive & kickin´ seems like the prerequisite for all and any twinkling activity – for minds and galaxies alike.