D.I.Y Graffiti @Home
They say the history of scribbles started about 42000 years ago, in a Neanderthal cave in Spain. Since then, scribbles and graffiti (from the Italian word graffiato, "scratched") has made its way via the caves in Lasceaux, the ancient Roman empire, the art world (with art stars like Jean Michel Basquiat) into our day an age. Still, graffiti has been very much a street phenomenon. That is..until now. This post gathers examples of Graffiti @ Home (a surprisingly rare phenomenon given it's long history). Seen together down here, the graffiti decor examples may seem a bit overwhelming (you'd have to be really into graffiti to go for the full-blown tip-to-toe look). If you just feel like dipping your toes into this style, a dash of D.I.Y graffiti on a sidetable or a chair will suffice to add that spark of that devil-may-care attitude also known as rock'n'roll….

Graffiti Sofas
The awesome graffiti sofa is from the (N.Y.C, East Village) house of Pamela Bell, one of four founding partners of the Kate Spade brand. PS. The elegant shape of the sofa makes the graffiti trick considerably easier to pull off than with your ordinary IKEA one…
here's another Graffiti sofa example, this time with just a painted back
Mirror Scribbles
Some scribbles on a mirror adds instant poetic flair. Go for some sloppy handwriting or kiddie style scribbles to re-create the look, contrast with a gilded frame mirror (Ps. A simple rule: The more lush the frame, The more sloppy handwriting you can get away with…)
below, a more edgy version of scribbles on mirrors…
Graffiti Wardrobes
Given the contemporary fad for crisp & minimal interiors, old chunky wooden wardrobes cost next to nothing in thrift stores. Painting them and adding some drippy paint or graffiti will inject some instant Wow-factor.
Yellow Wardrobe via here & Black/White Wardrobe via here
Wall scribbles
There's a fine line between scribbly cool and scibbly crazy…Here are a couple of examples I think pulls it off. On the left are the D.I.Y wallpaper from street artist Jon Burgerman.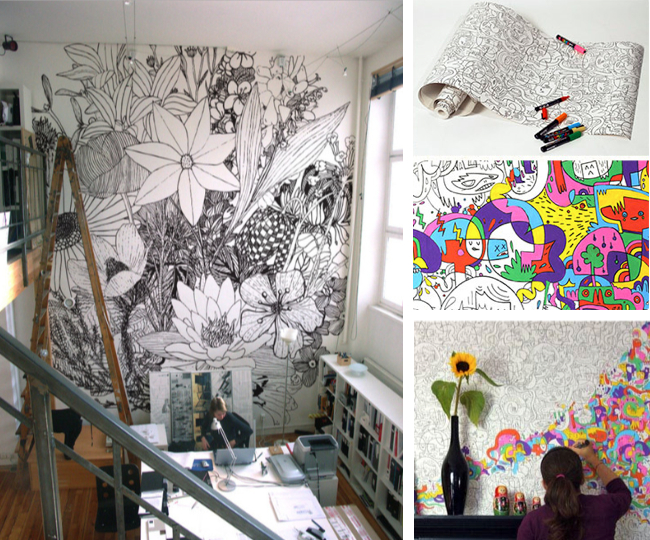 Big pic left via here / Right pics via Jon Burgerman, here
Oversized scribbles are also an option, like in this pic, spotted over here
Scribbles on upholstered chair
Scribbles on wooden chairs
Scribble Bathroom Decor
This Graffiti bathroom sink wall was written backwards and can be read using the large mirror on the back of the door.
Graffiti Lamp Shades
Graffiti Lamp shades is probably the most D.I.Y friendly idea in this round-up. Just grab a white IKEA shade and scribble away!
The last example is over way over the D.I.Y top, but I figured "heck, I'll include it anyway…"
Graffiti (Race Track) room
Japansese duo/"art unit" Paramodel (formed in 2001 by Yusuke Nakano and Yasuhiko Hayashi). The duo name comes from the combination of the words, "Paradise" and "model", and the fusion of these two concepts is essentially the launching point of their creations, in which race track toy parts are used to create graffiti like wall sculptures…read more here.
Now, with those ideas in the back of your head I hope you'll find yourself inspired to get hacky with some Graffiti innovation of your own…
Good Luck Hacking!