D.I.Y 30£ Pallet Dining Table -A 10-step Tutorial
This is my dining table – It cost me a rough 30€ to make. Wanna make one of your own? Follow my 10-step tutorial and you´re as good as home!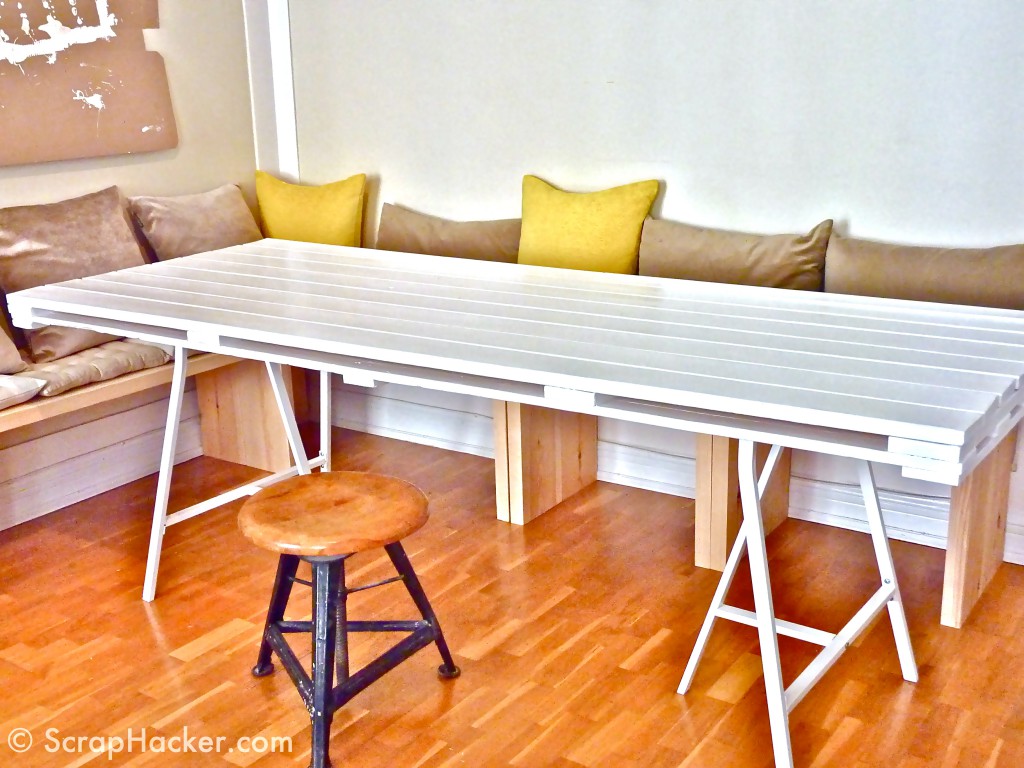 What you need to D.I.Y!
Tools
Materials
A pallet of a size that suits your needs for a dining table (I used one that measured 220cm´75cm)
8 boards for a top plank cover (I used 8 pieces that were 220cm long and 9.5cm wide (as 75 /8=9.5) which totals 17,6meters of 9,5cm board)
Wood Sealant (to avoid yellowish leaks from the natural wood)
High Gloss paint in a color of your choice (High Gloss to avoid stains from red wine and other foods with strong pigments).
2 big plastic garbage sacks
A roll of Protective paper+ some tape to fasten it to the floor with
Glue for wood
Screws to fasten the top planks to the underlying pallet (I used Rotadrills Universal ones in lengths ranging from 2cm – 8cm. If you don´t have a screw kit – get one! You never know what kind of screws you will be needing.)
25-30 Penny Washers (to use with the screws)
Small angle Irons
Trestles (I used IKEA´s VIKA Lerberg which are only £5/each!)
Hardwear to fasten trestles to table top, see details in tutorial (basically I used 8 slotted screws, 8 wing nuts, 4 nail plates, 4 double metal plates, you´ll understand what they look like from the picures of step 8).
Now – Let´s continue to the practical steps!
Step 1. Find a Scrap Pallet
Source a pallet of a dimension suitable to your home & needs. I salvaged one on my block which would otherwise have been chopped to pieces and thrown away (remember to ask before you snatch – stealing is not cool!). The pallet I got a hold of was a rough 220cm long and approx. 75cm wide. This dimension was rather perfect for a "nook" in my living room that I wanted to turn into a dining area.

Step 2. Lumber Yard
The basic idea of the table is to use the stability from the pallet, and to use it as a frame on top of which to nail a top planks. I got my planks from the local lumber yard! As the pallet measured 220´75 i needed to find boards that would cover this area. In preparing the purchase I had to consider 3 things.
Firstly, I new I wanted some kind of gap (about 5mm) between the boards, basically because I like that look and because I think it adds interest to the design.
Secondly, I also new I wanted the planks to run over the entire length of the pallet, some of you might prefer to let the boards run along the width instead.
Lastly, I wanted an even number of boards. As the table isn´t very wide, I thought it wise to make it symmetric to ensure people on both sides of the table could fit both a plate and a glass into a "personal zone". I decided that 8 boards would look good.
These three considerations made me end up with the following list for the lumber yard:
8 boards (220cm) long and 9.5cm wide (as 75 /8=9.5) which totals 17,6meters of 9,5cm board. As wood isn´t generally sold per meter (but per unit, which are about 4.5meters) you need to be smart when chopping away to reduce the spill to a minimum. I bought the cheapest kind of boards, which are pretty "raw" on the surface.
Step 3. Sanding
Before I started working on the big project of sanding the boards, I couldn´t help myself and tried out the construction with a couple of trestles I had, putting the pallet on top and the boards on top of the pallet. As always, this kind of test makes the vision stronger (and more real) and so it got me real motivated to move forward!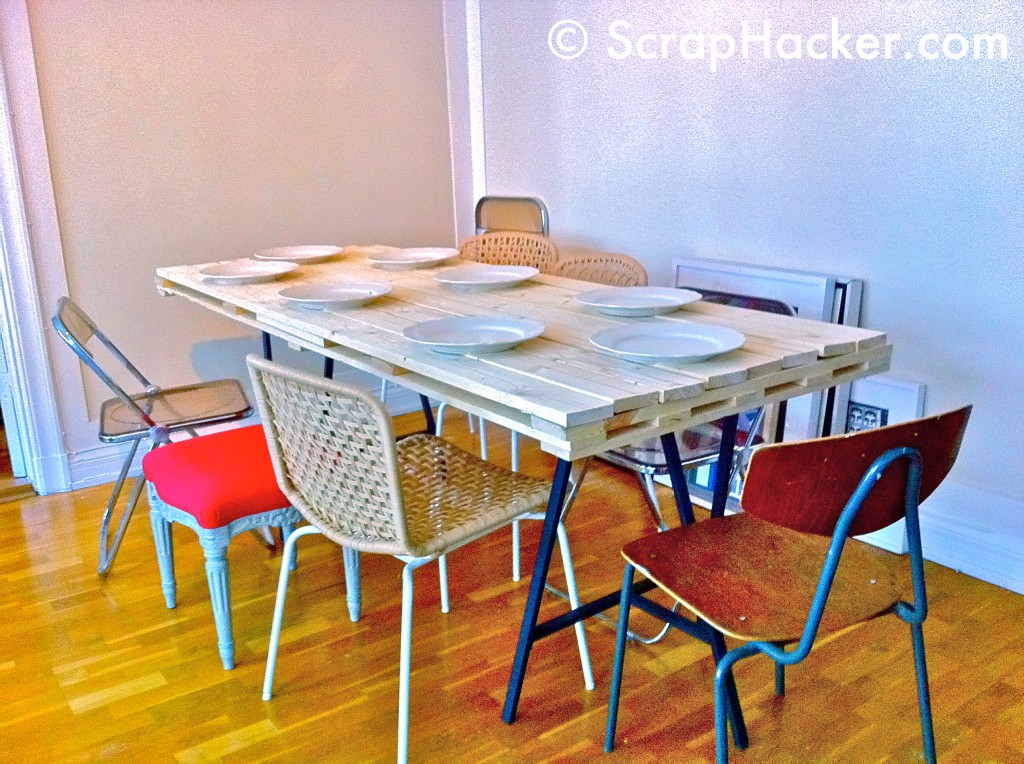 I made good use of the detail sander!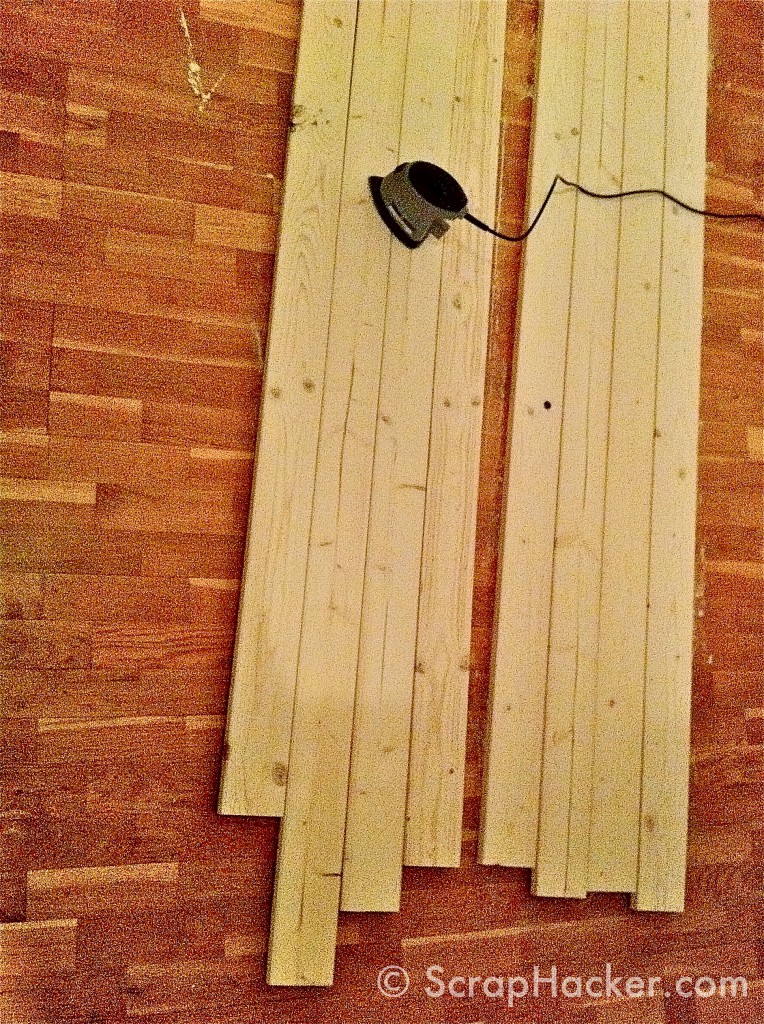 Step 4. Wood Sealer
Some small steps before the actual painting. 1.) Cover the trestles with the plastic garbage sacks and cover the floor in protective carton (you buy that on a roll from the paint shop).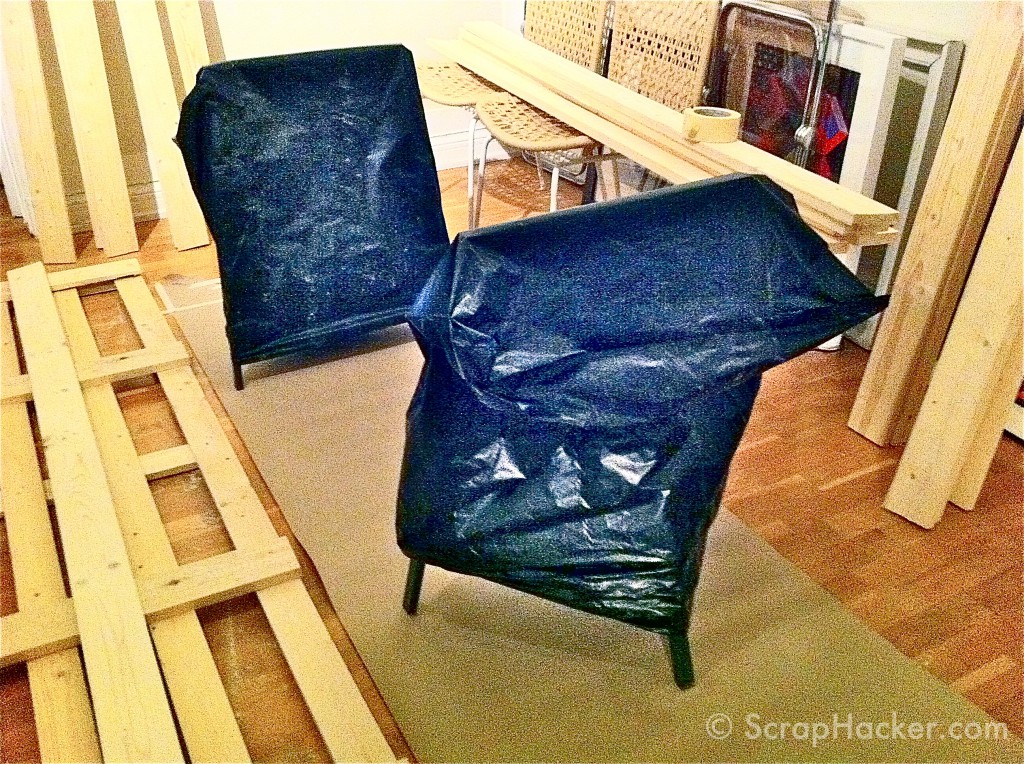 2. Don´t forget to swipe/dust the planks free from the residue from the sanding! Swipe it off or simply use the vaccuum cleaner – as we did!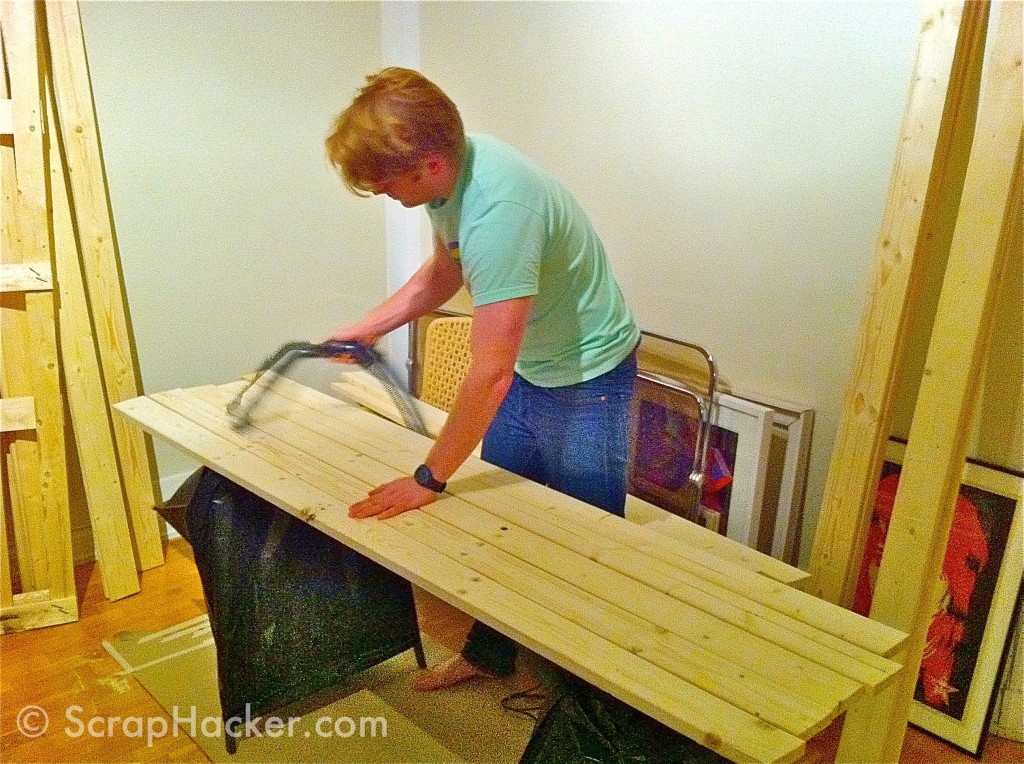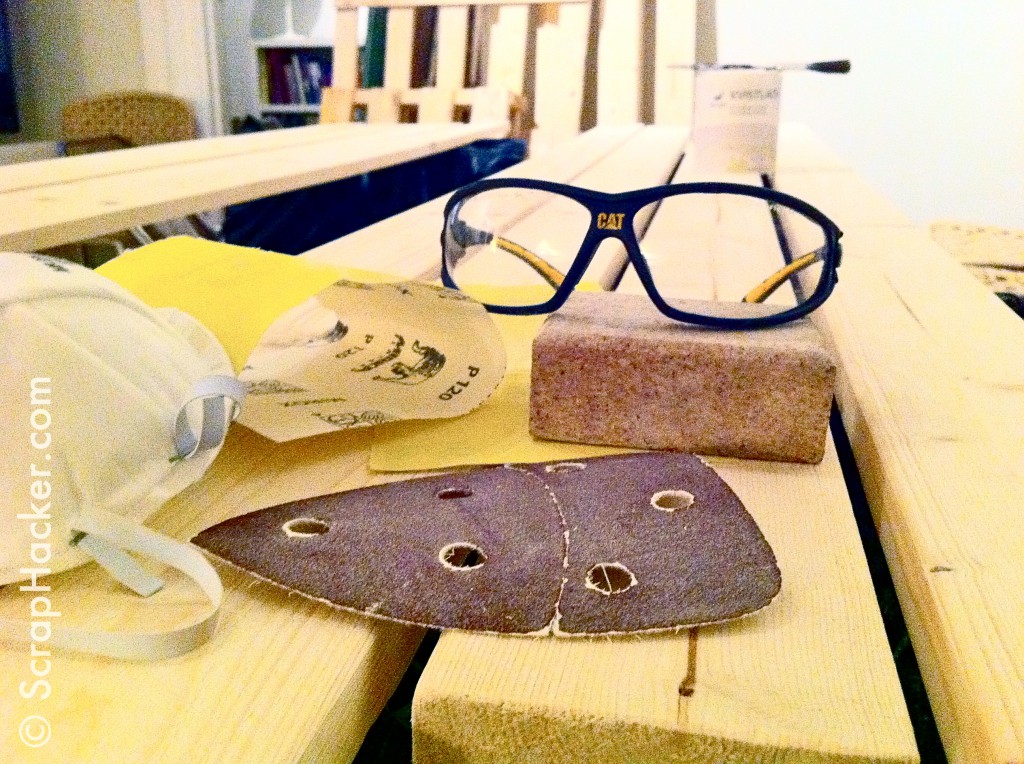 Use protection while working! Personally I´m rather sensitive to the wood sealer so I use both goggles and protective mask.
I always apply 2 layers of Wood Sealer (and always impatiently wait for the first layer to be all dry before applying the second one)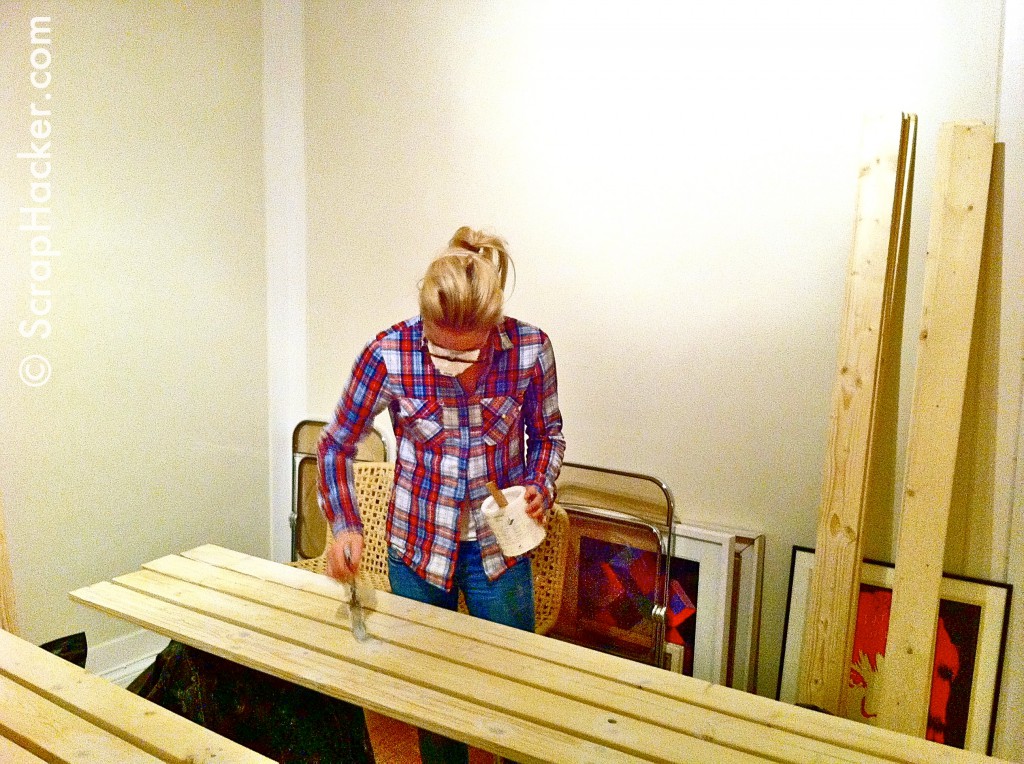 Step 5. Splashing on the Paint!
Now to the fun bit – The actual painting!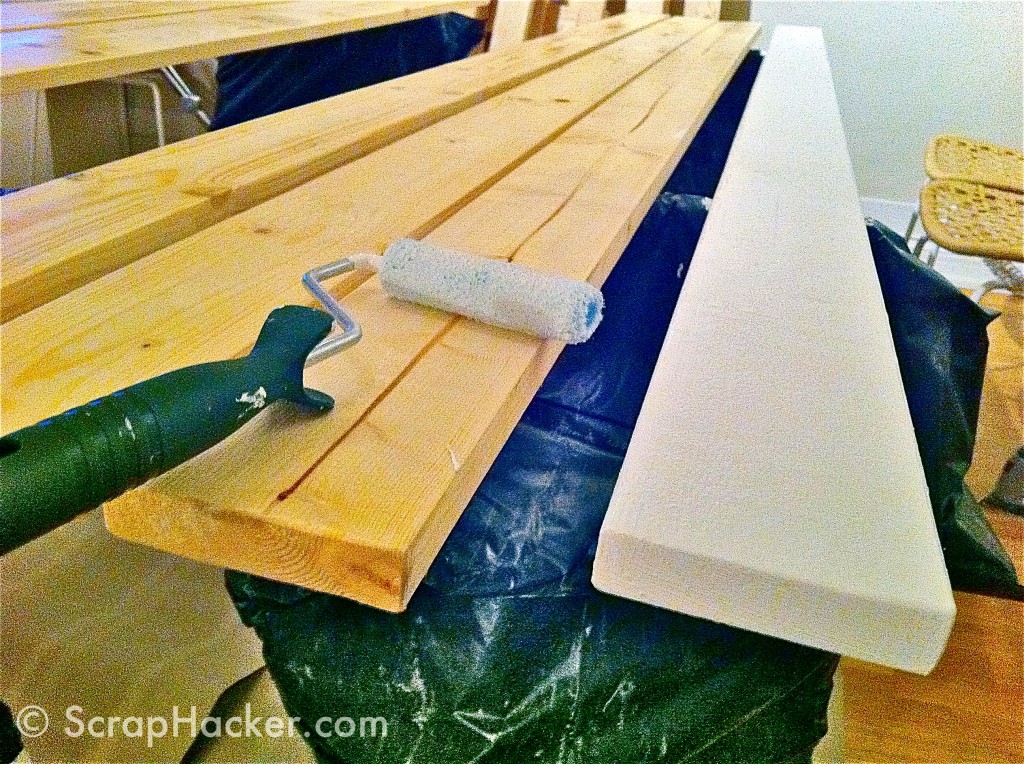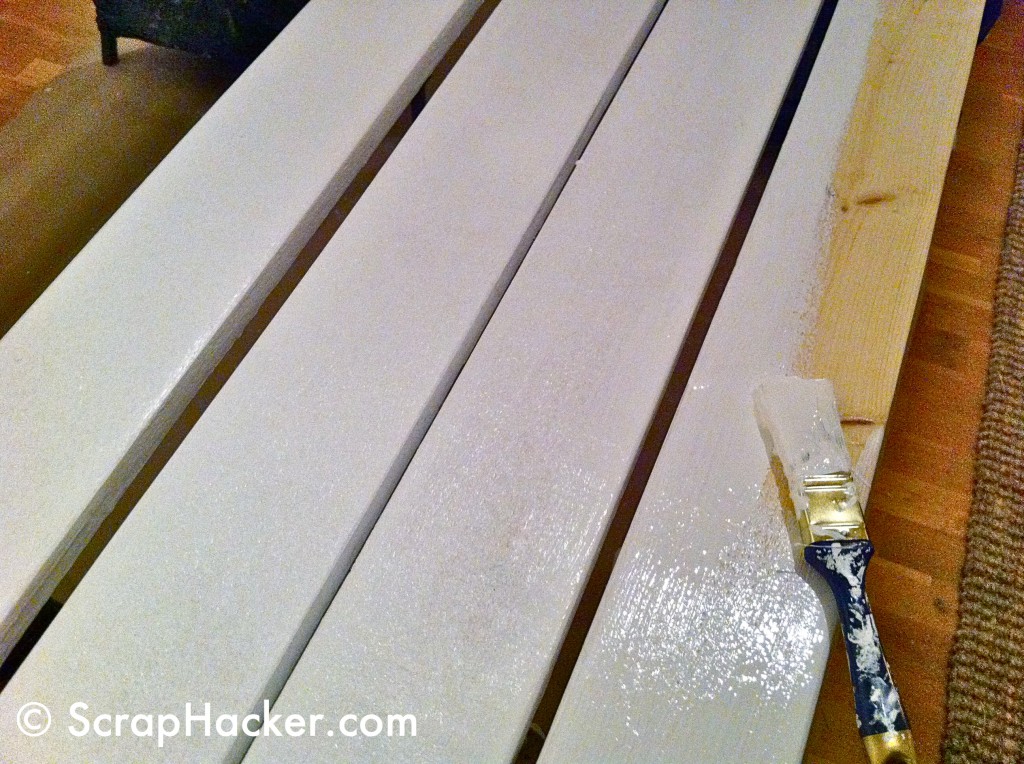 Leave the planks to dry resting on the trestles over night.
DAY 2: When the top planks are all nice and dry – move on to work with the pallet frame. As I didn´t want the pallet to take leg space or be in the way , I removed some of the wooden blocks that normally sit on the back of the pallet.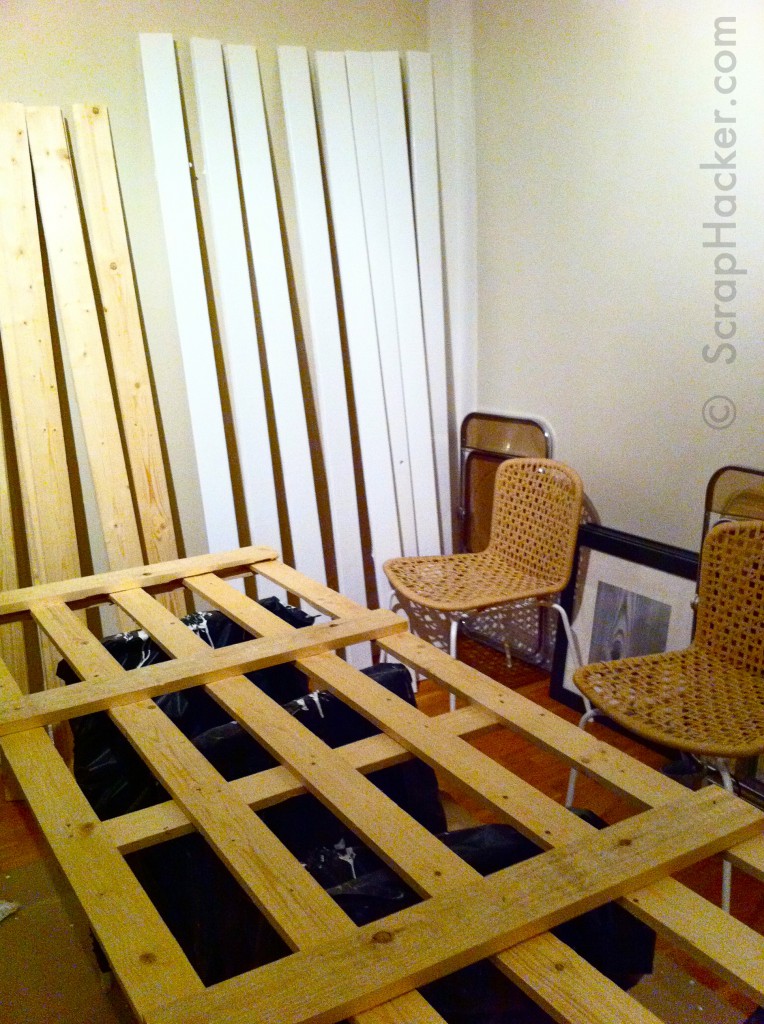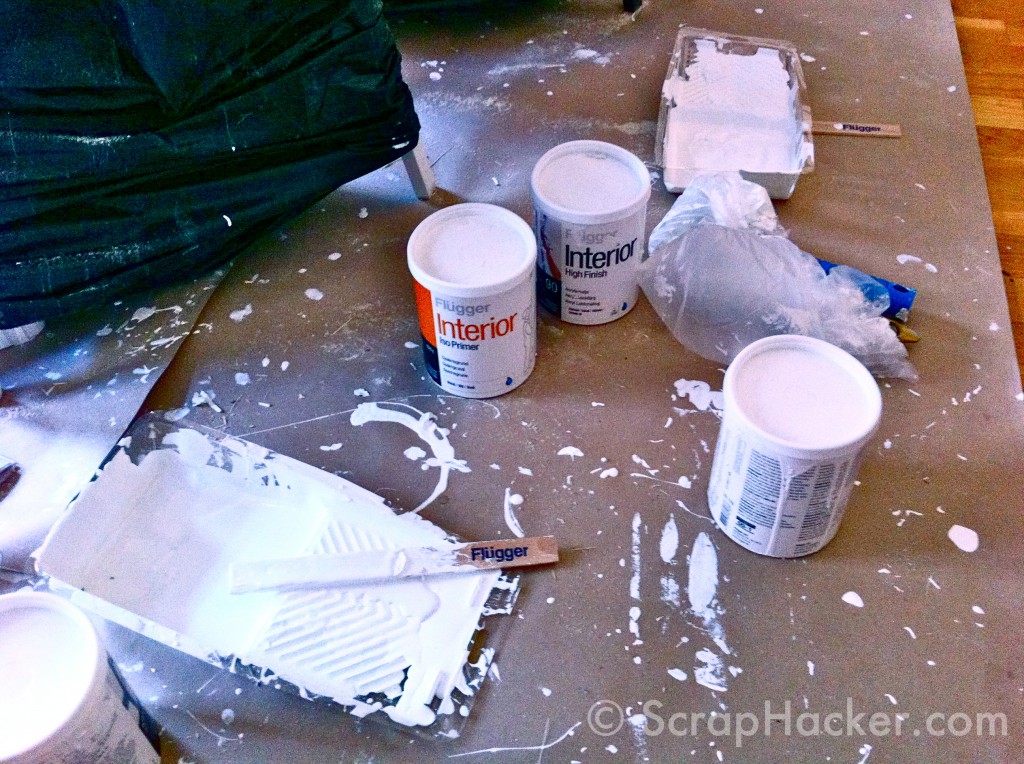 Some creative chaos….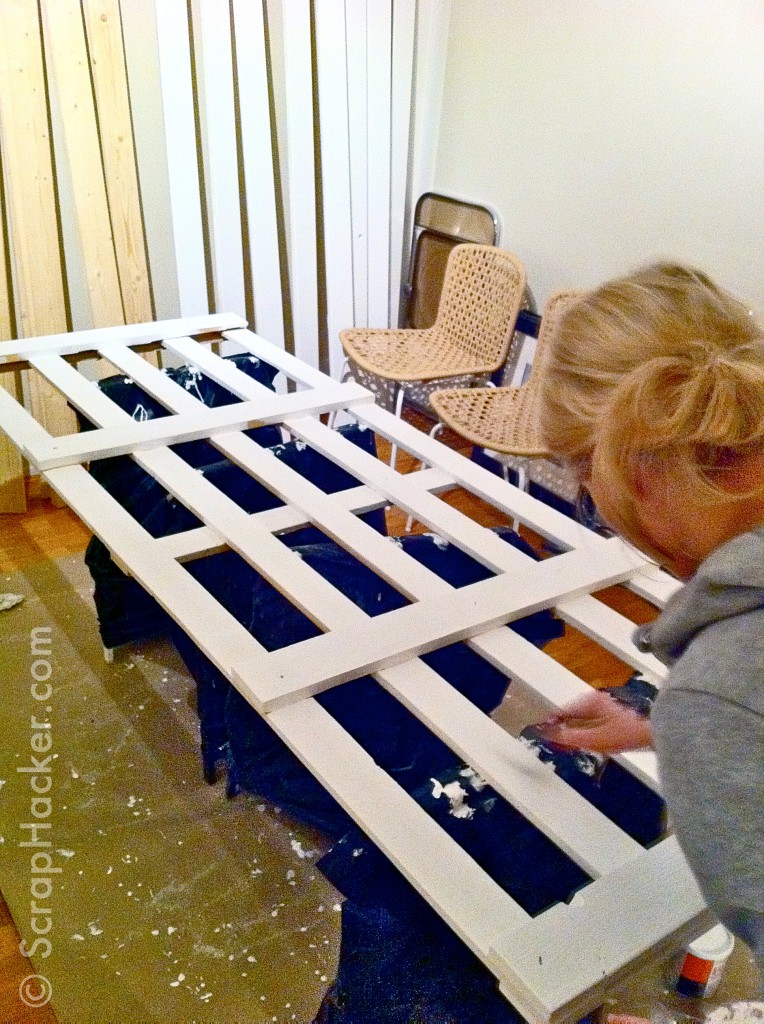 Step 6. Glue & Clamp-it
Glue the planks to the pallet. Use clamps to make fix position! Place heavy stuff on top of it to further add preasure while the glue is drying.

Step 7. Nail it!
When the top planks and the botton pallet frame are one…Flip the thing over and move by nailing the top planks to the underlying pallet! In order for the table to look sleek – fasten the planks "from behind".
Fasten the planks on each short side and somewhere along the middle. I used penny washers to create a margin that ensured the screws wouldn´t run through the top plank, and in as a protective measure as the nudging from the sharp screw into the wood will be reduced over time.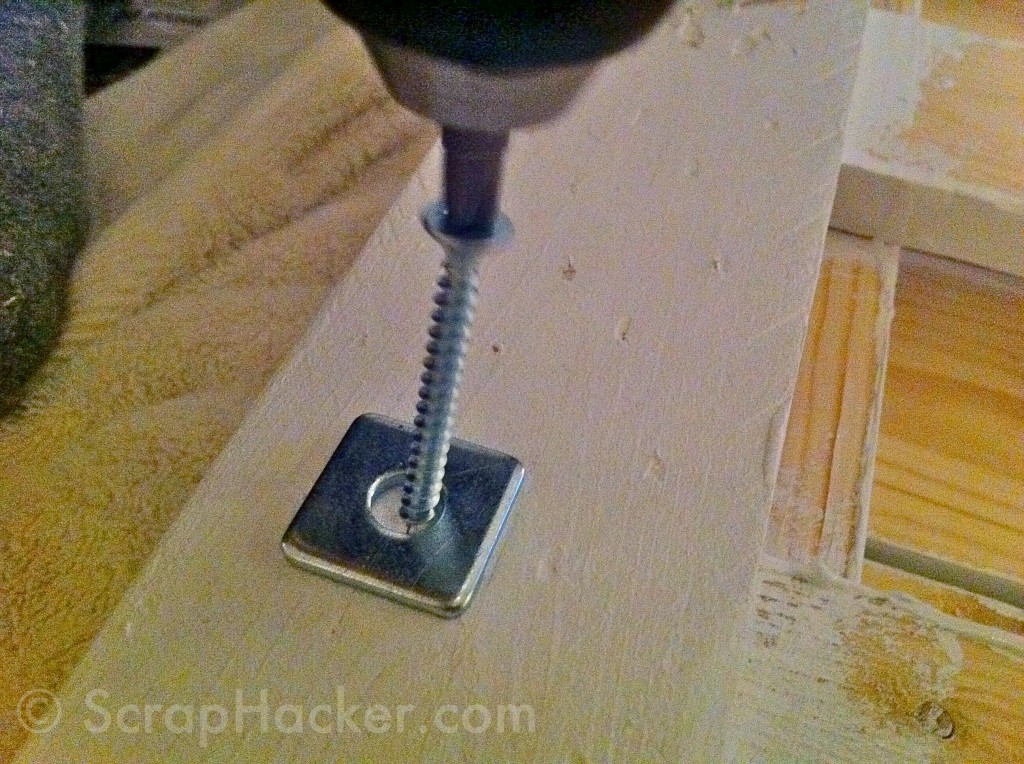 Angle Irons are also a good idea to further add support to the construction.

Step 8. Mounting the top on the trestles!
ok – almost there! I opted for IKEA´s VIKA Lerberg trestles, they are made of laquered metal and there was no natural way of fastening them to the table top so I had to come up with an idea to solve the problem. I ended up using nail plates.
What I did was that I fastened them to the construction, with 2 couples of slotted screws sticking out. The slotted screws needed to be placed before fastening the nail plates.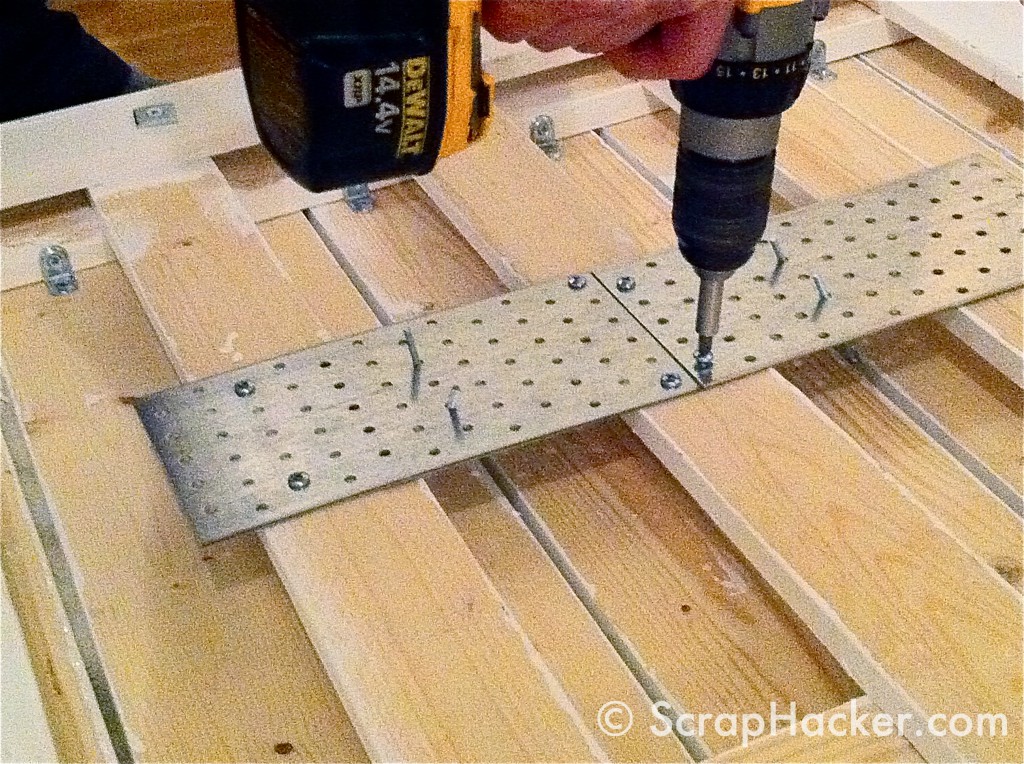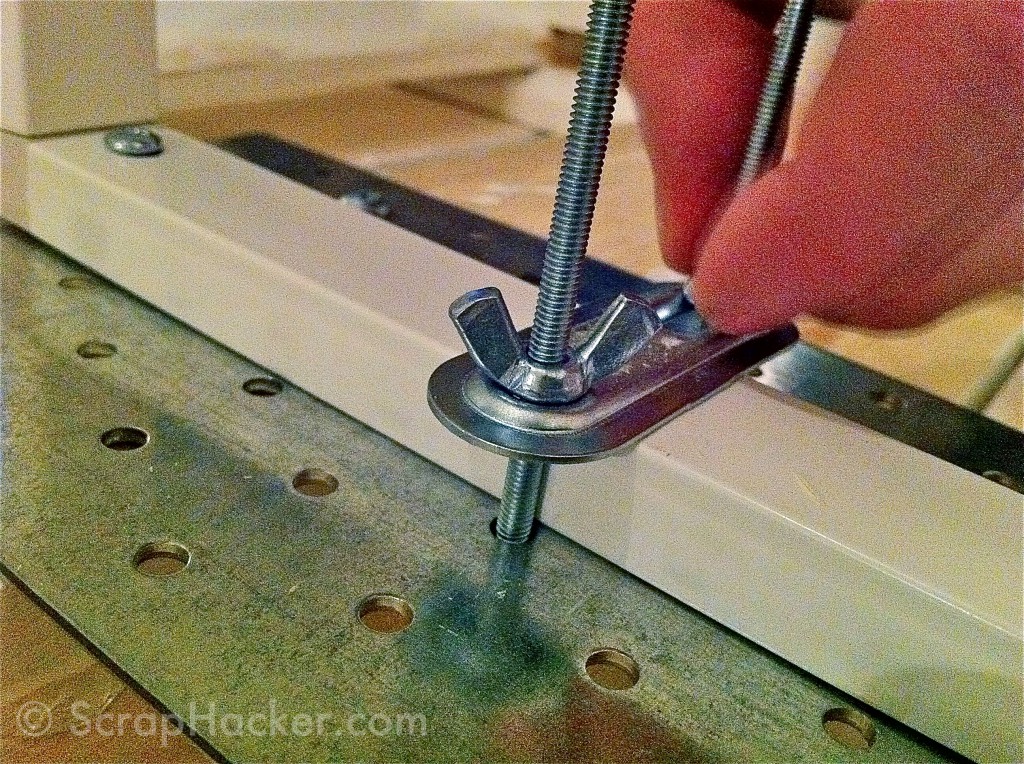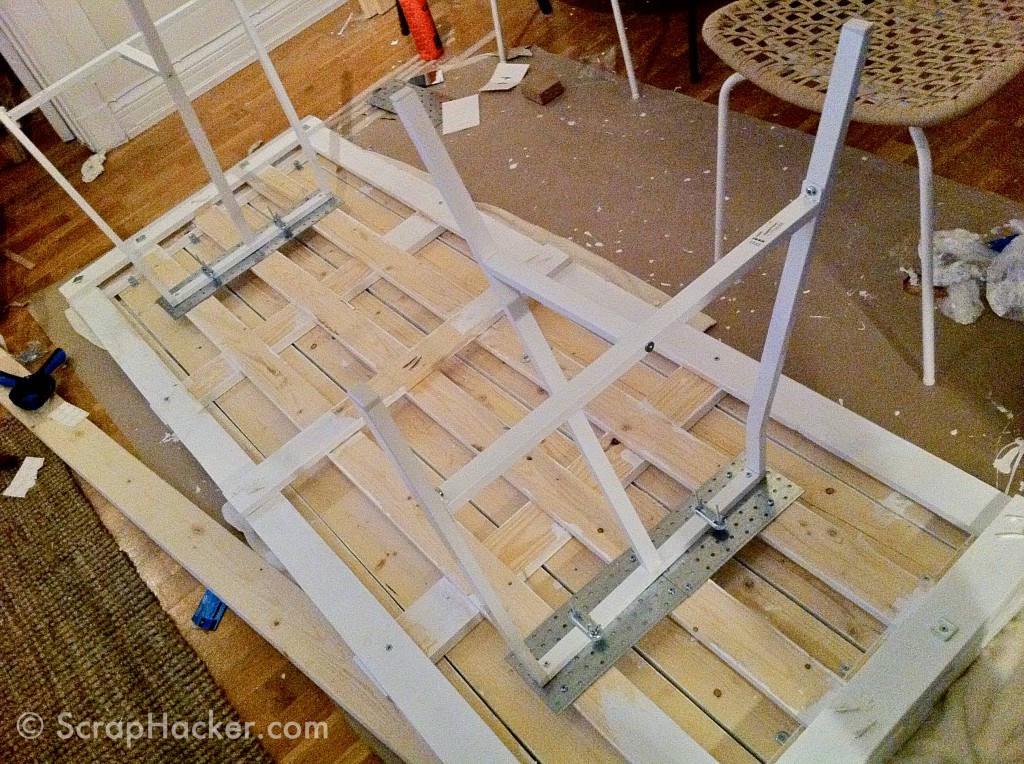 Step 9. Flip it!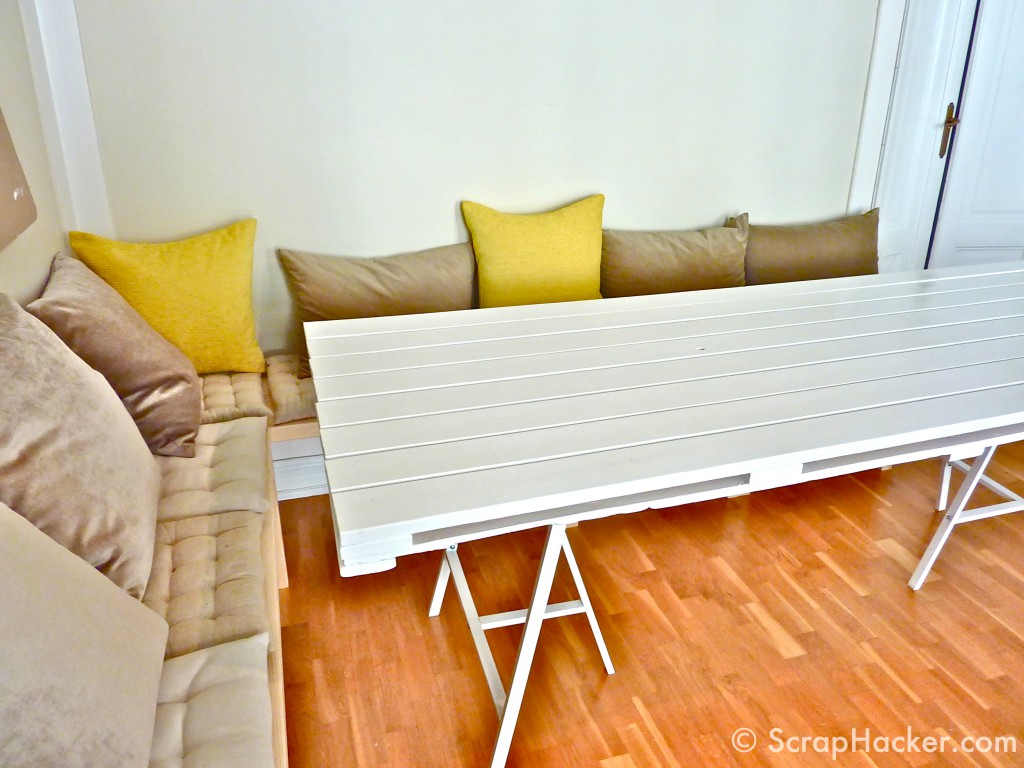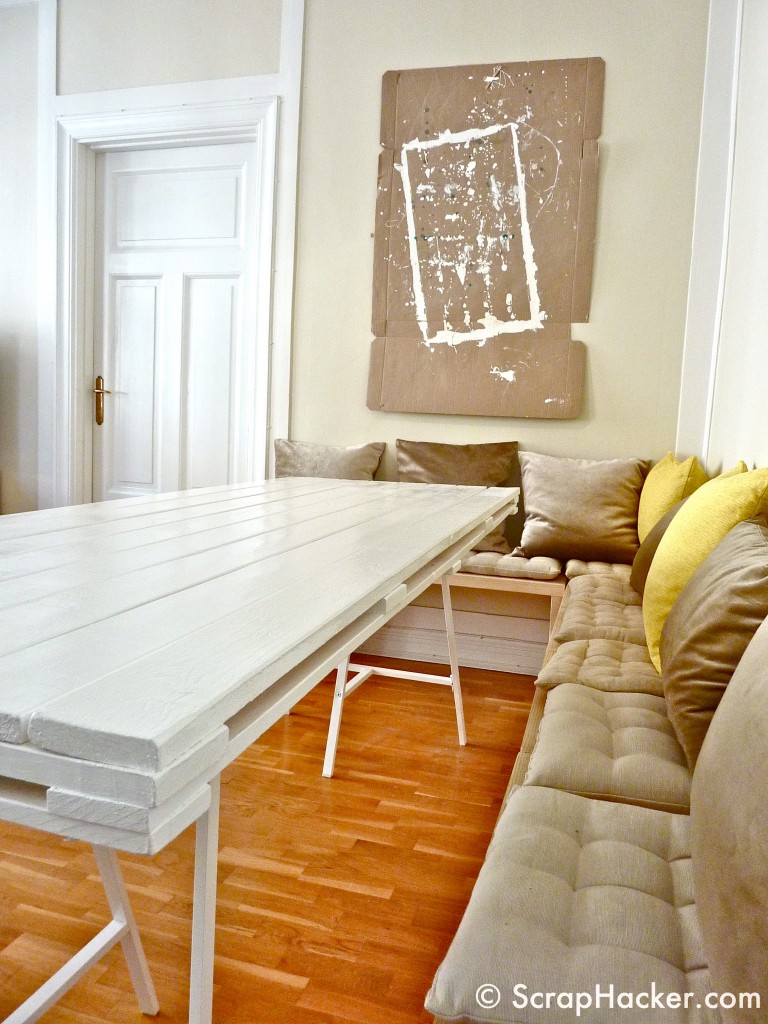 Step 10. Enjoy!
The last step of any ScrapHack is to enjoy your work! Invite your friends over for dinner, brag about it on your blog or simply admire yourself and how great you are! Hope this tutorial will inspire you to give this hack a go yourself;-D
Good Luck!