D.I.Y Hall of F(r-)ame
Stashes of odd, glassless frames are often abundant in thrift stores. Given that, they´re a dime a dozen which makes them great hack raw material. Spray painting a bunch of them in either a monochrome color or a monochrome finish creates great potential for an artistic, interesting (and cheap!) sculptural focal point in your home. This might well be the ultimate "drab to fab" project…I´ve gathered some pics from around the web, to show you the variety of styles that can be achieved & to get your ScrapHacker juices flowing – enjoy!
Green frame gallery by MarthaStewart, pics to the right by Etsy Shop BeautiSHE
Whitewash Wonder
Going for white is a classic option which will add crisp & sculptural edge to any room. The DIY process is really straightforward: 1.) wash dirt & grease from frames 2.) use a white base coat paint 3.) Finish off with paint in your favorite color…I found some pics over at NaturalHome&Garden to inspire DIY action! The pic of a finished hallway project was spotted over at TheDecorologist.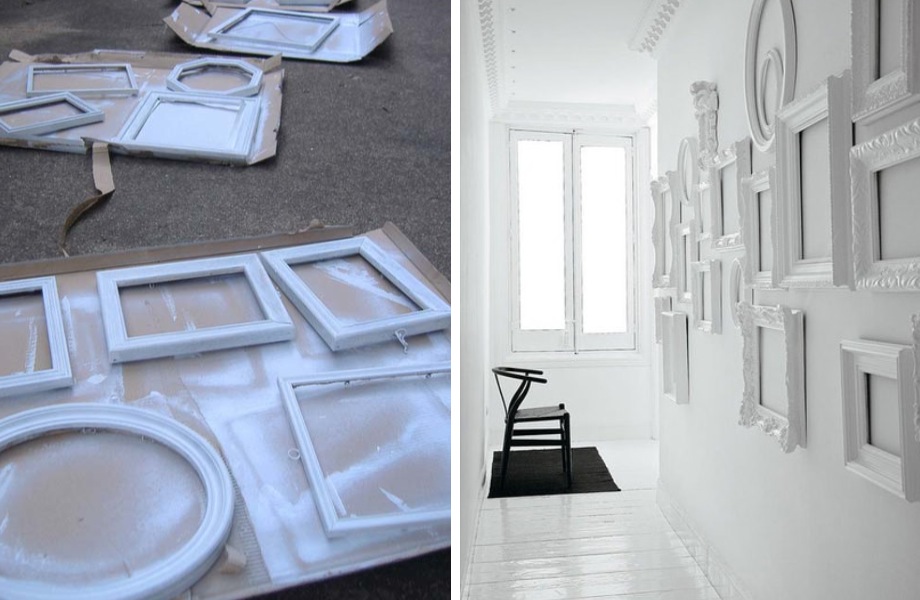 Thrifty Glam
Mix a couple of painted frames with a couple of "raw" ones…

Pic: VintageRevivals
Mix & Match
Mix shapes and harmonizing hues for some interesting results.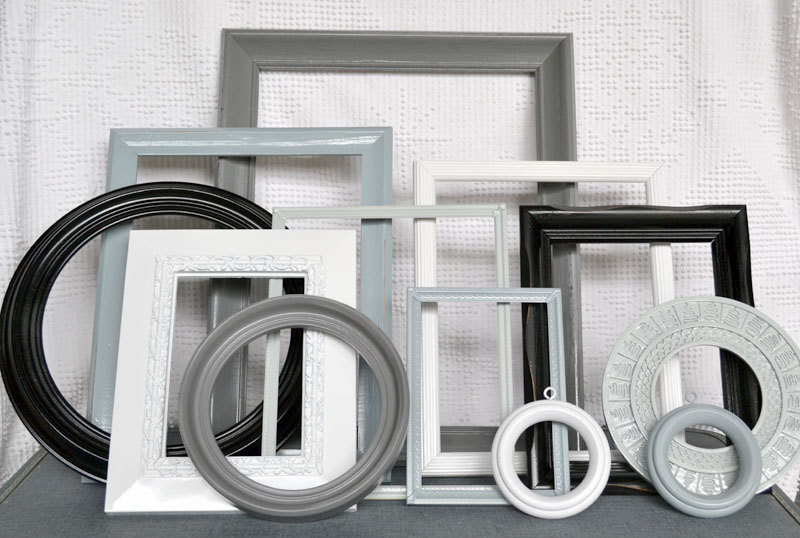 Pics from Etsy Shop BeautiSHE
Gothic Black
The high-gloss black finish adds instant drama.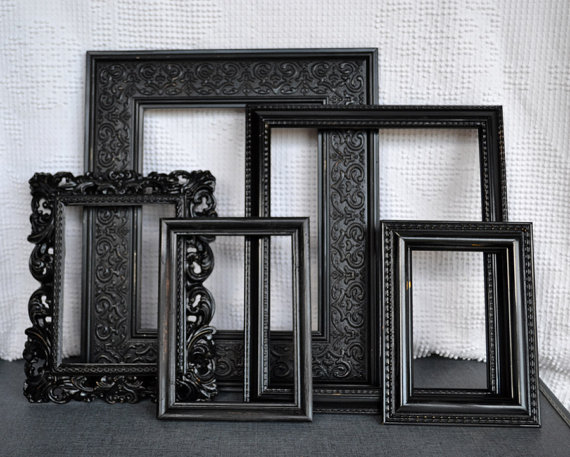 Pic from Etsy Vendor BeautiSHE
Cute Coral
A shade like coral revives the most gloomy frames.

Pic: Confettistyle.wordpress.com
Gloriously Green
A project showing great results with frames painted along a green/yellow color scheme.
Pic: Martha Stewart
Hope you found the post inspiring! Best of Luck Scrap Hacking!