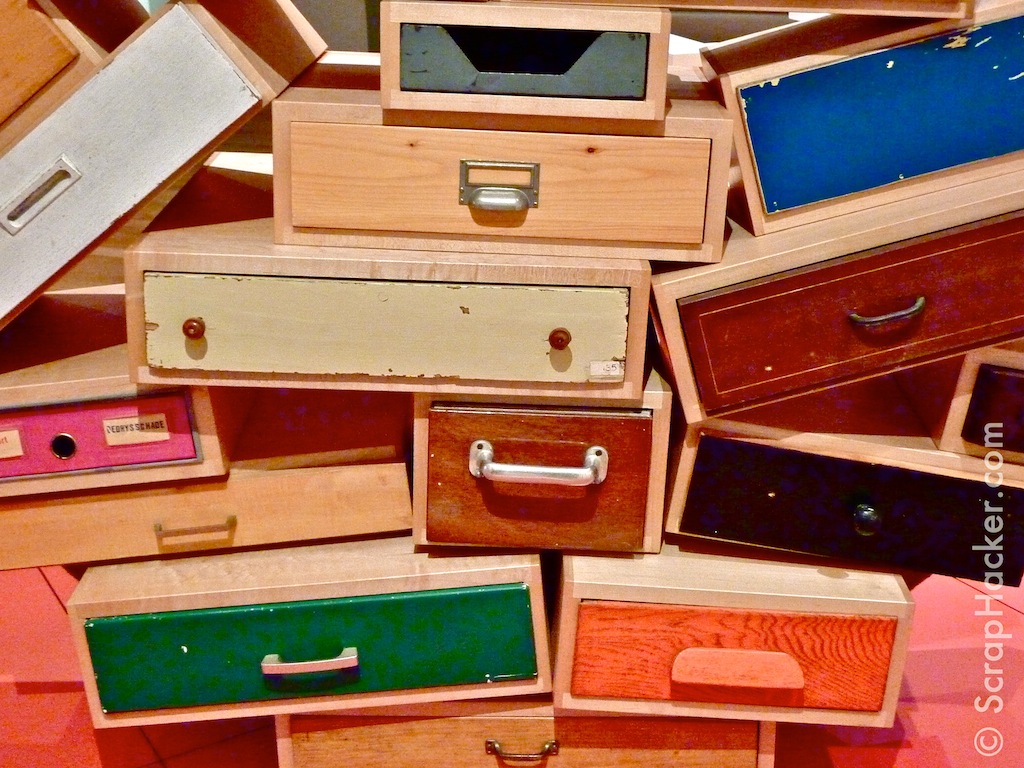 The wonderful "You Can´t Lay Down your Memory" chest of drawers is made out of 20 odd salvaged drawers and held together by a simple buckled canvas strap.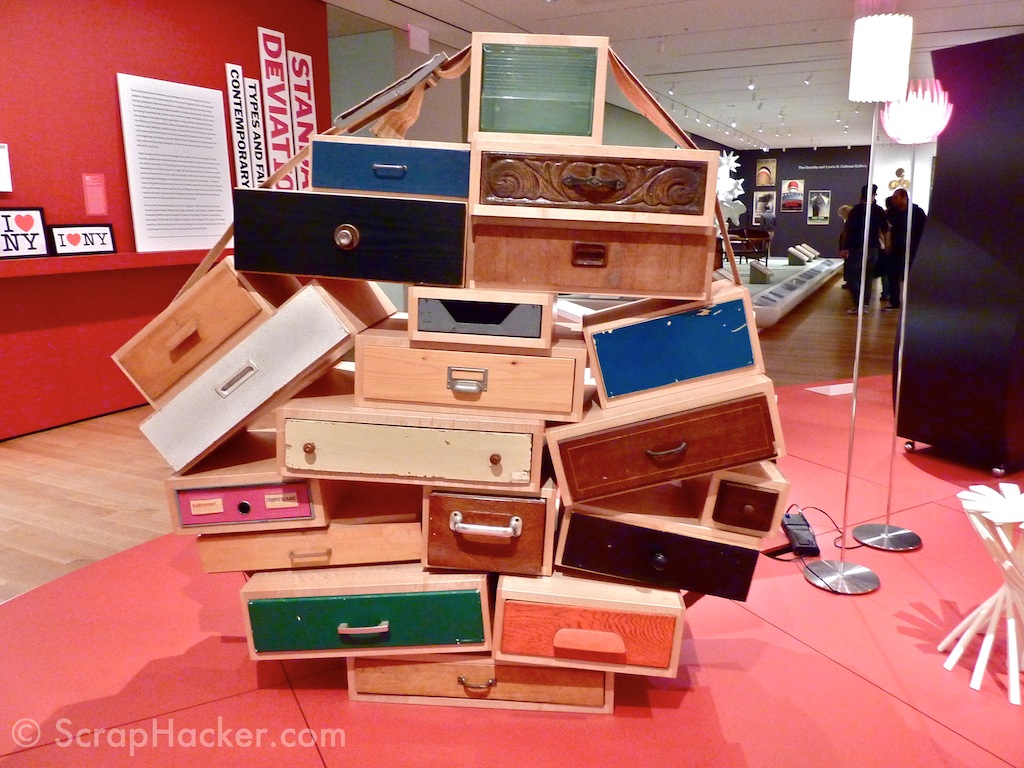 I made the acquaintance of the genius hack at MoMa´s design exhibition on the 3rd floor. The design is by Tejo Remy for Droog and feels more contemporary than its year of birth – 1991.  The clever ScrapHack design makes this beauty ooze with D.I.Y potential!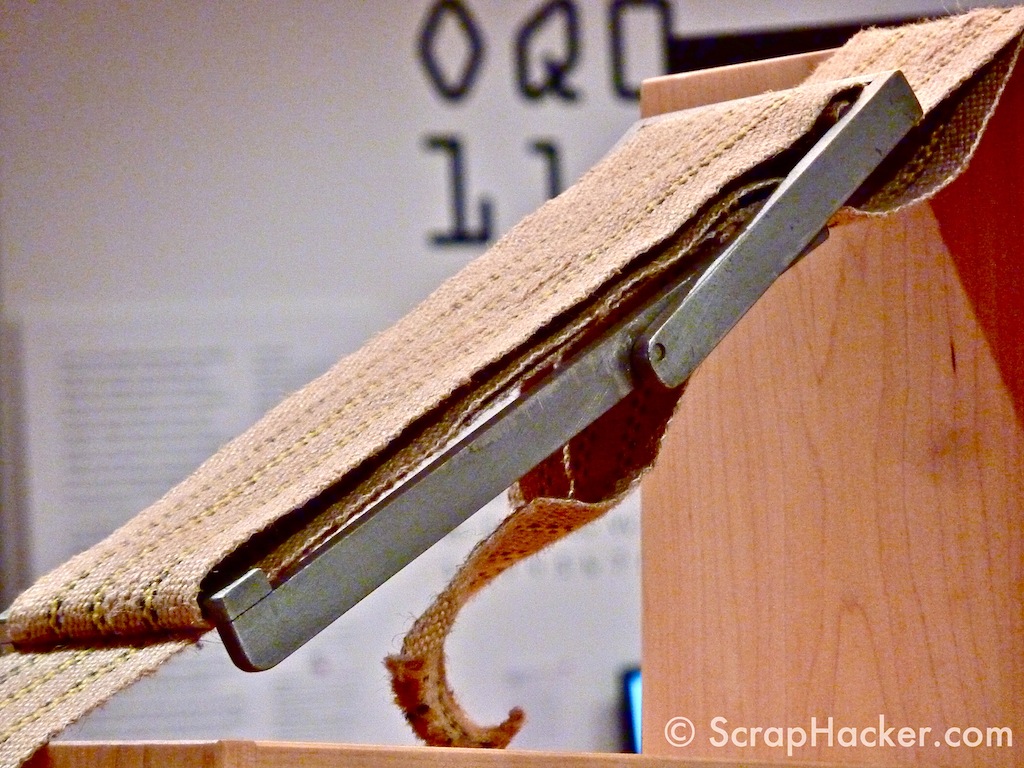 What has been salvaged are the drawer fronts rather than the entire drawers, instead customized new "back office" drawers have been made to suit the set of old fronts – adding an element of consistency and calm to the sprawling creation.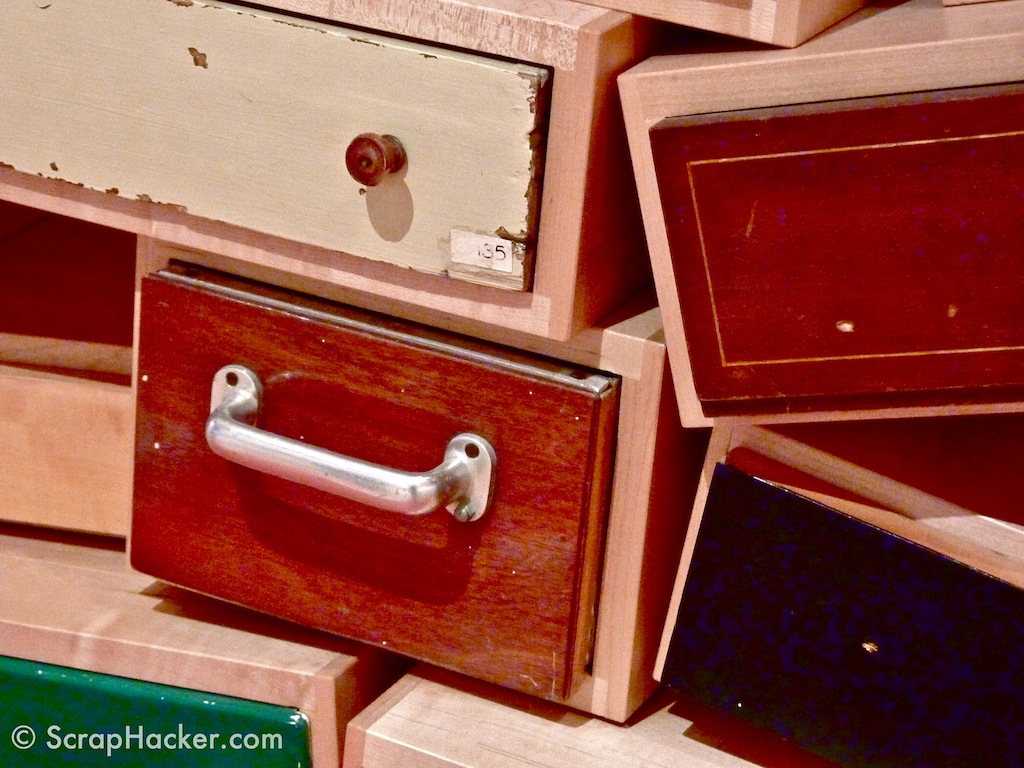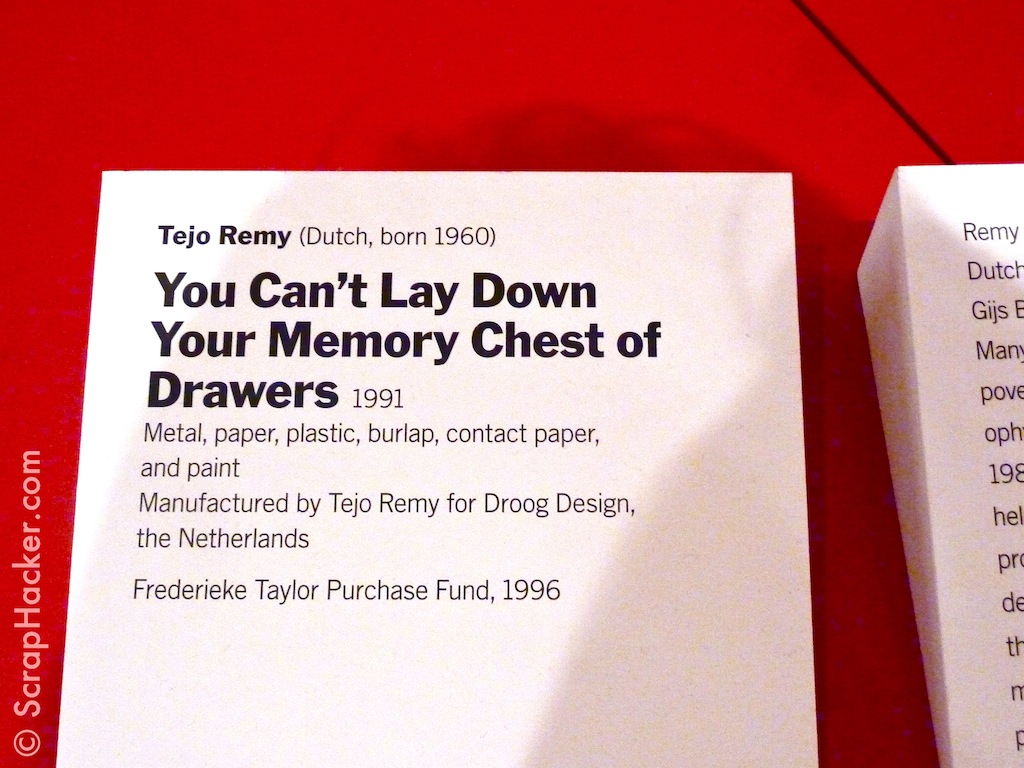 I find the design succeeds in mimicking the complexity of "our stuff", both in a practical dimension and a emotional one. I cant help but think this design says something about how we relate to our things and how our associative networks work. After all, our minds often wander off to places outside the box..Shouldn´t the design in our homes could reflect and embrace that fact? Why does mainstream storage design always want to create the illusion of unison and consistency? Are we not ready to face the complexity of our thoughts and our stuff – Will we ever be?
These questions made me write a short spontaneous essay (scroll to bottom of page if interested).
Visit MoMa @ 11, W 53rd Street, NYC
Same Same but different?
Some thoughts on Black Holes & White Boxes
Black Holes in our universe always seem to have attracted fascinated interest and reflection. Although most of us hardly have one real clue of what they´re about – we know they´re bad and scary. I mean – how else could we relate to a phenomenon that absorbs light sucks everything into a inverted chaotic tornado to destinations unknown?
Whereas the universe struggle with Black Holes – our homes seem to struggle with White Boxes. Just like Black Holes vary in size and gravity, so do our White Boxes. Our White Boxes are the solution to the pressing concern of more storage. White Boxes allows us to stow away that complex network of items we all refer to as "our stuff". White Boxes asks no questions.
However, rather than reflect the inherent complexity of "our stuff", the façade of our White Boxes tells a simplified, censored version. Merely looking at White Boxes from the outside, reveals no clues on what to expect on the inside, a trait shared with Black Holes. If Black Holes absorb light, do White Boxes absorb darkness?
So, what to do? Can we defy the gravity of the White Boxes – the Black Holes of our homes? Or, will everything eventually be sucked in? Will all darkness be swallowed by gleaming White Boxes, just as light is swallowed by bad and scary Black Holes?
By raising those questions I hope to open up for further reflection on the shaping practices in everyday life, and how everyday shapes is shaping behaviors and conceptions about ourselves. Let´s all try to make sure our true needs and instincts are the winners in B&W chess game. Keeping them, and our notion of them, alive & kickin´ seems like the prerequisite for all and any twinkling activity – for minds and galaxies alike.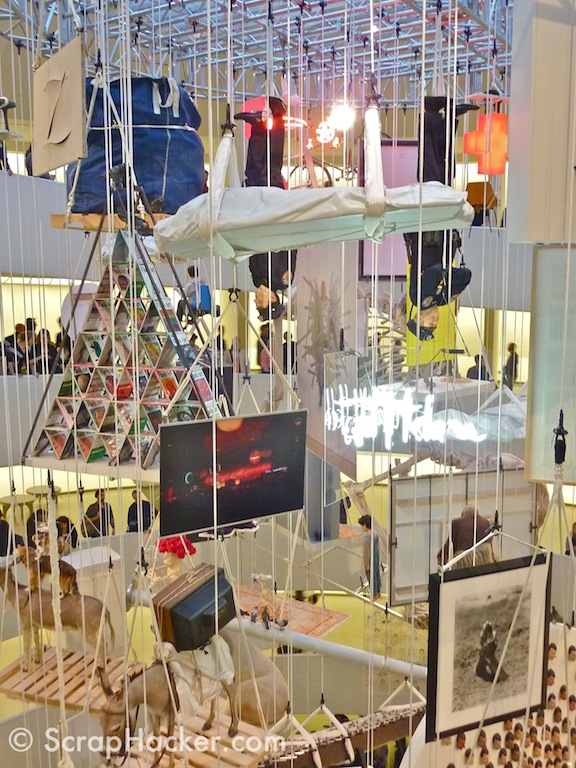 There´s more to NYC´s Guggenheim than its pretty face (the fantastical shell like structure designed by Frank Lloyd Wright). The lightfilled interior, with the swirling movement layout, currently exhibits a intriguing installation by art world bad-boy Maurizio Cattelan. From my own ScrapHacking point of view, this installation truly shows the successful fusion of scrap and creativity…I felt really inspired by the detail of the installation, so took a great deal of snaps. Hope you get some ScrapHacking inspiration from them…The stuffed animals aren´t really my cup of tea, but I really liked the great use of rope and pallets to create a multi-storey stage. The show is on til January 22nd!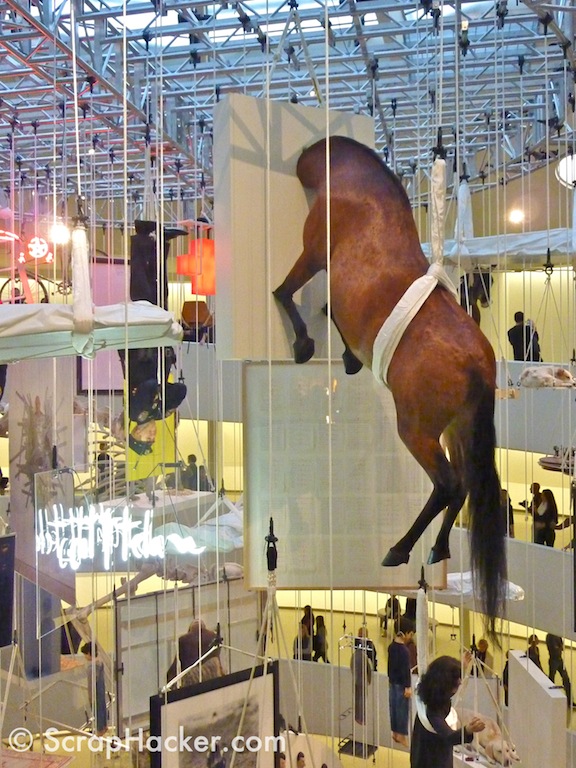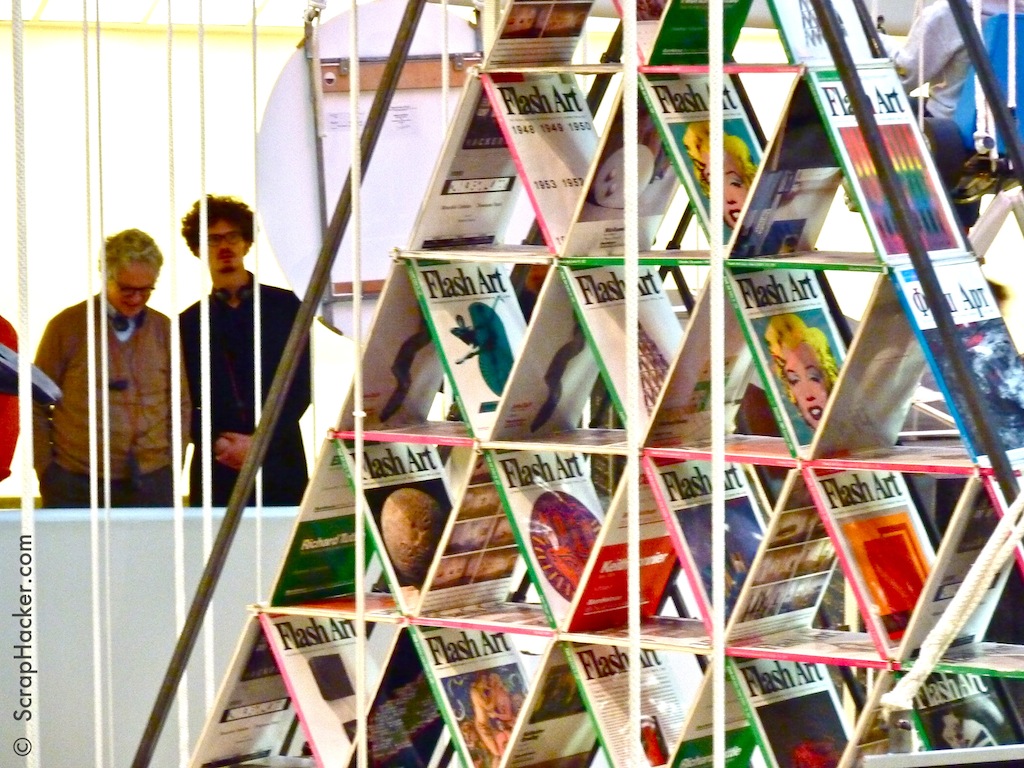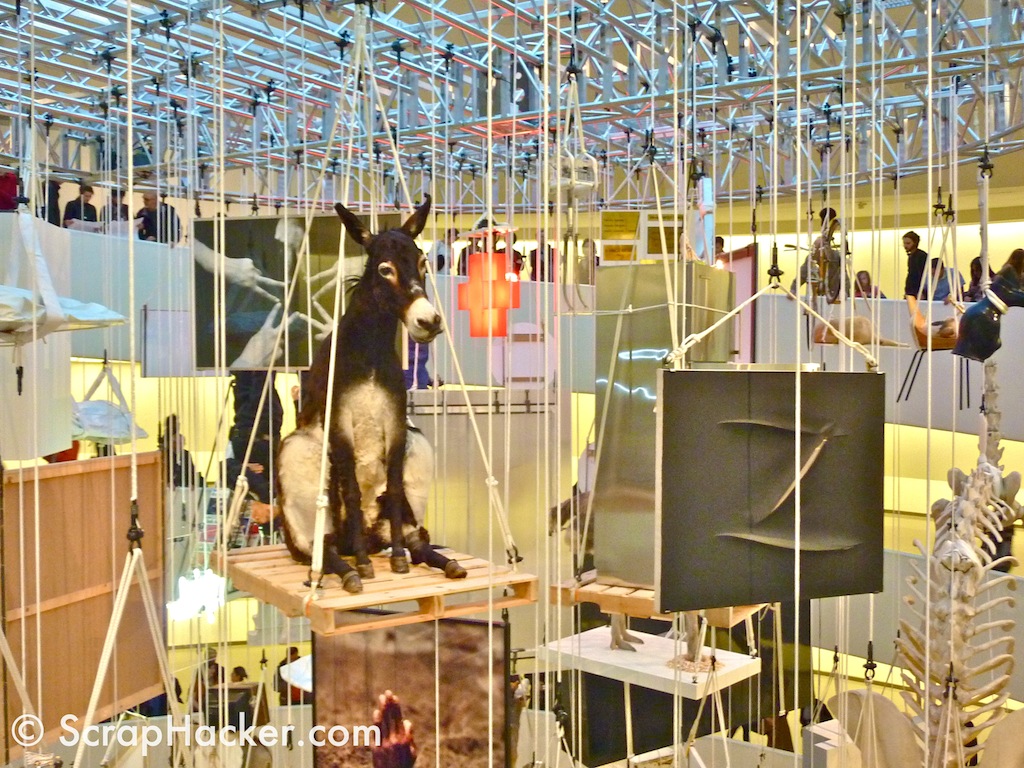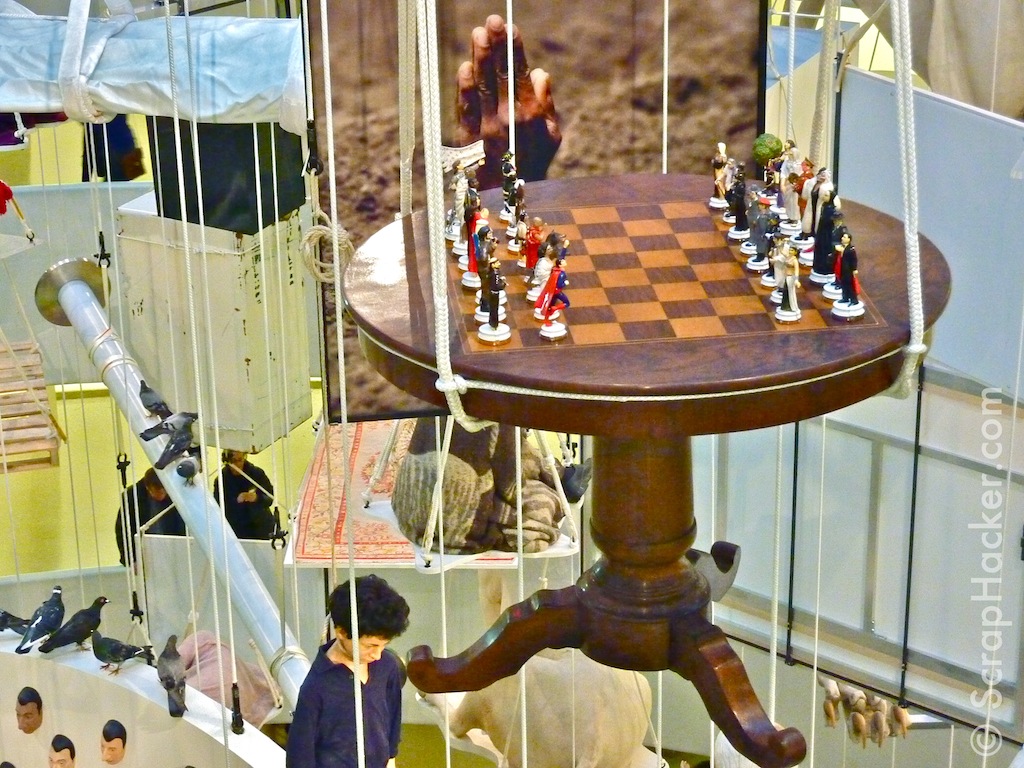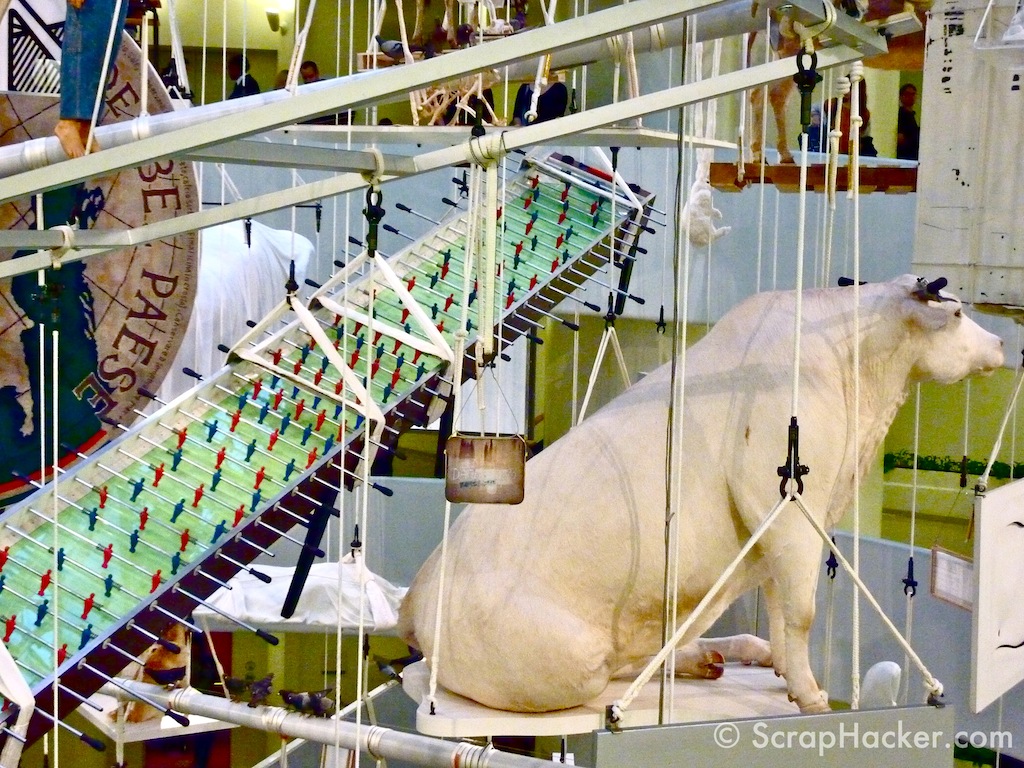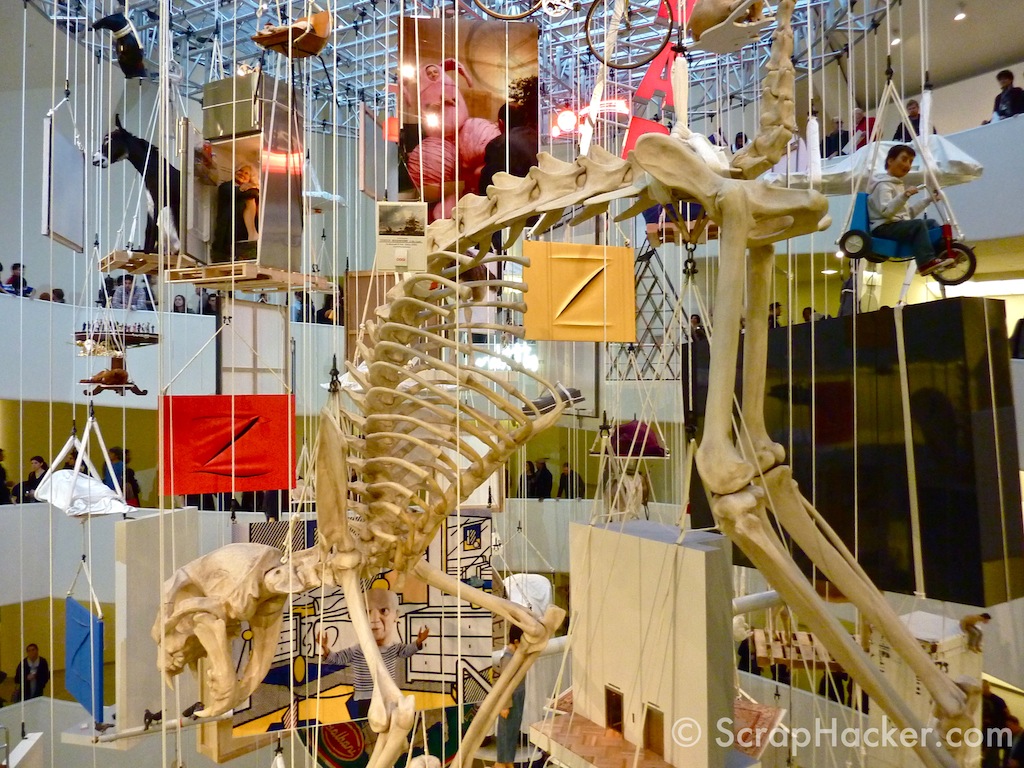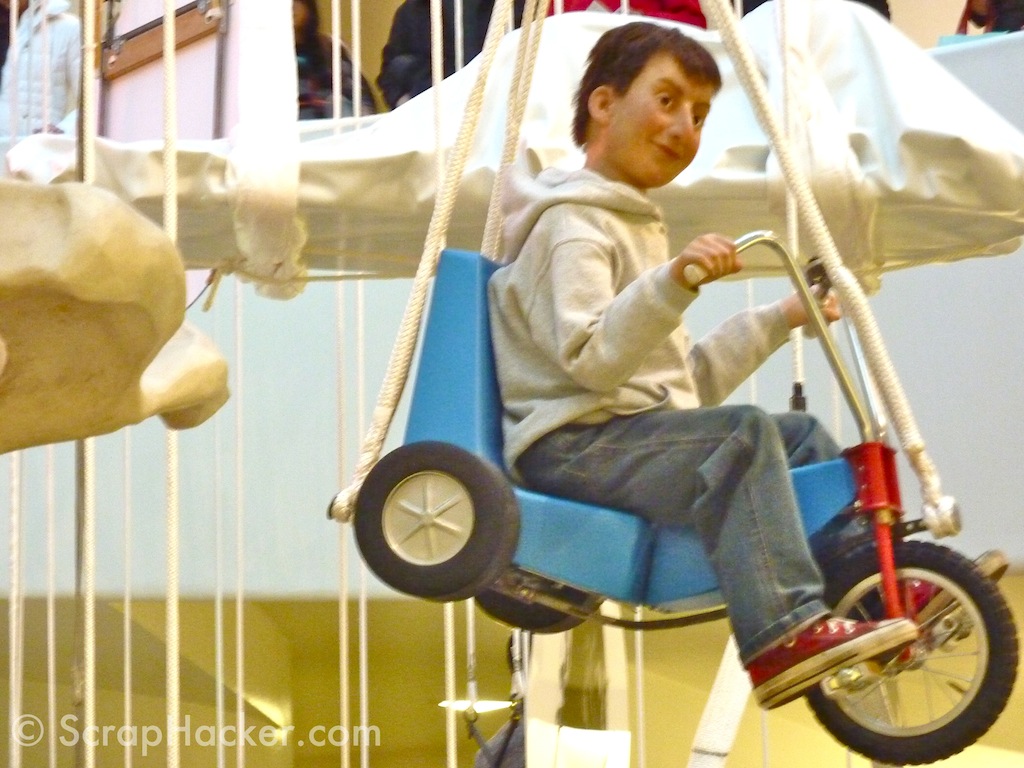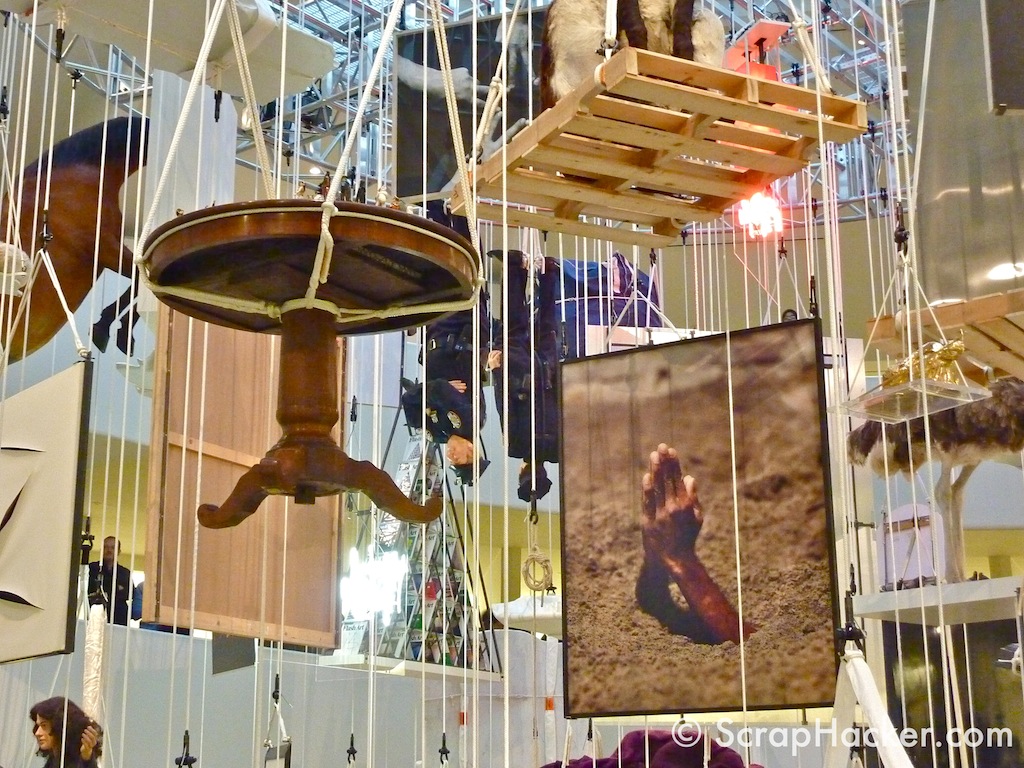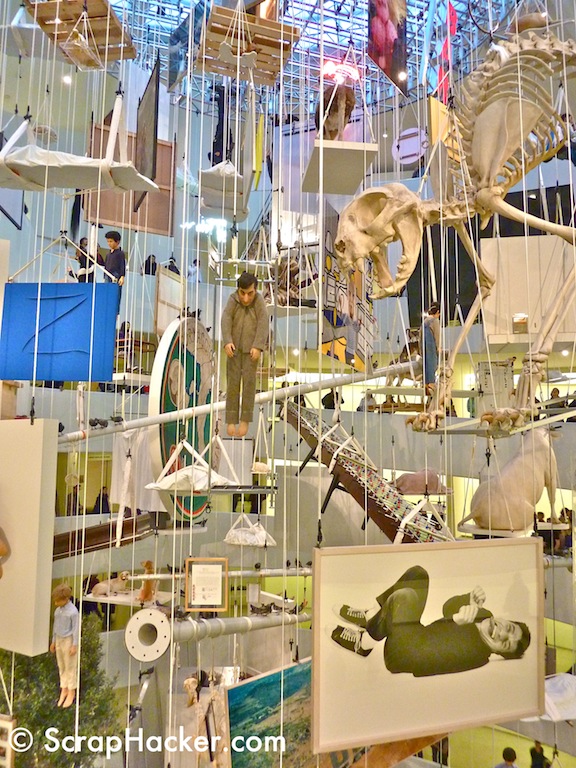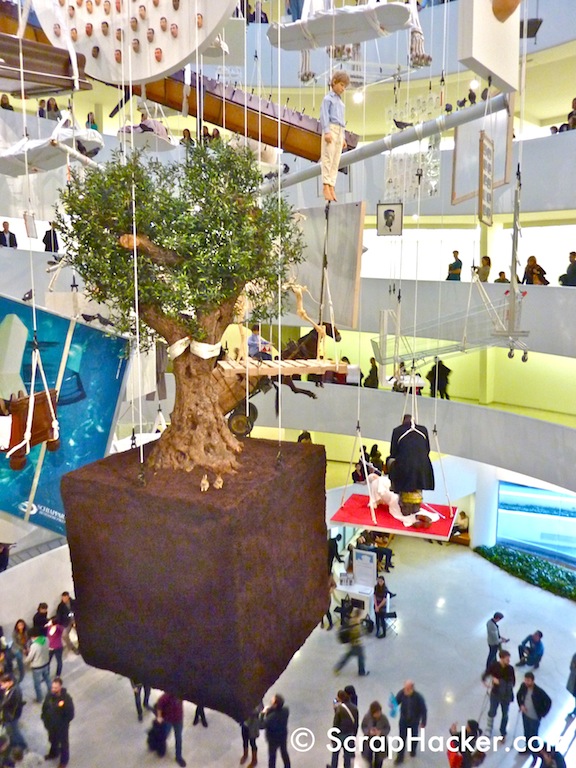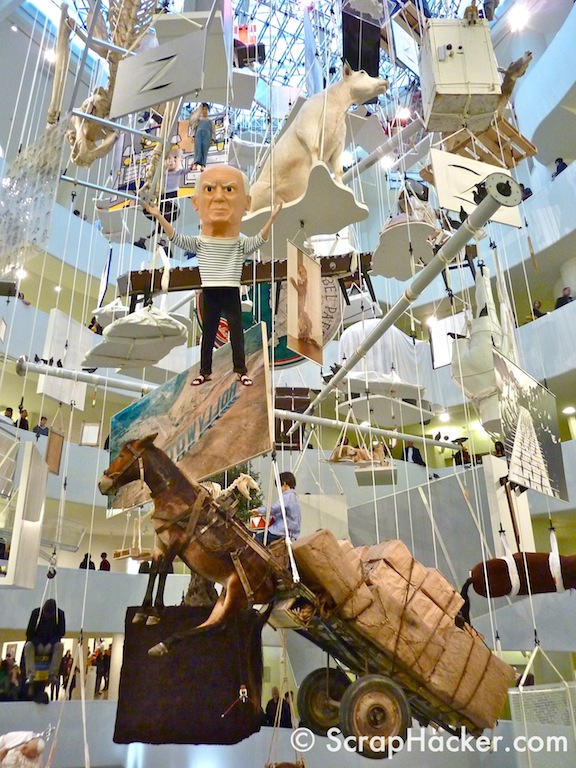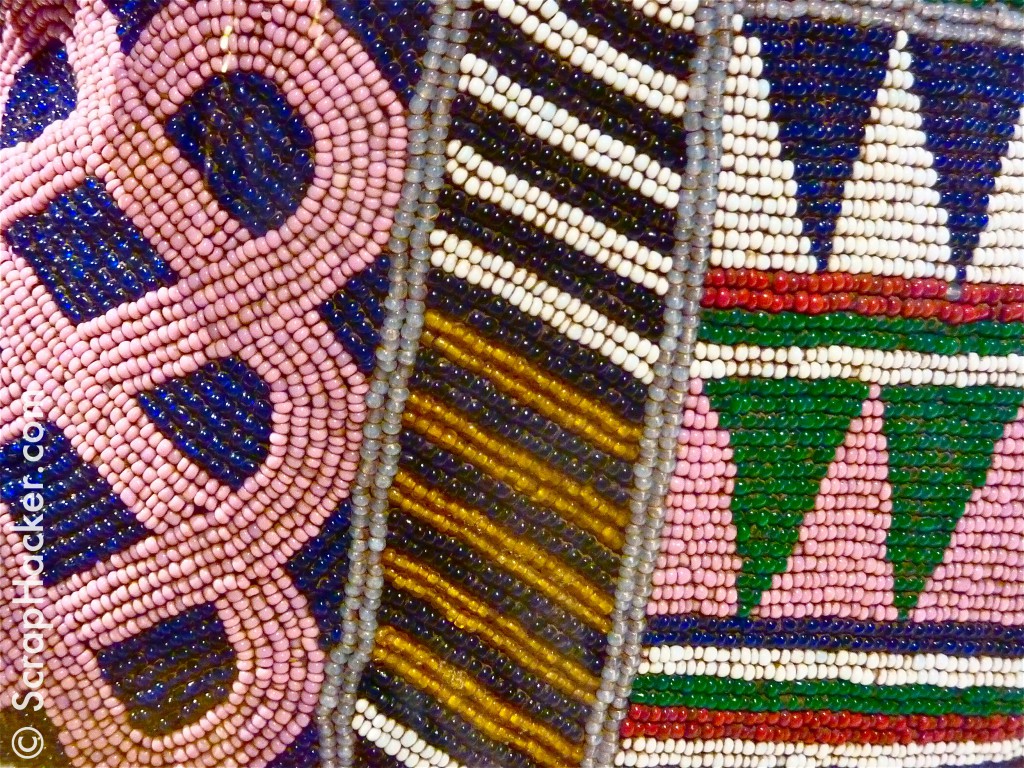 The craft of beading has been around in all ages and in all places…Actually, using beads to create patterned objects through the meditative practices of beading appear near instinctual. The roots are most likely to be found in the urge for adornment, stemming from the the very simple driving force of human vanity.
Wonderful pieces of beading craft is featured in the section for The Arts of Africa, Oceania and the Americas at the Metropolitan Museum in NYC. Being a bead-o-holic, I was especially drawn to pieces of eye candy from the Ivory Coast, Nigeria and Iowa…With my contemporary outlook on beads (today most often used for personal adornment in the forms of bracelets and the like) these stunning examples feels like "hacks"…Yet, some more reflection makes me realize that my "hack" notion simply reflect a collective lost memory of this mode of human expression, so universally visually powerful and recognizable.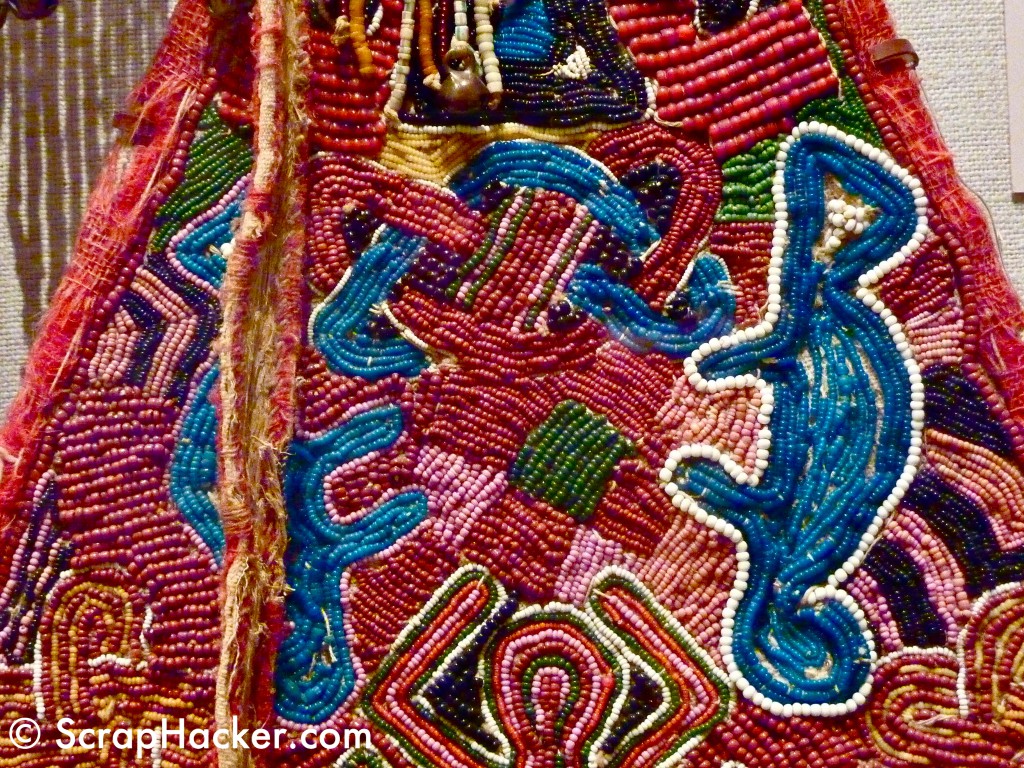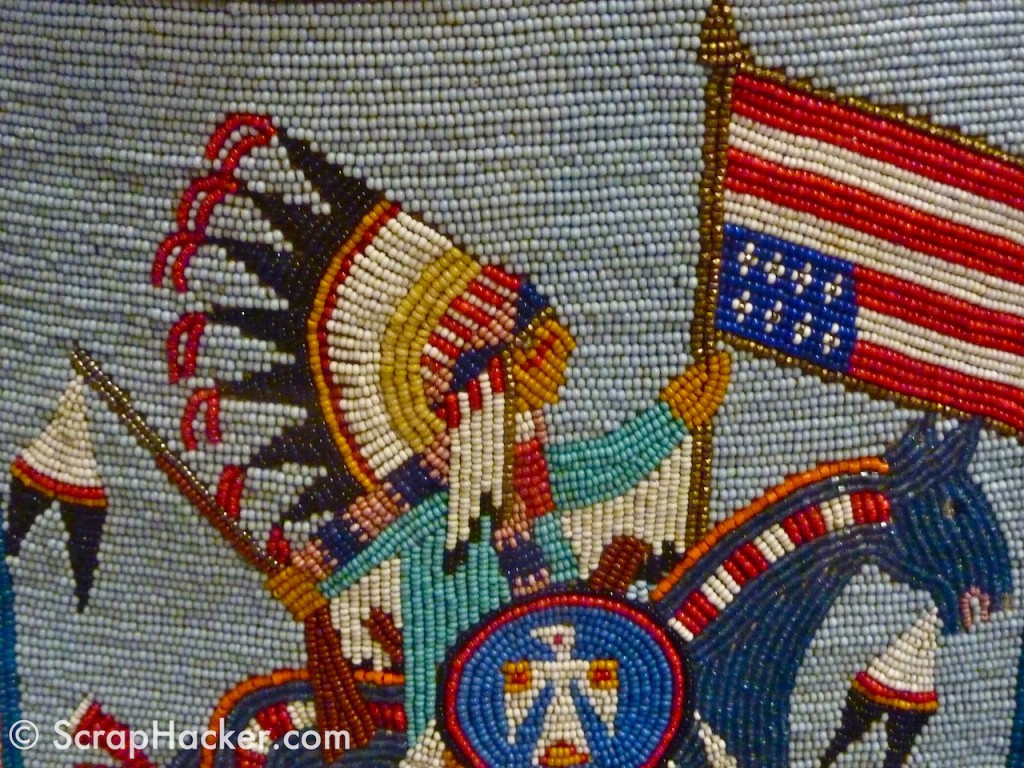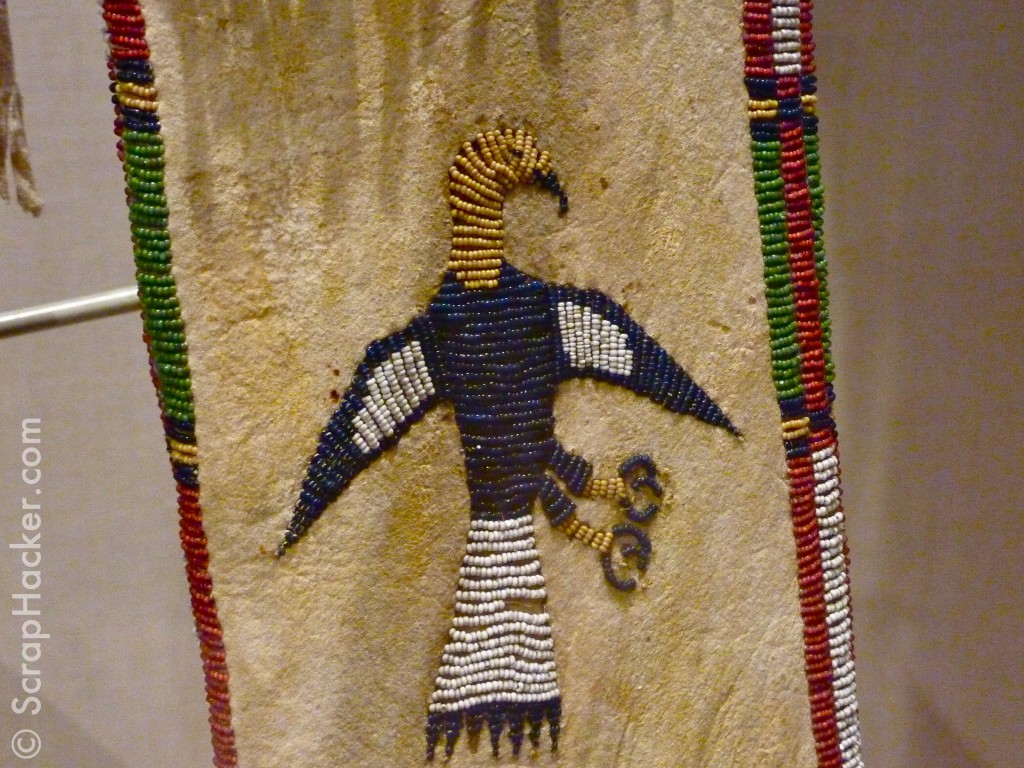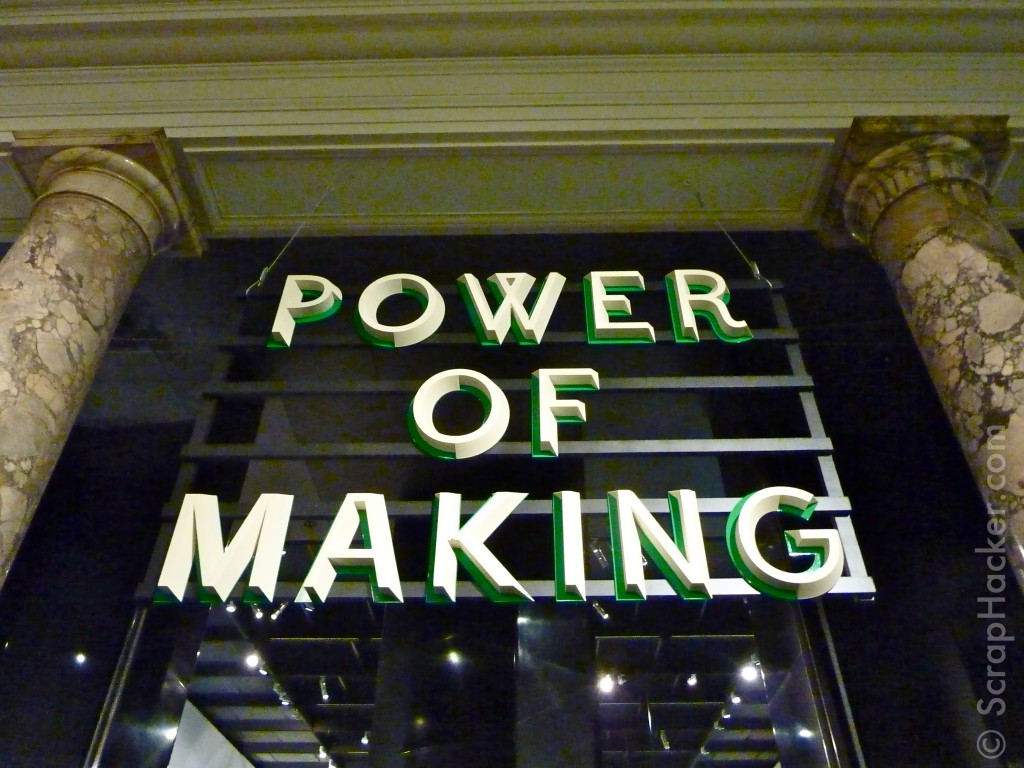 "The power of making is a celebration of the empowering nature of making and the human instinct to create."
Walking into the exhibition Power of Making @ the V&A museum yesterday was like walking into my own head…Just like I am – along with a lot of you people reading this post  – the exhibition reflects on the future of making, and asks the questions about "the increasing distance people have from making and what the impact of de-skilling and the loss of knowledge have on innovation and our society".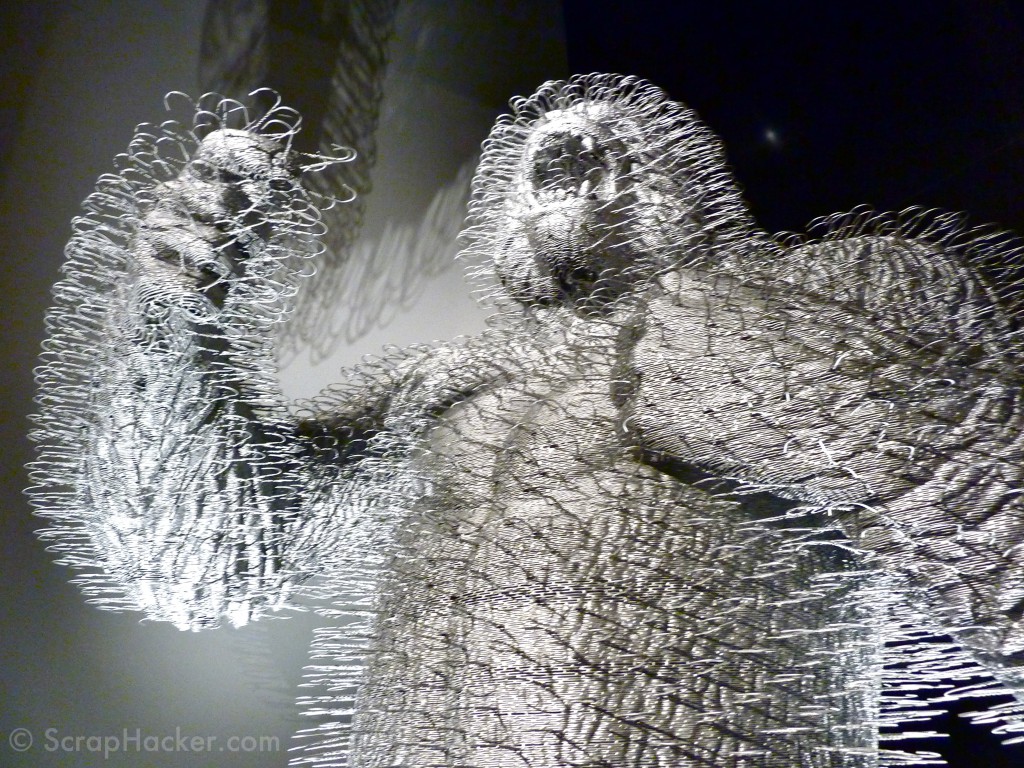 Welcoming visitors, is the giant Gorilla Coat Hanger (made from coat hangers) sculpture by David Mach. Unfortunately, inside the exhibition there was a  strict no-photo policy…Bought the catalog though,  and as I am encouraging you to go see the exhibition I hope the V&A won´t sue me for giving you these sneak peeks…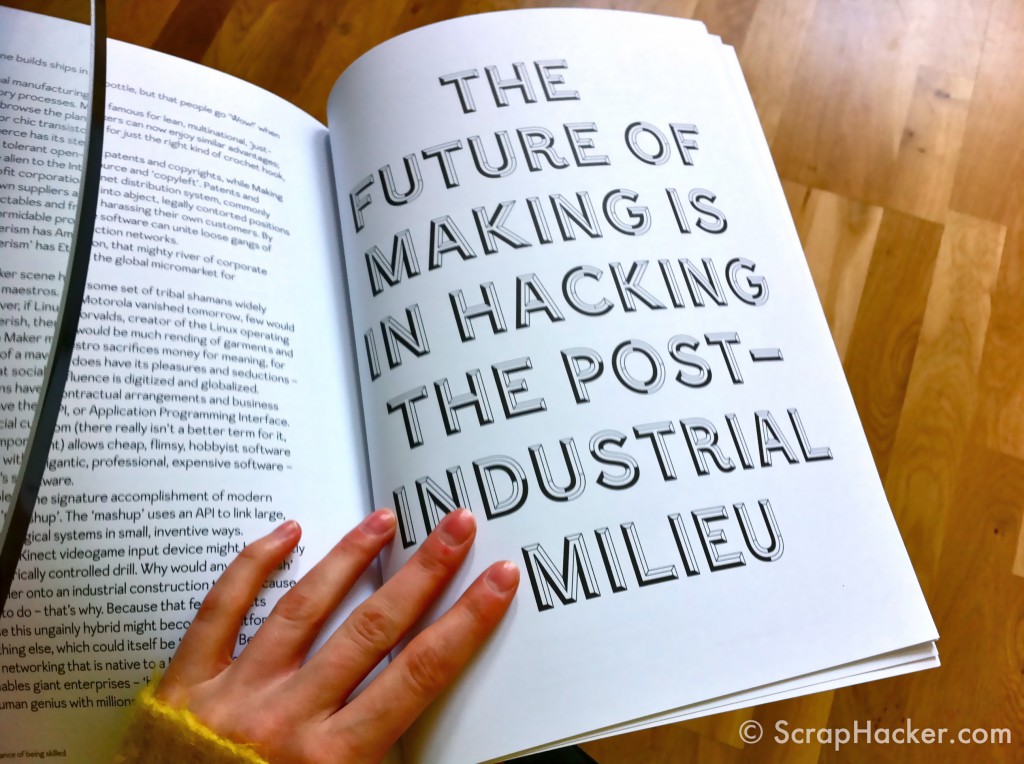 Feels like someone read my mind!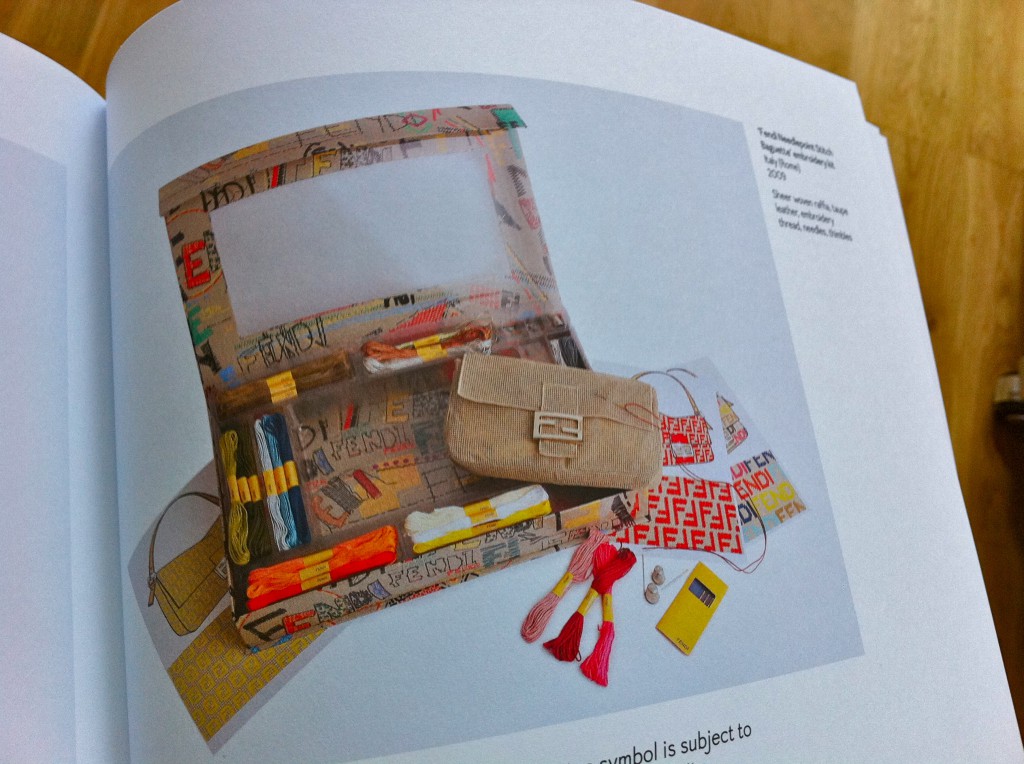 The Fendi Needle Point Stitch Baguette embroidery kit…(2009)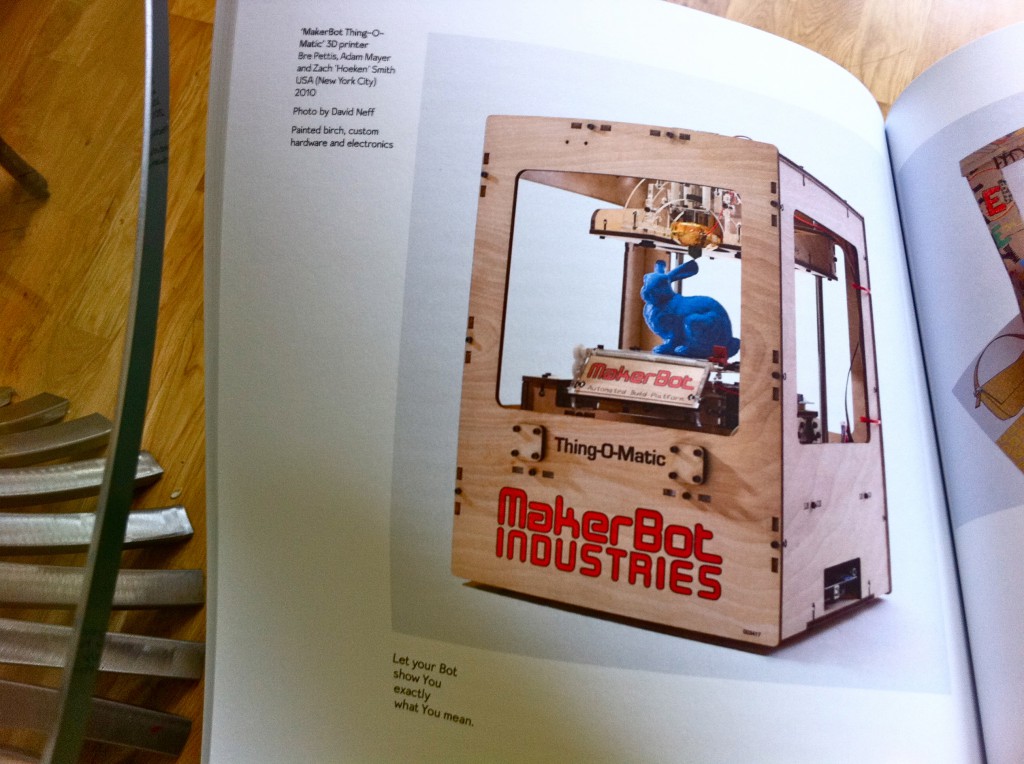 The Thing-o-Matic 3D-printer by Makerbot!
Heleen Kloppers Woolfiller Reparing Fibre (2009)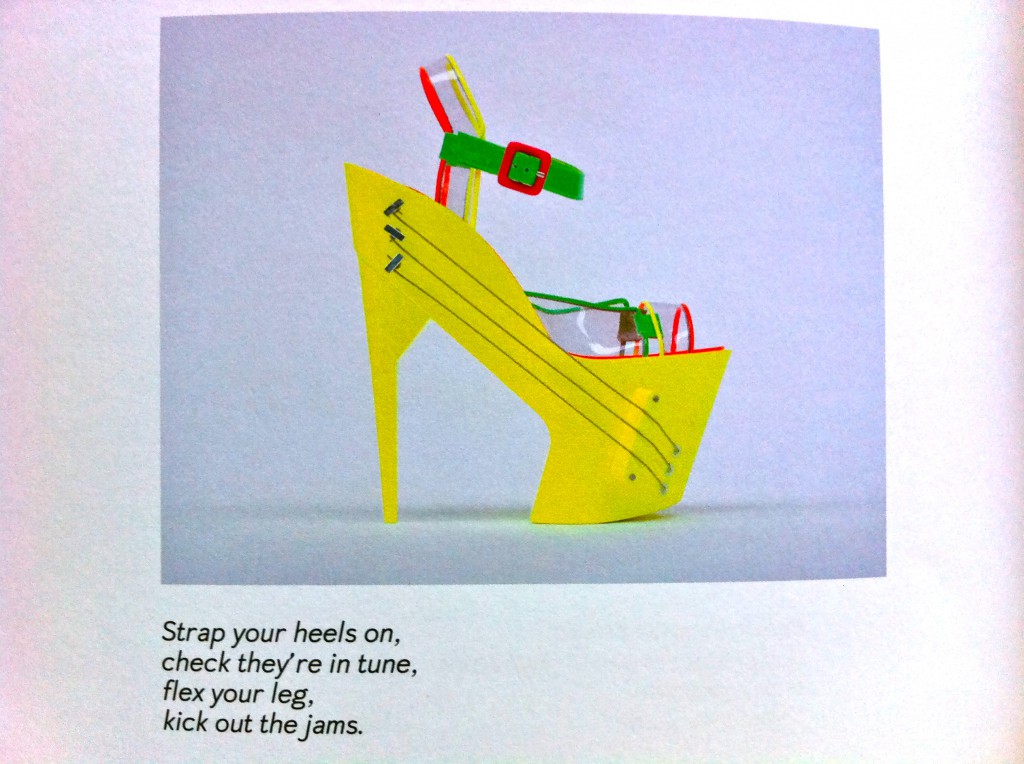 The "E-Shoe" wireless, high heel guitar by Chicks on Speed and Max Kibardin (2010)
As you can see – the exhibition and its catalogue is a treat for any inspiration junkie… Visit the Power of Making exhibition if you can, at the V&A Museum (closes 2 January 2012)
The V&A Museum, London
Yesterday I passed by the H&M Knightsbridge (London) location…Even though I was in a rush to go somewhere, my curiosity made me enter the store – I simply couldn´t resist the visual temptation of the stunning "string sculptures" hanging from the high-rised ceiling. The structures are all made from differently sized, square metal X-shaped frames with hoops in every corner and in the middle…The fact that that simple, common shape, along with some rope, can achieve these pretty things, is amazing. Pushing the associations further, the "needle & thread" feel to the sculptures makes them a perfect match for a innovative clothing retailer like H&M. The idea got my hacker juices flowing – I wonder how it could be tweaked further? When I´m back home I figure i´ll find myself some scrap metal frames and some old string to do my own interpretation of this great hack idea!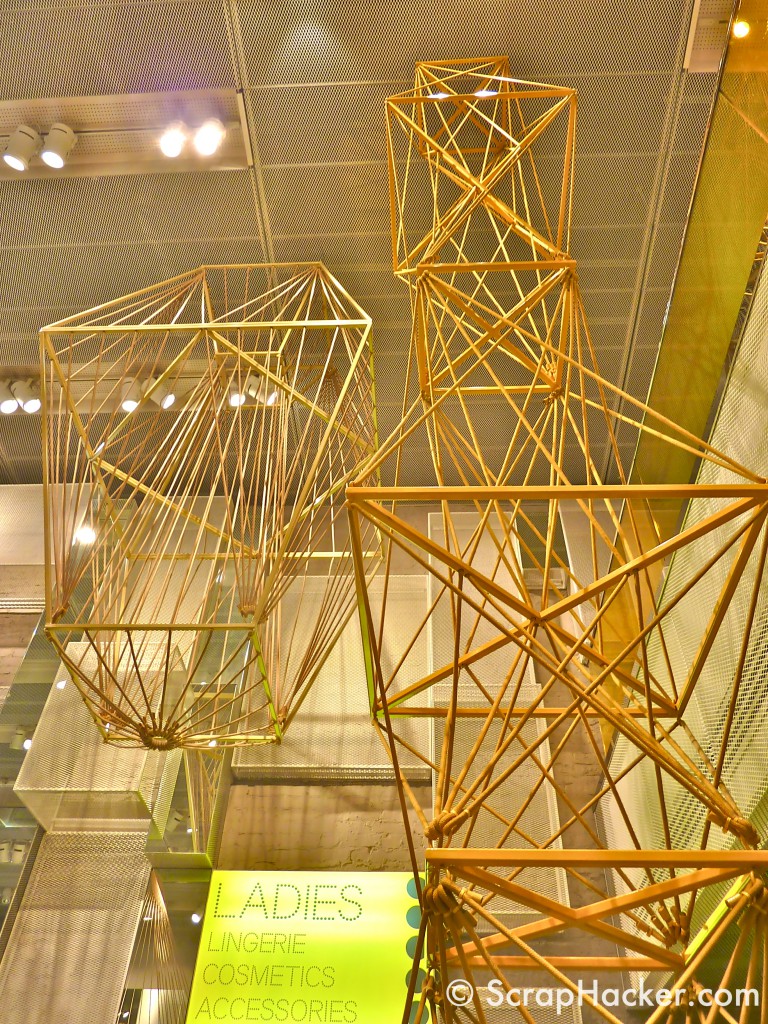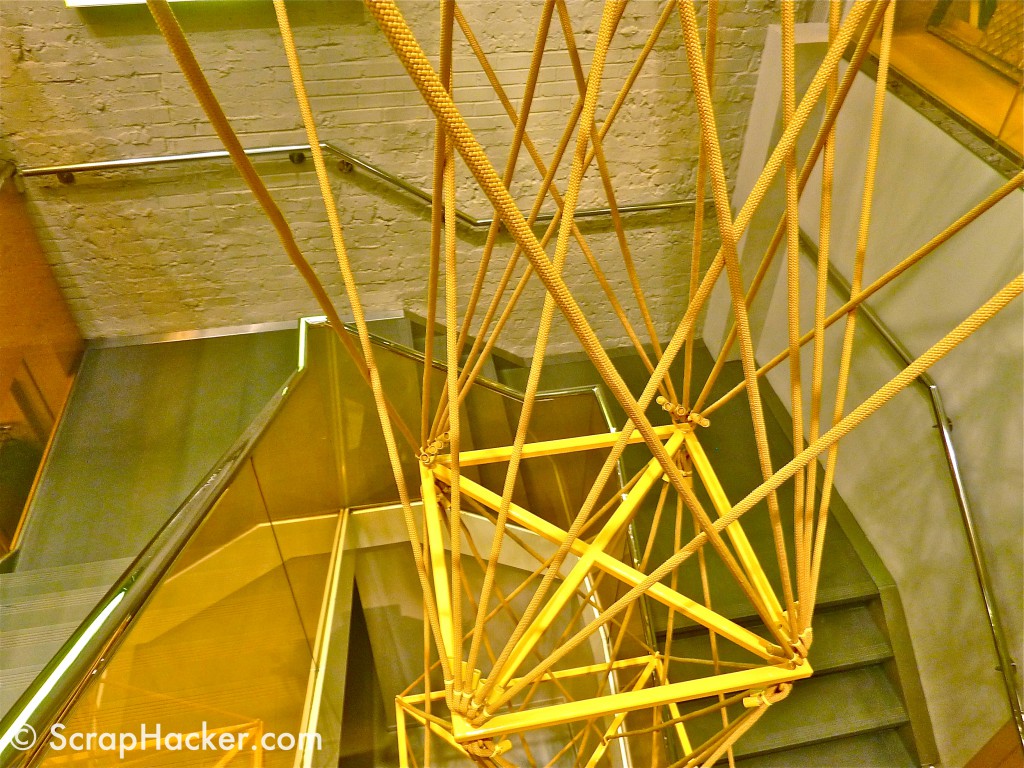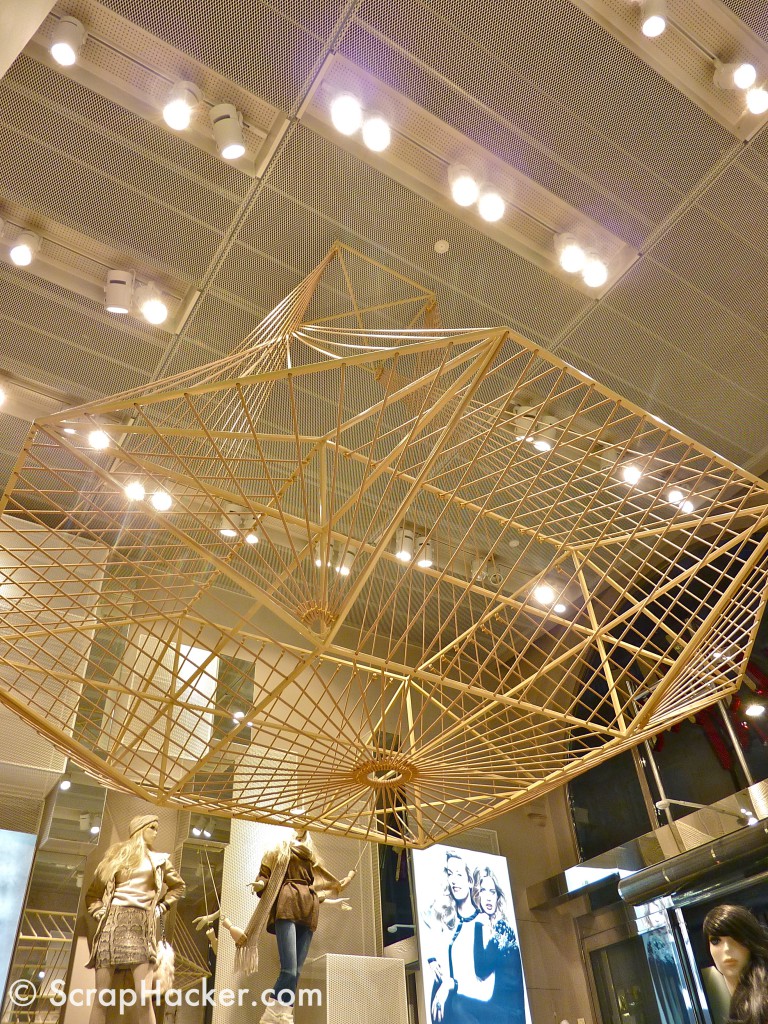 Visit this H&M store @
In these micro-woven take-away times, the silent witnesses of the home-made, by-gone era often end up in masses in thrift shops and at the salvage yard…
Old brioche tins, pie dishes and enamel colanders are easy to find…and easy to re-make.
Let these great examples from fab scrap hacking Etsy vendor Flea Market Rx (by maker Hilary Nagler and photographer Robert Redfield) inspire some home-made lamp cooking…
Hilary works with whatever medium inspires that day – reimagining antique lamp parts into modern rustic fixtures, reclaimed plumbing pipe and wood planks become elegant dining tables. Wood, steel, tile, paint … kitchen sink alchemy and patinas that make the heart sing.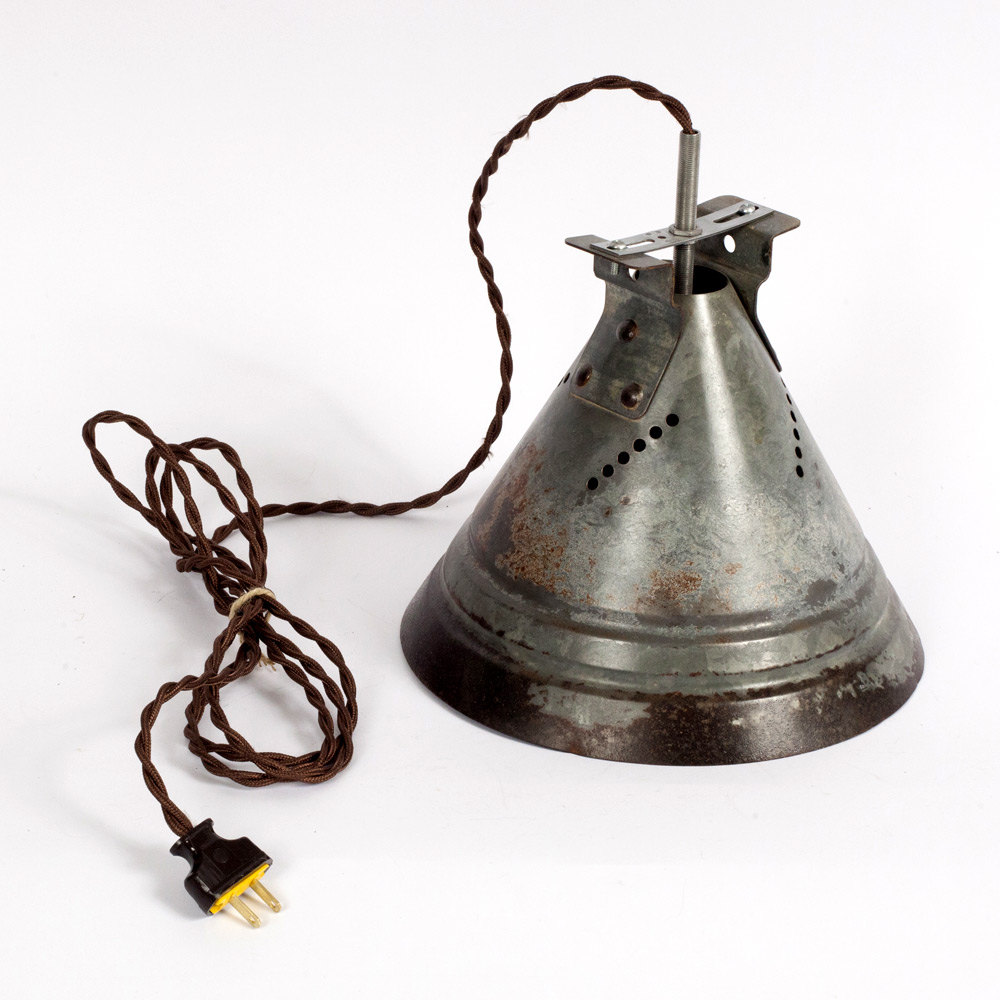 The lovely photos are all from the Flea Market Rx shop (and by photographer Robert Redfield)
. Check out the Etsy shop for loads of more inspiration!
Inspiration from colorful textile cords are also a great way to get started on your lamp D.I.Y-projects, these pretty examples were seen @ Alibaba store Unirise Electronics but i´m sure you can source your own local solution.
Got some copper pipe, some nylon zips, some tempered glass and a lot of patience? If so, I think you should give this cool hack "The Ultra Conductive Table" a go! The design is by Brooklyn-based Paul Loebach, who successfully combines his ScrapHacker´ eye for potential with the skill to act on it…
This side table is made using Alloy 101 Ultra Conductive Copper. The tubes are cut, polished, lashed together with nylon 'zip ties', and finished off with a glass top. The shining result is a jewel-like structure made inherently strong by its geometric network of triangulated shapes.
Although it´s a complex structure, Paul welcomes us to get a peek into the process by posting great How-To pics in his website, essential tools are a pipe cutter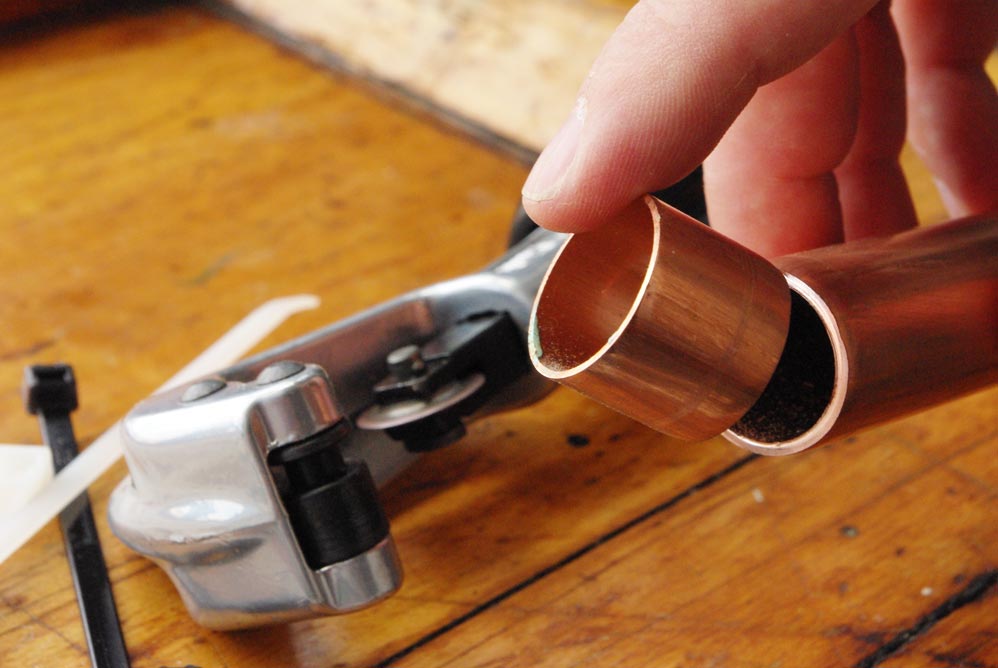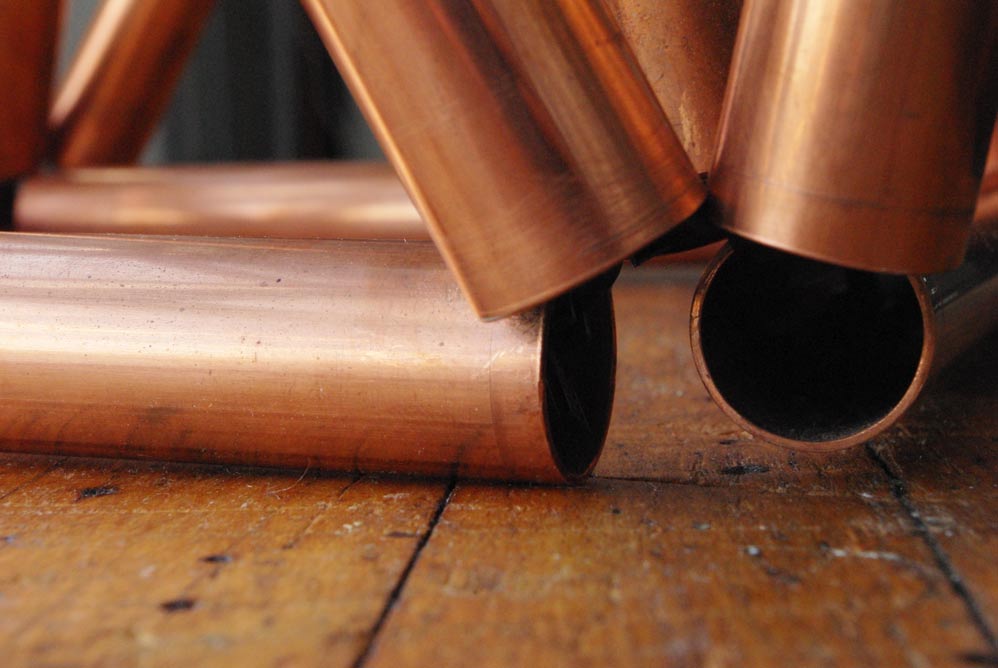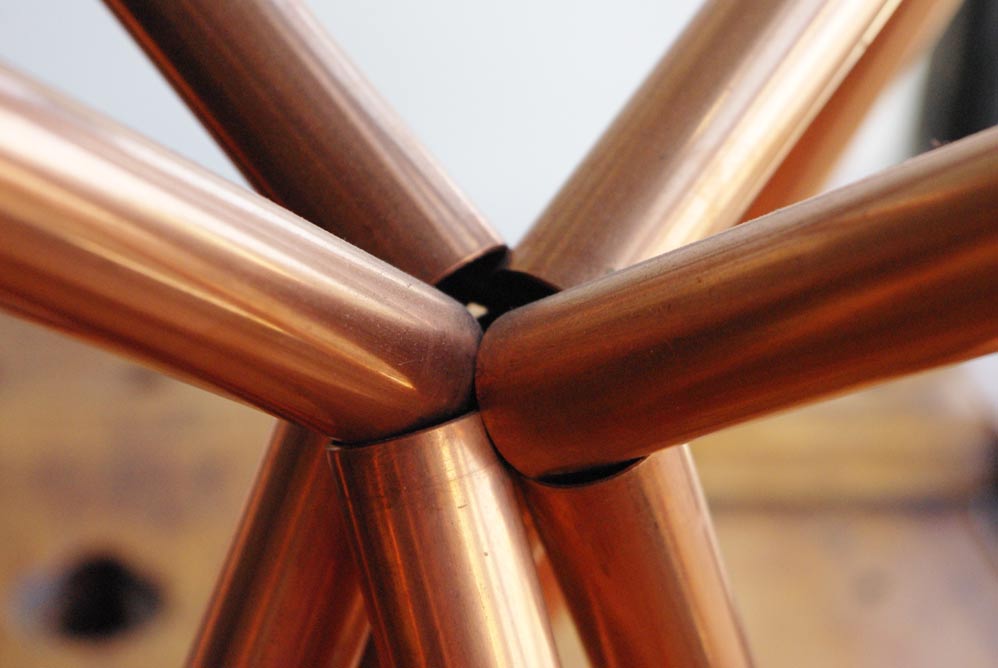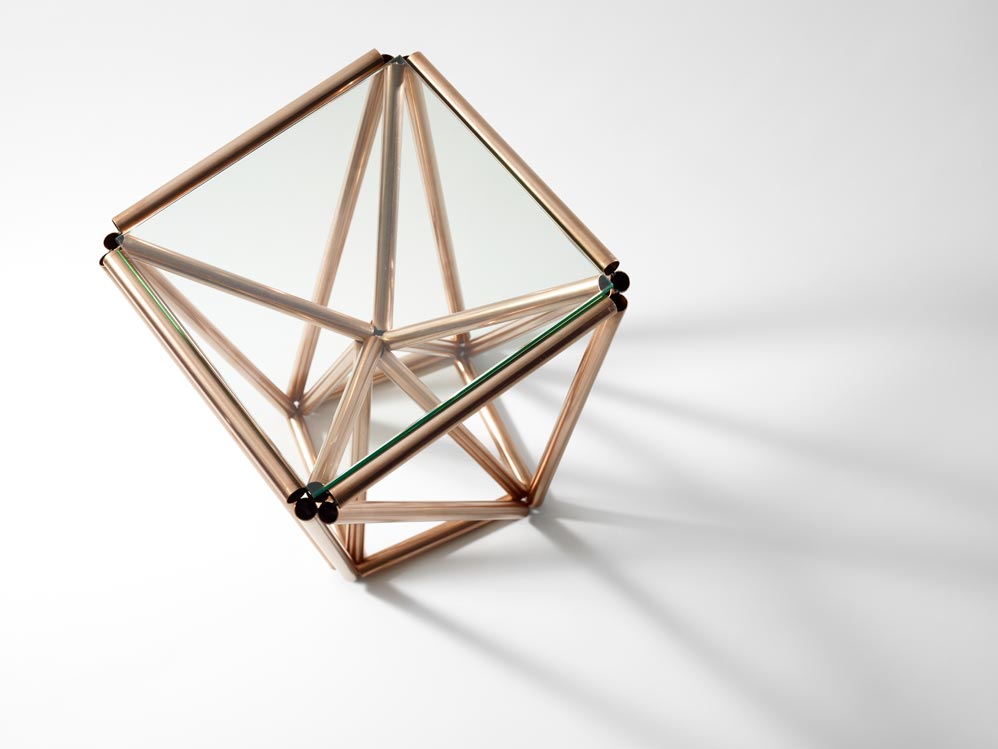 Good Luck Hacking!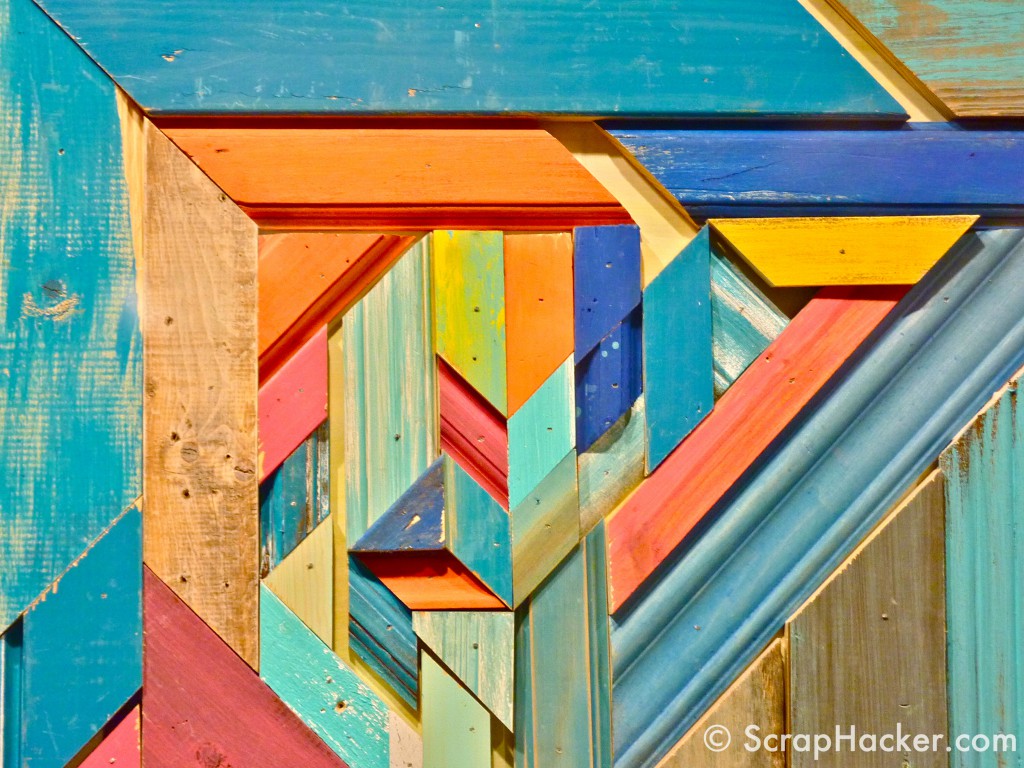 Feast your eyes to these pieces of eye candy – details from a window display of the Anthropologie Store @ Chelsea Market, NYC. The scrap wood collage is made from various pieces of spline all matched together with mating 45° cut edges to form a tight and contained effect.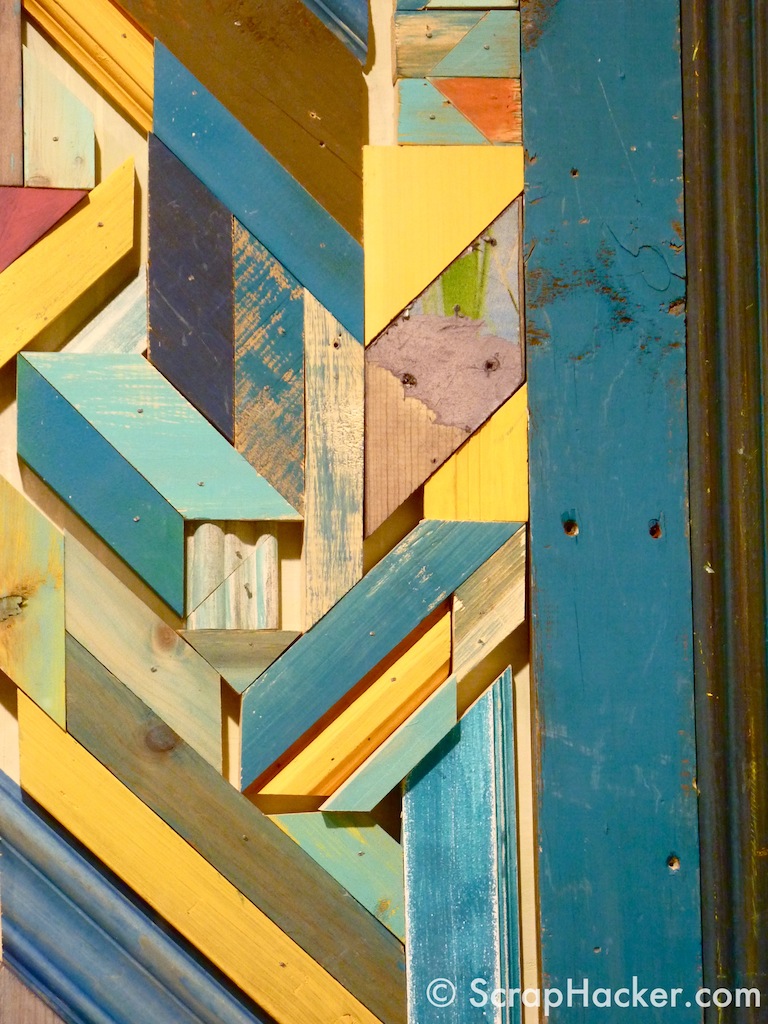 Acheiving that kind of precision might not seem that tricky, but it actually is…What you need to help you is a Miter box, Craft Magazine recently featured a great How-To use a miter box guide, check it out here. With the help from the miter box you can saw exact angle, ensuring great results when building things like frames or skirters.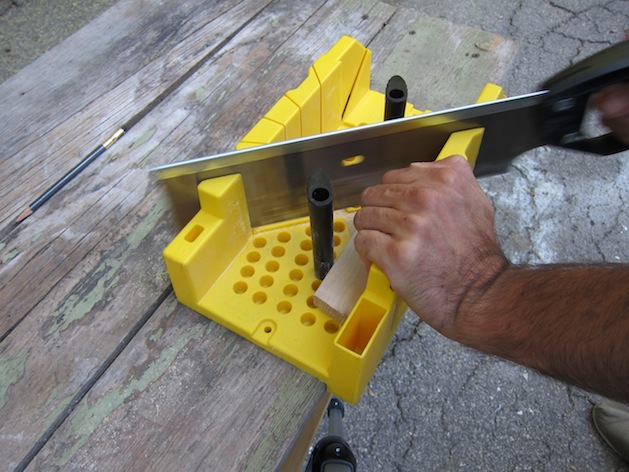 Then again, you could always skip the 45° angles and go for the more rustic look with a right-angled version which also looks very cool if the proportions and styles of the scrap components have been varied…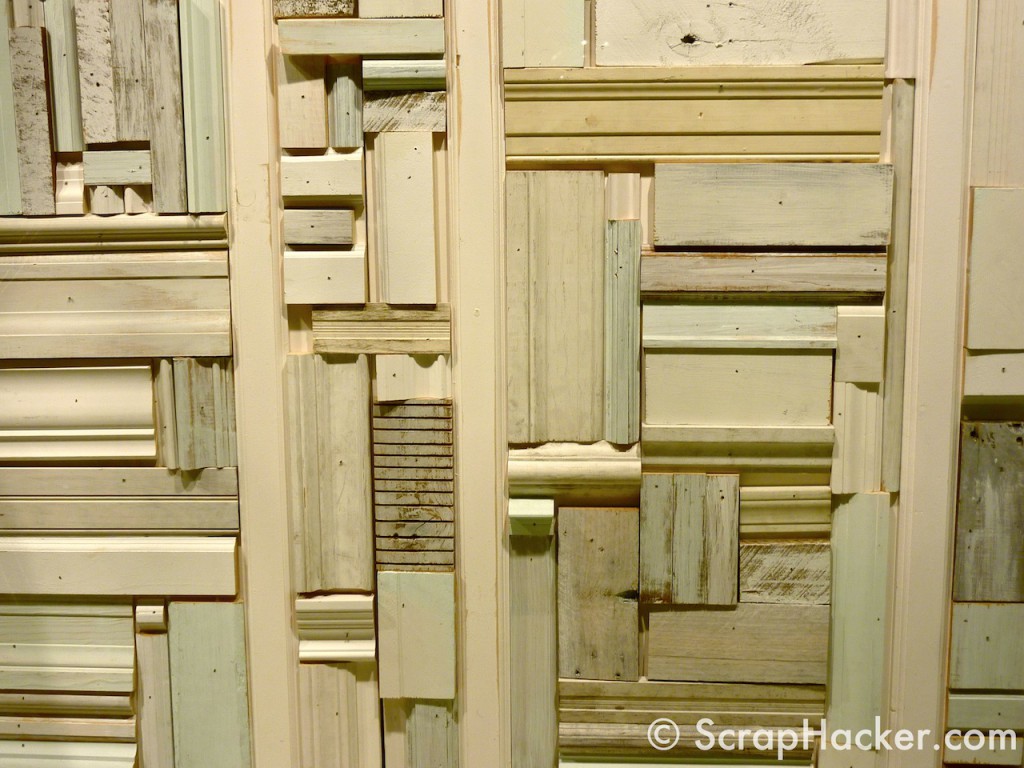 See below for the bigger picture, and how the 2 different techniques work together in the window display. Making your own scrappy art work is not that tricky, so be on the lookout for those old pained scrappy spline and batten pieces!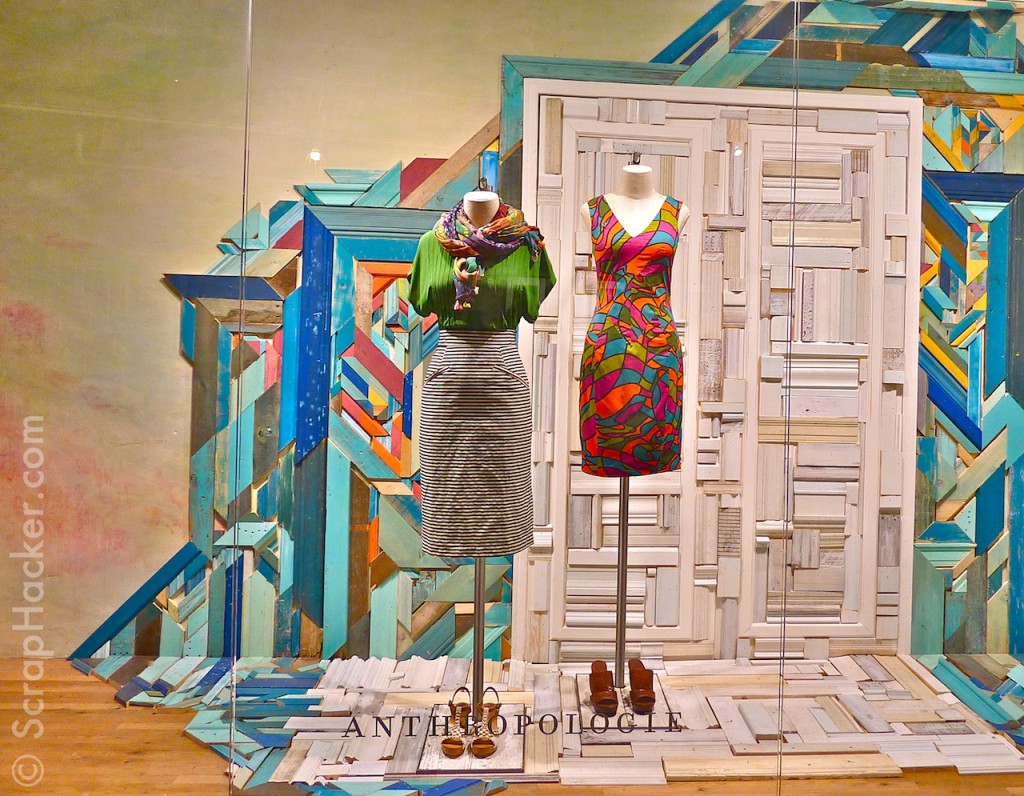 Chelsea Market, NYC
Lets go back to basics people…Where better to start than with the basic log? Logs are pretty much as basic as it gets, and they´re universally recognizable due what is practically a worldwide supply…As material for building, they´ve been around forever..making modern plastics and composites look like temporary fads…The accessibility and the basic, solid features of a log makes them a perfect starting point for some ScrapHacking…the best part is that that log hacks rarely rely on powertools or complex accessories, just your creativity and a basic tool-kit…Here are some great examples to inspire some ScrapHacking!
Log End Table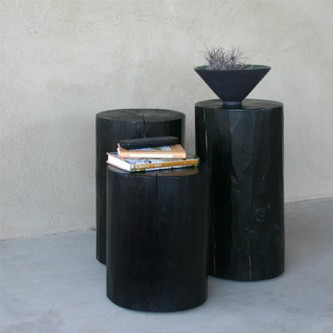 Log Table Legs
Log Stools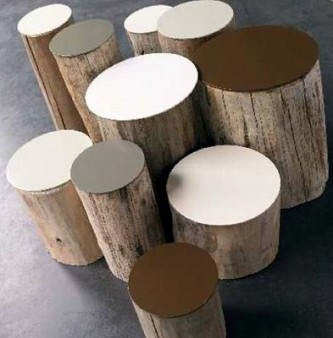 Old School logs gets a modern look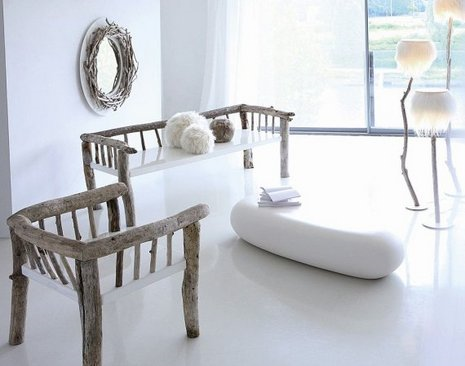 Birch Bulletin Board
Glass topped coffee tables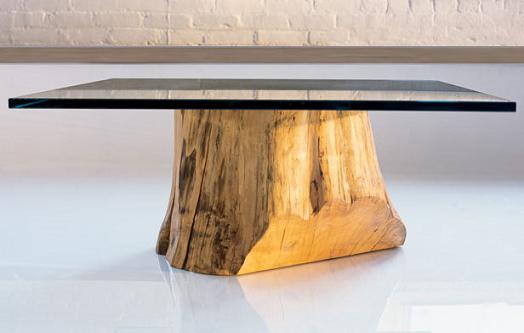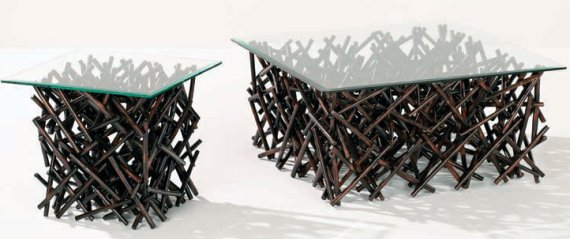 Log Bundle Coffee Tables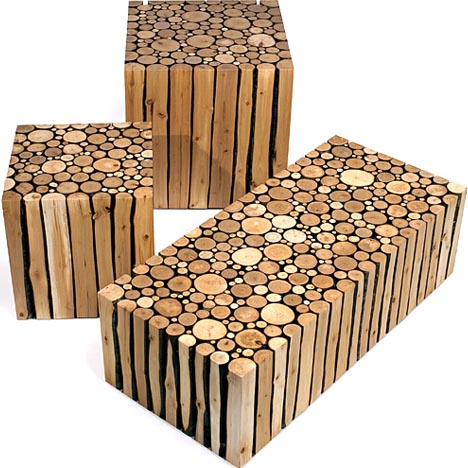 Birch Bark Cupboard

Bright Birch Ideas…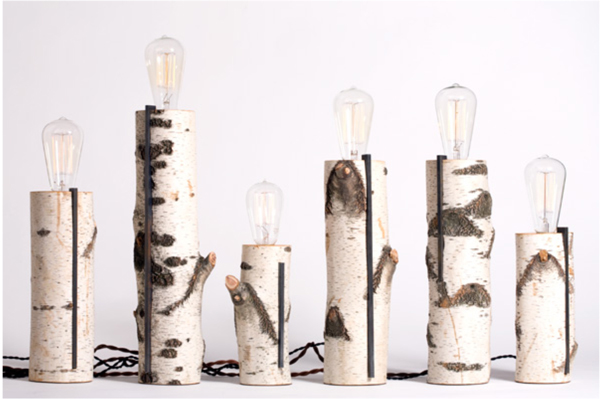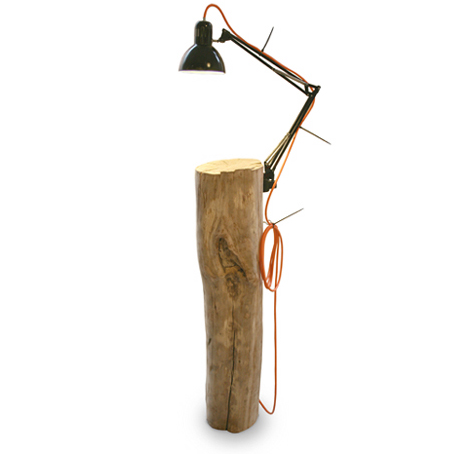 PHOTOS:
Log End Table: LockTwentyThree.com
Log End Table 2: DesignSquish.com
Log Table Legs: Nibsblog.wordpress.com
Log Stools: Pfeifer Studio
Log Stools 2: DesignSquish.com
Old School logs get a modern look: Modernests.com
Bulletin board:Nibsblog.wordpress.com
Glass top table: FurnitureArcade.com
Bundle table: Dornob.com
Glass top table 2: ApartmentsInteriordesign.com
Birch Bark cupboard:Nibsblog.wordpress.com
Bright birch ideas: HomeKlondike.com
Bright Ideas 2: Aleremodern.com
Bright ideas 3: Vi.Sualize.Us
Got some old plastic tubes, or perhaps some old denim? Some ideas on how to make better use of them were seen @ the Scrap Lab Website. The denim chair is clever in a multitude of ways, firstly, being made of discarded denim ticks one box…Secondly, the denim seat is detachable denim and can be used both as a jacket (?!) and a floor mat for your meditation, how´s that for ingenuity?!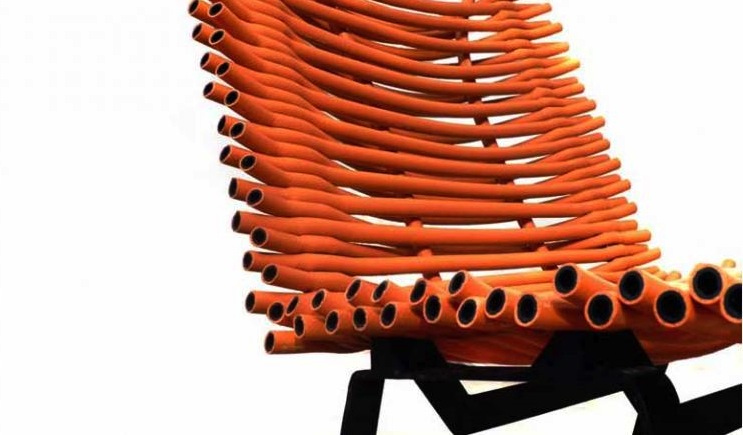 All Pics from www.scraplab.org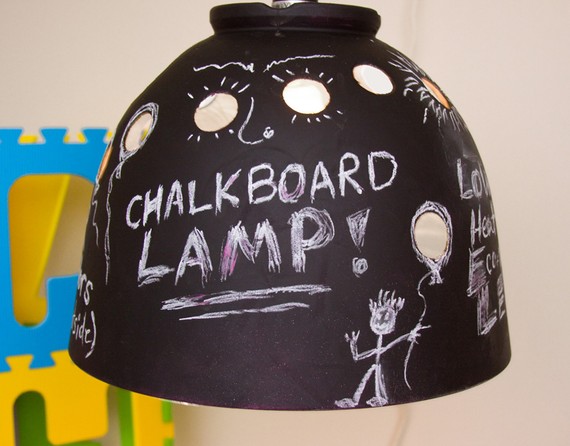 I´ve previously shared ideas seen at the Wes Bennett Etsy store, like the great upcycled gym room lockers…This is yet another of his great hacks – a chalkboard lamp which creates a great unexpected medium for creative expression…As always, every detail of Wes´ creation is cleverly hacked…The lamps are made from large, up-cycled planter pots & lighted from within using an ultra-efficient, 4 Watt LED bulb….
"The semi-random holes around the shade allow plenty of light onto the ceiling & walls while still giving you room to doodle in your favorite colors of chalk!"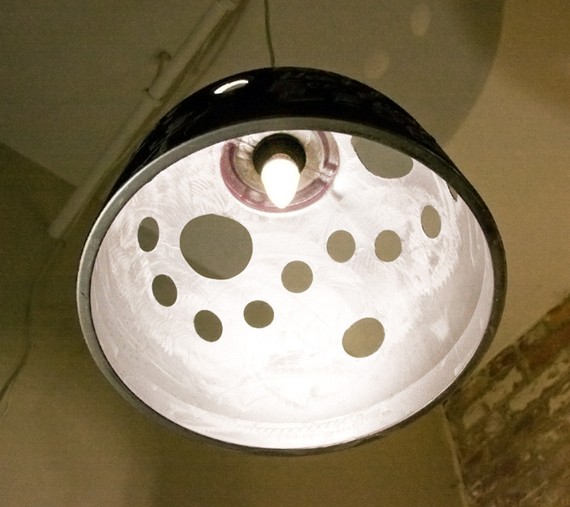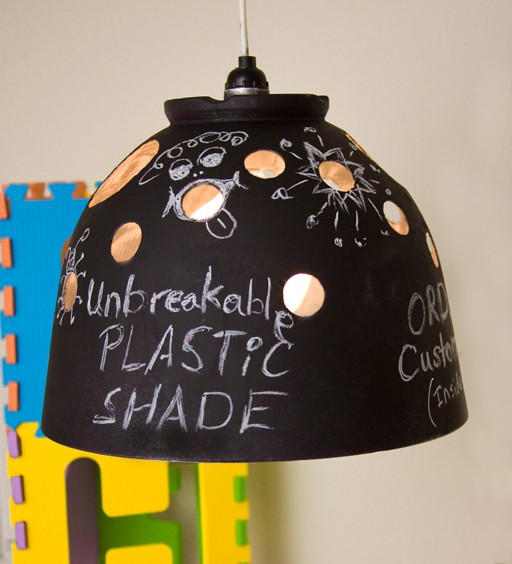 The inside of the lampshade is reflective silver to maximize light output, but can also be ordered in shades of metallic (or flat) purple, pink, blue & orange. The outside shell (with the chalkboard finish) can be ordered in black (as shown), chalkboard green & magenta…This is what I call great possibility for customization! Let Wes inspire your own D.I.Y creations or head to the Wes Bennett Etsy shop to place your order!
Read more @ The Wes Bennett Etsy Shop (where all pics are from)
I find it really fascinating that something as standardized as a shipping pallet can rock so many varying looks simply depending on the finishing touches! Whatever your style preferences, rest assured – you can create a pallet sofa to suit your very own aesthetic and functional needs. If you´re feeling a D.I.Y urge, check out my previous D.I.Y feature – The D.I.Y How-To-Guide on how to build a Pallet Sofa Bed (which can accommodate 2 guests).
All you need for cosiness on a budget are some pallets, a dash of paint, some wheels/furniture legs and to top it off with mattresses & cushions! Here are some nuggets of pallet sofa style inspiration I found on the web – Which look is your favourite?
Breezy summer style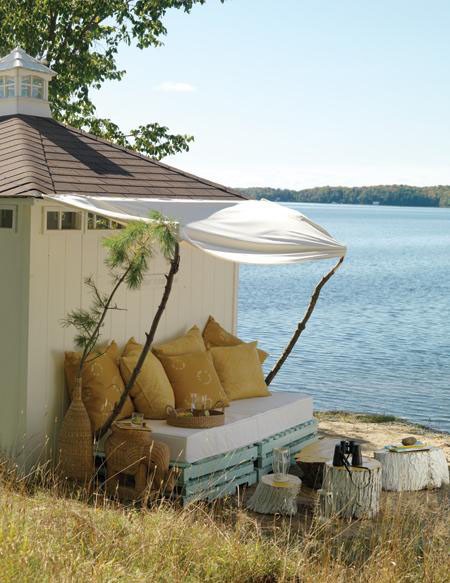 Child friendly version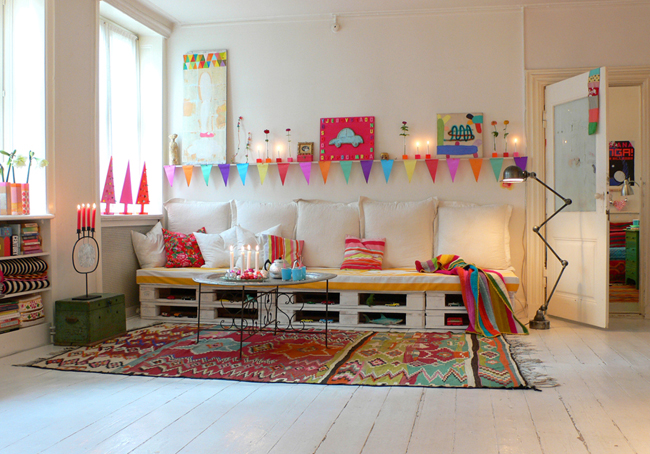 Pale Blue hues…

Sleek Modern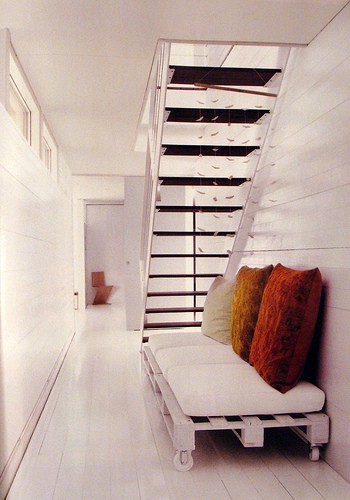 Happy Bohemian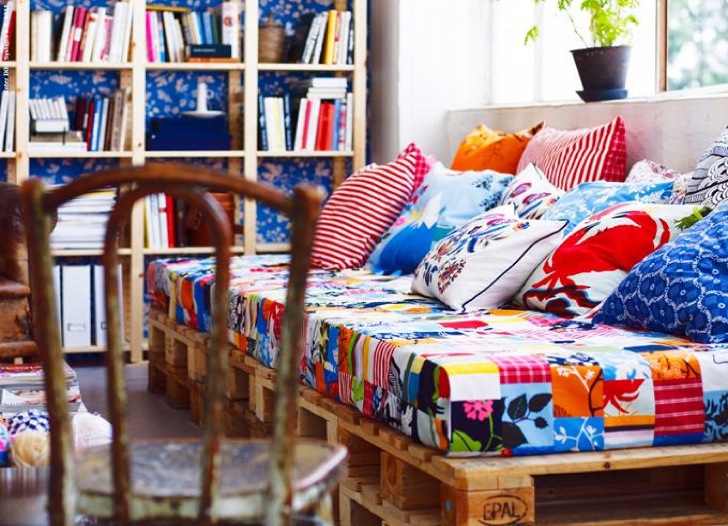 Casual Bohemian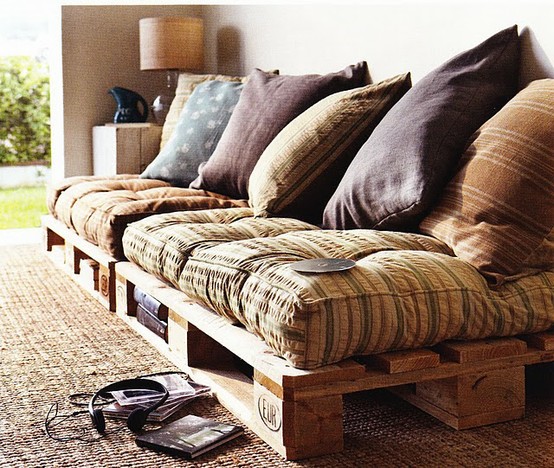 Romantic Country

Pale & Scandinavian

Cosy & Practical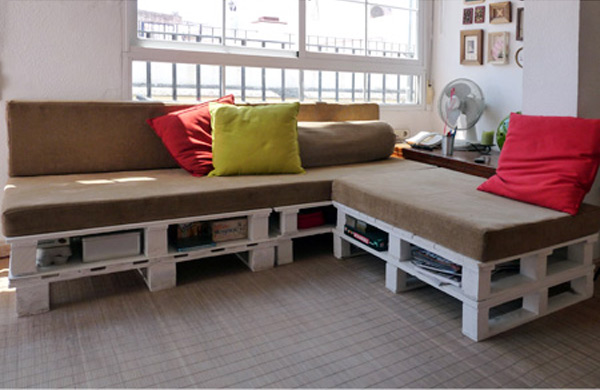 Chic & girly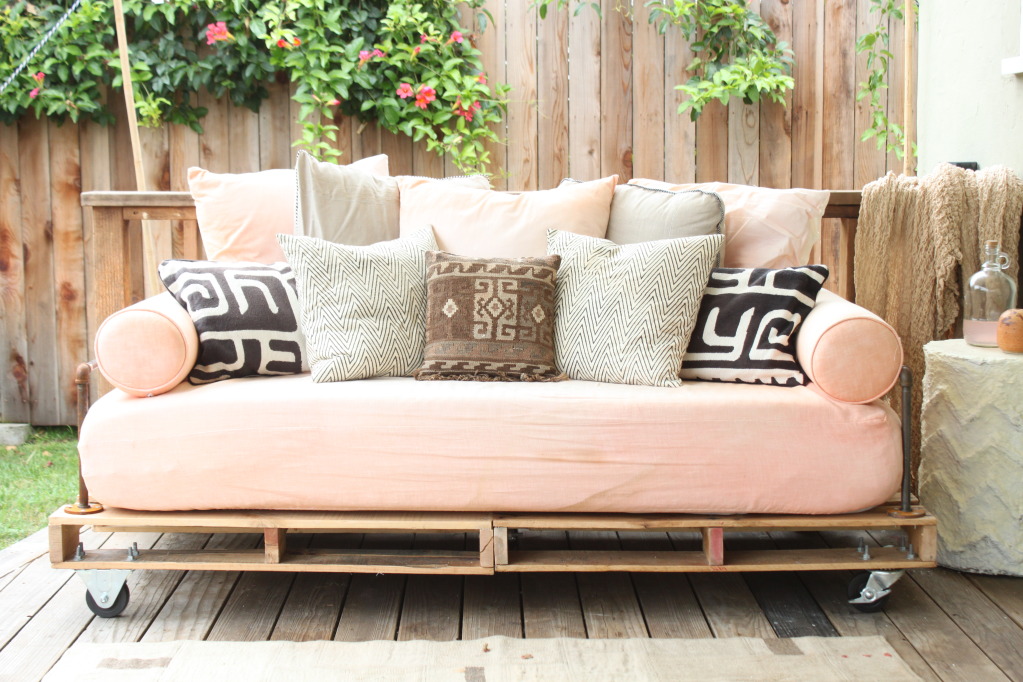 Boyish & Blue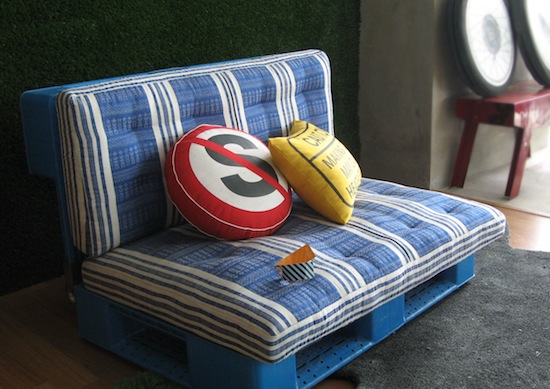 Plain & Graphic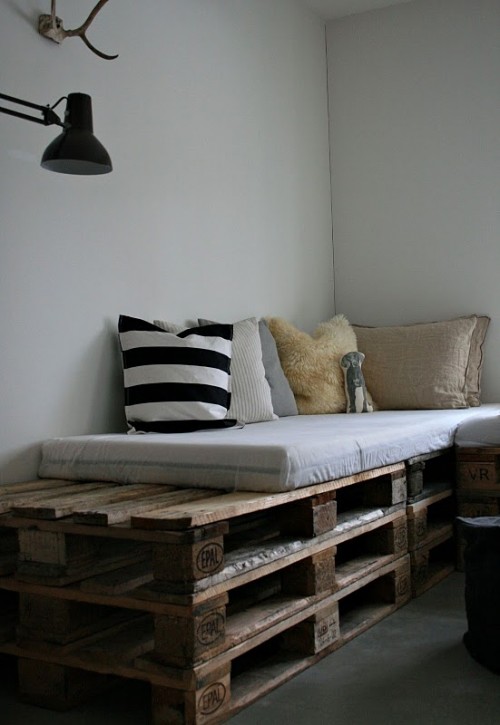 The Advanced one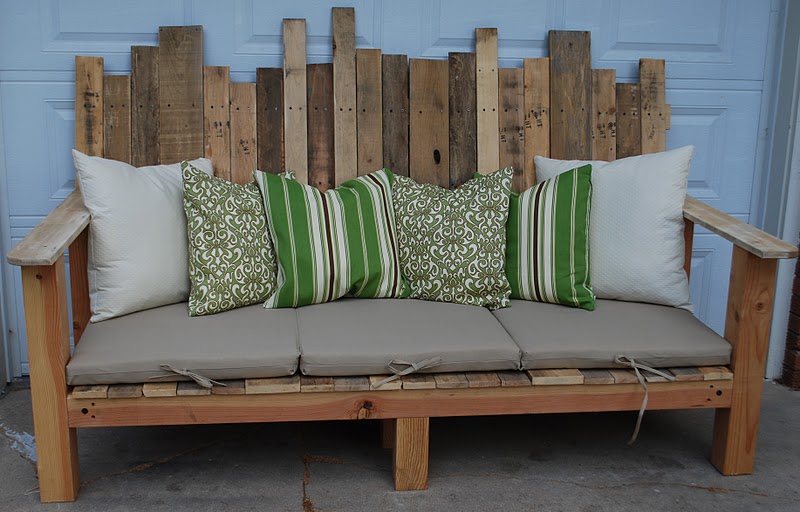 For a great step-by-step D.I.Y tutorial of this more "advanced" hack –
Click here!
Lastly….
The ScrapHacker Sofa Bed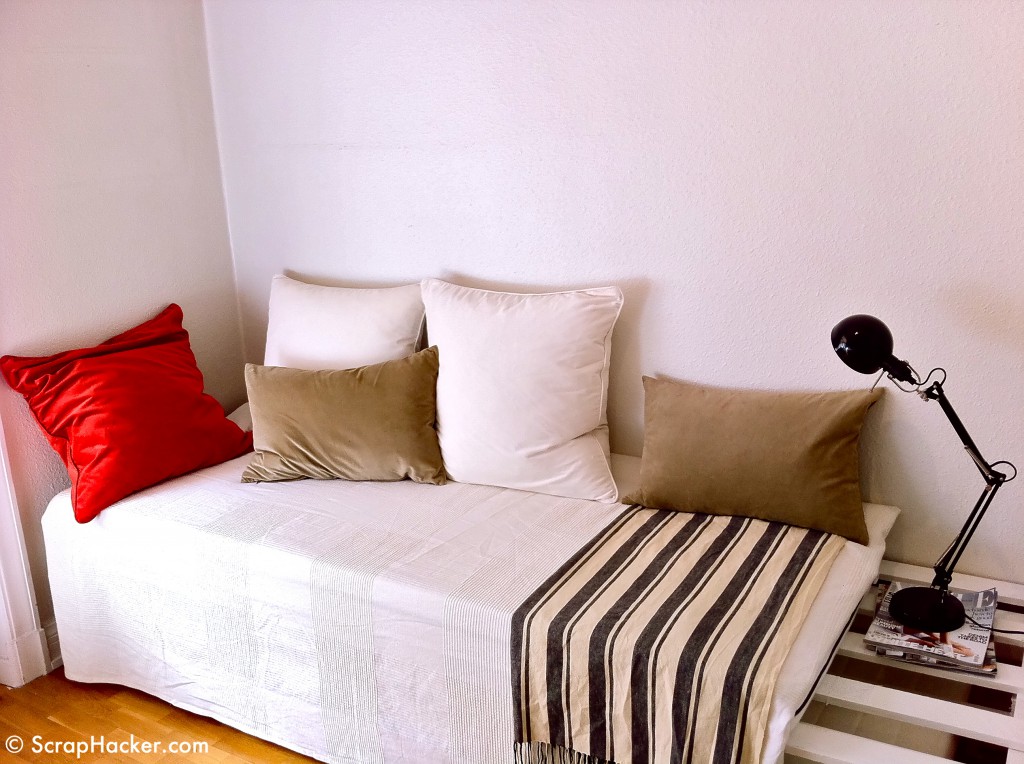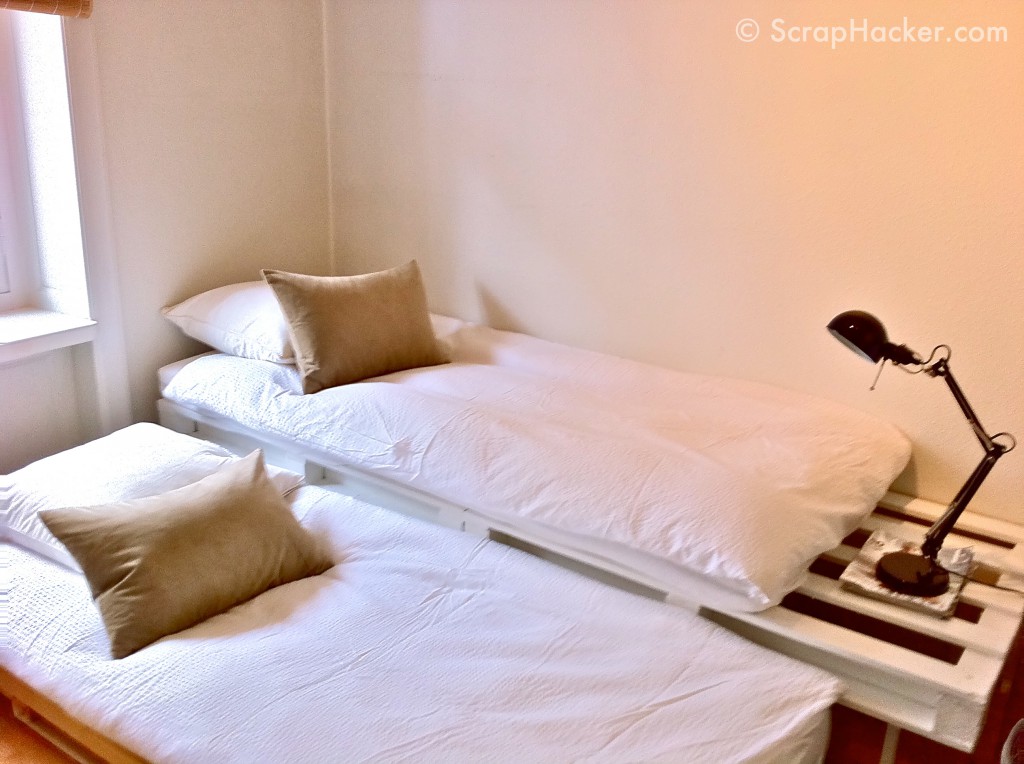 Oki – so there you go! What are you waiting for?!
– Get started on your own pallet sofa asap!
Photos:
Breezy Summer style:
www.seaseight.blogspot.com
Child Friendly Version:
www.sofarec.com
Pale Blue Hues:
www.seaseight.blogspot.com
Sleek Modern:
www.vi.sualize.us
Minimal:
www.seaseight.blogspot.com
Happy Bohemian:
www.inhabitat.com
Casual Bohemian:
www.pinterest.com
Romantic Country:
www.ashleyannphotography.com
Pale & Scandinavian:
www.naturalhomeandgarden.com
Cosy & Practical:
www.shelterness.com
Chic & Girly:
www.seaseight.blogspot.com
Boyish & Blue:
www.recyclart.org
Plain & Graphic:
www.shelterness.com
The advanced one:
Full tutorial @ www.bandbsnestinteriors.com
The Pallet Sofa Bunk Bed:
http://scraphacker.com/diy-sofa-bed/
This is a versatile D.I.Y idea and a way to make use of books that you´re not reading anyway….
All you need 1.) a top and a bottom plate with 2 centered slots through which 2.) a strap can be thread to wrap the base consisting of a pile of books. Lastly, you will need 3.) some kind of fastening solution, like a buckle..
There are plenty of cool strap options at the hardwear store….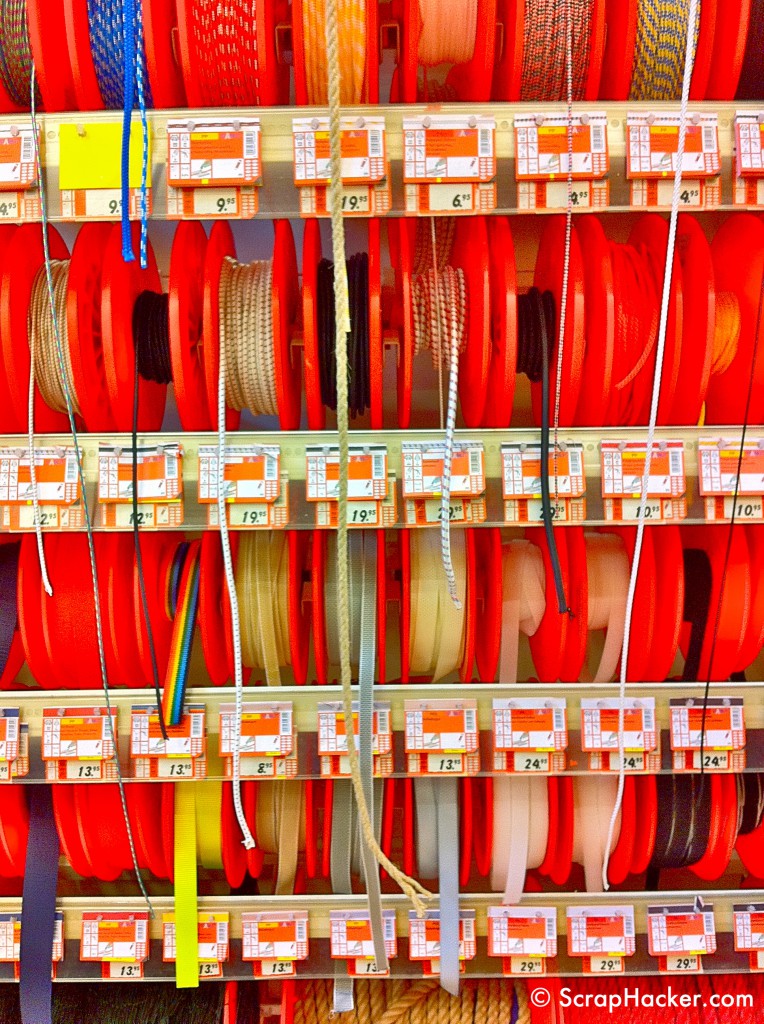 Why not go for flouro yellow? Or why not give the whole piece some sculptural edge by spray painting it a monochrome color (leaving the content of the books untarnished…)?
  Ps. saved the photo of the book table to my harddrive a long time ago without noting the source…Googling now, I can´t seem to find it – that´s why there´s no source reference. Ds.
In a previous post I crowned
Piet Hein Eek the King of upcycling
…Being firm believer in upcycling and the need for more ScrapHacking action out there…I am happy to announce that there is a rival to that crown! Briton Rupert Blanchard, who just recently won the "Best Product Design Award" in the
British Design Awards
, truly masters the art of ScrapHacking. His blog
Styling & Salvage
provides a peek into his creative mind…The site features his patchy-looking chest of drawers, made from a potpurri of salvaged bits and pieces…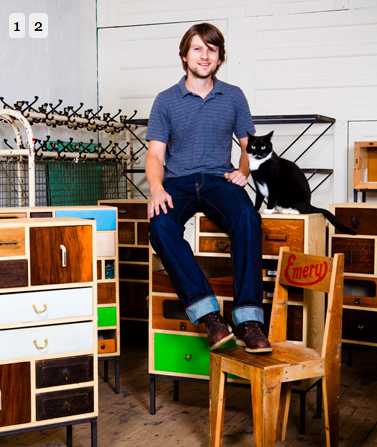 The Styling & Salvage blog has a charming inclusive tone, I really enjoyed the peek into the "behind the scenes" feature of the creation of the Sharing Table for an event @ bag designer
Ally Capellino´s Portobello store
…These are Rupert´s own words on the project:
Inspired by impromptu gatherings where any available tables are pushed together, the 'Sharing table' is made of early Victorian mahogany to 1970s formica tables found during the last 10 days in second hand markets across london.
Every table had to be height adjusted to create a level playing field, some adjustments were easier than others, old james bond paperback books and tennis balls are just right….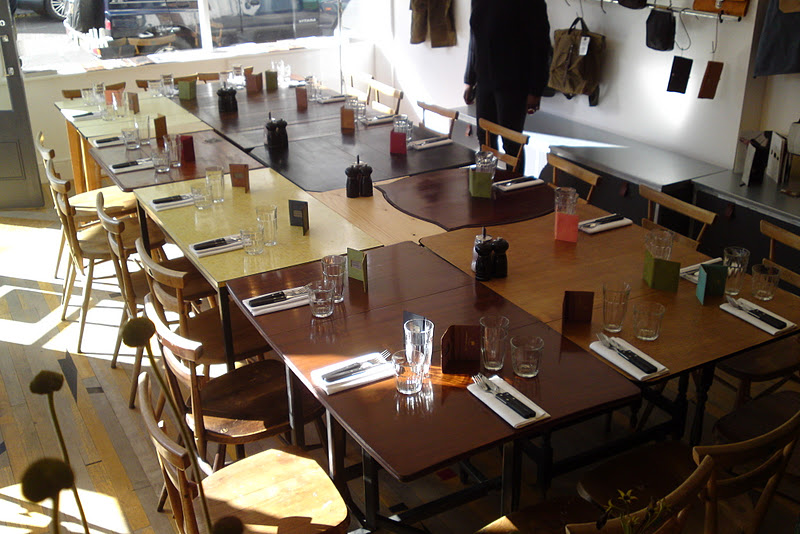 Materials used for the Sharing Table by Rupert Blanchard:
– 60s formica & beech kitchen table –  Victorian Mahogany table with books – 70s motorway cafe formica and steel table – 50s g-plan gate-leg dining table – post war ply/pine and oak gate-leg table – 30s reproduction antique plant table – Georgian ebonised gate-leg table with tennis balls – 30s/40s extending oak dining table. recycled plywood infills where needed   The inclusive tone & the openness of the creative process are things that I think Rupert are doing so right! So simply –
Congrats to the Design award & keep up the good ScrapHacking work
(and interesting blogging!)…
Visit Rupert Blanchards Styling & Salvage blog
 All photos from www.stylingandsalvage.com
The über-talented Brazilian Campana brothers (Humberto and Fernando) created this spectacular, sculptural bookshelf from reclaimed pieces of scrap wood. The contained messyness provides a stunning contrast to your average bookshelf…and makes it a perfect complement to the tidy urban home in need for some edge…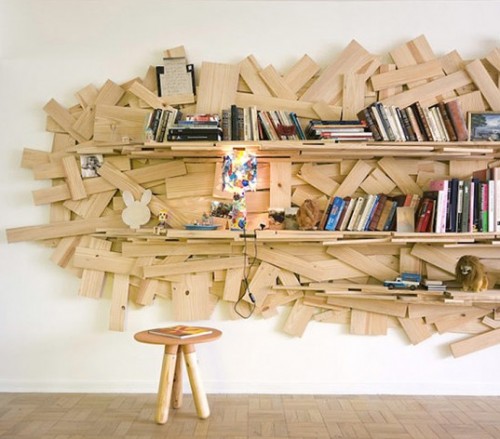 The scrap-wood piece is inspired by a previous creation, The Favela Chair (2003). "Favela" refers to the ad-hoc builds and shelters which are built out of scraps of wood, mud, sand, bricks and stones in the hills and on the fringes of urban expansion around Rio de Janeiro. The Favela chair is priced at $5,185,00, for that you get a chair with each piece is made by the same wood that´s used to build the favelas, all hand-glued and nailed…If that price tag is to hefty for you – why not give this a D.I.Y go?!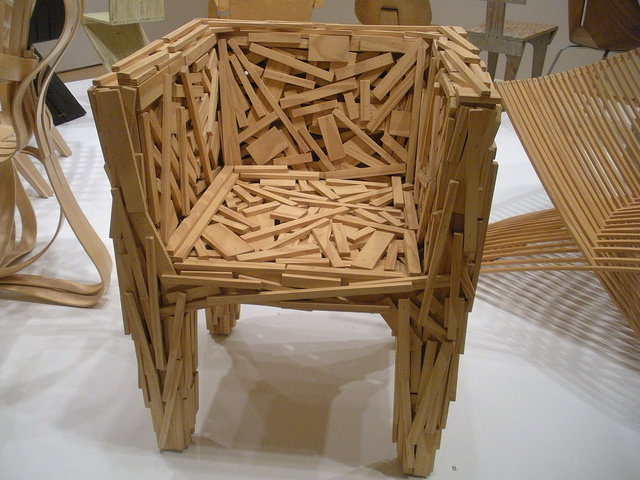 Photo of book shelf: www.agreenliving.org
Photo of Favela chair: Flickr user Sftrajan
You´ve gotta love the this recent project by Ryan Frank… cause it´s goddam great! AYO – or "Add Your Own" – invites us all to play and collaborate (and who doesn´t want that?). The idea is to sell lights without lampshades, and encourage users to re-cycle locally!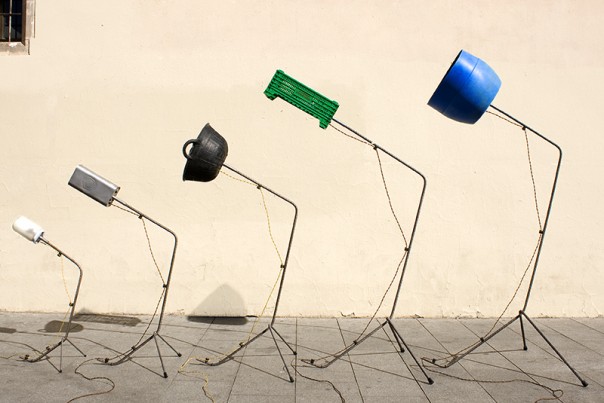 The A(dd)Y(our)O(wn) lighting range gives everyone the chance to be part designer, part manufacturer. Made from rebar and natural rubber, the lights are designed without lampshades to encourage the re-use and re-cycle of everyday objects from garden, house or street.
For Roomservice Design Gallery Ryan fitted the lights with a series of iconic Spanish objects salvaged in the streets of Barcelona such as fruit crates, olive oil tins and pickle jars…This is a really inventive take on collaborative production as well as creative eco-friendlyness – Way to go Ryan, can´t wait to see more of your stuff!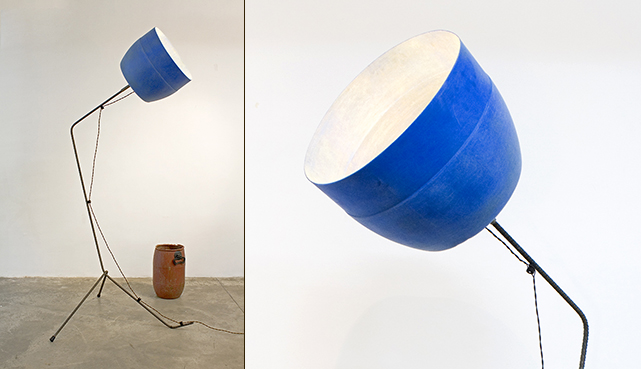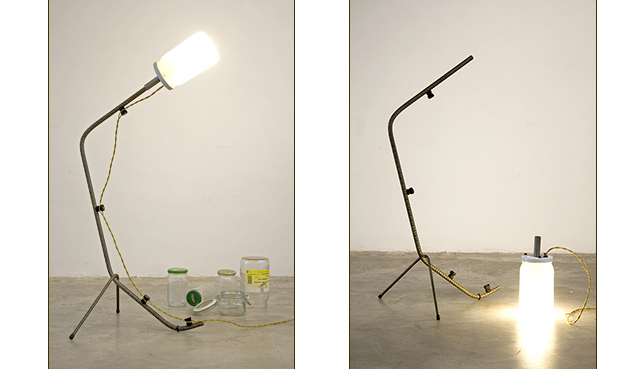 All photos from www.ryanfrank.net