The old saying "You can´t eat your cake and have it too" seems challenged by the boom of great cookie & candy wrapper designs – giving eating sweets an even sweeter aftertaste! This ScrapHack idea have great D.I.Y potential (and makes a great gift) as the weaving technique used can be applied to practically anything, making hacking really accessible and versatile!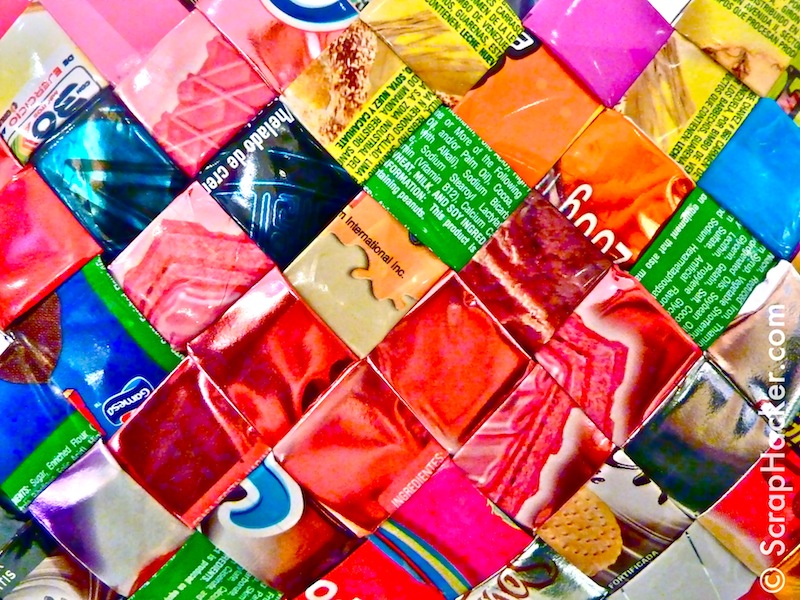 This is a D.I.Y clip, showing the entire process behind the making of a tote. There are lots of other tutorials out there, featuring DIY cuffs, clutches and more!
Candy Wrapper Tote Tutorial
Well outside the D.I.Y sphere, Brands Nahui Ollin and Ecoist are among the ones having launched successful businesses out of this Scrap product. Their raw material are misprints, paper wrappers that were never used, but that would otherwise have been sent to a land-fill destiny. Both companies have social business models, in providing part-time work for single mothers in Peru and Mexico – making their products feel as good as they look!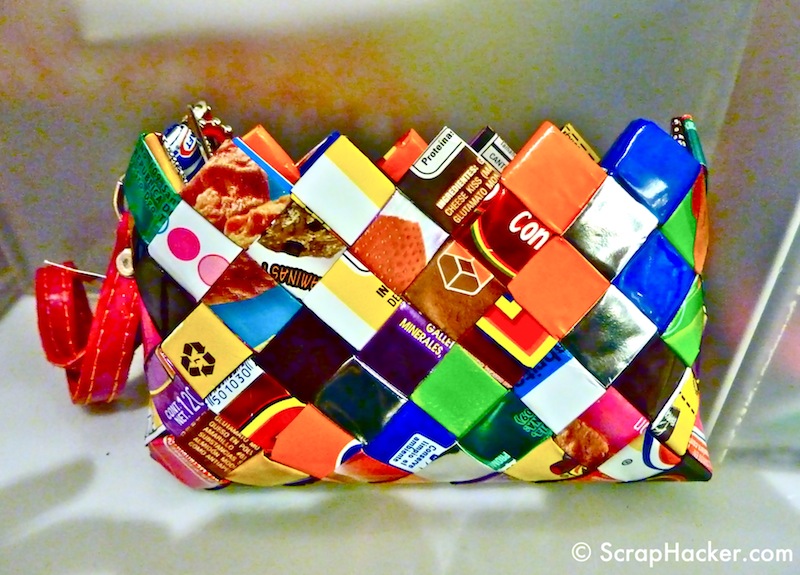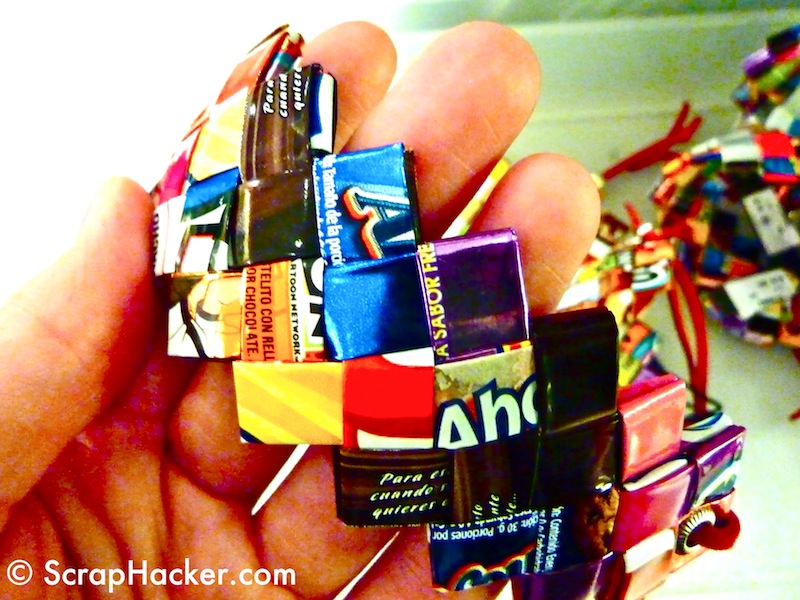 Candy Wrapper Bracelet Tutorial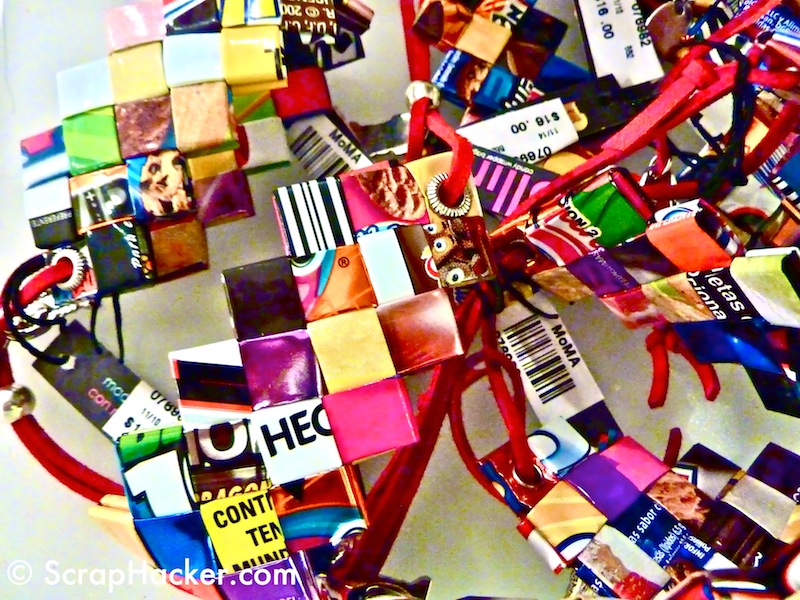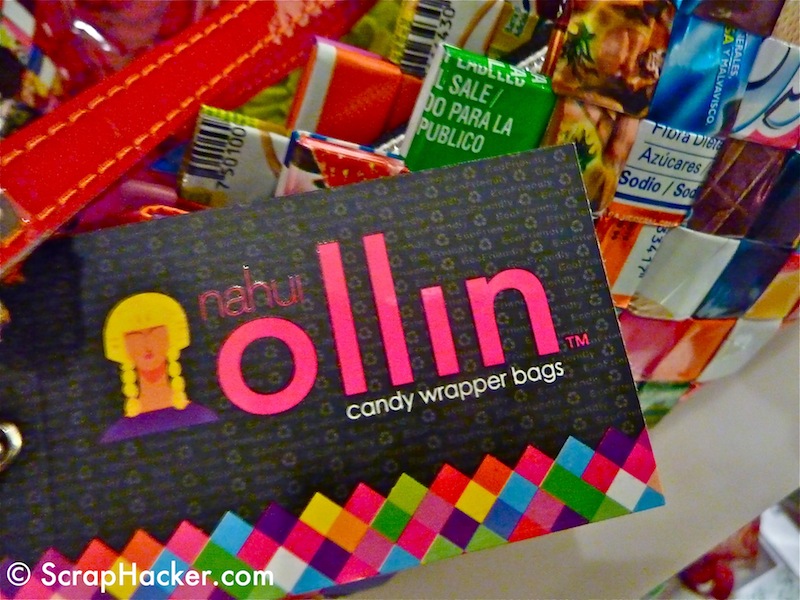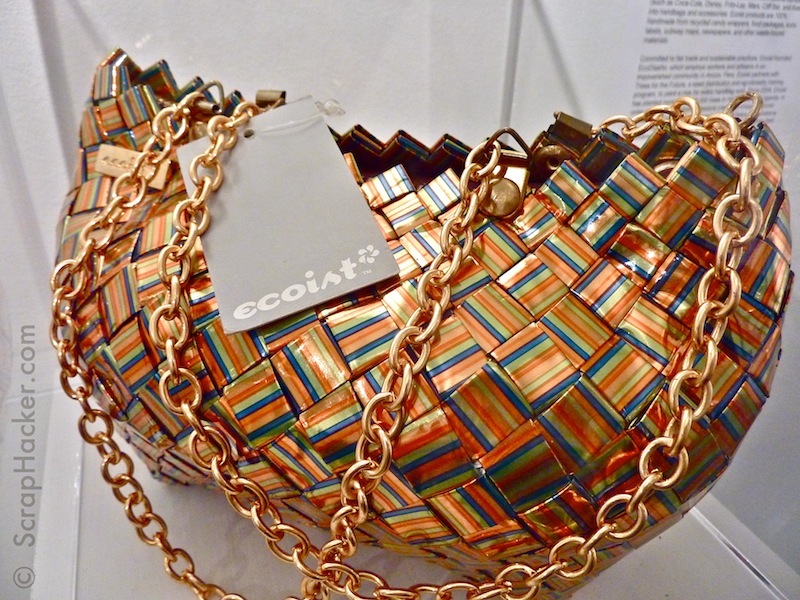 Good Luck Wrapper Hacking!
For more inspiration, do some DIY googling and check out the websites of Nahui Ollin and of Ecoist!
www.nahuiollin.com www.ecoist.com    
The success story of the now iconic Freitag brand started with a realization of the potential value of scrap. Biking around Zürich, two brothers, Markus and Daniel Freitag, identified a problem in need of a solution: they needed a handy messenger bag that would endure the varied weather conditions of Switzerland…
Living in an apartment with windows facing a highway they puzzled bits of pieces into a solution, inspired by the colorful lorries driving by, looking cheery no matter what gloomy weather they were driving through. Materials that caught their eye were the utility ones of the trucking industry, the truck tarpaulin, car seat belts, airbags and bicycle inner tubes…Using these scrappy ingredients, and realizing the component value when "hacked" and set in another context than trucks marked the beginning of their hugely successful messenger bag venture.
The Scrap
The Hack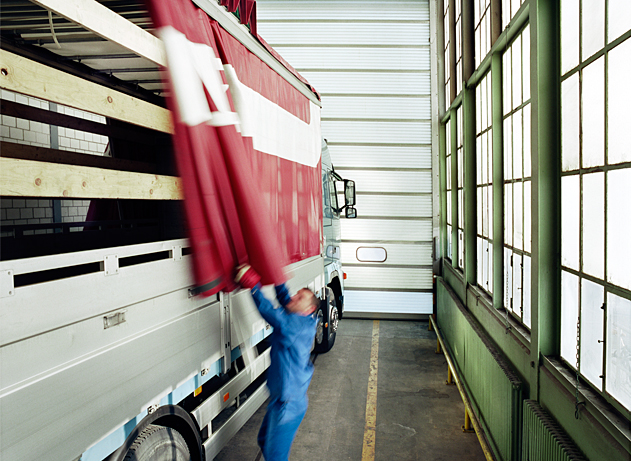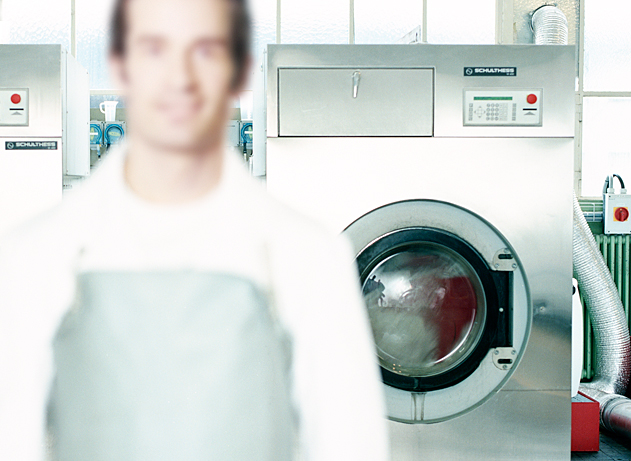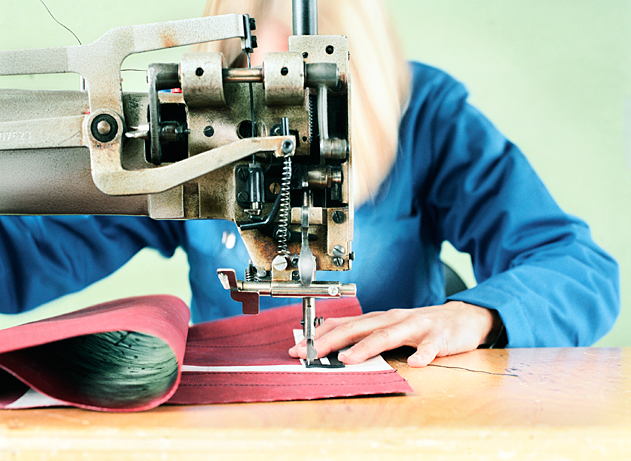 The ScrapHack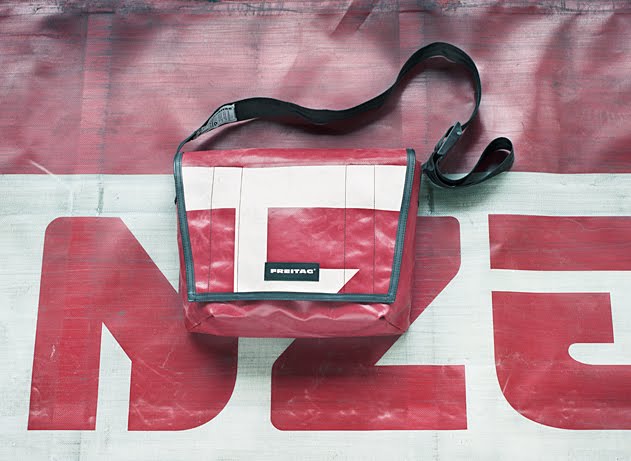 The first Freitag messenger bag was created in 1993, almost 20 years ago. What Markus and Daniel did was to invent a product whose relevance has gradually increased over time, with the market screaming for sustainable designs. The example shows the potential impact of ScrapHacking. I found this 10min clip, that I think captures the essence of the Freitag smartness in an educational way, check it out to get those entrepreneurial juices of yours flowing….
Since 1993, the Freitag brothers have proven themselves more than a "one hit wonder" by constantly innovating and questioning "taken for granted" principles. Among (many) other things, they have successfully launched a brilliant scalable in-store logistics system (read more about that system in a blog post on my other site www.iloveretail.com) and a must-see iconic "cargotecture" flagship store…All in all, do keep an eye on the Freitag brothers and the Freitag brand to ensure a steady flow of ScrapHack inspiration.
 The Zürich flagship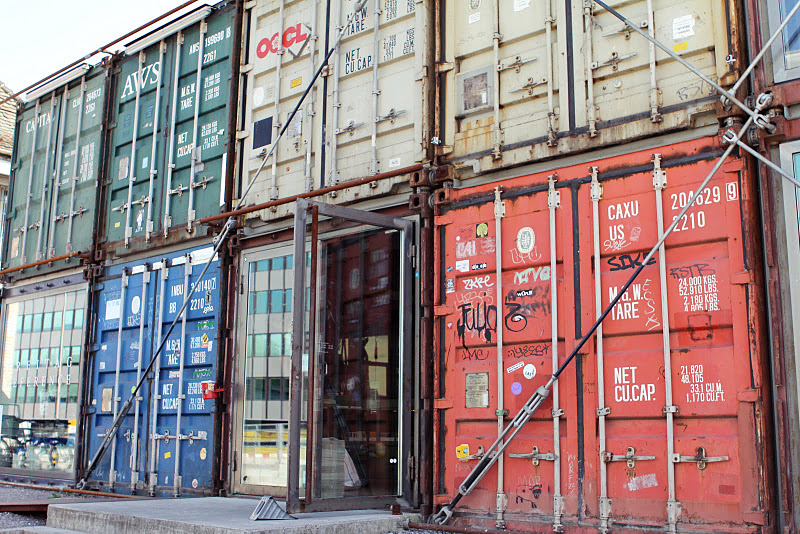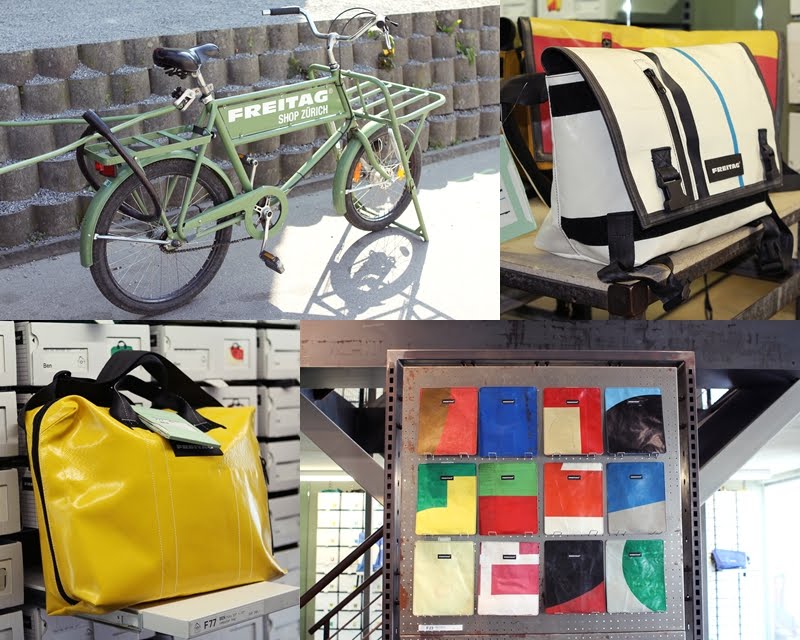 Visit Freitag online @ www.freitag.ch
Visit the Freitag store in Zürich
www.squidoo.com
www.styleseekingzurich.blogspot.com
So winter´s coming…In the white winters of the Northern hemisphere, this means it´s time for skiing, ice-skating and other fun stuff. But, it so happens that for doing all this fun stuff, you really need well, a lot of stuff. And, as innovation, especially of ski making, is progressing every year, countless pairs of skis are deemed outdated and left in forgotten dark corners of crowded garages and attics. (re-)Making something out of these old skis makes the perfect combo of Zen and Fun! Here are 5 ideas to get you started with your own ski recycling projects:
1 – Clothes Rack
What you need to make a upcycled ski clothes rack are: a.) 3 skis b.) threaded rod (L:40cm×diam:2cm)+2 end nuts to match diam c.) 4 sets of threaded rod (L:4cm×diam: 6mm)+8 nuts to match diam d.) a drill to make holes in the skis (always use protective gear when drilling!). This cool version was spotted at an Urban Outfitters NYC store. If don´t have as great looking "cool" old skis to work with – why not spray paint the thing in a monochrome hue?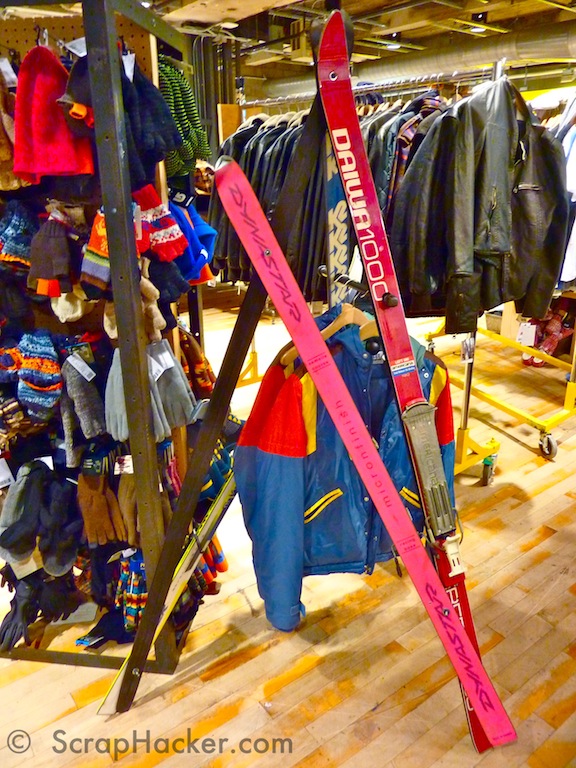 I you look closely you can see how the skis are jointed by the threaded rod and nuts.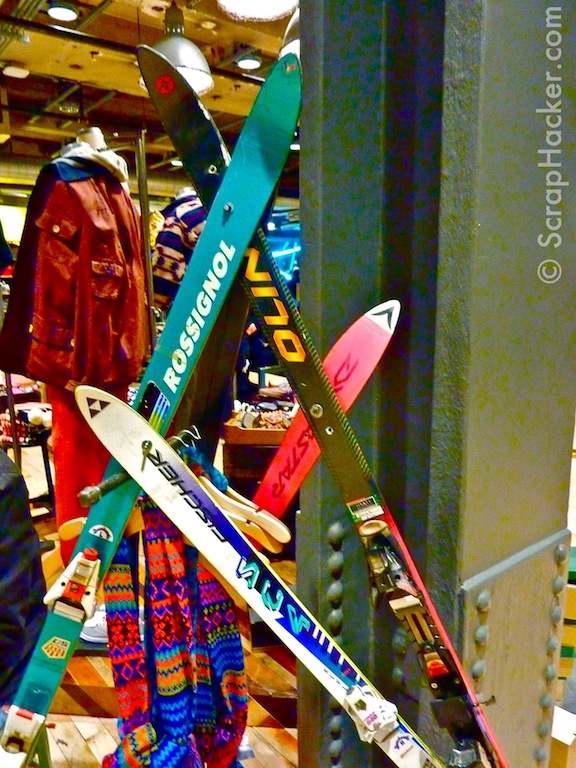 The example above more of a "showy" piece than a practical one…I saw another version of the upcycled ski clothes rack that featured a more classic functionality and as well as a vintage feel. Hooks have been added to the top, and the bottom has been reinforced.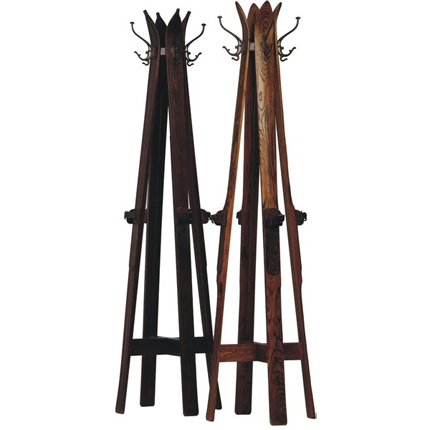 2 – Sofa
Moving on to the next ski upcycling idea…a sofa! There are plenty of examples of cool upcycled ski sofas out there. Here´s a few ideas to get your own creativity flowing…This first example is entirely made of skis. Other versions of the upcycled ski sofa often have a solid base of some kind, perhaps from an old bench or old chairs…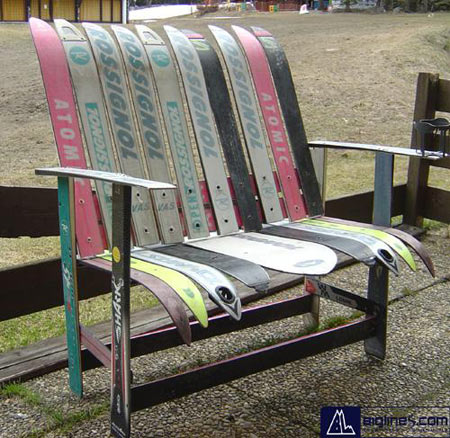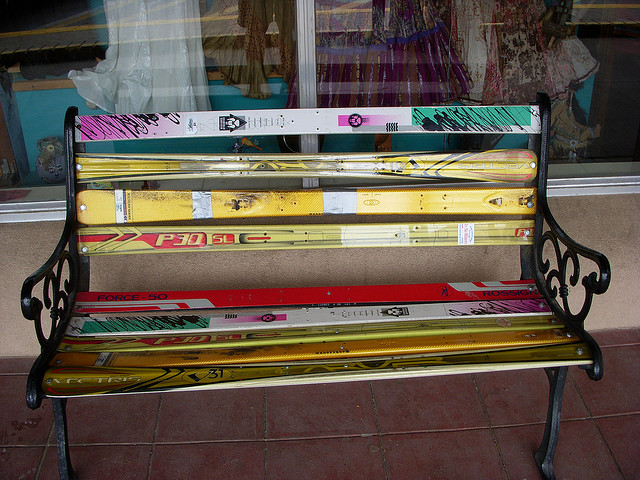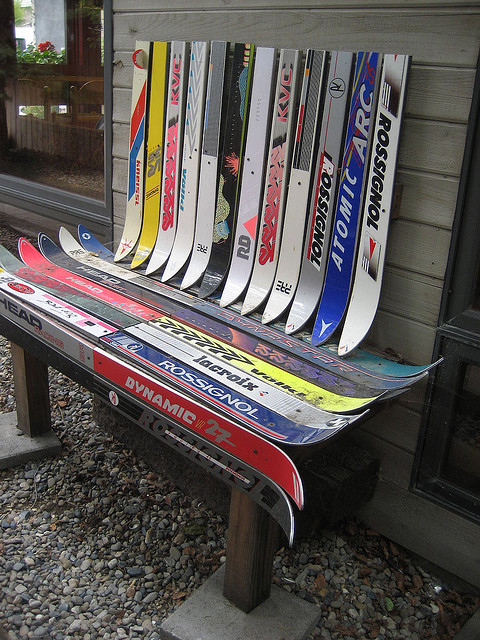 Of course, using old snow boards works great too!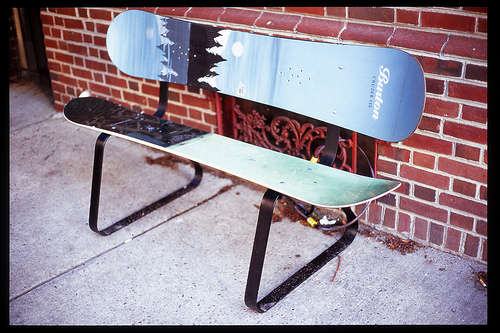 3 – Coat Rack
To upcycle old skis into a coat rack you need to drill some holes and get yourself some hooks!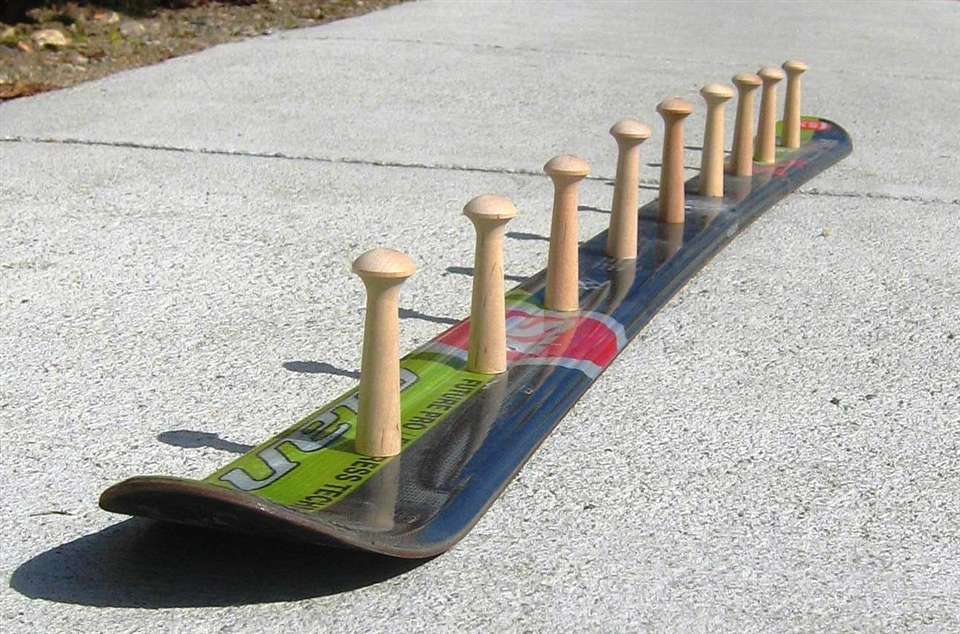 4 – Shelves
Upcycling skis into shelves is a straightforward hack – all you need are some shelf brackets…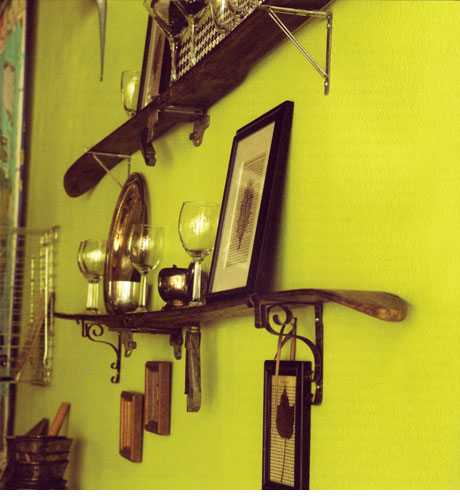 5 – Adirondack chairs
 The shape of skis make them the perfect raw material for Adirondack chair. In addition to the 3 pairs of skied out skis needed to make a upcycled ski chair, some pieces of wood are needed when building the base.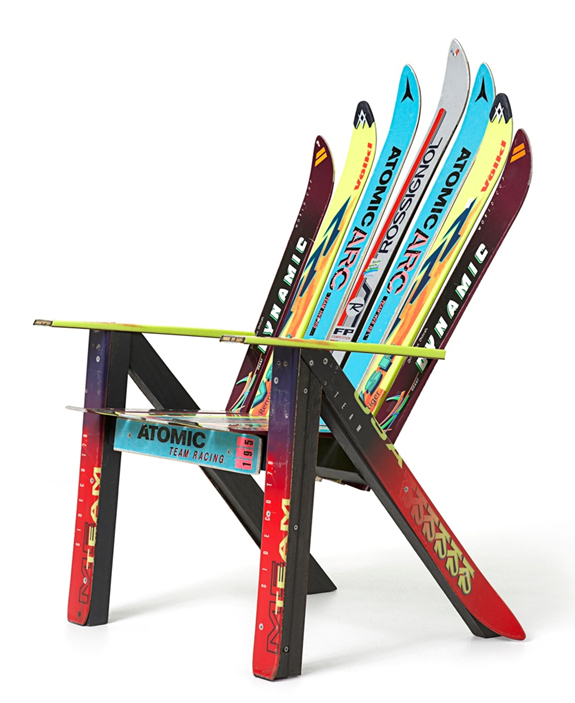 To make a ski chair – check out this tutorial:
Or this one!
Photos:
www.toolmonger.com
Flickr user Neenyd
www.flickriver.com
www.barefootfloor.com
www.seeingdesign.com

www.coatrackshack.com
www.letaretro.se
www.brownlow.net.au
Knots, knitting, crochet & macrame are a bundle of ancient techniques all creating repetitive structures from jointing thread or rope. For some DIY inspiration check out the macrame supplies retailer KingsKountry website or simply do some Googling!

What so neat about these techniques is that is opens up for material re-use as the thread or rope is left "un-tarnished" by the knotting. The applications are endless, from a utility fishermans net to well, basically anything. Furniture is merely one usage…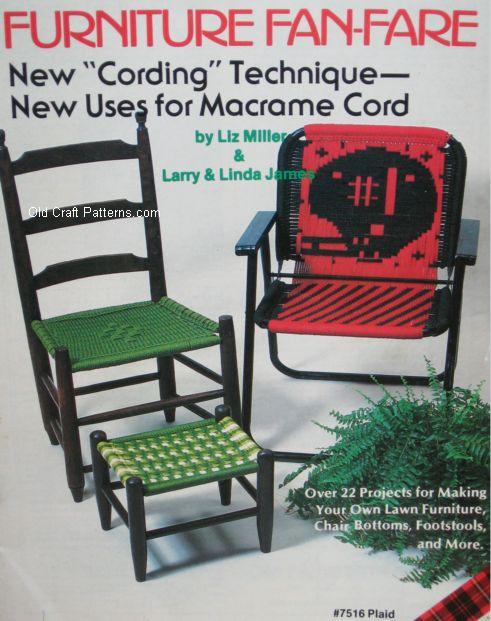 Seeing Marcel Wanders Knotted Chair (from 1996) kind of makes me want to pick up knitting again…
"A marriage of high-technology materials with the methods of traditional craft, Knotted Chair confounds expectations of how a textile should perform; Wanders has created a surreal doll's chair for adults."
"To make the chair, cords composed of aramid fibers twisted around a carbon core are knotted together by hand before being draped over a mold. The soft net is then infused with epoxy resin and dried to harden the textile and set the chair's shape. This process, termed Dry Tech, employs passive, low-energy techniques—saturating, molding, and drying—to achieve strength and stability of form."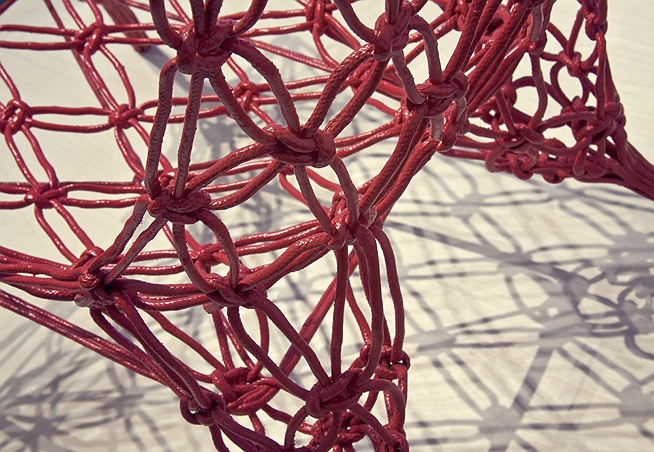 "The resulting chair is lightweight, delicate, and intricately formed, yet is surprisingly sturdy, supportive, and durable."
Marcel Wanders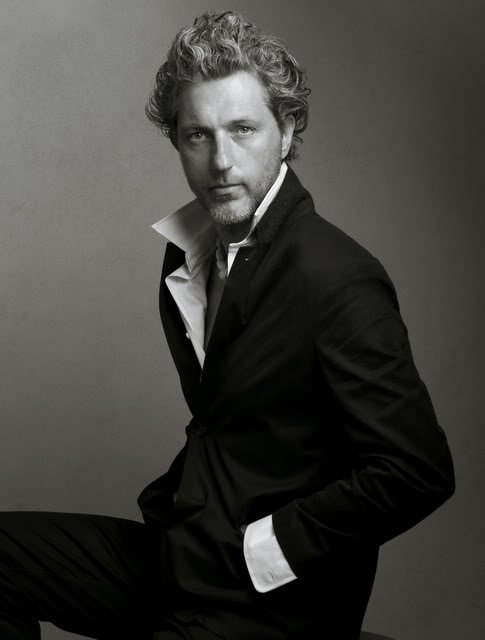 Pictures from
www.wikipedia.org/wiki/knots
www.crochet4you.com
www.bonluxat.com
www.core77.com
www.minim.es
www.amsterdamology.com
Quotes from
www.MoMa.org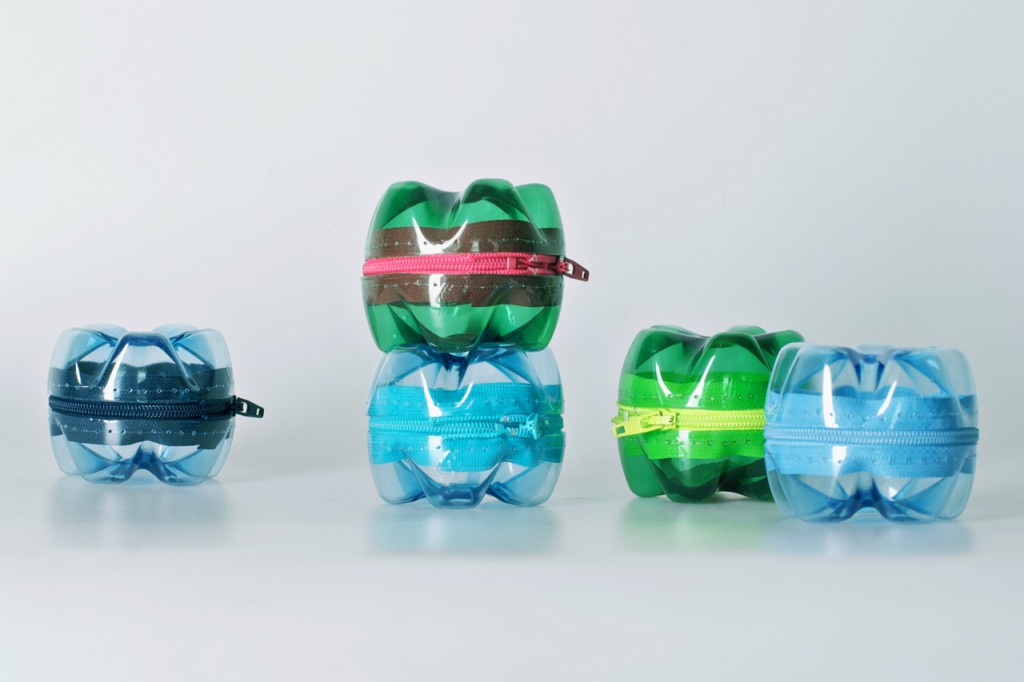 This is a really great D.I.Y Christmas gift idea! The PET Bottle Purse can fill many everyday needs and consists of PET bottle cut-offs and a zipper…The product was designed by Zitta Schnitt back in 2004. Her website features a great D.I.Y step-by-step tutorial (available for download – here), guiding illustrations from her tutorial is featured below. Zitta promotes Open Source design, and we are grateful – I suggest you check out the Pet Bottle Purse Facebook Fan Page and give her your "Like"!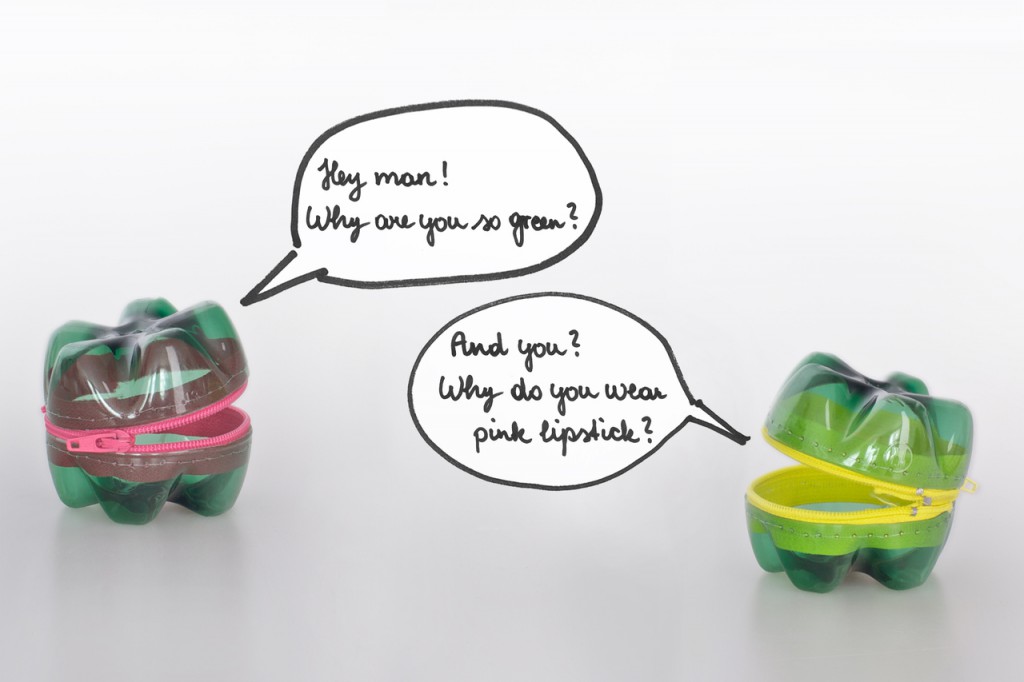 STEP 1
First, cut off the bottoms of the bottles approximate, afterwards cut off the excess material, along the burr with the small sissor.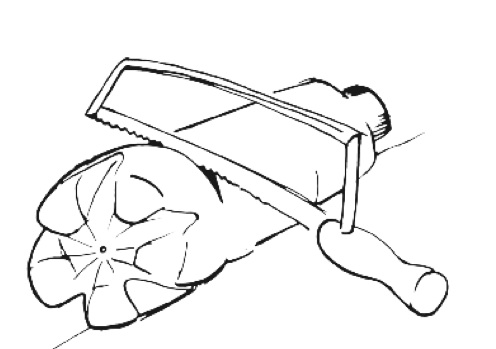 Step 2
Cut out the auxiliary construction and stick it to the edge of the cut-out bottom with adhesive tape.
Step 3
Use the thick needle to pierce the bottom, where the auxiliary construction marks the stitching-holes with dots. For holding the needle us a combination pliers.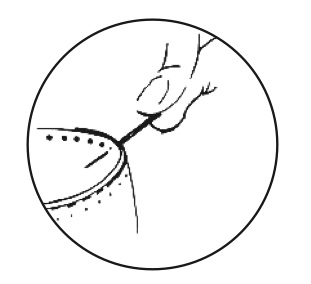 Step 4
Remove auxiliary construction.
Step 5
Before sewing, open the zipper. Start to stich * with the small needle, 3cm after the zipp-start and sew the zipper all around the first bottom.
Step 6
Attention! Don't complete sewing the whole circumference, before finishing, overlap the zipp-fabric end, thats how you build a nice PET!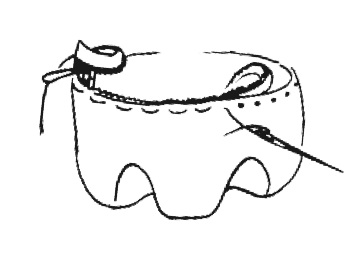 Good Luck Hacking!
Download full tutorial @ the
Zitta Schnitt website
Like the Pet Bottle Purse on Facebook!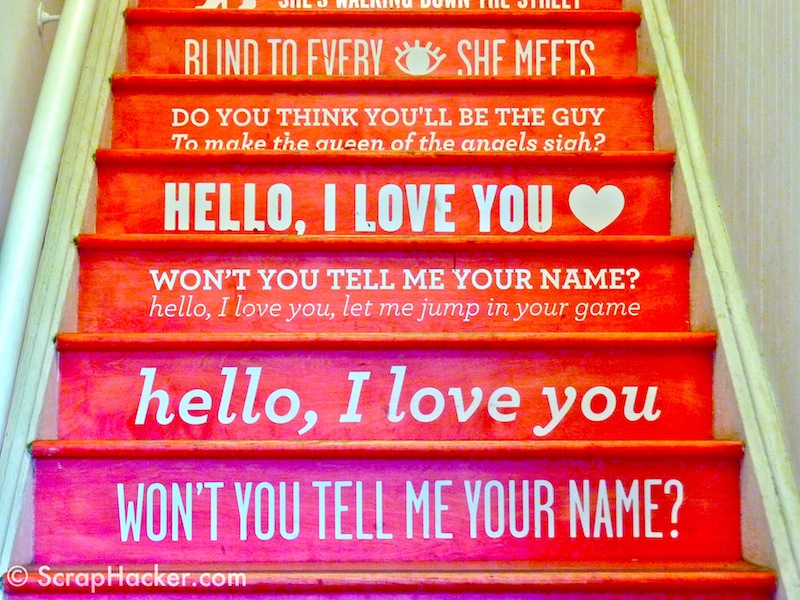 This idea has great D.I.Y potential should you be so lucky to have a home with some kind of stairway…Climbing stairs is often a bore…Could flirty, encouraging words make it less boring? Concept store Opening Ceremony gives the latter strategy a try, and has clad a crimson red stairway with flirty opening lines, making climbing stairs effortless and fun. Bold color and bold words make a great combo – who could resist the temptation of stepping inside?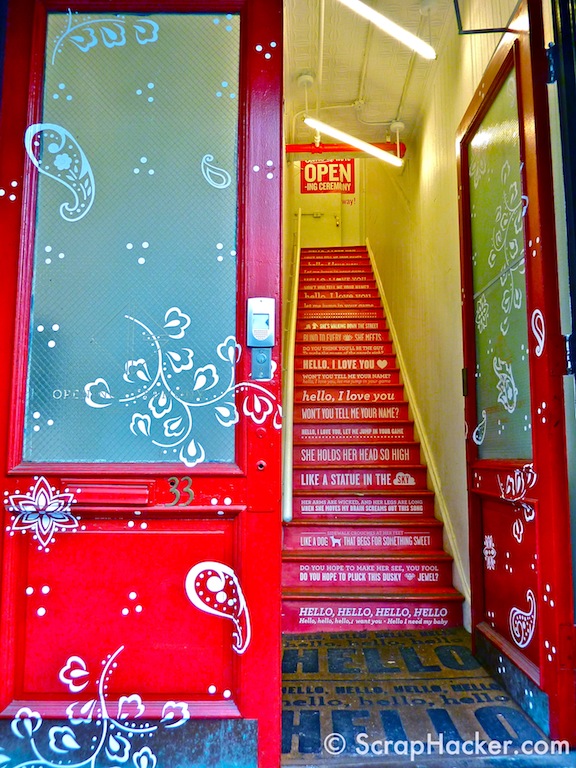 Sprawling florals, reminiscent of those of Hawaiian shirts, stretch across the bright red doors…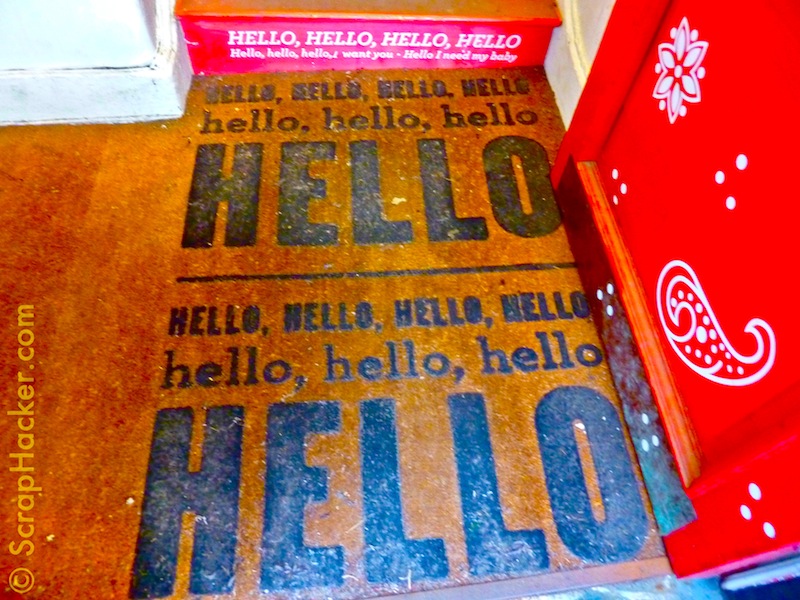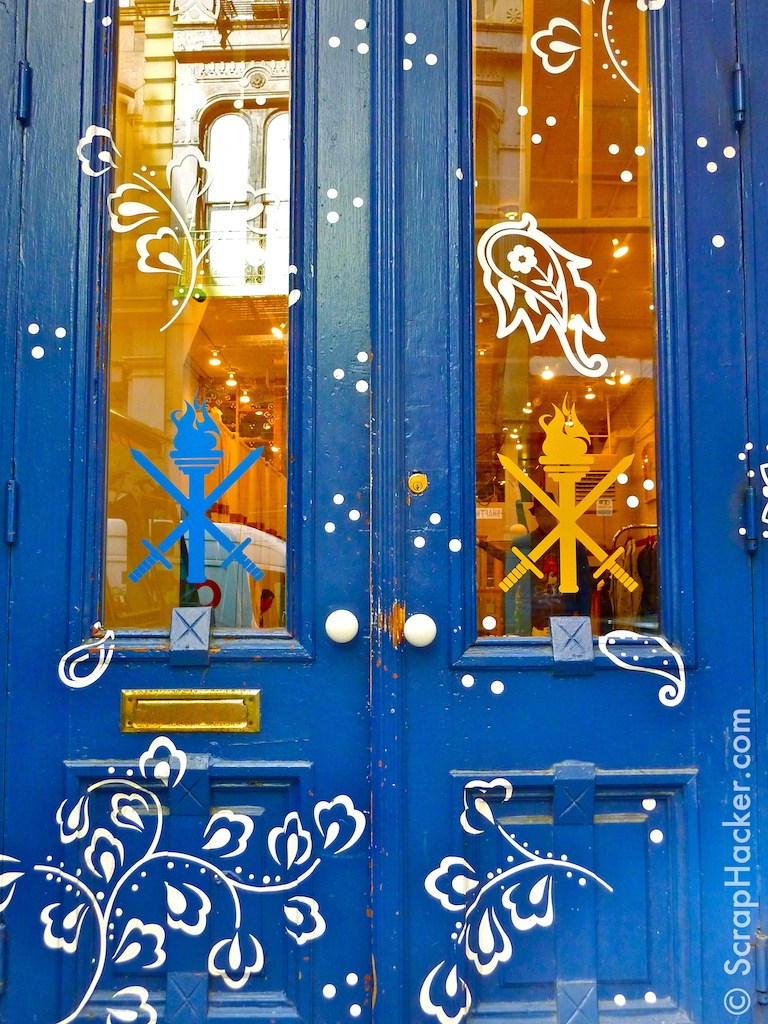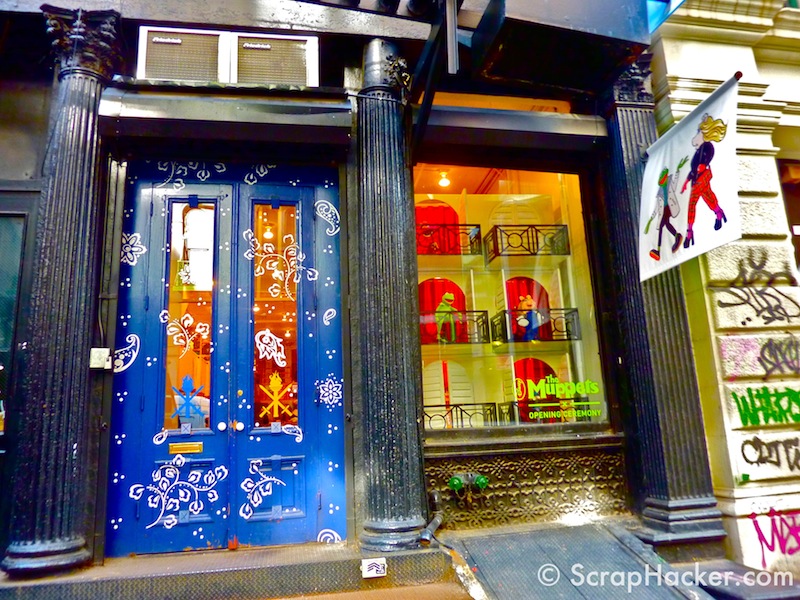 Opening Ceremony masterminds…
Humberto Leon and Carol Lim. Read a great Opening Ceremony story in NYMag – Read here.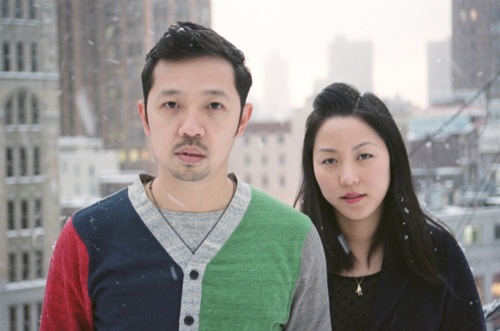 Interior Design snaps @ Opening Ceremony
Well inside, Opening Ceremony features tons of inspirational decor ideas…As if that weren´t enough, the brand boasts amazing innovation skills, and launches great collaborations and projects on a regular basis. Visit the Opening Ceremony Website for the latest news….
"Opening Ceremony is a multifaceted environment comprised of retail spaces, showroom, and gallery that establishes a new international creative forum in downtown Manhattan. Opening Ceremony brings together emerging American talent with both young and established designers and artists from abroad."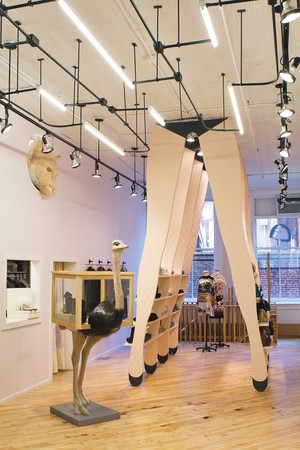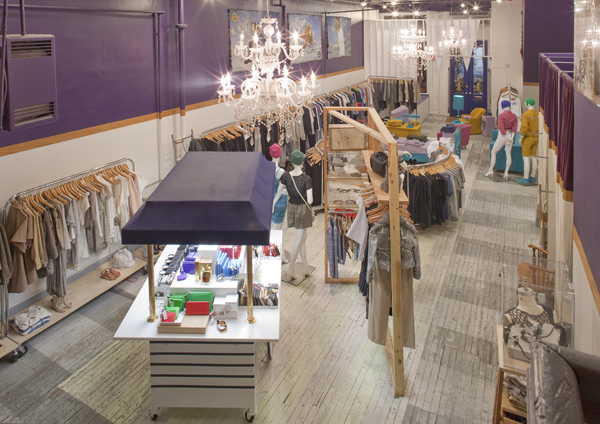 pics: Leon&Lim/www.porhomme.com
Interior snaps: www.openingceremony.us & www.societeperrier.com
Visit Opening Ceremony @ 35, Howard Street, NYC
Artist Sarah Frost creates found object and found form sculpture. Her Qwerty Sculptures consist of thousands (and thousands…) of keys from old qwerty keyboards…It´s a multifaceted ScrapHack, filled with any kind of meaning you want it to be. Sarah´s Qwerty work travels the world, a permanent installation can be found @ The James hotel in NYC.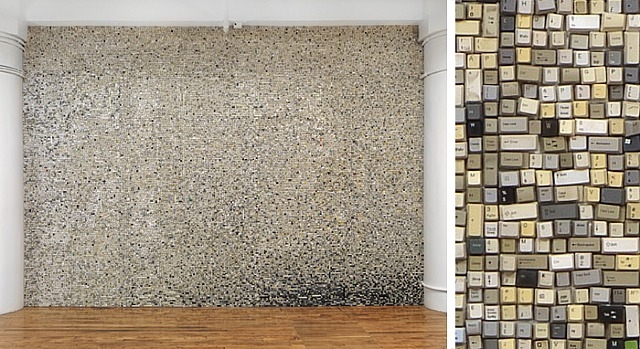 "Each key has a unique history and bears the imprint of the thousands of taps by countless users."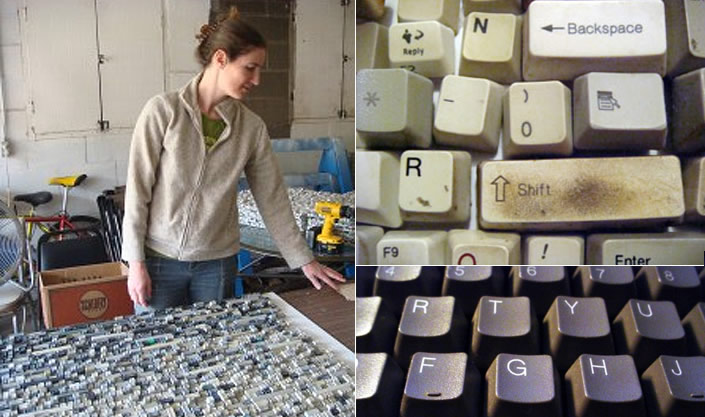 "Frost's pieces, made entirely out of cast-off keyboard keys, discarded by an array of users from individuals and small businesses to financial institutions, government offices and Fortune 500 companies, can cover whole rooms."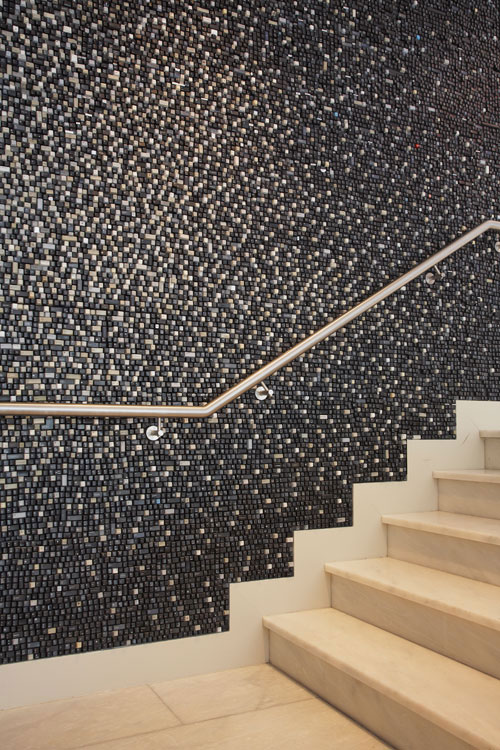 Installation @ The James hotel in NYC.
Quotes:
www.jameshotels.com
Pictures:
www.sarahfrost.info
Visit The James Hotel, 27 Grand Street (SoHo, NYC)
I smell D.I.Y potential…Seen here is a great way to make use of a set of odd chairs…A large part of the chair is reused, yet with a result so different from the orignal pieces – this is one clever ScrapHack! The benches are made by Brooklyn based "31 and Change", they make a lot of really cool stuff so beware of intense inspiration exposure when visiting their site.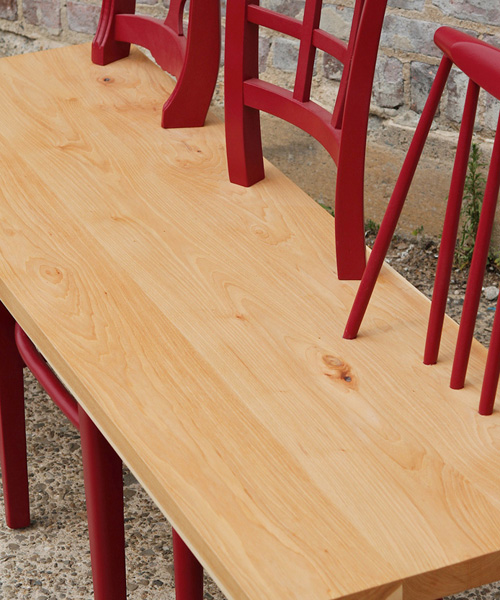 "Bastard chairs are a dime a dozen and we tend to cast them off into purgatory all too often. The Greene Ave. collection is a project that rescues these orphan chairs and upcycles them into a one-of-a-kind bench for your entrance way, dining table or backyard patio."

"Each bench uses three contrasting chairs from different eras to form a new contemporary piece. All benches range in size, shape and color. The bench shown is made from unforgiving hard-nosed Hickory and painted cardinal red."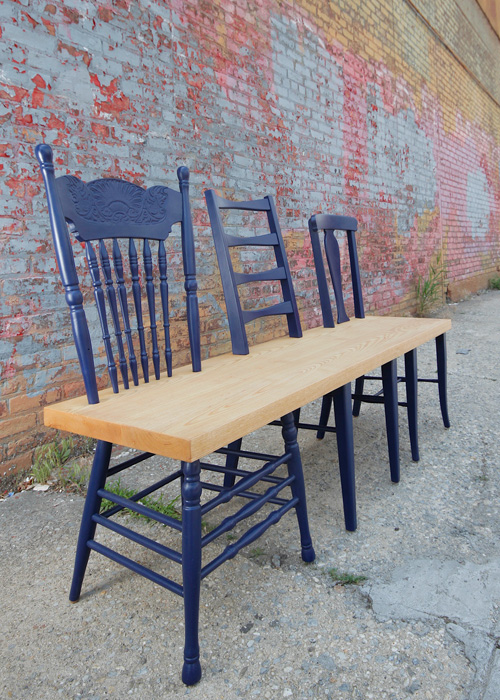 Read more about these stunning creations @
31 and change website
I came across the cool creations via
Recyclart
, which always feature exciting recycling ideas.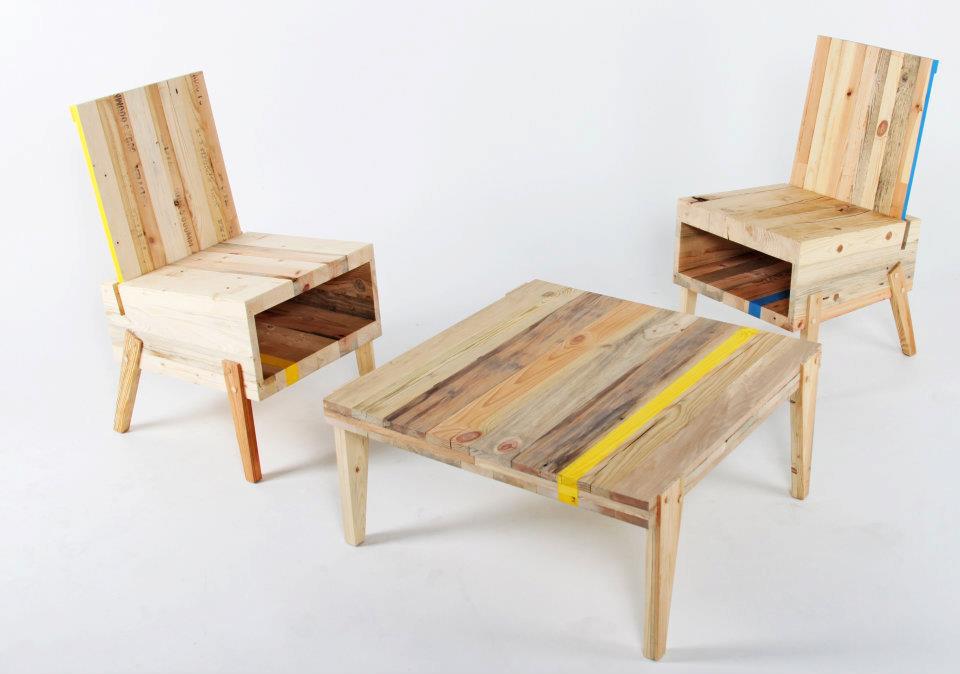 Estonian furniture makers/brand Derelict makes these cool pieces from reclaimed wood. Combining the old, salvaged material with new, crisp and clever design makes them a great ScrapHacker role model…Let the pieces inspire some D.I.Y action of your own. To read more about Derelict, head to their Facebook Fan Page here. All pics featured here are from the Facebook Fan Page, which also features interesting "behind the scenes" photos that makers generally crave…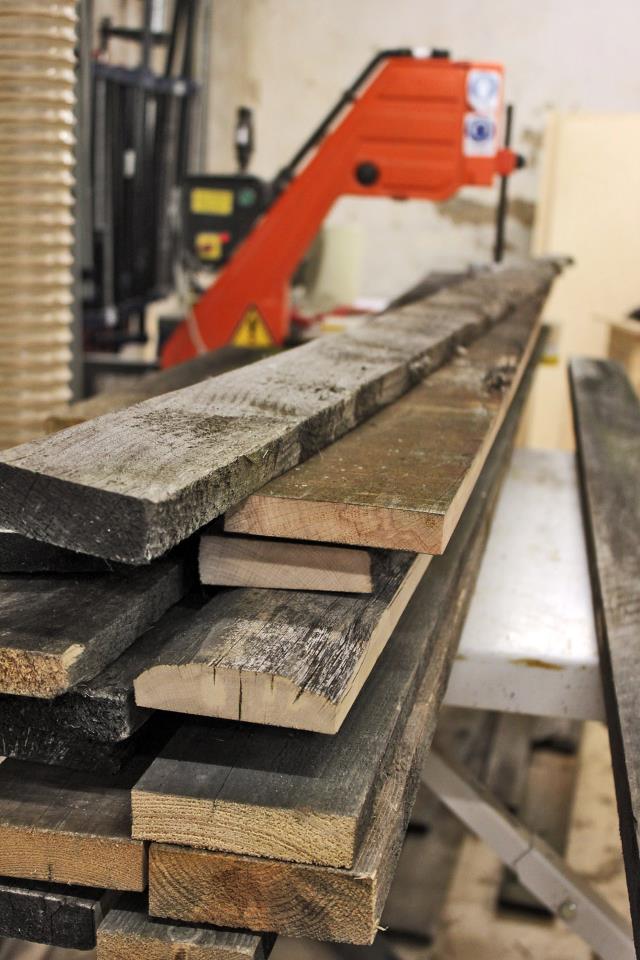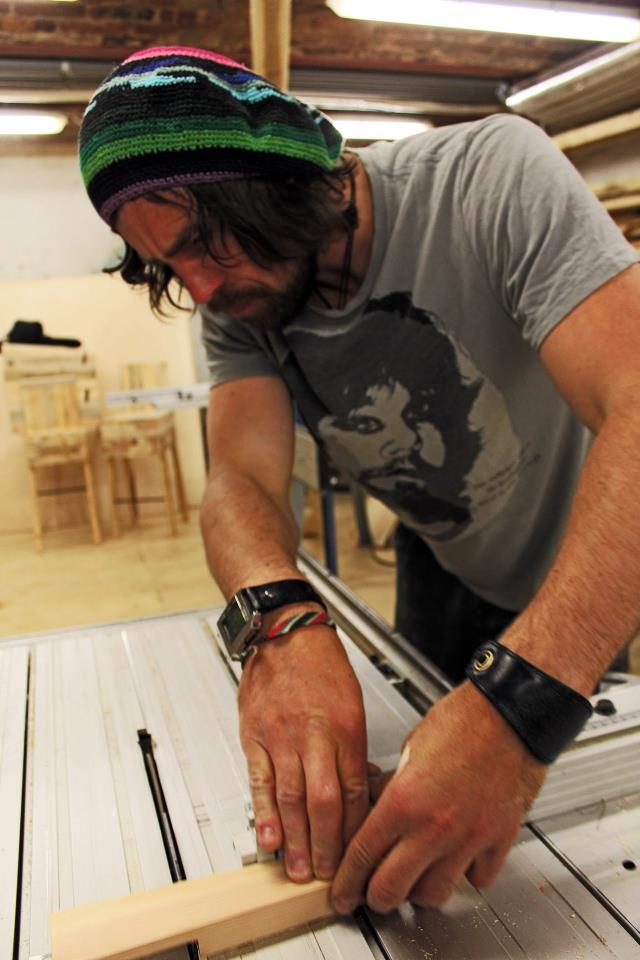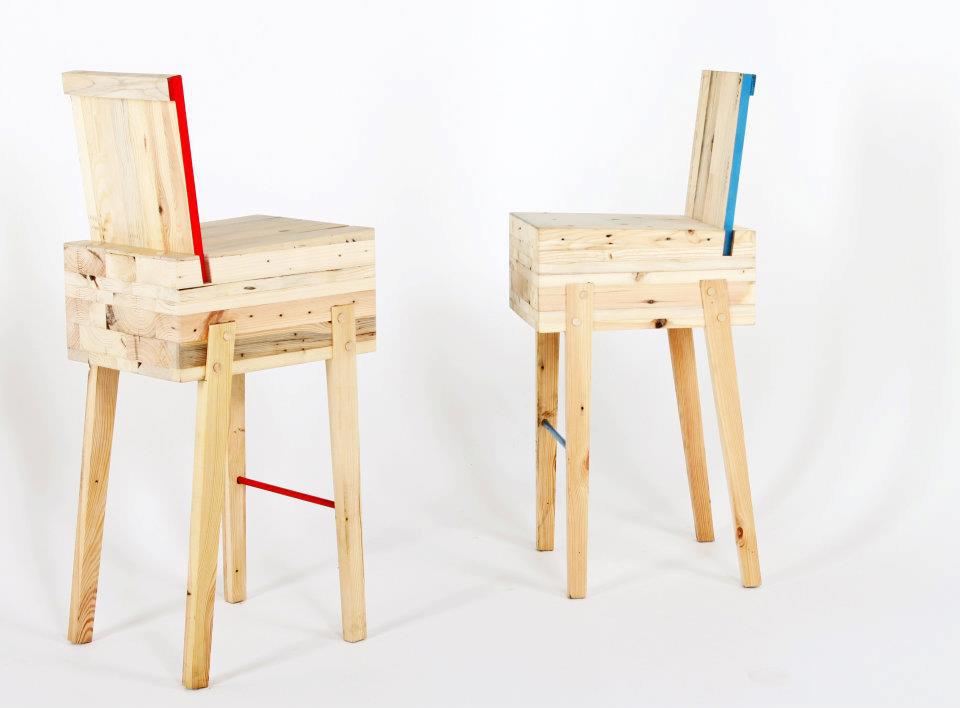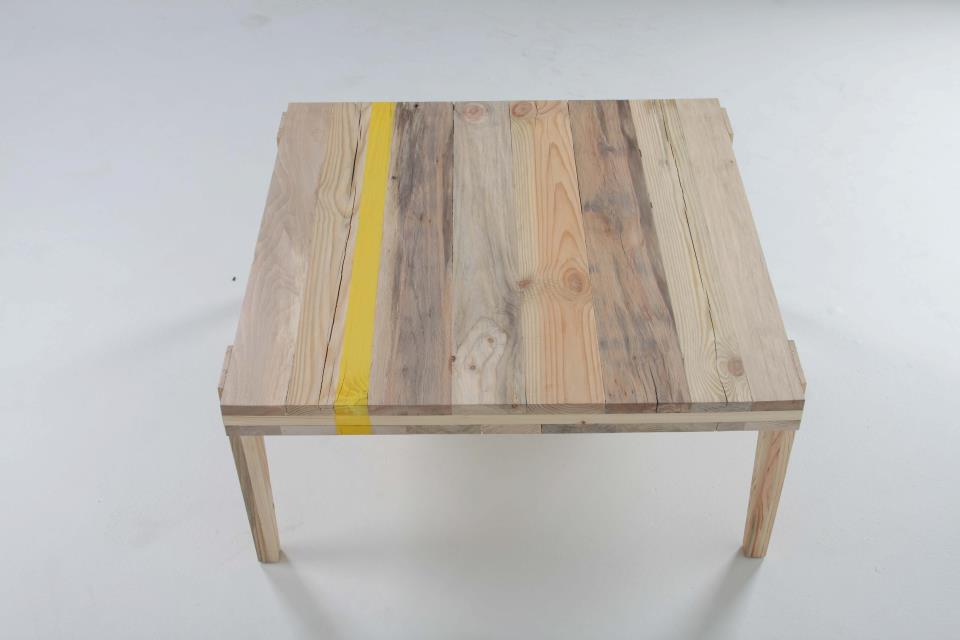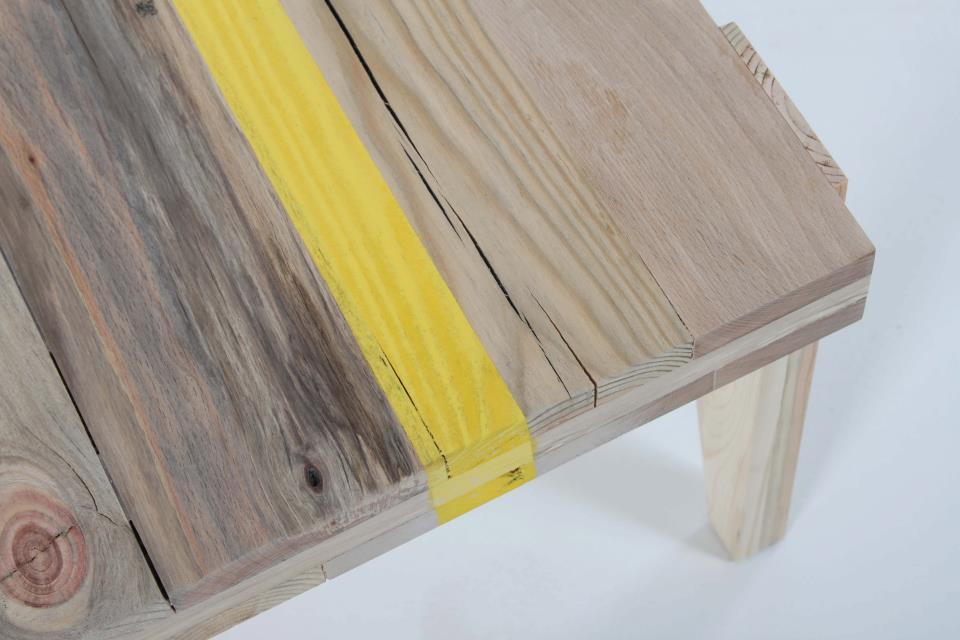 To read more about Derelict, head to their Facebook Fan Page here.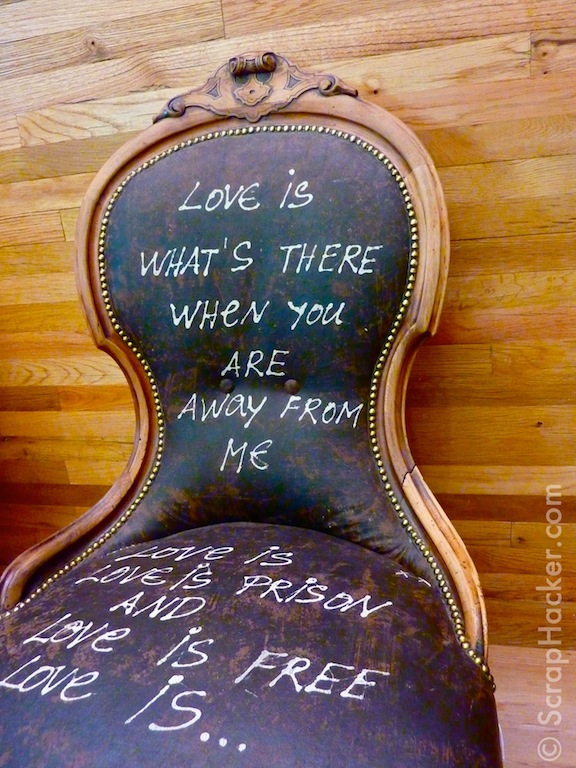 Anthropologie has always had a knack for discovering cool new furniture design with a upcycling twist. Right now on show @ the Chelsea Market location is a set of furniture by designer/artist Draga Obradovic. Her designs often include writing on upholstered furniture (this idea was also spotted @ upcycling company Terracycle´s HQ interior). My Obradovic favorite is the antique, worn leather chair that has gotten some new energy from some poetic words, spelled out in white drippy paint, but the other designs are full of design wit as well!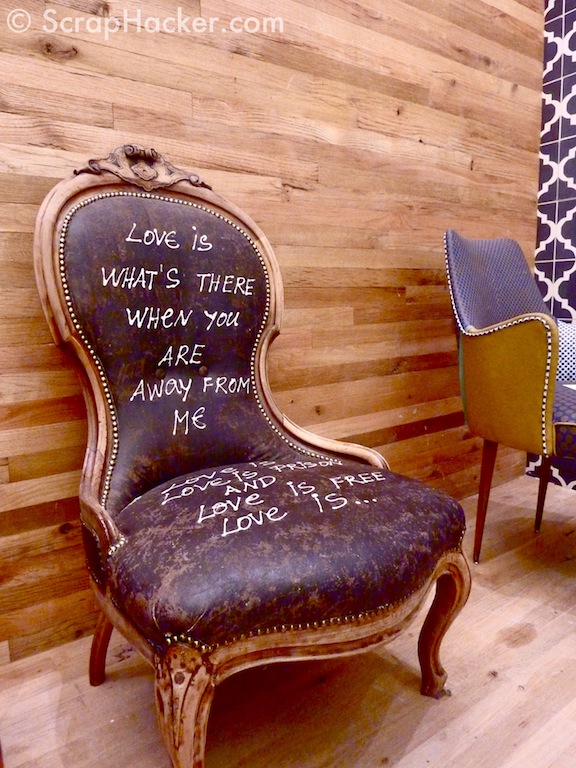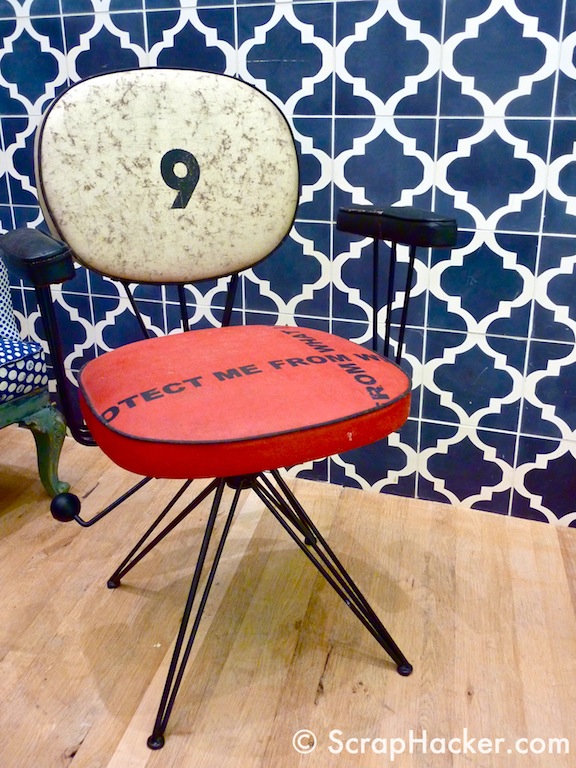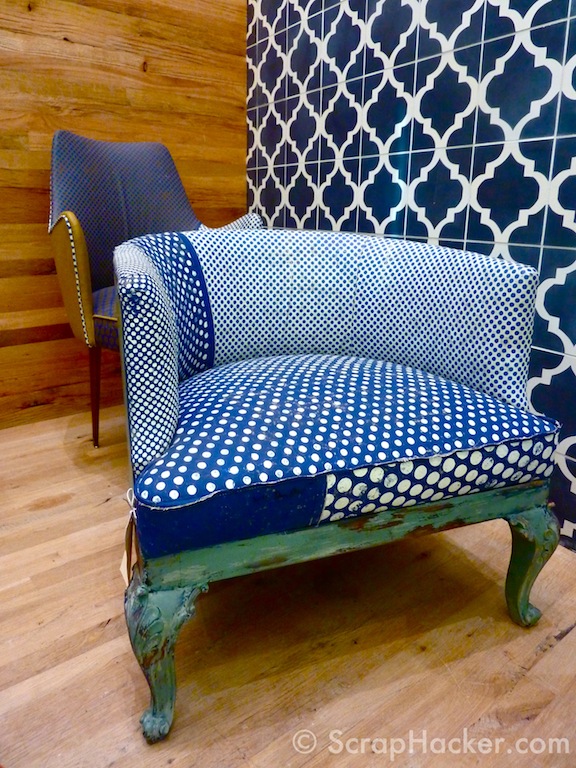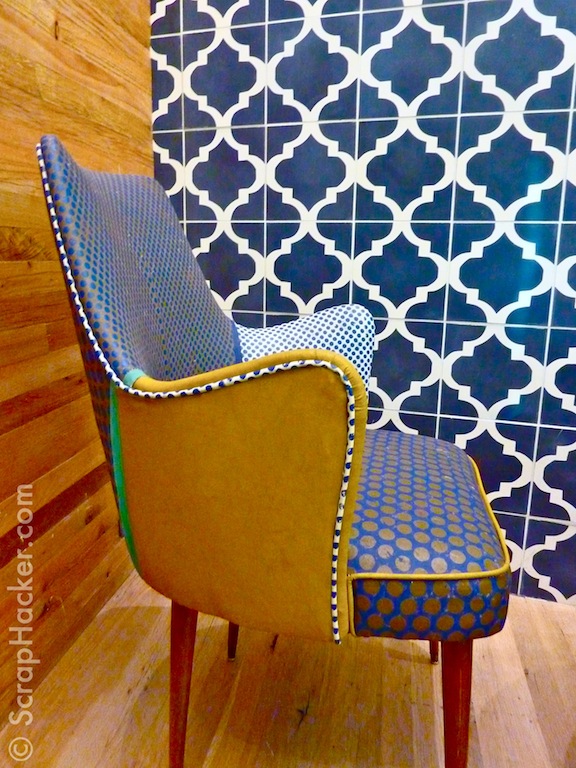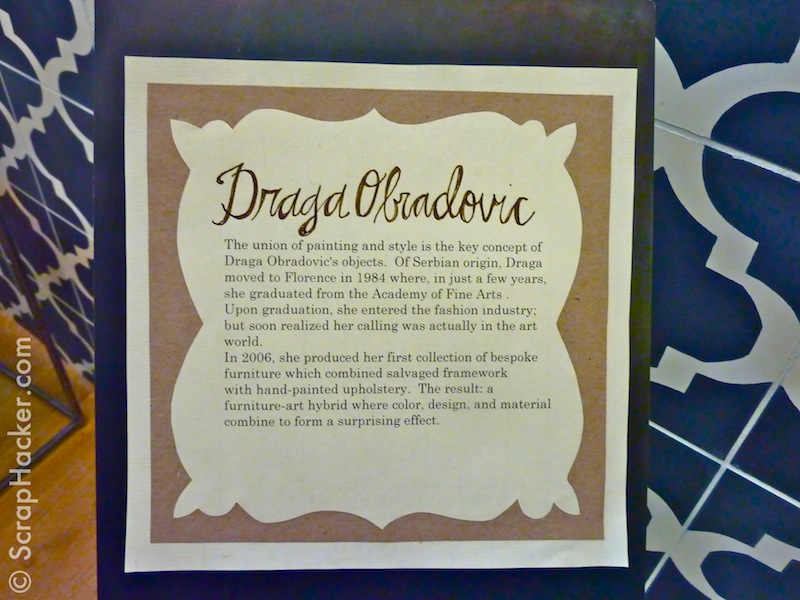 Visit Anthropologie @ Chelsea Market
It might not have occurred to you that old flip flops is part of a environmental problem…But actually, thousands of discarded flip-flops wash up on the African shorelines, burdening the natural eco system.
Discarded flip flops disturb the eco-system in various ways: they spoil the natural beauty of the beaches, threy are mistakenly swallowed by marine feeders and they prevent hatching turtles reaching the safety of the sea.
ScrapHacking company UniquEco works with locals to collect and re-cycle discarded flip-flops. The product range is diverse, from unique accessories and jewelry to one-off sculptures of amazing ingenuity, humour and beauty. I recently visited the exhibition "New Money – Business Models for a sustainable future" at the ExitArt Gallery in NYC which featured the inspirational creations of ExitArt – Who knew stinky old flip flops could morph into beautiful toys, full of new life…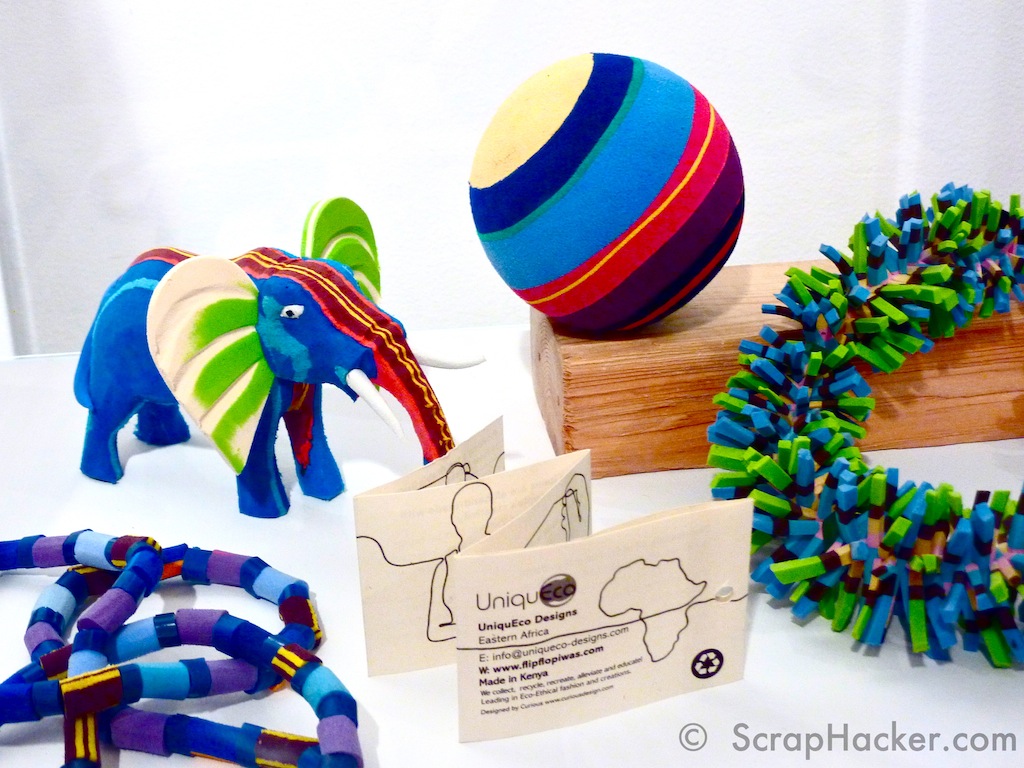 Before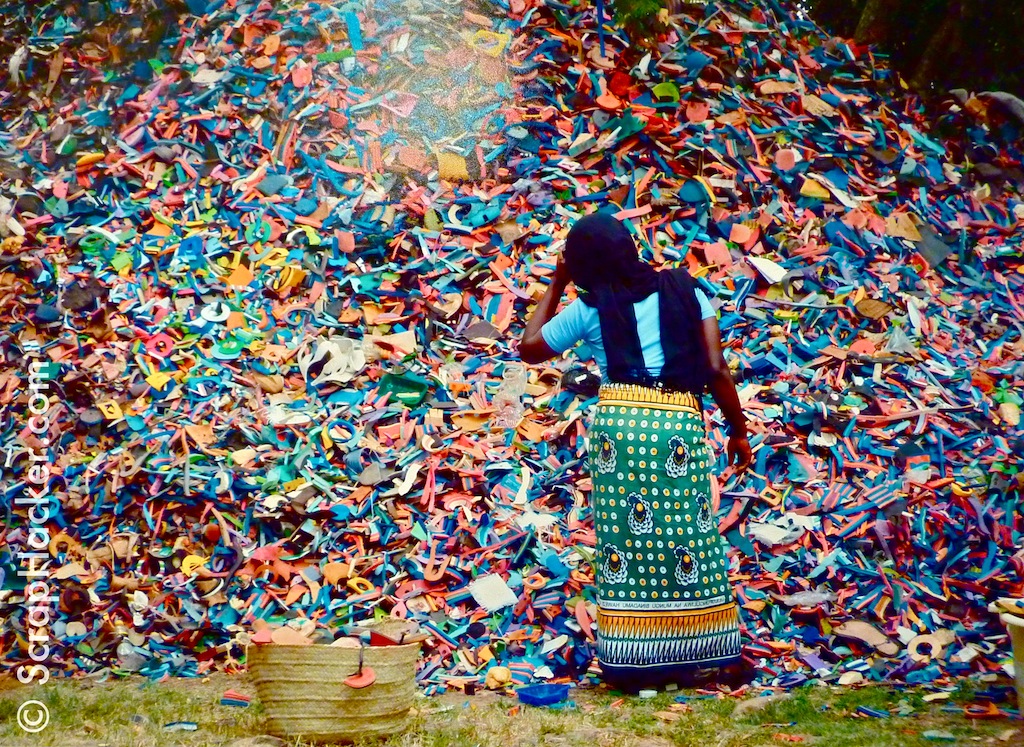 After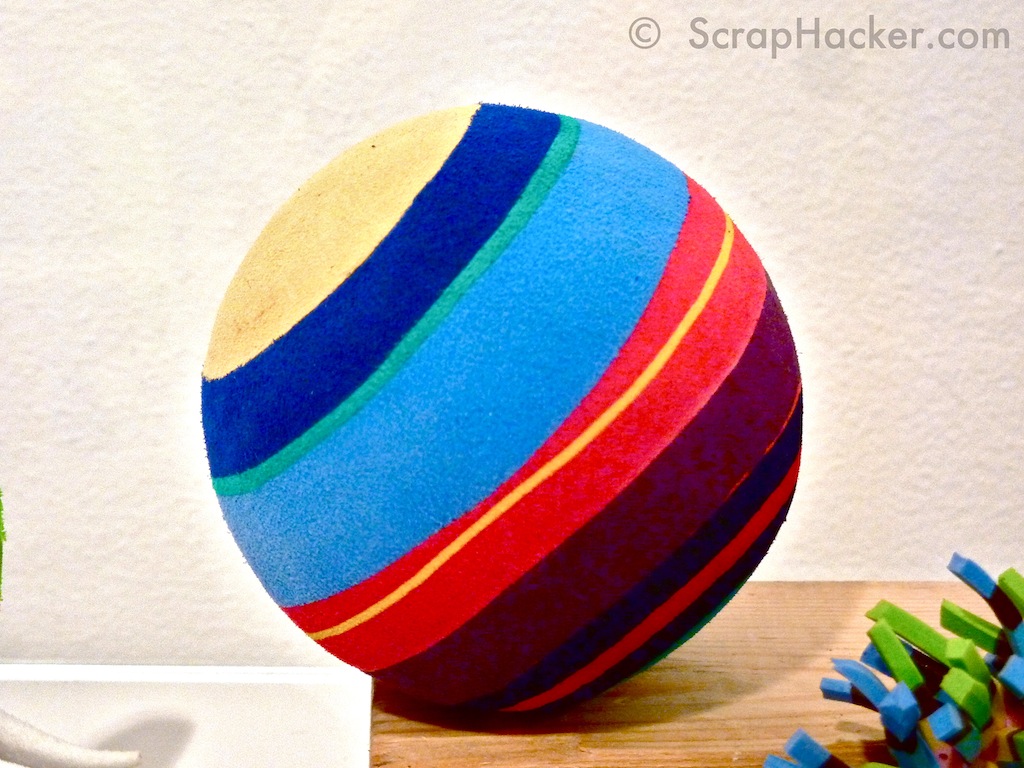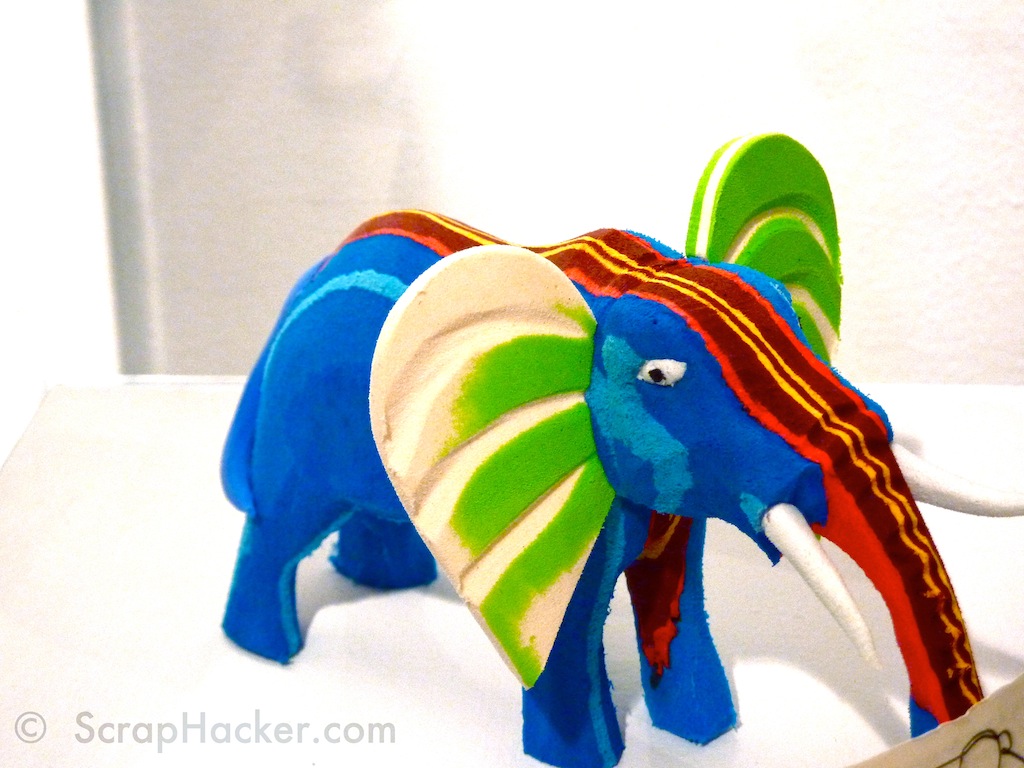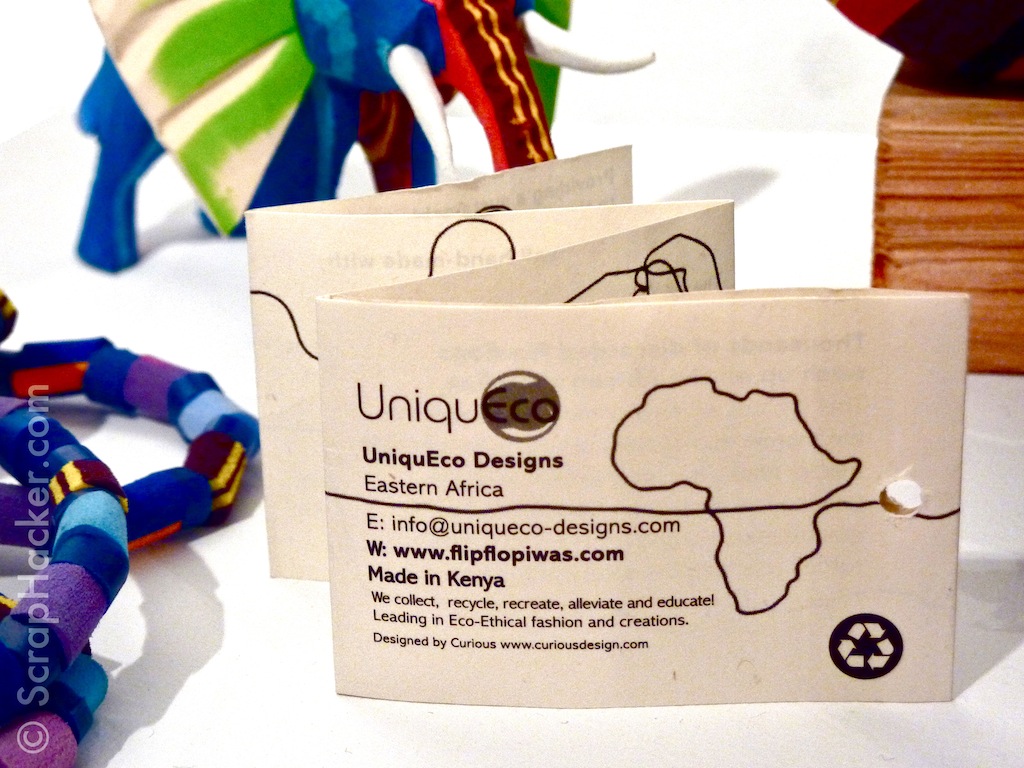 In the ScrapHacker blog i´ve previously featured tons of D.I.Y pallet furniture ideas, including Top 10 pallet Coffee Table Ideas, Pallet Coffee Table D.I.Y instructions, Top 15 Pallet Sofa Ideas, D.I.Y instructions for a Pallet Sofa Bed, D.I.Y Pallet Dining Tables…In order to make the palette of pallet home ideas complete, I figured I should write a feature on Pallet Bed Ideas. Pallet bed hacks are perhaps the most straightforward ones…All you need for some D.I.Y action are some pallets, some paint and a mattress. Wheels are cool, but not necessary. Here are some inspirational pics of the best pallet beds on the web to get you going with your Pallet Bed and Pallet Bed Board Hacks…As always, simple pallet designs leave finishing touches up to you!
Cute Wit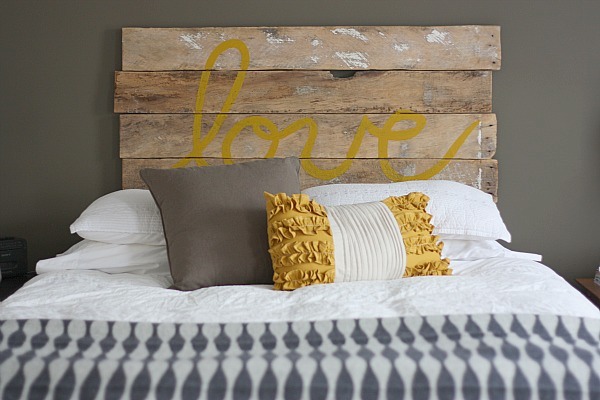 Scandinavian simplicity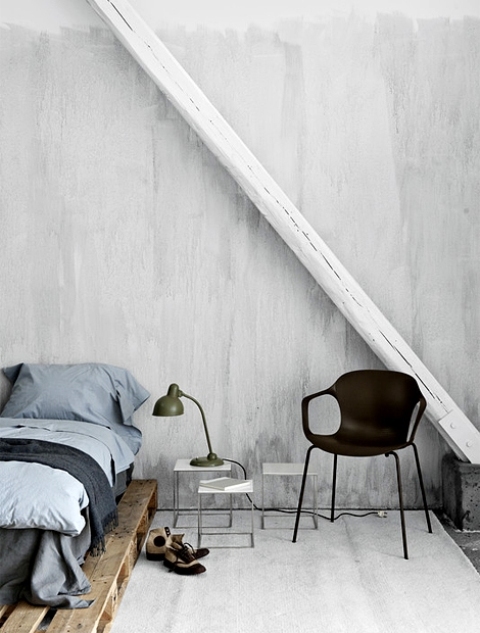 Crispy clean

Country charm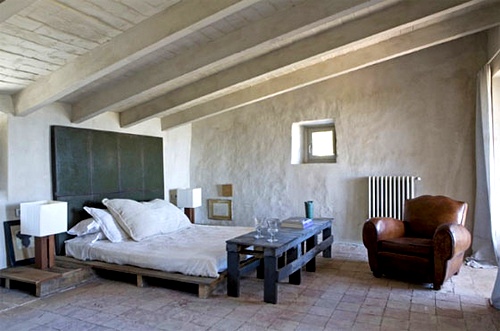 Romantic yet Rock´n´roll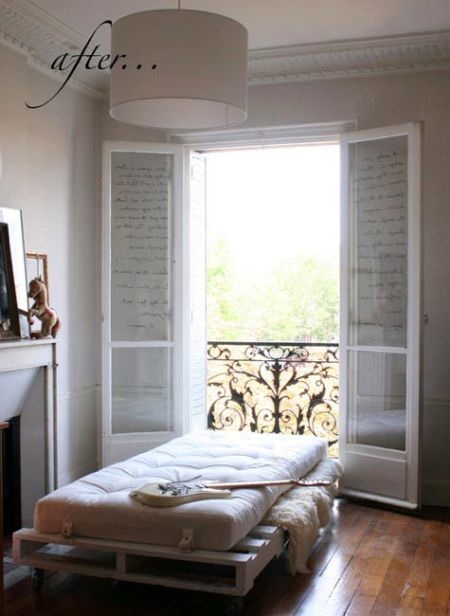 Floaty Zen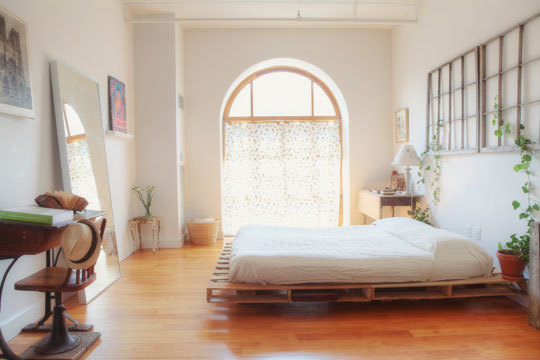 Plain rustic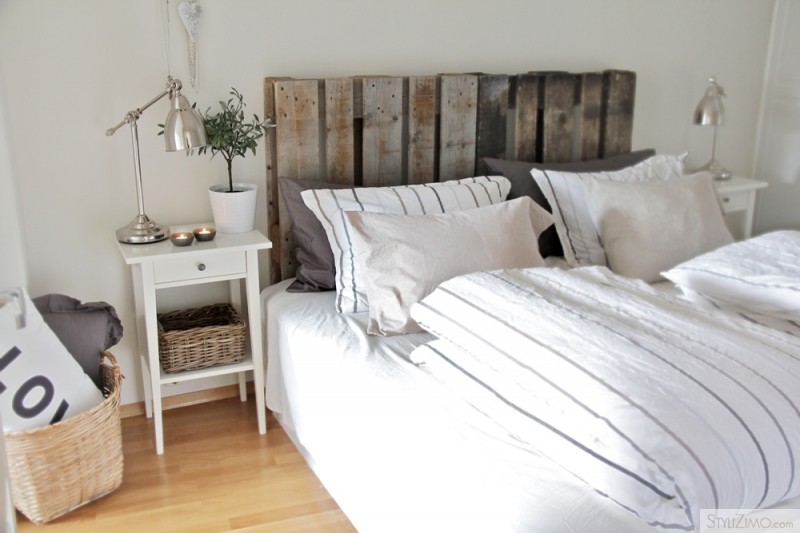 Industrial grit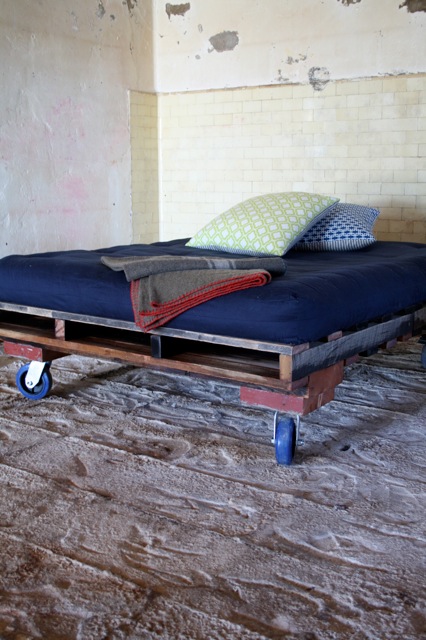 Homey & Natural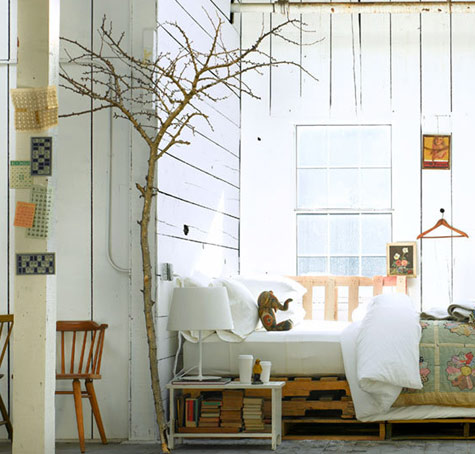 …more homey & natural
Country Romantic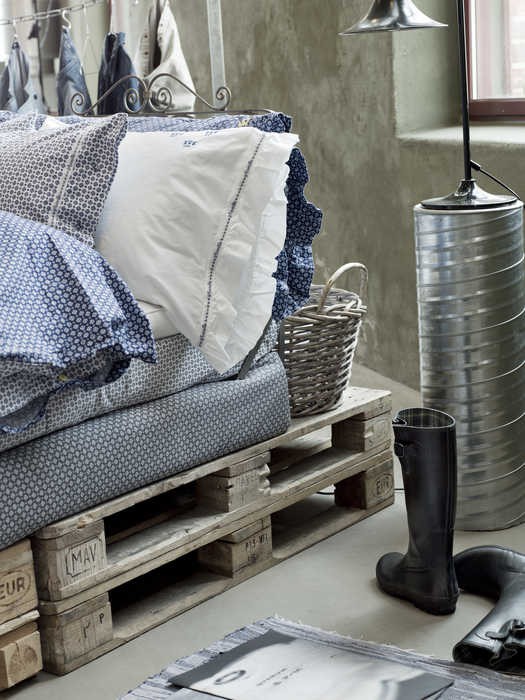 For the little ones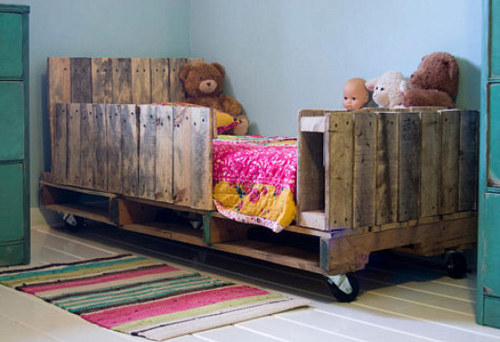 The Open sky option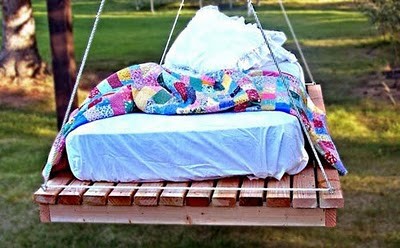 Sleek stylish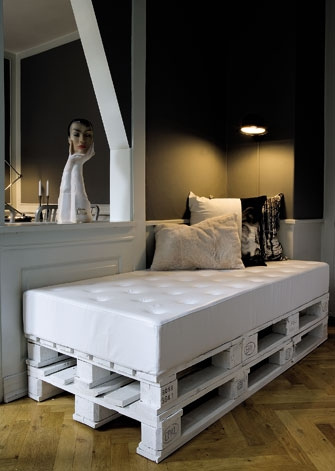 a la provençale
Inspired by these creative pallet bed D.I.Y ideas I hope you started on your own pallet bed projects asap! Should you want your creations featured in the Scraphacker site, contact me – I´d be happy to post!
Good Luck Hacking!
Pics from top:
Cute Wit:
www.cozybliss.com
Scandinavian simplicity:
www.djacoose.blogspot.com
Crispy clean:
www.craftbritain.co.uk
Country Charm:
www.grahamandco.org
Romantic yet Rock´n´roll:
www.apartmenttherapy.com
Floaty Zen:
www.grahamandco.org
Plain Rustic:
www.catheywithane.blogspot.com
Industrial grit:
www.greghatton.wordpress.com
Homey and Natural:
www.designstamped.com
more homey & natural:
www.djacoose.blogspot.com
Country Romantic:
www.mysparrowblog.com
For the little ones:
www.craftbritain.co.uk
Open sky option:
www.pinterest.com
The versatile daybed:
www.homedit.com
Daybed 2:
www.reuseandupcycle.blogspot.com
If I had to select my favorite ScrapHack of all times, the Favela Painting Project by Jeroen Koolhaas and Dre Urhahn (as a team also known as Haas&Hahn) would be it – it´s simple, heart-warming and hands-on. The fantastic project aims at transforming Rio´s slum "favelas" into a works of art, boosting the confidence, and everyday quality of life of its citizens.
Before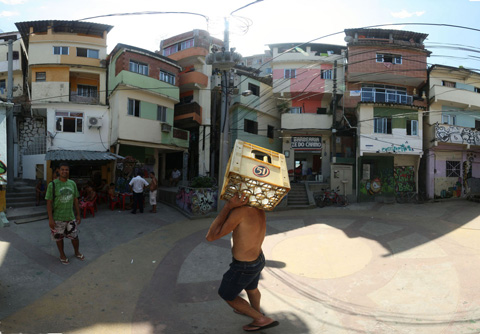 I first heard about the project the other day when attending the Design With the Other 90%: Cities exhibition showing at the U.N visitors lobby, NYC (organized by Smithsonian's Cooper-Hewitt, National Design Museum, through January 9 2012).
After

In 2010, they employed local youth to paint murals over 7,000 square meters (75,000 sq. ft.) of the public square, thirty-four surrounding houses, streets, and the interior of a popular samba studio in the Santa Marta settlement.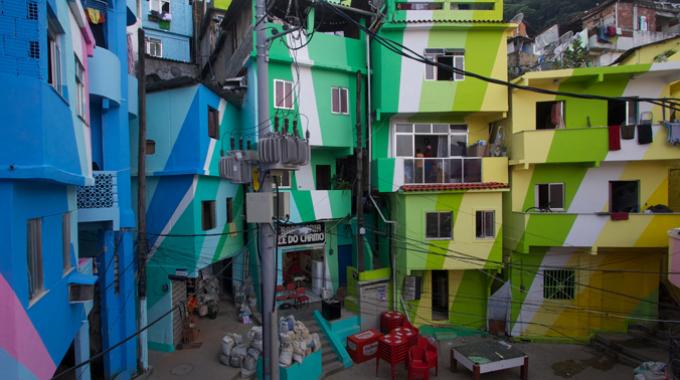 Artistic duo Koolhaas & Urhahn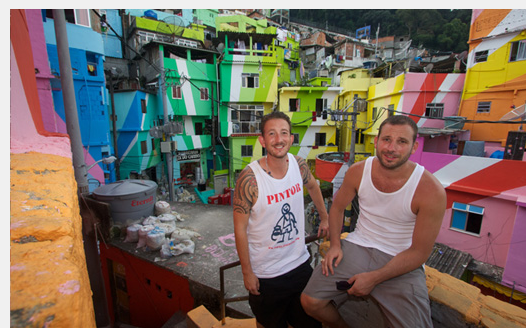 The project boosted positivity (in a area in bad need for a boost) simply by adding art and beauty to the built environment, something that also drove international media attention to the need for improvements.
Painting the local Samba studio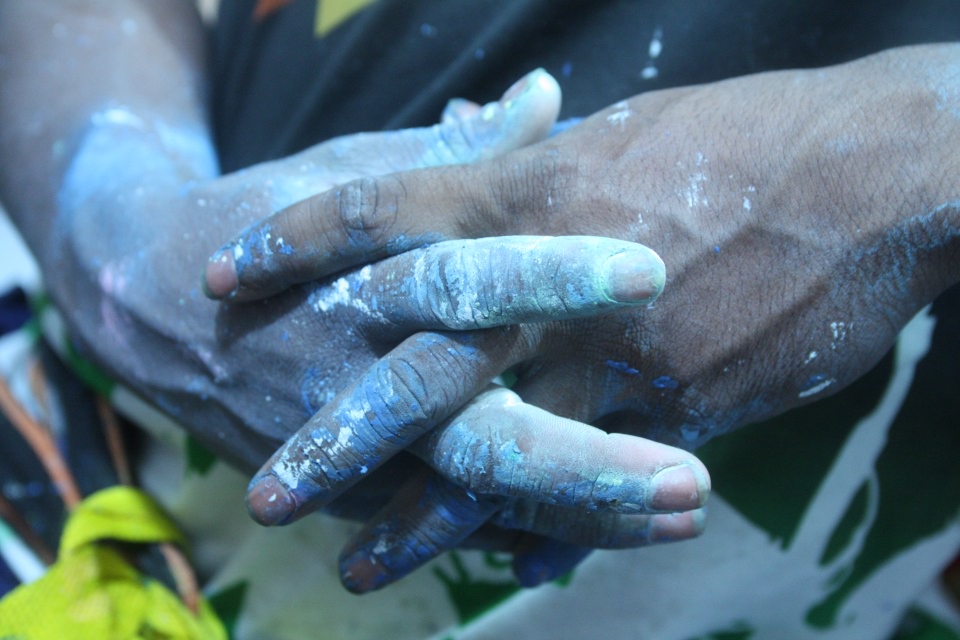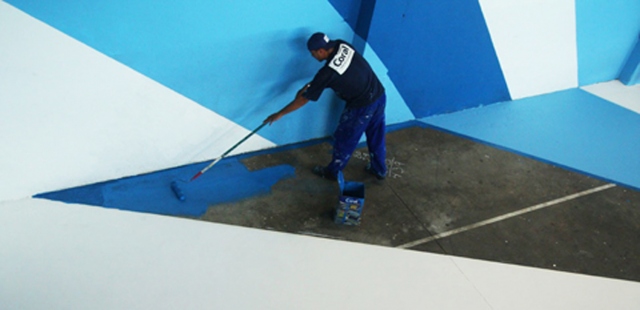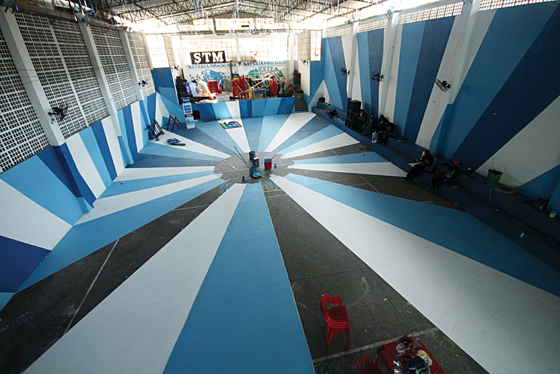 More Favela Painting Photos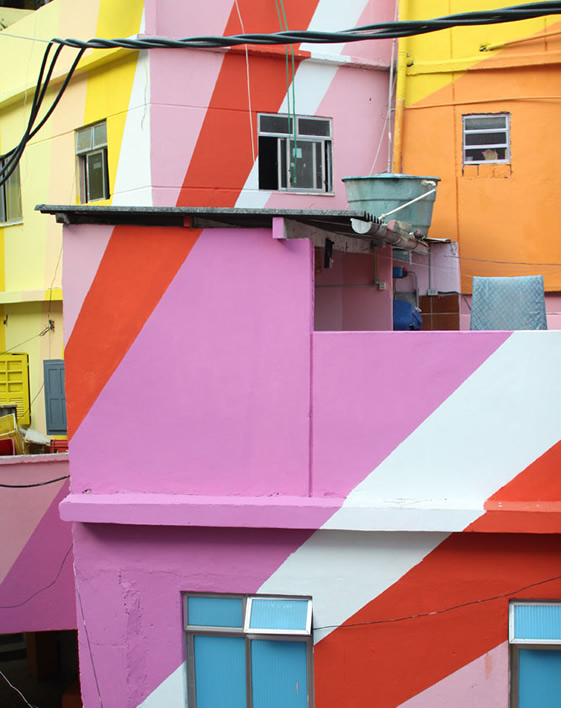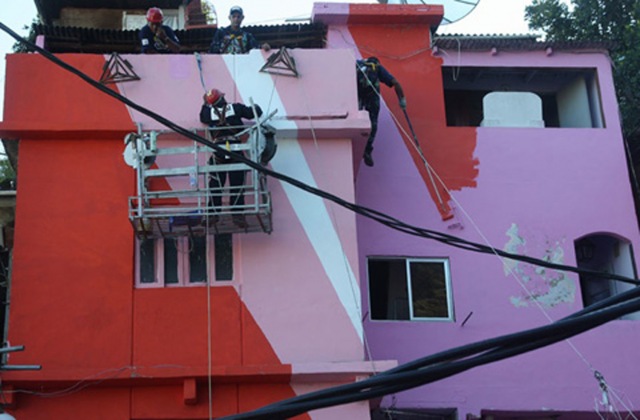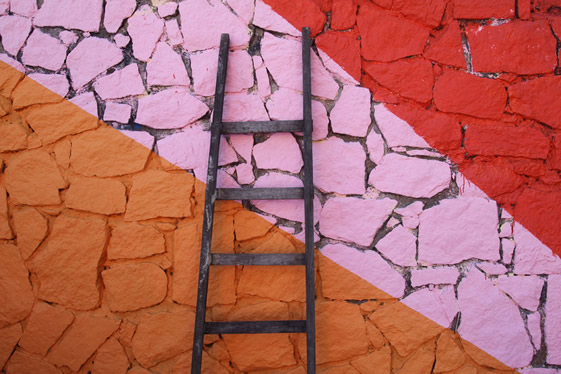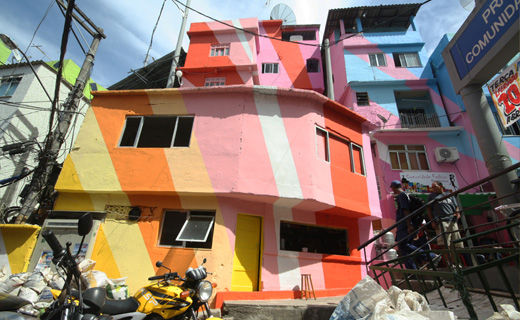 Read more about this awesome project @ www.favelapainting.com or follow on Facebook @ www.facebook.com/favelapainting
Visit the Design With the Other 90% Website website
Visit @ U.N visitors lobby
Pictures from www.favelapainting.com
Being a fan of both great business models and of great design, I feel all fuzzy and warm inside when thinking about Terracycle, also known as the company started by "that worm poop guy". The real name of "that worm poop guy" is Tom Szaky. Szaky and buddy Jon Beyer started the Terracycle venture back in 2001, when both were freshmen at Princeton. Today, ten years on, the Terracycle HQ of Trenton, New Jersey boasts the creative energy of a small company thinking big.
These are some pics I found, they´re a couple of years old, but convey the whack hackyness of this venture. Check out the mantra spelled out onto the sofa, saying "Trash does not exist"- totallly in tune with my own ScrapHacker conviction…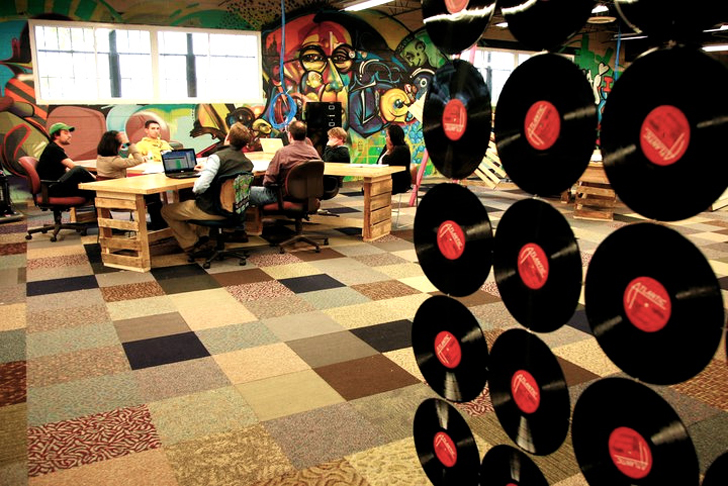 Terracycle´s big idea is a collaborative brigade model – an incentive driven model for recycling materials that are otherwise hard to recycle. The idea has received wide acclaim and the company seems hotter than ever with its specialization of making consumer products from pre- and post-consumer materials. Their philosophy and strategy is an inspiration, and so are their Trenton (NJ) offices, with an abundance of ScrapHacks. Terracycle is a driving force in the Scrap Cycling movement…
"Trash does not exist"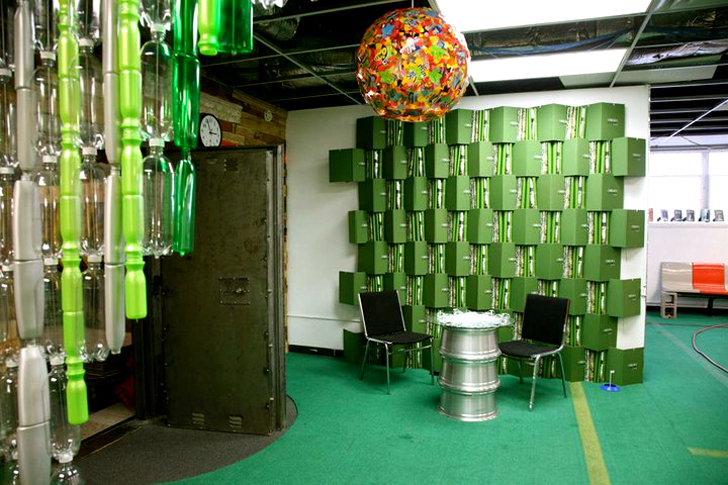 For me, the inspirational Scrap Hack Takeaways include LP-disc room and desk dividers, plastic bottle walls & room dividers, Pallet desks, a gallery of upcycled products arranged in "boxes"/old odd drawers and more. Study the pics hard and you will get your inspirational rewards! Read more and join the Terracycle movement @ www.terracycle.net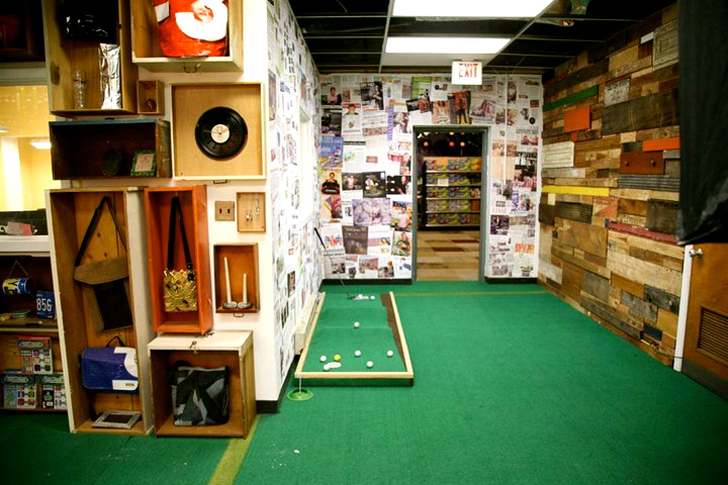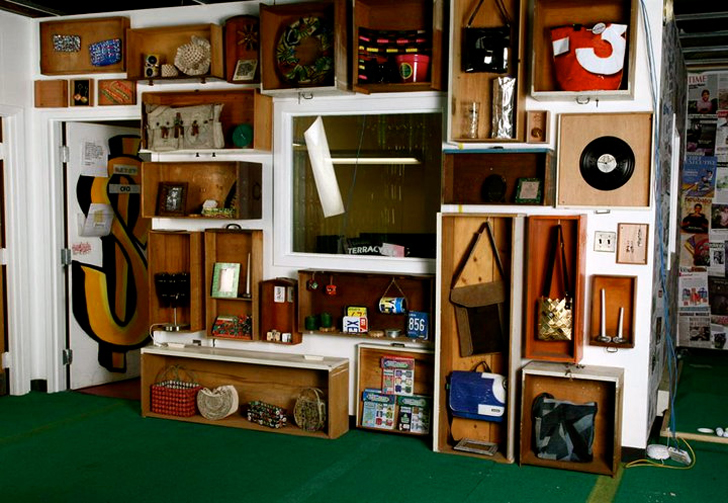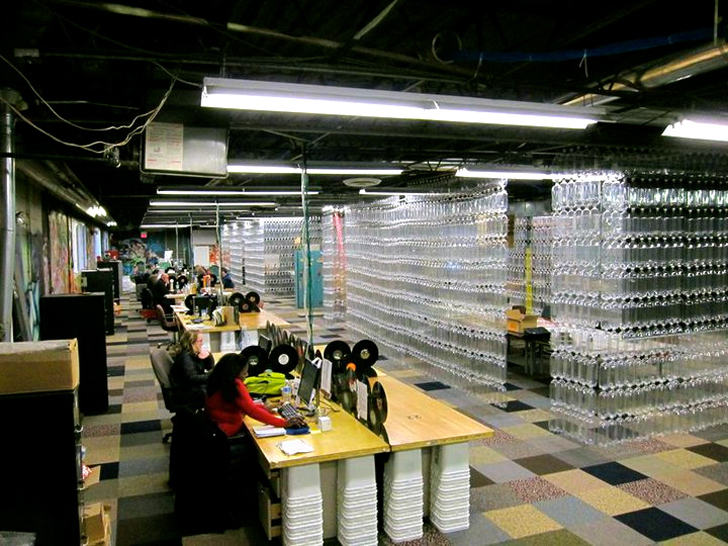 For further inspiration, head to www.terracycle.net
All pics via inHabitat.com
EtsyLabs, a part of Etsy´s HQ space in Brooklyn's Dumbo, hosts regular craft and inspiration nights. Participants are asked to register online, and are welcome to the labs free of charge. As a guest you´re given access to a creative haven with an excitingly broad range of materials and tools…
The mix of people is refreshingly eclectic. When I went last night, the youngest visitor must have been about 6 and the oldest abut 75 yrs. Pros and newbies sit side by side, concentrating hard on creative tasks and challenges yet chatting away on small things. Charming and witty Etsy employees connect by showing genuine interest and by providing any kind of practical guidance. This is really clever concept I wish we could see more of. Etsy are doing a lot of things right – this is indeed one of those things. Here are some pics from the evening: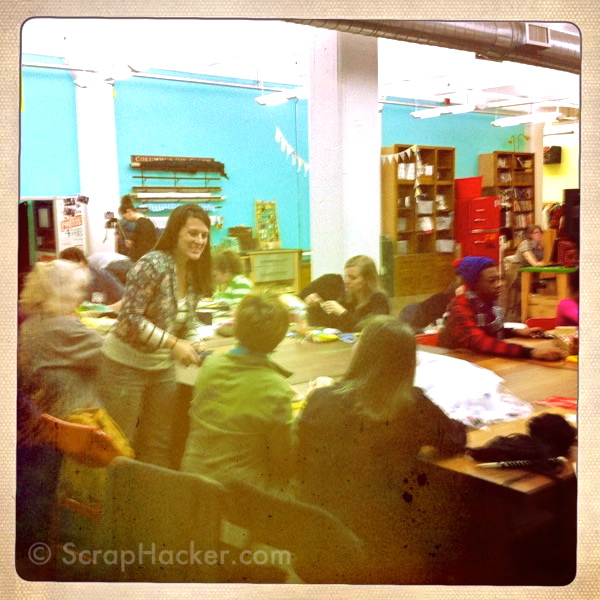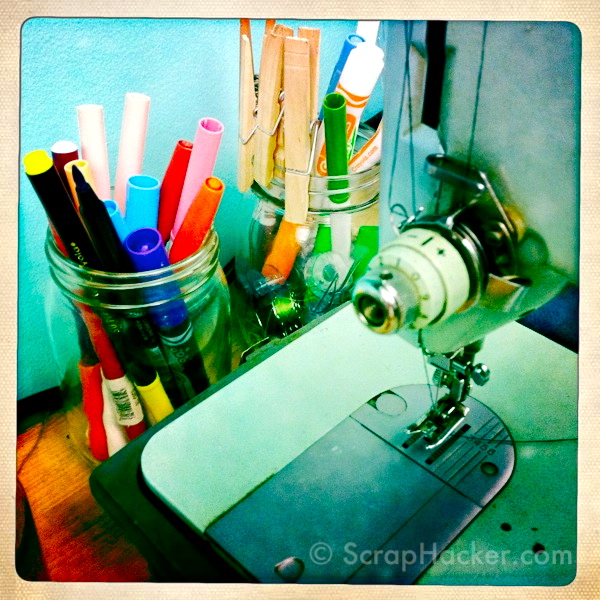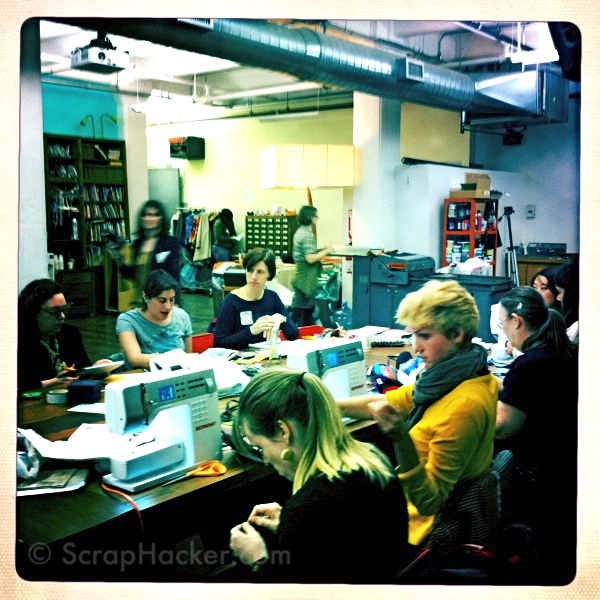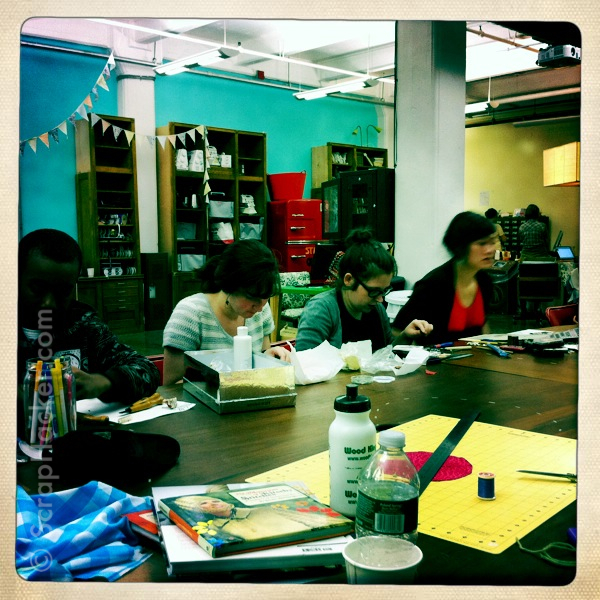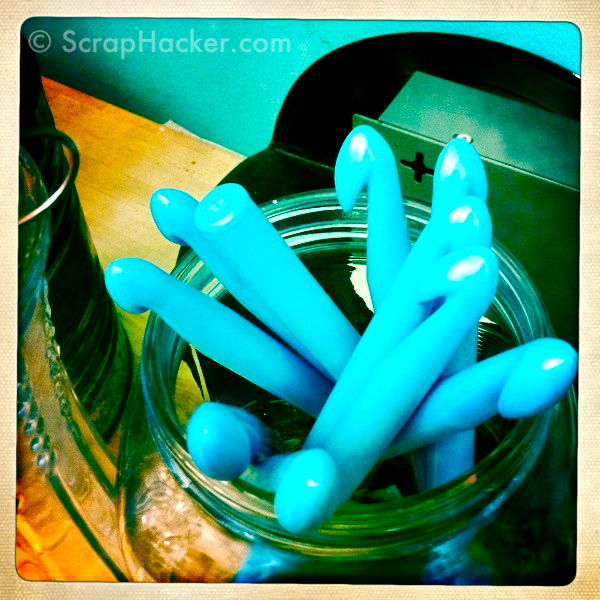 My project for the evening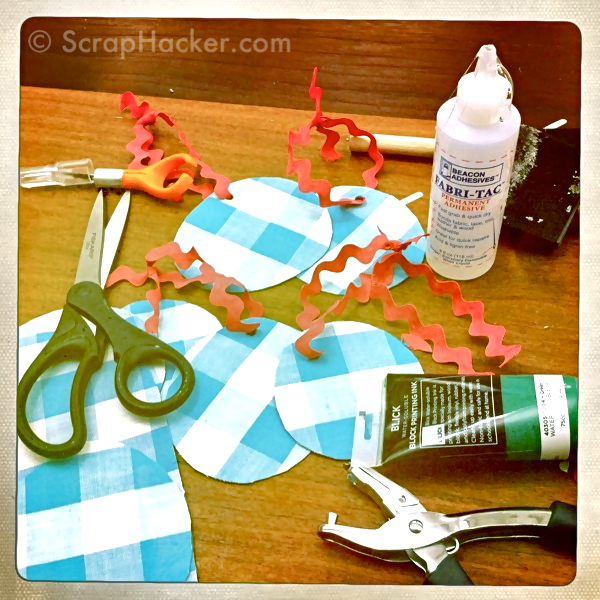 I glued some blue & white checkered textile onto carton, then cut them to a round shape, punched a hole at the top and threaded some ribbon through the hole to create some kind of "christmassy" decoration wibe to it.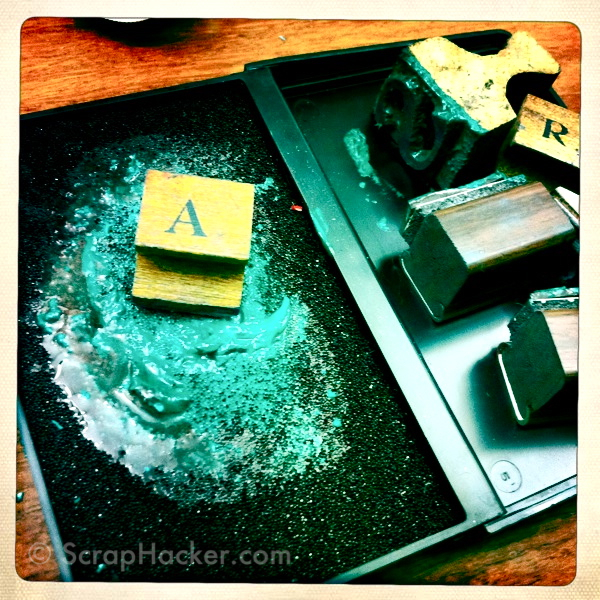 I then used the wooden blocks, green ink and an ink pad to print a message onto the decorations…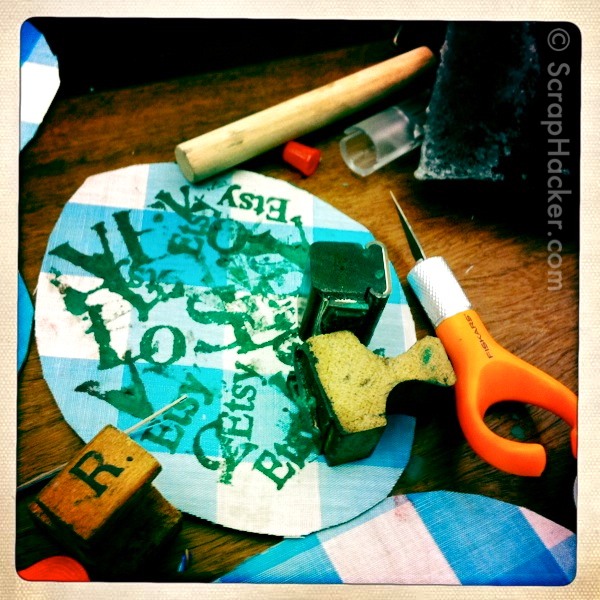 Some trials and errors…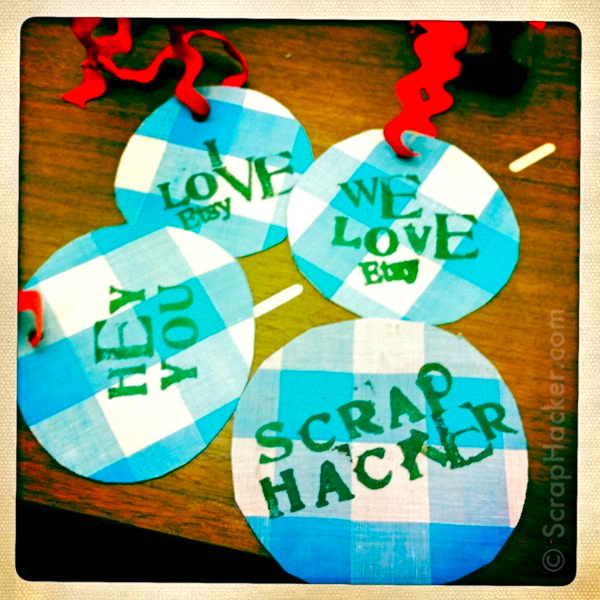 The result! Not superpretty in any way but had lots of fun making them.
For schedule of EtsyLabs Craft Nights, check the events calendar here.
ETSY LABS, 55 Washington Street (Brooklyn)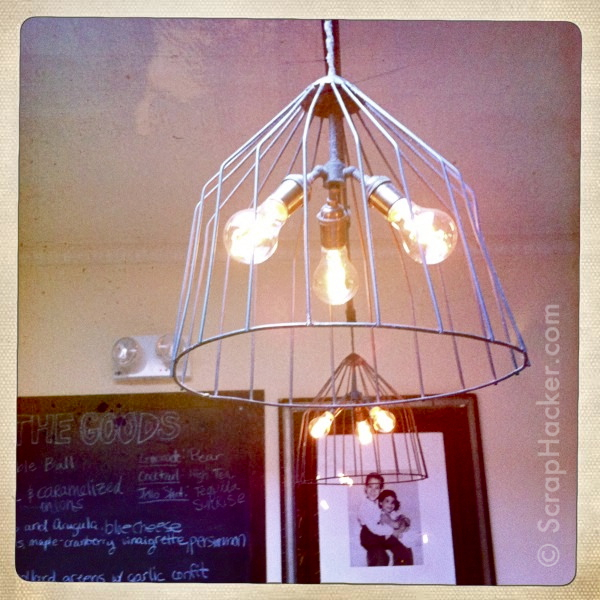 I went to the Meat Ball Shop in Williamsburg the other day. The place is full of scrappy chic looks and hack inspiration as well as great food…My favorite hack are the vintage kitchen utensils hung on the wall by the entrance. Against the white wall background they appear as cooler than cool sculptures. The D.I.Y implication is to stash up on cool looking old tools to create your own cool still life – why not in the kitchen?!
(ps. My visit inspired a short essay on the industrial aestetic – scroll down if interested ds.)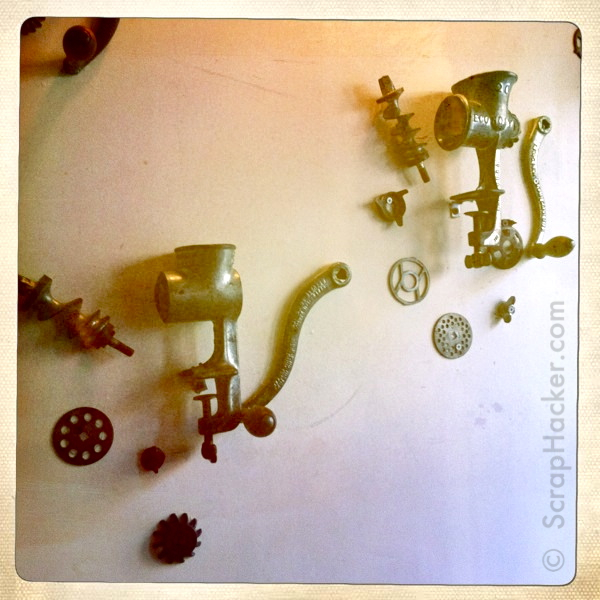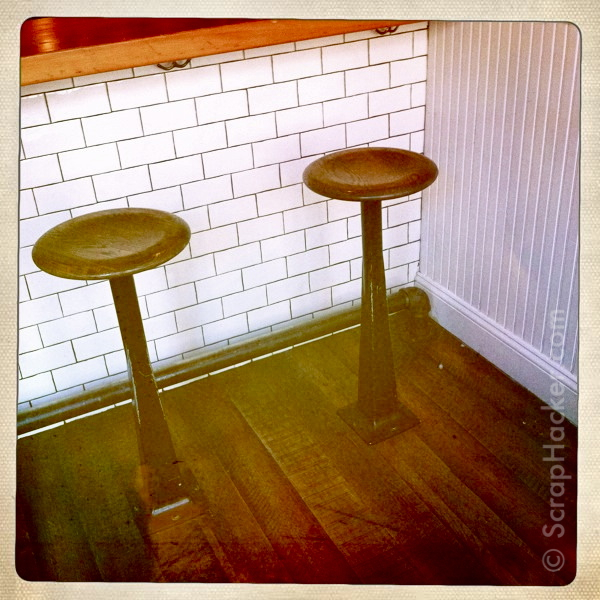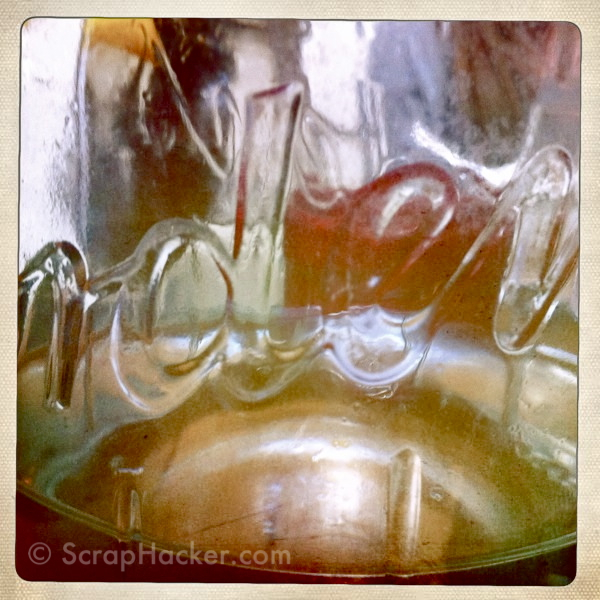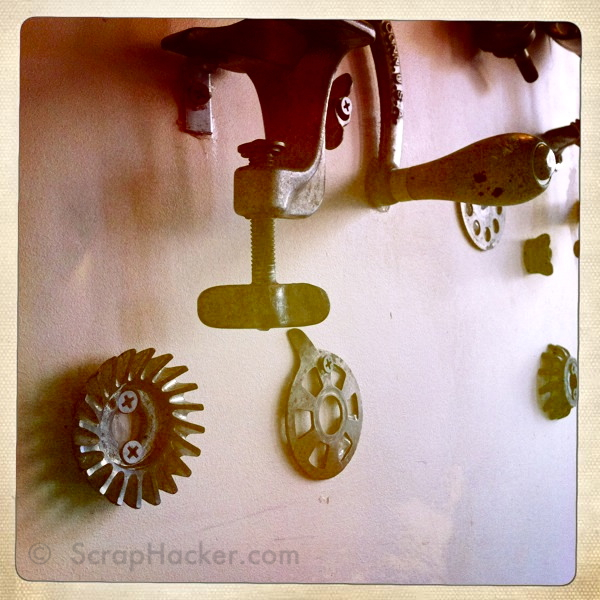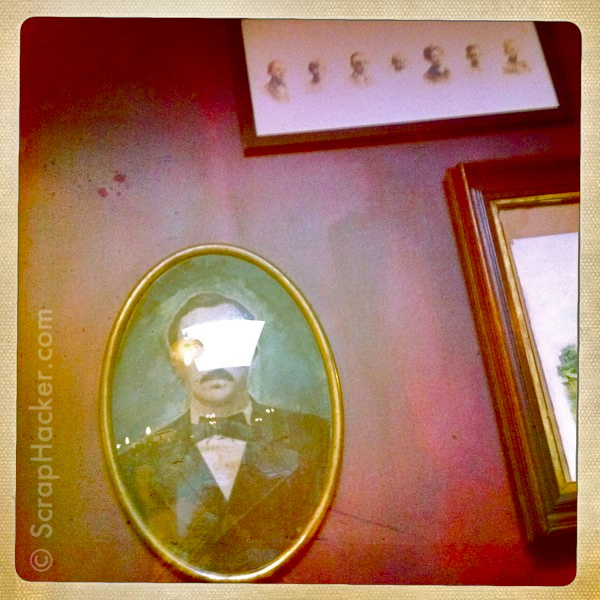 Skateboard menu.

Yay! – Choc-Chip and cranberry ice cream sandwich.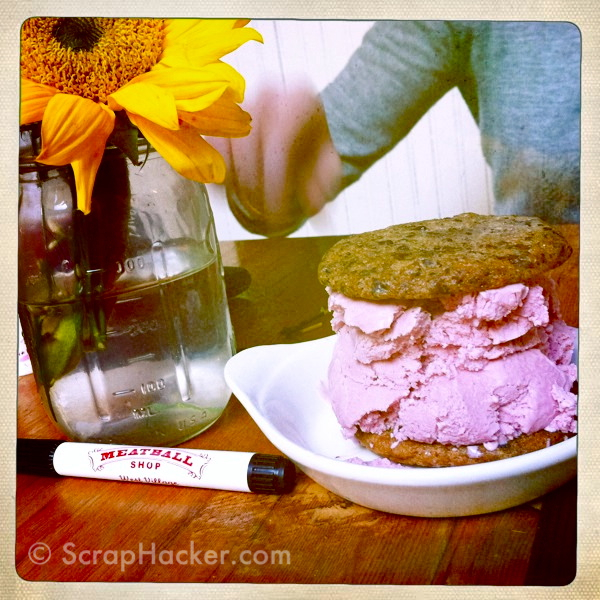 The power of the industrial aesthetic in a post-industrial world
The hard-core industrial aesthetic has many hard-core fans. The impact and staying power of the trend has made me wonder what sets it apart. It strikes me as ironic, that the items from factories, and an era where muscle power reigned over brain power, now fill our favorite pastime haunts given that the industrial look has been adopted by a multitude of shops and restaurants, often at the "hip" end of the spectrum. Thinking of this huge trend, I came back to a quote I read a few days ago, which seemed very on-the-spot:
The future of making is in hacking the post-industrial milieu
Sitting in the buzzing Meat Ball shop in hipster-haven Williamsburg I find my self sitting in the eye of the creative destruction of the industrial era. The franchise restaurant has three venues in NYC and has a rough industrial wibe to it. The place ooze with a sentimental vintage aesthetic, stemming from the 19th century portraits and other memorabilia from by-gone eras. Decorative vintage tools are hung as wall decor, gracefully smiling (yet shaking its head) at the new generation, just like a silver haired grandma to her grand kids.
Yet, in spite of the chorus of nods to the past, there´s evidently room for new ideas, with most prominent innovative feature being applied logics of "user-generated-content" as guests are provided with non-permanent ink markers to tick the boxes of the plastic menus, indicating the desired customizations of the trademark meat ball dish. The combination is refreshing.
The skinny hipster limbs, further enhanced revealed by skinny jeans and tight fitting leather jackets, reveal bodies that has never felt the ache of the demands of hard body labor. Au contraire, the suffering du jour is diametrically different one. Today, our bodies seem to ache from the assymmetric relation between brain power and muscle power.
Coming back to my initial question on the popularity of industrial "looks". I find the whole range of popular cultural expression seems to be trying to deal with the trauma of lost industrial identity. We´re clinging on to our past, yet feel somewhat disconnected – we don´t understand the usages of the vintage tools hanging on the wall. In a way, just like we can´t seem to grasp the dimensions of the stories told by smiling silver haired grand mothers.
My hope is that in time, we´re transitioning from favoring mere industrial "looks", to understanding the usages of the tools hanging on the wall, just as I hope we will grasp the dimentions of the stories of  our silver haired grand mothers. I hope we will get a more symmetrical relation between muscle power and brain power in the line of our everyday work. I hope we don´t lose touch with the inherent power of our hands, that´s why I so firmly believe in the powers of everyday hacking.