In 2010, 197 million copies of the IKEA catalog were printed world wide (that´s more than 3 times as much as the bible). The catalog now comes in twenty languages. Of course, this wasn´t always the case! The first IKEA catalog was published (only in Swedish) in 1951. Since then, the (success of the) IKEA brand and its catalog has evolved quite a bit – and trends along with them! These fantastic excerpts from the 1973 IKEA Catalog was spotted in a swedish blog called Retro! – I find them really fascinating and cool – Do you think we´ll see these trends at our local IKEA´s any time soon?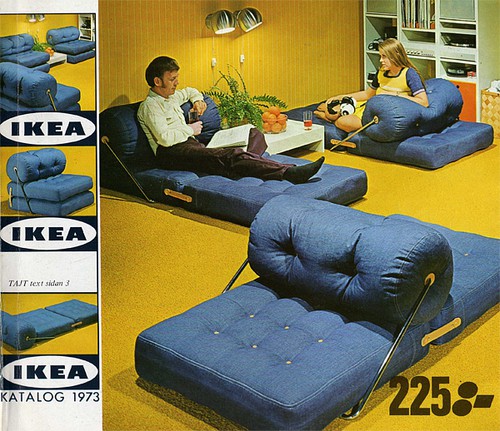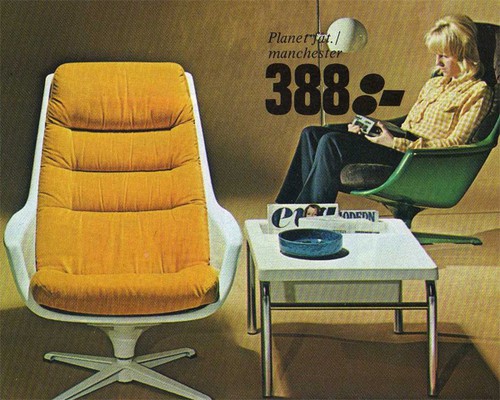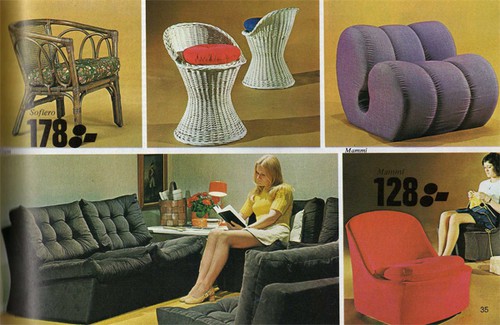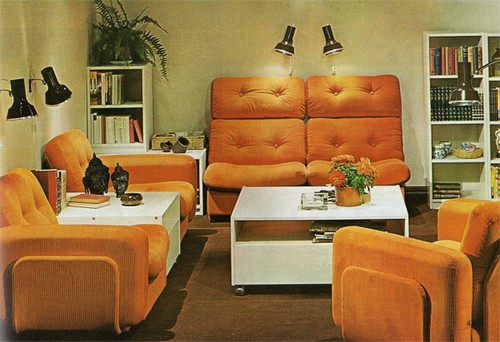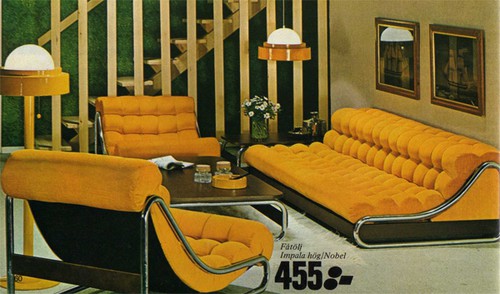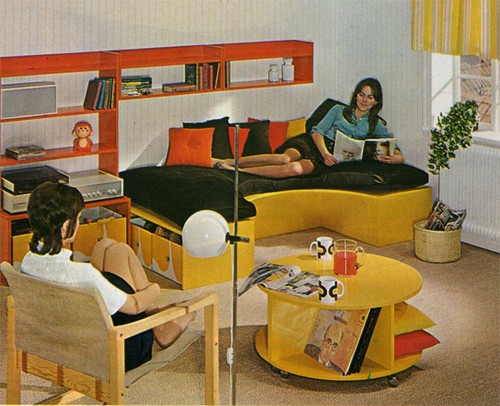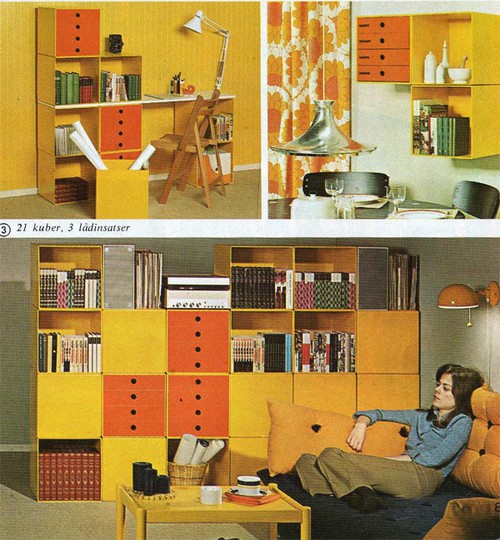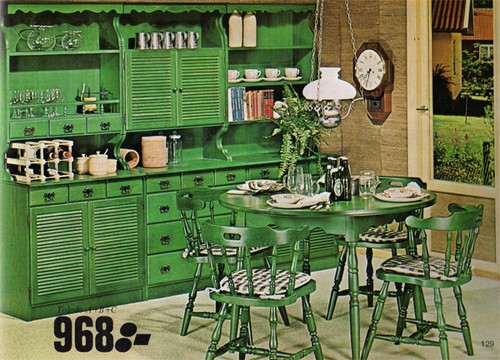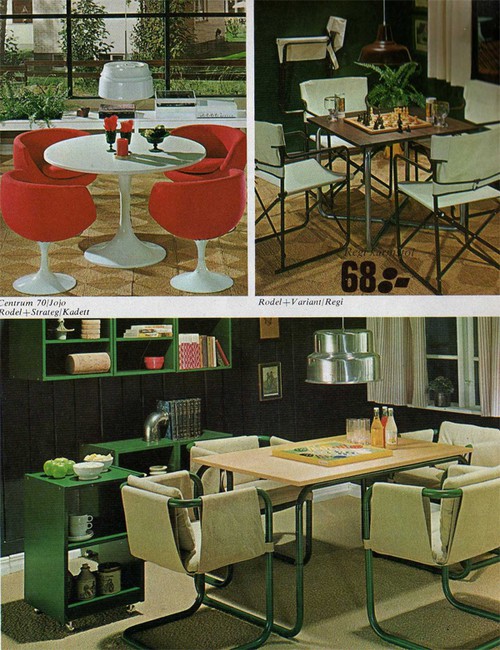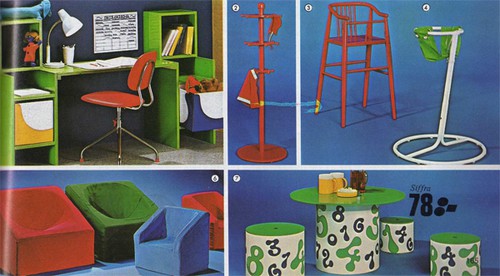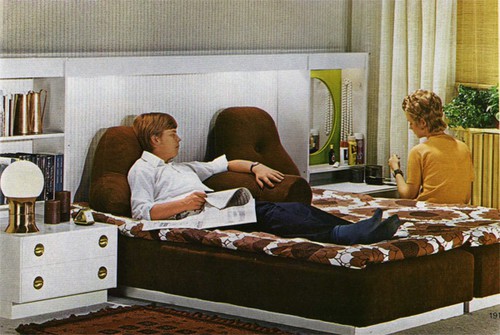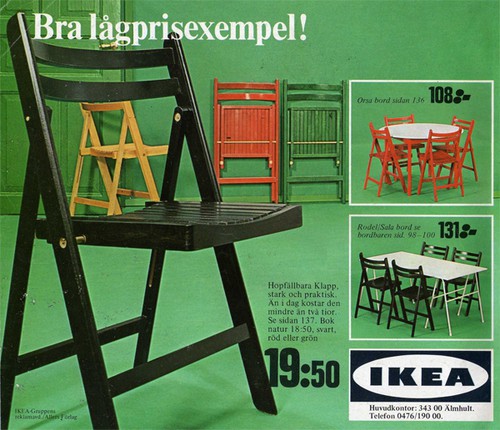 All pics via Retro!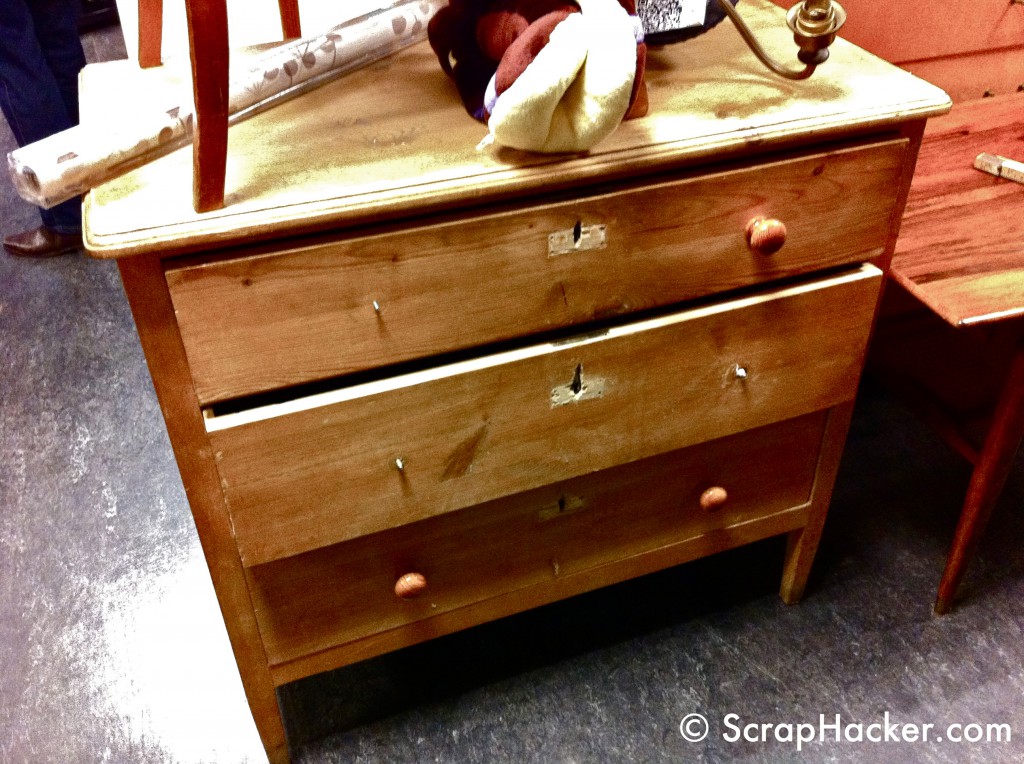 My latest scrap hack involves an ugly duckling chest of drawers I got at a thrift store for $20. Yet, with its neat proportion, some basic TLC involving paint & new doorknobs was all that was needed to transform it into a swan…
Check out the result!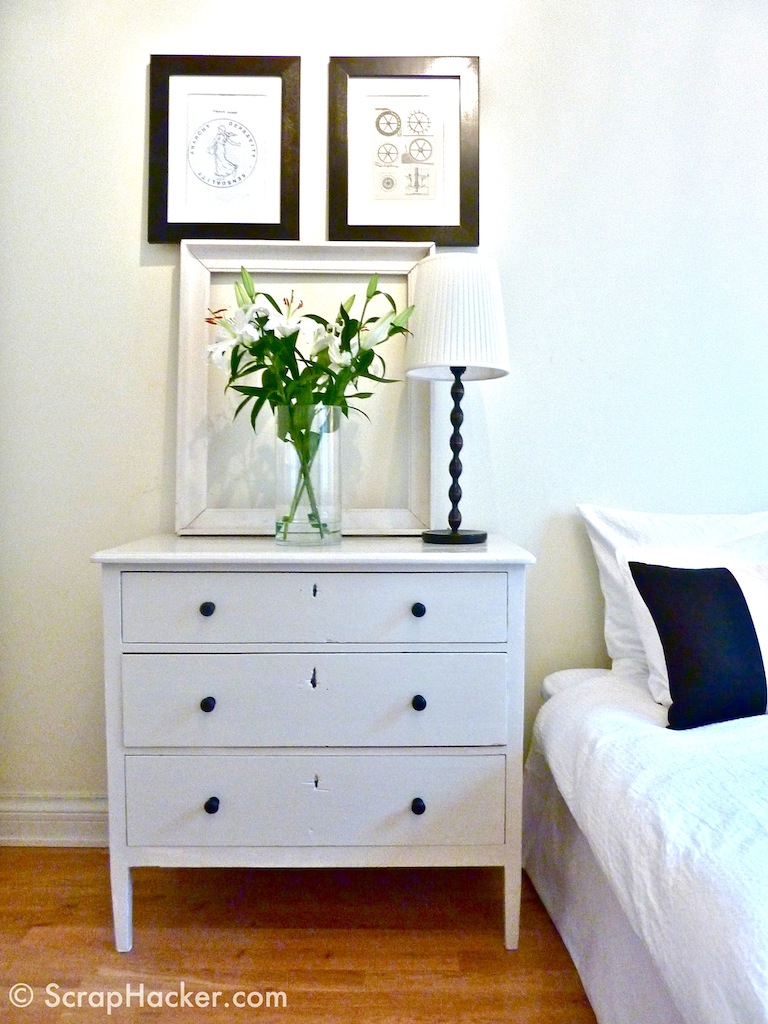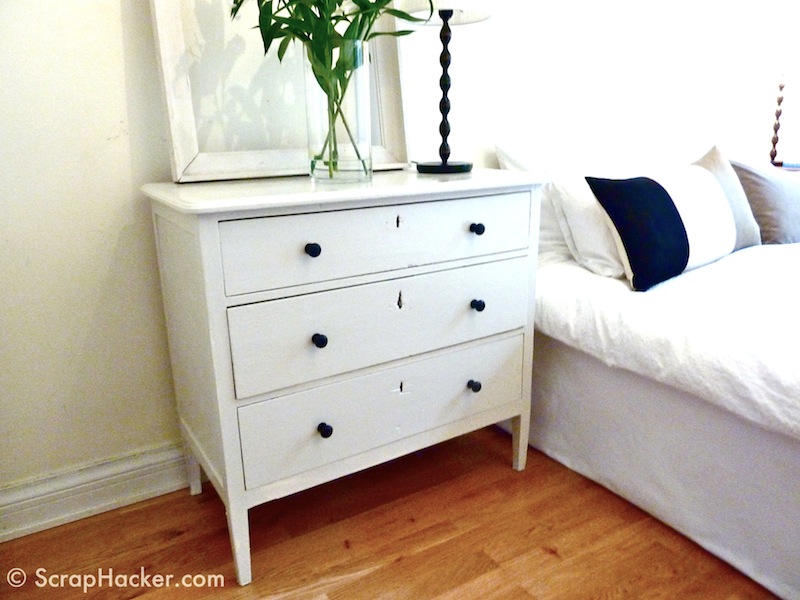 It´s a straight forward hack as you can see from following my step-by-step tutorial featured below. A hack like this comes highly recommended – the simplicity and high improvement factor will leave you and the salvaged piece happy and re-invigorated! Hope seeing these steps will inspire some D.I.Y action of your own – here goes:
Step 1 – Prep
Prep by cleaning & sanding the piece to ensure paint will adhere to the surface.

Step 2 – Wood sealer, primer & Paint
After having brushed off the sanding leftovers, apply 1-2 layers of wood sealer (this prevents yellow stains due to leeky knot holes). After the sealer is all nice and dry, apply a white base coat primer to let dry, then lastly apply paint – I opted for a high-gloss light grey shade.
Step 3 – Customize with finishing touches
Mount new door knobs of your choice. I opted for IKEA´s Fintorp which are $4.99/2-pack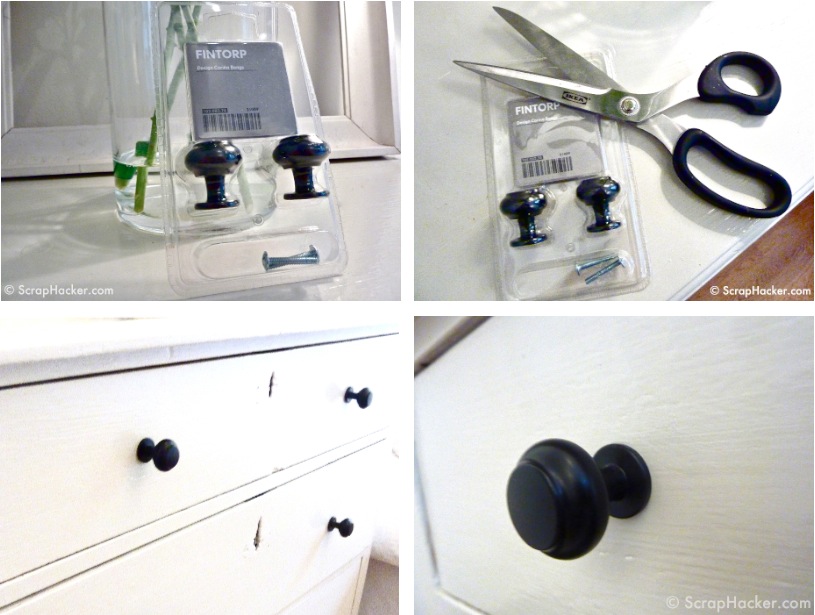 Step 4 – Enjoy!
Before & Afters….


Good Luck with your own hack projects!
Boost your energy levels by tapping into the powers of re-making old stuff into glorious new creations! Get inspired by this colorful Top-15 Re-Make selection. Remember: Your typical re-make is no costly affair – creativity and paint will suffice to pimp any scruffy piece beyond recognition!  Now – Enjoy this savory stew of salvage success stories…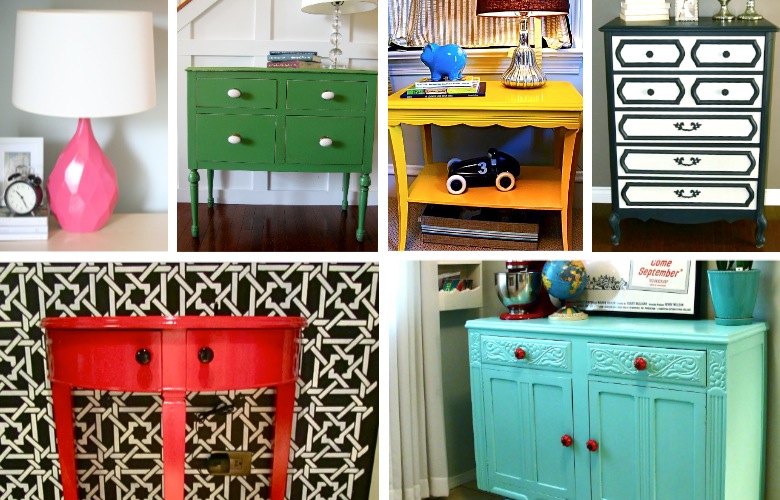 Note: Links to original posts/hack descriptions can be retreived in the bottom of the post.
Green energy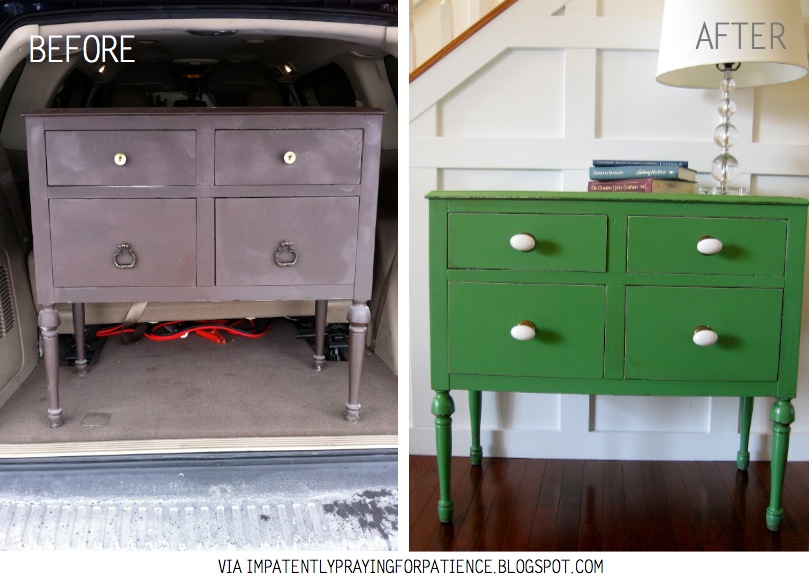 Prettier in pink
Black & White bliss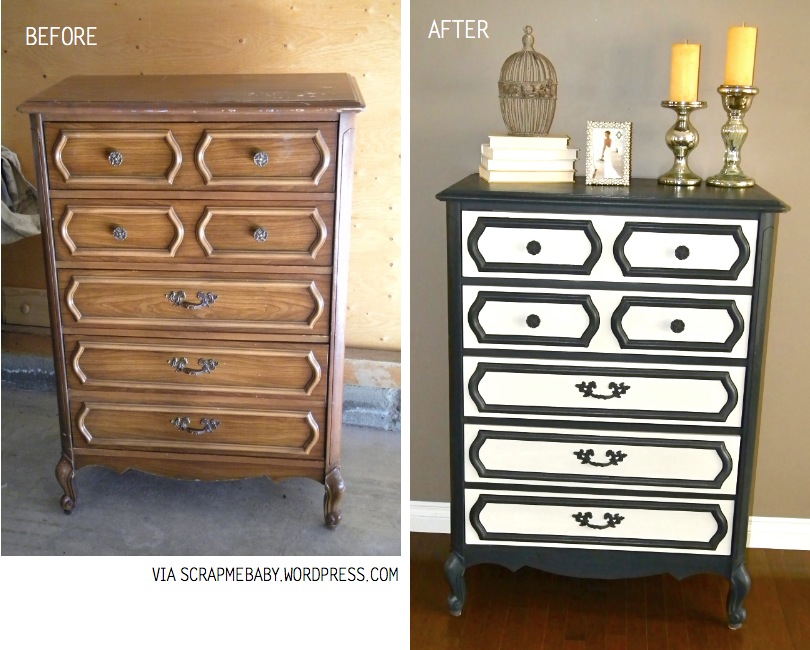 A ray of sunshine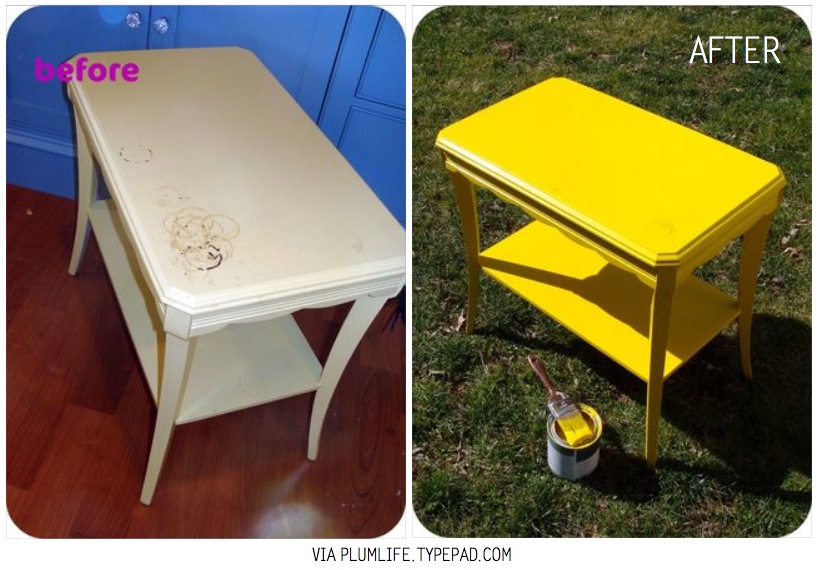 Peppermint Breeze

Zesty Orange

Denim Delight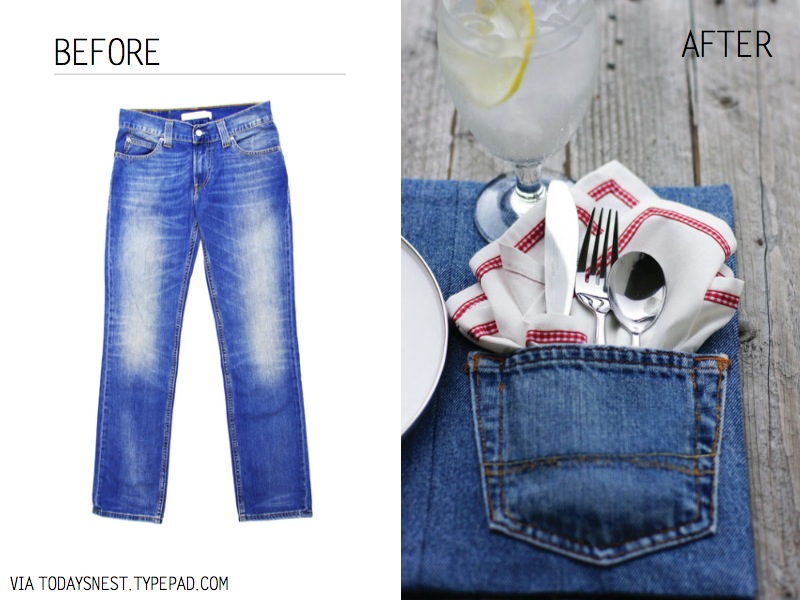 Ruby Relish
Terrifically Turquoise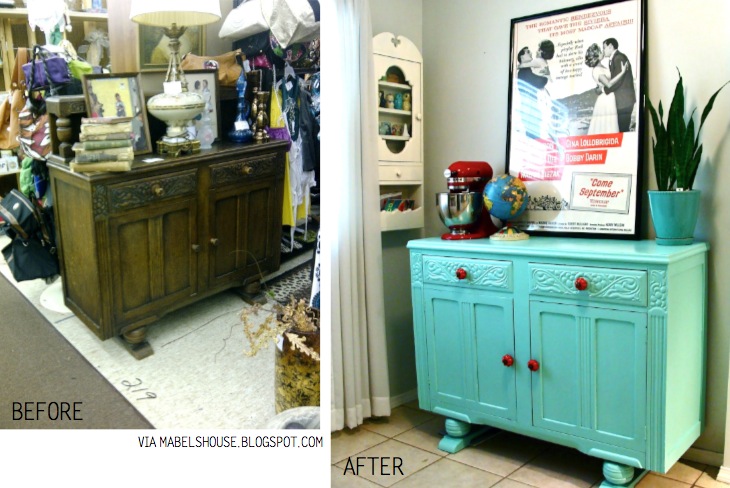 True blue baby I love you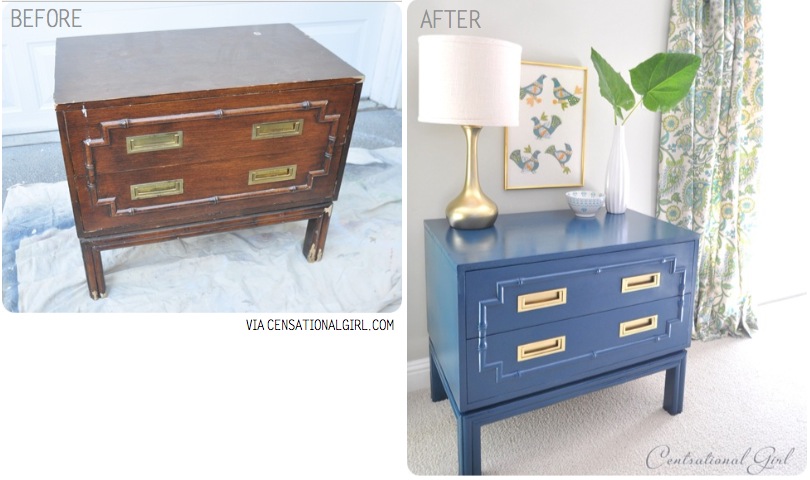 Crispy grey

Bright White Light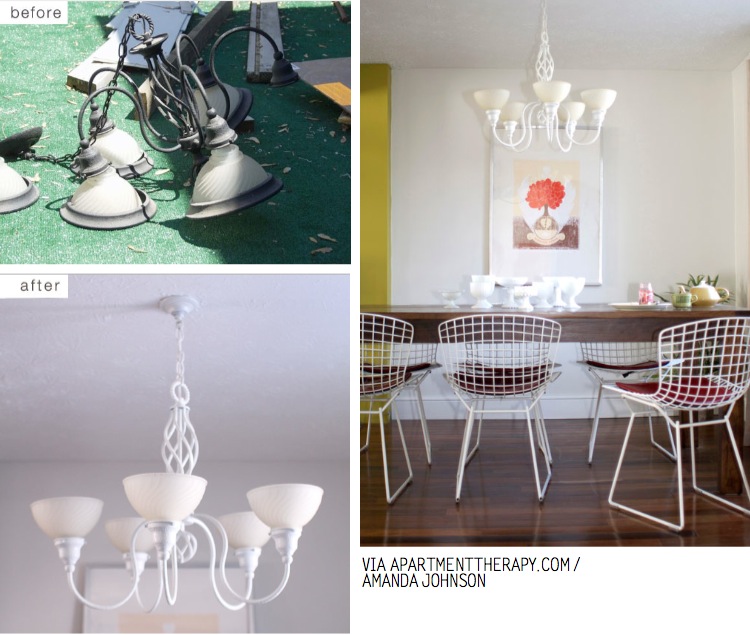 Lively Lime

Clad in Coral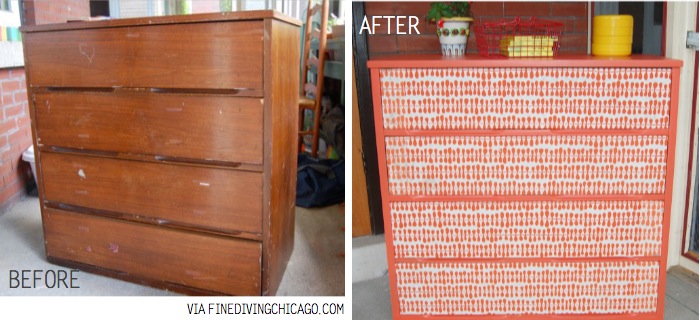 Rope re-make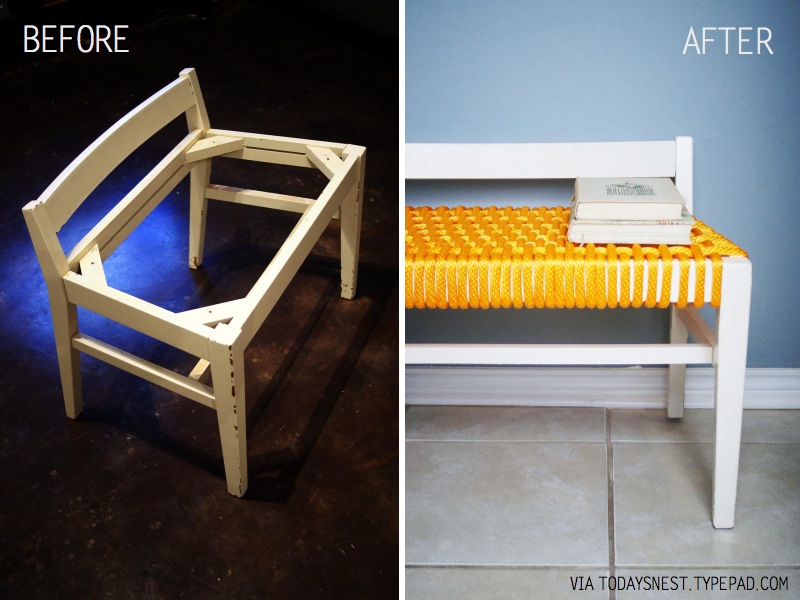 LINKS TO HACK DESCRIPTIONS & ORIGINAL POSTS
Green Energy:
ImpatientlyWaitingForPatience.blogspot.com
Prettier in Pink:
UsedEverywhere.com
Ray of sunshine:
PlumLife.typepad.com
Bright White Light:
ApartmentTherapy.com
Rope Re-make:
TodaysNest.typepad.com
Clad in Coral:
FineDivingChicago.com
Crispy Grey:
ApartmentTherapy.com
Lively Lime:
DesignSponge.com
Black & White Bliss:
ScrapMeBaby.wordpress.com
Peppermint Breeze:
SimplySalvage.com
Zesty Orange:
ApartmentTherapy.com
Denim Delight:
TodaysNest.com
Ruby Relish:
ApartmentTherapy.com
True Blue Baby I love you:
Centsationalgirl.com
Terrifically Turquoise:
MabelsHouse.blogspot.com
The new year marks eager new beginnings – avoid wasting precious time in order to fulfill all those dreams for 2012! Some glue, a paper plate, 12 chopsticks, a quartz movement & some clock hands is all you need for this simple recycling D.I.Y project, a sleek 1950´s looking clock, inspired by our takeaway lifestyle & spotted at ReadyMade
Chopstick clock D.I.Y
Ingredients: 12 chopsticks, Paper plate, glue, quartz movement & clock hands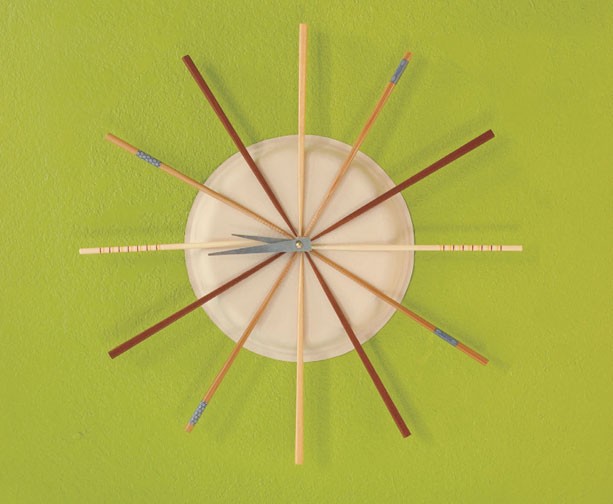 Step 1
Use a glue gun to affix the chopsticks to all 12 time positions around the backside of the paper plate.
Step 2
Make a hole in the center of the plate.
Step 3
Assemble the quartz movement/clock hands according to the package instructions, mount through the center of the paper plate.
Step 4
Hang your handiwork on the wall. Tell time.  
Words & Pic via Readymade
Polish artist NeSpoon combines lace-making, ceramics and street art. The result are stunning pieces in which the innocent beauty and intimacy of old-fashioned lace is contrasted to rugged and not-so-innocent urban decay. The City Stadium gates in Grottaglie, Italy, is one of her projects, made during the Fame Festival 2011 (all pics in this post via NeSpoon)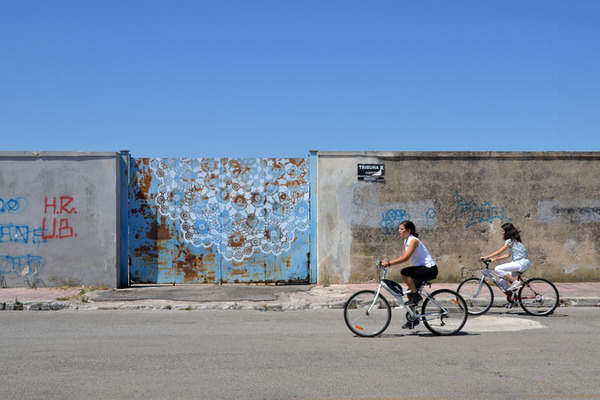 Another project, also in Grottaglie and during the Fame Festival) was executed the abandoned monastery of Convento dei Cappuccini. Over the years, artists from around the world, had filled the walls with art, turning the place into a top street art gallery, for a full tour around the place, click here or see a video here. Rumor has it that the street art haven won´t be around for much longer, as city officials recently decided to convert the monastery into a museum of agriculture, making the space even more mythical…Here are some snaps of the work by NeSpoon – enjoy!
Conventi dei Cappuccini, Grottaglie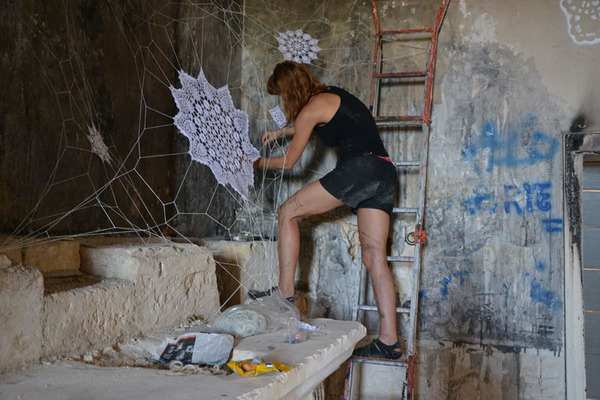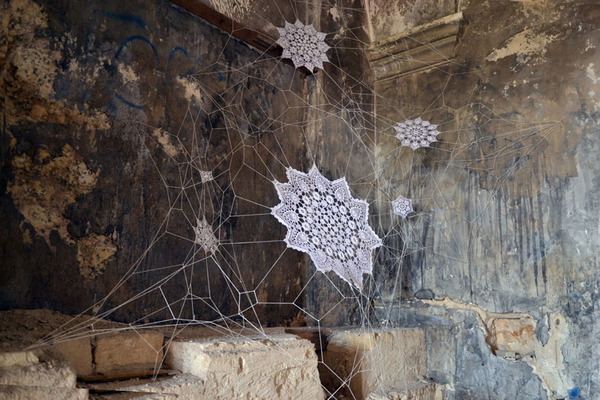 Grottaglie city centre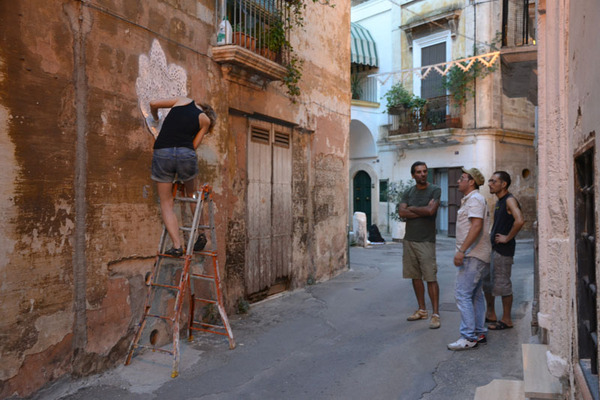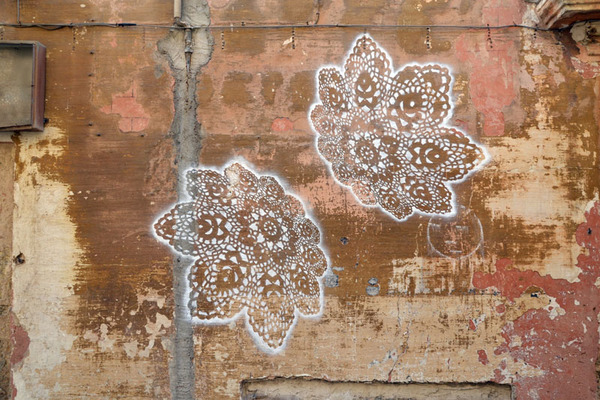 Aesthetic Guerilla, Warsaw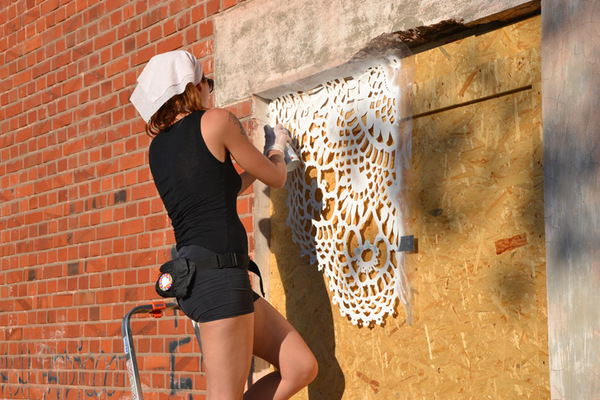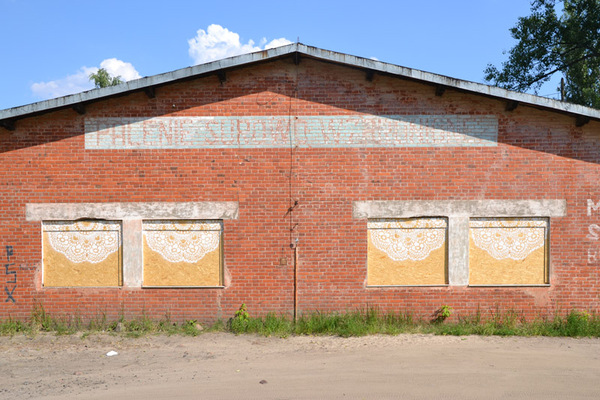 Urban Jewellery Park project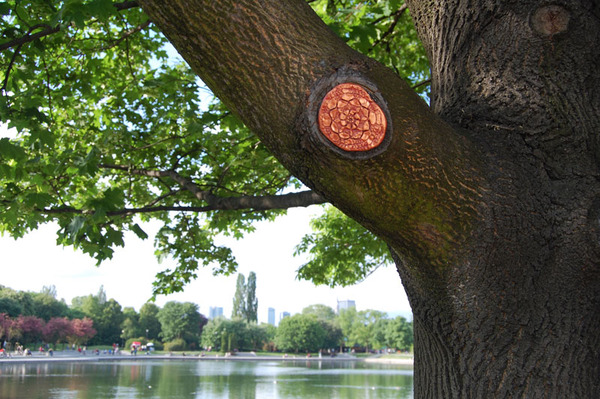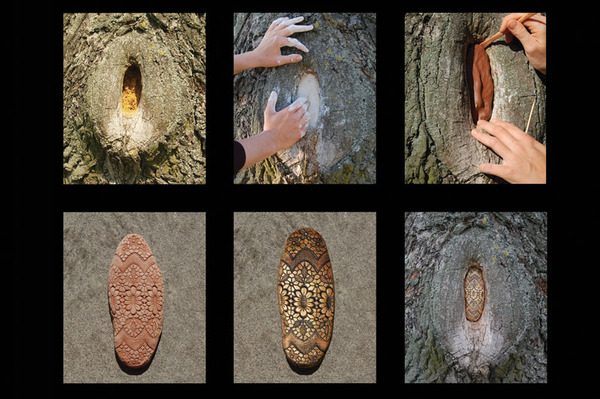 Tracing the history of lace…
Lace-making is a ancient craft, with ornate threads tracing back in the first half of the 14th century in Flanders (now on the border between France and Belgium). Soon after, the clergy of the Catholic church favored the loopy openwork fabric, using it as part of ceremony vestments. By the 16th century the trend had gotten a widespread popularity, and industries of lacemaking spread throughout Europe, starting local lace traditions. With local production, the craft also got a social dimension, as the lace-making trade provided income to country girls who could then stay away from the cities, and the few, often grim, career opportunities offered young girls ( via Wikipedia )
Pics
NeSpoon
Read more
NeSpoon
LonelyGirlTravels
FameFestival
For me the days prior to New Years always seem full of inspired thoughts on the potential greatness of next year. As such, I tend to have a Zen moment want to clear out stuff I no longer use, or find creative ways of re-use. Browsing the MakeProjects website I found this great idea, that will make that accidentally shrunken favorite woolly sweater of yours shine anew in 2012! Check out the pics and tutorial below (quoted from the MakeProject tutorial available here)…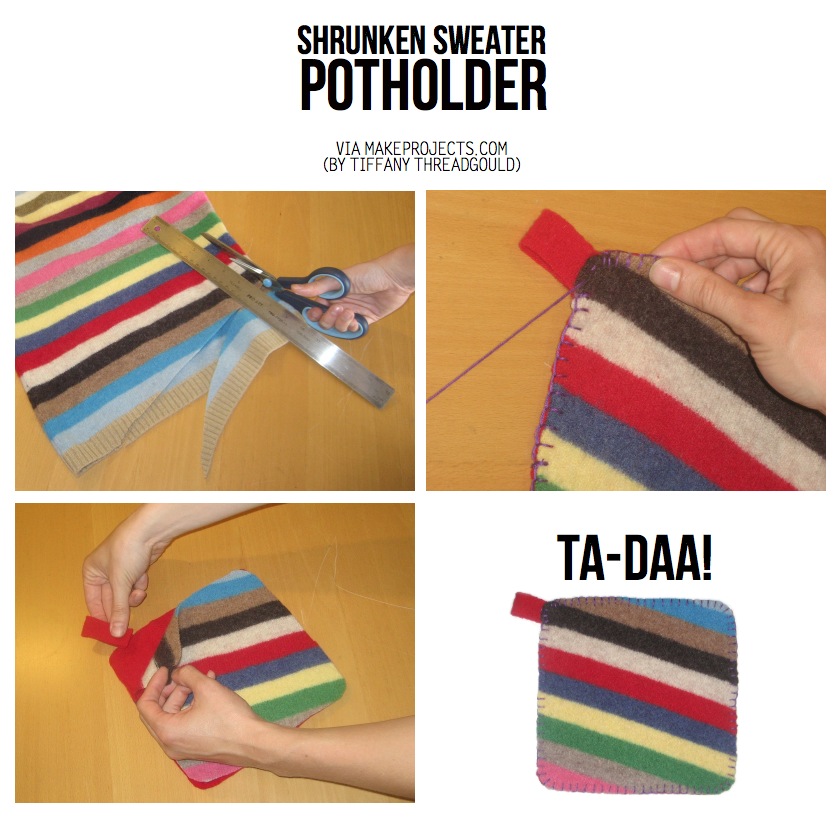 Step 1 – Grab that Shrunken Sweater / Felt your sweaters
Put your sweater in the washing machine on the hottest setting. Add a small amount of detergent, and wash. Then dry on the hottest setting.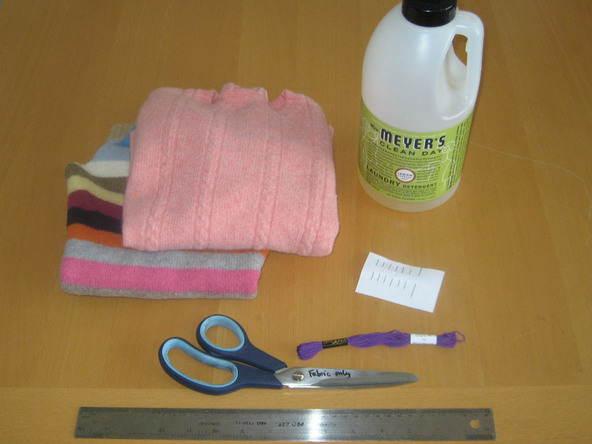 Step 2 – Cut your pieces
Cut a 7″ square from each sweater. Round the corners. Then cut a third piece 4″×¾". This will become the hang tab

Step 3 – Assemble the potholder
Stack the 2 squares with their right sides facing out. Fold the hang tab piece in half. Insert its open ends between the 2 squares in a corner and pin in place. Then pin around the perimeter of the potholder.
Step 4 – Blanket Stitch the edges
Thread your needle with embroidery floss and tie a double knot. Start a stitch to the left of the hang tab and about ¼" from the edge. Then pull the floss up and around in a loop, coming out at the same starting point. Thread the floss through the top of the stitch.   Stitch up and around, making a second stitch about ¼" from the first. Before pulling the floss tight, bring the needle through the top of the stitch.   Continue stitching ½" from the previous stitch and bring the needle back through the loop before you pull the stitch tight. Stitch around the entire perimeter of the potholder in this way.
Step 5 – Finish with a running Stitch
When you come back around to the hang tab, simply sew a running stitch through it. Secure the floss on the ends with a double knot and start using your new creation.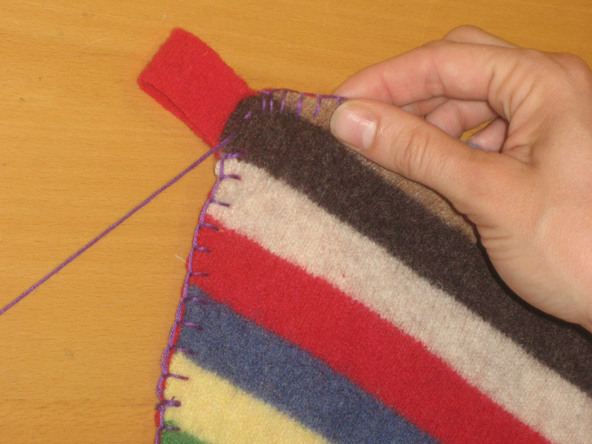 Step 6 – Enjoy!
Pics & words of tutorial was quoted from MakeZine feature by maker Tiffany Threadgould      
With just one more day to go til Christmas, I find myself eager for some last minute DIY! The Recycled Paper Bag Stocking is a perfect "Crafty X-mas" idea. Requiring only 1.) a sturdy paper bag 2.) scissors 3.) a hole punch and 4.) some yarn/string means anyone can pull this off. Tuck a treat inside and you´ve got yourself a handmade special surprise for your special someone(s). The hack was spotted at the RockScissorPaper blog – full step-by-step tutorial here.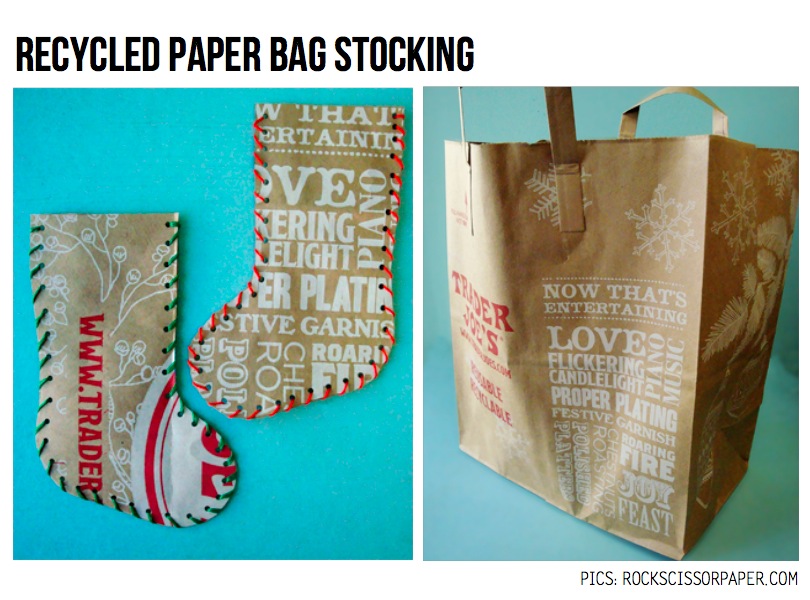 Close-up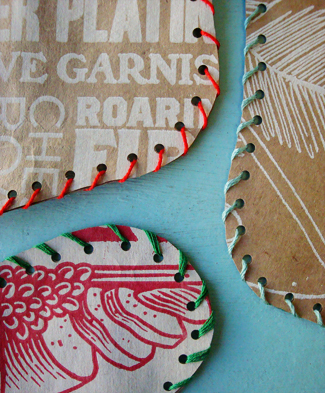 Crafty Christmas!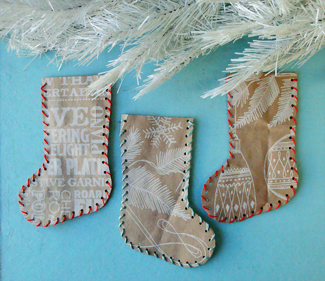 All pics: RockPaperScissor
The round wooden industrial cable spool is the curvacious cousin of the mega-popular pallet (frequently featured hack material on this blog and featured in inspiration posts such as  Top 10 Pallet Coffee Table Hacks, Top 10 D.I.Y Pallet Bed Hacks, Top15 Pallet Sofa Hacks, Pallet Ideas for the kitchen as well as in step-by-step D.I.Y tutorial posts like D.I.Y Pallet Coffee Table Tutorial, D.I.Y Pallet sofa tutorial & D.I.Y Pallet Dining Table Tutorial).
I´ve gathered some inspirational cable spool coffee table hack and upcycling ideas below. Just like with pallet hacks, required effort D.I.Y is minimal. It´s the small touches and the setting that makes the look, making this hack idea very versatile and flexible. So have a peek below and get those hack juices flowing…

Industrial Rustic
Some ideas should you be so lucky to come across a vintage cable spool…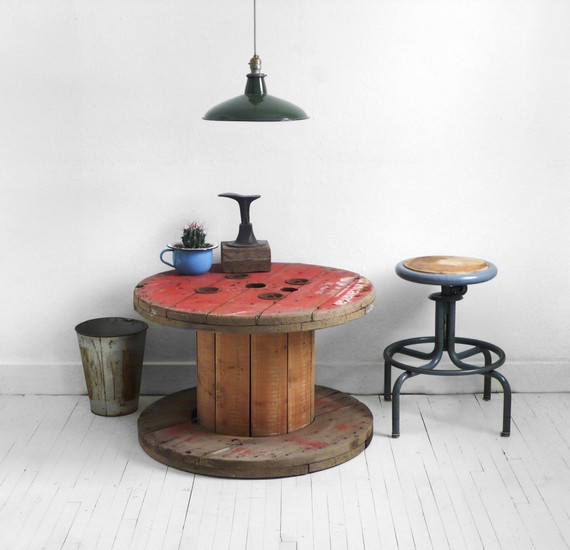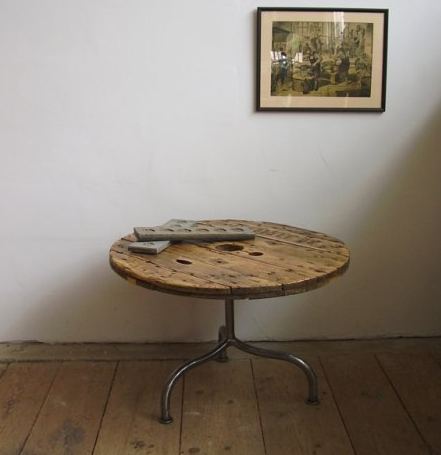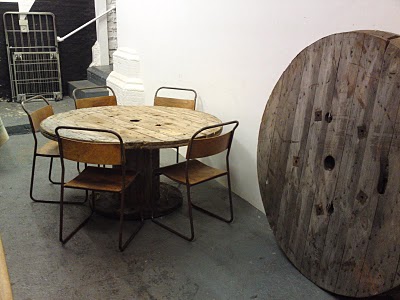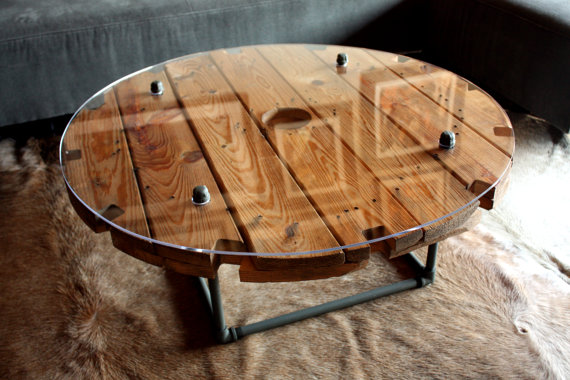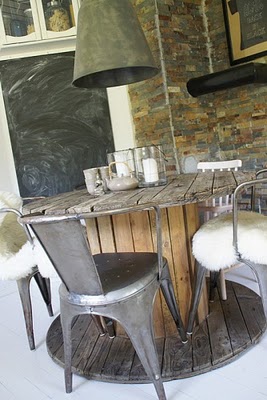 Modern polish with an edge
Love the contrast of when a shabby cable reel is given a top coat of of shiny sleek stainless steel.
Whitewash
Splashing on white paint and adding castors leaves spools fresh looking & ready for any kind of decor backdrop.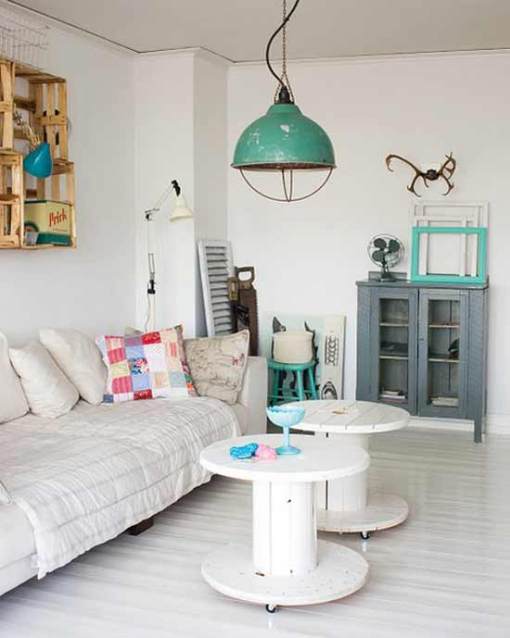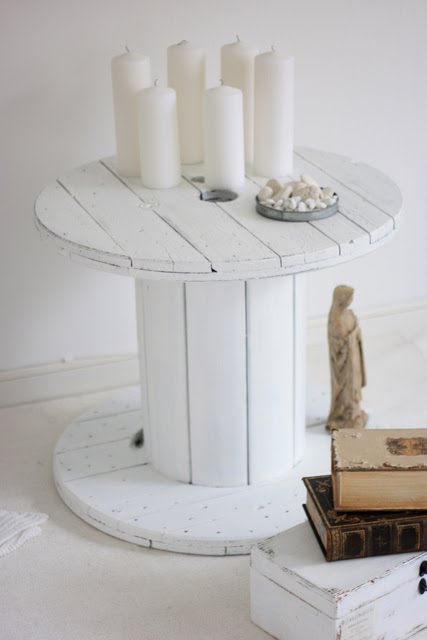 "BookMobiles"
Add some wheels and wood sticks for support and you´ve got yourself a bookmobile. The diameter of a spool makes it perfect for book storage.
BookMobile DIY tutorial – CLICK HERE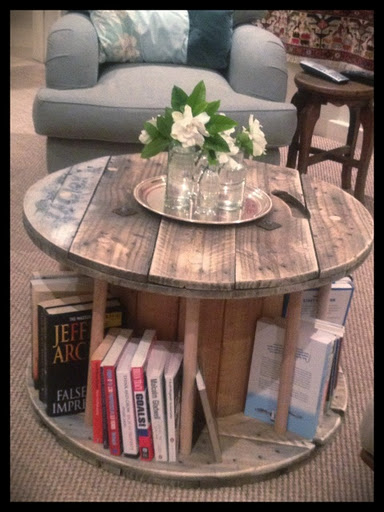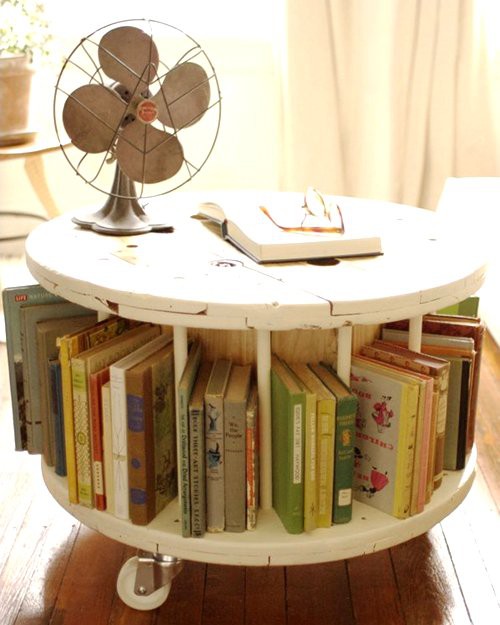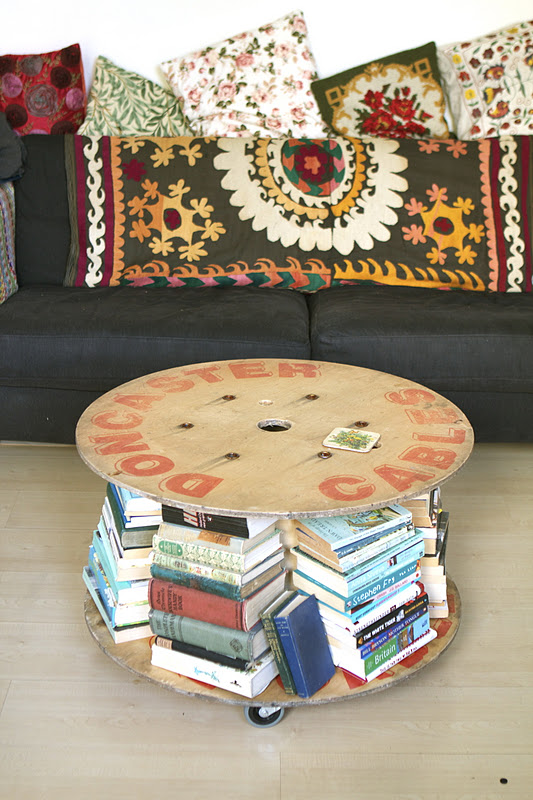 Pimped with rope
Tie some rope around the waist of the spool to add some tactile cosyness.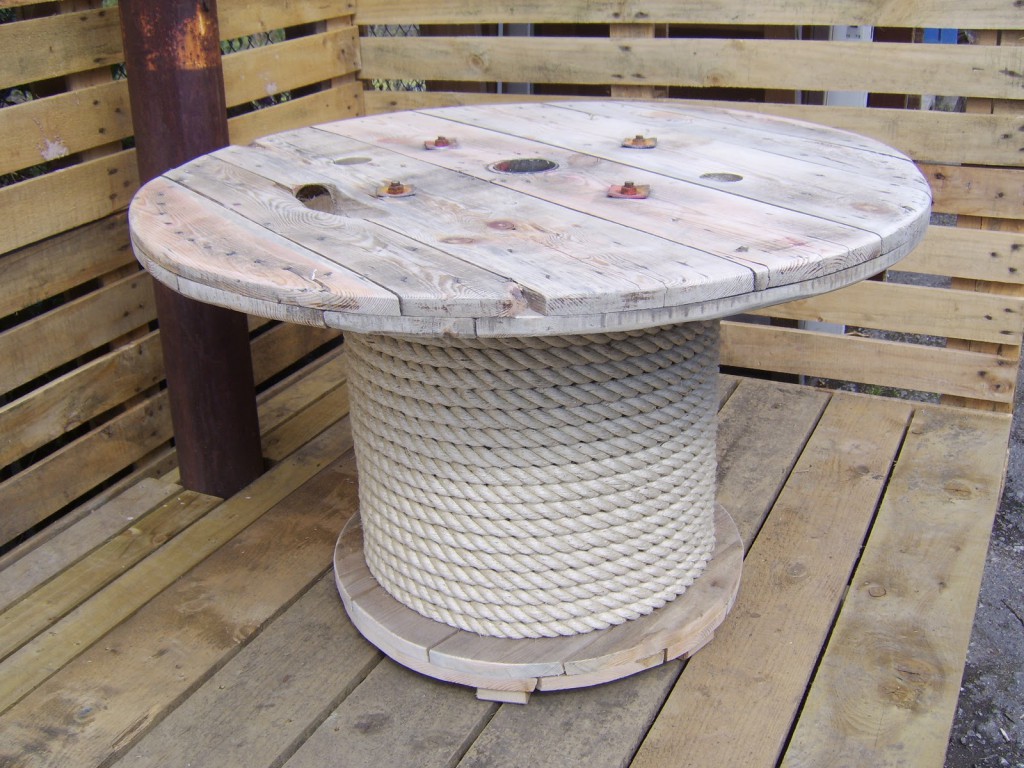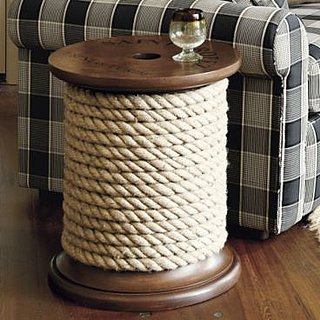 Upholstered
Grab your some padding, a piece of fabric and a stapler to acheive this look & stool function.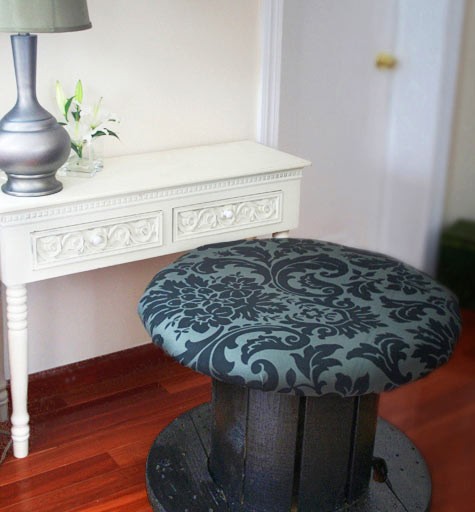 No fuss plain
The no-fuss look is perfect for messy spaces like kids´rooms.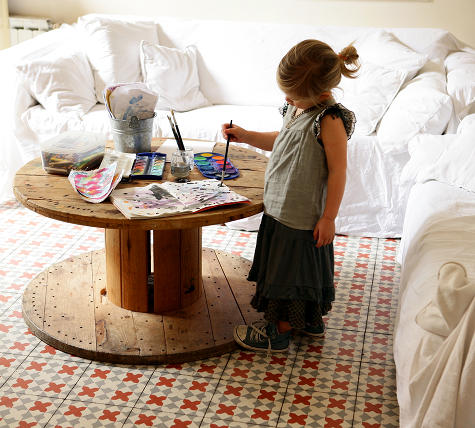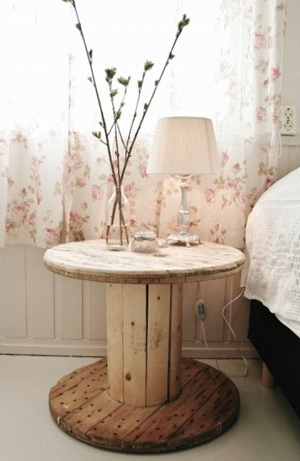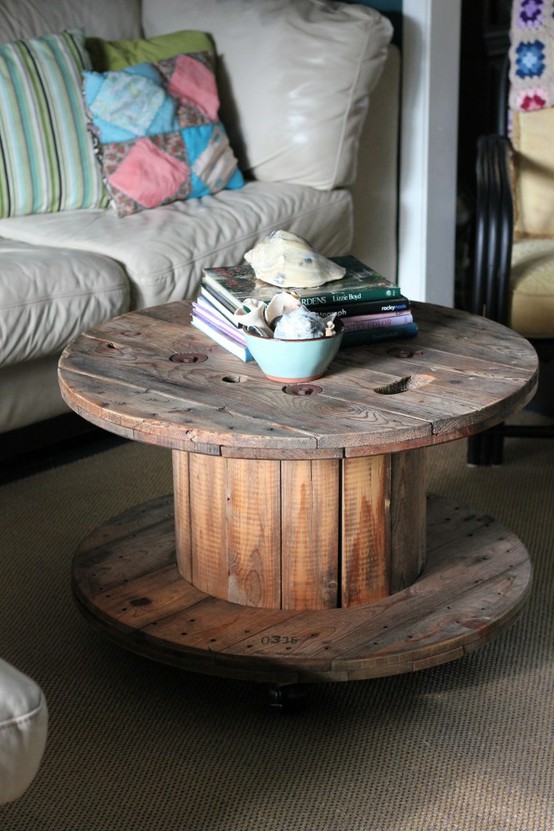 …and some oddballs
Some odd ideas that might inspire some of you!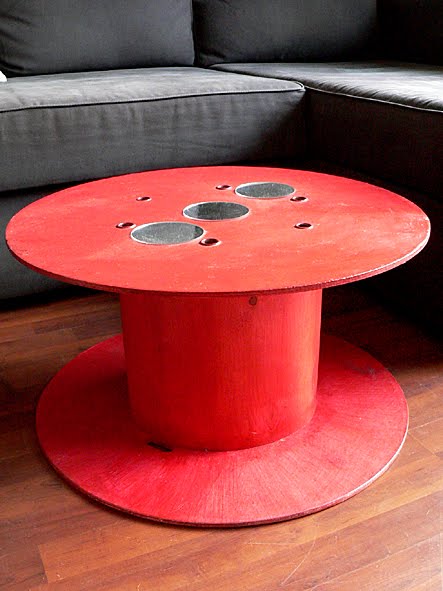 Best of luck hacking!
Pic sources:
Top Pic
SheMovesTheFurniture.blogspot.com
Industrial rustic
www.sunflowersandspears.blogspot.com
www.comren.co.uk
www.stylingandsalvage.com
www.atelier4cinquieme.be
www.etsy.com
www.repurposedvintagefinds.blogspot.com
Whitewash
www.nestdesignstudio.wordpress.com
www.hannishem.blogspot.com
BookMobiles
www.createforevermore.com
www.designsponge.com
www.readingisfashionable.com
Pimped with rope
www.bwrp.org.uk
www.tinyassapartment.blogspot.com

Upholstered
www.fuckyeahupcycle.tumblr.com

No fuss plain
www.var-dags-rum.blogspot.com
The oddballs
www.lesdedees.blogspot.com
www.lesdedees.blogspot.com
During a recent browse of the gift shop at the Whitney Museum in NYC I spotted the glorious Chalkboard Tee concept. The chalkboard tee opens up for daily recycling through the inherent flexible customization feature (which might reduce tee-o-holic piles out there).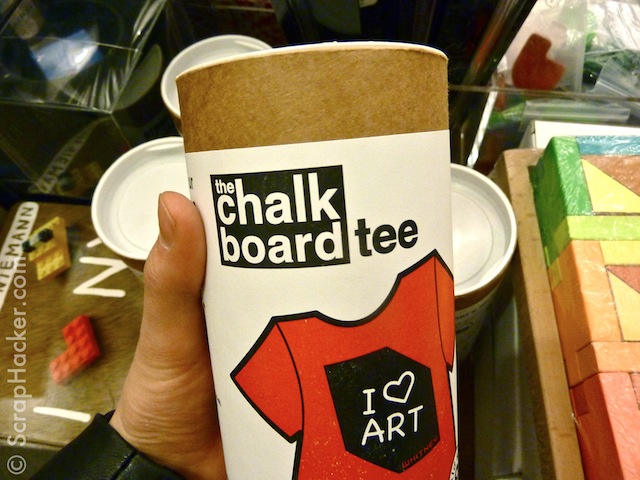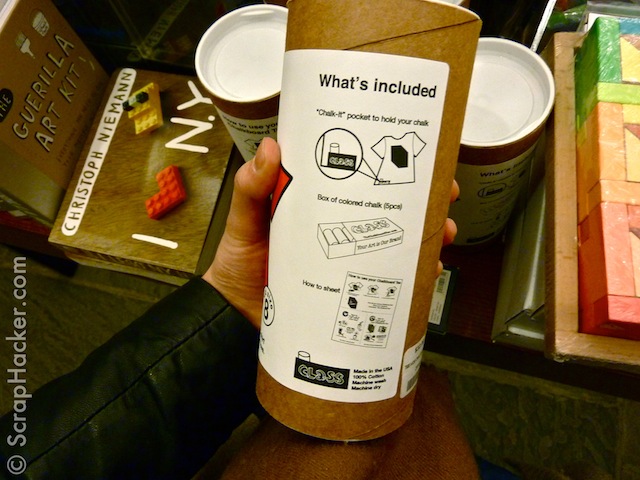 Yet, I found buying an additional recyclable tee a bit ironic, and headed to Instructables instead, where I found a tutorial involving upcycling an old tee to a new chalkboard one!
Chalkboard Tee D.I.Y
All pics via Instructables.com & user Frenzy
1. Supplies
For this project you will need the following:
– Chalkboard Fabric
– An old t shirt
– Velcro strips

2. Cut fabric into a square, size of your choice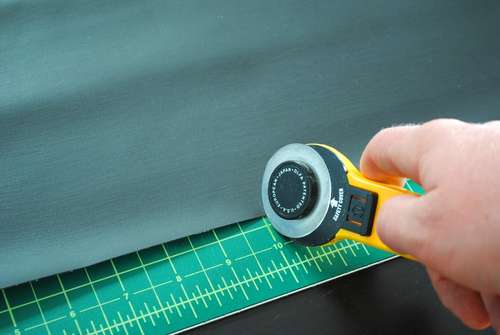 3. Fasten Velcro to chalkboard fabric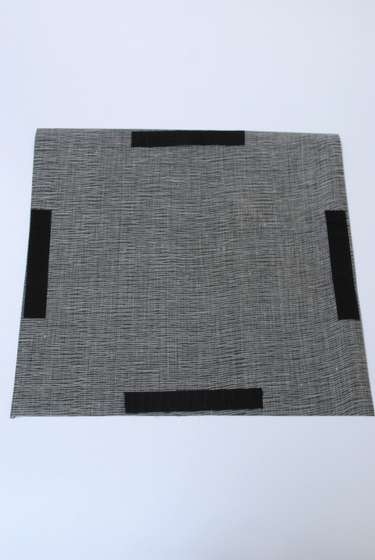 4. Position square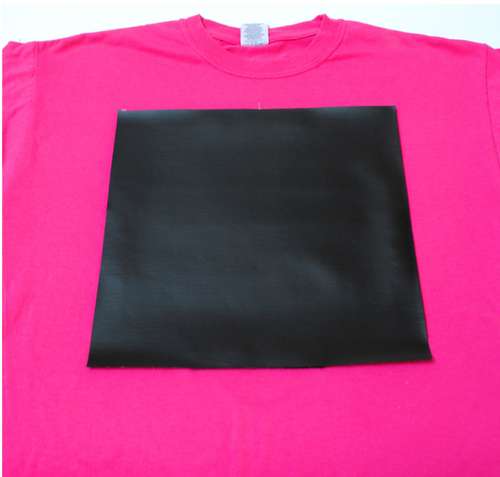 5. Sew on the square
6. Talk the talk & Walk the Chalk…
Ta-daa! You´ve got yourself a smokin´ hot recycled chalkboard tee!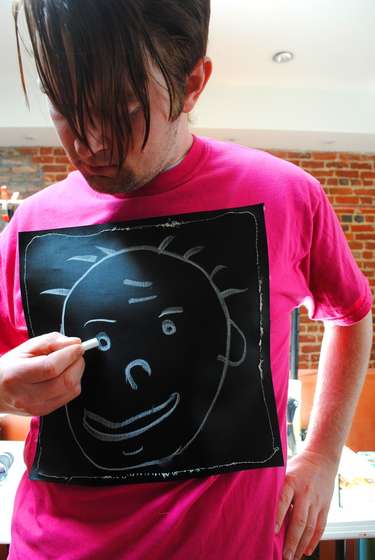 Link to Instructables & Hack tutorial
Michele Varian is quite the Scrap Hacker…The founder of the amazing store/universe on 27, Howard Street (NYC) embodies a maker mindset…and the gems in the store reveal that knack for spotting odd treasures. Reading her story at the company website, I find the tale of her "A-ha – I´m a maker-moment", one she had after having been involved in some hard-core D.I.Y house projects:
"It gave her a sense of being able to create any environment she wanted. If she could think it, then she should be able to find it or make it."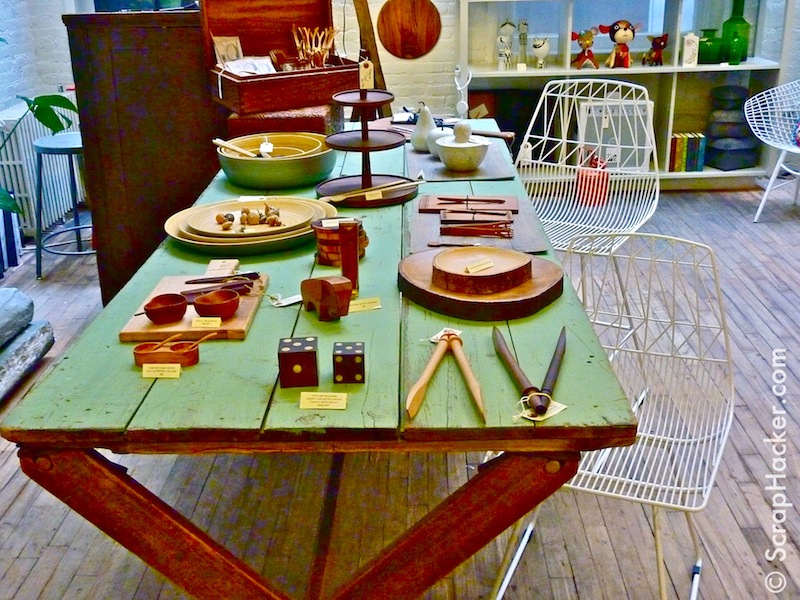 And, evidently…She thought it, she found it and she made it…A visit to the store lets you tap into her inspired vision, and makes you fall in love with all the charming hacky objects on show. What it also does is inspire loads of dreams of DIY action! So feast your eyes to every detail, and get inspired to go Scrap Hacking…As always, some TLC is often all it takes to transform a piece of trash into an amazing little treasure.
– Details & Contact info to Michele Varian, see bottom of post –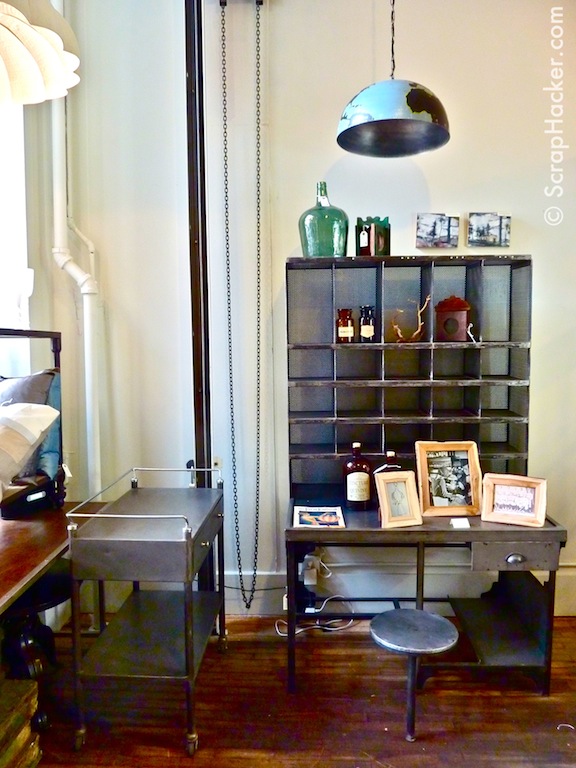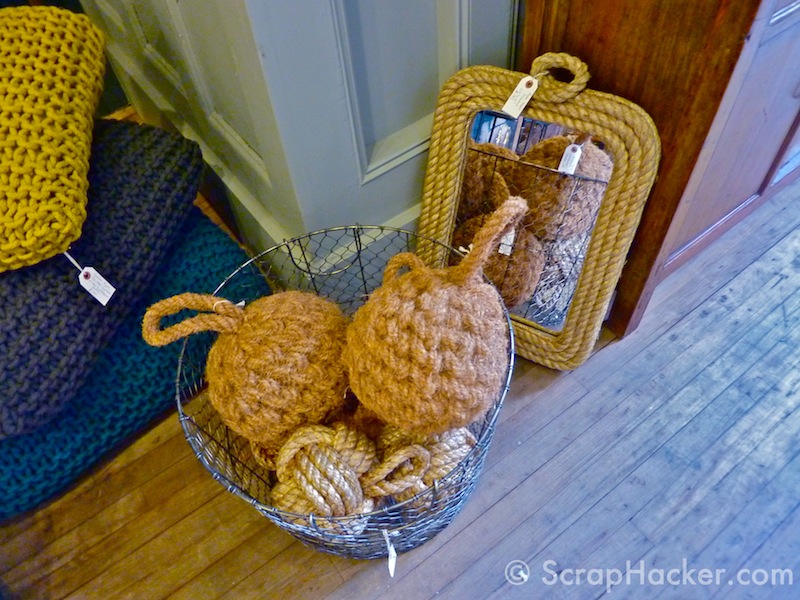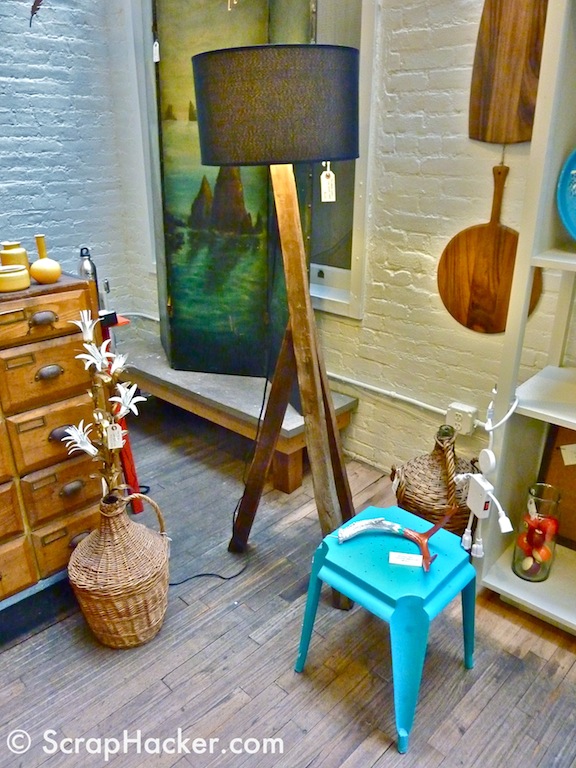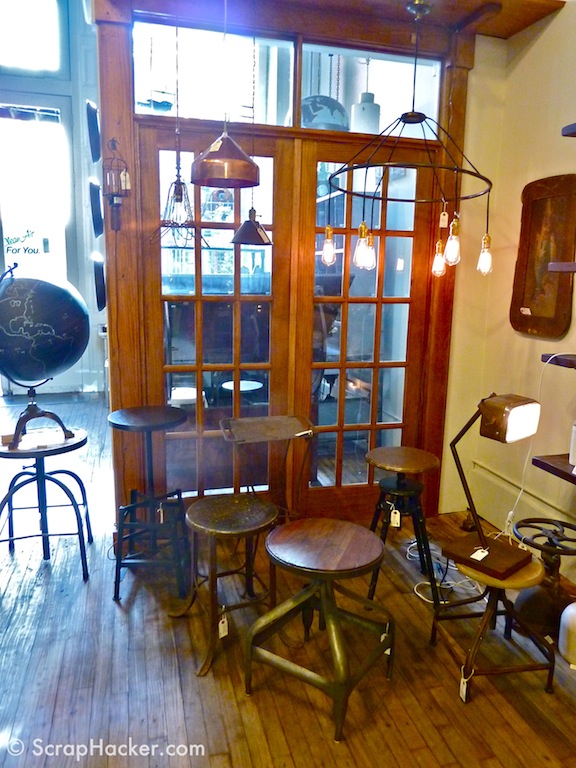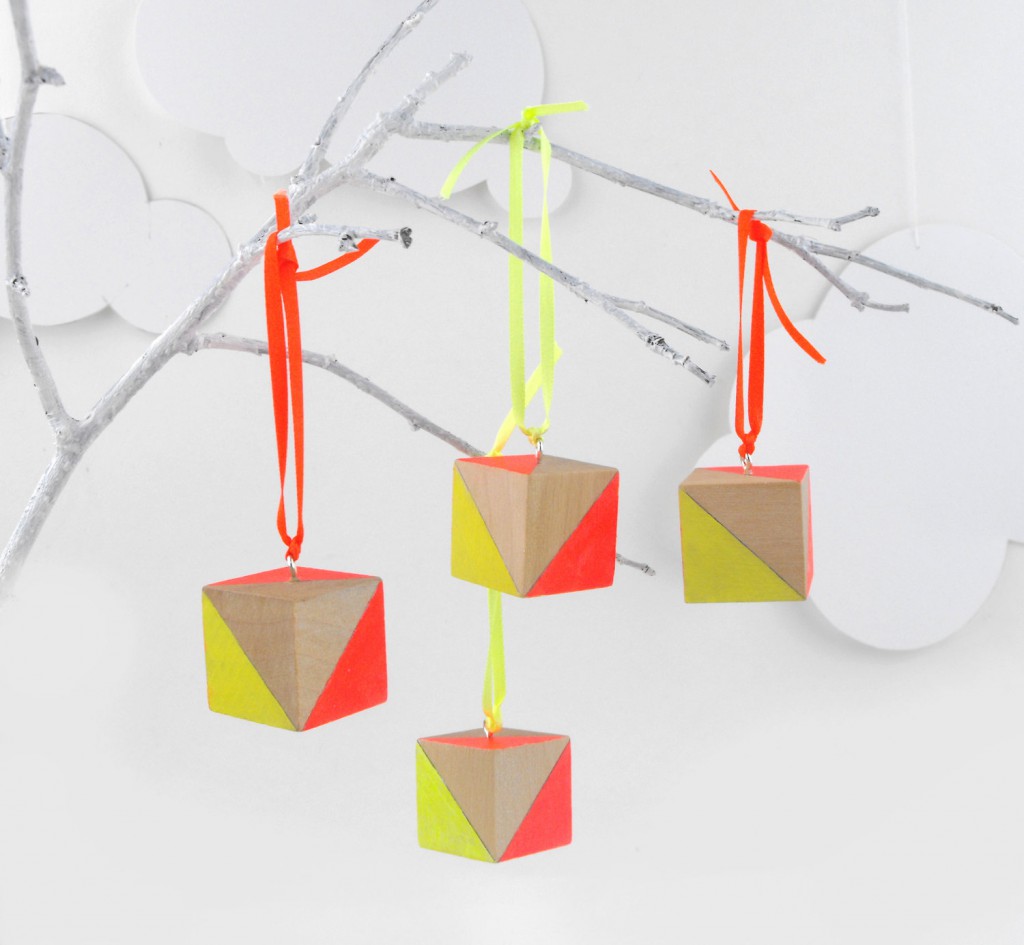 This crisp DIY idea was spotted at the SketchInc Etsy Store (top pic from there). I´ve also seen a slightly different version on the AestheticOutburst blog. This week Etsy featured a great D.I.Y tutorial on how to make the wooden block set below. In order to use the blocks as ornaments you just need to add a hook (like this one) and some string/ribbon of your choice…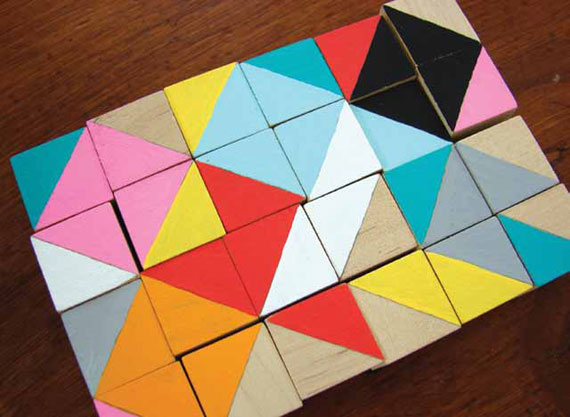 D.I.Y tutorial from Etsy

In terms of tools & materials you´ll need 1.) Ruler 2.) Eraser 3.) Fine sandpaper 4.) Paintbrushes 5.) Old milk carton lids to hold paint, 24 wooden cubes in any size (available at craft shops). The ones pictured here are 2cm x 2cm, but you can use any length of square-ended wood to cut your own blocks, lastly you´ll also need acrylic paint in nine colors. This example uses turquoise, pink, yellow, light blue, red, orange, black, white and grey.

"Use a pencil and ruler to draw a diagonal line from corner to corner on each cube (B)

If you are feeling very organized, you can make a chart of which colours to paint where. Otherwise, select a cube and paint in one triangle (fig C). Set this cube aside to dry and continue painting one triangle on the remaining cubes.

You can leave some cubes with just one triangle painted, but if you want to add color to the other side, let the first triangle of paint dry first.

Leave all of the cubes to dry completely, then rub out any visible pencil marks.

Use fine sandpaper to sand away any excess paint over the edges"
(in order to make it into an ornament, add a hook and some string).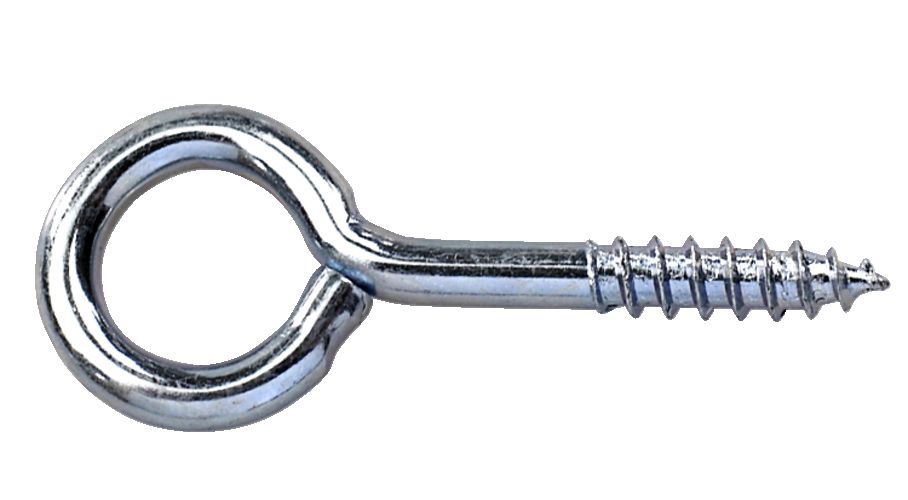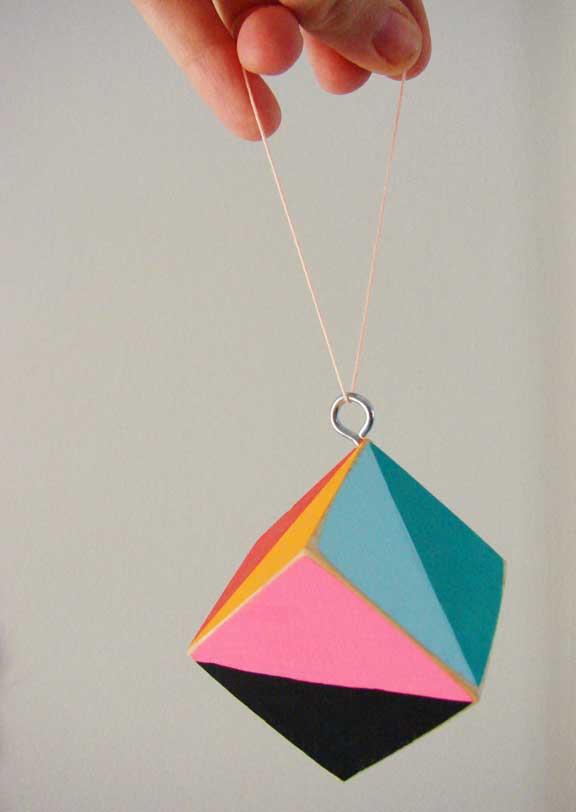 Pics & quoted tutorial from: SketchInc, AestheticOutburst & Etsy
Let´s take cue from innovative D.I.Y blogger HonestlyWTF who remade an old pair of chinos into something rather stunning, simply by adding a touch of textile paint! This hack is a great D.I.Y (gift) idea as tons of jeans and pants are available in thrift stores (and at the back of your closet)…simply waiting to be re-invented and reinvigorated!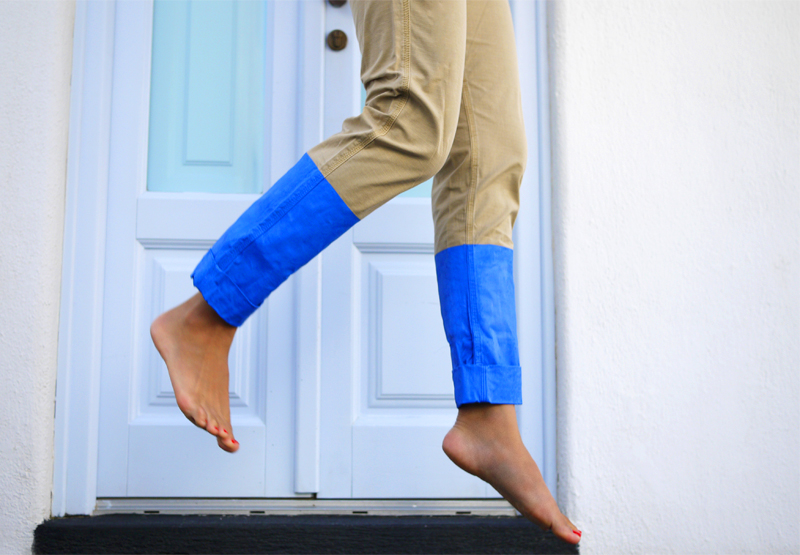 Check out the details of this stunning hack to get ready for some Scrap Hacking action…Hack description available here @ HonestlyWTF). Featured below are pics showing the broad strokes….Hack ingredients (as specified by HonestlyWTF) are: A pair of old boyfriend jeans or chinos, Fabric or craft paint, a Flat paintbrush, Small plastic tray, some masking tape….
Step 1
Take your pick of textile Paint. HonestlyWTF used Martha Stewart Crafts paint (in satin indigo), but I´m thinking this flourescent pink textile paint
would be an awesome choice too!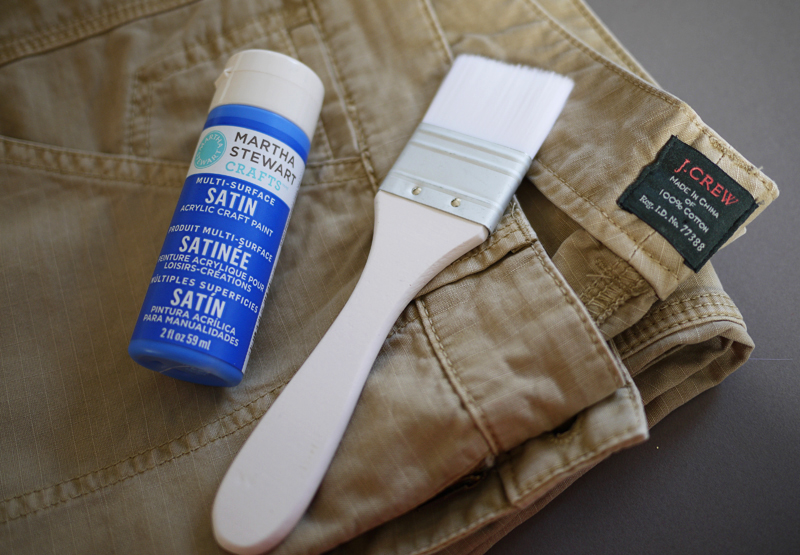 Step 2
Tape is fastened to the pants in order to get a clean straight line.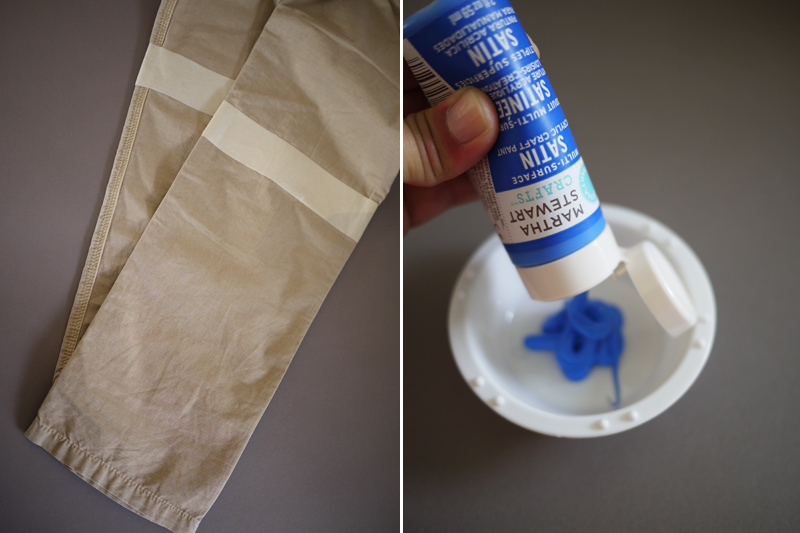 Step 3
The fun bit! Applying generous amounts of paint onto the fabric.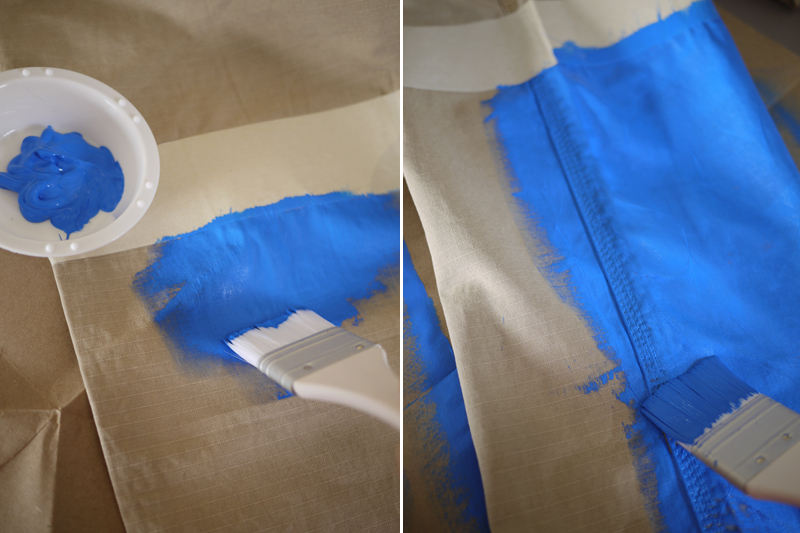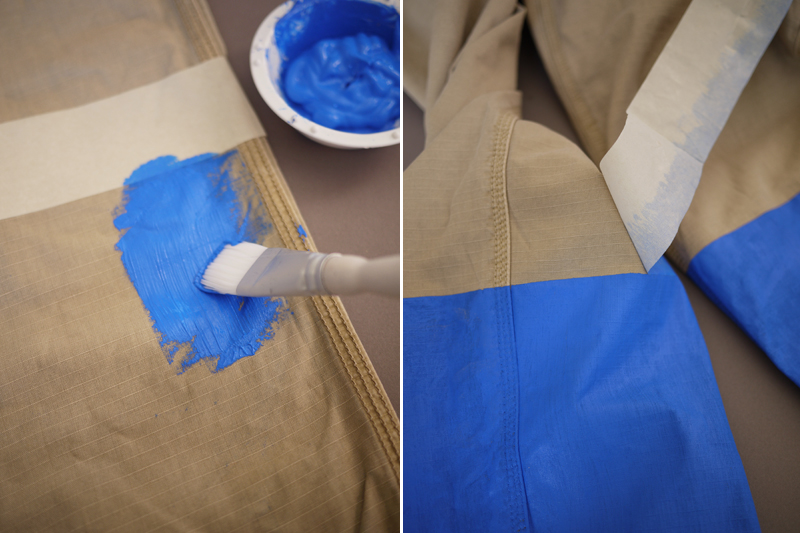 Step 4
Admire your work…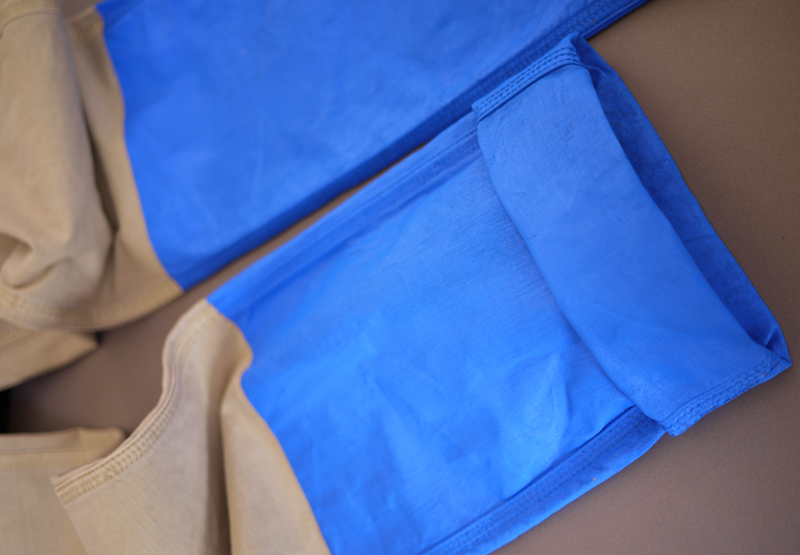 Step 5
Strut your stuff!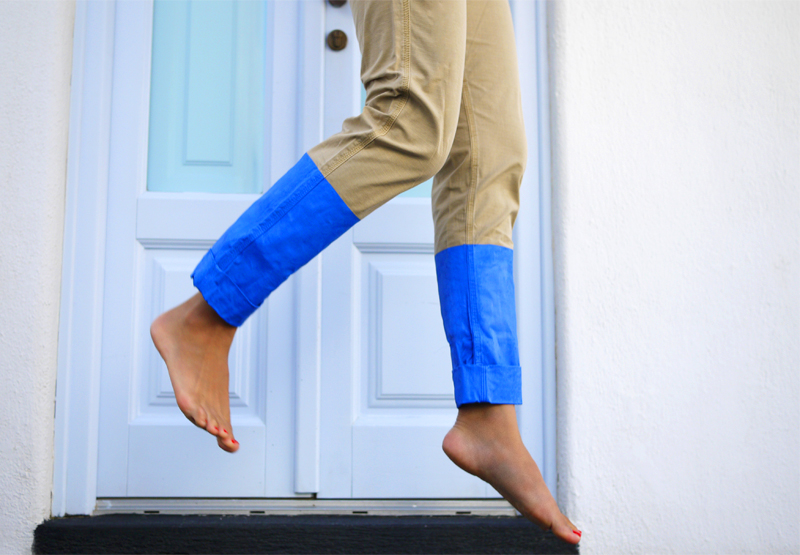 View detailed hack description at HonestlyWTF All pics from HonestlyWTF
The Duct Tape Christmas Tree by blogger LoveAesthetics is THE conscious tree option this year! It´s clever, stylish, space saving as well as both environmentally & DIY friendly…She used black tape, but hey, choose whatever color that suits you for a customized tree! Check out the steps below for some DIY action (all pics from LoveAeasthetics)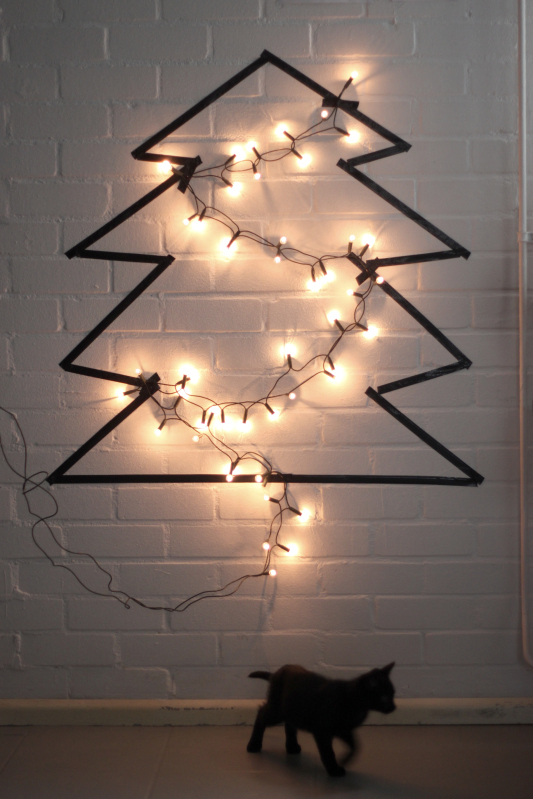 Step 1
Grab your duct tape!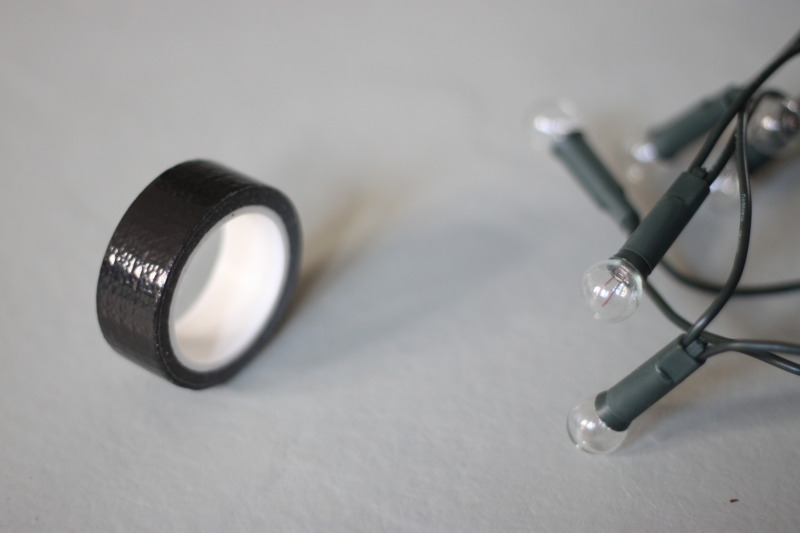 Step 2
Fasten the tape to the wall, to form a tree. Then fasten the lights to the tree.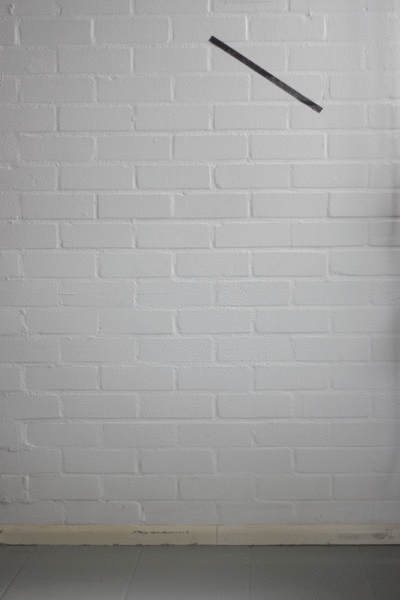 detail…
Fasten the Christmas lights to the tree.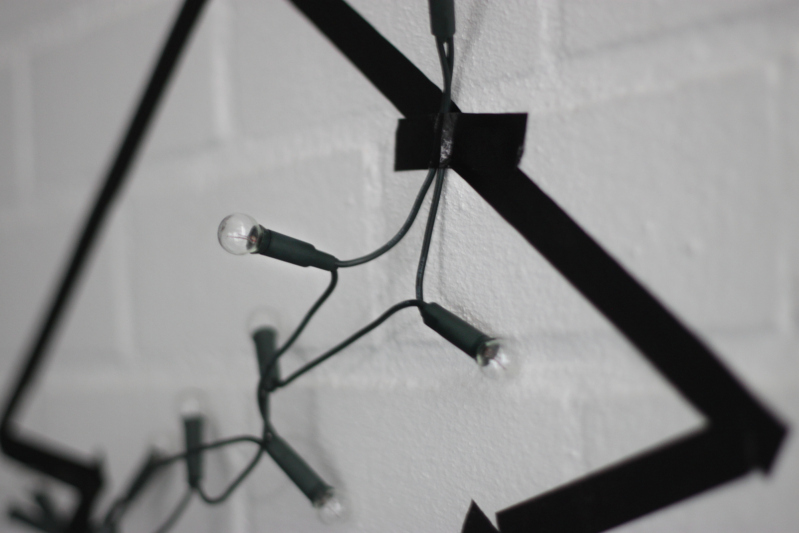 Step 3
Enjoy the results!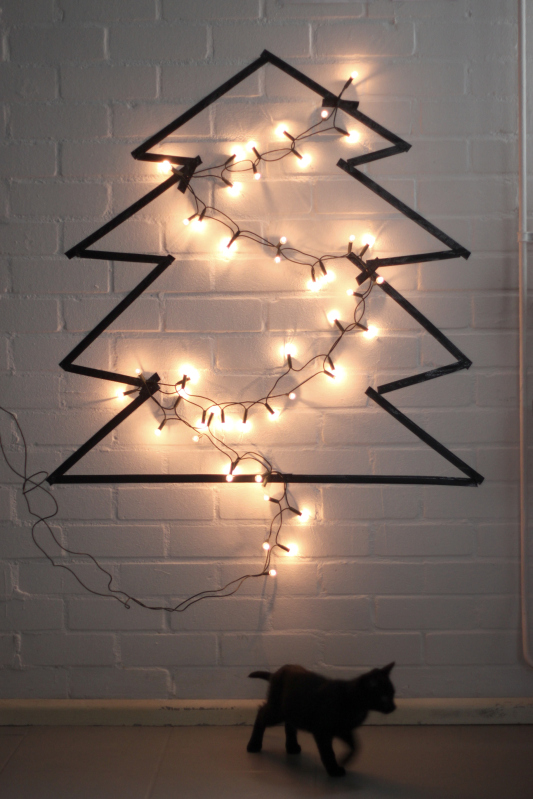 Visit the
LoveAesthetics blog
All pics from
LoveAesthetics
How would have thought that scrap vinyl, a shoelace and some glue could morph into something as cool as this? D.I.Y blogger MicheleMadeThis proves excellent Scrap Hacker skills through an abundance of richly illustrated hack ideas in her site. "The Dragon Tail Necklace" is one of her cool ideas (all pics from her blog which also features a great detailed D.I.Y tutorial, featured below is the quick version…
The Dragon Tail Necklace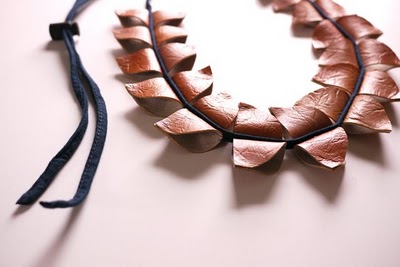 Step 1
Make semi-circular cut-outs from old scrap vinyl.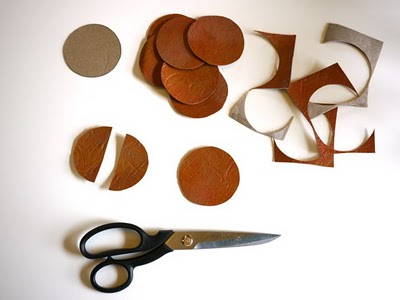 Step 2
Place "pairs" of cut-outs onto the shoelace, with back side out. Stitch the cut-outs onto the shoelace.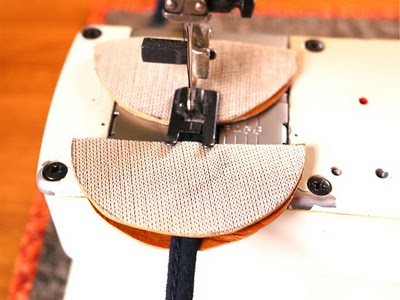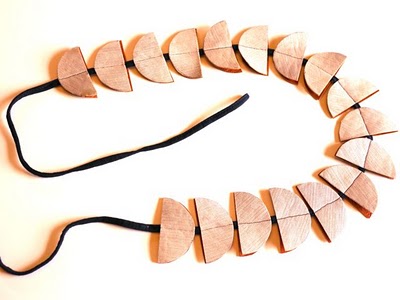 Step 3
Put some glue onto the outer back side tips.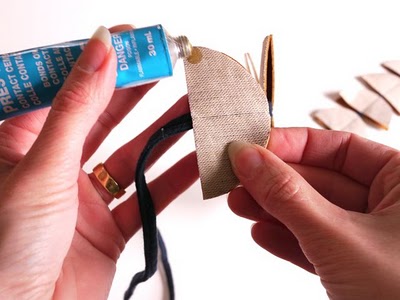 Step 4
Fold the scrap vinyl cut-out so that mating edges meet.
Step 5
Secure with clothespins while drying.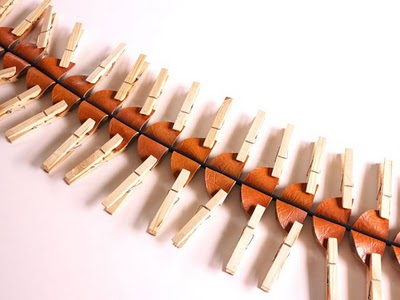 Step 6
Add a "lock" of some kind.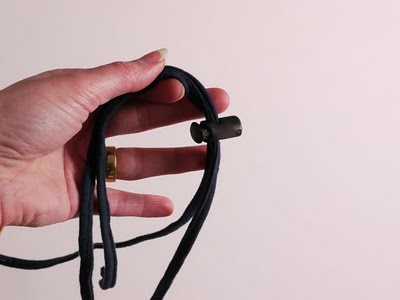 Ta-daa!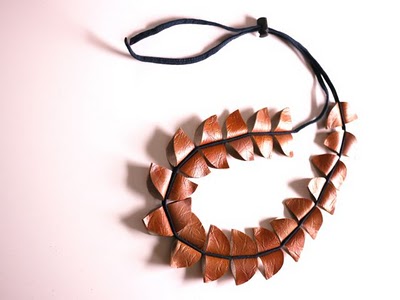 All photos from MicheleMadeThis.com

Full tutorial visit MicheleMadeThis via this link
This is a great doable DIY project I spotted at DesignSponge. The design is by graphic designer Gabrielle Guy and only requires scrap paper strips, some glue and a cheap old lampshade, such as IKEA´s Regolit, priced at modest £1.99.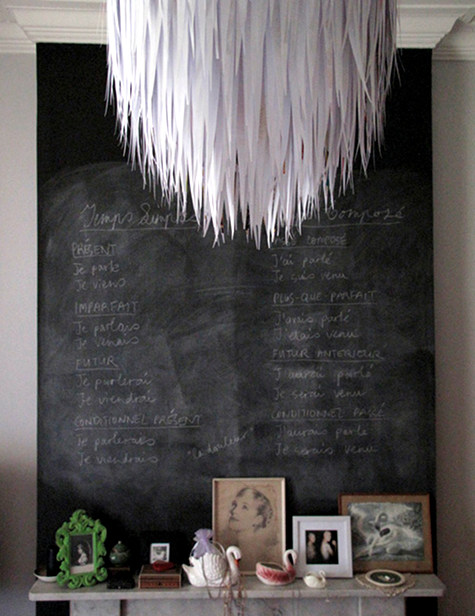 The making process is summarized below. Start at the bottom of the shade and work your way up, layering the strips of paper.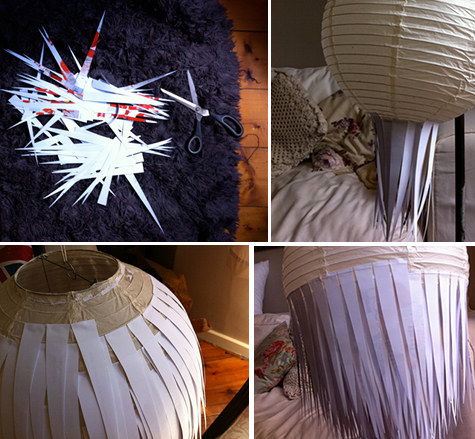 The result is a stunning, interesting focal point. This is one neat hack idea!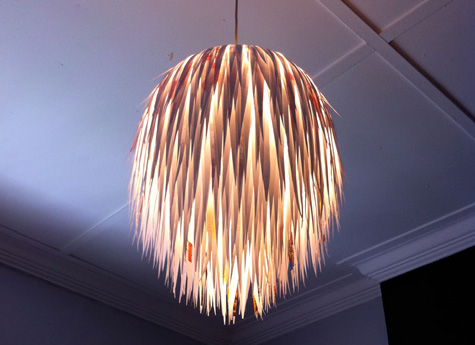 Summing up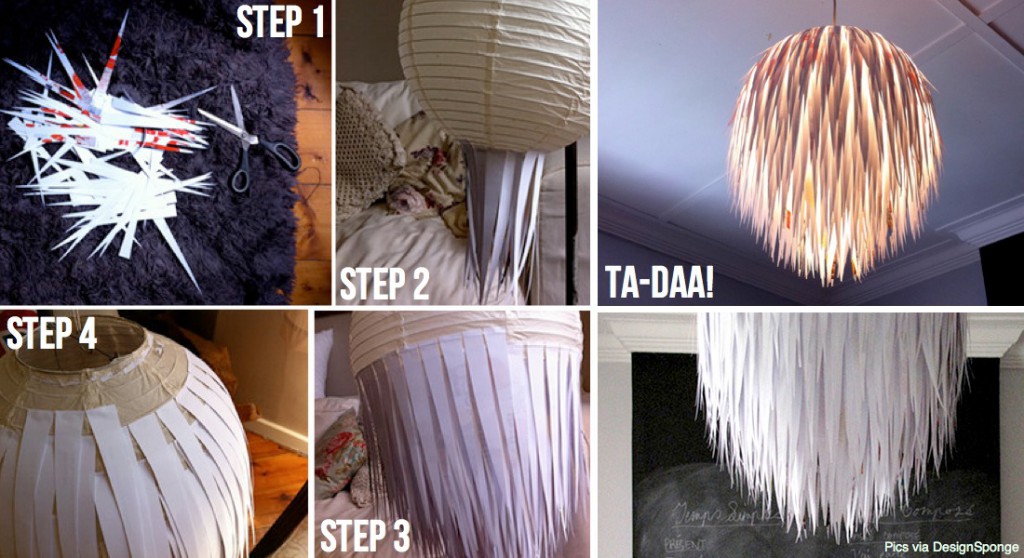 All pics via DesignSponge
Using old straps and belts are an easy way to rejuvenate an old piece of furniture. Use your old stuff, or find scrap belts & scrap chairs at your local flea market or thrift store. I found a great DIY video tutorial at Buildipedia which features a great upcycling series called ReHabitat, check out how to make the chair below at bit.ly/DIY-belt-chair (unfortunately I could´t embed it, so visit the link).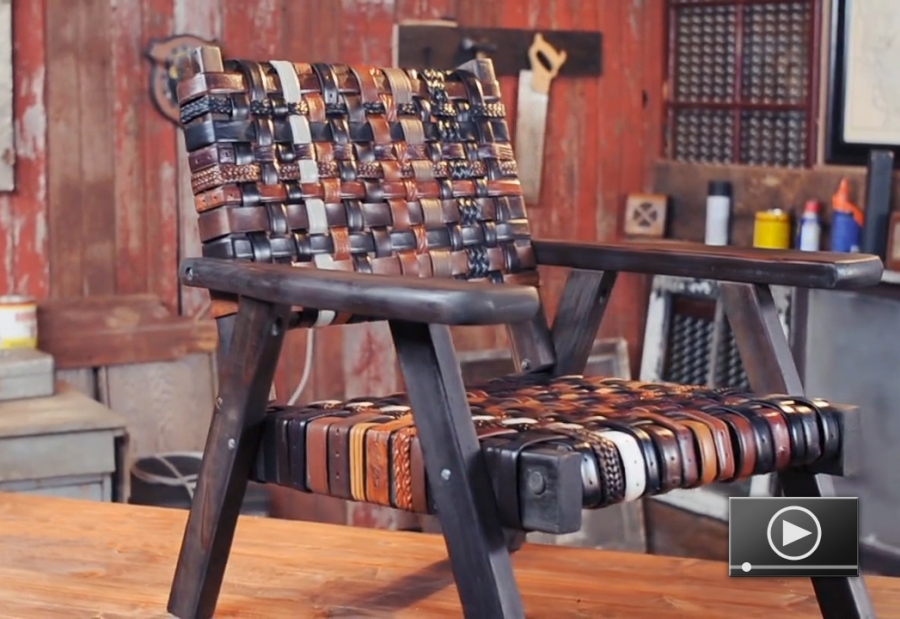 This is an alternative version of the same hack idea by french artist Yahia Ouled-Moussa, who has used basic old chairs and clad them with bright colored straps by basic weaving technique – the patterned effect is graphic and refreshing. Leaving the ends undone makes the hack shine through, seemingly "on-a-whim-casual" (pic via DesignBuzz)
Here´s another take, perhaps the most doable one in which a beautiful old chair has gotten a new seat from what appears to be a total of 12 old belts. Wooden screws have been used to fasten the belts to the seat frame (pic via ApartmentTherapy).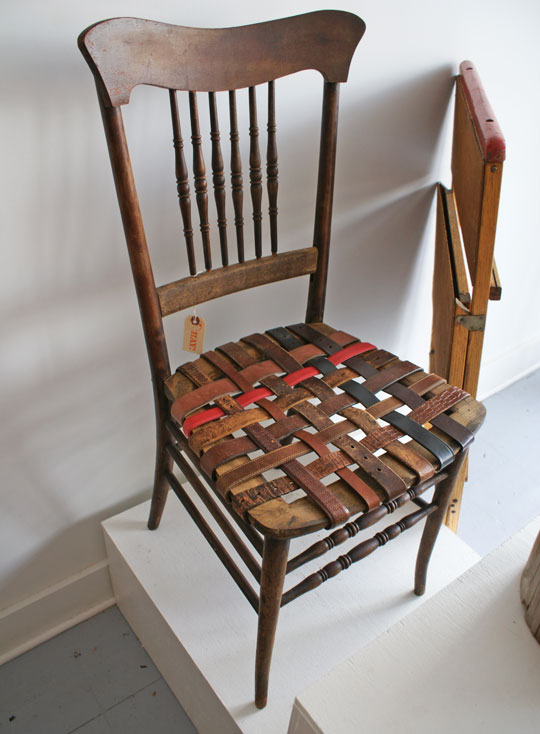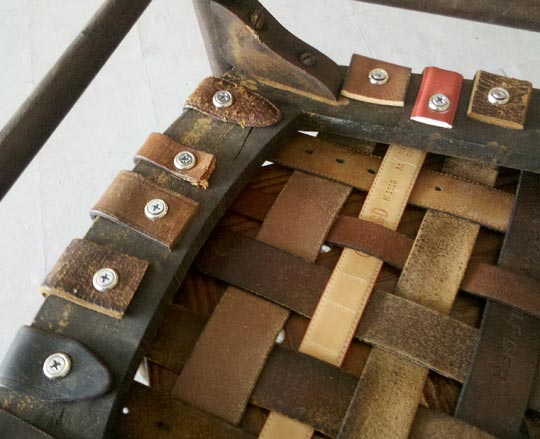 Yet another example, with a nice pop of color using lovely South American belts (pic via KikiTheSpunkyMunky)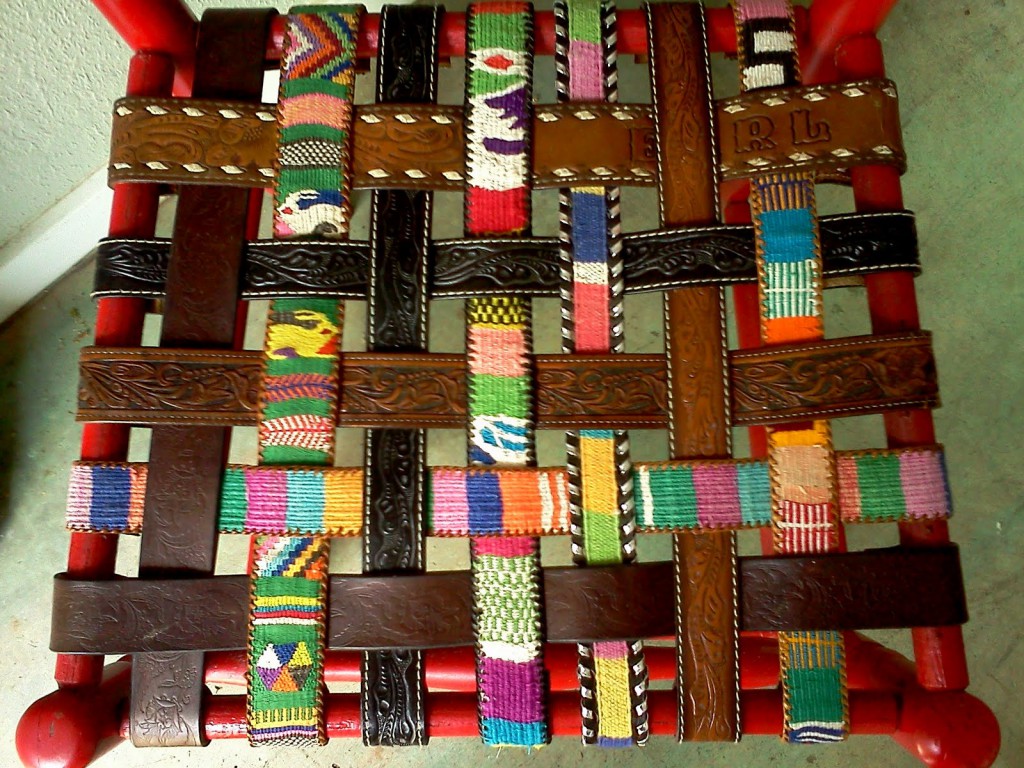 The great modern version below is by Brazilian designer Rodrigo Almeida.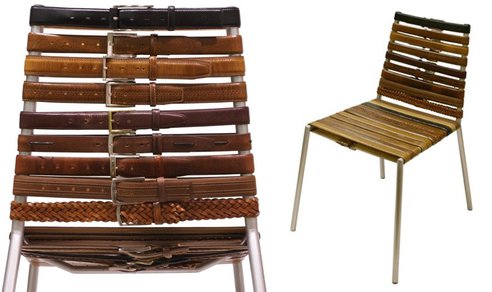 Lastly, proving that this hack idea can apply to many materials, I spotted this version, in which new life is injected into those old denim rags (pic via Outsapop) . As you can see, there´s no limit to what you can make, just use what you got and take it from there!
(ps. Story cover photo by Flickr user EnglishCookies)
Good Luck Hacking!