Seeing overlooked everyday items turned into something cool and beautiful fills me with hacker joy. The 'Peg Carpet' creations by Dutch studio 'WeMakeCarpets' does exactly that…and more. The tactile, intricate pieces, commissioned by the Graphic Design Museum in Breda, The Netherlands, stick out with their graphic argyle pattern made entirely out of clothespins, mimicking the traditional Scottish weaving technique.
A closer look, lets the viewer immediately comprehend the design in which thousands of clothespins have been attached to basic system of horizontal strings, hence being used the way they always have been, just in a tad more extreme way.  So, if you're up for a bit of a hack, and have a pile of clothespins lying around, I'd say go for a DIY version…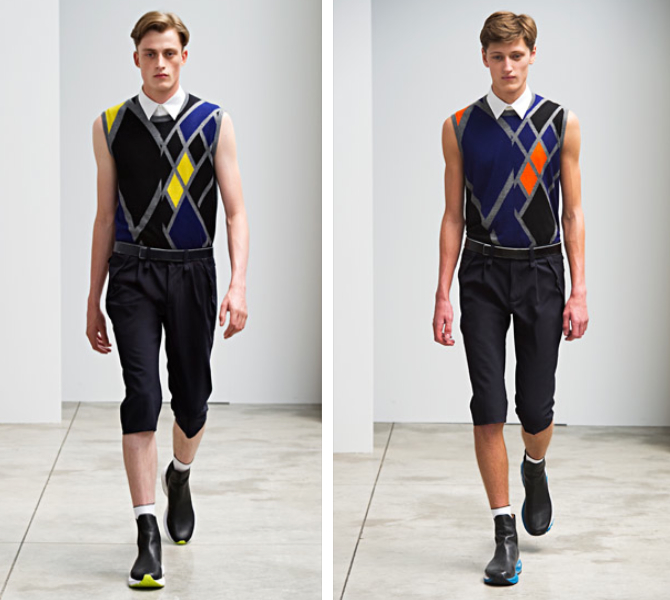 Sporting Argyle @ Pringle Mens Spring/Summer collection 2012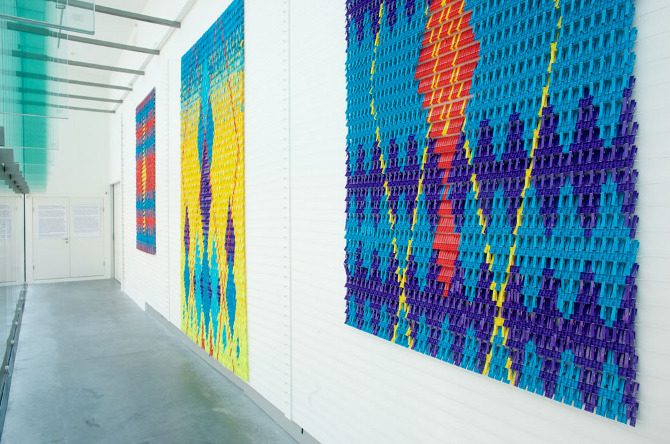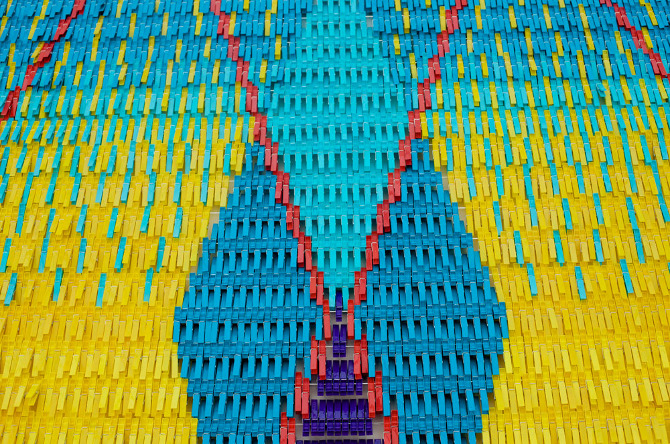 So, having seen this clothespin hack, will you ever see plastic clothespin with the same eyes again?
Good Luck Hacking!
  Pics in this post are from here: Pics of the 'Peg Carpet' are by Boudewijn Bollmann, via WeMakeCarpets.nl
Pic of Pringle collection, via Pringle Pic of clothespins from Flickr – Pic source here      
Plates are a dime a dozen in thrift stores which creates excellent upcycling potential. One awesome way to let them shine anew is to create a plate wall. Grouped together plates create a lot of sculptural drama, adding an edgy focal point in any room of your home. However, you don't want to throw up them without a theme so I've gathered a bunch of styles to give you ideas. At the bottom of the post I´ve embedded a DIY plate wall tutorial – all to get you ready for DIY Plate wall hacking action!
Fornasetti cool
Tongue-in-cheek Fornasetti cool in a sleek grey setting.
DesignSponge
Howling Owls
DesignSponge
Clock plates
The clock plates by Young & Battaglia for Mineheart marries form with function…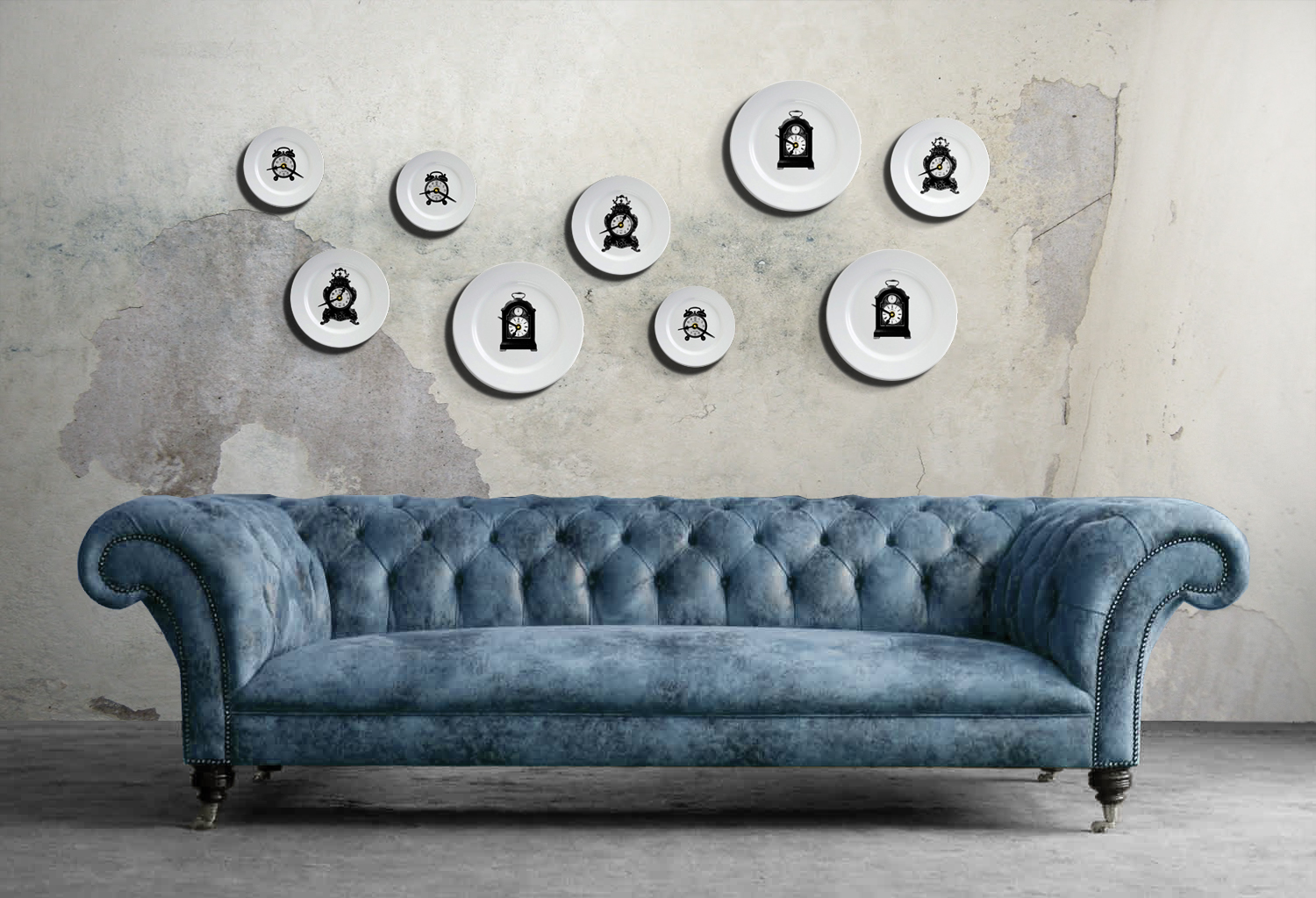 Decor8
Poetic touch
Some arty stenciled words forming a quote is a awesome and simple idea, these are from KnackStudios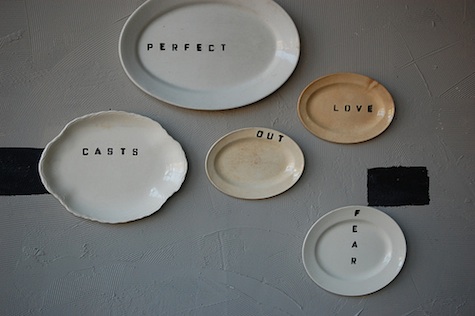 KnackStudios
Animal farm
White animal silhouettes against glossy black plates.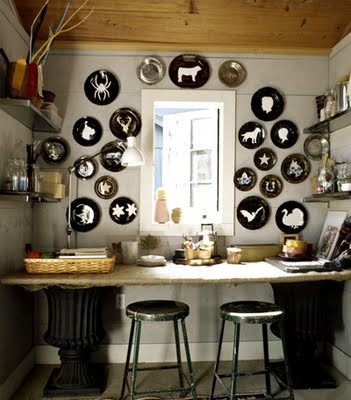 can't find the source of this one – let me know if you know..
Monochrome white
Lots of odd shapes in a white monochrome palette.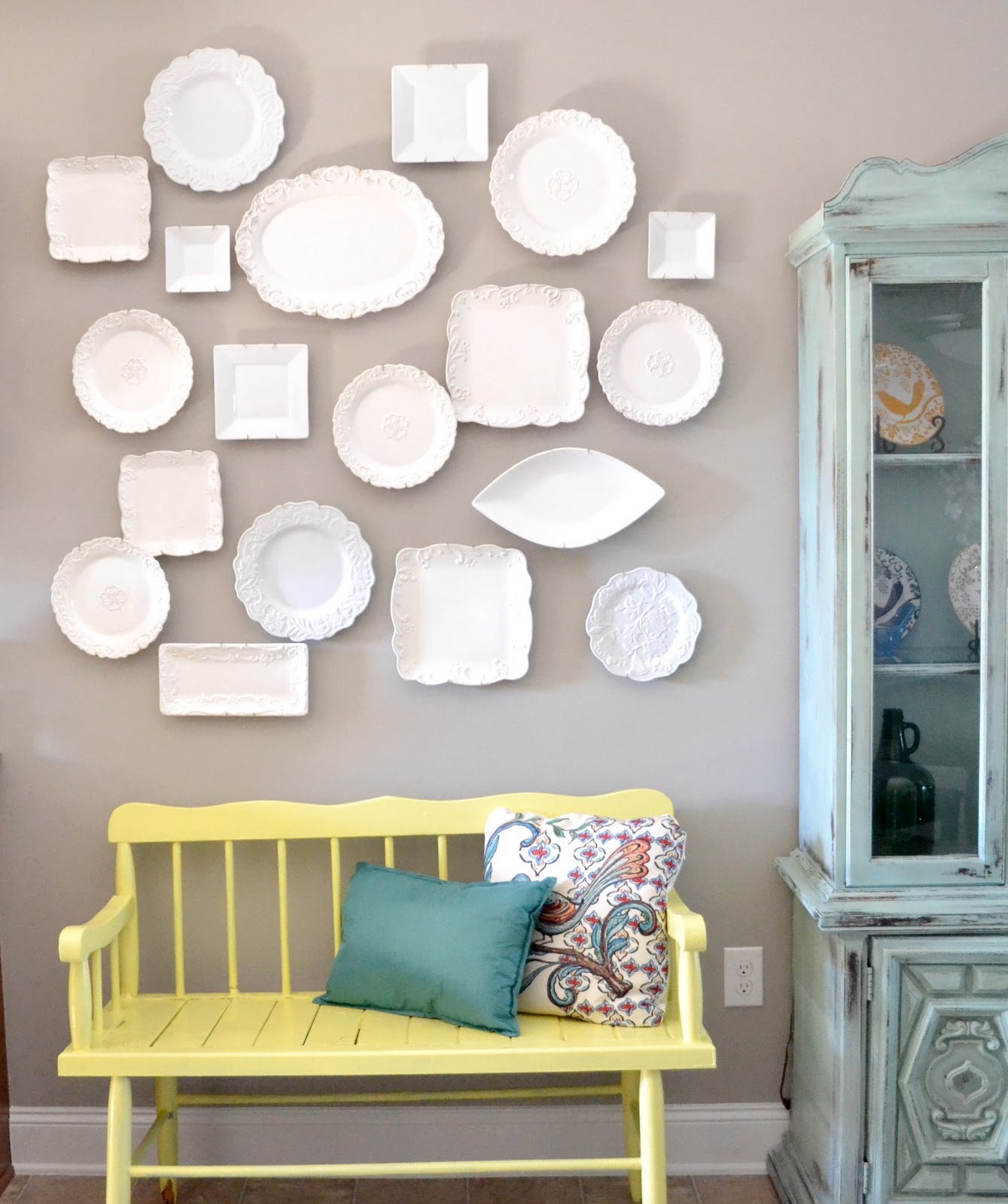 LizMarie Blog
Steely Grey
Don't limit yourself to plates, vintage pie tins in varying shades of steely grey looks great too. DIY Tutorial HERE.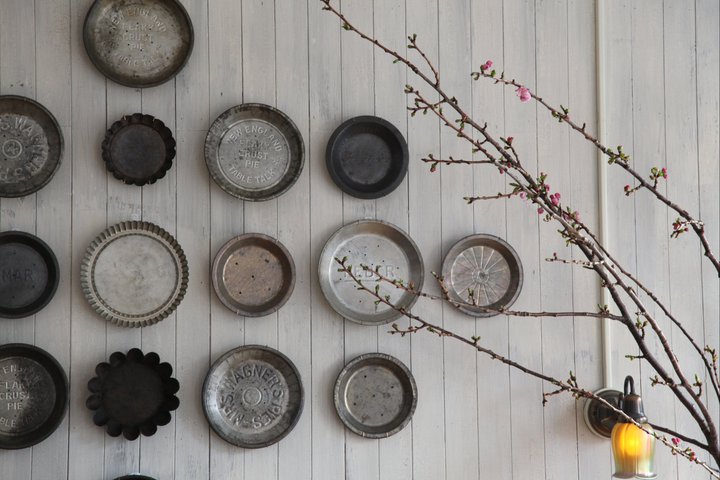 Cozycottagecute.com
Bold & arty
White plates splashed with bold color & pattern and grouped tightly together.
Houseandhome.com
Ikea Livet Hemma
Romantic
Vintage floral plates create an air of nostalgic romance.
TwigHome
No fuss rustic
Shades of off-white paired with some steely gloss…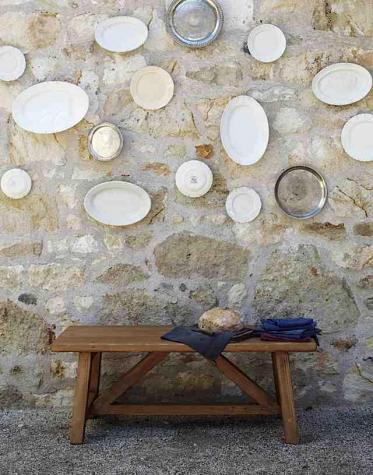 SageAtelier.com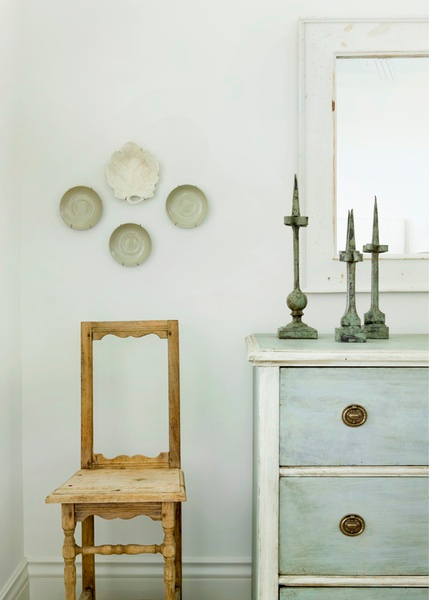 LolaLina.com
Black & White elegance
A matte black matte is a chic backdrop to a perfectly symmetric arrangement.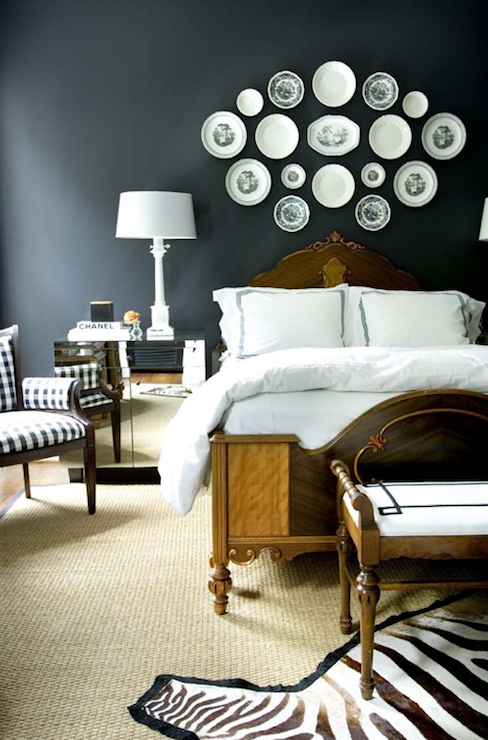 DecorPad.com
Blue Vertical
Mounting plates vertically ticks the visual surprise box…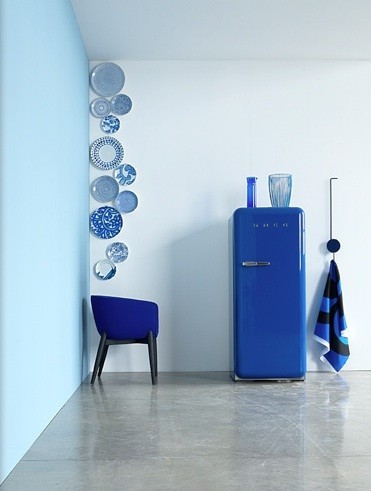 Remodelista.com
Plate Wall DIY Tutorial
Now, with that inspiration fresh, go check out this DesignSponge DIY tutorial clip to get started….
Good Luck Hacking!
Sometimes a tiny tweak from a designer presents a giant leap for the design thinking of mankind…Oki, so 'a giant leap' might be stretching it, but I really think the twisted logic of design hit 'Sky Planter' from Boskke is a great example of simple, yet startling design (ps. did you know Boskke is derived from the old English word 'bosky' which means 'a small forest' )…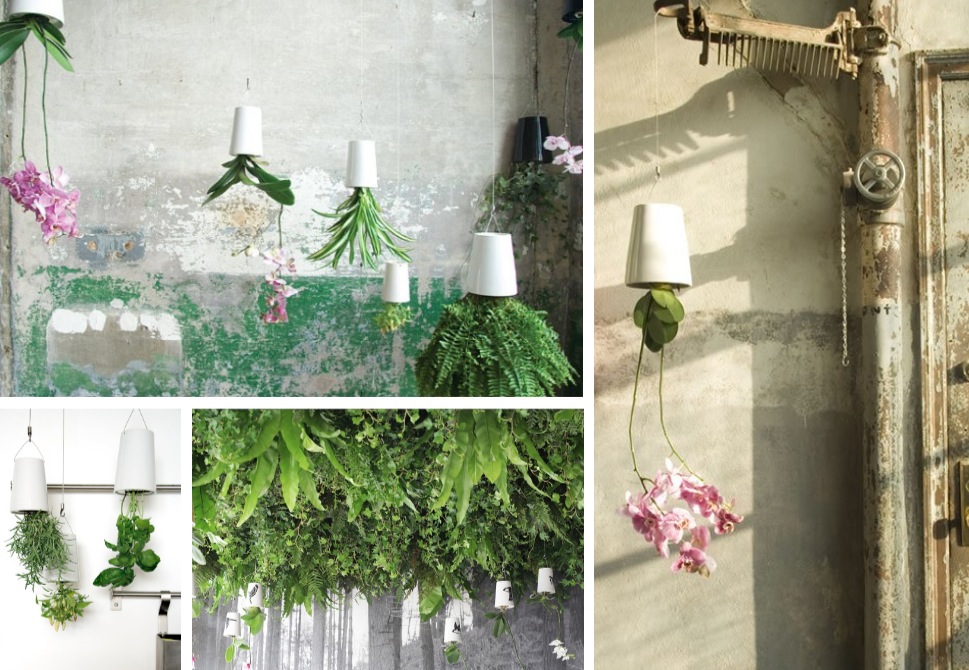 Recent product development from Boskke include some new patterned designs (in addition to the previous sleek versions which, I assume, are still going strong…).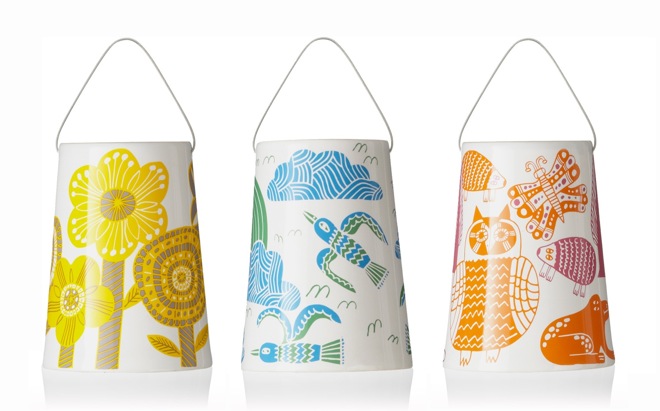 Anyway, moving on to the fun bit…did some D.I.Y browsing and found 3 great hack ideas on D.I.Y upside down hanging planters using either a recycled tin can, a PET bottle or a plastic planter bag. Get the finishing touch with some recycled wallpaper or some left over spray paint. So now – go check what you´ve got lying around your house to get started with this awesome D.I.Y project ASAP – Enjoy!
Hack No 1: Using Tin Cans
A tutorial featured at DesignSponge shows you how to make a upside down planter pot from a tin can.
Tutorial HERE
Hack idea No 2: Using Pet Bottles
A post on TheCraftyCrow (by this guest blogger) shows how to make an upside down planter using pet bottles
Tutorial HERE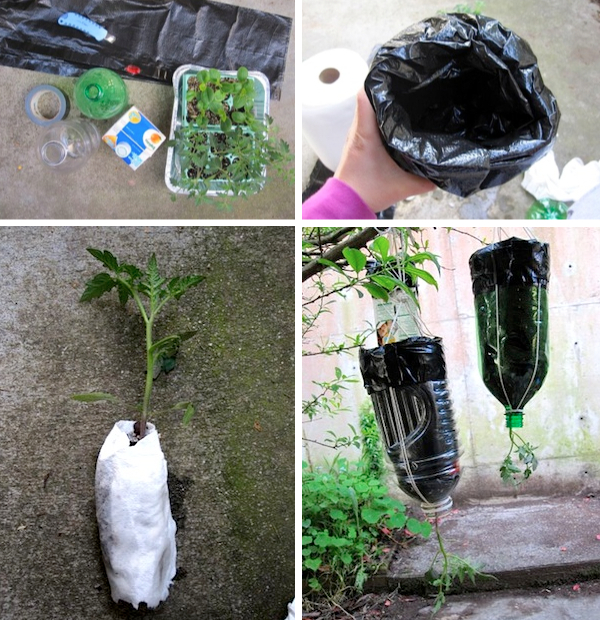 Hack idea No 3: Using IKEA Planter Bags
Lastly, a crafty IKEA hacker shows the world how to make double use of IKEA planter bags by punching a hole in the bottom (through which the plant can stick out) and hence turning them into upside down hanging planters simply by hanging them on a pole by their handles.
Tutorial HERE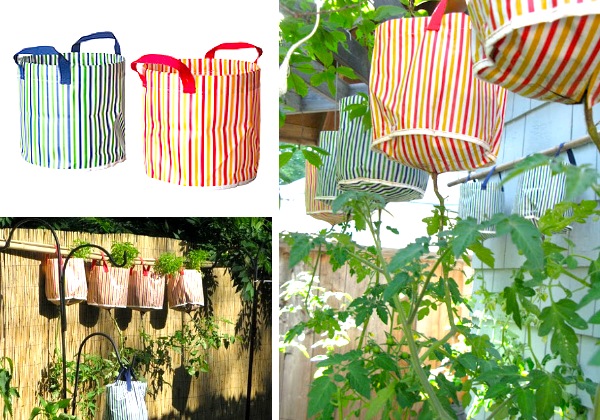 Good Luck Hacking!
Pics from which i made the collages in this post came from here:

Boskke DesignSponge TheCraftyCrow IkeaHackers    
Give your home a warm & fuzzy feel with a little help from these knitted lamp ideas. There should be a little something for everyone in this Top-10 pick of mine – Enjoy!
Cable Knits
via ChairToSpare.com
Experimental
The 'Matt' lamp by Ilot Ilov (via ReadyMade)
Snug wool fit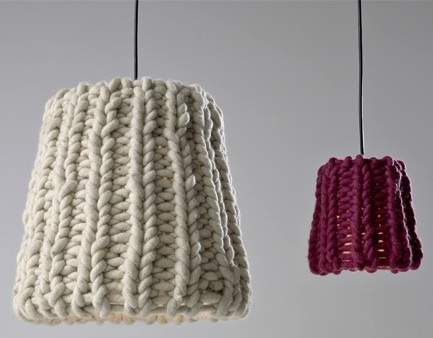 The 'Grandma Lamp' by Pudelnskern
via NaturalModernInteriors.blogspot.com
Quirky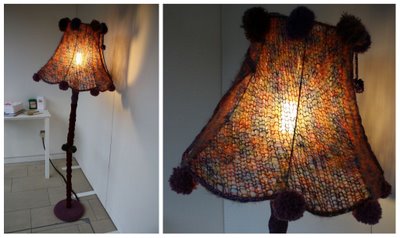 via Pinkbow.net
Magic Macrame
Naked or dressed…
Antler & knits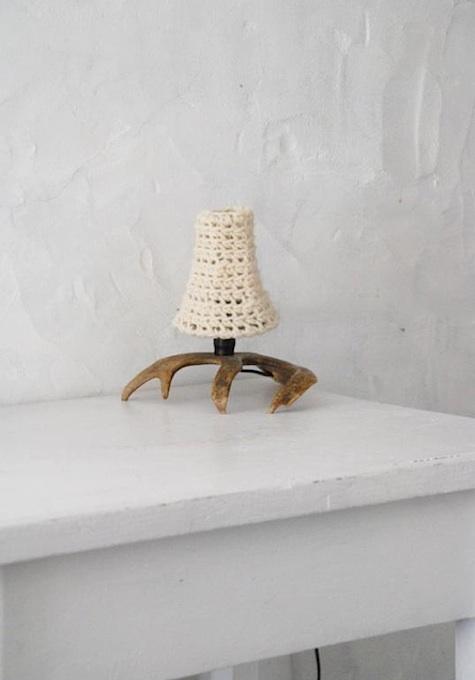 via Loppelilla
More is more

Hope this might inspire some DIY hacking action,
Good Luck Hacking!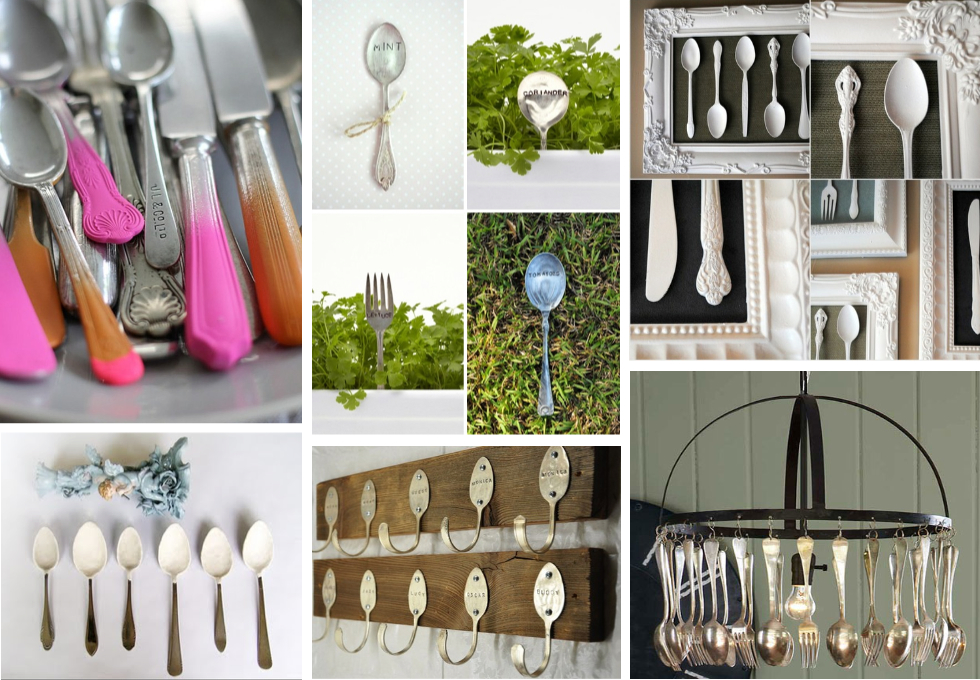 In drawers, attics and thrift stores of the world, stacks of cutlery just keep piling up. Although we might on occasion appreciate antique cutlery, most of us stick to our everyday IKEA sets, leaving inherited sets or thrift finds all packed up. This fact made me search for reuse ideas, and my gosh, there are tons out there! Here are my top-10 doable D.I.Y picks – enjoy!
1. Neon Tips
A splash of neon adds contemporary vibe in an instant.
2. Framed as art
Matte white spray painted cutlery (in a matching shade frame) looks crisp against a contrasting backdrop.
CraftyTexasgirls.com
Prefer a dash of color? How 'bout this arty hack idea then?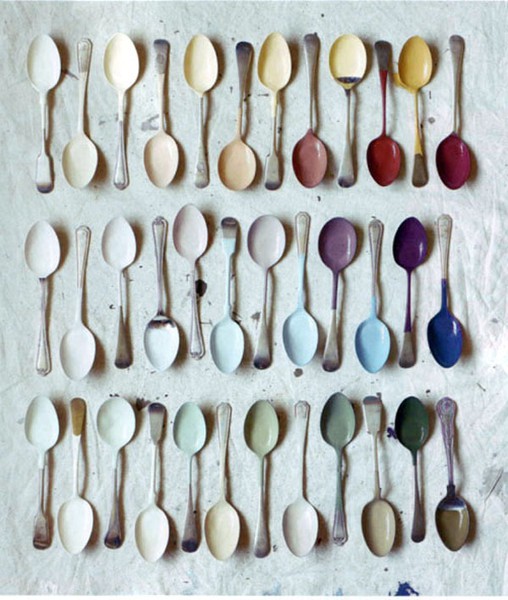 NanaMoonShop.com
3. Stamped Garden Markers
The most straightforward cutlery hack idea is probably turning them into garden markers…
BeachHouseliving.blogspot.com
Pics from Shrimpsaladcircus.blogspot.com / Collage by ScrapHacker
  The blog ShripSaladCircus features a great tutorial, check it out here.
4. Hooks & Racks
Bending the grip results in hooks which can be used individually or grouped together for some serious wow-factor…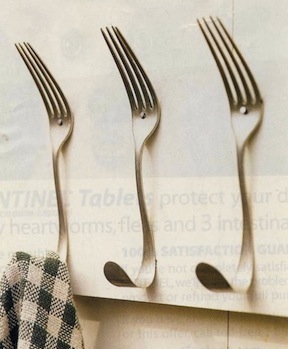 Grouped together, these upcycled spoons form an eye-catching coat rack.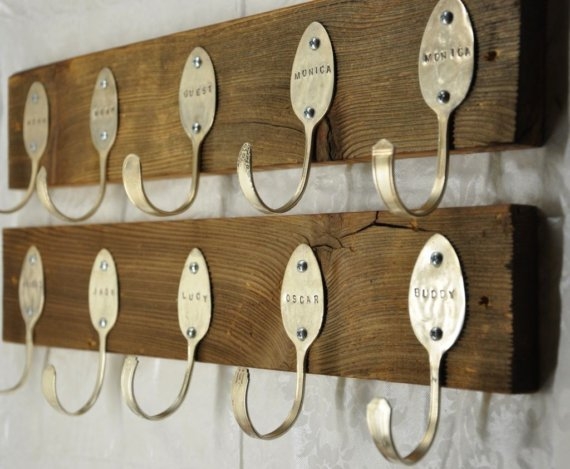 UrbanComfort.typepad.com
5. Cutlery Chandelier
A basic structure, punched holes, S-hooks and a bunch of old cutlery creates this piece of eye-candy…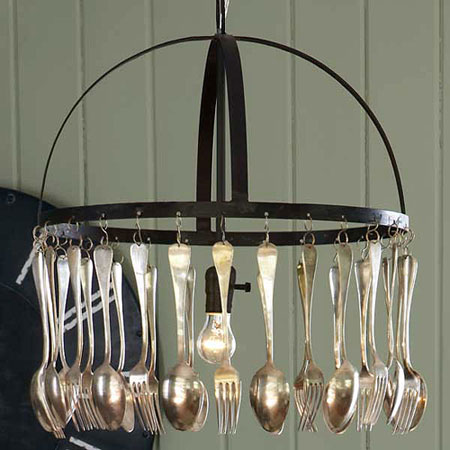 StyleHive.com
6. Magnet (with an important message)
Etsy vendor VintageGardenArt added a magnet on the back of a stamped spoon, giving it a new life as a cute little messenger…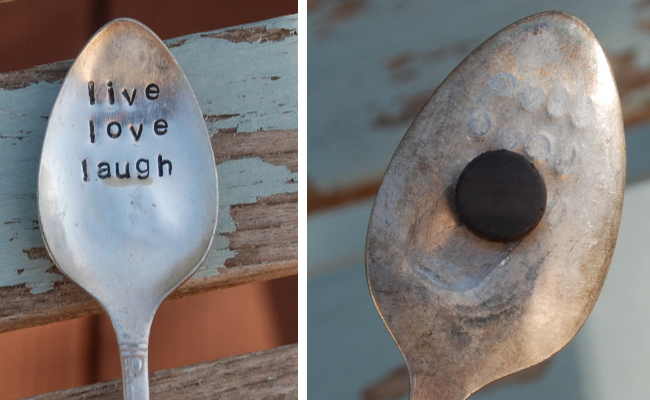 7. Spoon & Fork Napkin Rings
Check out a tutorial on Hammers&Heels here or over at blog BrooklynLimestone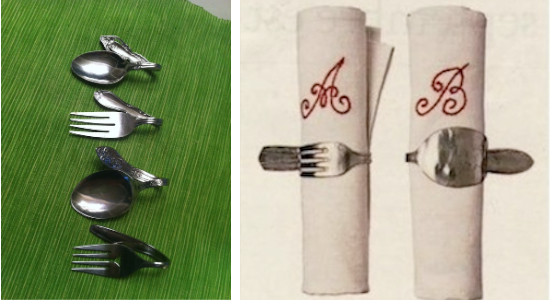 8. Simply Stamped
Etsy vendor SycamoreHill makes these awesome stamped creations. Let them inspire some D.I.Y action of your own – they´ll make a perfect gift.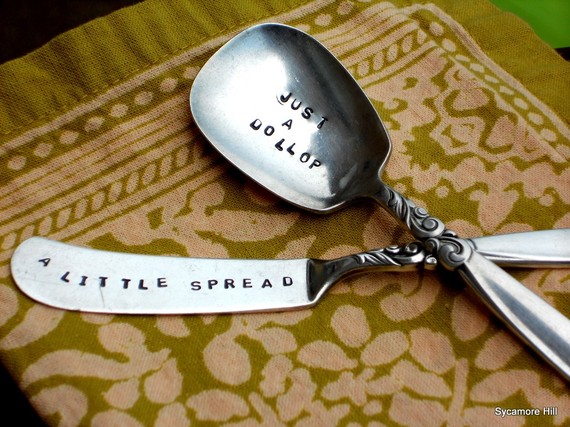 9. Necklace Pendants
Hack idea from Etsy Vendor VintageGardenArt.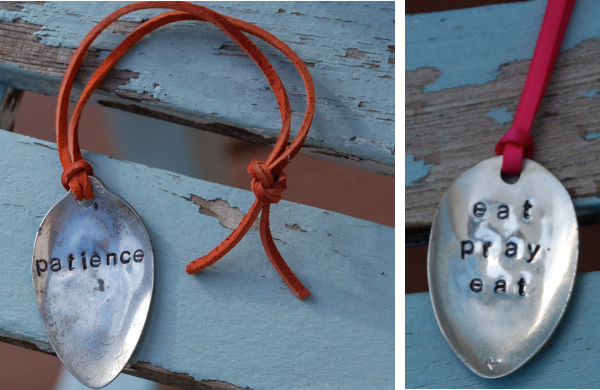 10. Bottle Dryer Rack
Ok, so this ain't as photogenic as the other hacks, but it's just as genius – from WeUpcycle.com

And lastly, the most challenging hack idea, cutlery furniture. Personally I figure they´re a bit out of my league, but you might be up for the challenge?
(11. Cutlery Furniture)
Designs by Osian Batyka-Williams.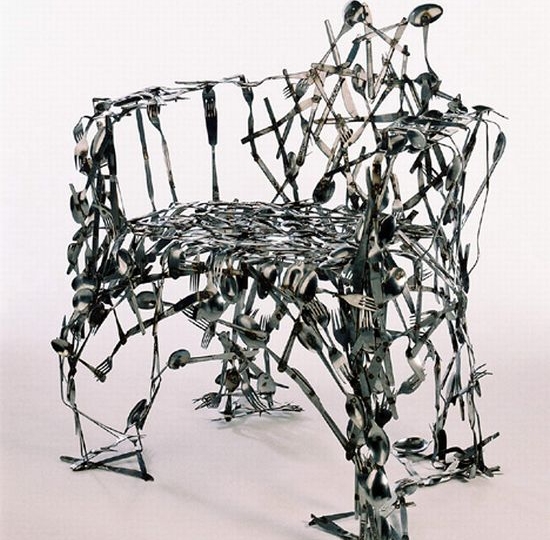 Core77.com
Good Luck Hacking!
A splash of energetic Klein blue shade adds instant wow-factor to practically anything. Artist Yves Klein (1928-1962) used the bold hue throughout his career (and also patented it as his own "International Klein Blue" with Hex code #002FA7).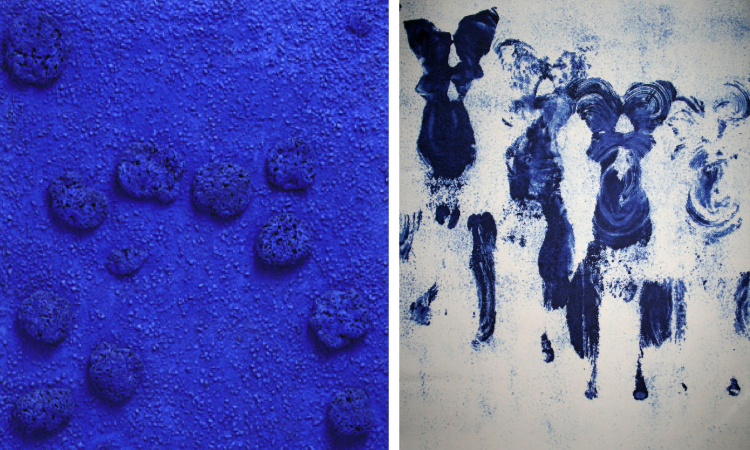 You might have seen his sponge paintings, or some of the more sensual body paintings. In 1961 he designed a table, a plexi box filled with Klein blue sand, which has since been reproduced. The table can be seen below in the foreground, in pic featuring the apartment of photographer duo Inez van Lamsweerde and Vinoodh Matadin (seen on DesignManifest.blogspot.com).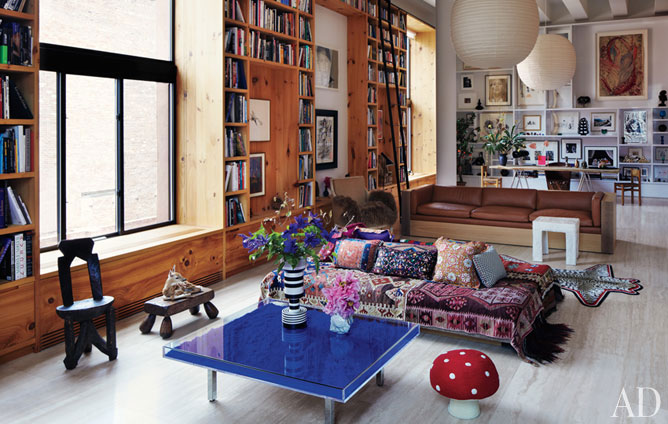 I´m thinking that wouldn't be a to tricky D.I.Y to pull off, so I gathered some of the ingredients needed:
Not feeling quite that hacky? Well, you could just let these pics inspire some more basic D.I.Y action…such as giving an old chair a fresh layer of Klein blue paint…
Some more blue inspiration…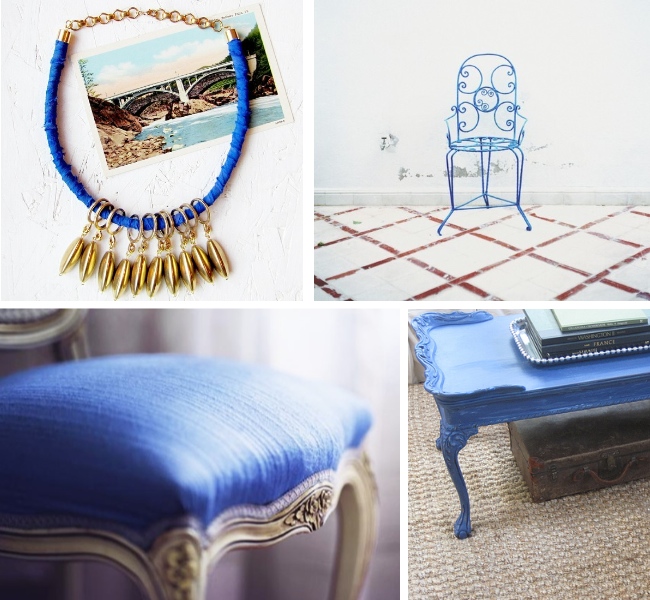 Good Luck Hacking!
Pics came from here:
Blue Rocking chair – Surfacemag.com
Blue walled hallway – Design-crisis.com
Interior pic with Klein table – DesignManifest.blogspot.com
Blue vintage coffee table – TheInspiredroom.net
Blue garden chair – Pinterest Pin Link
Blue necklace – Pinterest Pin Link
Judith Seng is a German artist/designer whose pieces makes me all giddy…She combines the chunkyness of brute wood with the gleam of high-gloss paint, creating her signature crisp & hacky aesthetic. The "Trift" series (2009) consists of raw wooden blocks seemingly dipped in gradient shades in a perfectly muted palette. But Seng is no one-trick-pony, something I quickly realized when I stumbled across a feature with a tour of her (and partner Alex Walder) Berlin home and studio over at SightUnseen. The space was full of hacky ideas, all with the fresh take on pieces salvaged from the streets of Berlin. This is ScrapHacking at it´s best…Here are some pics to inspire some D.I.Y action of your own:
Patchwork table
Seng has done a series of awesome patchwork tables (2006) which reminds me of a design by Brit Rupert Blanchard that I wrote about in a previous post.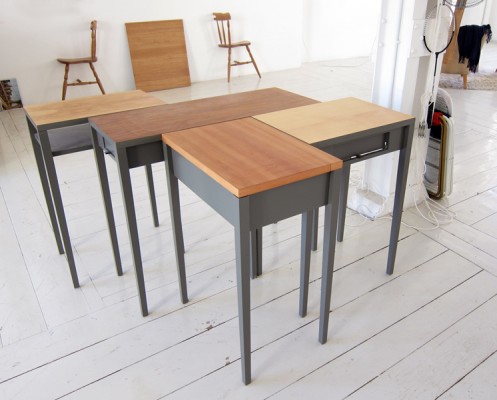 SightUnseen.com
Log stump Thonet chair seat & Dip Dye Table
Amazing how these odd bits look so good together. The glossy sheen of the blue paint and the rugged surface of the log stump are and awesome combo. Best part is…these ideas are both D.I.Y friendly!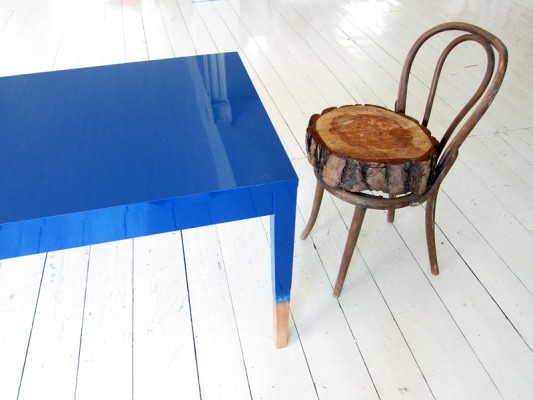 SightUnseen.com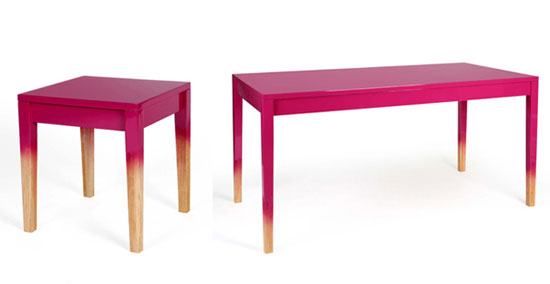 Chopped in half chair
So easy, so brilliant. Chopping a chair in half like this creates instant sculptural wow-factor.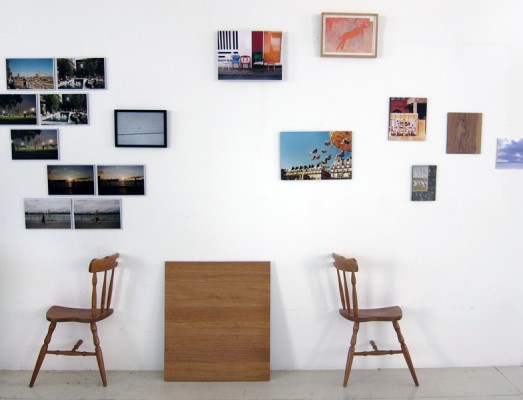 SightUnseen.com
Odd monochrome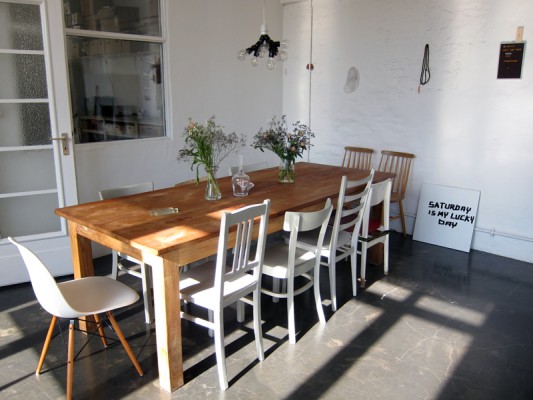 SightUnseen.com
Odd chairs, painted  in monochrome white and now residing in the dining area was initially part of a 2003 arts project (below)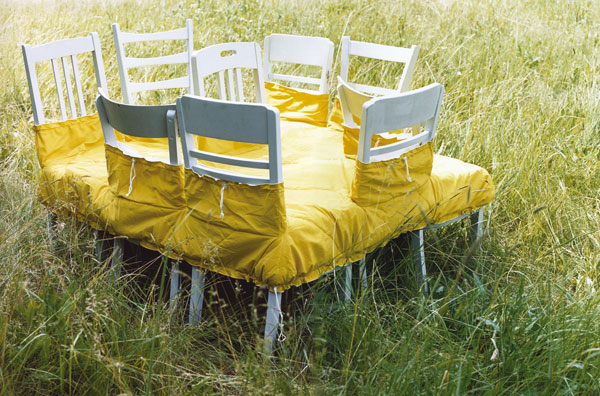 JudithSeng.de
Wan't more of Judith Seng? Head to her website here: JudithSeng.de
  Pics in this post came from here:
Helmrinderknecht.com
SightUnseen.com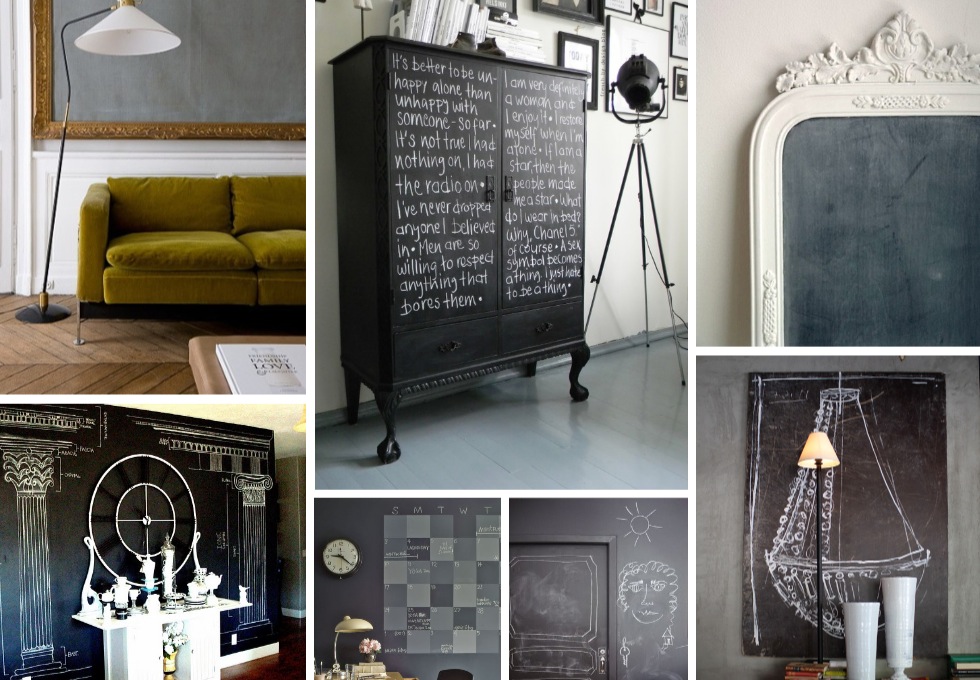 So yeah…I know this ain´t exactly new. But somehow, I can't seem to tire of chalkboard paint and it's multitude of creative applications. Although covering entire walls is pretty awesome, one of my personal favorite hack ideas is that of taking an old empty frame and add a chalkboard centre, either of basic cardboard or from a more sturdy Mdf-board. The result could be something like this….
Chalkboards with vintage frames
I summarized the hack ingredients below to get your D.I.Y juices flowing!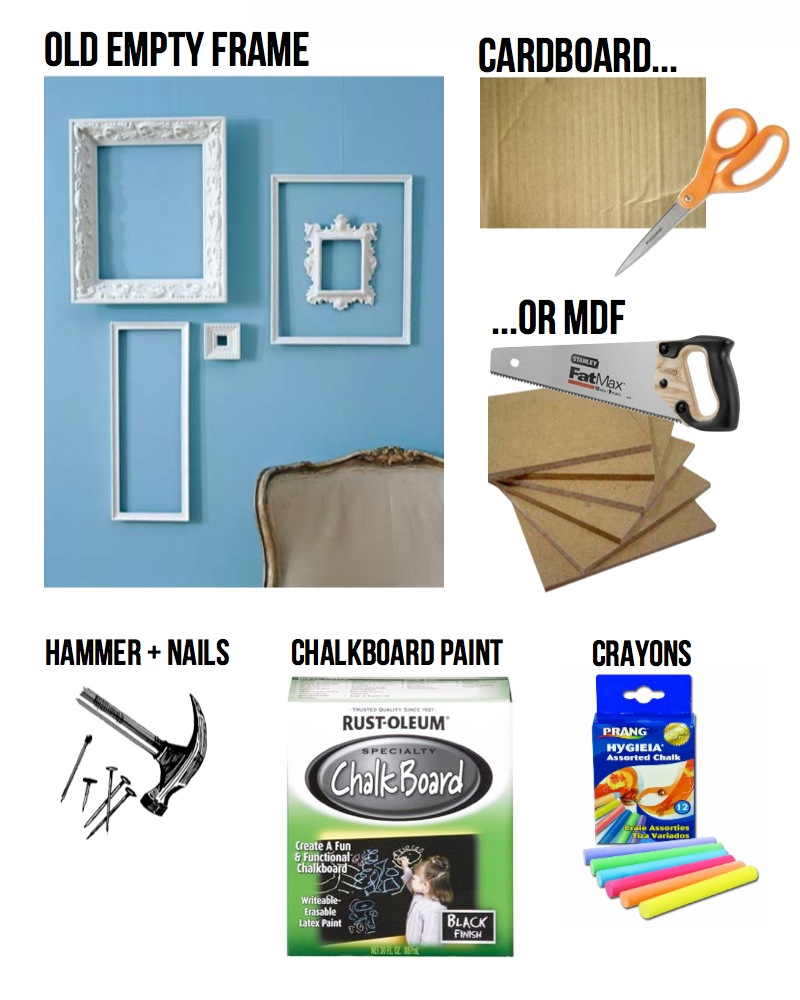 Some other awesome chalkboard D.I.Y's while I´m at it…
Wall Calendar
Check out the D.I.Y tutorial for this Martha Stewart Chalkboard Wall Calendar project here.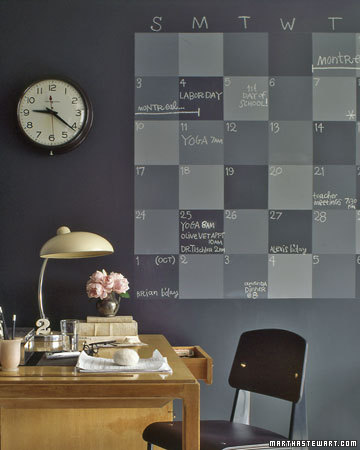 MarthaStewart.com
Chalkboard Bathroom Wall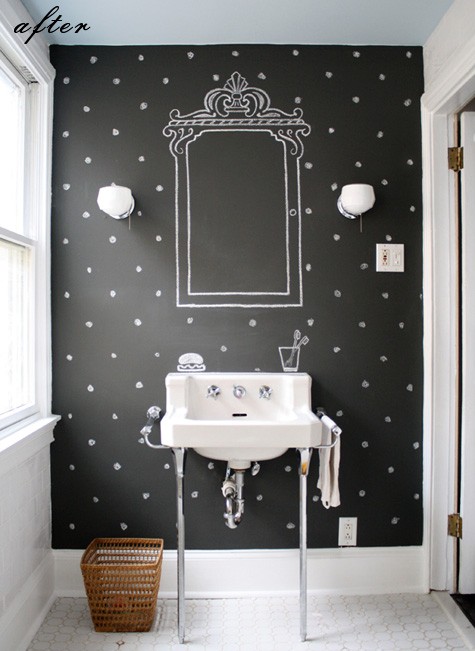 Design-conundrum.blogspot.com
Kitchen Wall with awesome art work…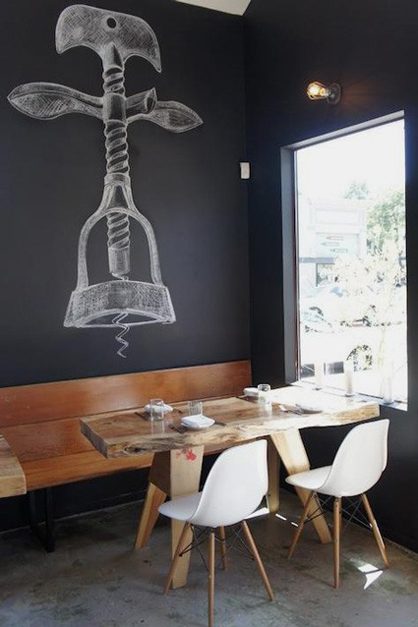 Design-conundrum.blogspot.com
Last but not least….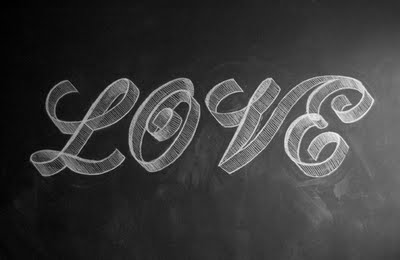 Goudasticks.blogspot.com
Good Luck Hacking!
PICS IN THE TOP COLLAGE CAME FROM HERE:
From ElleDecor via The Boo & The Boy
FrenchByDesign.blogspot.com
Pinterest.com/kamika
Citified.blogspot.com
RunningInStilettoslkn.com
Now ain´t this pretty? Spotted this awesome D.I.Y hack idea over at Martha Stewart.
Best part of it is…that it´s a super easy D.I.Y project, all you need is a basic lantern, tissue petal-like paper cut-outs, some scissors and double sided tape. The fact that IKEA´s "Regolit" lantern is priced at only $5, gives this project a pretty awesome effect-to-cost ratio… 
Given the huge amounts of choice in terms of tissue paper colors, making this hack your very own is easy. The hack tutorial features no less than 70 pics on the process, making this DIY fool-proof. Go check it out, it´s available here.
Link to Martha Stewart Tutorial

Good Luck Hacking!
Can´t believe we haven´t seen more of these, I mean a wheelbarrow bench – that´s just genius!
Pic by Flickr user kim.rossi
Why so cool? Well, it enables you to move around the heavy bench on your own, ensuring you your place in the sun, or in the shade for that matter. Making a wheelbarrow bench of your own is a pretty straightforward hack. You just add 1.) two long ore-like pieces of wood underneath the bench then 2.) attach a centered wheel on one end and 3.) shape grips of some sort on the other end. 
Pic from ForTheLoveofBikes.blogspot.com
Some research made me find that a popular version of the bench (like the one featured above & below) was designed by Dutch designer Rogier Martens – and best fact is that distributor Weltevree has got the construction manual public and ready for you to take some D.I.Y hacking action- Click here for link to the tutorial (available as PDF)
Pic from Weltevree.nl
Here are some other hacky wheelbarrow bench/chair examples: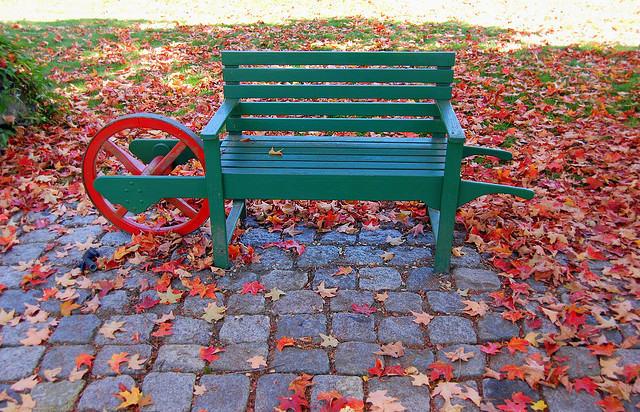 Pic by Flickr user Zenonjr
Wheelbarrow Chairs
Chaise Lawn Chair,  designed by Deger Cengiz.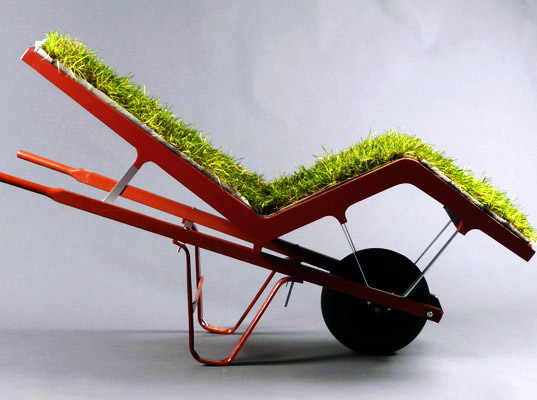 Pic from Inhabitat
"Throne Follower" chair by Florian Borkenhagen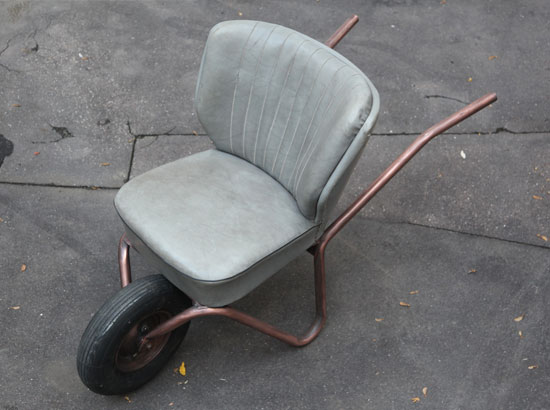 Pic from Chairblog.eu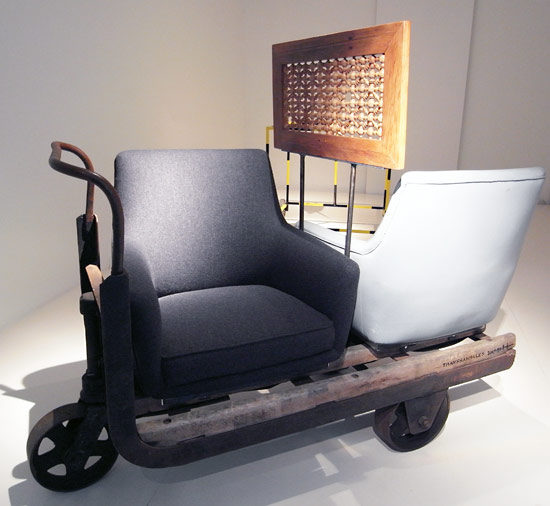 Pic from Designboom.com
Last but not least – There´s always the obvious hack of simply converting a wheelbarrow into a chair, like German Sascha Urban and Dorothea Wirwall did with their chair Loungebarrow.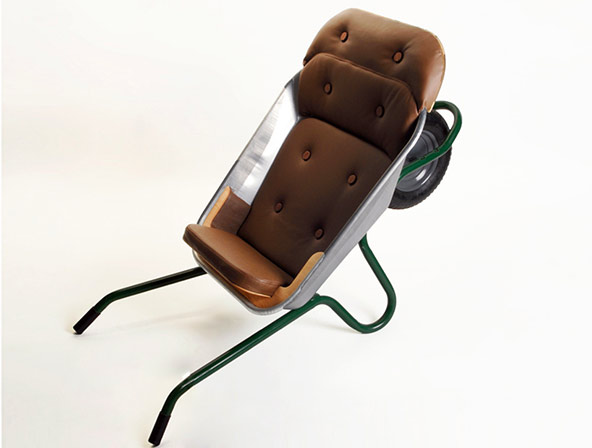 Pic from DotheGreenthing.com

Small outro essay asking why pieces like the wheelbarrow benches and chairs are so rare….
On the paradox of static furniture in an era of change
In these times of constant societal and digital movement and change around us, I find it interesting that most furniture, even brand new pieces, still have the static design features of a pre-industrial era: they´re often heavy and difficult to move (like say, an old computer or a villager dreaming of moving to the big city) they´re also often hard to customize beyond the moment of purchase (like computers before the millions of different cases and before the billions of apps came along to enable a multitude of post purchase change options, or like the child of a by-gone era, unable to defy his pre-set place in social hierarchy after birth). All-in-all I think it´s fair to say that the development of user experience in the design of everyday furniture is lagging behind, probably due to a stronghold of classic aesthetic notions of beauty and taste, somehow minted in the fibre our social DNA, shaping imagery and attitudes floating in our shared space, through our front doors and eventually into our living rooms. There, at home, we might find comfort and solace in the static, although we might spruce things up now and them by going through the ordeal of moving our heavy sofas across the room, or enhancing the performance of our old hardwear, like our sofa, by investing in new soft wear – like a cashmere throw or some new perfect velvety pillows.
Seeing how society and technology around us have changed, whilst the design of everyday furniture have not, I wonder what the future has in store for our homes. While they might be the last bastion to conquer, my optimism in inviting change into our living rooms is un…..I do believe that change will unlock dynamics, for the better, also in our private realm, making our lives lighter to live, more customizable, without necessarily losing touch with nostalgia & sentiment. It´s a conceptual challenge I know, just like the recent years major shifts around us have been. They say no man is an island, I don´t believe our homes should be one either. Let´s all have the courage to open the door when change comes knocking. When that is, that, we´ll just have to wait and see.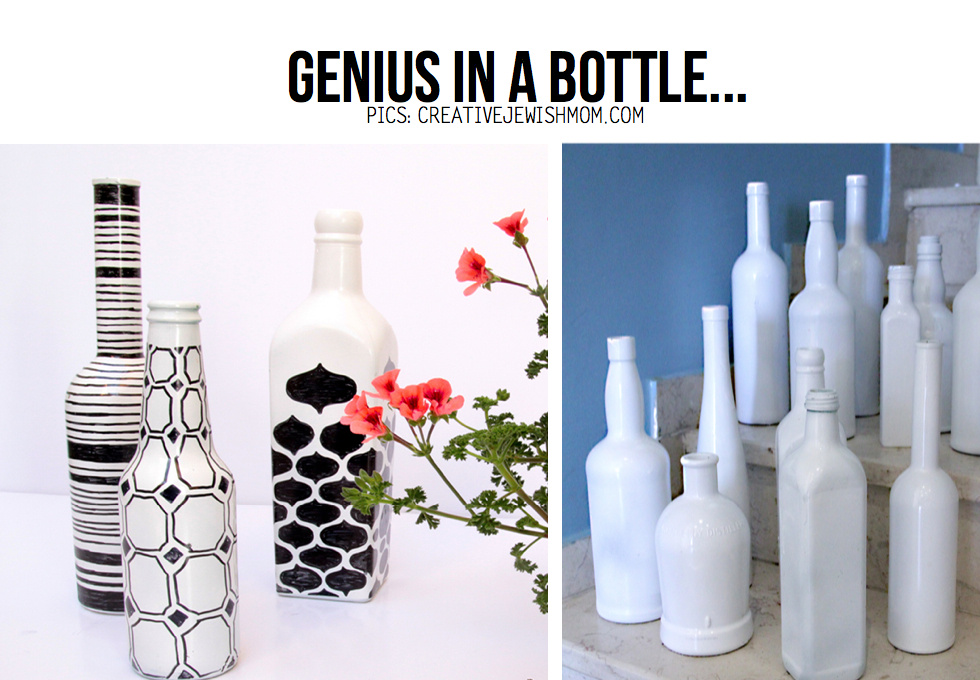 This hack from blog CreativeJewishMom is simple yet stunning. It makes use of common old beer & wine bottles – a waste staple everywhere…
The graphic bottle hack idea shows that some spray paint & geometric pattern easily morphs them from drab to fab. The magic transformation is acheived by 1.) simply removing labels, spray painting bottles white….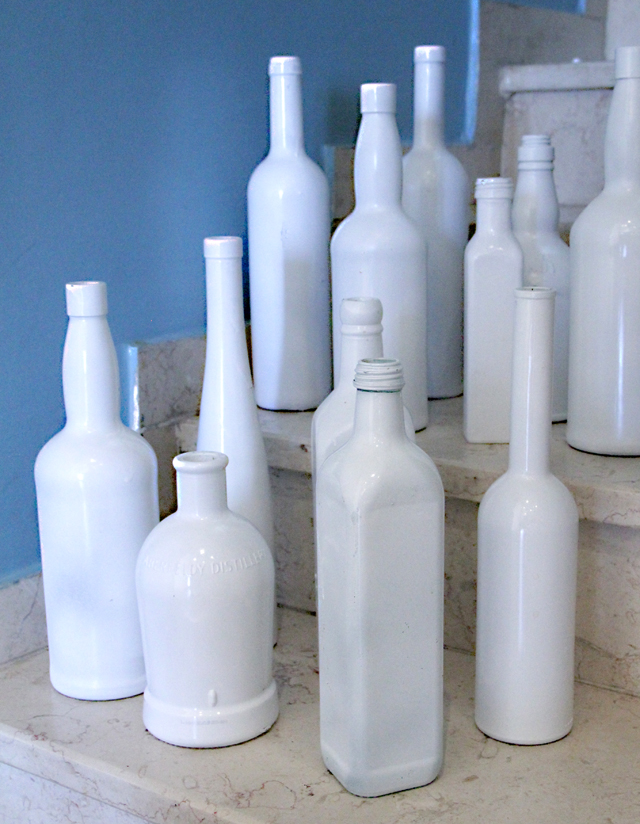 …and 2.) adding your pattern of choice using permanent black marker…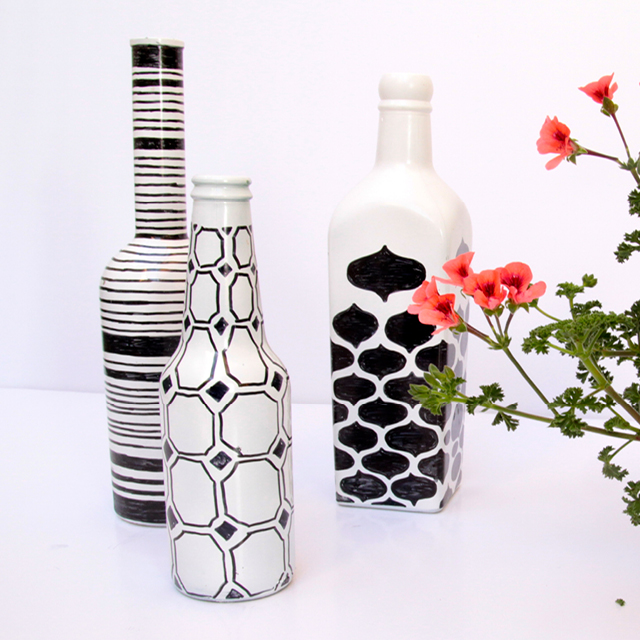 The great hack idea & all lovely pics are from the blog CreativeJewishMom

Check out the D.I.Y tutorial here!

Good Luck Hacking!
A hula hoop ring, some old yarn (or old tees!) & some finger knitting action is all you need to make a rug! Anne of crafts blog Flax&Twine made a great hula hoop rug inspired by a recycled tee hula hoop project she spotted at the Disney Family Fun site (see pic below)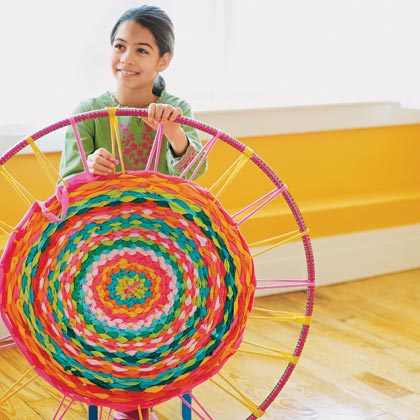 Anne wrote a splendid D.I.Y tutorial on how to make a hula hoop rug of your own, check it out! Anne used yarn whilst the Disney Family fun hack used old tees, I suggest you make use of whatever materials you´ve got lying around. Here are some of Anne´s pics to get your hacker juices flowing: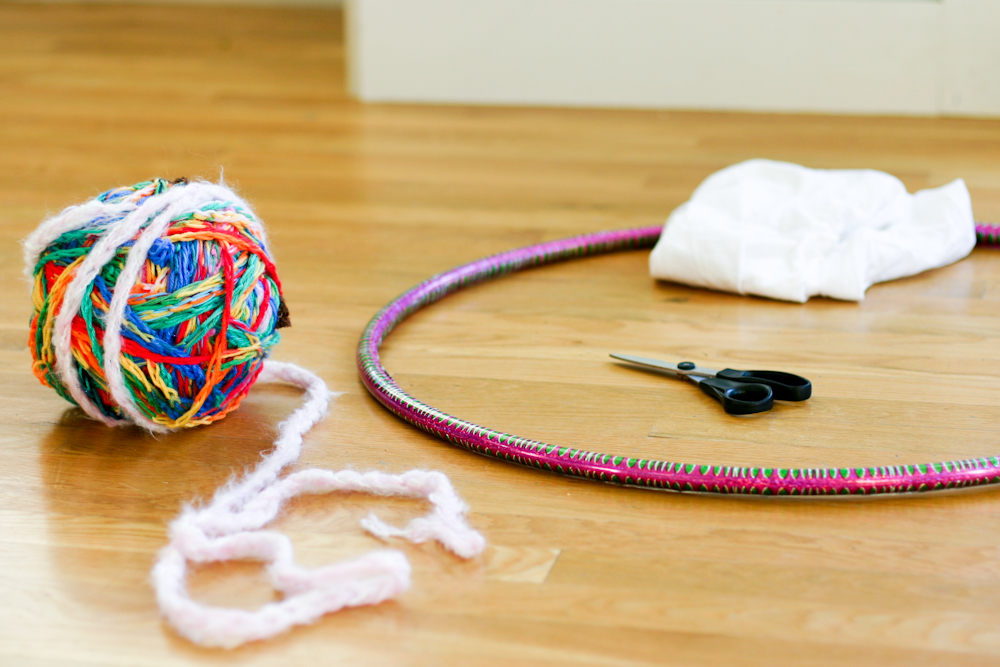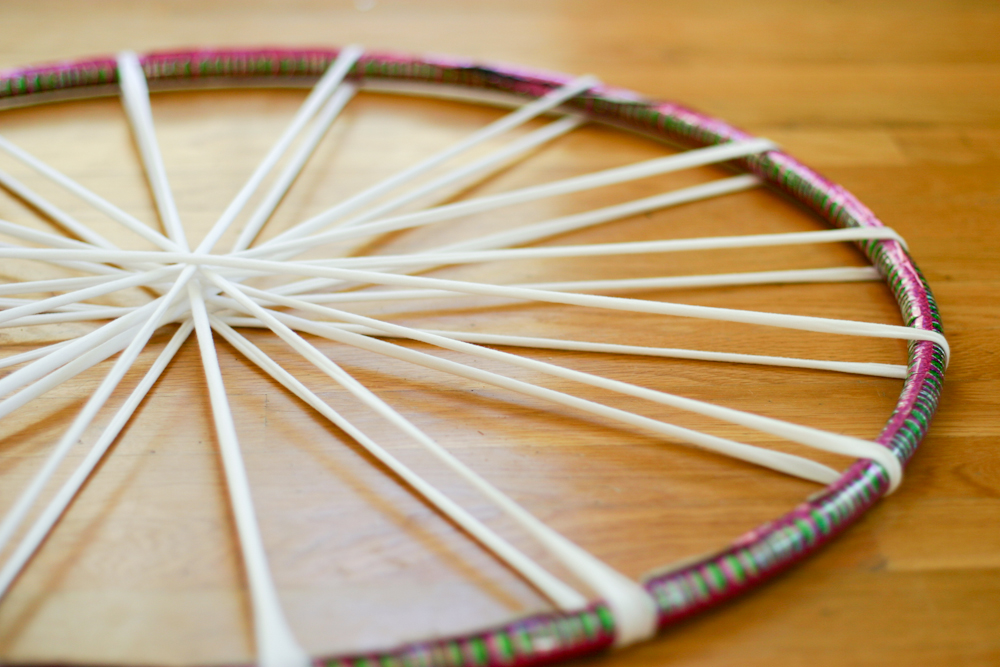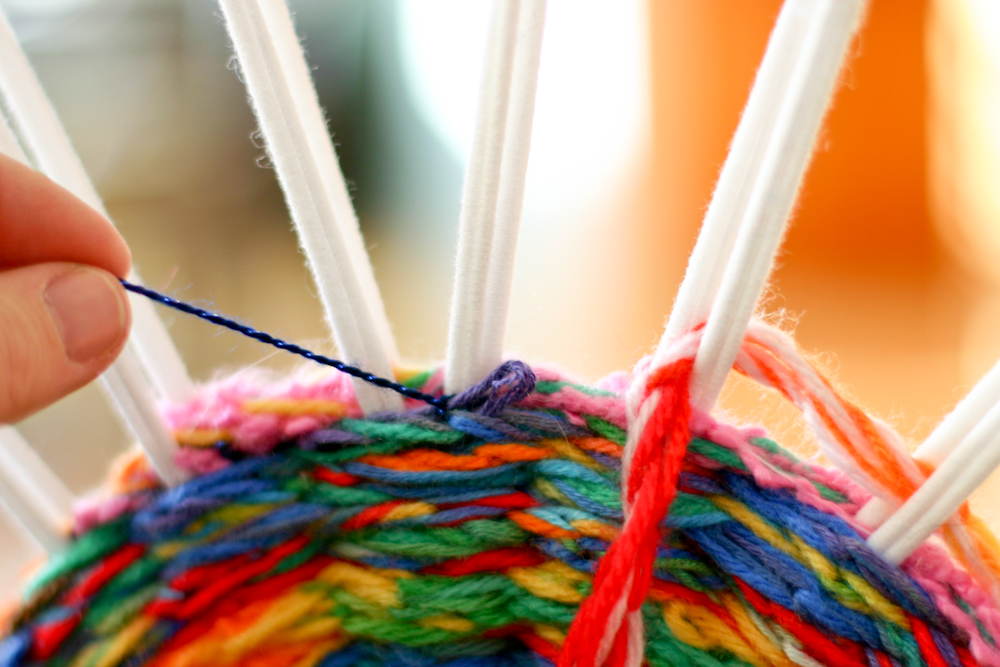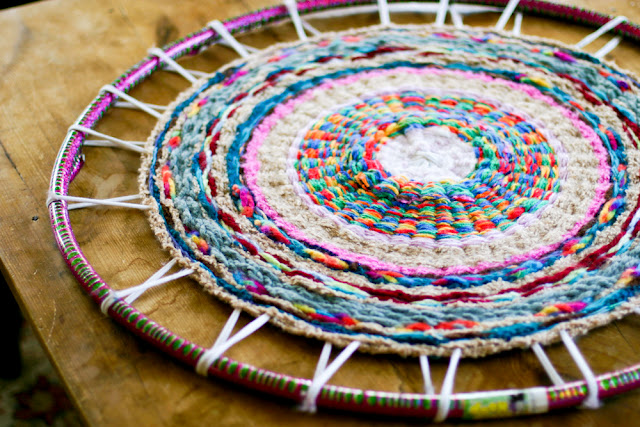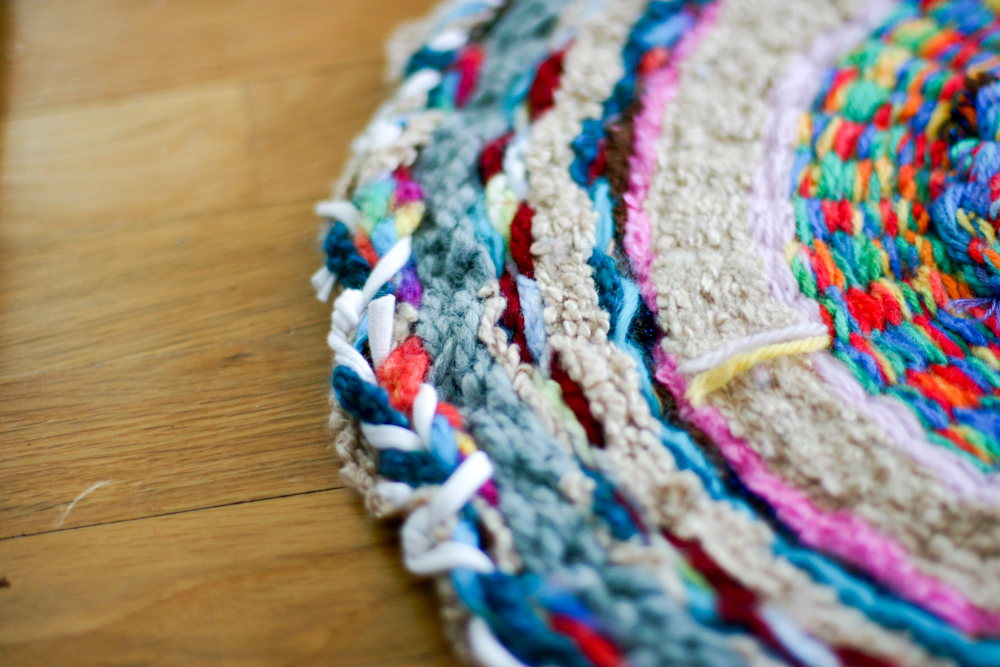 Go to the Flax&Twine DIY tutorial here Pics: Flax&Twine & Familyfun.go.com
Good luck hula hoop hacking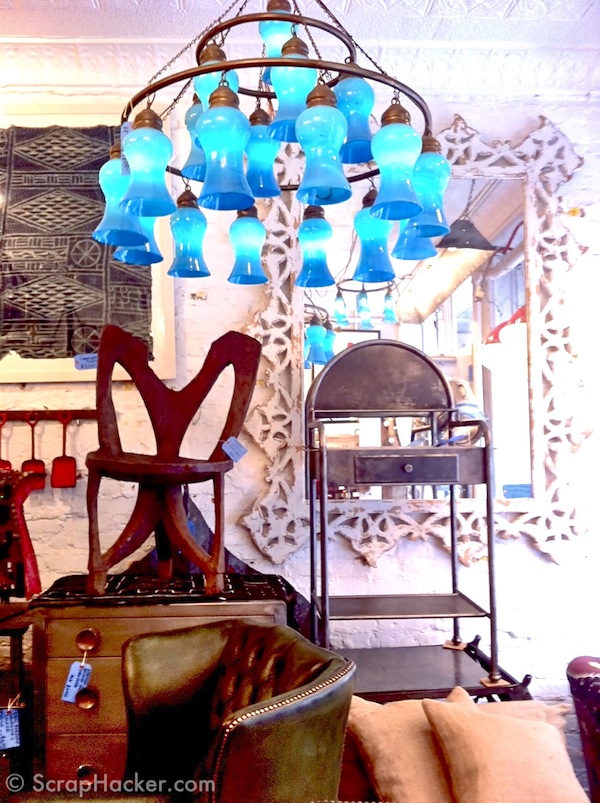 "I love giving things a second chance in life" says Liza Sherman, owner of Liza Sherman Antiques – a treasure trove and scrap hacker haven on Bedford Avenue of N.Y.C´s West village…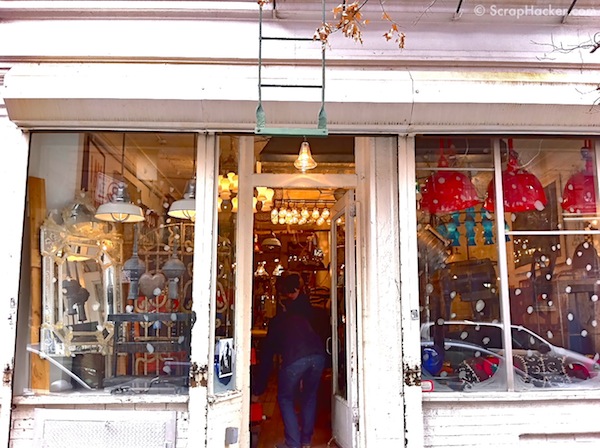 Sherman combines her scrap hacker vision with great artistic style –  items for sale in the shop include Belgian mining carts converted into sofas, African Buffalo Bells ($2200), re-purposed old barrel chairs ($4000), collected toy sand shovels ($5500) 1930´s vintage bathing suits framed and sold as art ($4800)… While Sherman´s prices may be well out of my range, the visit to her lovely store did not leave me empty handed…Quite au contraire –  I left the store, enriched with inspiration and lots of new hacky ideas. Hope my snapshots below will let Sherman inspire you too – enjoy!
Address & links can be found at the bottom of the post.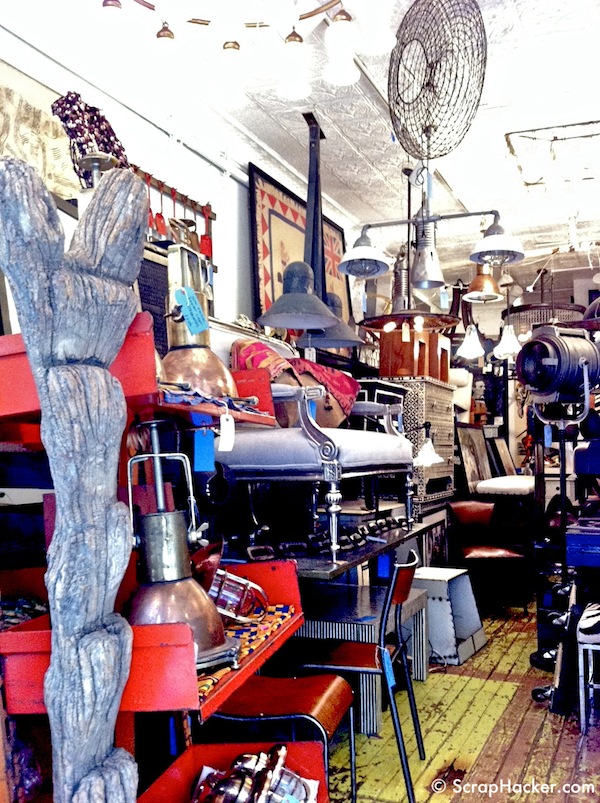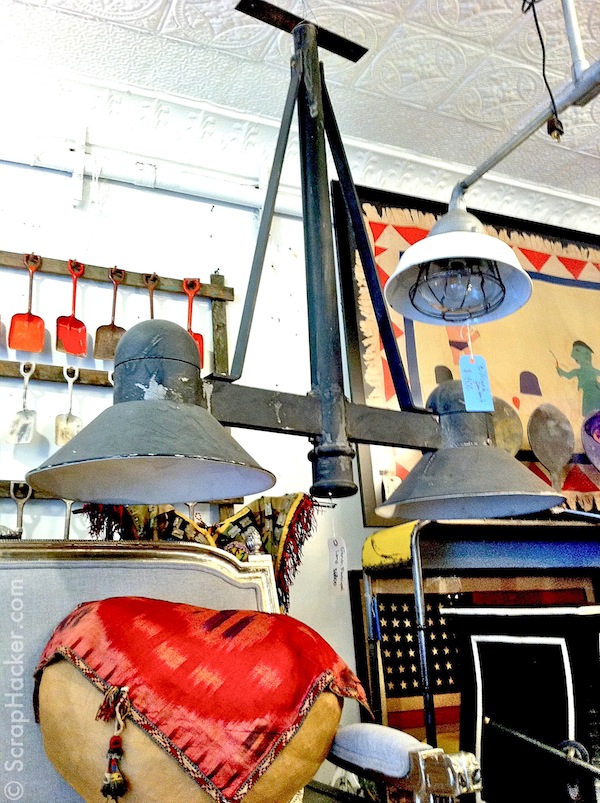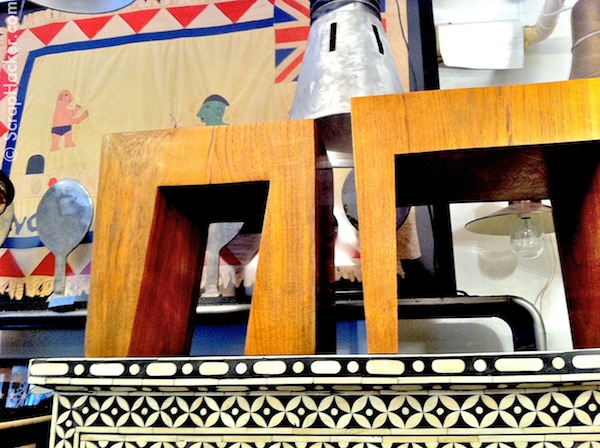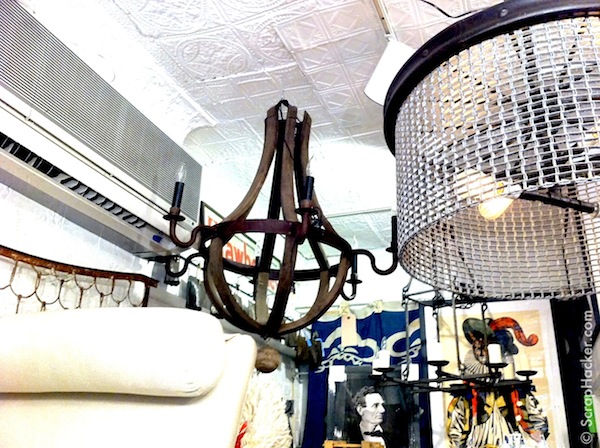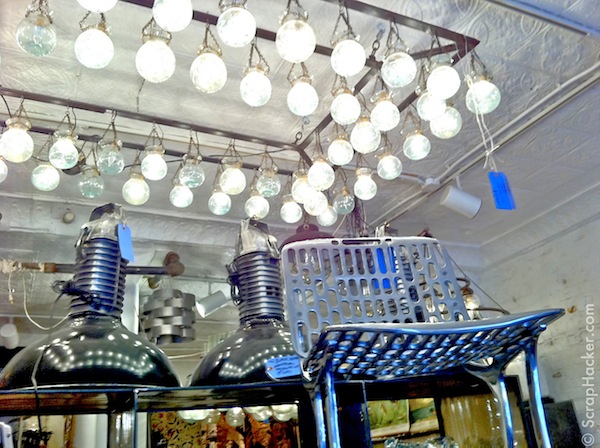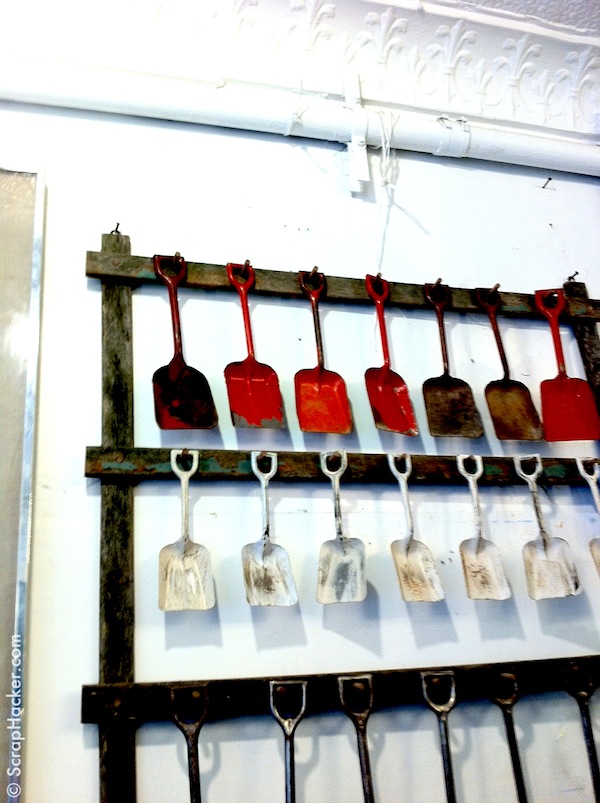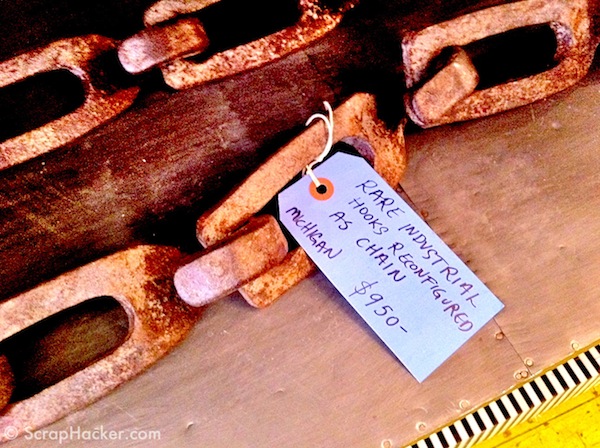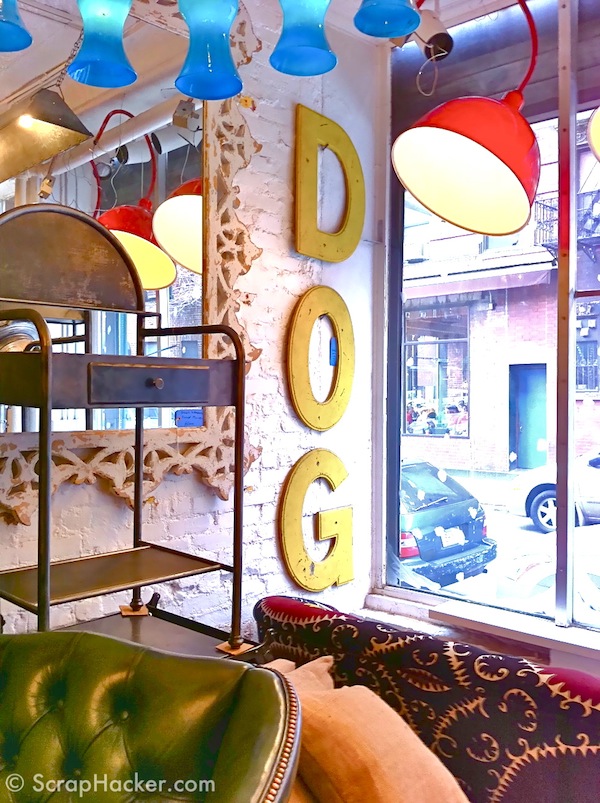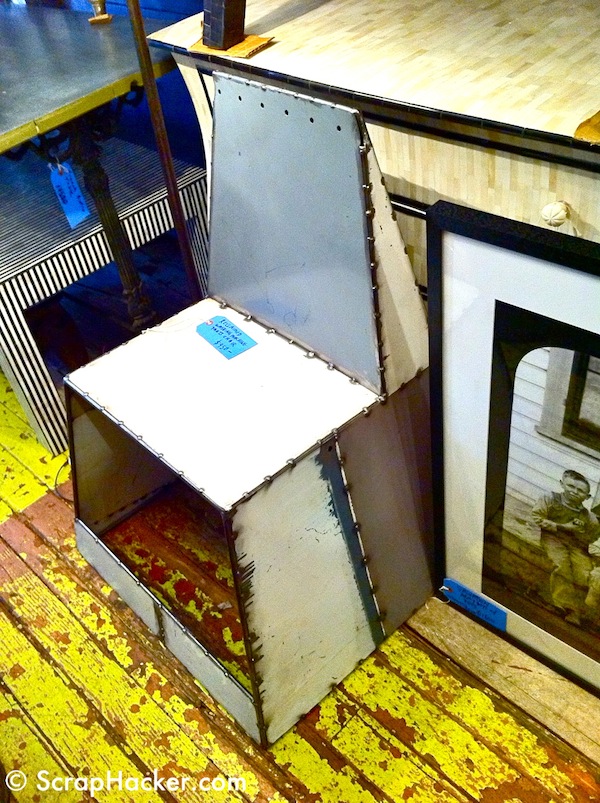 Read more about Liza in this great article (from which I quoted above)
Visit her shop online here to see the great collection of stuff out for sale
NYC address:
Liza Sherman Antiques, 37 Bedford Avenue (/Carmine Street)
Liza Sherman Antiques, NYC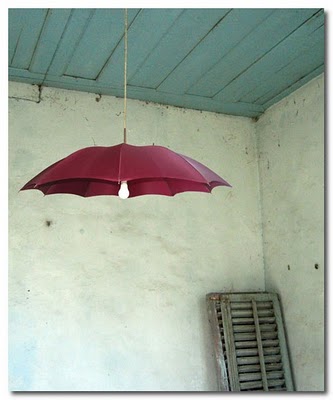 Seeing a lampshade like the one above, It strikes me as odd that umbrella lamp shade hacks are so rare – is superstition preventing us from seeing the obvious? Did some browsing and found a couple of other examples where umbrellas have been hacked in various ways – enjoy!
Double up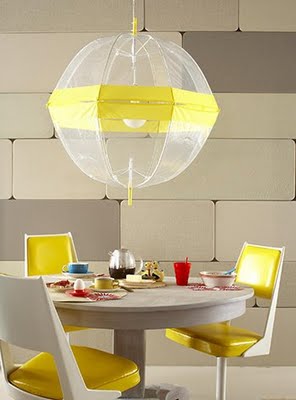 Steely Grey
Great look from Melbourne based architects Edwards & Moore.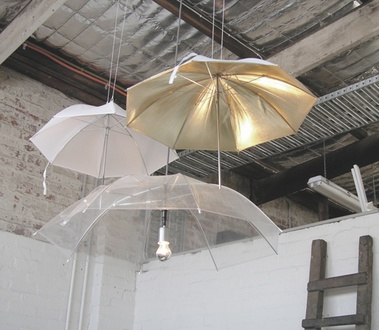 Grouped for effect
Grouping umbrellas together achieves an instant interesting sculptural effect. The design below is by Chicago-based Steven Haulenbeek, and is made from simple white photographers' translucent "shoot-through" umbrellas.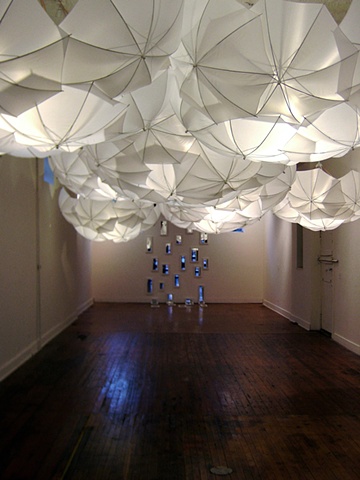 Vintage
This vintage umbrella lamp is available from Factory20.com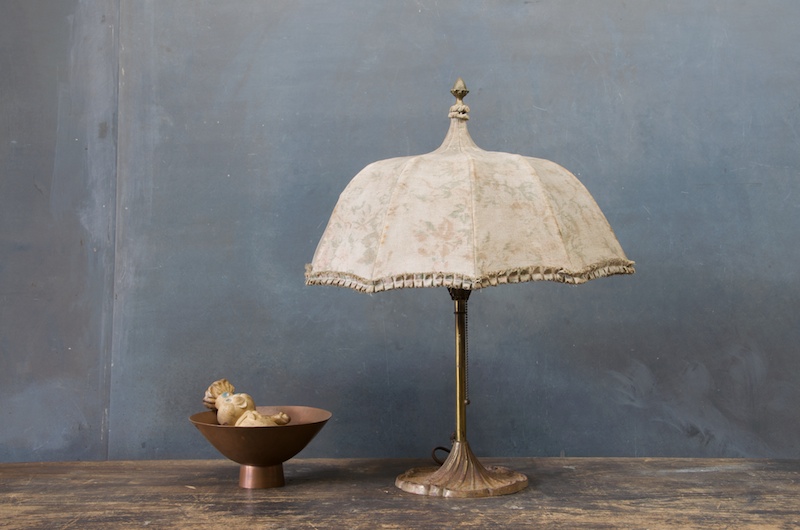 Party Umbrella Pendants
I´ve spotted the party umbrella hack round and about – Head here for a great D.I.Y tutorial featured on Etsy.com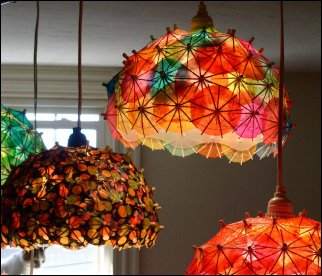 One last inspirational pic…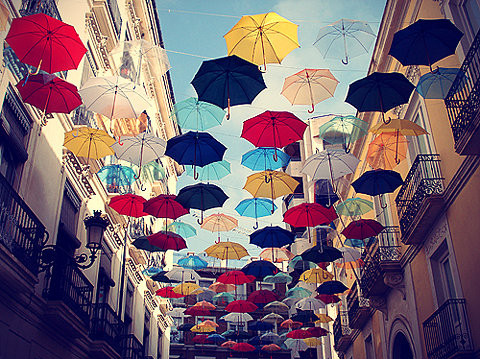 Good Luck Umbrella Hacking!
Pics from top:
Pinterest
Remodelista.com
Steven Haulenbeek
ReadyMade
PrettyUseFulStuff.blogspot.com
Factory20.com
WeHeartiIt.com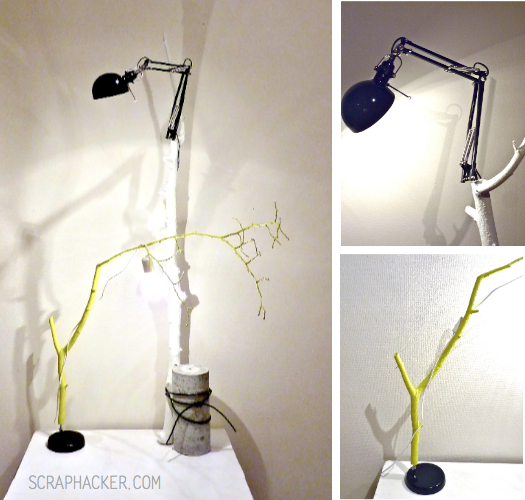 During a walk the other day I grabbed a few branches from a pile, thinking I wanted to make something out of them…and back home, a couple of hours later, I found myself the happy maker of 2 brand new branch lamps. I hacked an IKEA Forså Lamp work lamp to get the parts I needed to complement the branches, hence I call the hack "Fors(-å) of Nature"…Check out the tutorial to make some of your own – enjoy!
Step 1 – Gather some scrap branches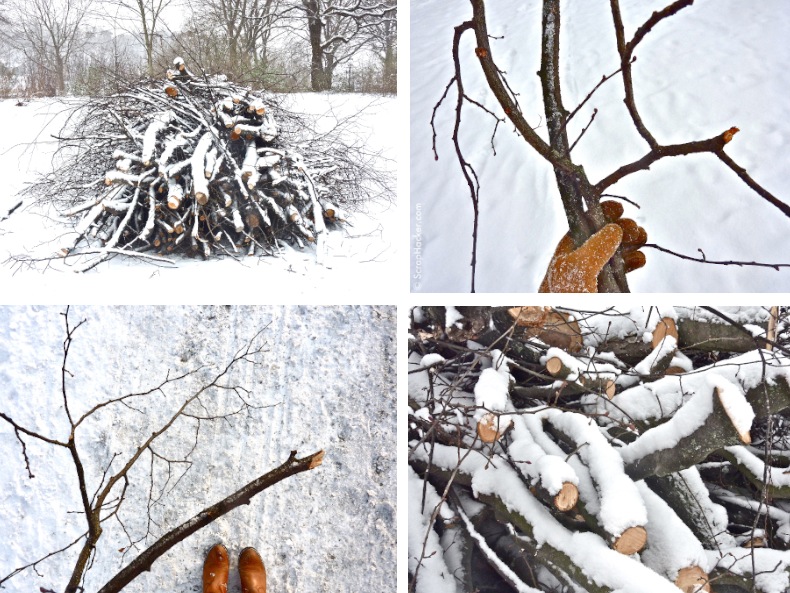 Step 2 – Preparation
Hack ingredients – Scrap branches; IKEA Forså lamp or any other desk lamp with a arm that can be detached from its base; Wood Sealer+paint; Lamp lead; A 4mm wide/6cm long slotted screw; Something really heavy to use as a base; Some rope
Hack tools – Saw; Drill; Paint brushes
Step 3 – Sawing & drilling
Make some clean branch cuts with the saw, then drill a hole where you want to stick the detached lamp "arm" of the IKEA Forså lamp . For a neat fit – do make sure the diameter of the drill matches the diameter of the tip of the lamp.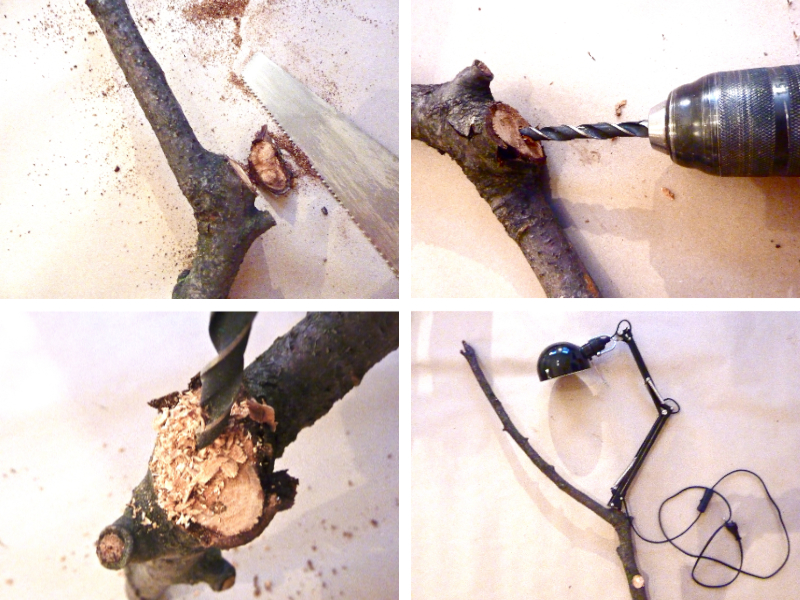 Step 4 – Wood Sealer
Apply a coat of wood sealer to the branch cuts to avoid leaky stains through the paint. Leave to dry.
Step 5 – Yay, Painting!
Paint the branches in whatever color you like. I painted one white and the other a bright yellow.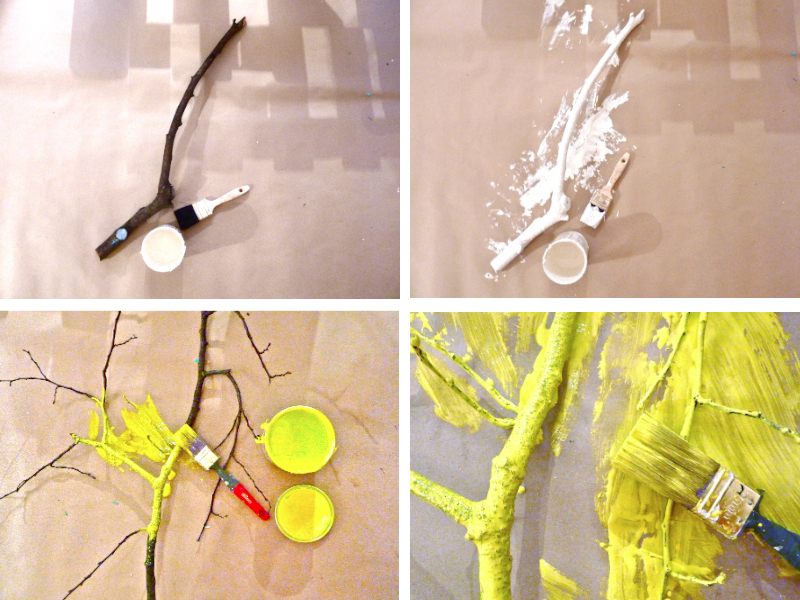 Step 6 – Putting the pieces together
Drill a hole into the bottom of the branch you want to fit to the IKEA Forså base. Screw the screw into the hole. Leave a 2 cm outer tip that will go into the slot of the IKEA Forså lamp base.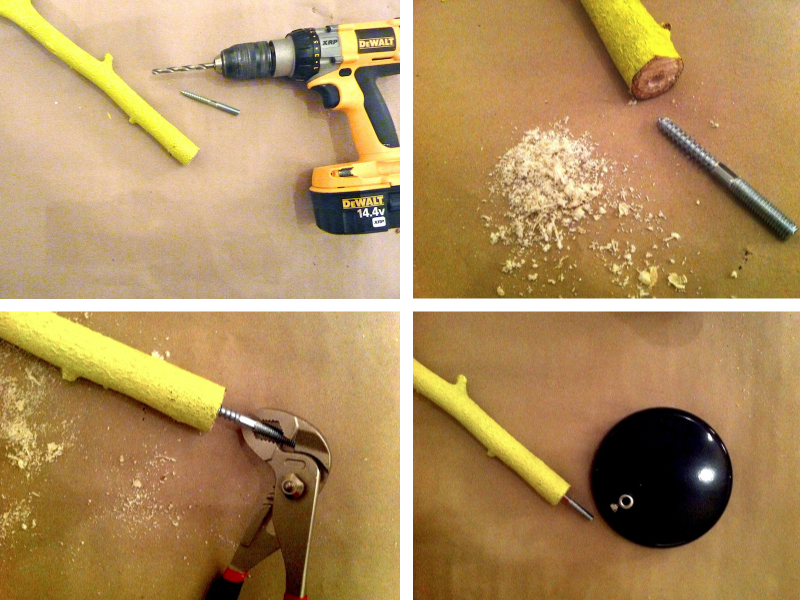 Step 7 – Some last tweaks…
New "lamp arm" for the IKEA Forså base – I used a basic lamp lead for  branch that was mounted to the IKEA Forså base. I simply let it hang from the branch, as the the shape of the branch naturally had a arm-like quality.

New base for the IKEA Forså "lamp arm" – The "something heavy" in my hack consisted of a concrete cylinder I´d found at construction site. The "rope" I used was synthetic leather strap I got at my local hardwear store. I tied the branch to the cylinder with using the strap. The stability was surprisingly ok, but guess I got lucky with the balance of my branch. Further stability can be added by reinforcing the "rope" construction.
Step 8 – Enjoy the results!
The "Fors(-å) of Nature" hack uses one IKEA Forså lamp to create two new lamps by using scrap branches. In dividing the two parts of the IKEA Forså lamp, the lamp arm from the lamp base, the hack consisted in finding a new set of lamp+base pairs. This is what I came up with, but I´m sure more IKEA Forså-hacks are just waiting to be discovered as basically any material can be used as a "lamp base", and basically anything can be used as a "lamp arm" supporting a simple lamp lead that can be found in hard wear stores anywhere.
Here are some pics of the final results: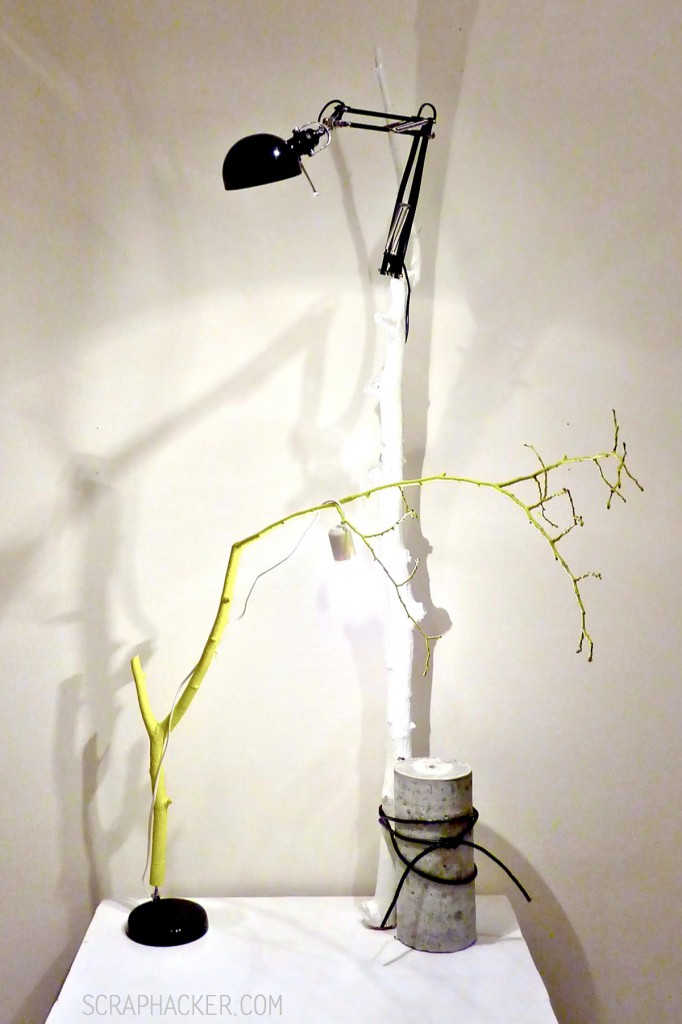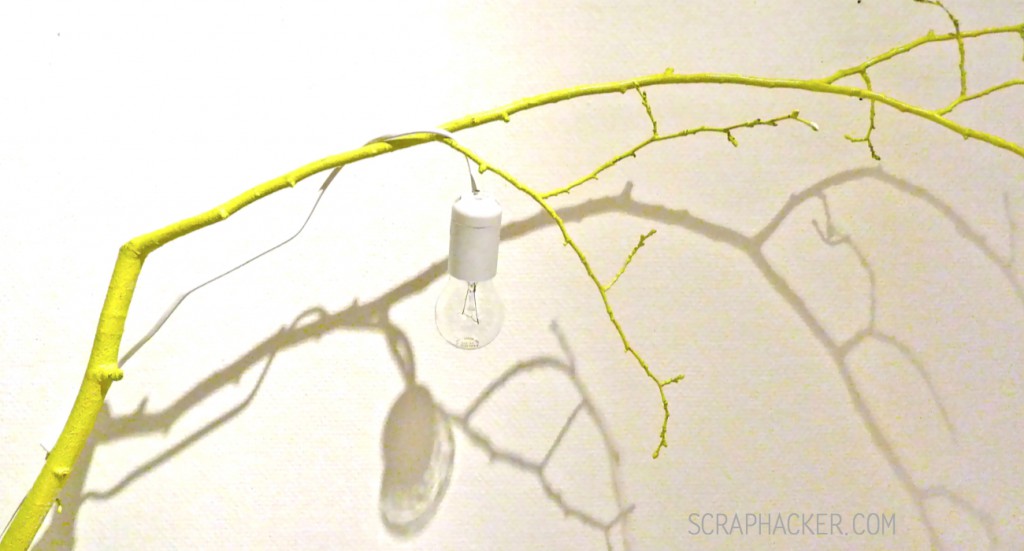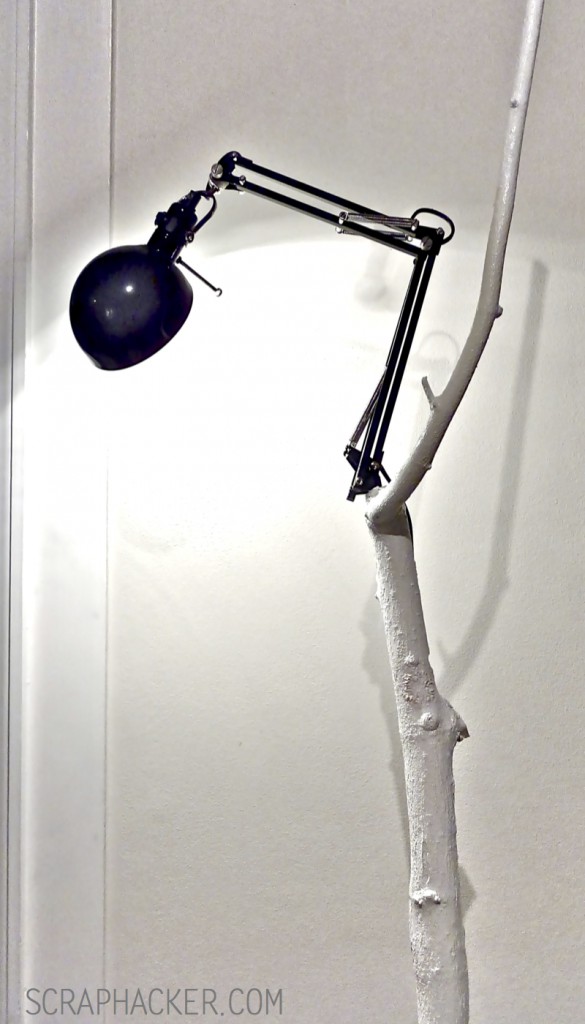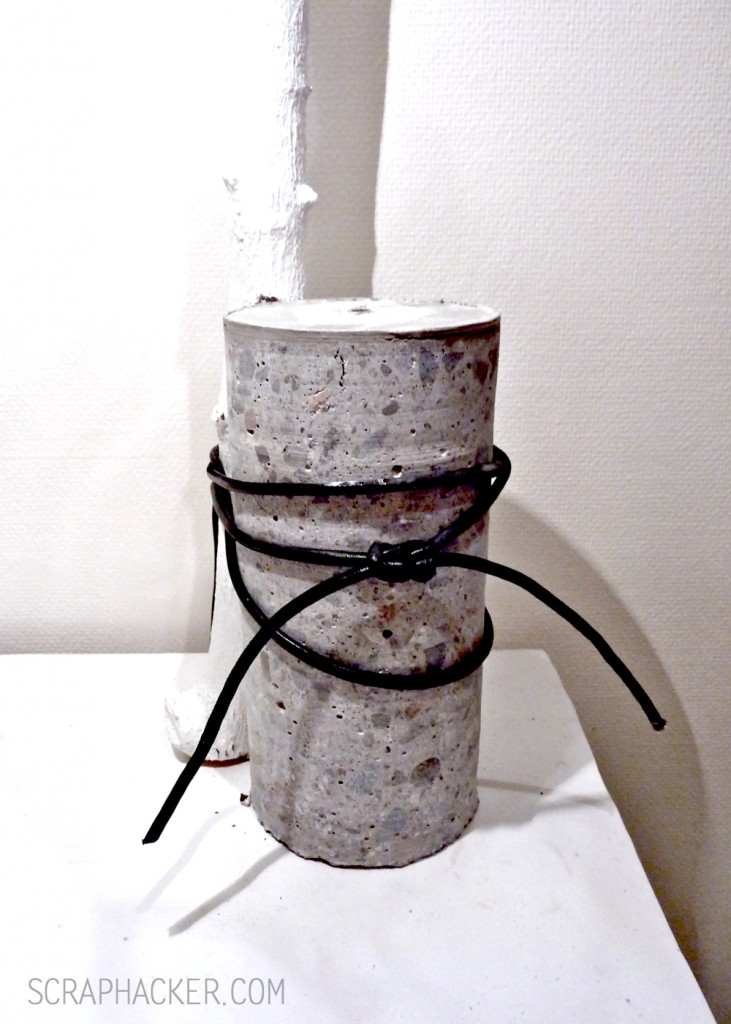 Hope you got inspired to make a "Fors(-å) of Nature" of your own – Good Luck Hacking!
Beautiful vintage wooden tennis & badminton racquets are a common sight in thrift stores and markets – perhaps you´ve got one or two stashed away in the attic somewhere? They´re decorative as they are, yet, some hacking could give them some new relevance in the contemporary home…This is what you tend to see in markets: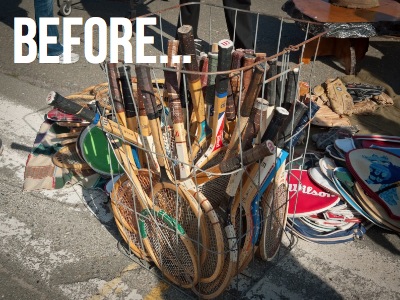 And here are some hacky "after" pics, on what you could make with the racquet raw material:
The racquet chandelier
I snapped this pic myself in the Tommy Hilfiger pop-up store that travelled the globe in 2011. Racquets have been bundled together and blend with the lights to create a sculptural focal point, hanging from the ceiling supported by white chains.
Wall sculpture
Racquets have been grouped to form an awesome wall sculpture.
Single Raquet wall art
A racquet has been mounted to a metal frame for industrial effect.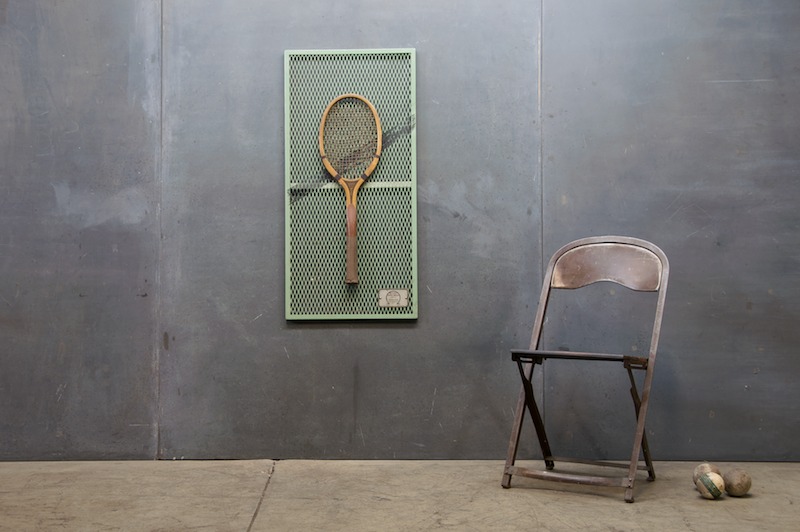 A bouquet of racquets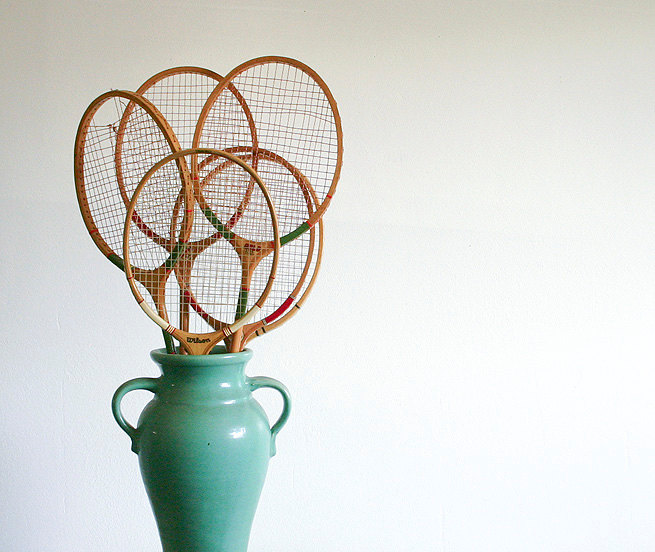 Embroidery hack…
Mirror, mirror on the wall…
Mirror hacks are a great way to create new use for the vintage racquets.
more mirrors…
A bedroom decor has been artfully pimped with some great racquet mirrors.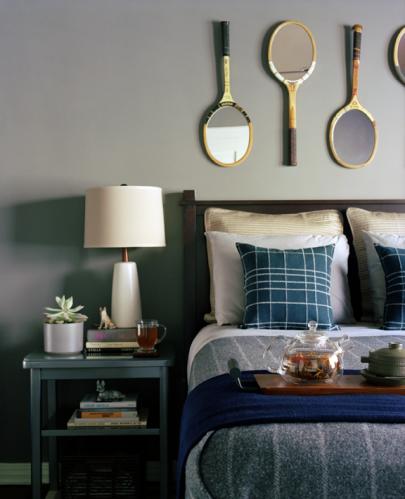 Spontaneous Frame
Some string and some bric-a-brac déco creates a spontaneous still life.
Jewellery Caddy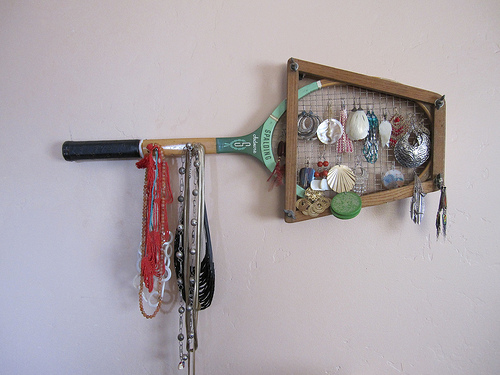 Purely decorative
And lastly, to round things off, some purely decorative hacks, with the racquet left au naturel…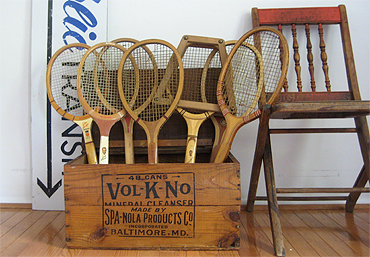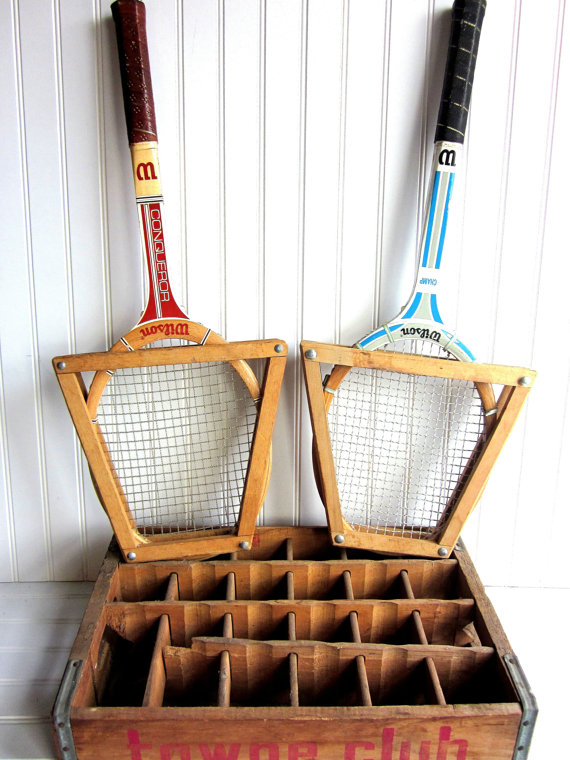 Good Luck Hacking!
    Pics came from here:
Wall sculpture:
HeyThingsChange.com
Industrial wall art:
Factory20
Bouquet:
Etsy.com
Embroidery:
Revisitme.tumblr.com
Mirror collage:
VelvetRibbon
 Mirror in bedroom:
FreshHomeIdeas.com
Frame:
Etsy.com
Jewellery caddy:
ReadyMade.com
Au naturel:
RefreshedDesigns.blogspot.com
Etsy.com