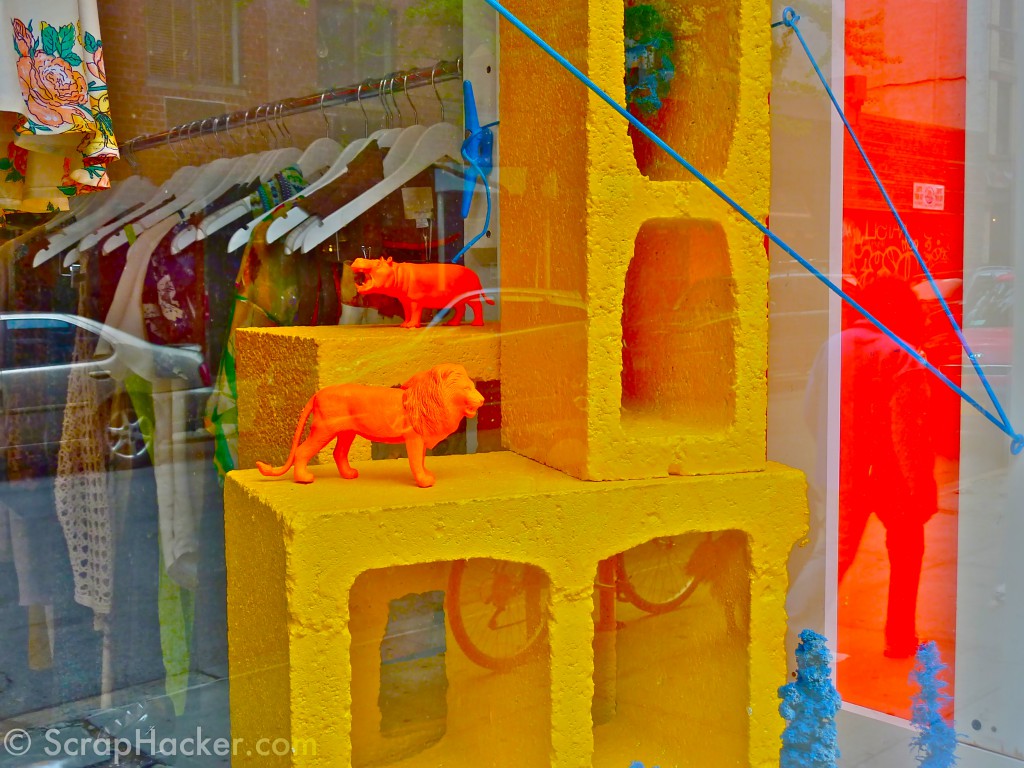 Babel Fair of NYC´s Elizabeth Street is packed with cool clothes and creative ideas. One that caught my ScrapHacker eyes in particular is the smart, new up-cycled and re-purposed usage of concrete hollow blocks (normally used in wall and foundation constructions, see picture below – the picture of the concrete blocks below is from www.bixbocement.se).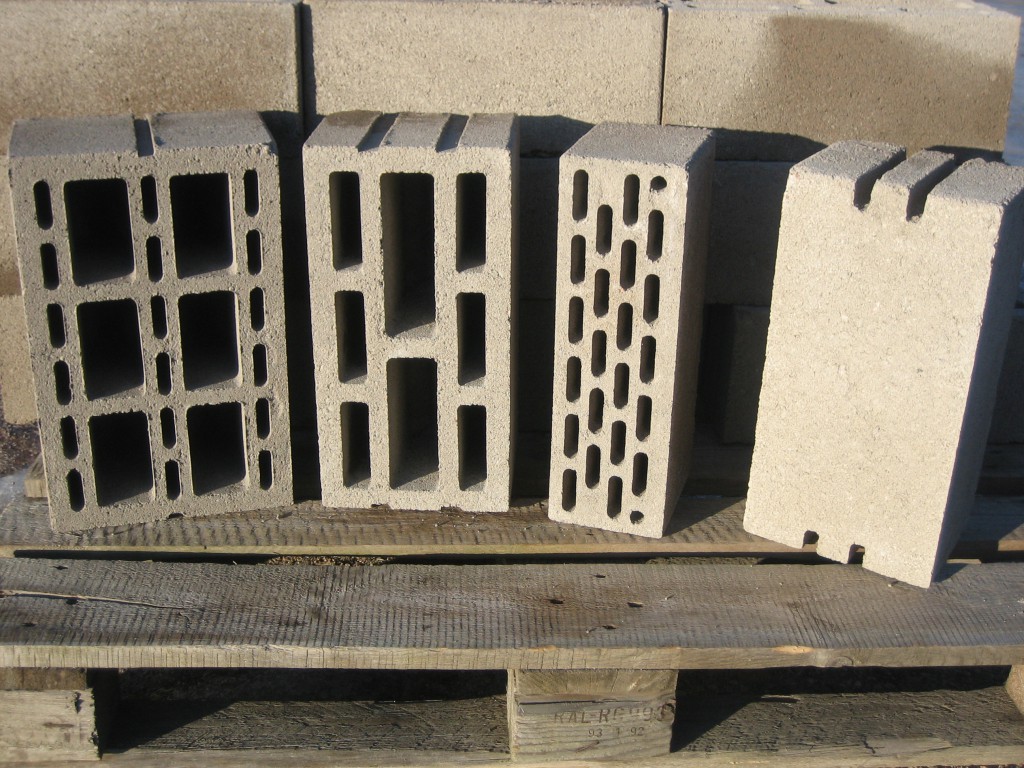 Painted in bright yellow the blocks in the Babel Fair not only provides practical display levels but also makes the store window display pop – attracting some well-earned attention. Well inside, plenty more inspiration awaits the visitor with a keen eye for design.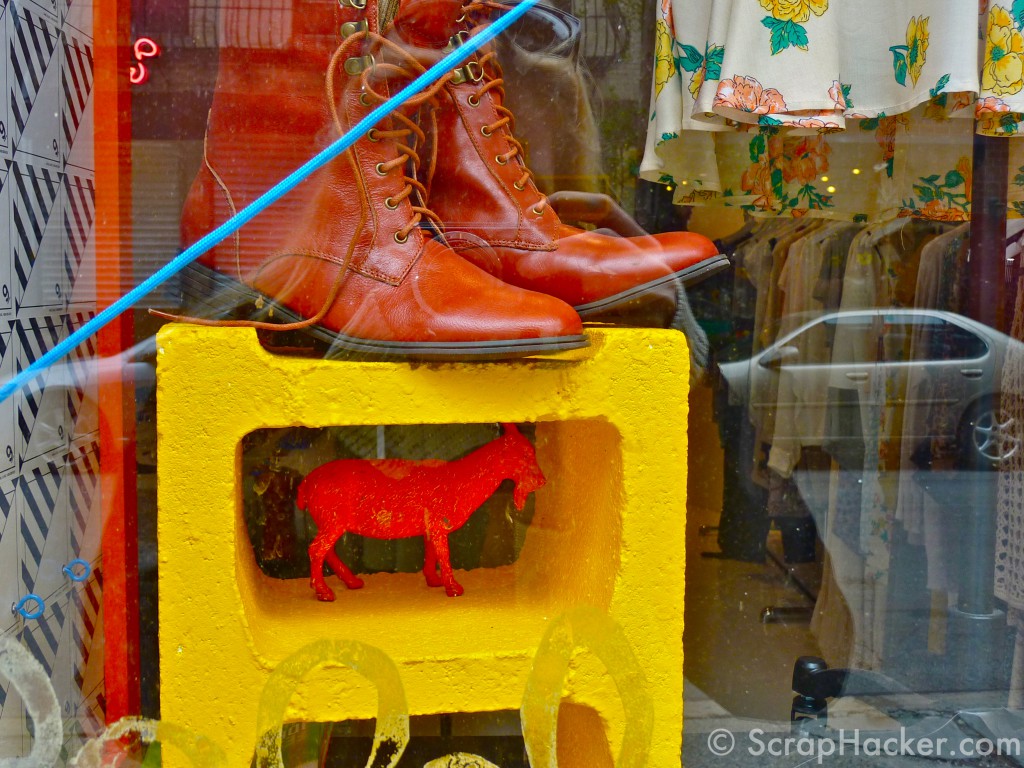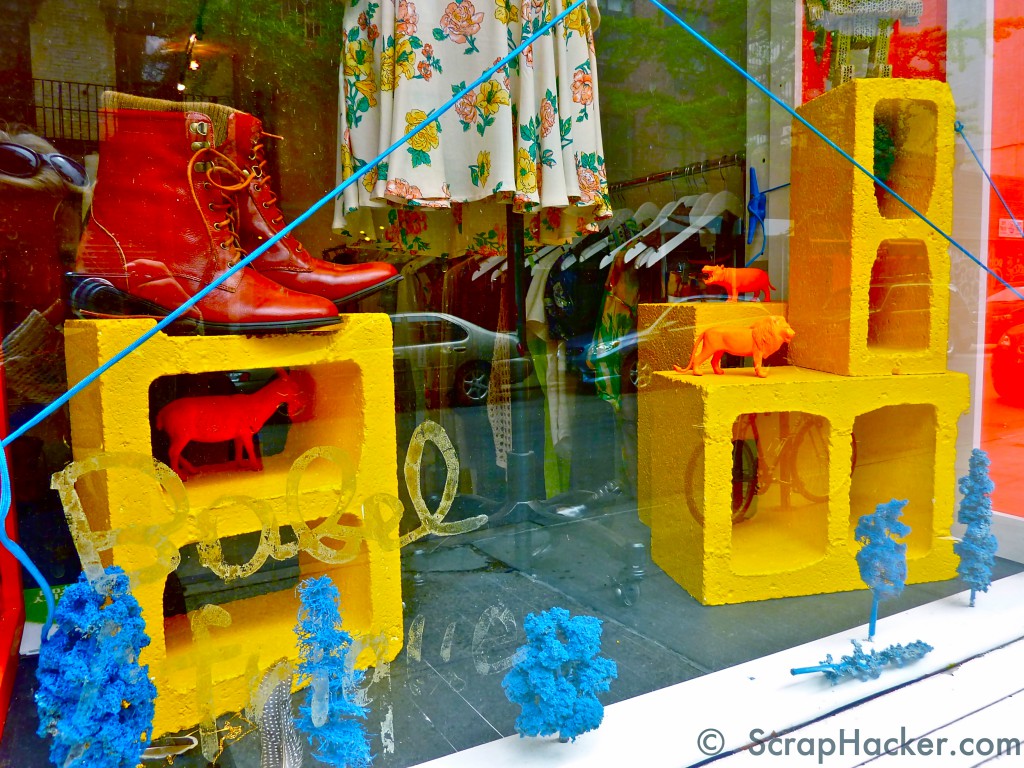 Visit BabelFair online @
www.babelfair.com
BABEL FAIR – 260, Elizabeth Street (NYC)
I´m hooked on pallets – unless you hadn´t noticed…I always go for white highgloss finish, yet somehow, opposites attract! And I guess sometimes a layer of glossy black paint is all you need! These sleek and liquorice like pallets were used as benches outside a great store in Berlins Torstraße called Superficial.
Superficial features many great ideas and were lately among 9 Berlin Stores to be selected in a Berlin Shopping Guide in British Vogue proving that design goes a long way!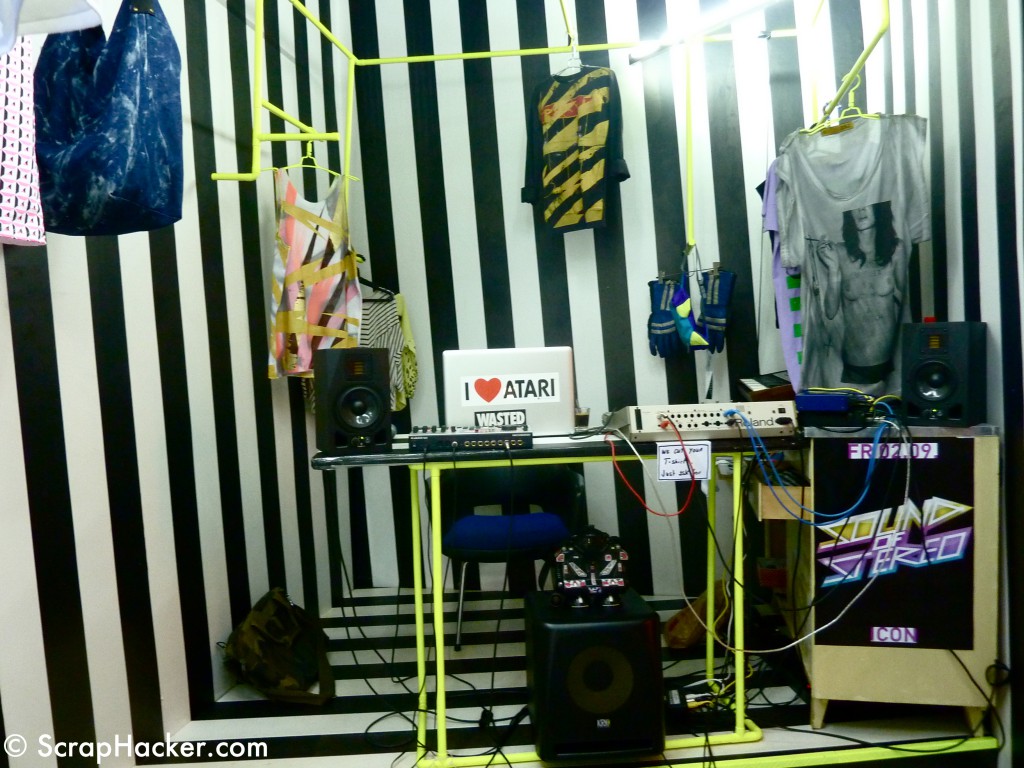 Superficial, Berlin
Visit Superfical Berlin online @ www.superficial-berlin.com Visit Superfical in real life @ Torstraße 102 in Berlin´s Mitte Area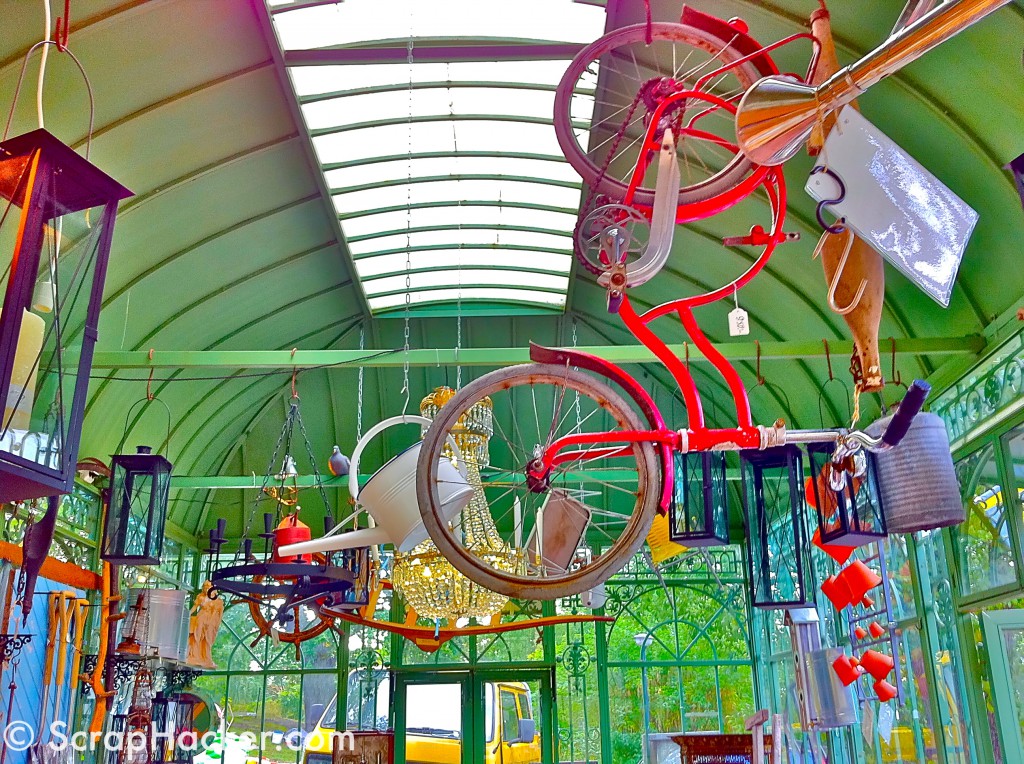 Nacka Byggnadsvård specializes in stocking typical accessories and details in order for houses and appartments to stay true to the epoch it was built in. As a result, you will find anything from vintage door knobs to old original doors from the 1890´s and onward. They´re doing a great deed in maintaining an interest in the true heritage of epoch styles – this place is a must-see for anyone with an interest in Swedish Architecture or any déco junkie for that matter. Here are some inspirational pics for you – Enjoy!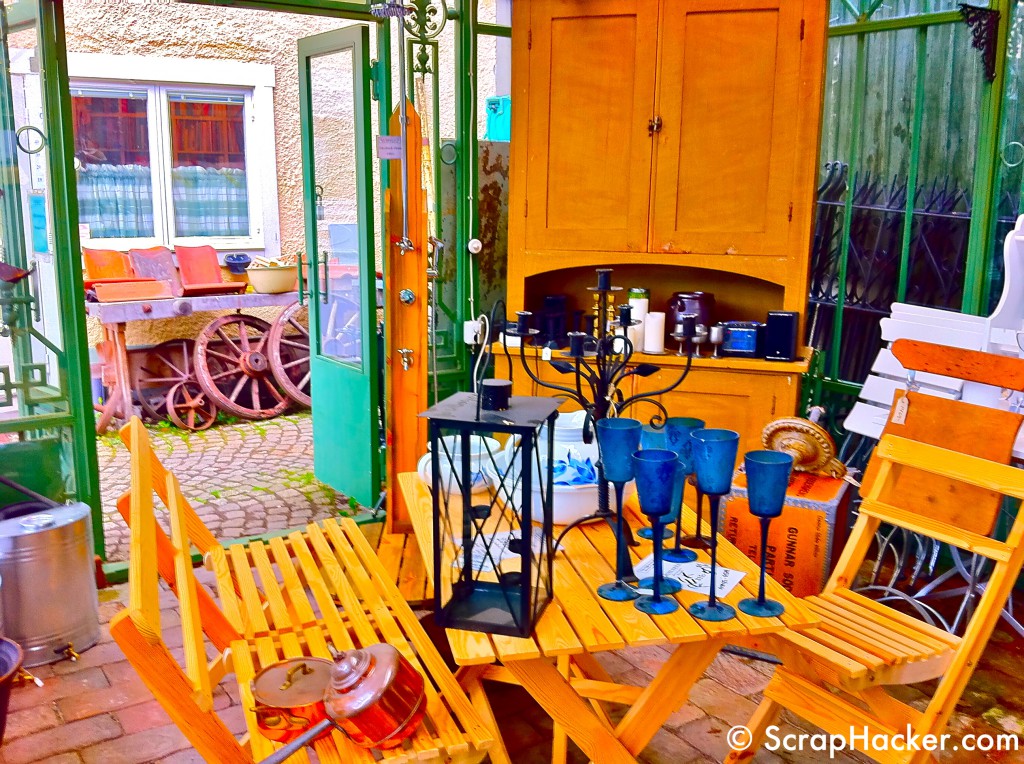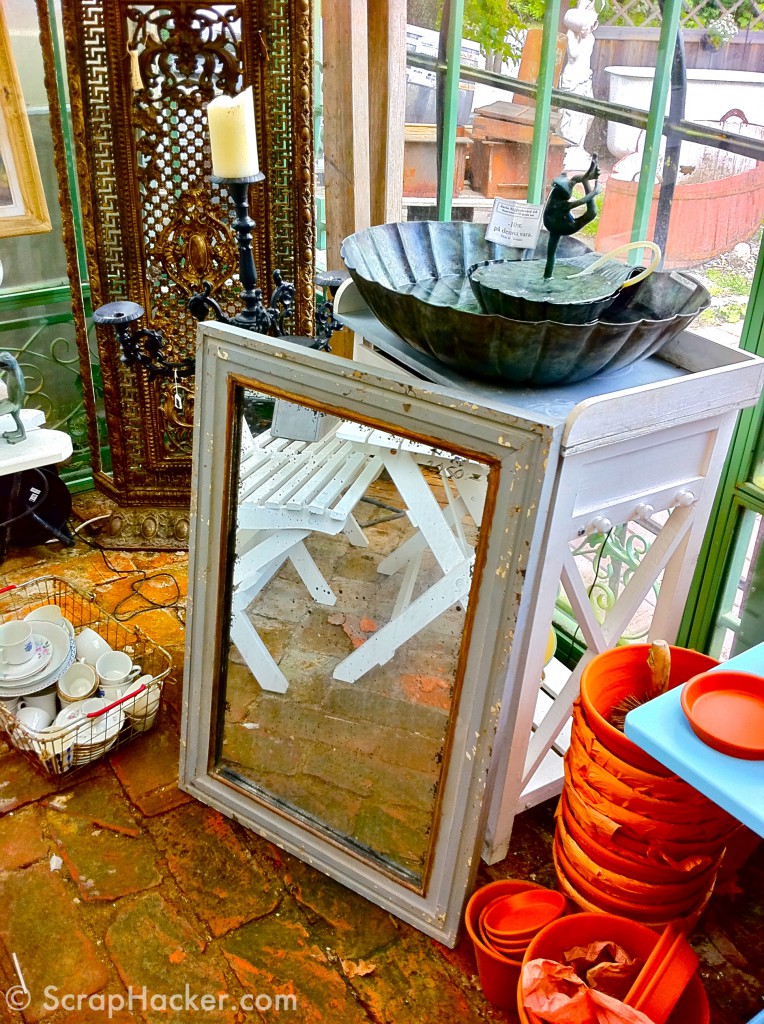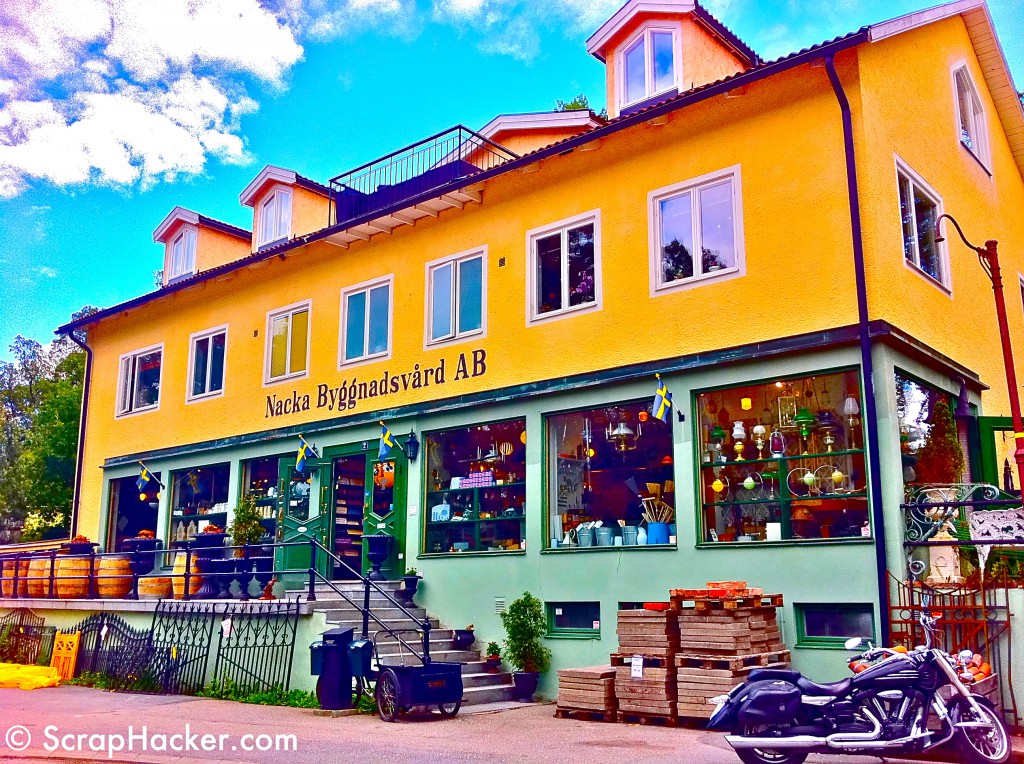 Nacka byggnadsvård (Nacka store) Stockholm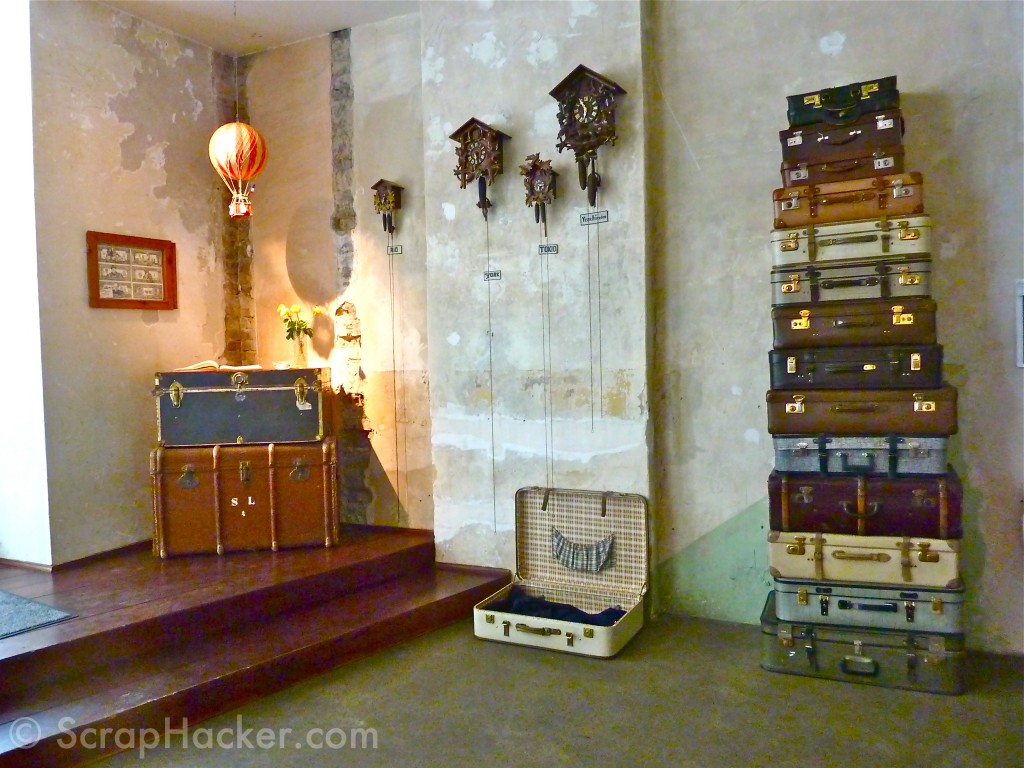 The Michelberger Hotel in Berlin is a great inspiration for all those clever, doable D.I.Y ideas! The Trunk Tower is a great focal point, the varying shades of muted greys, browns and greens and the varying sizes of the trunks create a stunning focal point in the reception. To D.I.Y you need to get ahold of some great vintage trunks – What´s great is that those are generally easy and cheap to come by. I´ve had my eye on quite a few – here are some picks from the Williamsburg Flea (On Sundays, between Brooklyns North 6th and North 7th Streets, just south of East River State Park).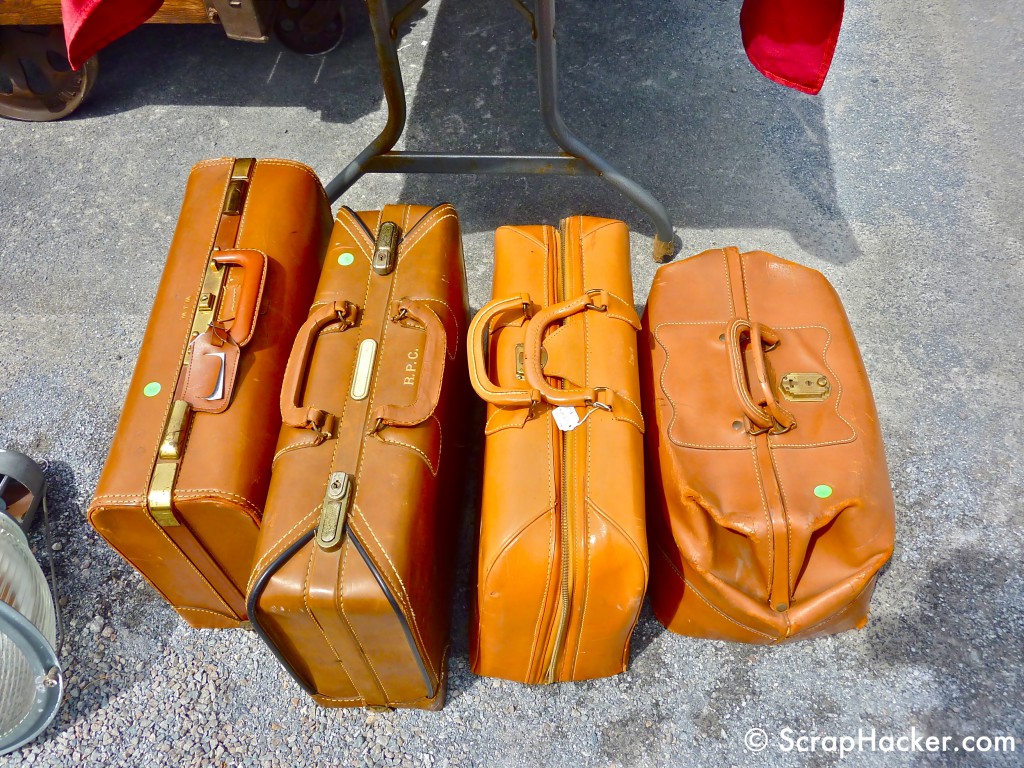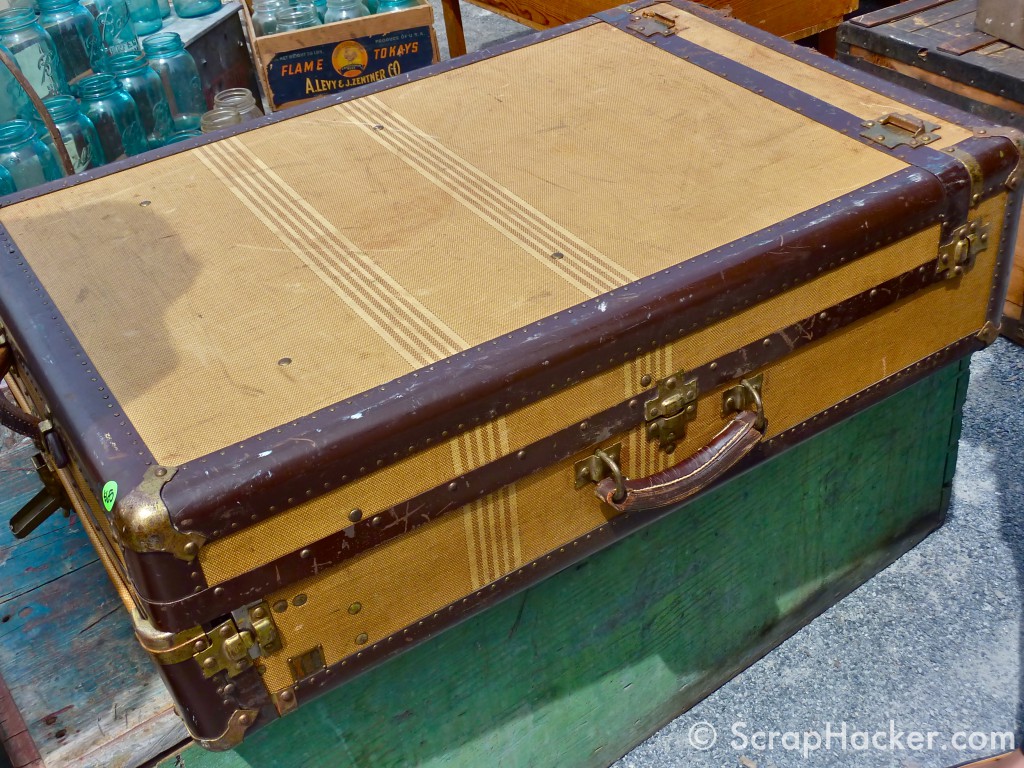 The Michelberger Hotel, Berlin
Visit online @ www.michelbergerhotel.com
The Williamsburg Flea, Brooklyn
Visit online @ www.brooklynflea.com
Brooklyn Industries is an industrious brand! Not only are their window sculptures eye-catching and intriguing – they also happen to be made of recycled inner tubes from truck tires! The attention grabbed by the B/W graphic sculptures are used to promote and spread knowledge on recycling practices. This is great win-win ScrapHack – Brooklyn Industries describes the sculptures an "interesting cross between American Industry and Summertime fun" – I couldn´t agree more!
Visit Brooklyn Industries online @
www.brooklynindustries.com
The tires were spotted at the B.I store on
162, Bedford Avenue
in Williamsburg See map featured @ bottom of post!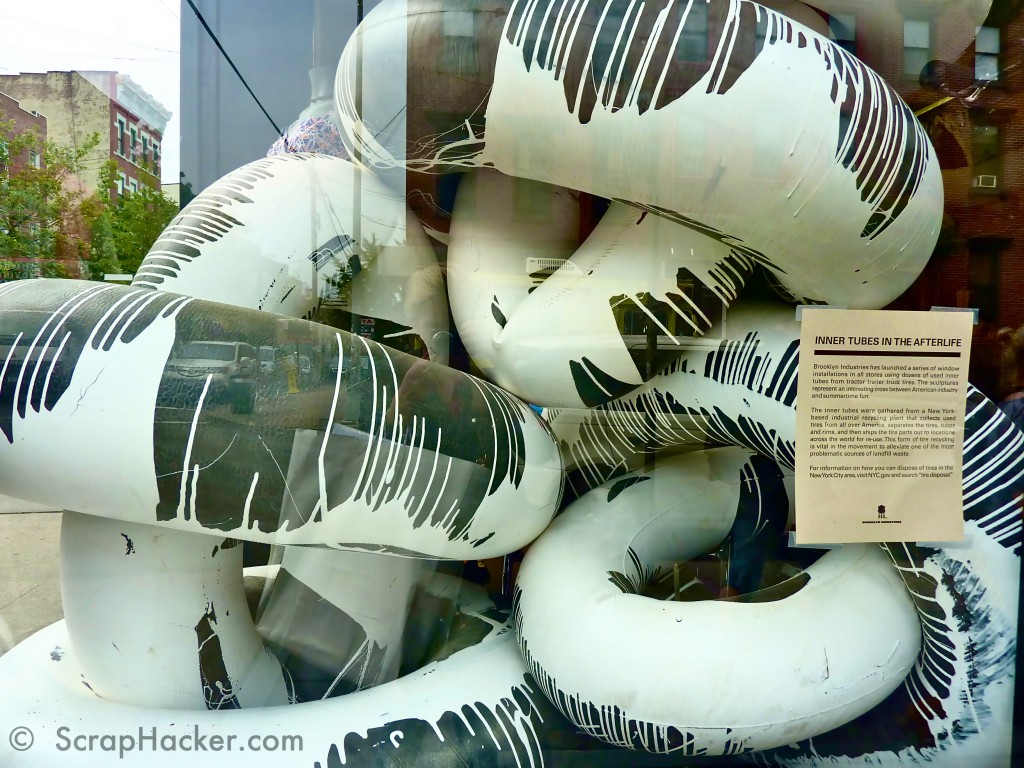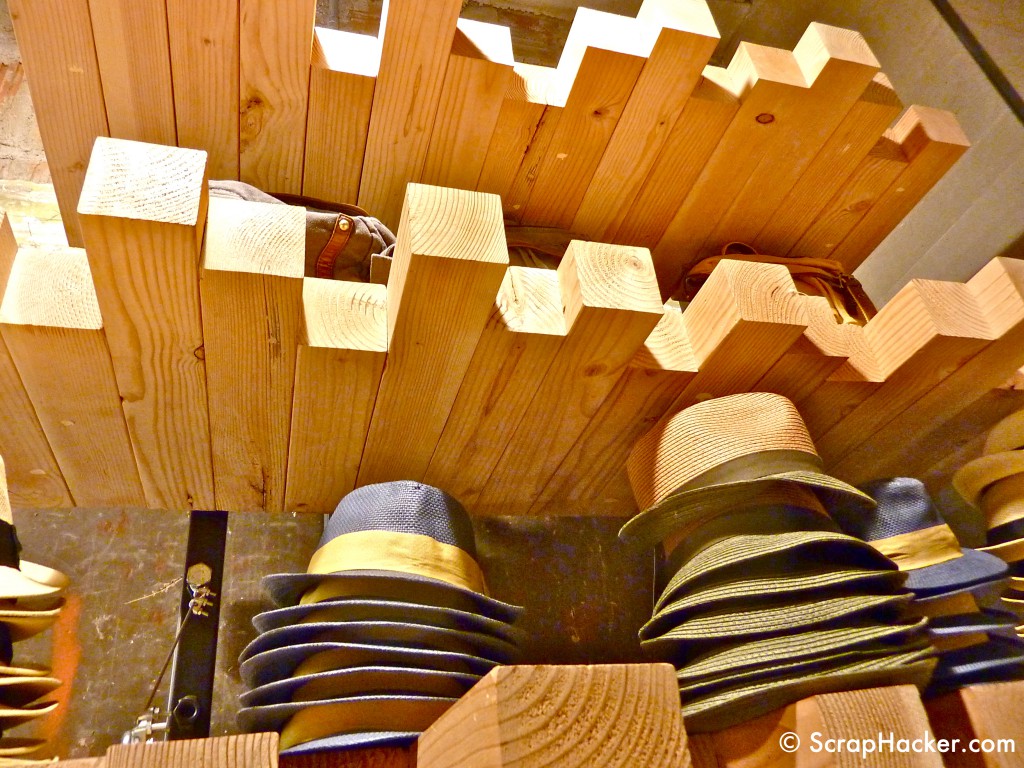 The visual merchandisers @ Urban Outfitters are a creative breed indeed! This Logpile shelf, spotted in the flagship store @ 5th Ave/E 43rd St is one of many strong in-store design ideas. The D.I.Y potential is fairly obvious, what you would need is:
1. Wooden log cutoffs in varying lengths – maybe you have some lying around the house…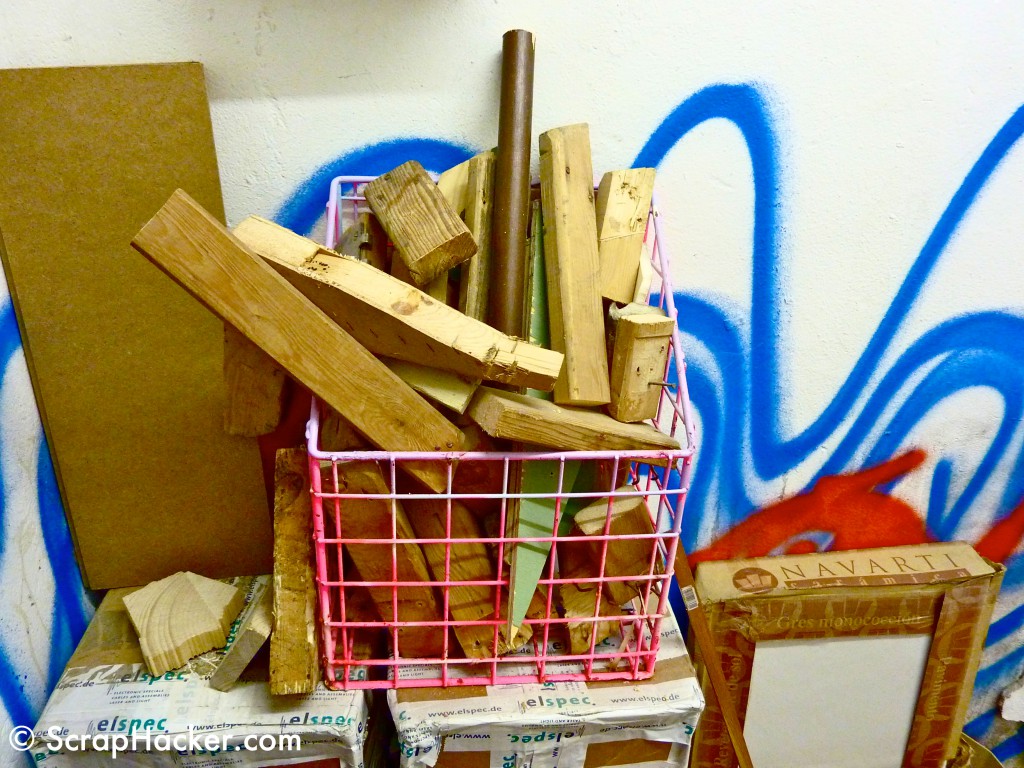 ..if not… then go to your local lumber yard – you can find some cheap alternatives there – featured below I have one example from my local (Stockholm, Sweden) Byggmax, a 45mm´45mm option for 6,25SEK (Swedish Krona)/metre – equal €0.70 or £0.50/metre!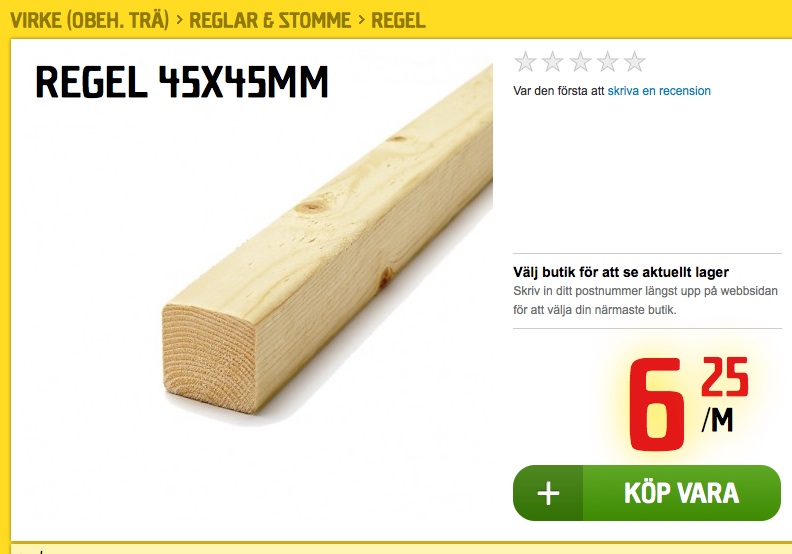 With the 45mm dimension you´ll need about 6 meters for a shelf that´s 100cm long and an average of 30cm deep!
2. You´ll also need some glue to make the logs cling on to eachother! Use white water-based glue that´s specifically for wood! Use a lot of glue! Smear lots of it over the entire surface of both "meeting sides" (using your finger is what I do). A professional carpenter once told me that too little glue was a common "rookie mistake" – You should see the glue being pressed out while clamped together! The excess can easily be rubbed off if you wait about 10 minutes (if you do it directly the glue will be to wet – if you wait to long it will be too dry!)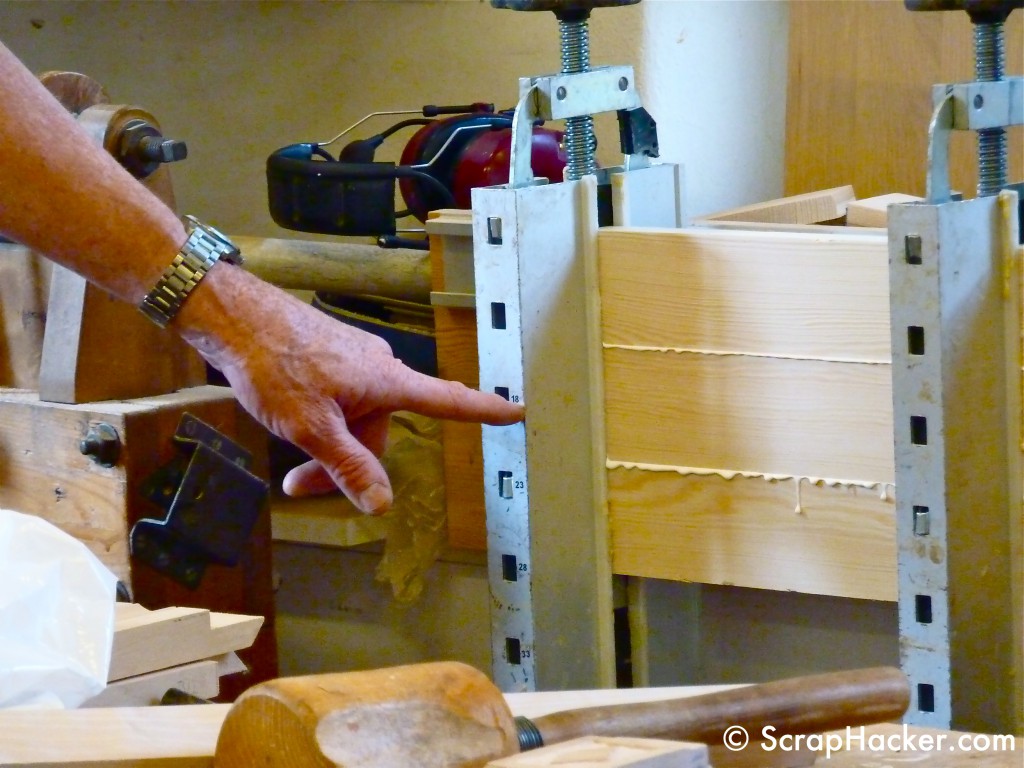 3. Lastly – you´ll need a little something called a "sash cramp" (you´ll need about 4 of them) which is a practical tool that will add pressure in the glue drying process – and hence, provide a strong and durable shelf! There are many kinds – the picture above features a professional one I saw in a workshop, the one below has a good 140cm clamp range and is from hardwear store Clas Ohlson (£9.99)
As mentioned – This is just one example among many creative ideas in the Urban Outfitter stores – Fortunately there are lots of Urban Outfitters´stores around the globe to inspire all aspirational ScrapHackers!
Visit Urban Outfitters online @ www.urbanoutfitters.com Visit them in real life @ a store near you –
click here for global shopfinder
The store I visited was @ 5th Avenue/E43rd Street!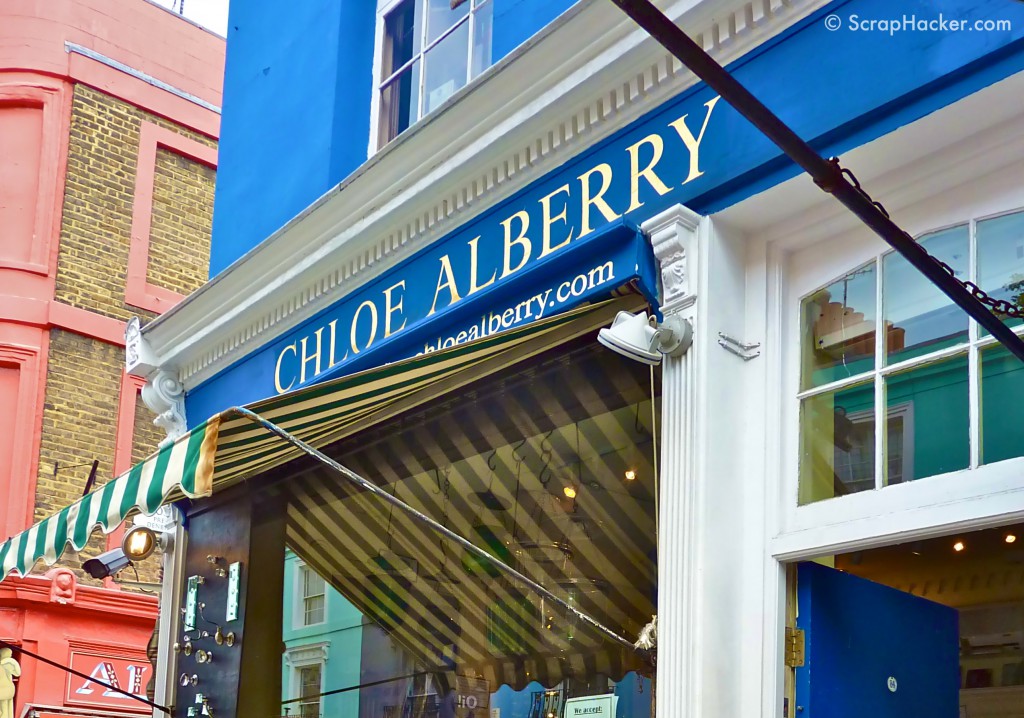 Chloé Alberry on Portobello Road is a great shop for scrappy chic ideas. The shop features a wider than wide assortment of door knobs, handles and bar pulls. The ones featured in the picture below has great D.I.Y potential!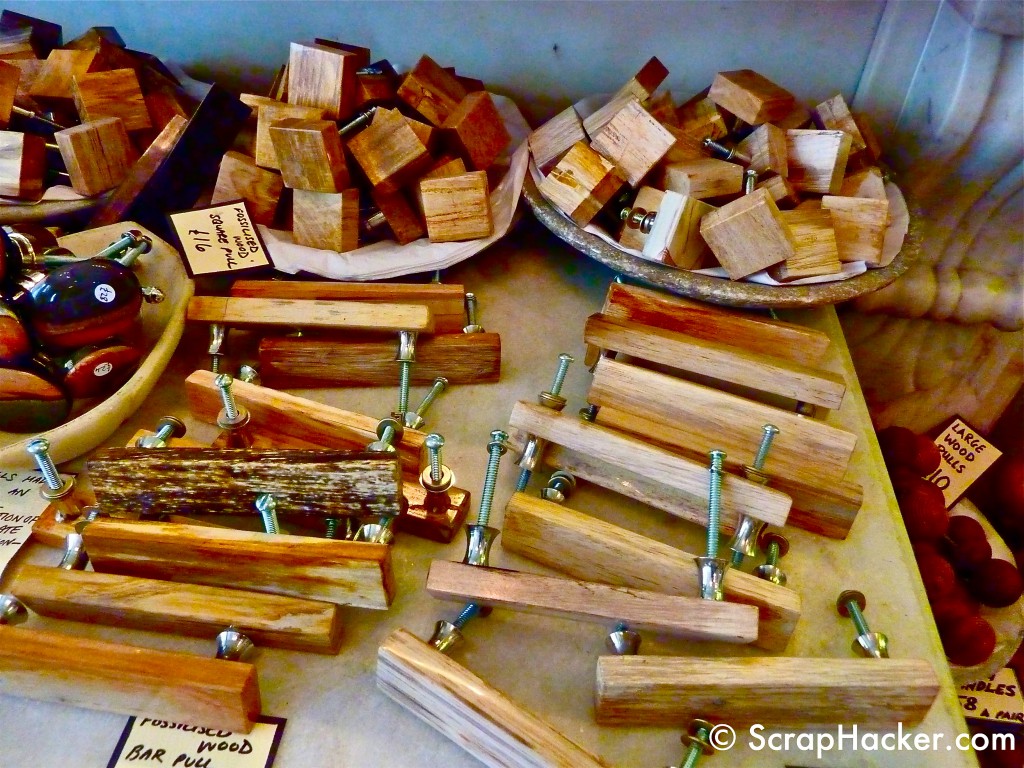 If you study the photo you will realize that the basic stuff you would need is as listed below:
A piece of scrap wood, perhaps from a felled tree with meaning to you and that you´d like to keep a part of
Some Glue, a drill and some imagination!
For example: A metal sleeve of say, 6mm inner diameter
For example: A slotted screw or threaded rod with a matching diameter.
There are many ways to create a working bar pull – use your imagination and I´m sure you´ll find a way! Thought i´d give you some more inspiration from the Chloé Alberry Shop while i´m at it – Enjoy!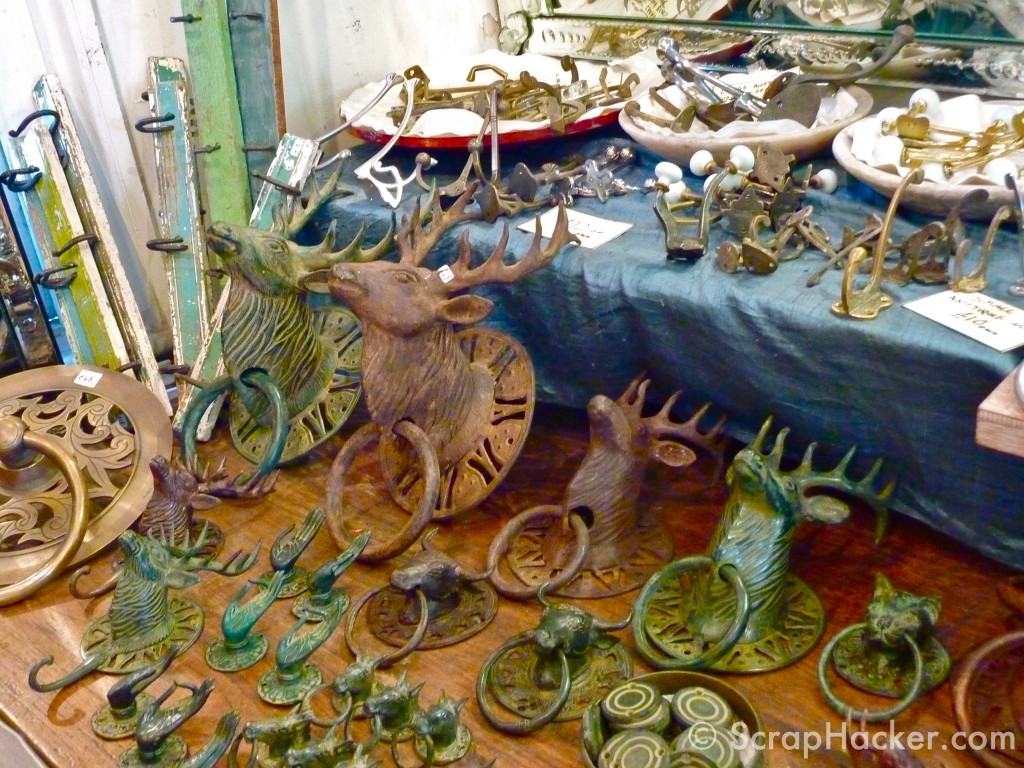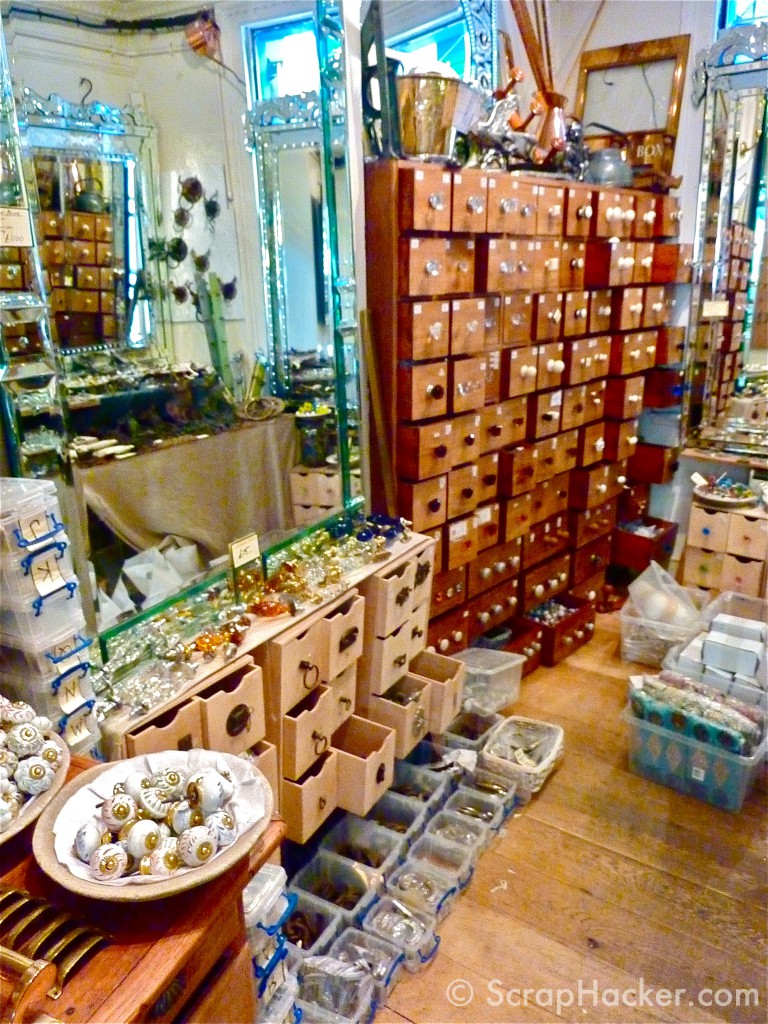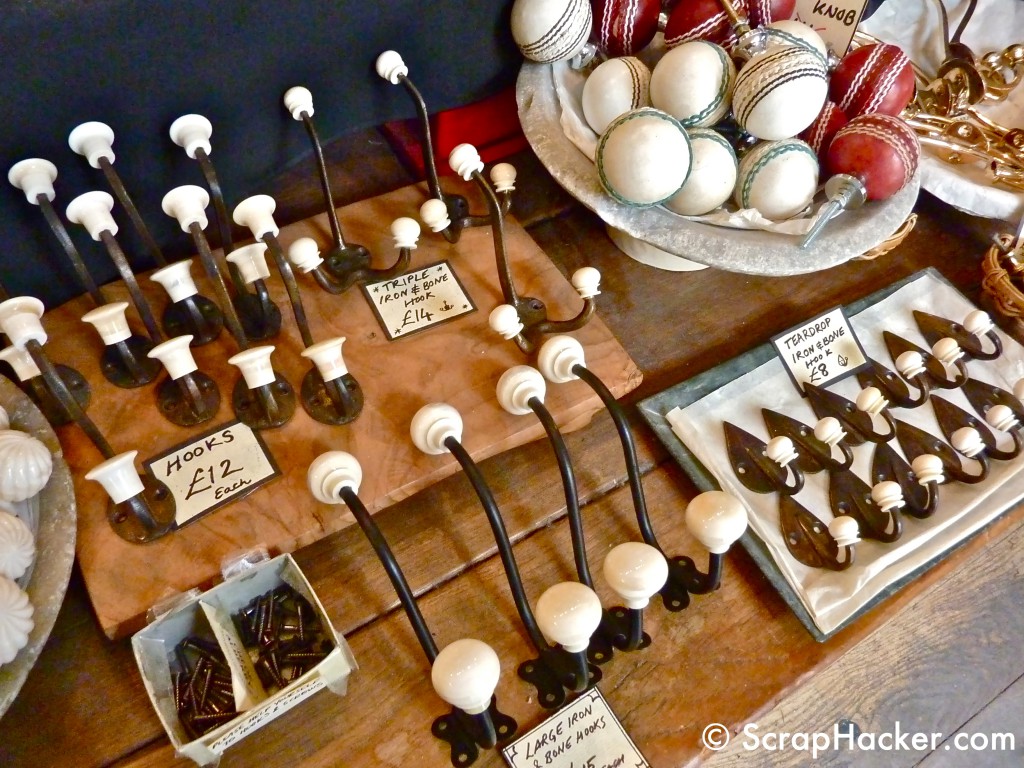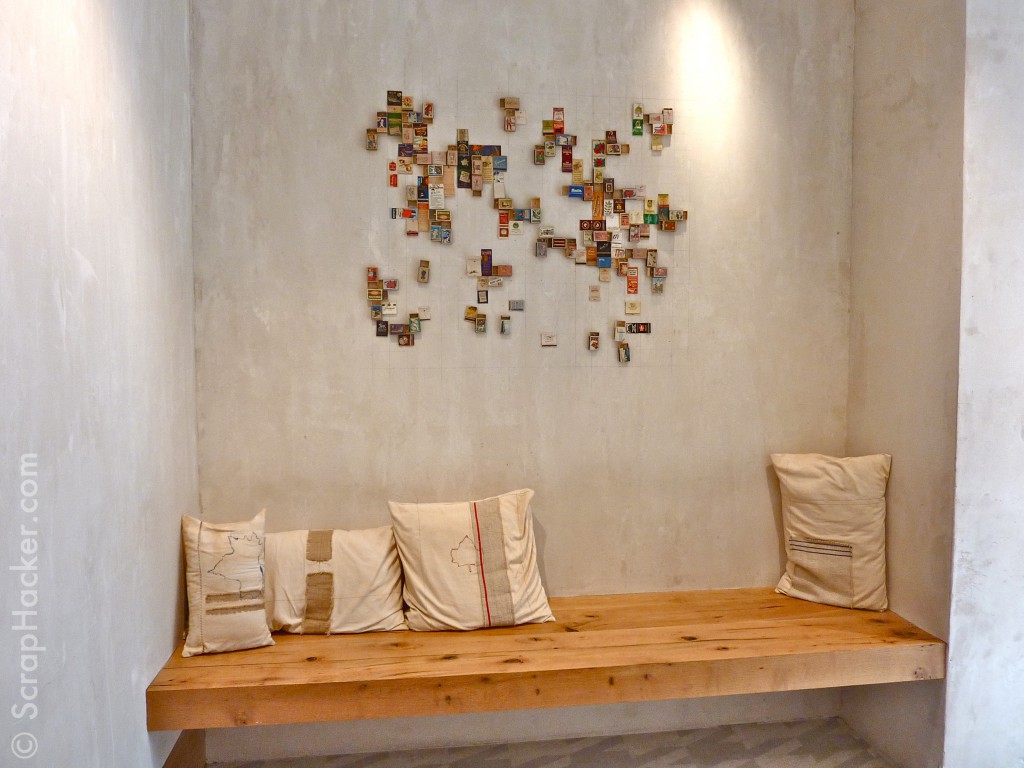 A lovely matchbox wall sculpture caught my eye outside of the changing cabins at Anthropologie London Regent Street store!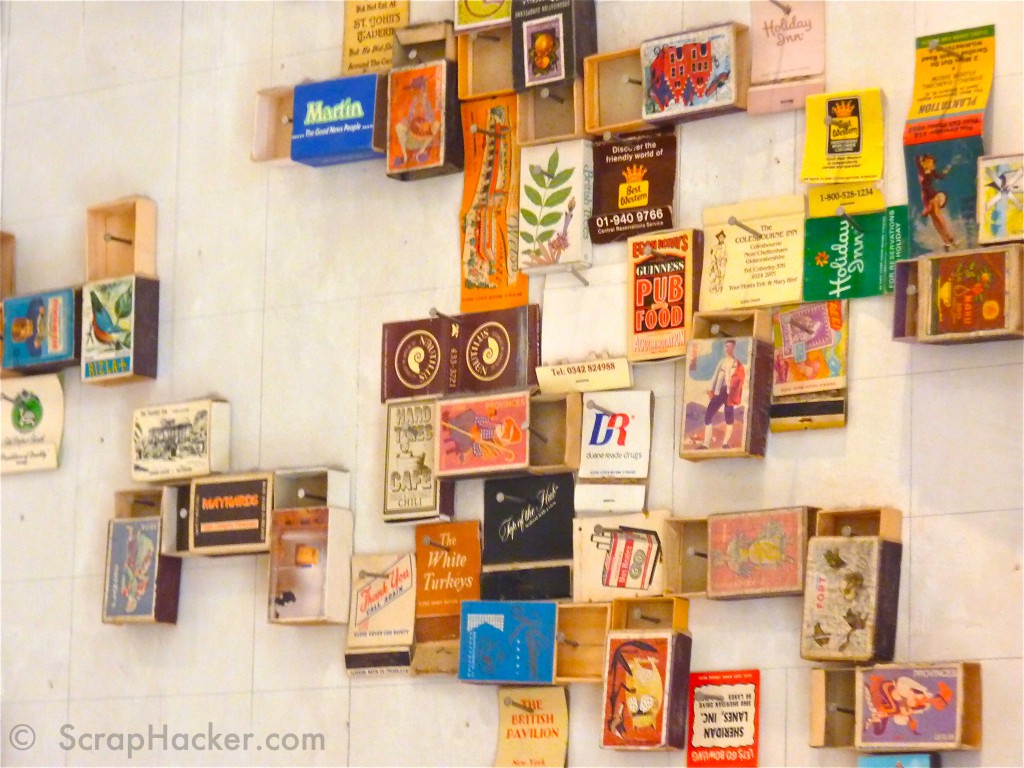 The hack is straightforward – vintage matchboxes were fastened onto the wall and along a grid of penciled lines that were left visible. The effect is a floating, 3D sculpture rich with meaning, association and stories!
This wall sculpture is a great way to breathe life into any collection of gadgets that would otherwise reside in a box somewhere!
What you need for the matchbox wall sculpture D.I.Y:
1. A collection of cool matchboxes!
2. A pencil
3. A ruler
3. Some adhesive!
Good Luck!
D.I.Y – Scrabble Magnets inspired by Anthropologie
Basic, simple idea I saw at Anthropologie in London – Scrabble tiles are reborn into a life as magnets.
What you need for the Scrabble Magnet D.I.Y:
1. Buy an old set of Scrabble in a yard sale alternatively, find one in your attic, or use the one you never use…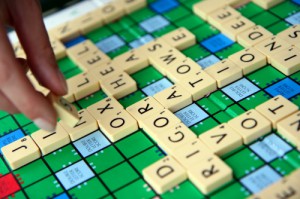 2. Get some magnets from your hardwear store, who often carry Hobby Magnet kits (like this one).

3. Glue the magnet to the back of the Scrabble bits! The magnets have one magnetic side and one non-magnetic side, so make sure you glue the non-magnetic side to the Scrabble bits!
And, voilà – Your very own Scrabble Magnets all ready for action!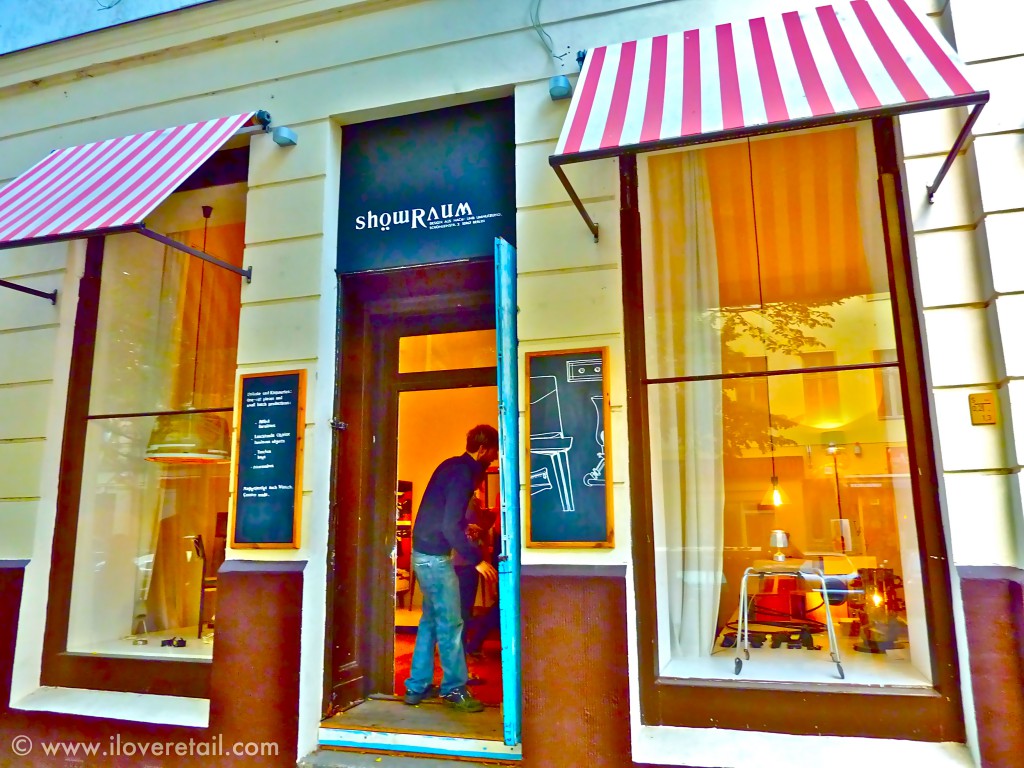 Showraum in Berlin is a fantastic "hack" studio and shop. Patrick and Regitze Kerti started the studio which features tons of great stuff made of found and recycled materials. The cupboard below is restored from West Germany of the late 50s. The graphic is one of Regitze Kerti`s architectural illustrations, hand painted in black and white onto the surface, read more about it here.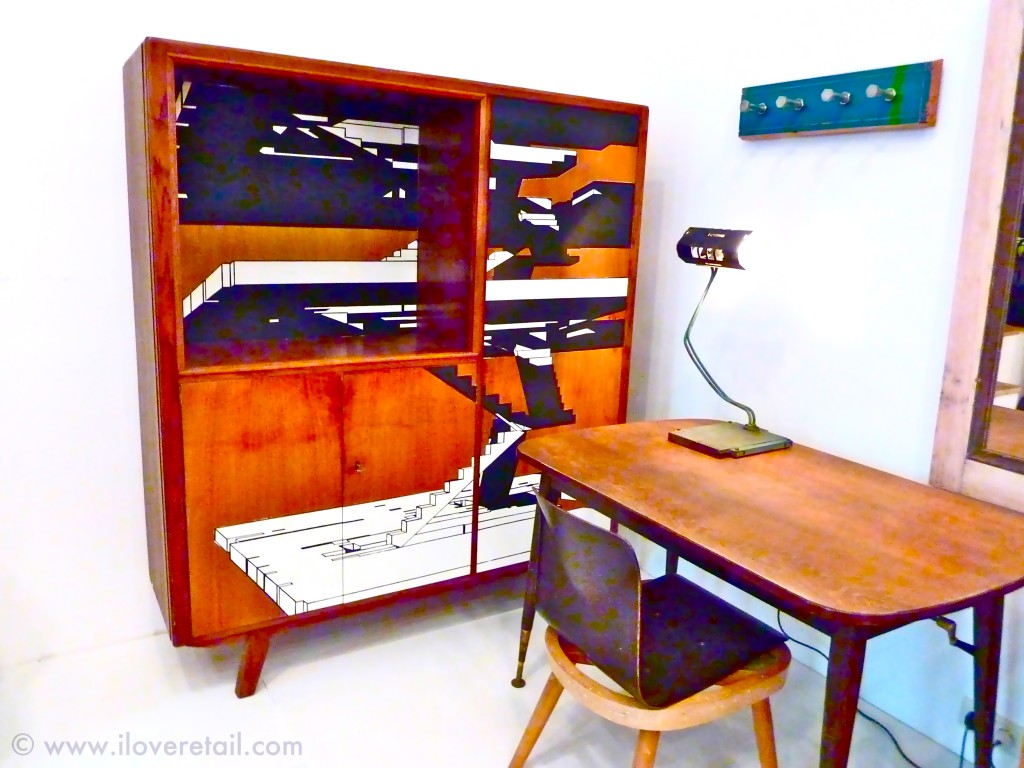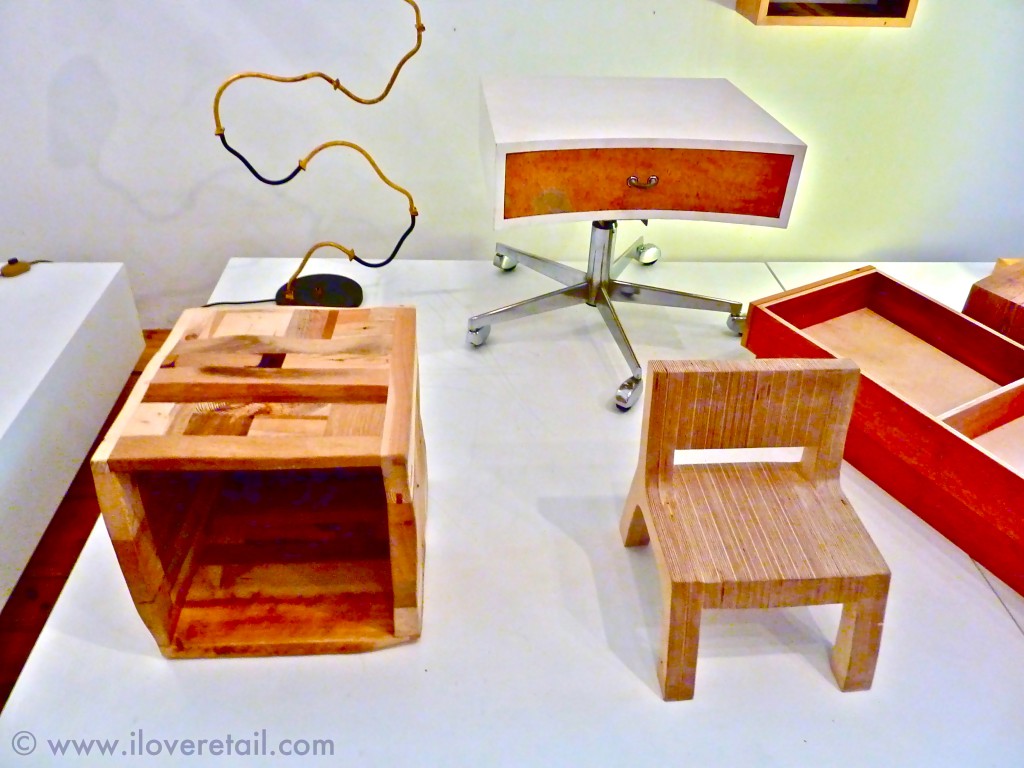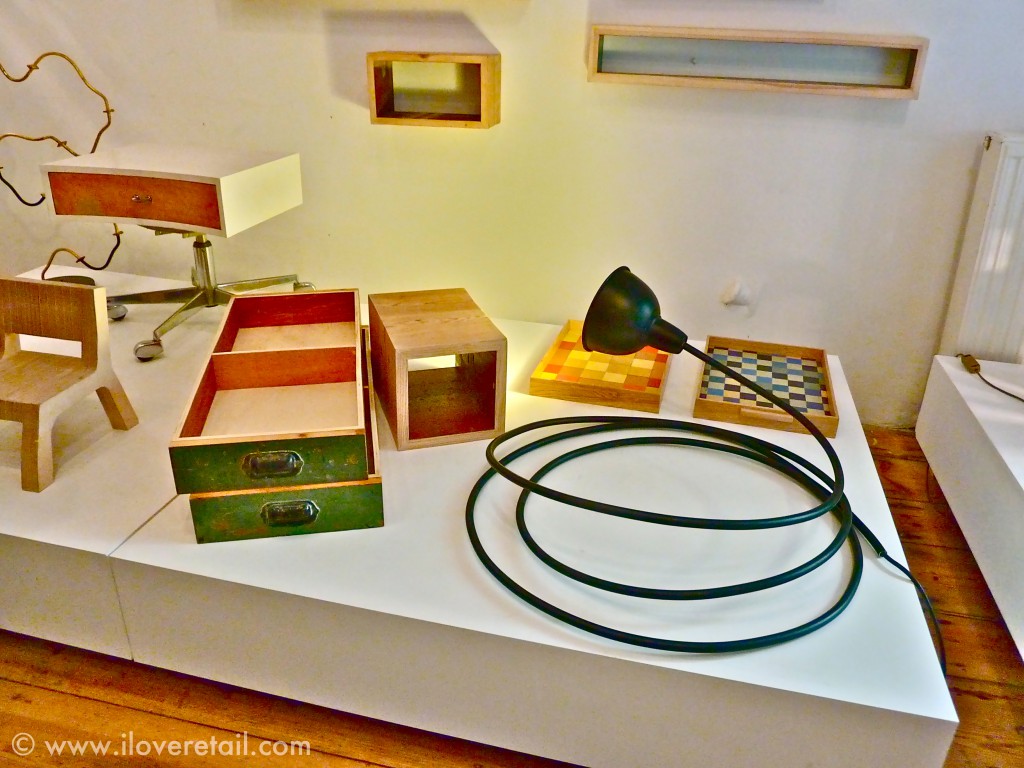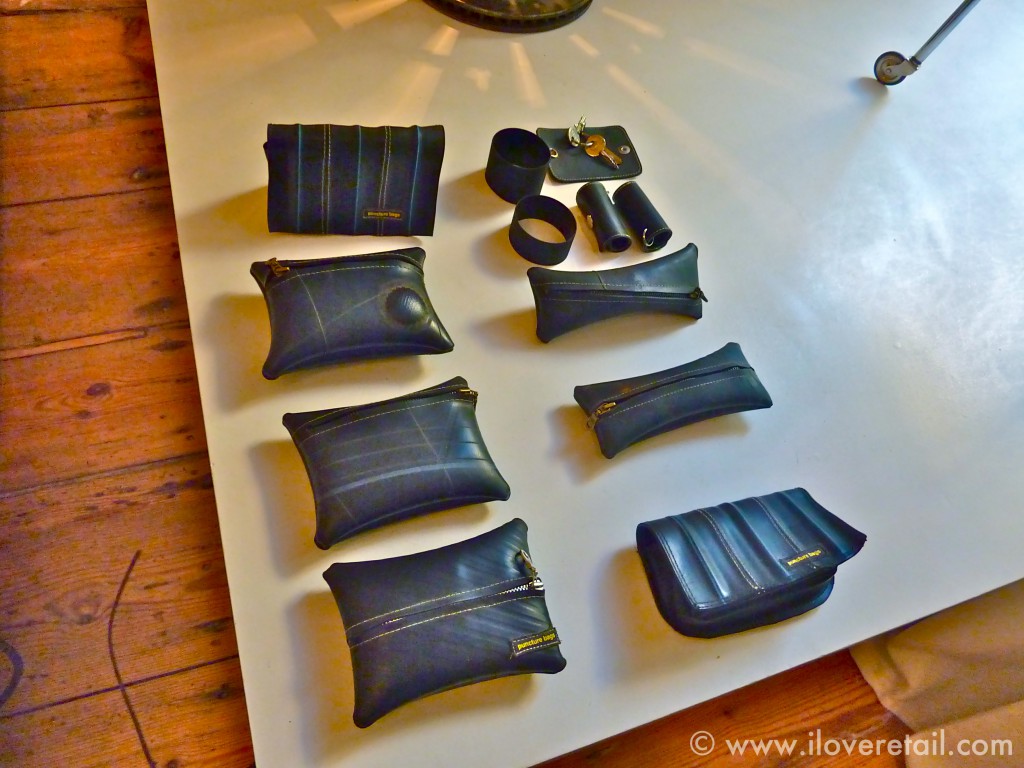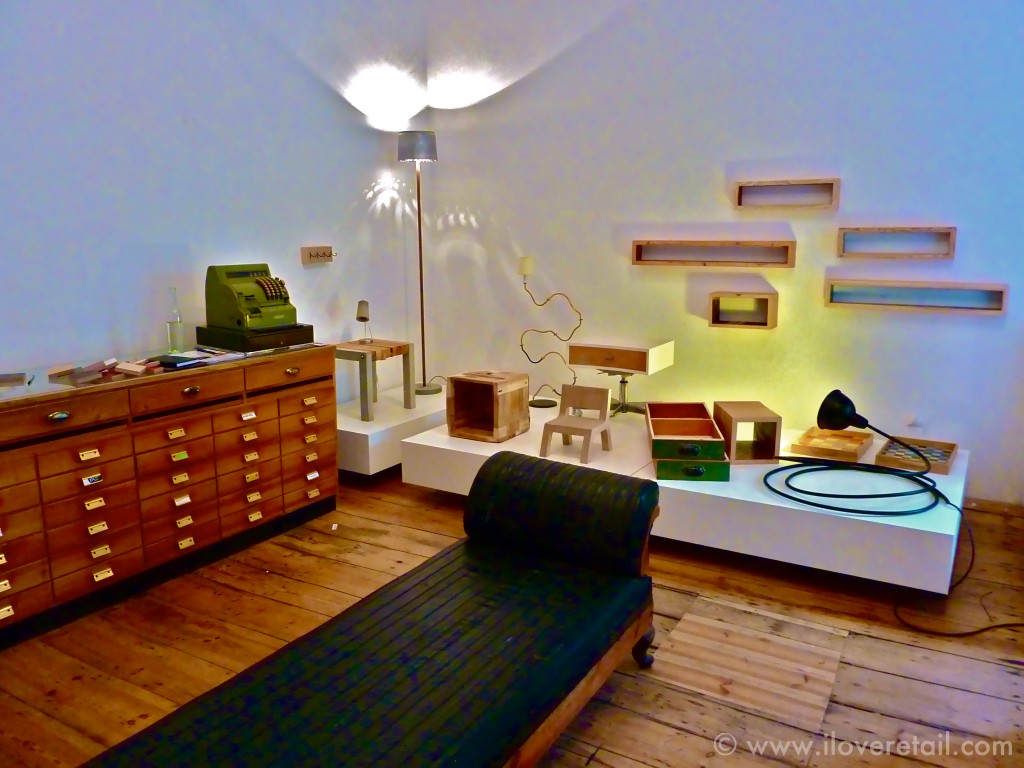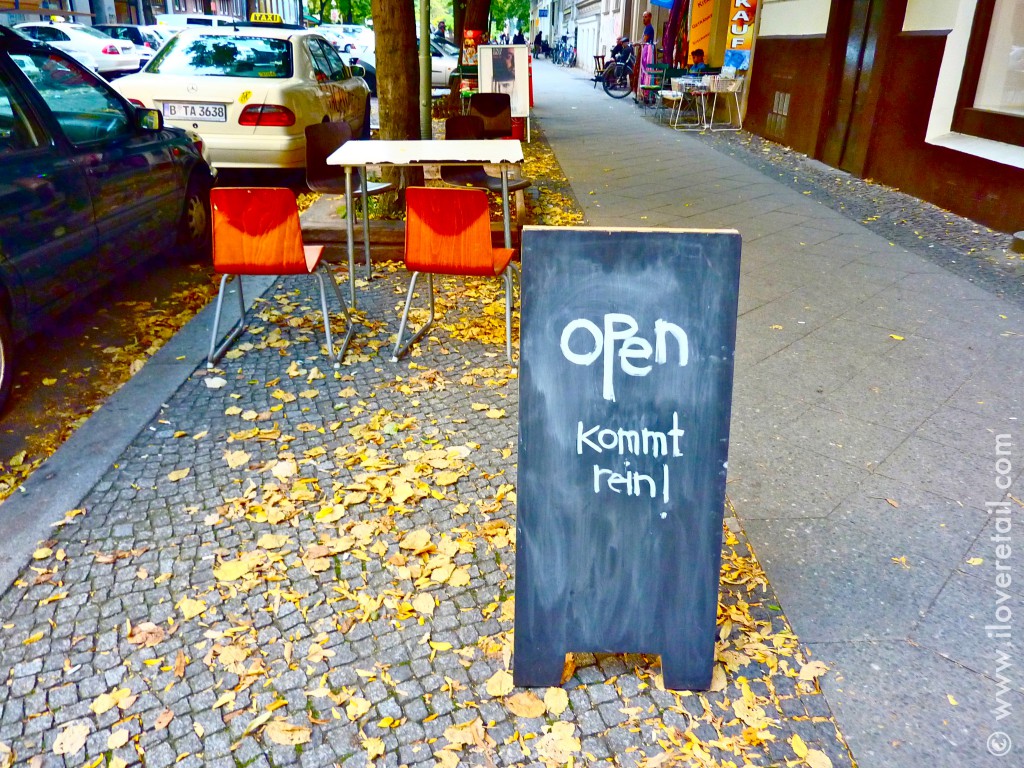 For Showraum´s great website – click Here For ShowRaum on Facebook – click Here
ShowRaum (Schönleinstraße 3, Berlin)
I recently had the pleasure of stumbling across the And Dots bubble tea bar in the up-and-coming Reuterkiez neighborhood in Berlin. The And Dots Bubble Tea bar is full of creative spirit and features amputee chairs, D.I.Y rocking chairs, a "Give Box" (in which you can drop things you no longer want and grab something new from the shelf in exchange) a nesting bird box (matching the logo in terms of pattern in color) in the green space right next to the café.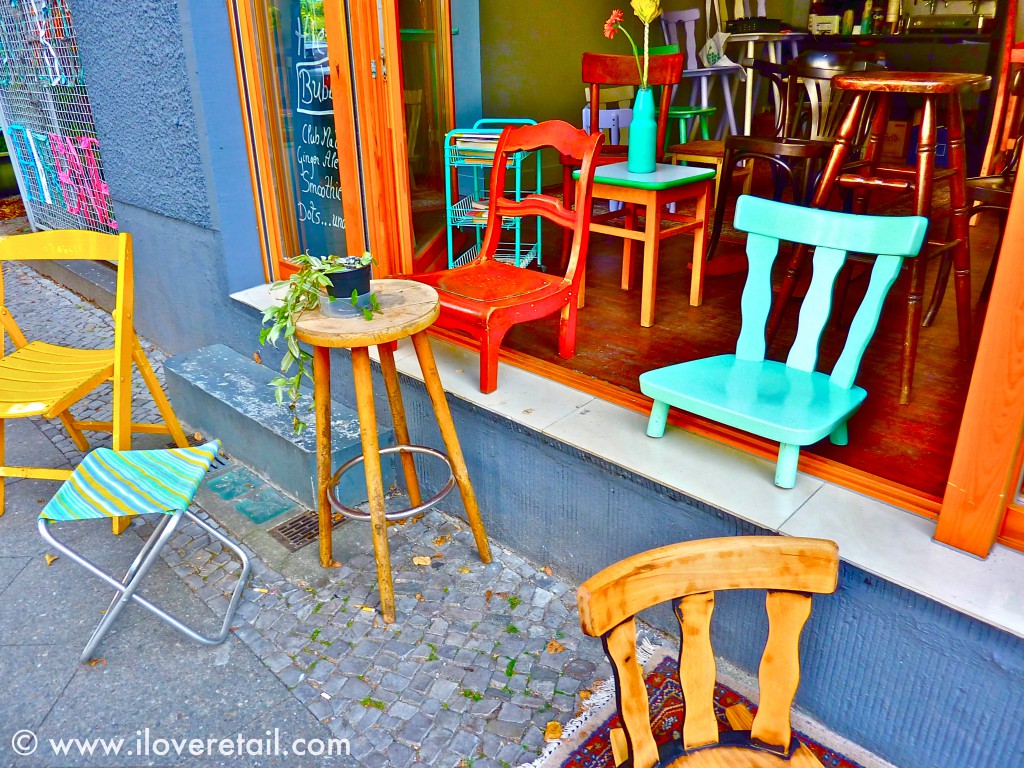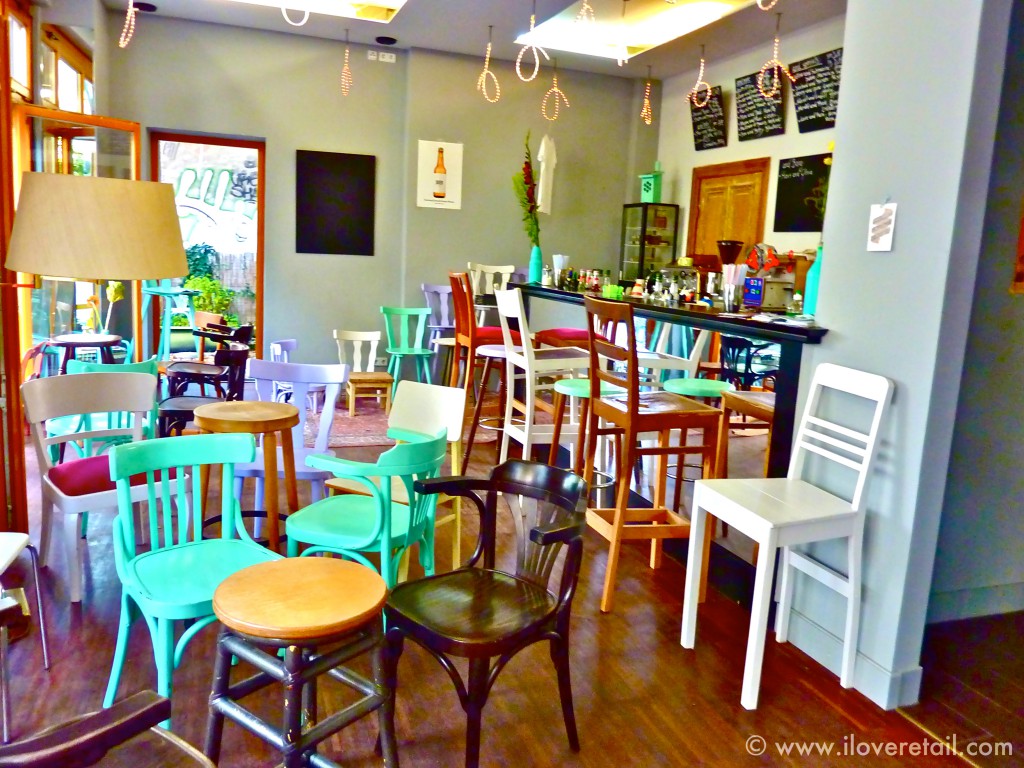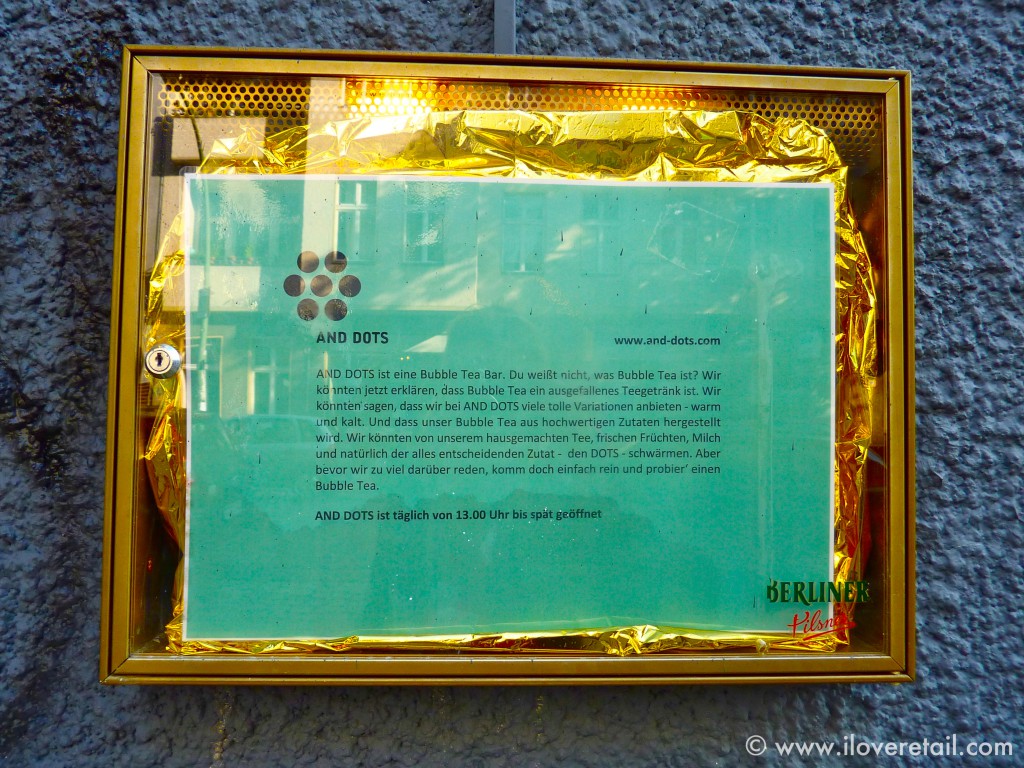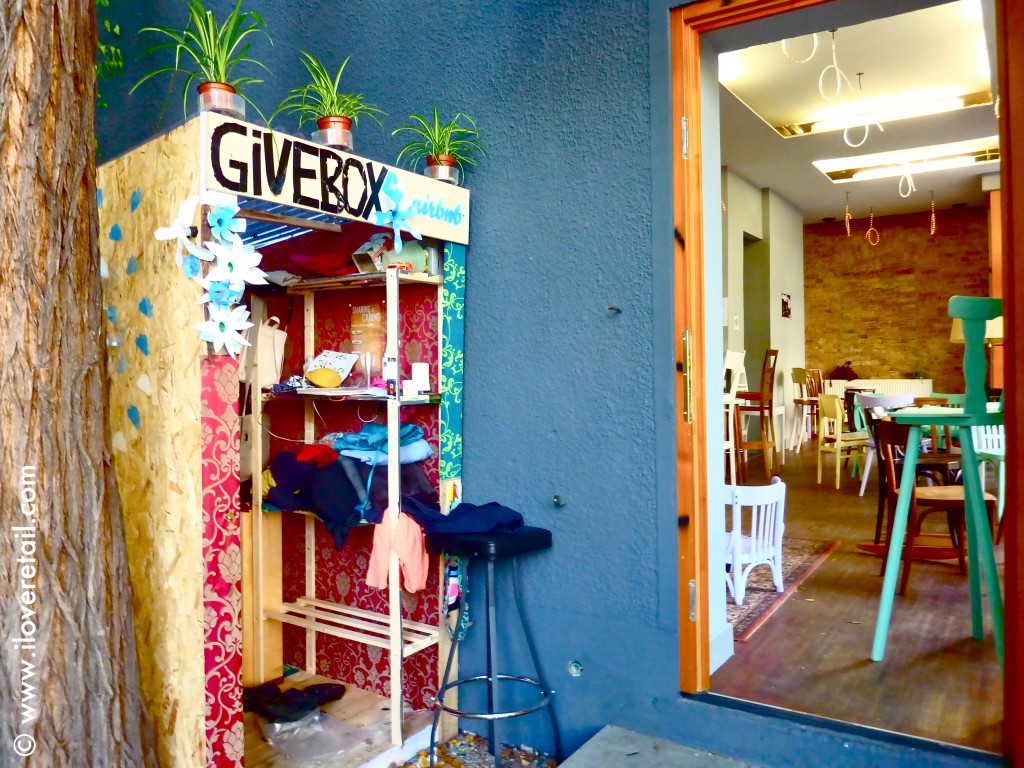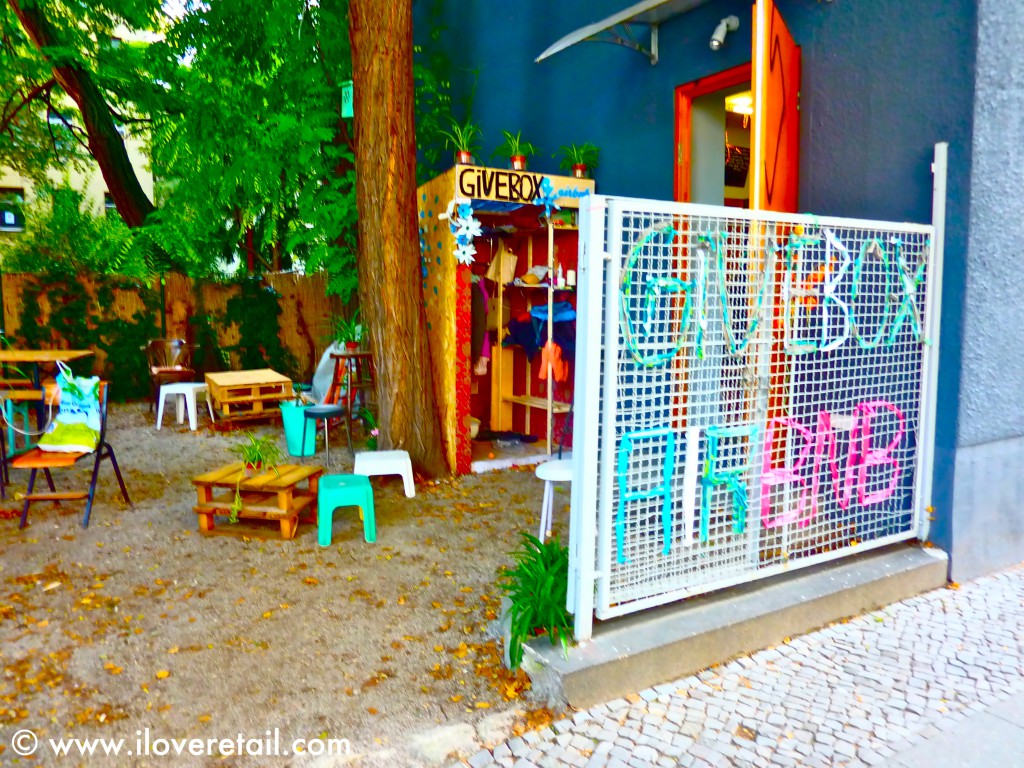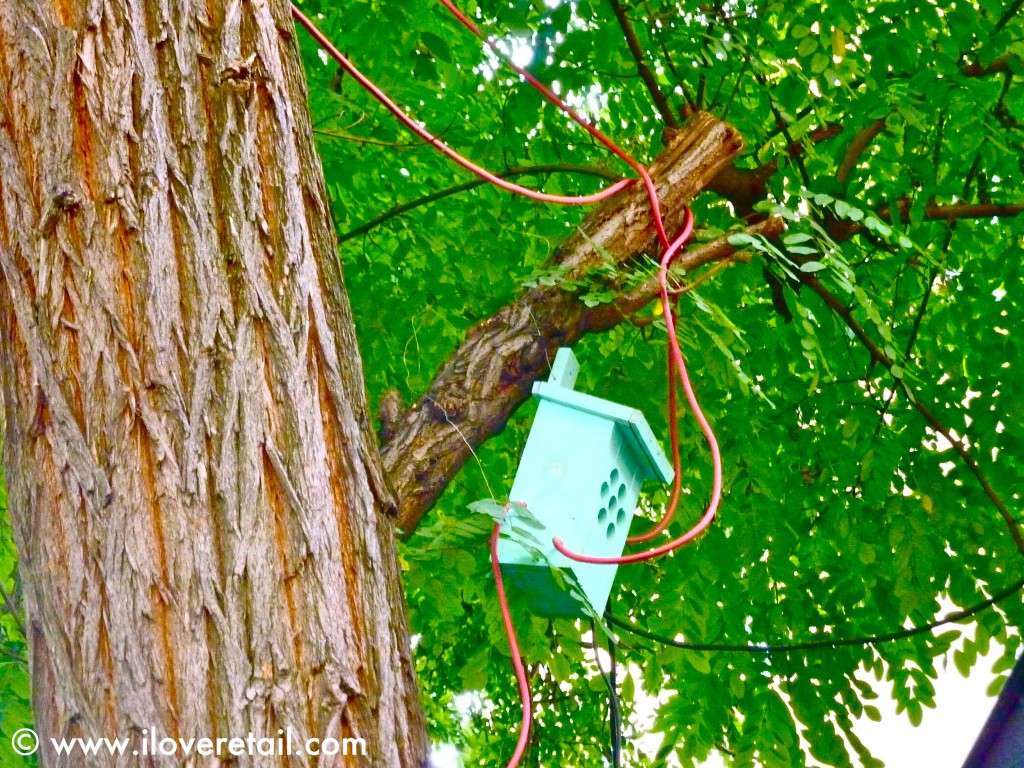 To visit the And Dots Bubble Tea bar in real life, head off to Weserstraße 7, Berlin!
 And Dots Bubble Tea Bar, BERLIN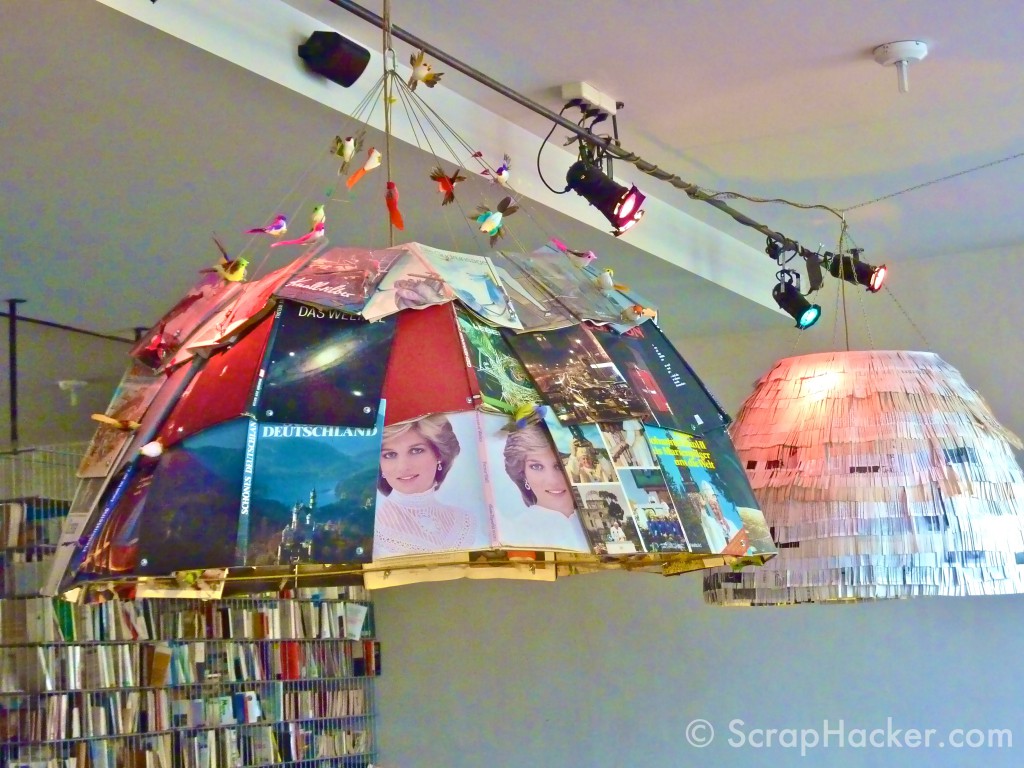 This is yet another example of the abundance of brilliant ideas @ the Michelberger Hotel in Berlin. A steel wire frame has been covered in old book and magazine covers. Strings have been added afterwords, and small colorful colibri reside on top of it.
You can D.I.Y by stripping an old lamp shade or by finding naked frames in a secondhand store. As magazines feature a great variety of pictures and colors this idea is easy to customize into something very unique and very you! In this era of E-books – it feels better to put old books to use than to throw them out – don´t you think?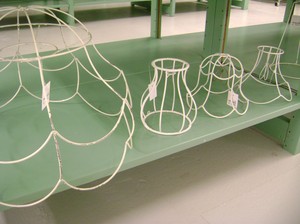 The document shredder was put to good use in the creation of this marvelous layered fringed lamp!
As you can see, the Michelberger features tons of great decor ideas…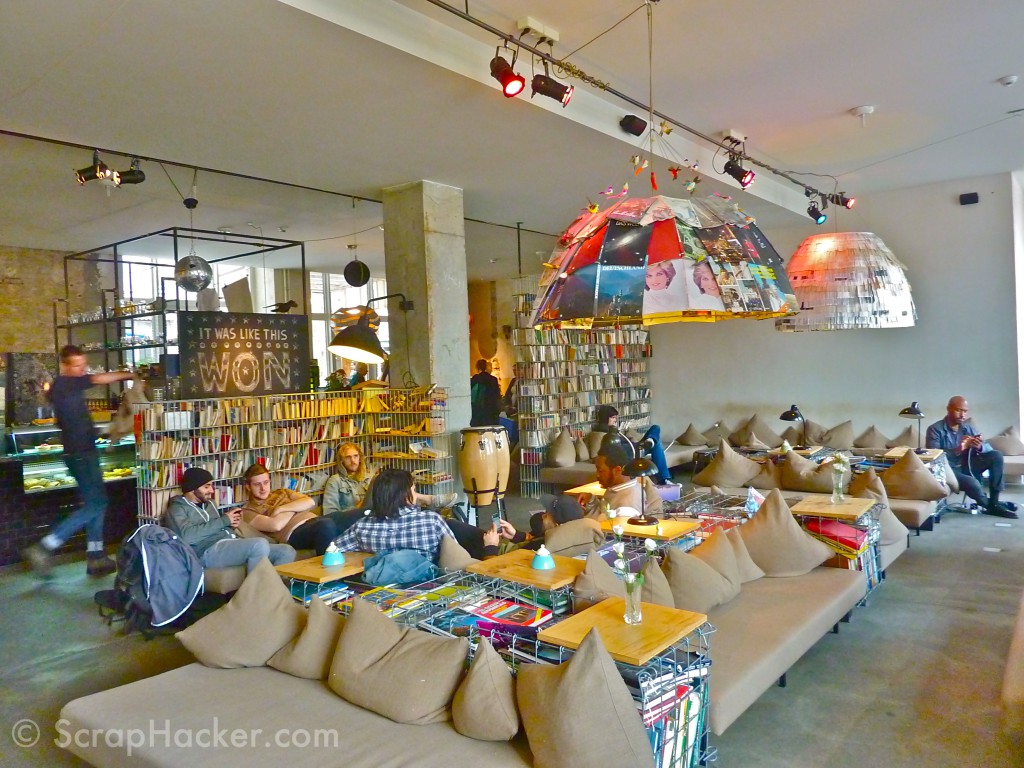 Something in the same style:
The beautiful blog "Under the Sycamore" with magnificent photos by talented Ashley featured a great tutorial of a similar looking hack, but she opted for keeping the wire frame naked. Ashley features tons of great, simple hacks on her blog – Go to her D.I.Y lamp tute here.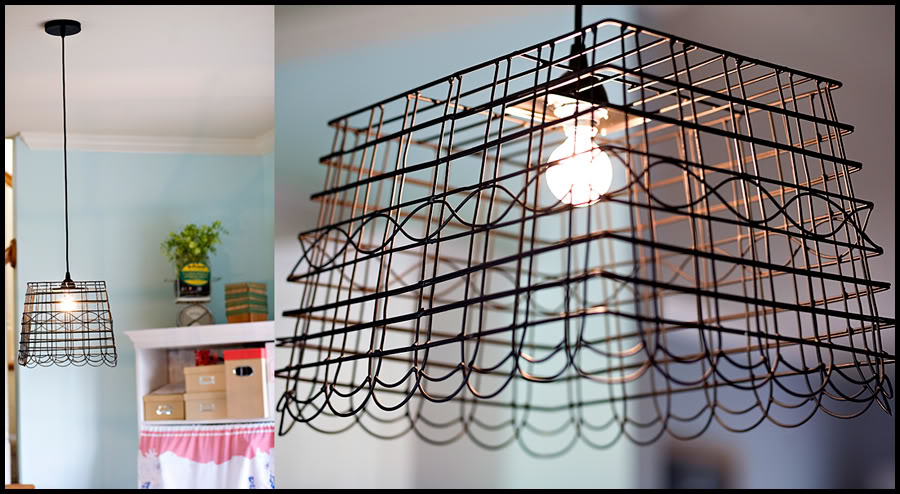 Michelberger Hotel in Berlin is a ScrapHacker´s haven, mecca – Wonderland…Ingenuity, style and humor are all important components in the eclectic and lovely Scrappy Chic Decor – needless to say – I´m a big fan! Lighting and fixtures are all special and original, and all hacked, in one way of the other. I´ll feed you all the inspiration nuggets individually, and in detail, to get you practically inspired for some D.I.Y action:
Fringed Bar Pendants
The fringed pendants speak for themselves. The fringes are made of magazine shreds which are glued to the inner lining of the pendant. The effect is a more intimate lighting as the lit scope of light is narrowed down, making the bar the focal point.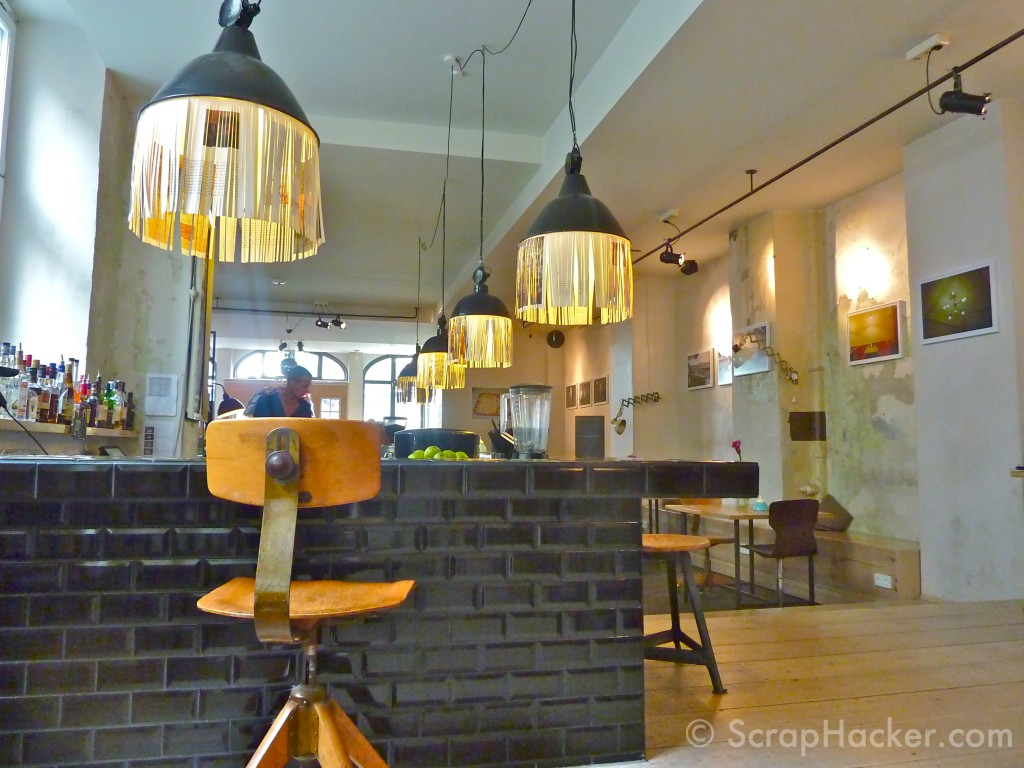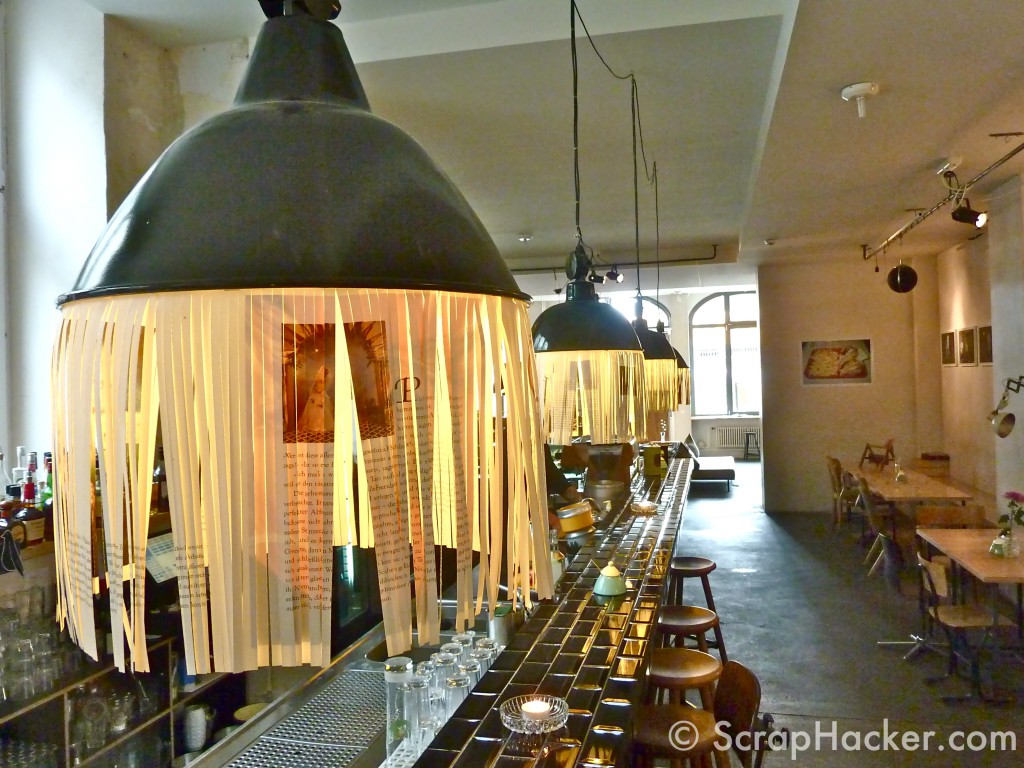 What you need for the Michelberger Pendant D.I.Y:
A pair of scissors or a document shredder
Some old mags´
Some adhesive – Scotch is probably most practical!
A pendant lamp, IKEA´s pendant FOTO (featured below) is a good match if you´re looking for the same style. IKEA´s Foto exists in 3 sizes (25cm/38cm/50cm in diameter) and 3 colors (ivory, black and brushed steel)- so you´re free to create after your own style…
The Hack is pretty Straight forward from there – Best of Luck!
ps. Ensure there´s an appropriate distance between the light bulb and the paper shreds! ds.
Visit the Michelberger Hotel online @
www.michelbergerhotel.com
(great web design there…) In the real world @
Warschauer Straße 39
(U-bahn: Warchauer Strasse)
This is my dining table – It cost me a rough 30€ to make. Wanna make one of your own? Follow my 10-step tutorial and you´re as good as home!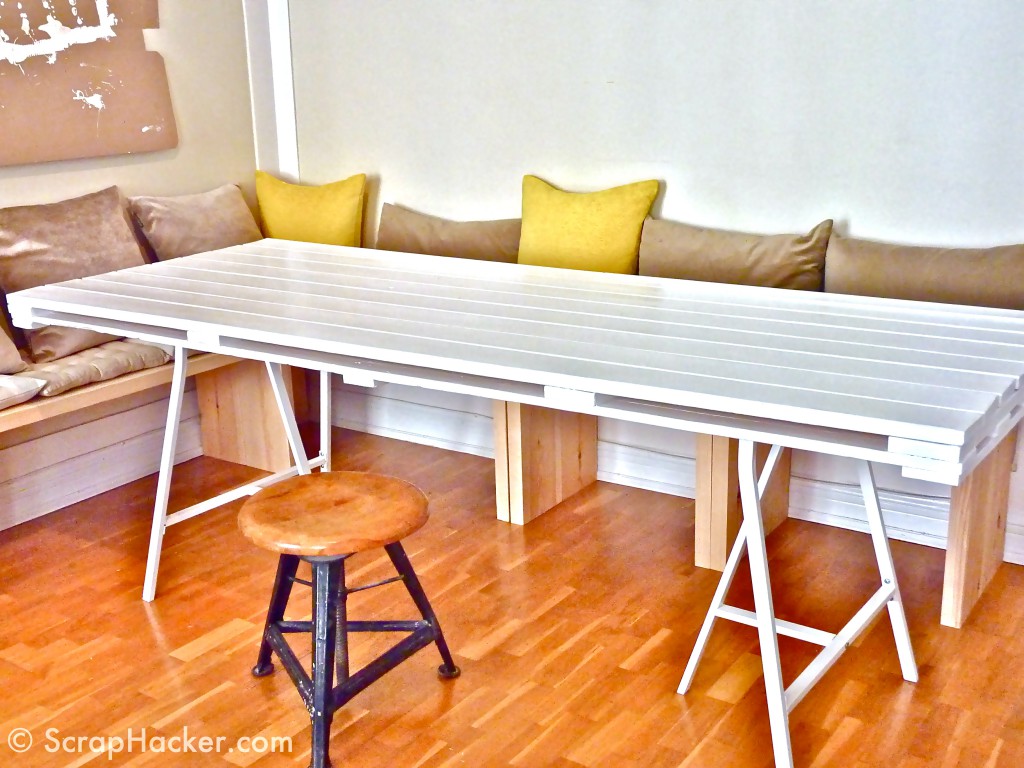 What you need to D.I.Y!
Tools
Materials
A pallet of a size that suits your needs for a dining table (I used one that measured 220cm´75cm)
8 boards for a top plank cover (I used 8 pieces that were 220cm long and 9.5cm wide (as 75 /8=9.5) which totals 17,6meters of 9,5cm board)
Wood Sealant (to avoid yellowish leaks from the natural wood)
High Gloss paint in a color of your choice (High Gloss to avoid stains from red wine and other foods with strong pigments).
2 big plastic garbage sacks
A roll of Protective paper+ some tape to fasten it to the floor with
Glue for wood
Screws to fasten the top planks to the underlying pallet (I used Rotadrills Universal ones in lengths ranging from 2cm – 8cm. If you don´t have a screw kit – get one! You never know what kind of screws you will be needing.)
25-30 Penny Washers (to use with the screws)
Small angle Irons
Trestles (I used IKEA´s VIKA Lerberg which are only £5/each!)
Hardwear to fasten trestles to table top, see details in tutorial (basically I used 8 slotted screws, 8 wing nuts, 4 nail plates, 4 double metal plates, you´ll understand what they look like from the picures of step 8).
Now – Let´s continue to the practical steps!
Step 1. Find a Scrap Pallet
Source a pallet of a dimension suitable to your home & needs. I salvaged one on my block which would otherwise have been chopped to pieces and thrown away (remember to ask before you snatch – stealing is not cool!). The pallet I got a hold of was a rough 220cm long and approx. 75cm wide. This dimension was rather perfect for a "nook" in my living room that I wanted to turn into a dining area.

Step 2. Lumber Yard
The basic idea of the table is to use the stability from the pallet, and to use it as a frame on top of which to nail a top planks. I got my planks from the local lumber yard! As the pallet measured 220´75 i needed to find boards that would cover this area. In preparing the purchase I had to consider 3 things.
Firstly, I new I wanted some kind of gap (about 5mm) between the boards, basically because I like that look and because I think it adds interest to the design.
Secondly, I also new I wanted the planks to run over the entire length of the pallet, some of you might prefer to let the boards run along the width instead.
Lastly, I wanted an even number of boards. As the table isn´t very wide, I thought it wise to make it symmetric to ensure people on both sides of the table could fit both a plate and a glass into a "personal zone". I decided that 8 boards would look good.
These three considerations made me end up with the following list for the lumber yard:
8 boards (220cm) long and 9.5cm wide (as 75 /8=9.5) which totals 17,6meters of 9,5cm board. As wood isn´t generally sold per meter (but per unit, which are about 4.5meters) you need to be smart when chopping away to reduce the spill to a minimum. I bought the cheapest kind of boards, which are pretty "raw" on the surface.
Step 3. Sanding
Before I started working on the big project of sanding the boards, I couldn´t help myself and tried out the construction with a couple of trestles I had, putting the pallet on top and the boards on top of the pallet. As always, this kind of test makes the vision stronger (and more real) and so it got me real motivated to move forward!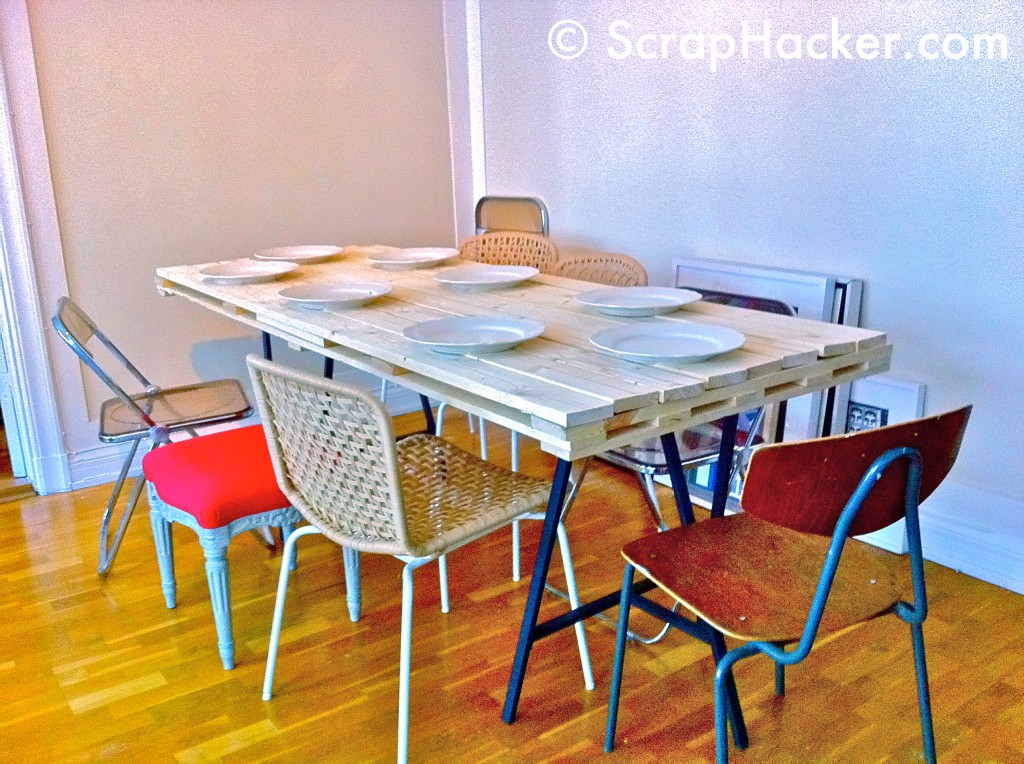 I made good use of the detail sander!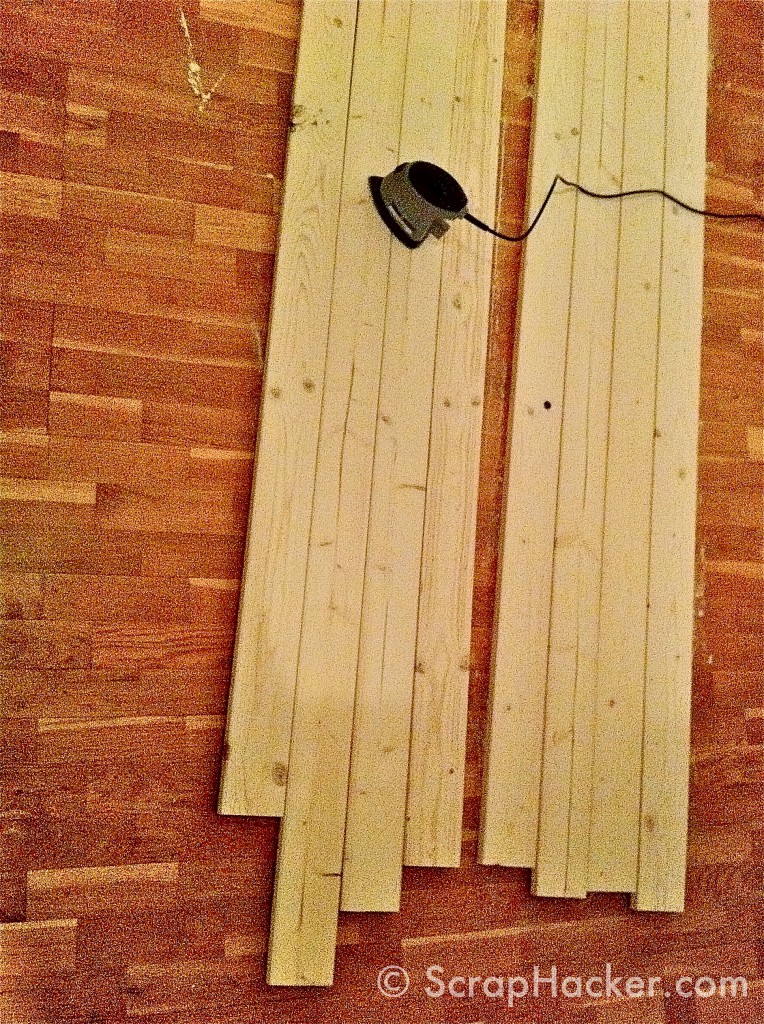 Step 4. Wood Sealer
Some small steps before the actual painting. 1.) Cover the trestles with the plastic garbage sacks and cover the floor in protective carton (you buy that on a roll from the paint shop).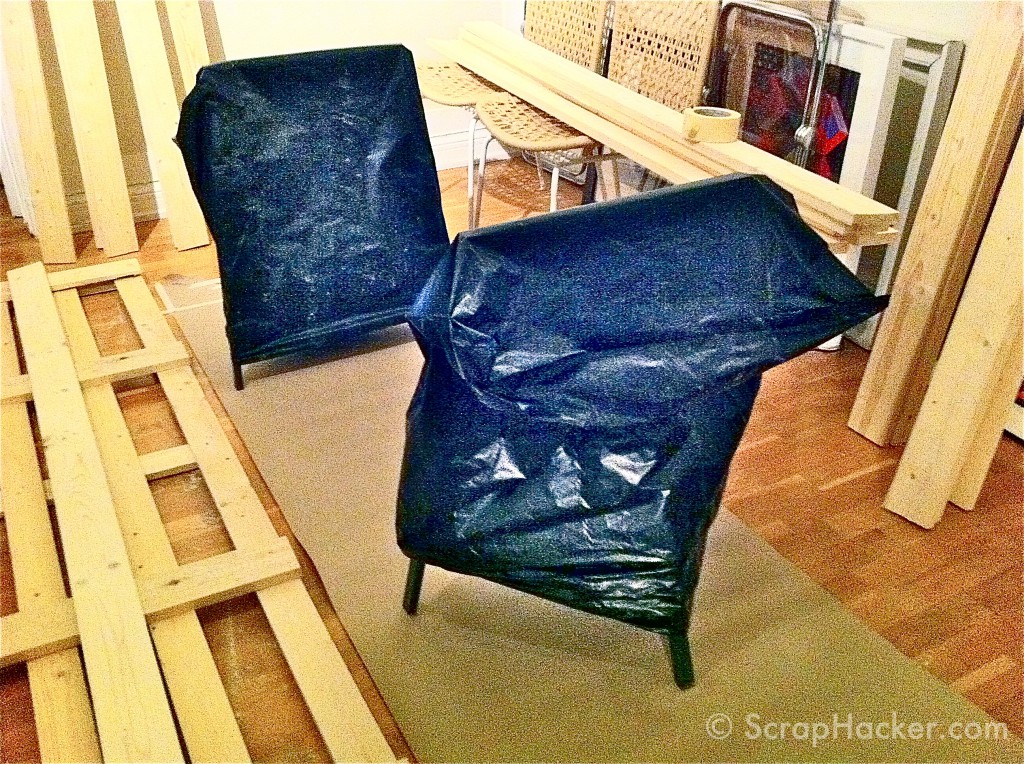 2. Don´t forget to swipe/dust the planks free from the residue from the sanding! Swipe it off or simply use the vaccuum cleaner – as we did!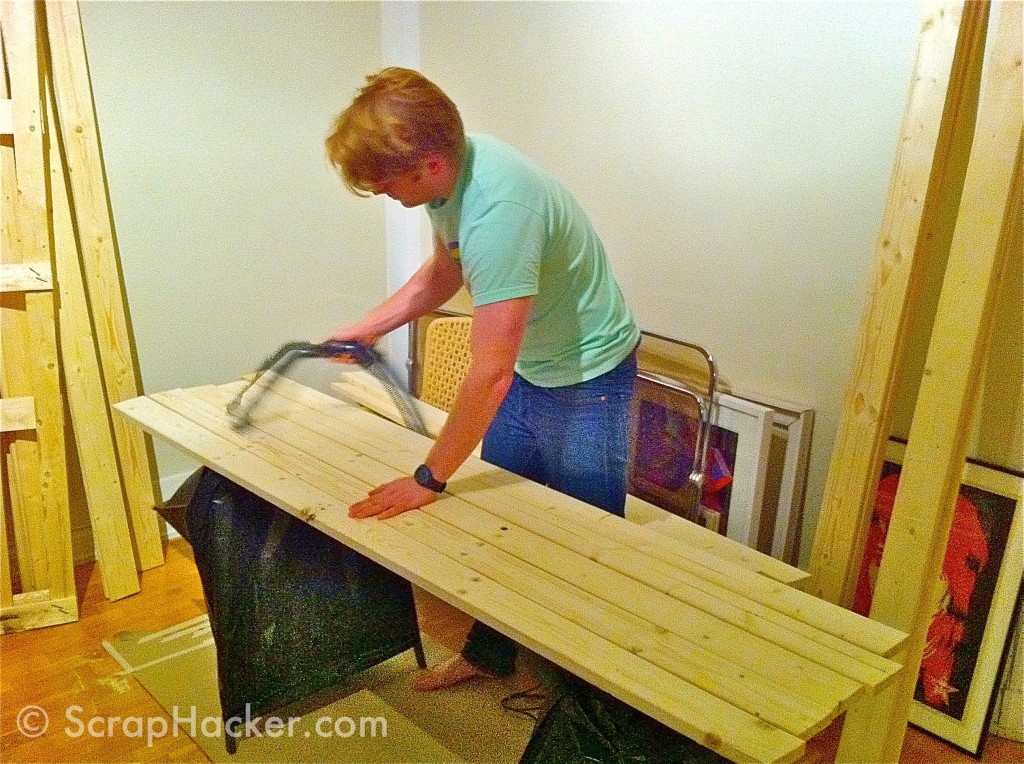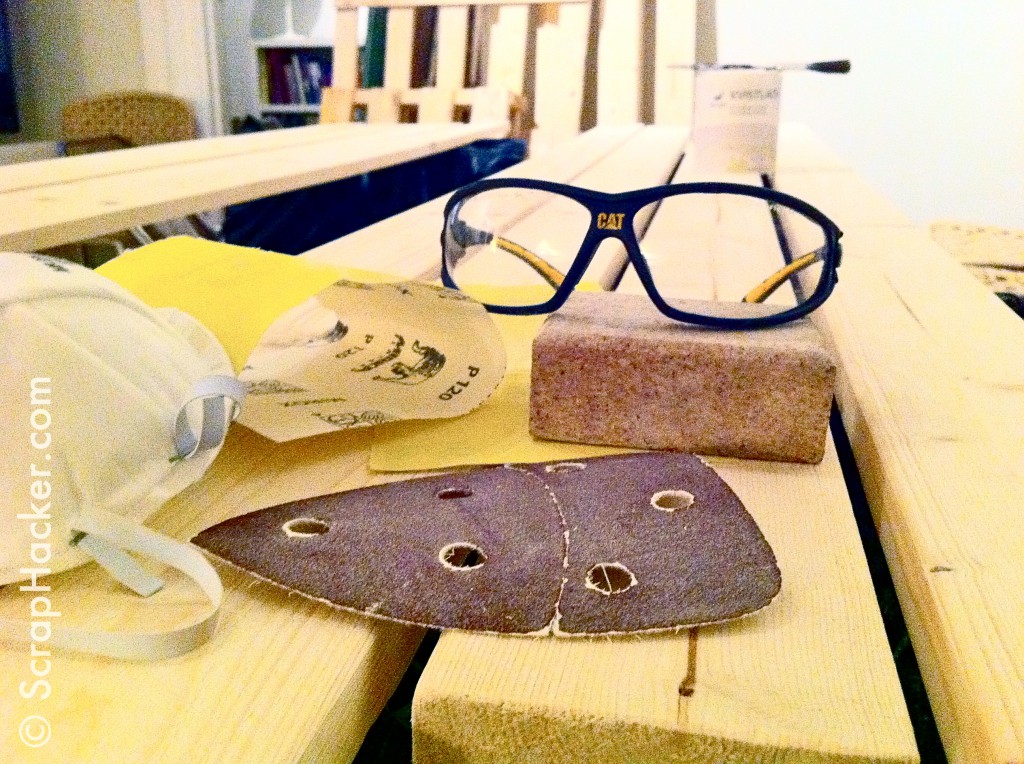 Use protection while working! Personally I´m rather sensitive to the wood sealer so I use both goggles and protective mask.
I always apply 2 layers of Wood Sealer (and always impatiently wait for the first layer to be all dry before applying the second one)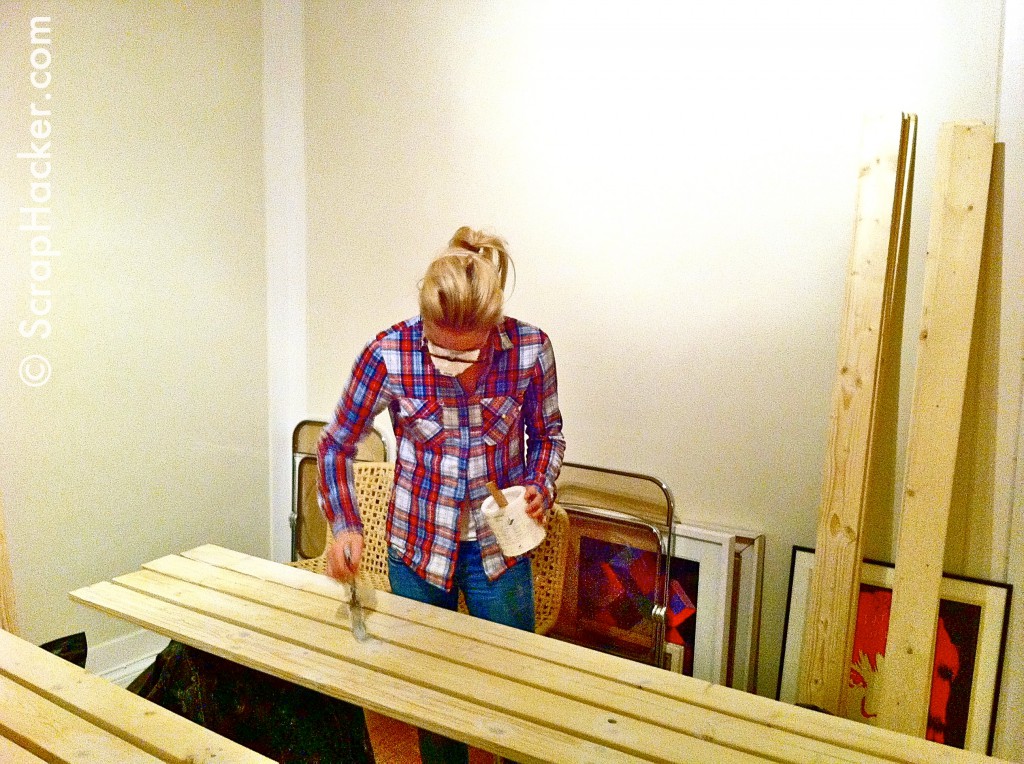 Step 5. Splashing on the Paint!
Now to the fun bit – The actual painting!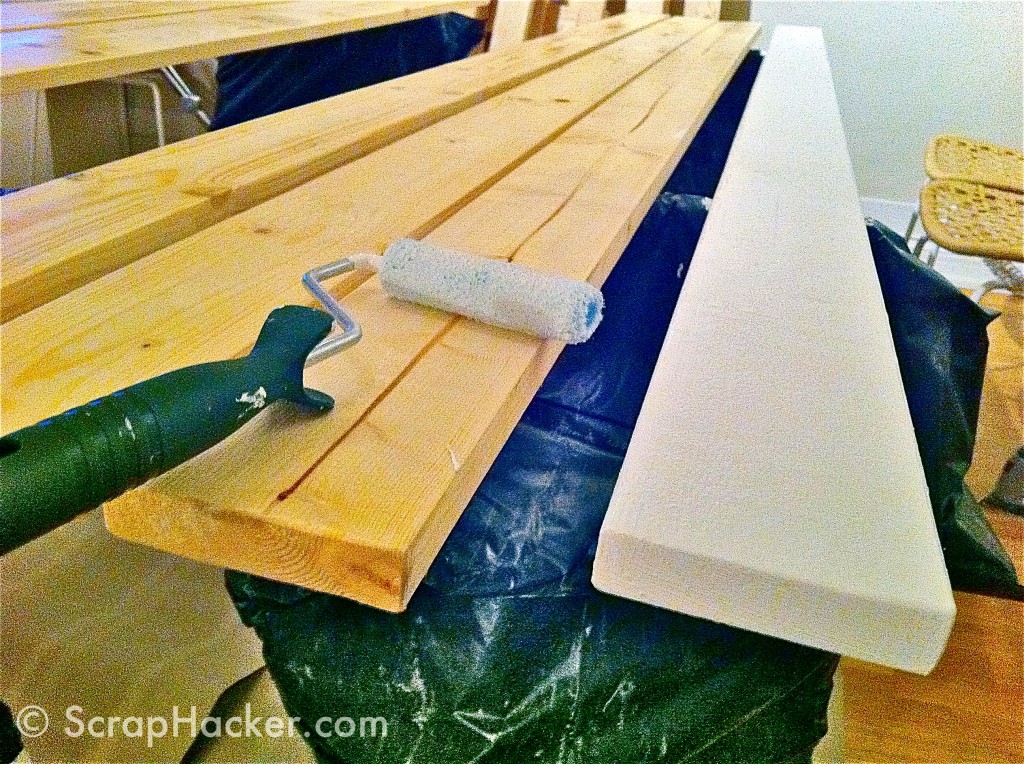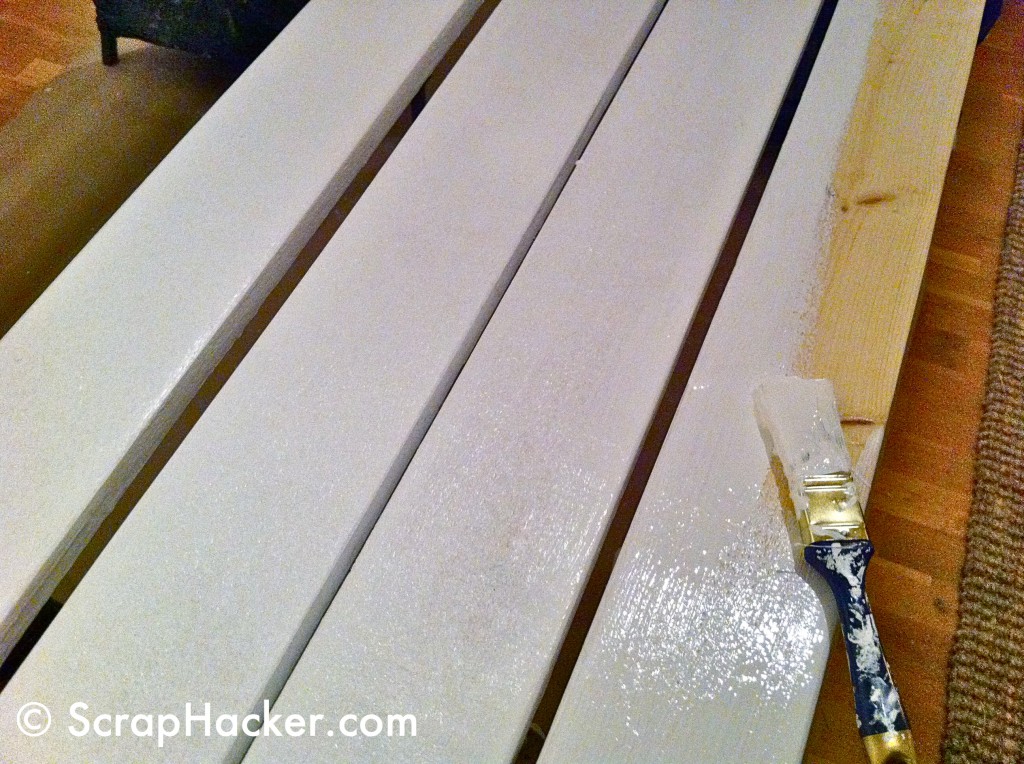 Leave the planks to dry resting on the trestles over night.
DAY 2: When the top planks are all nice and dry – move on to work with the pallet frame. As I didn´t want the pallet to take leg space or be in the way , I removed some of the wooden blocks that normally sit on the back of the pallet.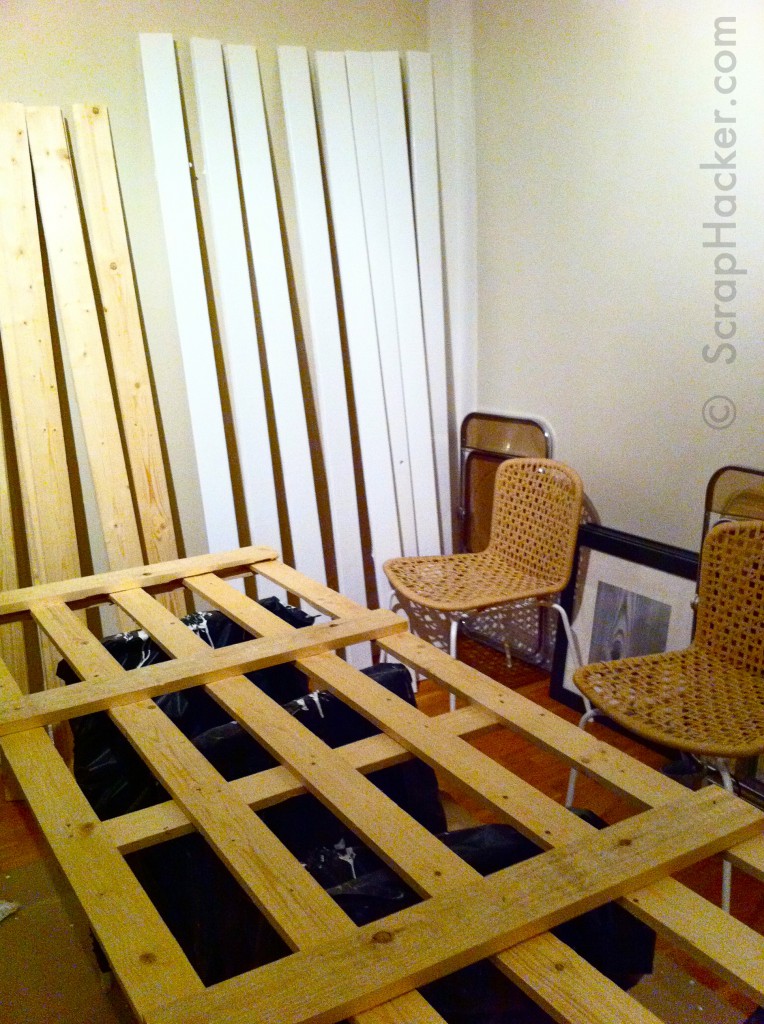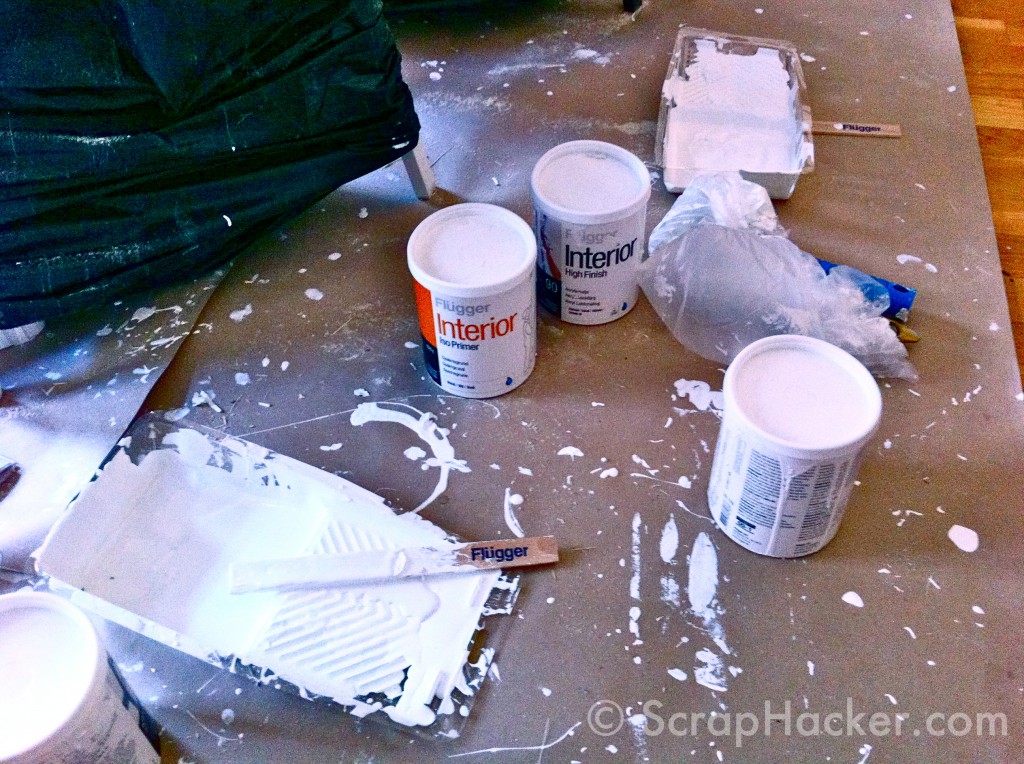 Some creative chaos….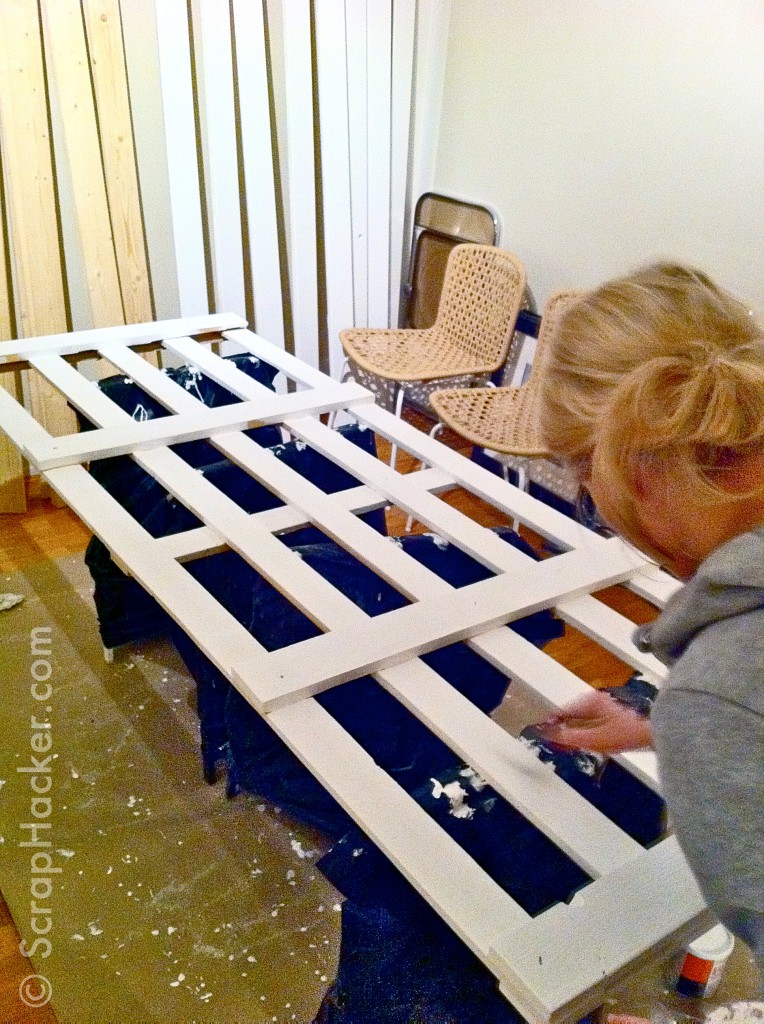 Step 6. Glue & Clamp-it
Glue the planks to the pallet. Use clamps to make fix position! Place heavy stuff on top of it to further add preasure while the glue is drying.

Step 7. Nail it!
When the top planks and the botton pallet frame are one…Flip the thing over and move by nailing the top planks to the underlying pallet! In order for the table to look sleek – fasten the planks "from behind".
Fasten the planks on each short side and somewhere along the middle. I used penny washers to create a margin that ensured the screws wouldn´t run through the top plank, and in as a protective measure as the nudging from the sharp screw into the wood will be reduced over time.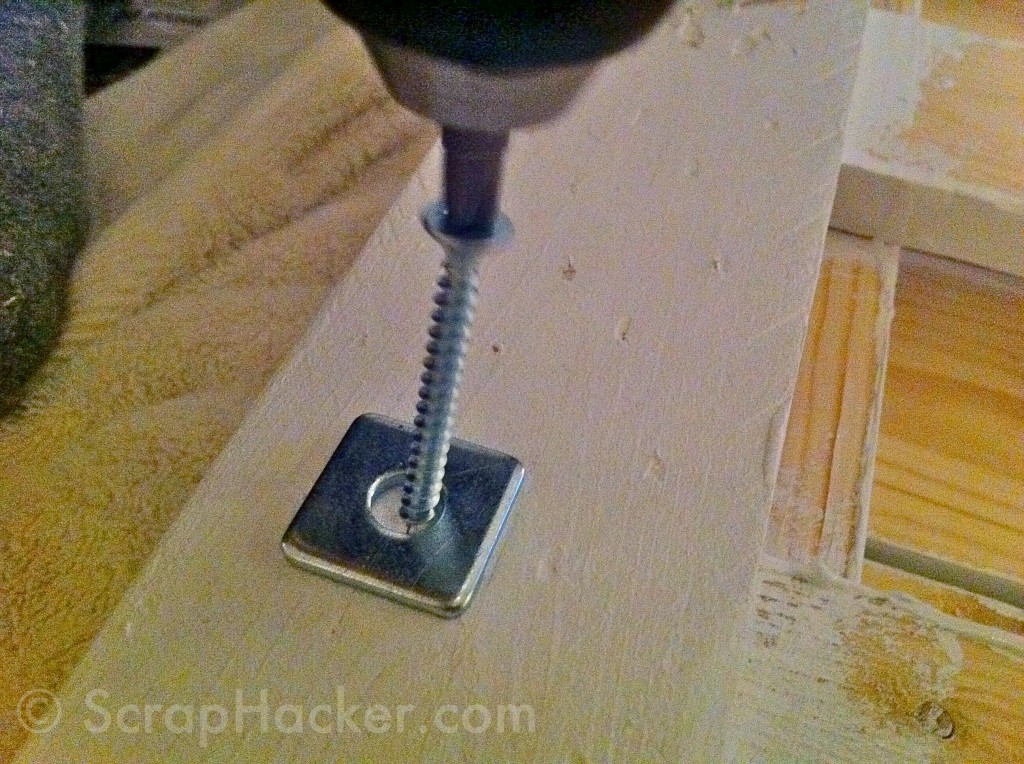 Angle Irons are also a good idea to further add support to the construction.

Step 8. Mounting the top on the trestles!
ok – almost there! I opted for IKEA´s VIKA Lerberg trestles, they are made of laquered metal and there was no natural way of fastening them to the table top so I had to come up with an idea to solve the problem. I ended up using nail plates.
What I did was that I fastened them to the construction, with 2 couples of slotted screws sticking out. The slotted screws needed to be placed before fastening the nail plates.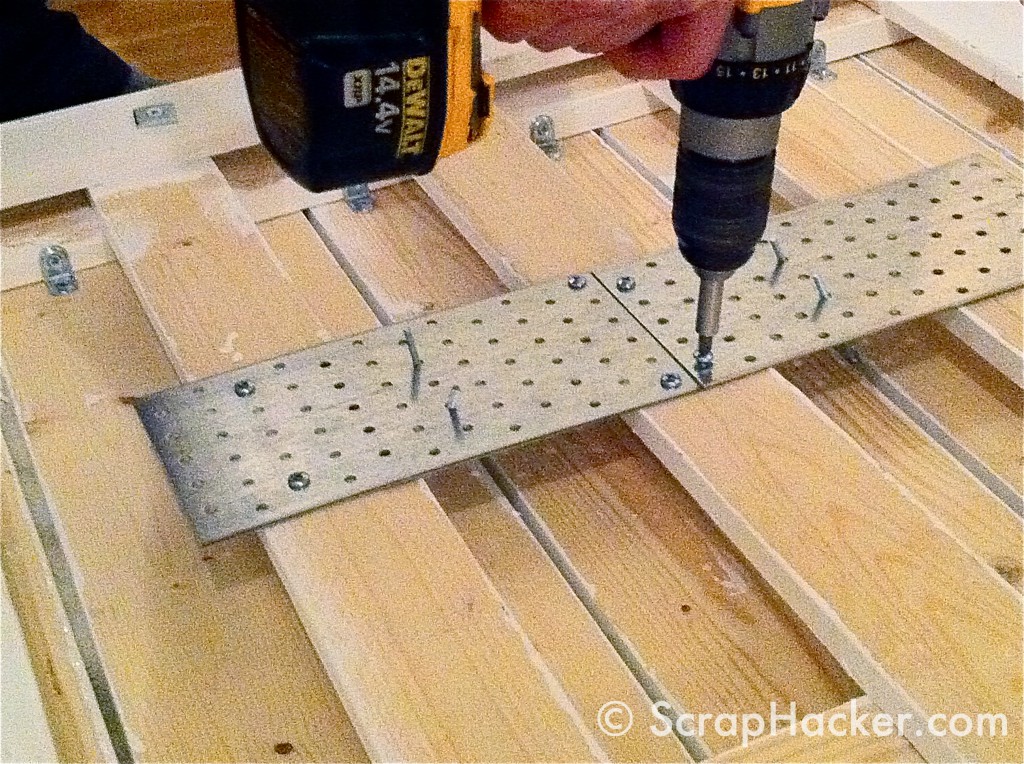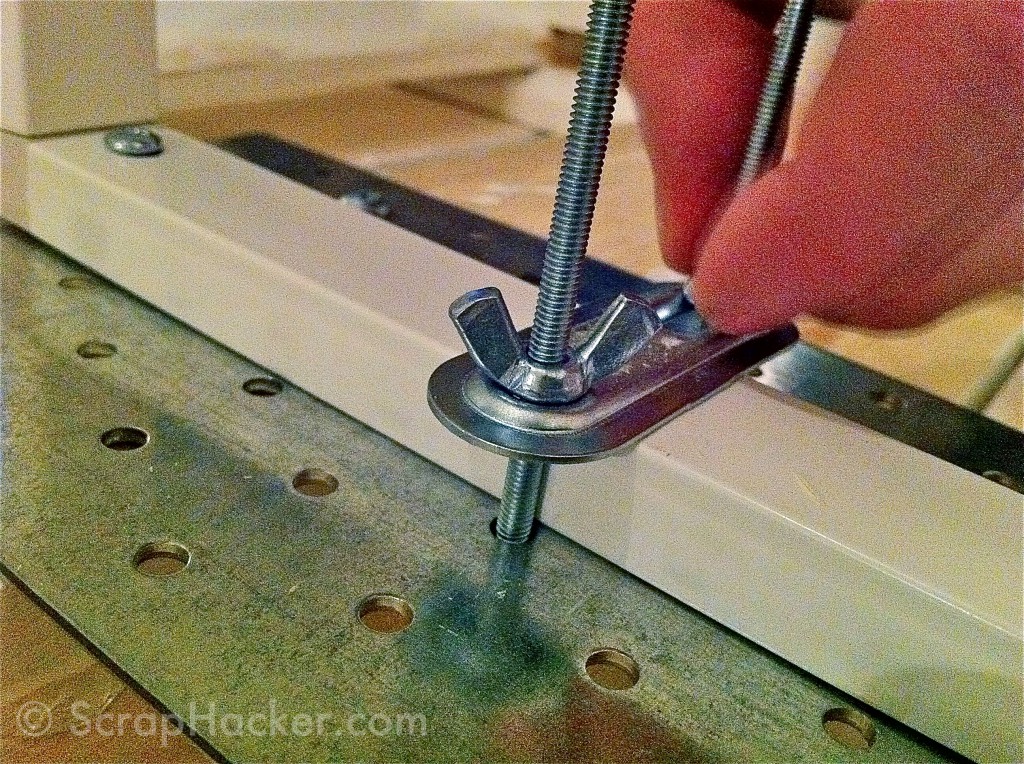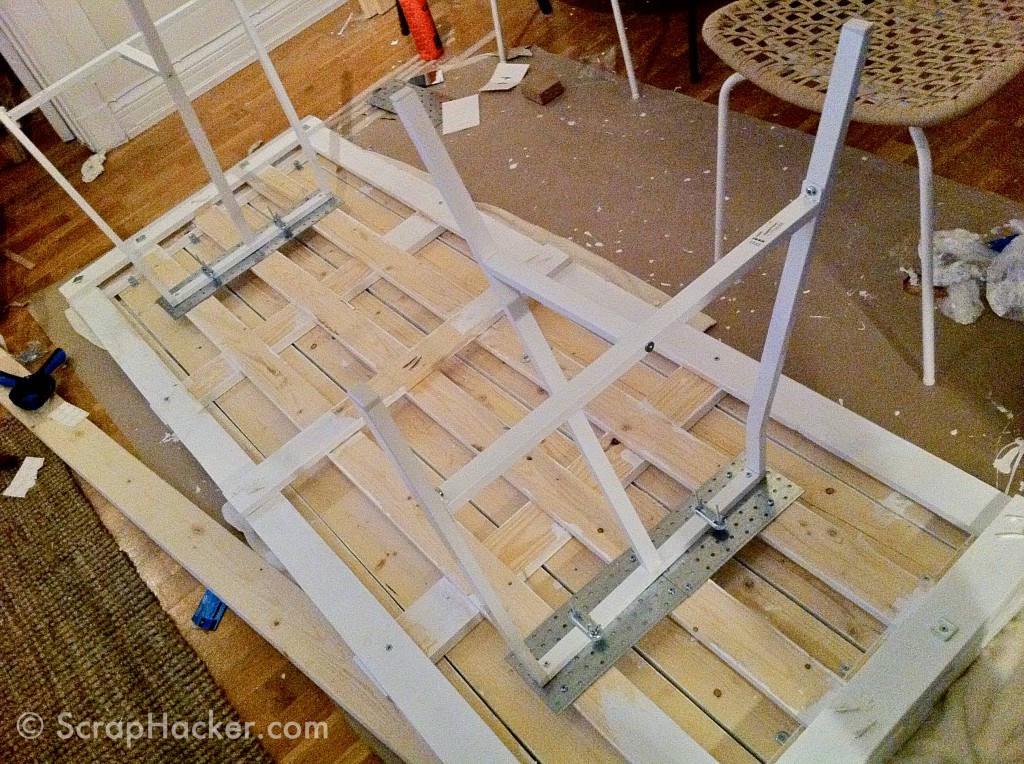 Step 9. Flip it!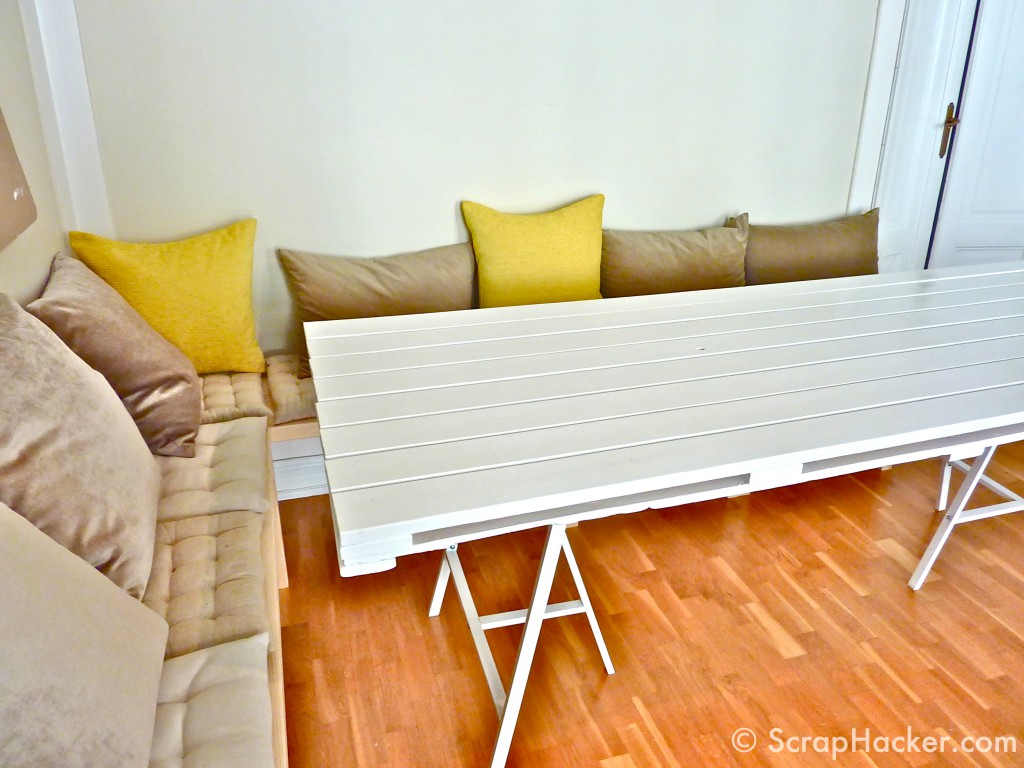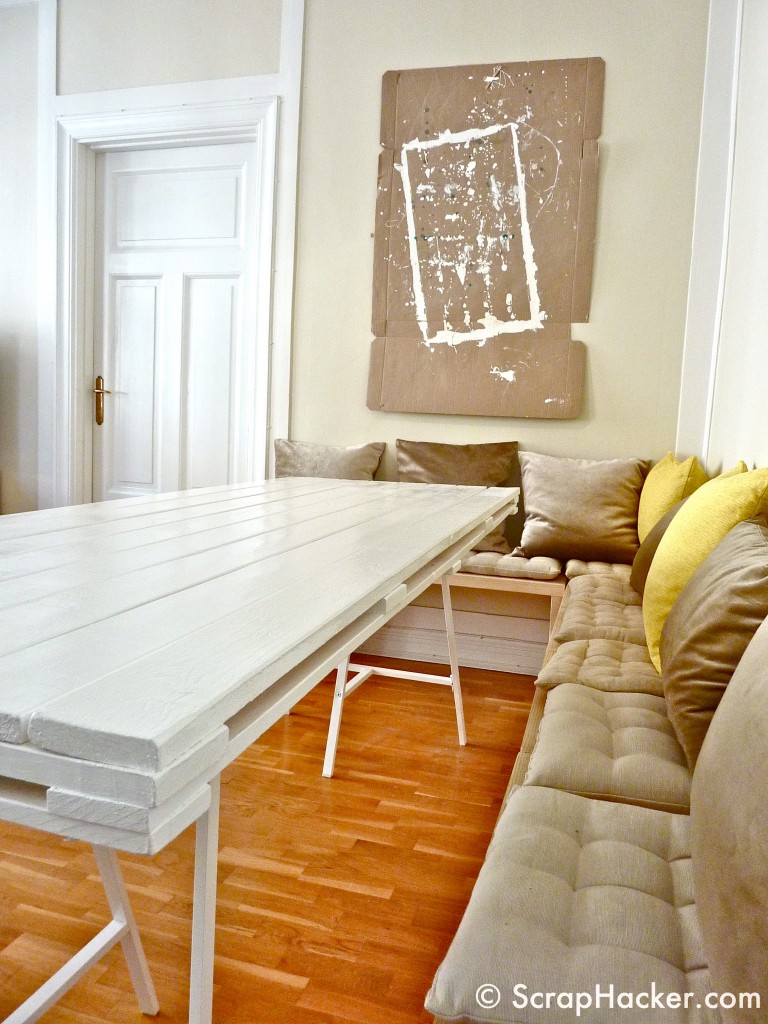 Step 10. Enjoy!
The last step of any ScrapHack is to enjoy your work! Invite your friends over for dinner, brag about it on your blog or simply admire yourself and how great you are! Hope this tutorial will inspire you to give this hack a go yourself;-D
Good Luck!
Necessity is the mother of invention! I had my cousin and 2 friends of his coming over from Paris to stay at my place over a weekend. Had an idea for a sofa bed, and the need for accommodating guests made me act on it! The result is a versatile scraphack which works perfectly for either daytime lounging….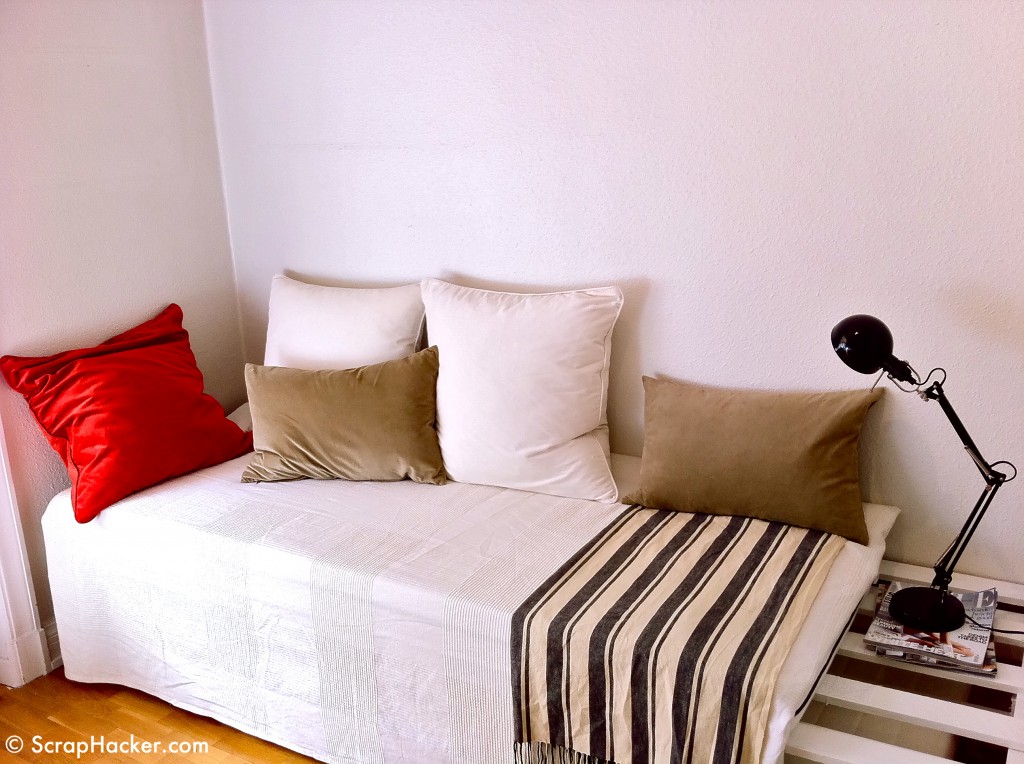 ….or for accommodating guests!
What you need for ScrapHacker sofa bed:
TOOLS
– Screwdriver, Hand saw
SCRAP
 – 1 double pallet 240cm´80cm or 2 joined pallets (120cm´80cm) – 1 pallet 180cm´8ocm
HACK
– 2 beams (approx 240cm long, 5cm thick, 10cm wide) – 4 furniture legs, c:a 30cm high – 4 trolley wheels with brakes (I used
these ones
from ClasOhlson) – A slatten bed base (approx 70cm´200cm), I used
IKEA´s Sultan Lade
– Two pieces of wood (approx 2cm thick, 10cm wide, 80cm long) – Paint (I chose high gloss white) – 2 mattresses (I used
IKEA´s Florvåg
80cm´200cm) – Screws, angle irons. (Total cost: Approx €120-140=)
Step 1. The basic component is one double pallet (240´80cm) or to join two standard (120´80cm) pallets together. I did the latter, but I saw a "double pallet" on the street which would have worked! This part of the design will be the "top" bed.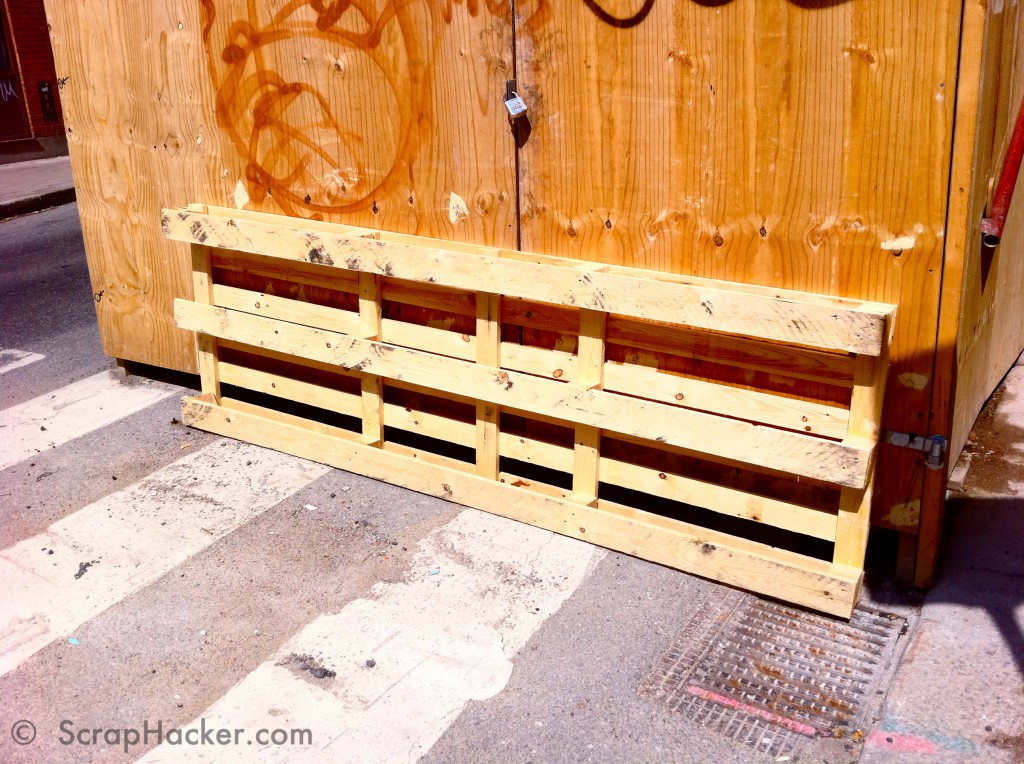 Step 2. Secondly, you need a smaller sized pallet. I came across this one, which measured 180cm´80cm.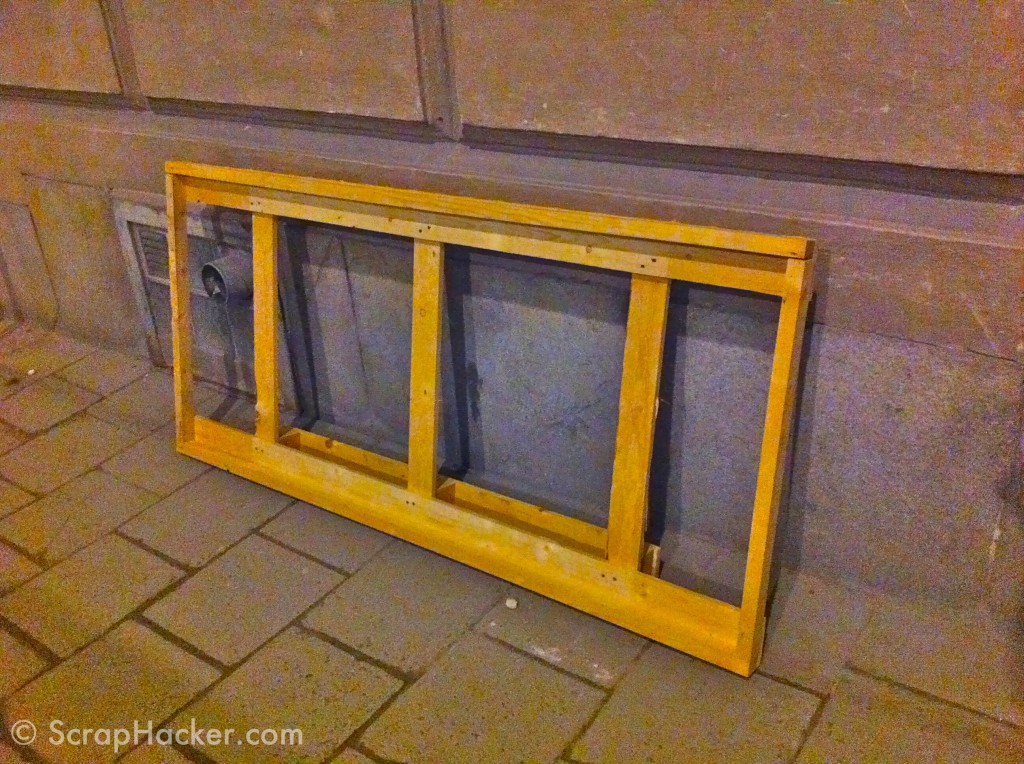 Step 3. Place the beams underneath the top/double pallet component. Fixate the beam with angle irons.
Step 4. Mount the legs. Make sure they are supported by both the beam and the top structure.
This is what it should look like: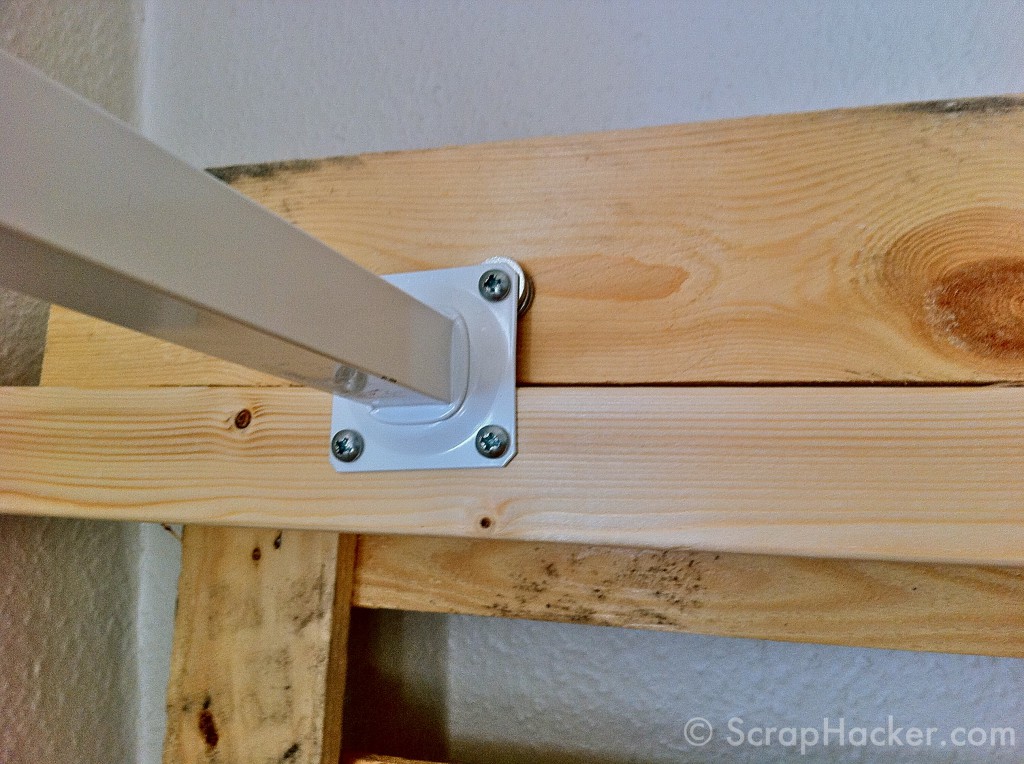 Step 6. The clean up/paint job!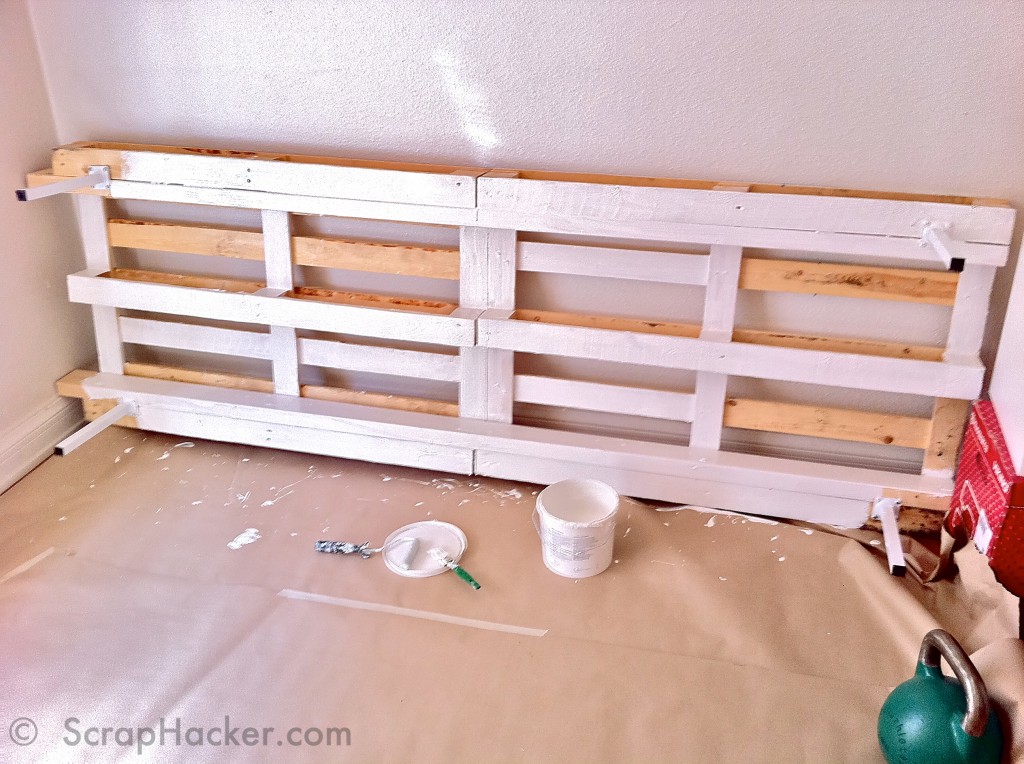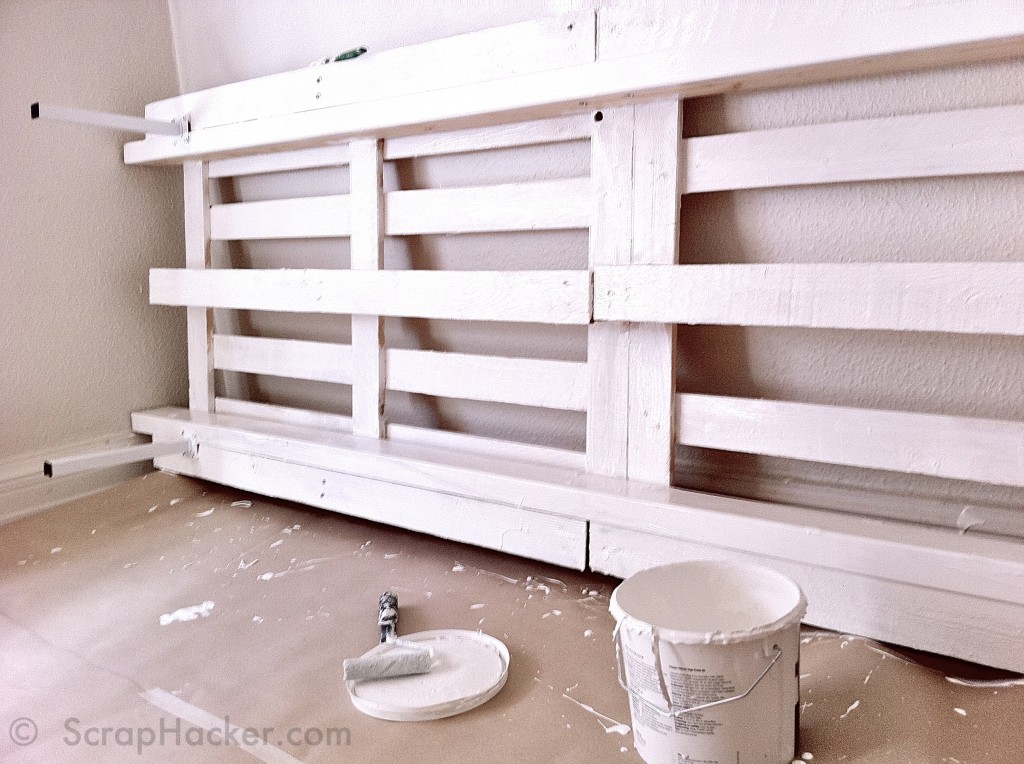 Step 7. Flip it over – continue to work with the clean up/paint job.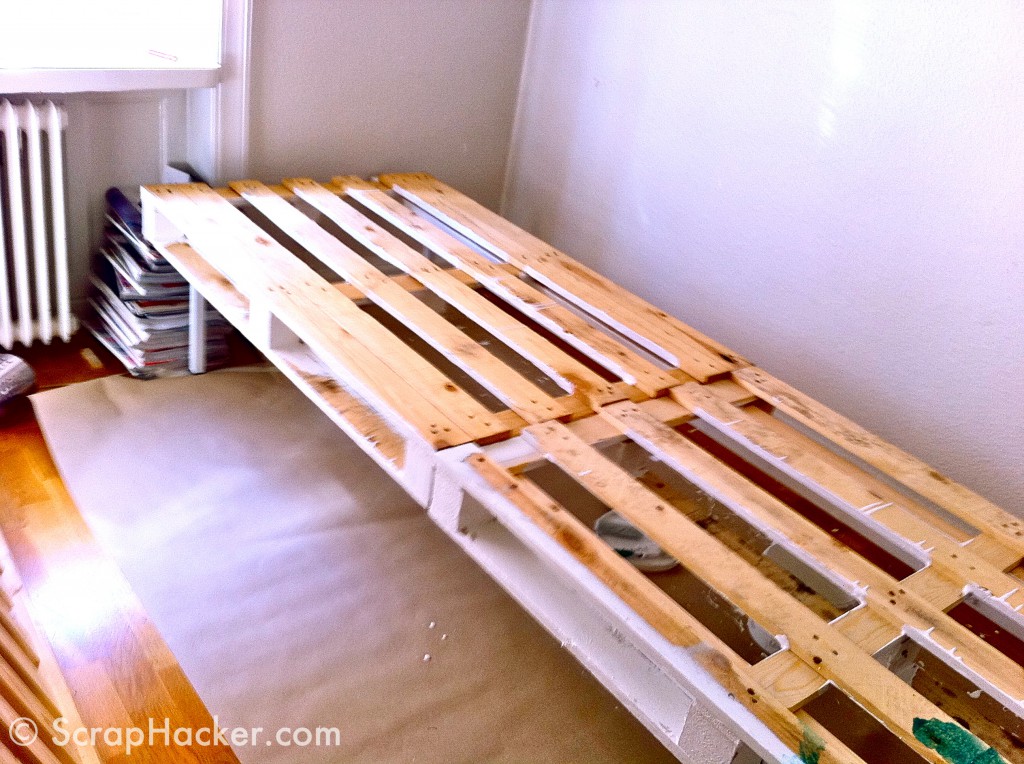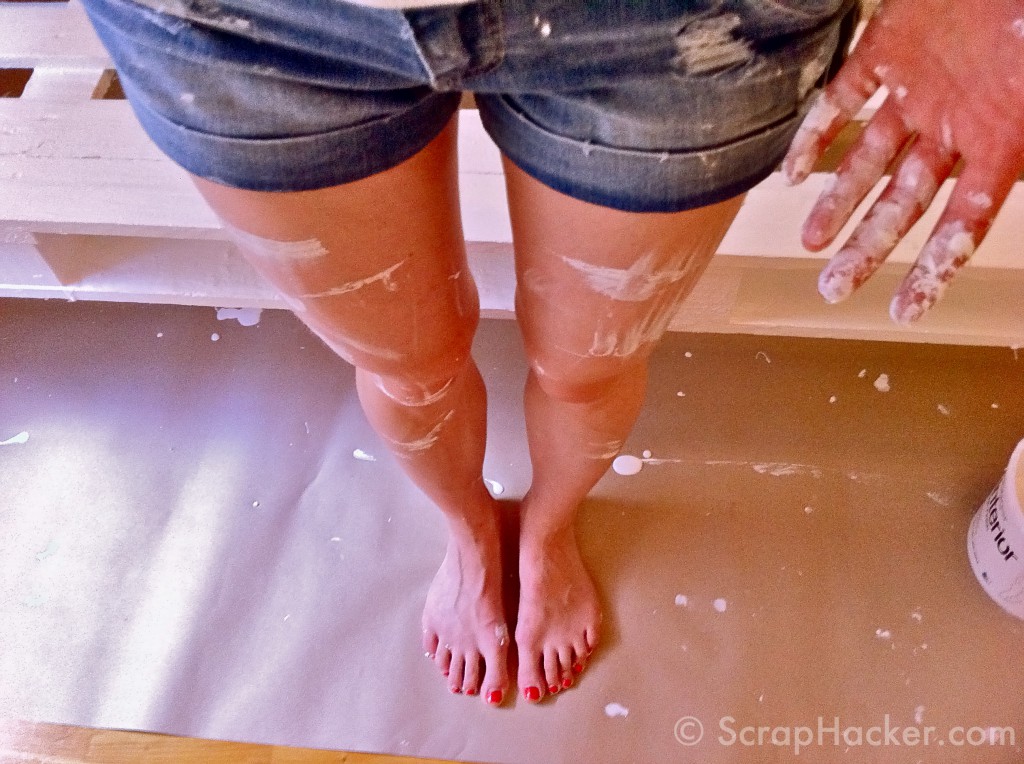 Step 8. The bottom component needs some hacking! I used IKEA´s slatten bed base Sultan Lade (200´70cm) for support – it happened to fit perfectly!  As the bottom part was only 180cm – I needed to make it a bit longer to be a good fit with the mattresses (IKEA ) I bought, i simply added some scrap wood on each side of the pallet, adding 10cm on each side – making it total a rough 200cm.    
IKEA´s Sultan Lade slatten bed base.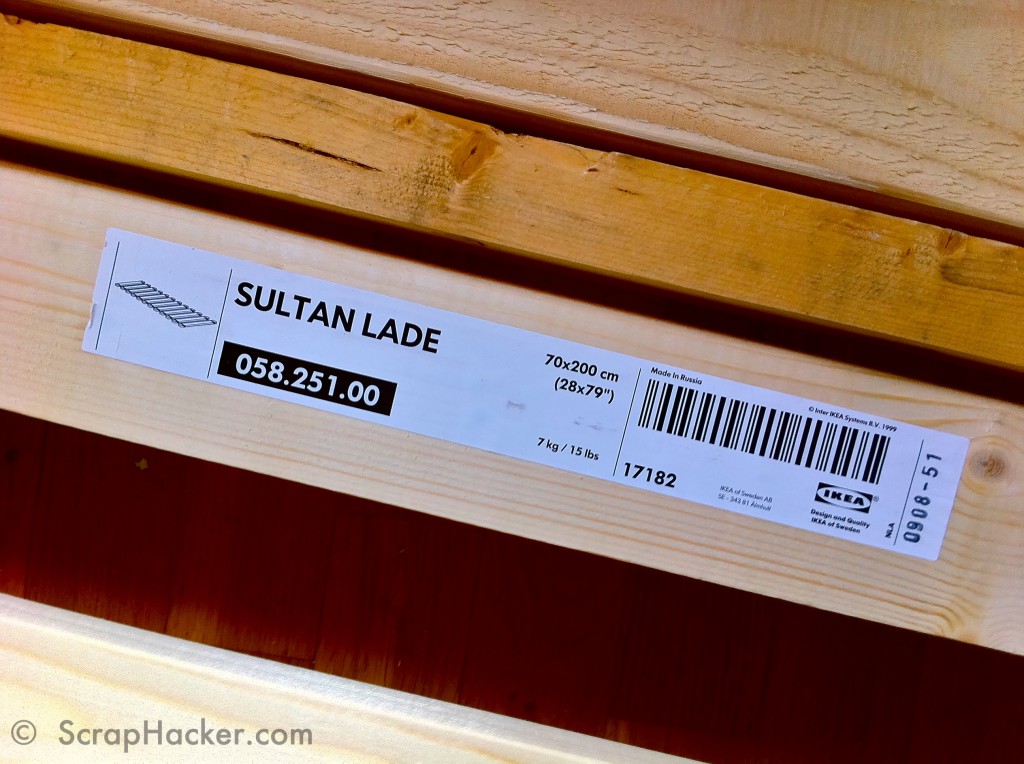 I added 10cm to each short side of the bottom bunk. I found angle irons to be sufficient for the fastening.  
In this step I also added the trolley wheels to the bottom bunk, as I want it to be able to roll in/roll out from under the top bunk.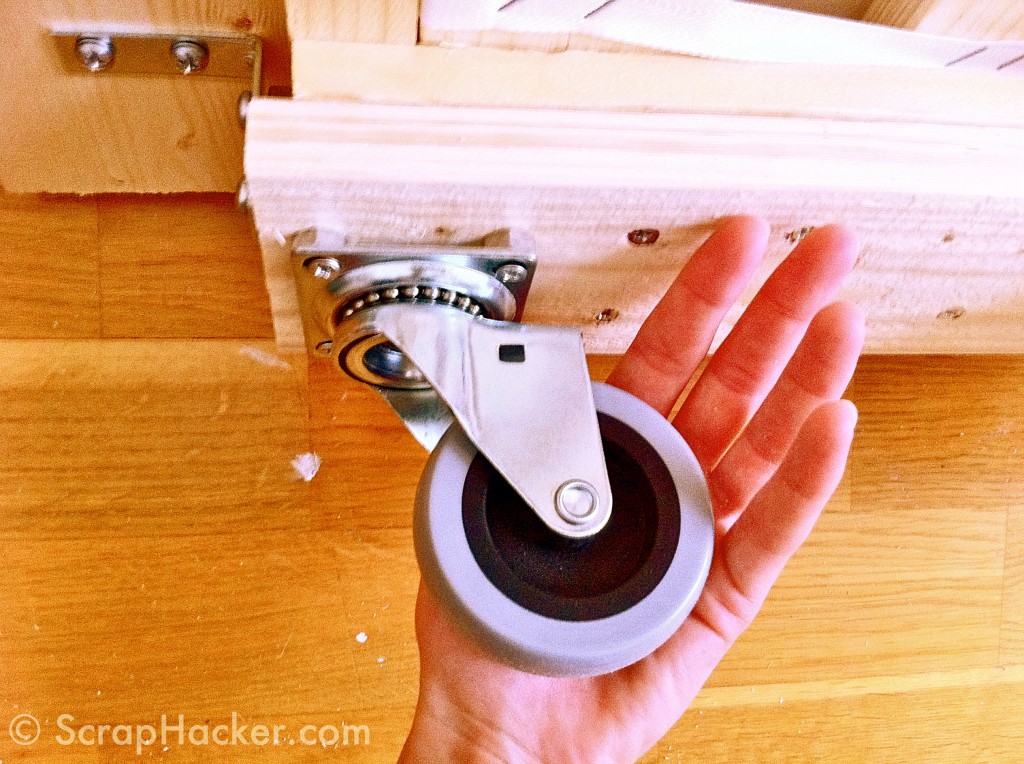 Step 9. Fitting, I used the IKEA´s Florvåg Mattresses (for some reason they are almost twice the price in the U.K compared to Sweden (349kr here, 59£ in the UK!)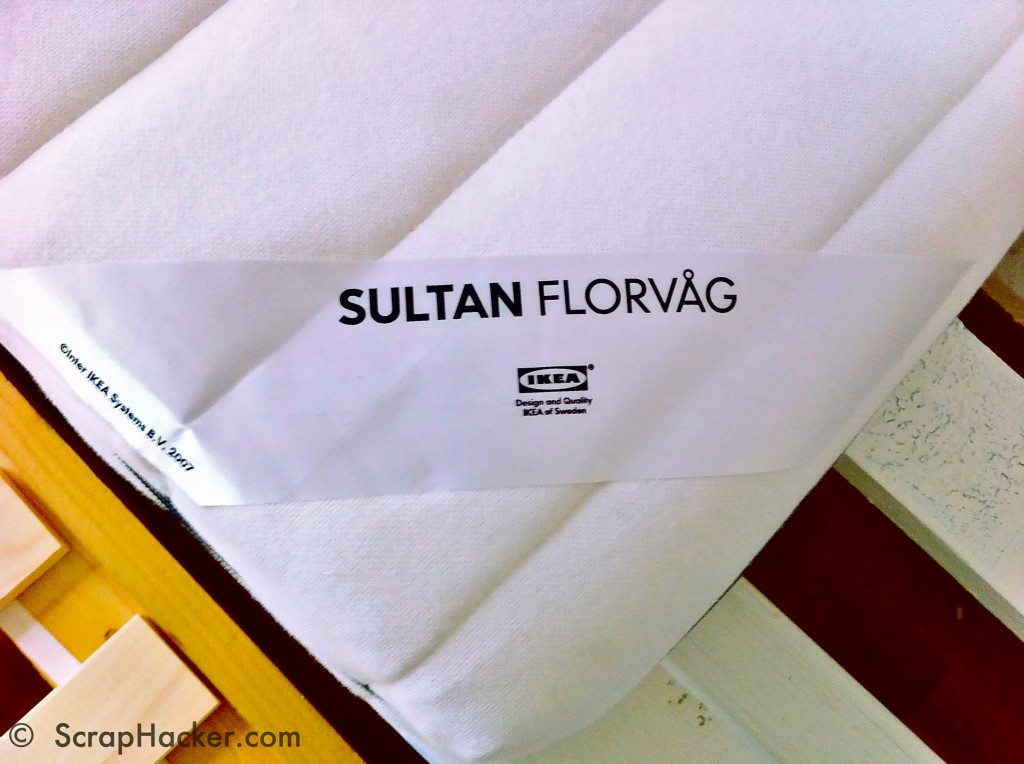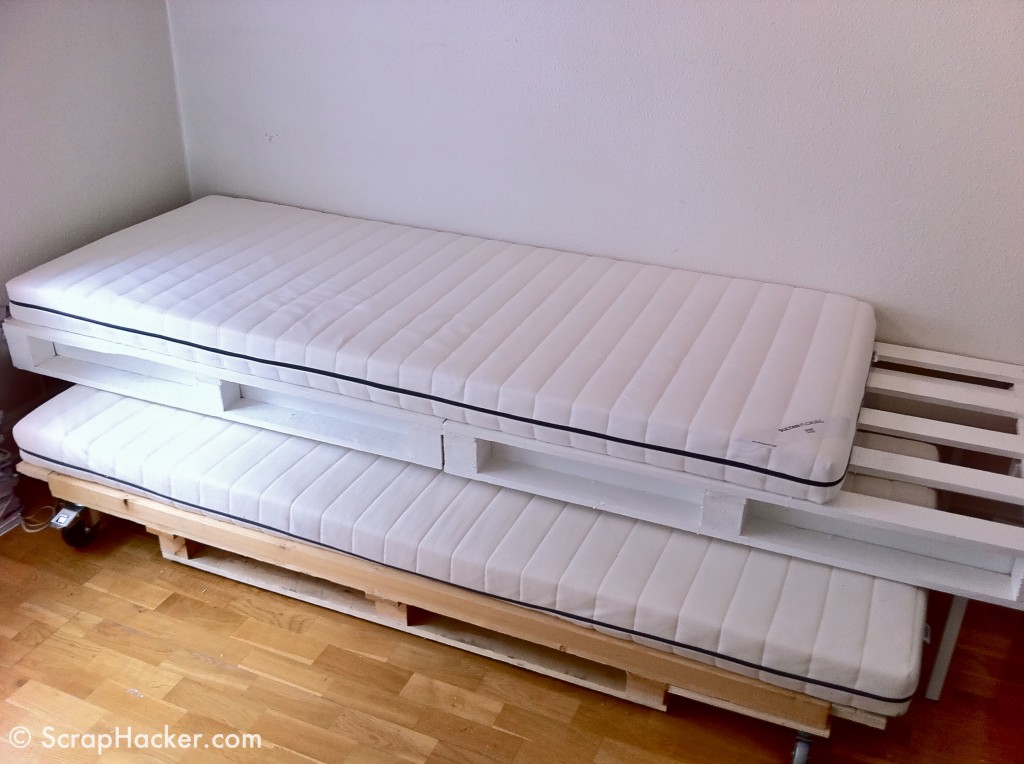 Step 10.  Customize! Make your own finishing touches! I opted for an IKEA Indira Bedspread and some IKEA Sanela Cushion covers in welcoming velvet and colors ivory, orange and light brown. The top bunk component measures 240cm, so there is some extra space for magazines and a lamp (as the mattress only measures 200cm). I like my IKEA Forså black metallic lamp.
The  I bought the the stripy hammam towel at a market in Ile de Ré (great island off the French Atlantic coast) this summer.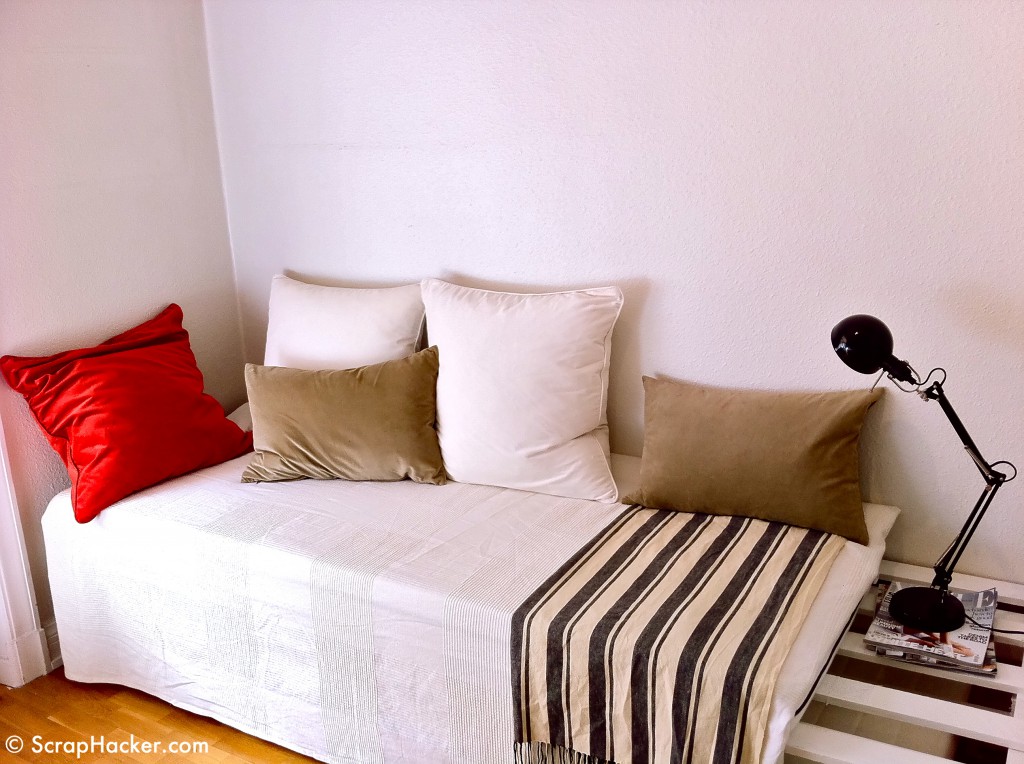 Above: The sofa, in its daytime suit is great for lazy Sundays! The construction is stable. Below: For the nighttime – the bunks are more than alright with hosting one big guy each!
Good Luck with your own DIY Sofa Bunk Bed Hacks!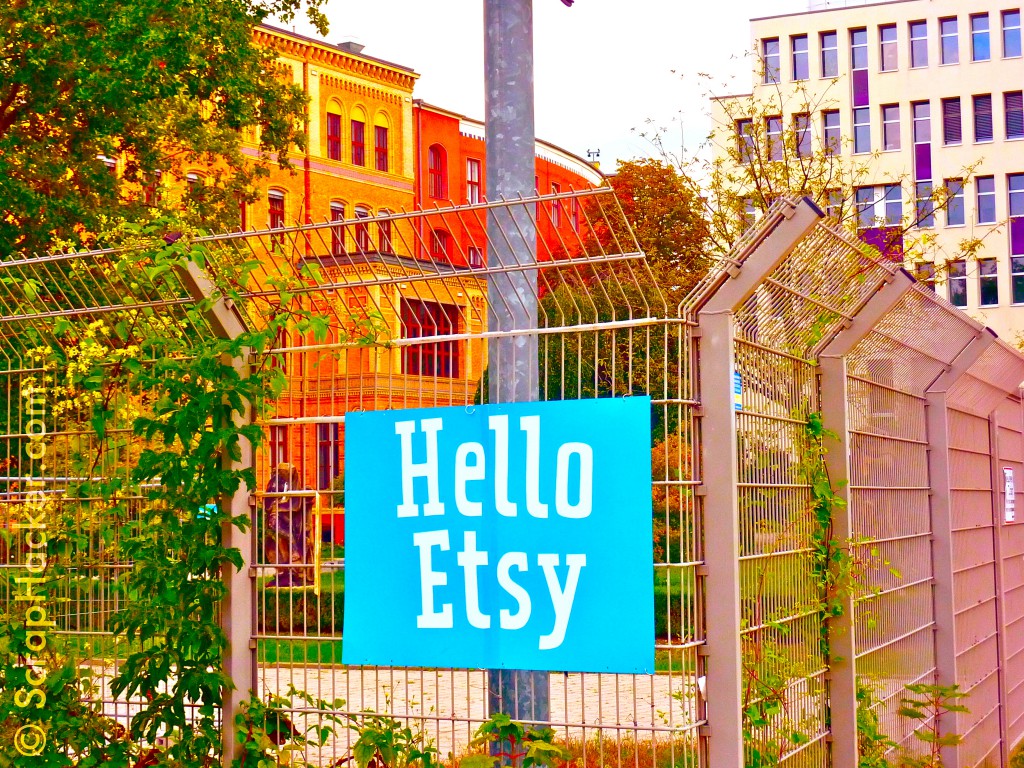 The first day of Hello Etsy Berlin -a conference hosted by online crafts market Etsy– was feverishly electric with anticipation and excitement. Once the site for actual production of electricity, the converted plant of eWerk seemed the more-than-perfect backdrop for dreams of crafting craft success stories. A great line-up of interesting topics, engaging speakers and some great event planning (including long sociable breaks) made the day inspirational and fun, yet with a underlying note of the need for new collaborative business models and, in the greater perspective, the need for new concepts and ideas that will ease the transition into that thing and place we like to call the future.
I gathered all photos from the event on www.helloetsy2011.tumblr.com – Check it out!