A ´biergarnitur´ ("A beer set") is a combination of a table and two benches. It´s very rare for any Berlin restaurant to have anything else than this type of set, how that is I don´t know – Perhaps regulation? Perhaps just German rationality?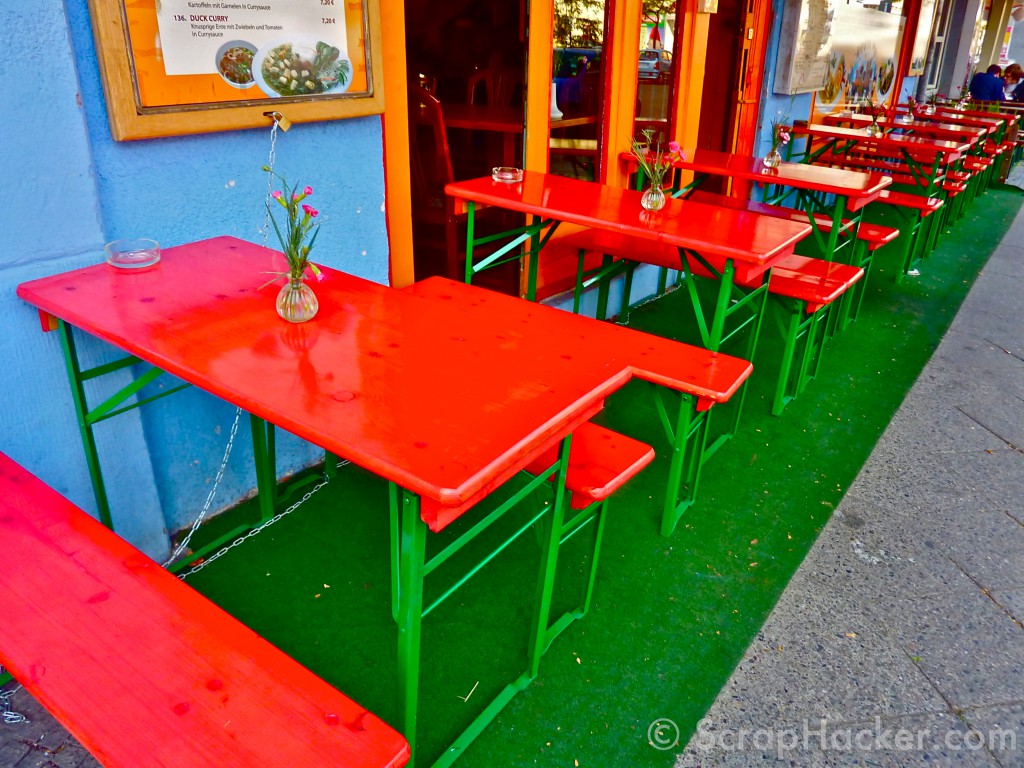 The tables and benches have folding metal legs, they´re manufactured as standard goods identical and are therefore portable and super easy to stack. The table typically measures 220 centimeter by 50 centimeters (77cm high) and the benches 220 ​​centimeter x 25 centimeter (47,5cm high). The lacquered wood surface makes them endure rough weather and treatment…They come in different varieties and colors, mostly natural, orange or green.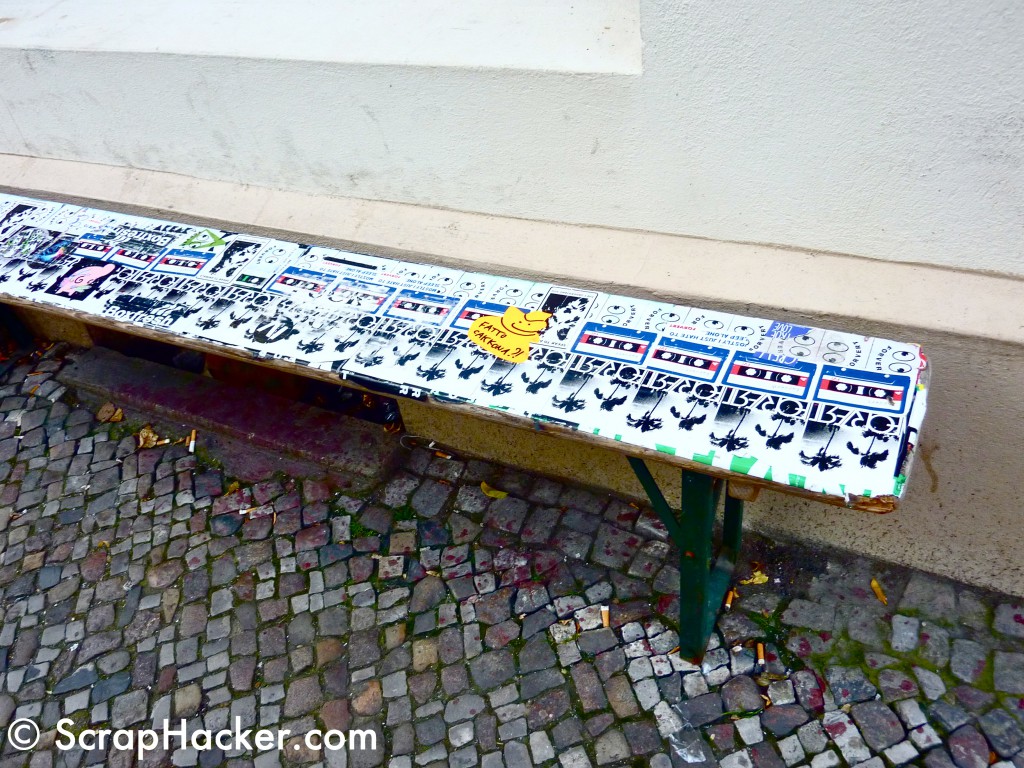 As these sets are so common, restaurants and shops have been hacking them for a long while, to acheive a result that sticks out from the Biergarnitur crowd.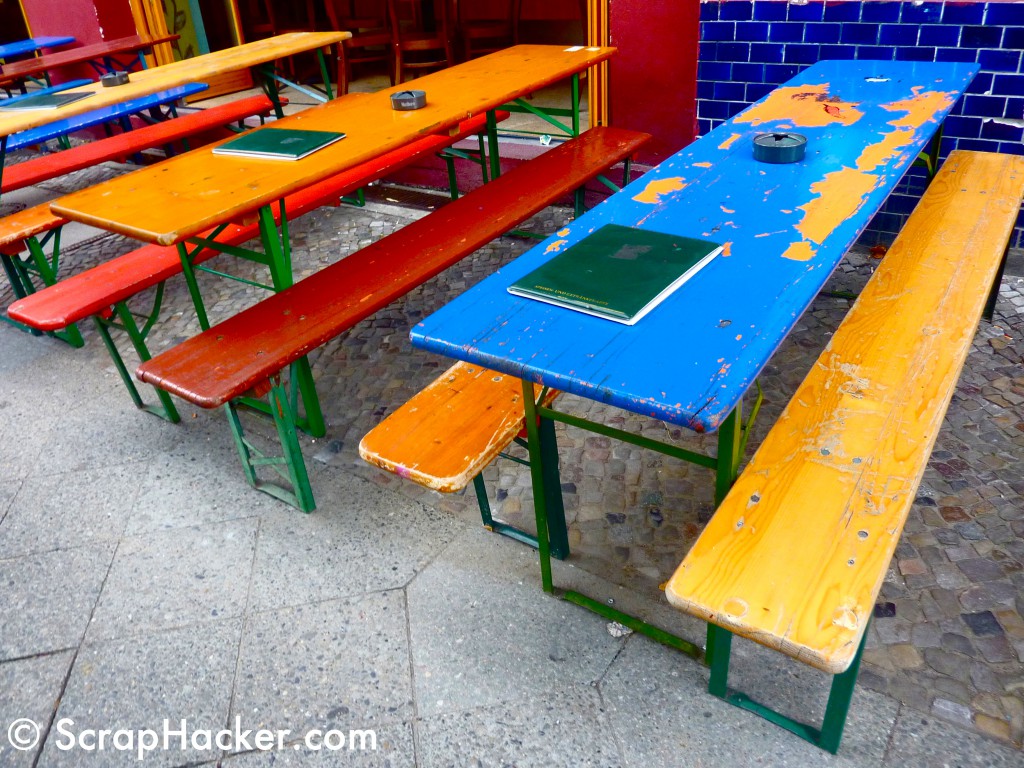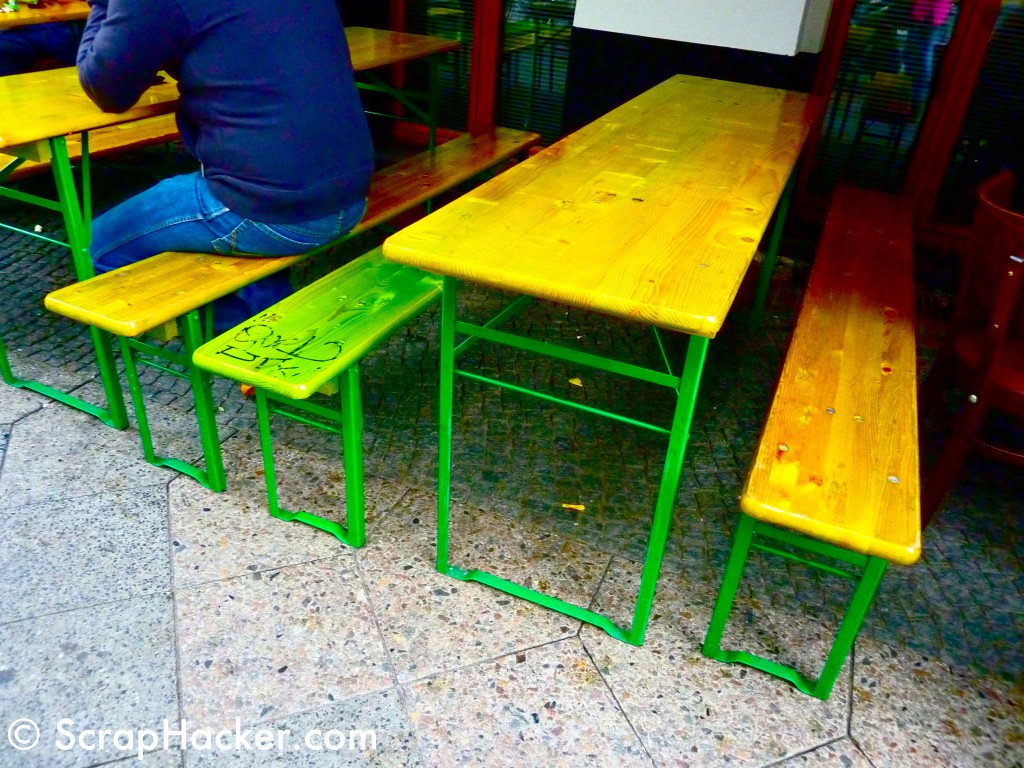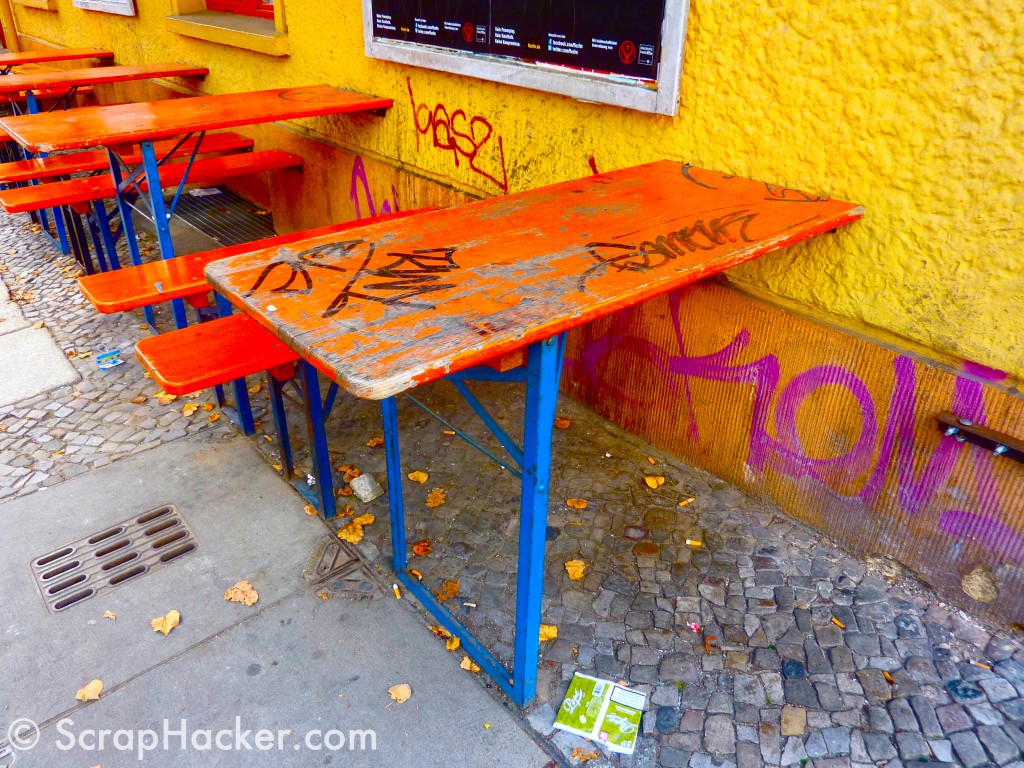 You gotta love this wonderful "chairbombing" project by folks at DoTank:Brooklyn. They made themselves some of pallet chairs and then dropped completed chairs at spots around the hood. Check out the video for some hard core inspiration:
DoTank:Brooklyn – Chair bombing at North 5th and Berry from Aurash Khawarzad on Vimeo.
 Inspirational stills from the clip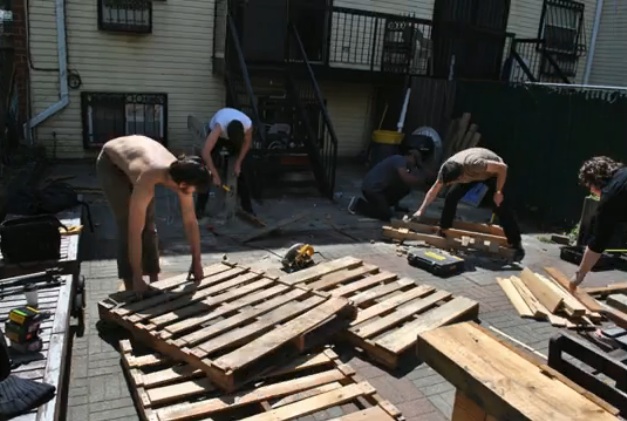 The scrap pallets were hacked into chairs…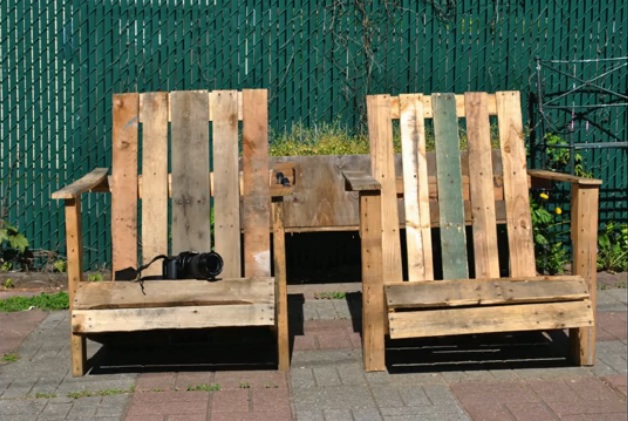 …some chairbombing action…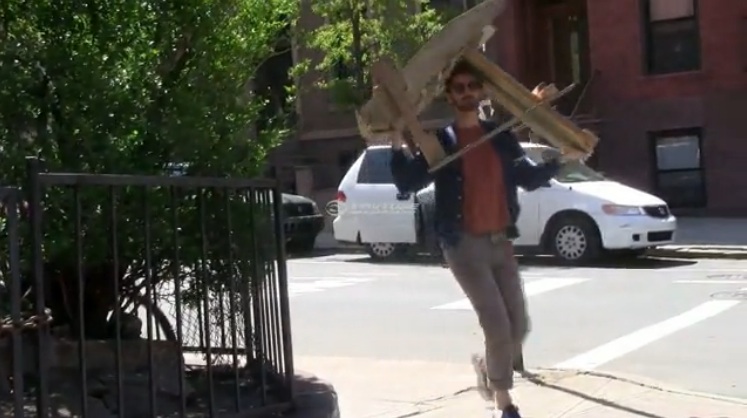 ..The fab result – people chillin´in the street!
I got the idea for this post on great site GreenUpgrader – Go check it out!
This glowy flowy jellyfish-like pod of ballerina pendants are hanging (or maybe rather "floating"?) from the ceiling in one of Stockholms more popular waterholes – hot spot/resto Sturehof. The design dates back to 1997 and Swedish designer Jonas Bohlin. The retail price of one individual pendant, called "Liv Lampan" (Swedish for "The Life Lamp") is approx 4900SEK (about €560/785dollars/£485)…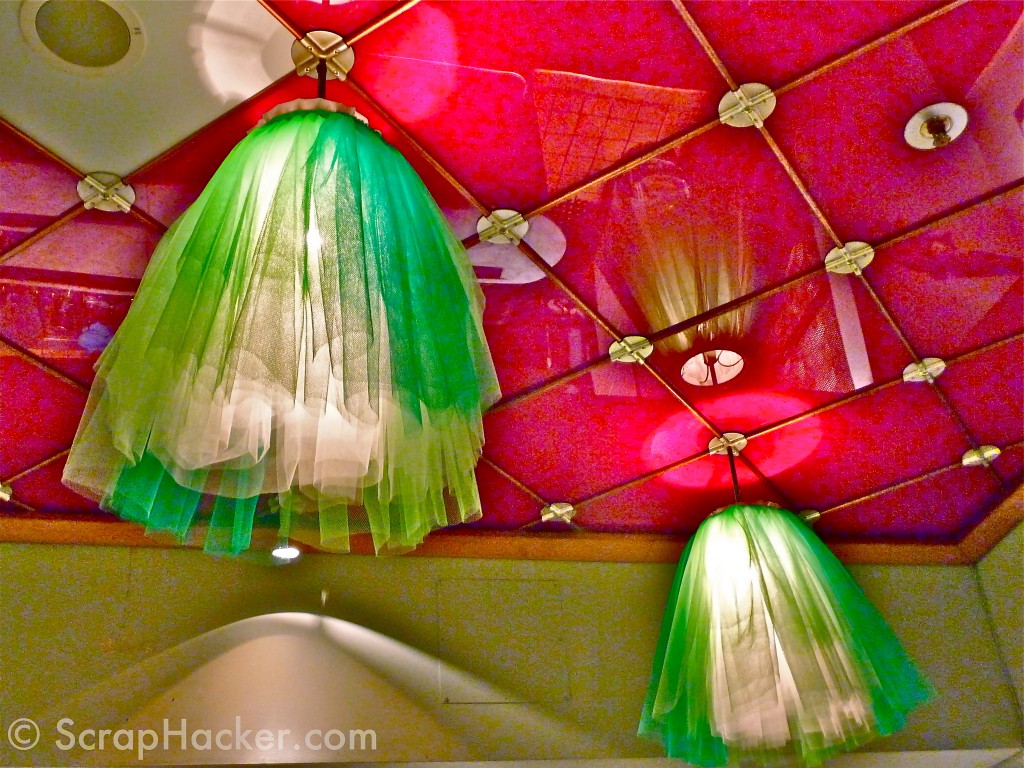 As €560/785dollars/£485 is too pricey for many (or at least to pricey for a whack lamp) i´ve gathered a set of instructions in order for you to make your own ScrapHacked version for less than 5% of the designer retail price… 
The Ballerina Lamp D.I.Y
D.I.Y Ingredients
A naked lamp wire frame (≈15 dollars) Tulle fabric or an old ballerina skirt (≈10 dollars) Needle & Thread (≈50cents) Lamp Lead (≈5dollars) Light bulb (1 dollar) TOTAL: ≈30 dollars…
1. Strip a lamp shade (or buy a naked one…)
Lamp shades of this type are generally available at hardwear stores with a big assortment.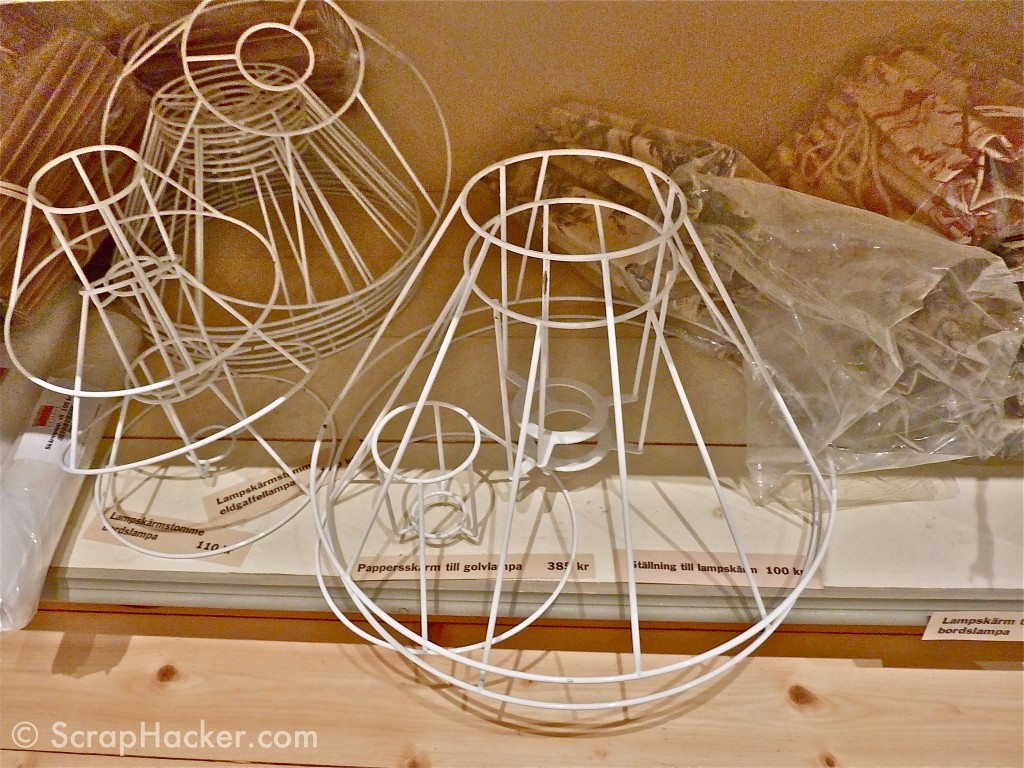 2. Re-Use or Buy some fabric
Have and old ballerina skirt lying around? If not, rest assured…tulle fabric is common, at a fabric store with a decent assortment, you´ll have plenty of colors to choose from. The orginal "Liv" lamp has a couple of layers of different shades of green. It´s your choice to go either multi-color or opt for monochrome…The quantity of fabric needed depends on your choice of "fluffiness" factor. Personally, I kind of like fluff so I´d go with 3 meters.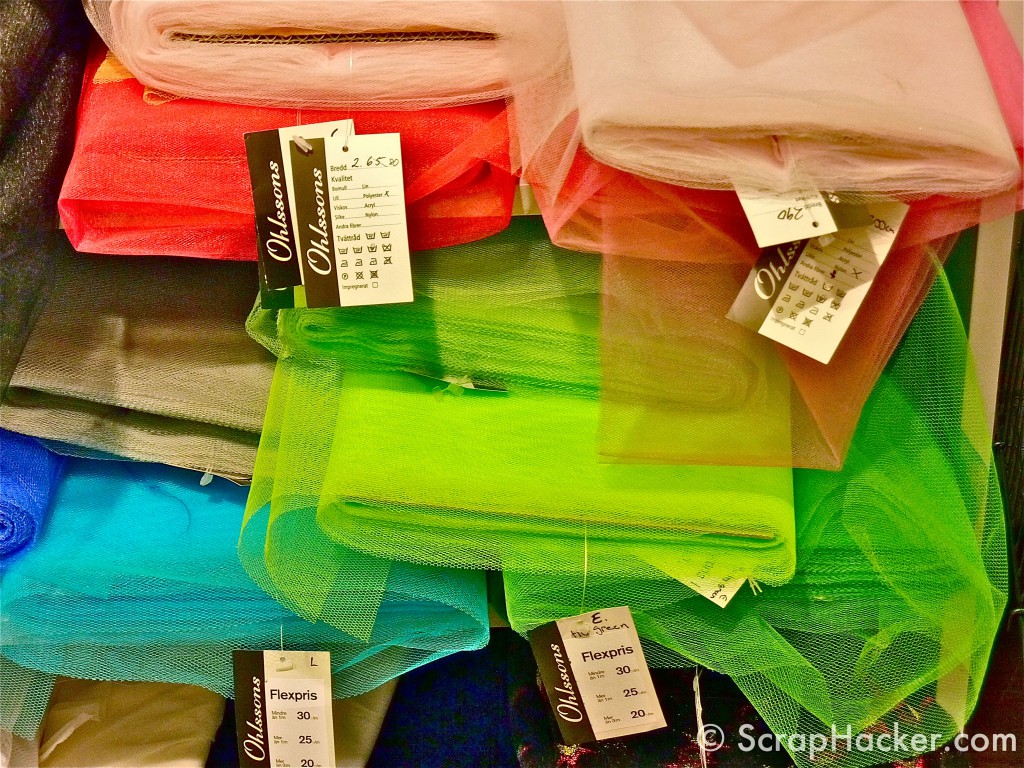 The price at the store I went to was about 25SEK/meter.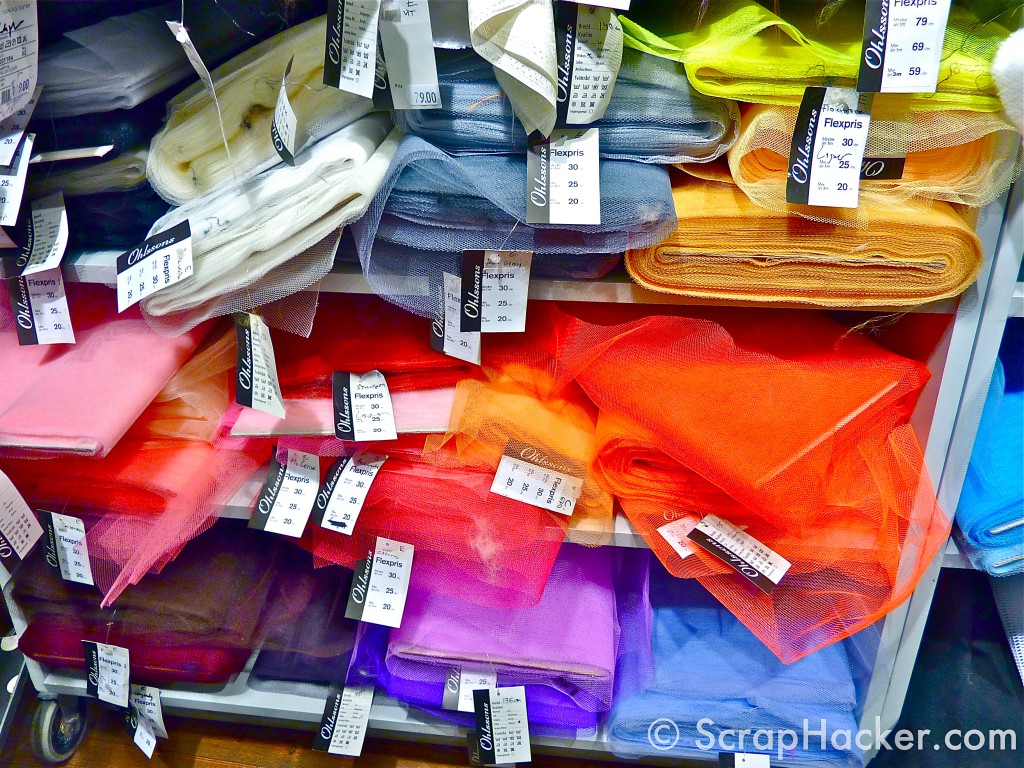 3. Grab your needle & thread…
Feel anxious about this step? Don´t. Nip & tuck layers of tulle on top of the naked lamp shade. Tulle is a very forgiving fabric as its full of holes already – hence, misstakes are easily fixed…Use a thick thread or use a loop/double thread.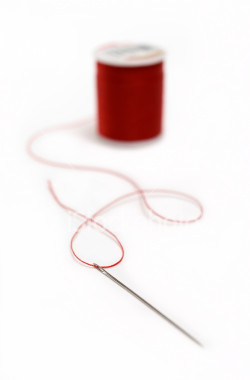 4. Lamp Lead + Bulb
Check the type of socket you have at your house, and go to the hard wear store to find a lamp lead that matches those requirements and that has a cord with an appropriate length for the look you want. This lamp lead example is from ClasOhlson. Regarding the choice of bulb – pick carefully with consideration to the following:
1.) Choose a low Watt-number or any kind that doesn´t easily get overheated! 2.) Respect the potential dangers of overheating –  make sure there´s a safety distance between the fabric and the bulb!

5. Admire the result!
I´m sure it´l look great! And best part is – you will feel great after some great ScrapHacking Action!  Here´s a
pic from a blogger
who also thought of this hack and made a pink version…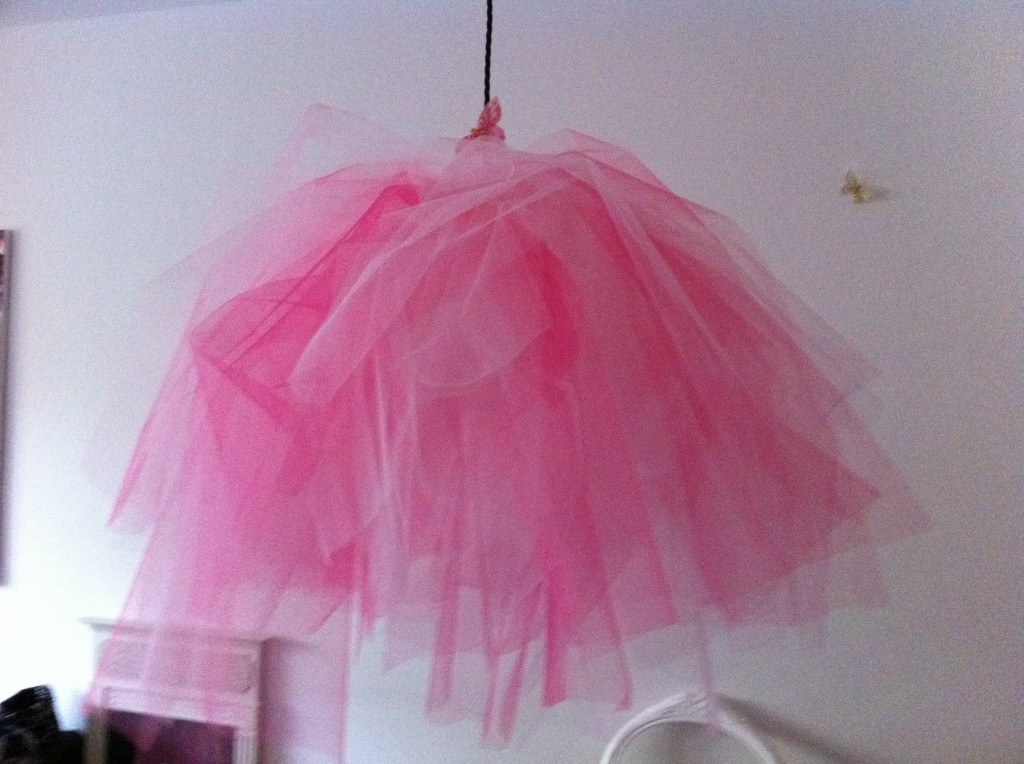 Should you wish to admire the designer glory of the original pendants head here:
Sturehof, Stockholm
This sticky scraphack idea was spotted @ Liberty in London. The front panel of the check-out counter has gotten a energizing and modernizing facelift by the help of random colored tape patches in yellow, blue & white.
Did this simple & supercheap idea get your ScrapHacker juices flowing? Then head out to the hard wear store or art supply store to invest in some tape (about $3 per roll) of your own and get hacking! – A simple, sticky idea can go a long way…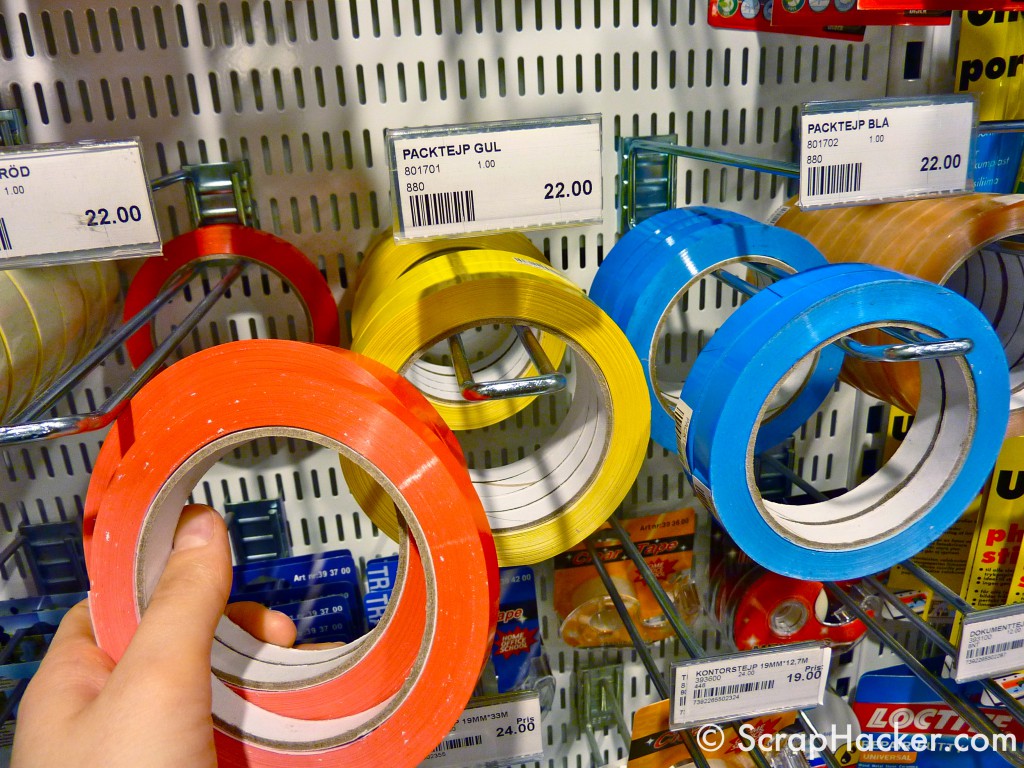 How come there are so little Lego furniture…When there are so much Lego? I mean we all know how to use it, yet we somehow don´t really apply the Lego Logic to other usages…Approximately 400 billion pieces have been made since 1958…and as we speak, 36 000 more are being molted each minute…That means there are a lot of Lego simply waiting to be hacked out there!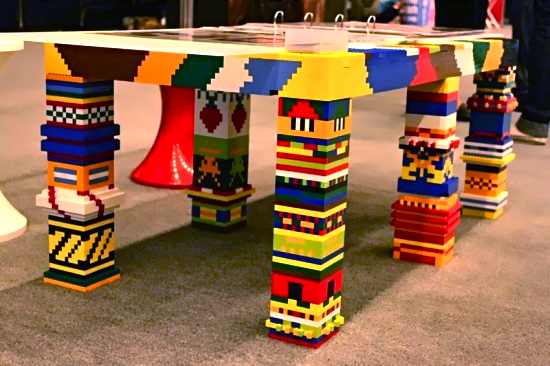 The spendid Lego hack above was built by students and staff from DeMontford University, Leicester (UK) who volunteered to build full scale model tables to attract interest in their display during the Graduate Fashion Exhibition in June 2010 (photo:www.gravelandgold.com)
I think it shows a fab application of how Lego can be used in furniture making, however I´m thinking there might be a real table under that Lego cover in order to support the construction? (photo: www.bradtechonline.com)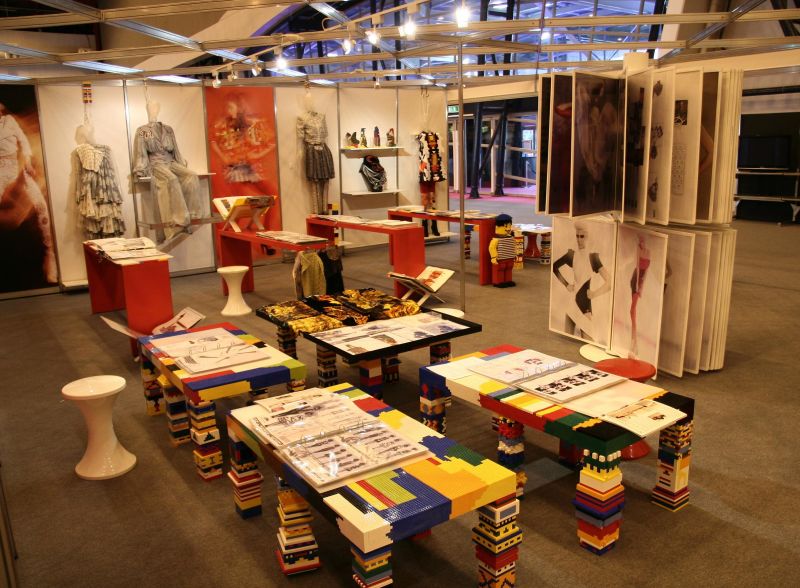 As I love Lego myself, I feel I must go to Legoland soon (i´ve never been!). However, in the mean time, I find comfort in browsing Lego stores such as the one @ Rockefeller Center in NYC. Among other great things, the Rockefeller store features a Lego replica of the Rockefeller Plaza just outside the store…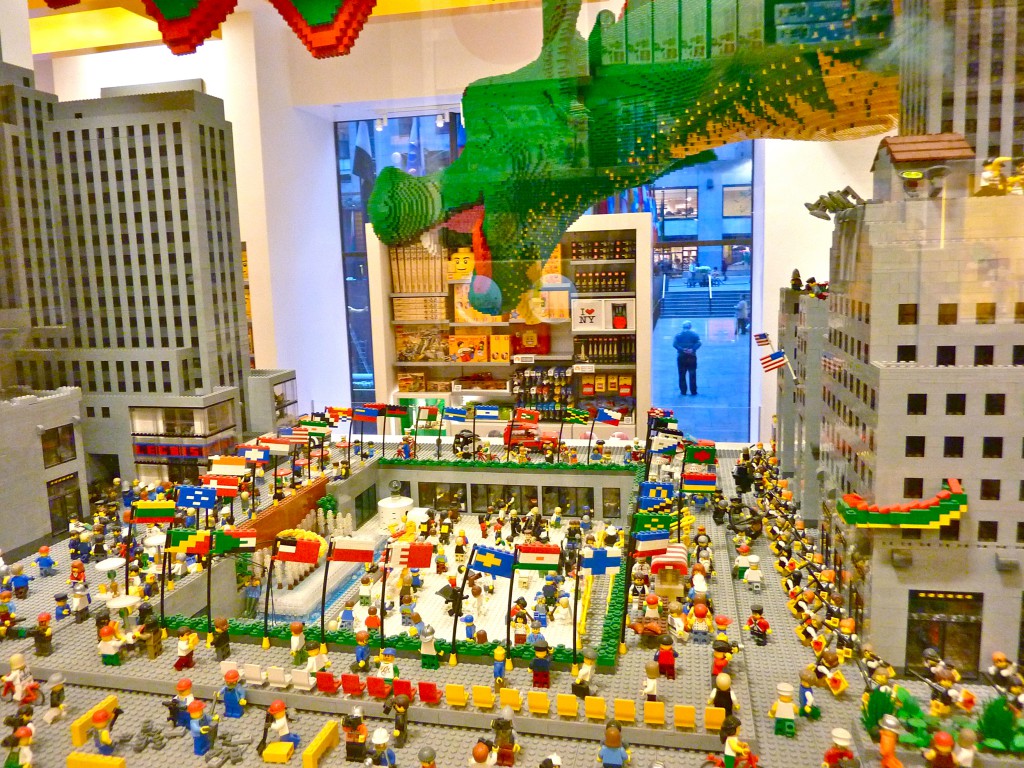 Some great words of wisdom -spelled out in lego- also caught my eye – and my spirit:
Creativity and Imagination shall be the Stability of Thy Times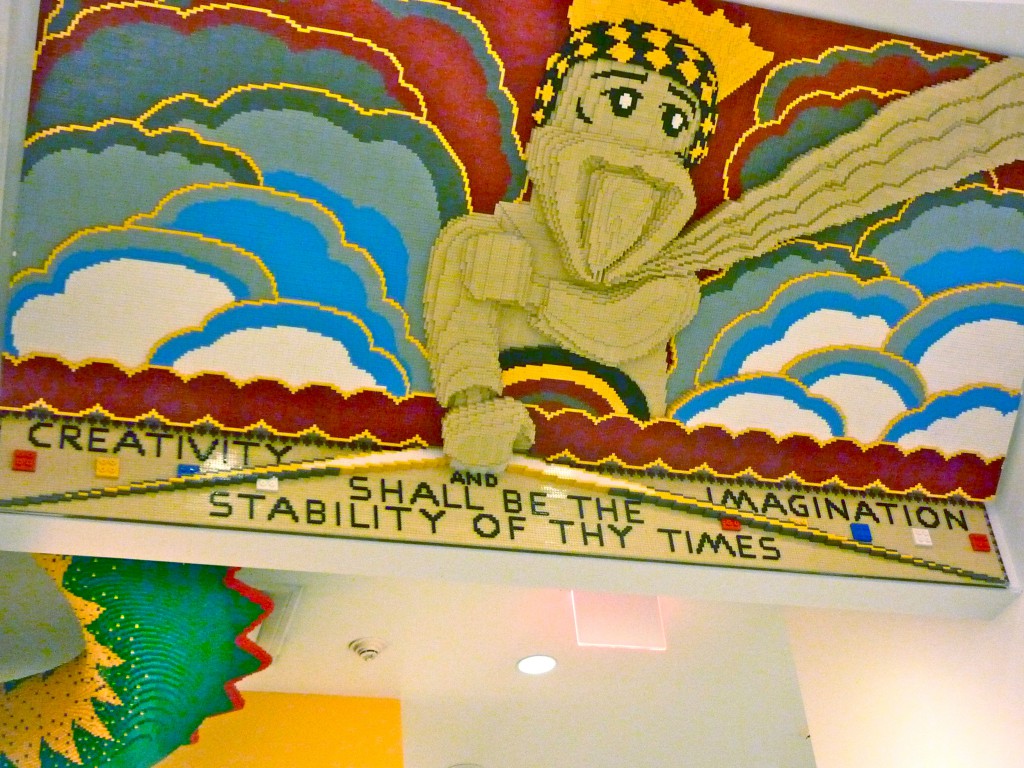 Visit Lego
Online: www.lego.com  The NYC Lego Store, 620 Fifth Avenue (Rockefeller Center, NYC)  
These clever & cool ScrapHacked sidetables -mesh cages filled with books and topped with a simple wooden top slabs- were spotted at my fav ´idea haunt´ Michelberger Hotel of Berlin. The hack shows a great was to make use of old books in this iPad-era (another take on this was featured in the previous post Bench of Thought)
I couldn´t help but think I had seen the type of welded mesh structure before, that it was a standardized piece of some sort…yet, I wasn´t really sure what they were called…Some intense googling solved the puzzle: they´re called ´gabions´!  They´re a "building block" made of galvanized wire that´s used to create retaining walls by stacking them on top of each another…
This is a Gabion…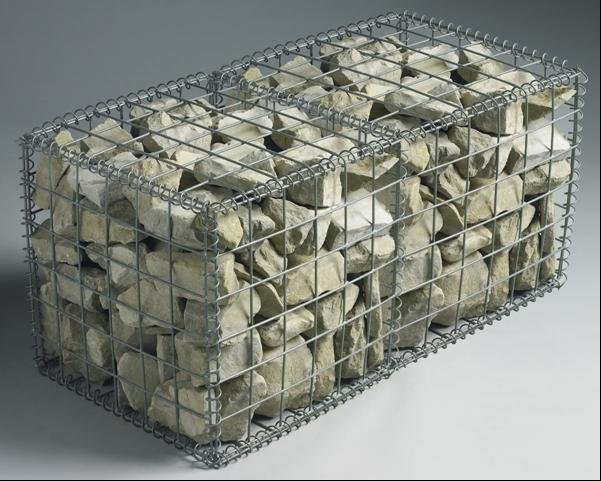 Other uses in civil engineering are using gabions to stabilize shorelines or slopes against erosion as well as serving military purposes (as they, when empty, can be carried relatively conveniently and then on site of use in the field can be filled with soil and rocks to form an effective fortification wall around field gunners.
In The Michelberger…The gabions have gotten yet another function to its list of possible usages…They have been used throughout the lobby space to create a multifunctional dividing structure that simultaneously adds private "sections" as well as a sculptural and quirky cool statement….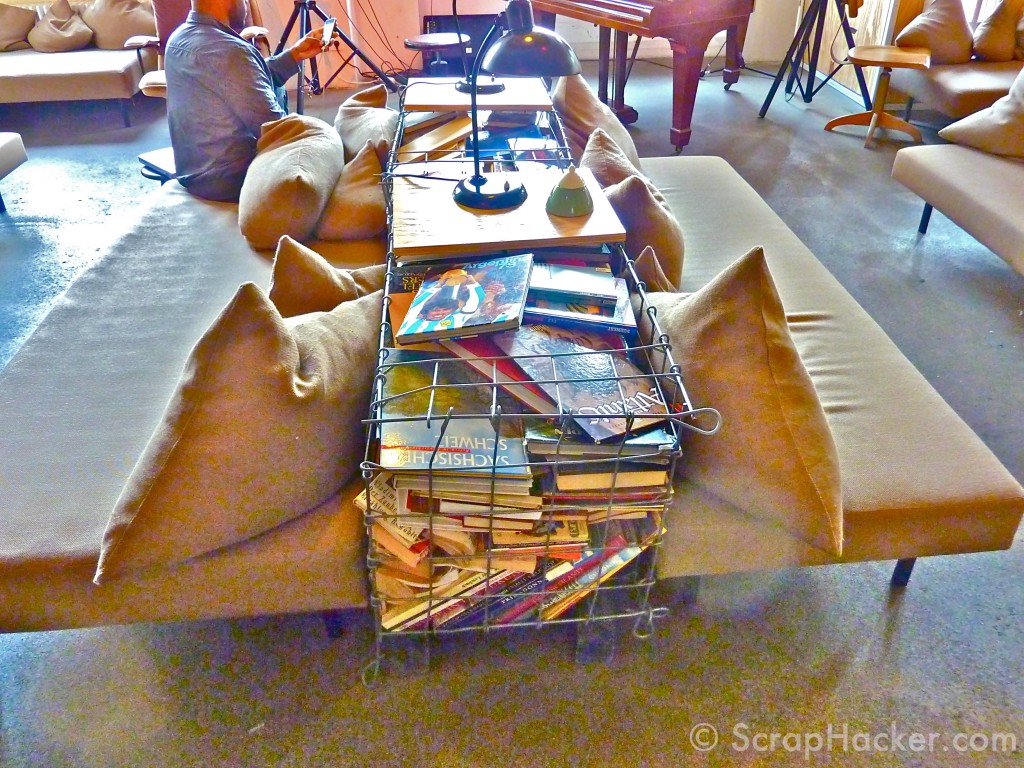 Study the picture below to see how the gabions are put to use…Like the quirky pendants in the photo? Check out my previous posts Mad Mag Lamp and Fringed Lamp for further D.I.Y inspiration from The Michelberger.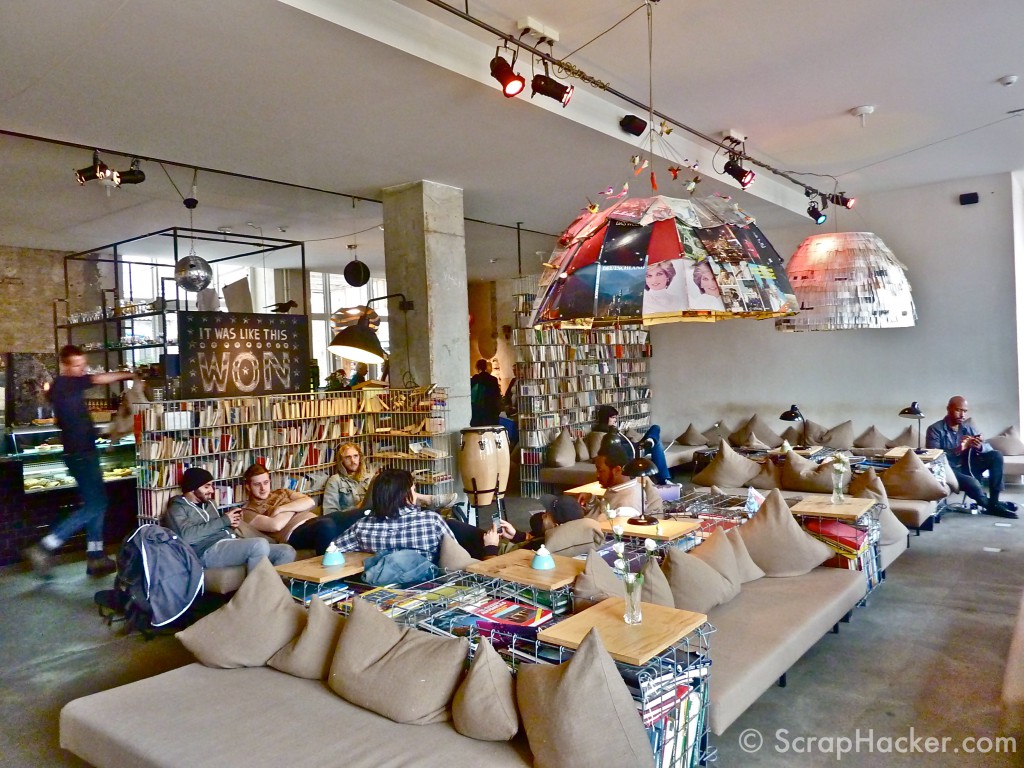 If you´re not to keen on the scrappy look, you could always go for a sleeker version and use logs as gabion filling instead!
N.Y based Garden Designer Rebecca Cole has designed these great optional looks:
Visit The Michelberger Hotel, Berlin
Online @ www.michelberger.com
I´ve always liked the artist Jackson Pollock – "Jack the dripper" – and his trademark Action Painting technique (and any abstract messy art for that matter)…However, for most of us, Pollocks stuff are inaccessibly pricey (back in 2006 one classic drip painting was sold by Hollywood entertainment mogul David Geffen for a staggering $140 million…). So recently I figured –  who needs a real Pollock when you can make action paintings of your own?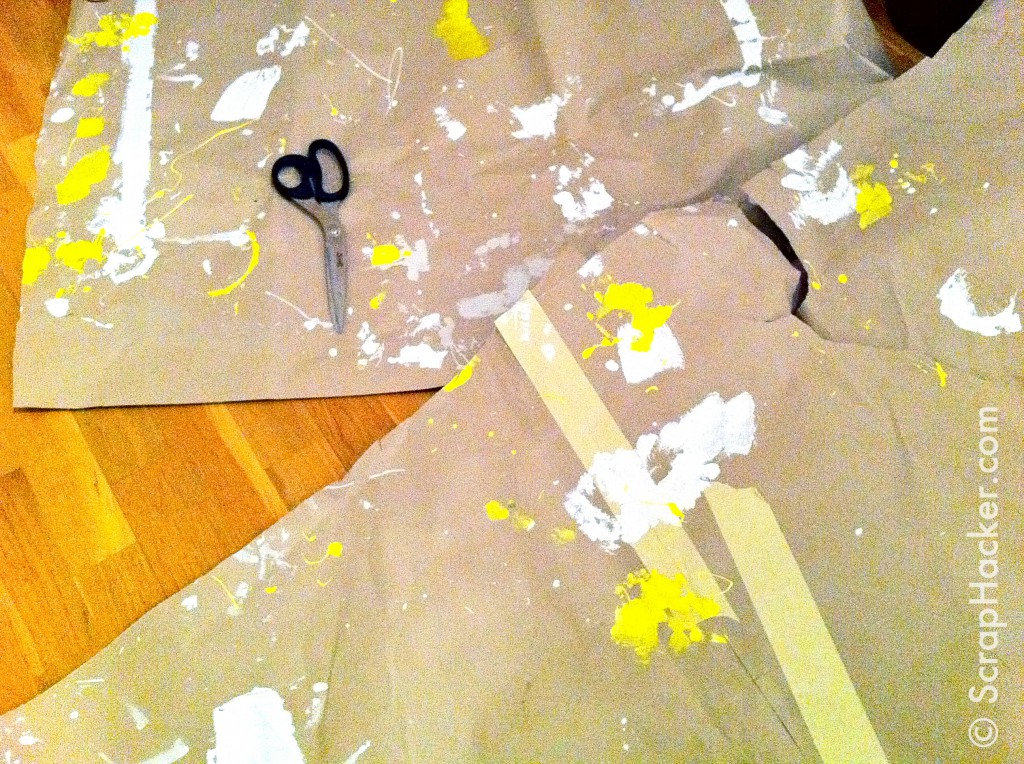 As I have problems in finding stuff I like to hang on my walls at home, I recently created my own "action" paintings when I spontenaously salvaged and "artified" the carton I´d used to protect the floor while I was painting my Canary Yellow stools…
What you need for some Pollock D.I.Y
1. Some messy, paint-stained carton like the one featured above (Note: The best drippy, sloppy results are acheived when actually really painting something, so combine this Pollock-D.I.Y hack with some other hack that includes lots of painting!)
2. Some frames…I used a mixed IKEA Ribba frames and IKEA Fjällsta frames for this hallway arrangement…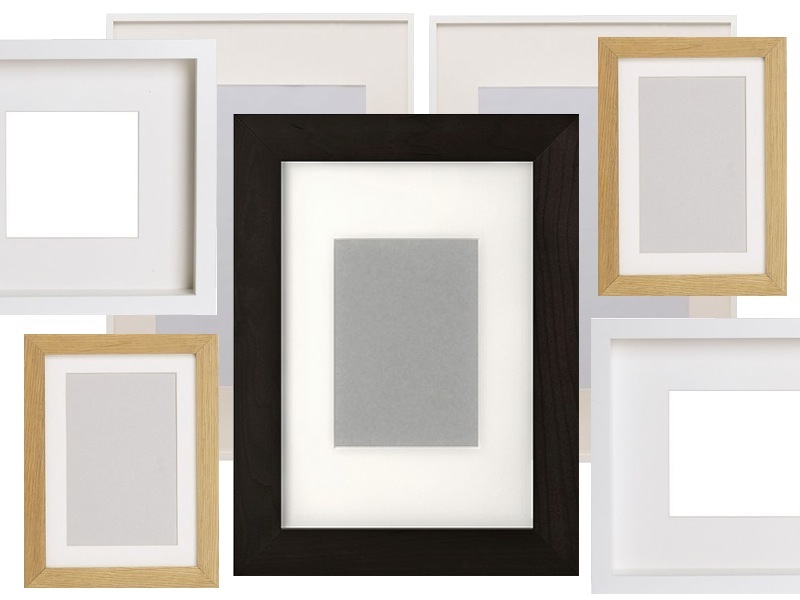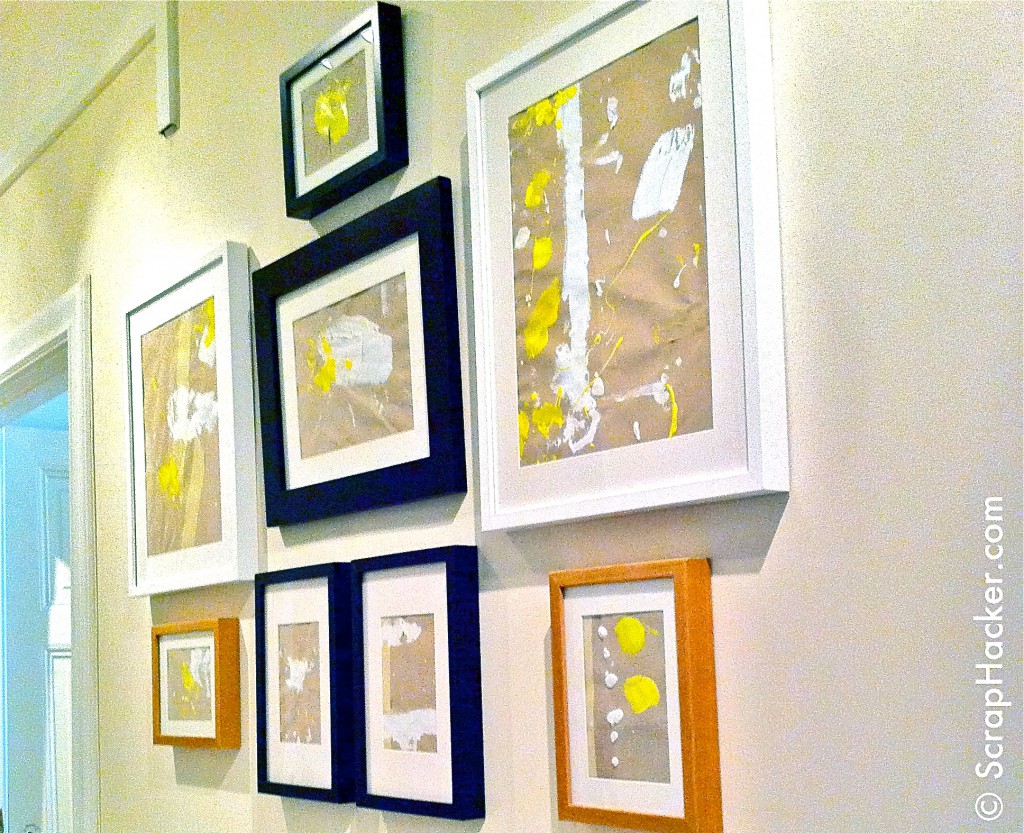 Right now I have a naked piece of carton hanging on the wall in the dining area corner of my living room, featured in my previously posted £30 Dining Table Hack D.I.Y Tutorial. I kind of like that piece of carton – which is a left-over from a pallet paint job (which was the origin of that rectangular shape!)…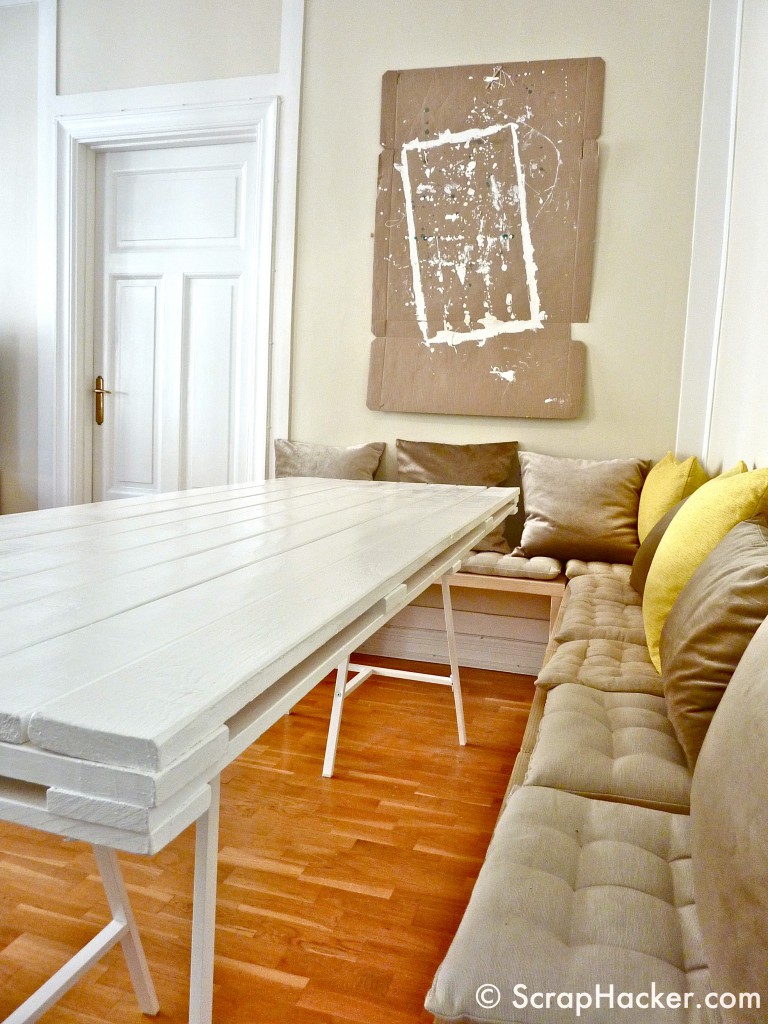 One last pic of the hallway again (below)…If you like me, have a long narrow hallway but the need for some good shoe storage – take a look at my IKEA HEMNES shoe cabinet hack/tweak for some D.I.Y inspiration!
 Wanna have some more Pollock inspiration, then check out this clip and look him up on YouTube!
Dutch design star Piet Hein Eek has arguably been one of the most inspirational, influential and successful furniture designers during the last couple of years. Along with a highly productive studio, he has launched a large variety of pieces in his signature patchwork style, with scrap wood laid put in eclectic patterns and drenched in a high gloss varnish…His stuff is pricey, but inspiration is free at least – So let his work be your inspiration and get ScrapHacking!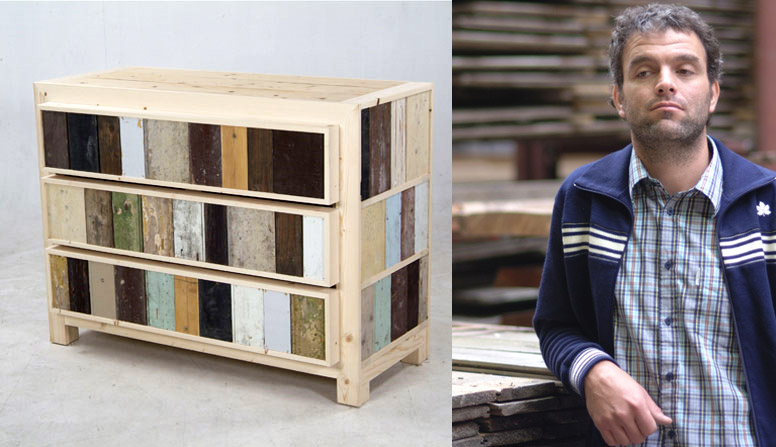 Photo from
www.greenupgrader.com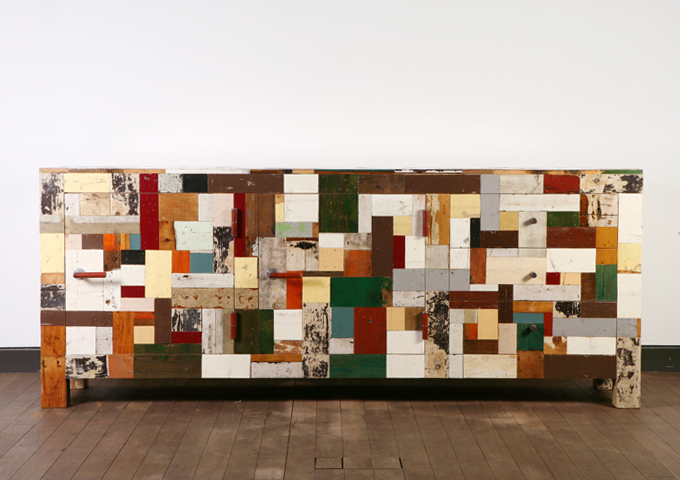 Photo from
www.firstofaugust.com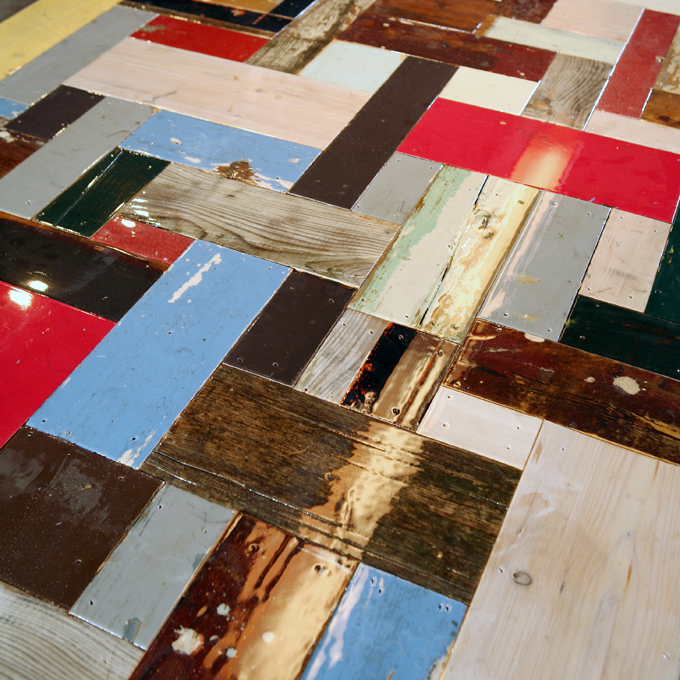 Photo from
www.spacecroft.tistery.com
Other ventures include the opening of restaurant, shop and art gallery in association to the huge studio complex in Eindhoven.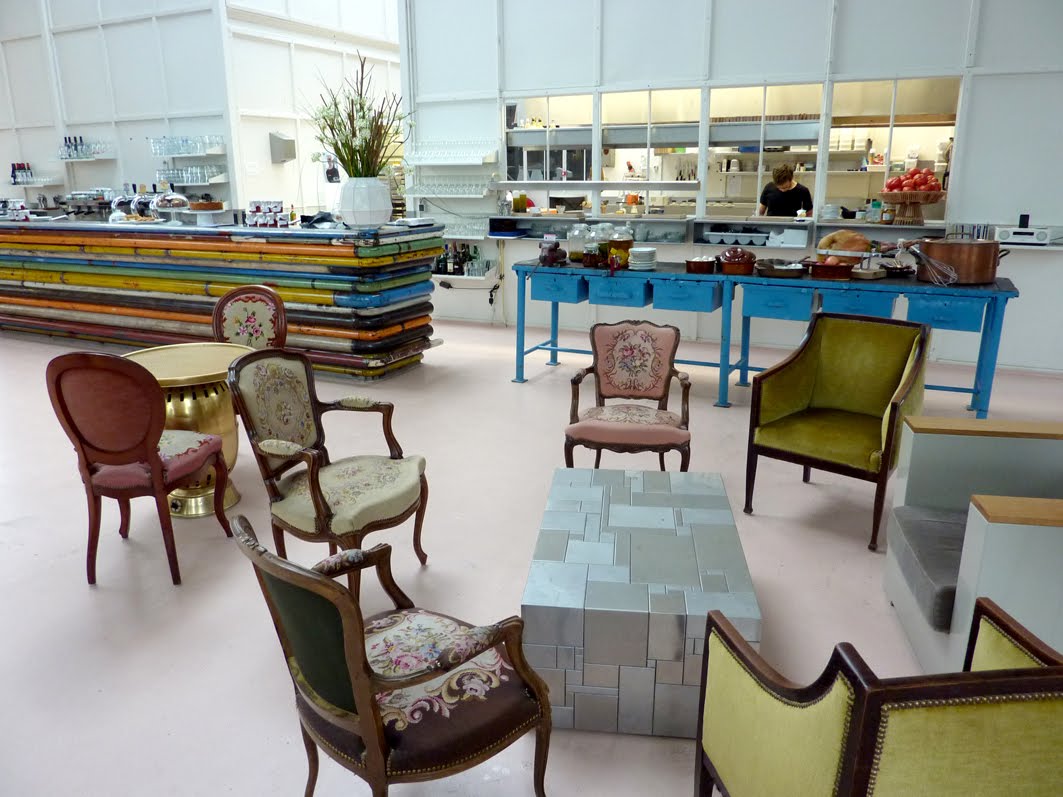 Photo from
www.thisgirllel.com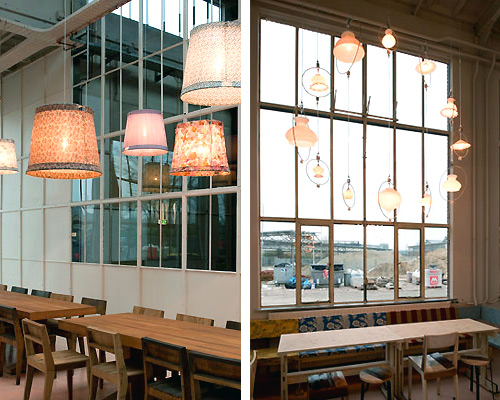 Photo from
www.anthologymag.com
Commisioned Door project (for Geusebroek & Alliantie)
"…we ultimately came up with an idea that was far better than the original one. We covered the enormous walls, on which the photomontages and old building materials were to be placed, in their entirety with old doors (partly from the containers with materials that had been preserved). The result is far more convincing than the original idea and also fits in much better with past projects we have done…" (quote from Piet Hein Eek Website)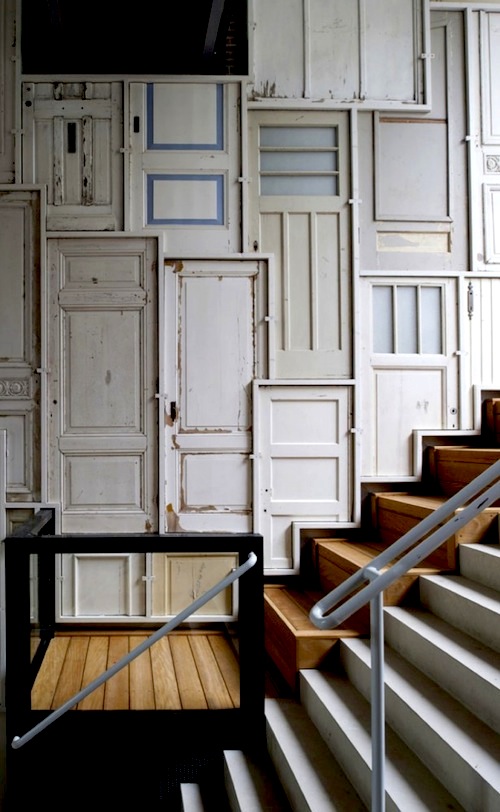 Photos from
www.pietheineek.com 
Some of Piet Hein Eeks free work
This metal Tube Bench is made of tube cut-offs…(photos from Piet Hein Eek Website)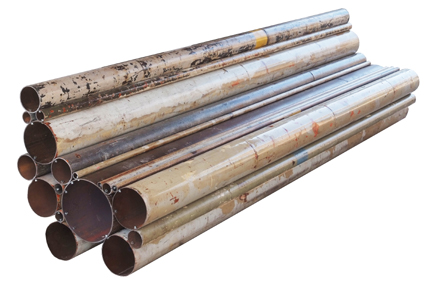 …that are joined together at the ends with simple threaded rod screws and matching nuts.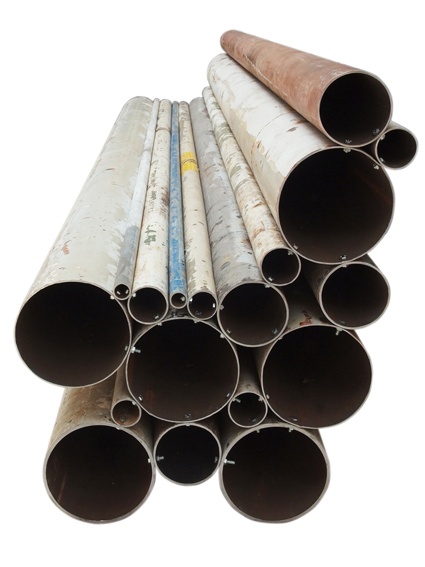 Wallpaper designs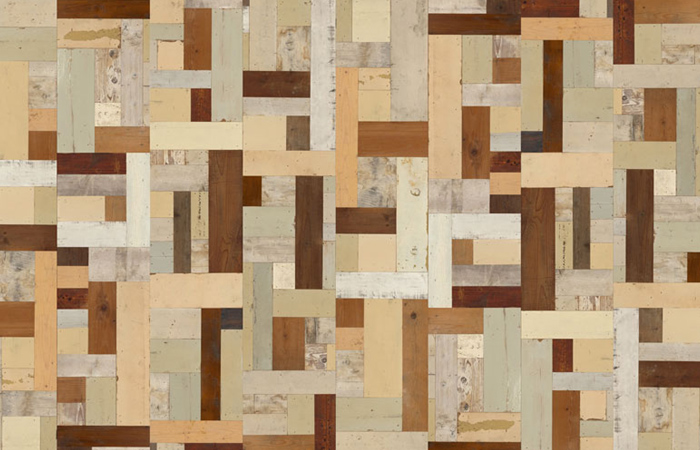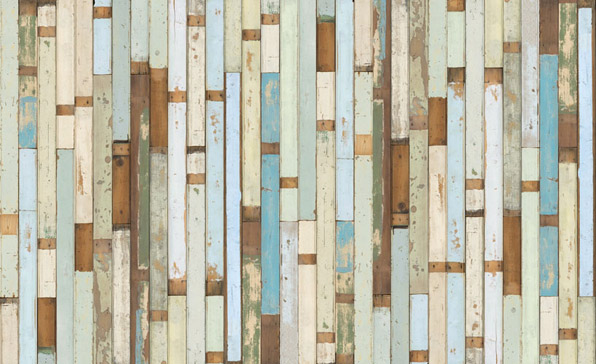 Wallpaper photos from:
www.hypebeast.com
www.interiorzine.com

www.samanthacleminsson.wordpress.com
For more of Piet Hein Eek
Visit the website @
www.pietheineek.com
Visit the Eindhoven Complex @
Halvemaanstraat 30, Eindhoven
– Phone : +31(0)404009005 (Restaurant opening hours:  Monday closed, Tuesday-Saturday 10:30-23:00, Sunday 12-23)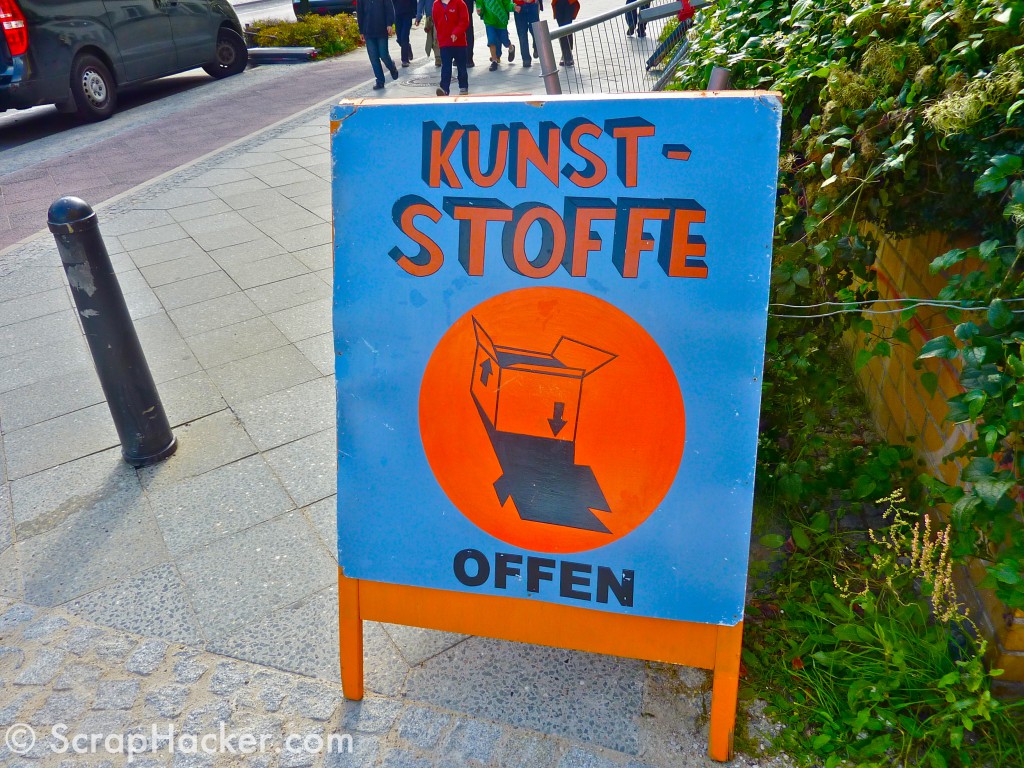 Some dream of vacationing of sunny beaches…I like those too, but right now, my vision of paradise on earth is the Kunststoffe workshop, tucked away in a backyard in Berlin´s Pankow Area…It´s not a glamorous place, a bit scruffy actually (and not only round the edges). However, those traits are obviously outshone by the sun-rays of creative inspiration, that reaches into every corner of this place. Kunststoffe is a ScrapHackers´haven – an open studio that gathers a depot of scrap to be remade into new objects and welcomes skilled and unskilled hands to give hacking it a go. Old-school, basic tools (no power tools!) and every kind of scrap detail you could imagine are the available aids at hand.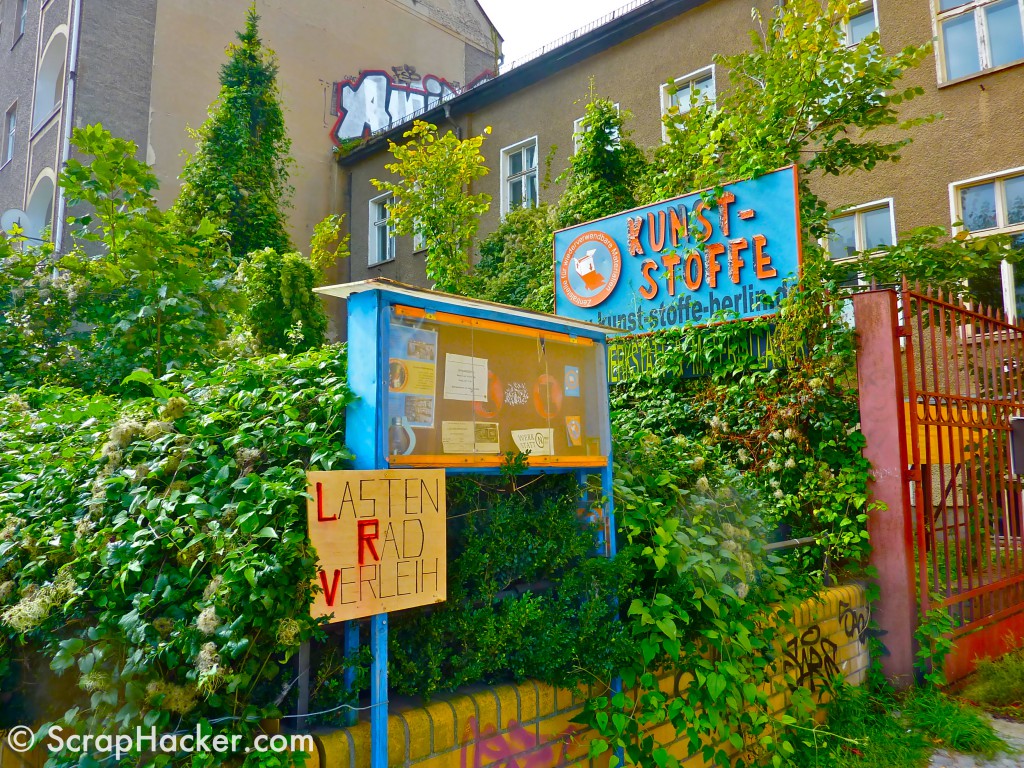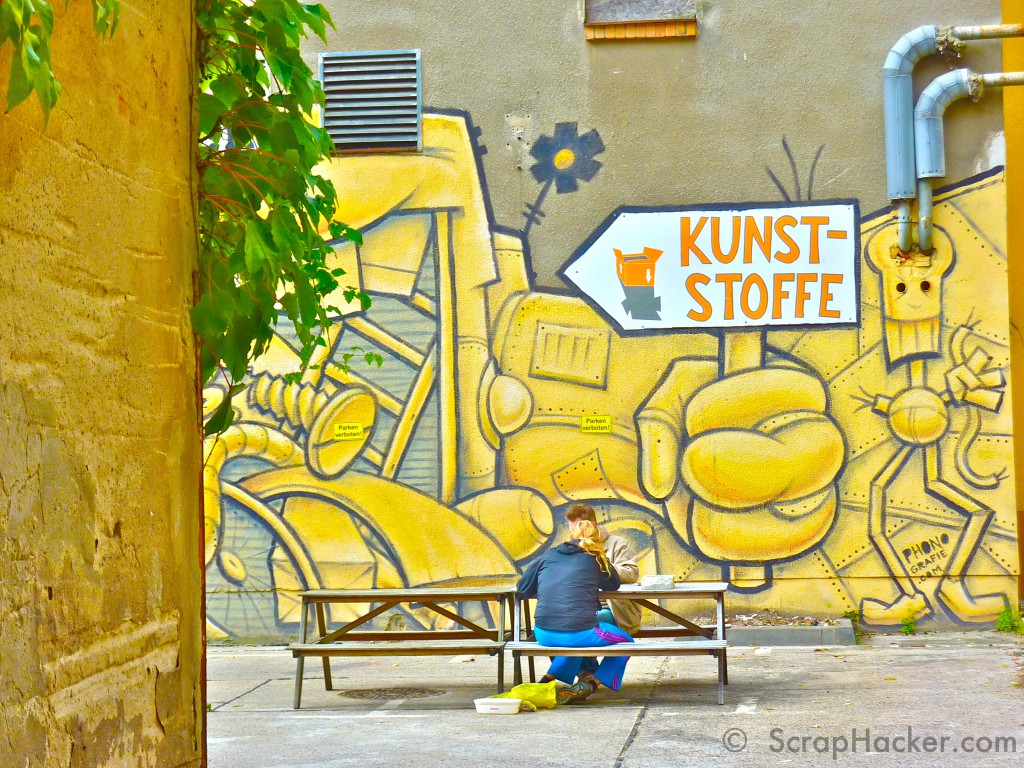 With its modest pricing, Kunststoffe welcomes anyone with a practical urge, and provides guidance if needed. In my eyes this is a perfect place to spend a perfect day!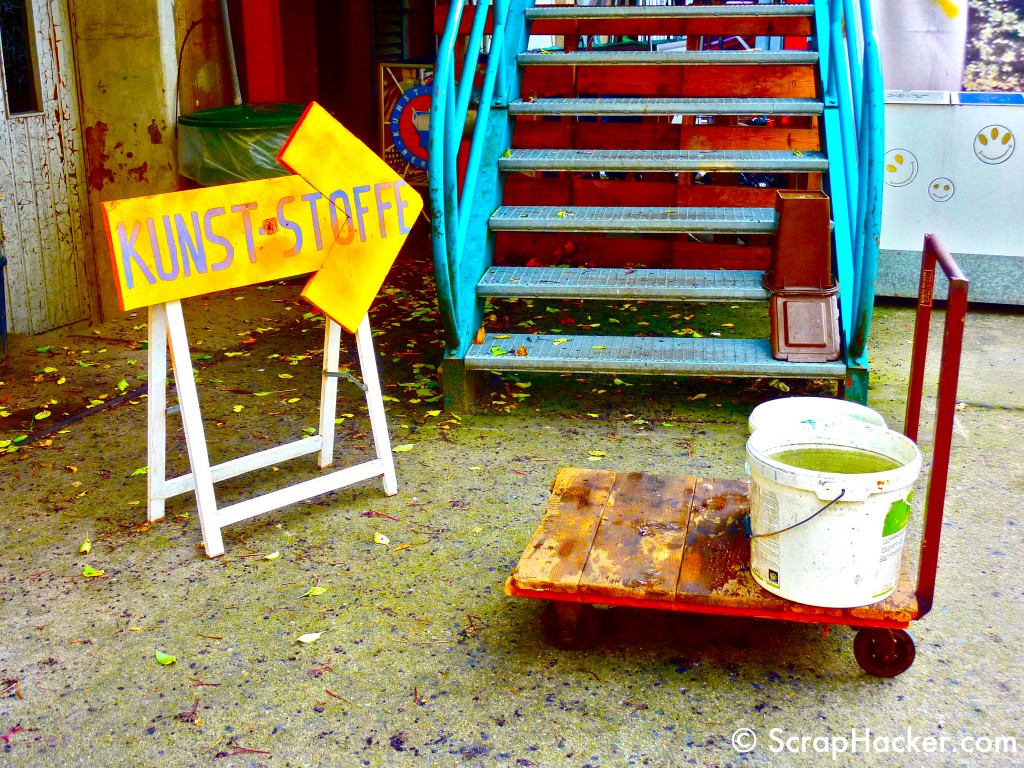 The available tools – Less is more!
Cute arty ScrapHacks…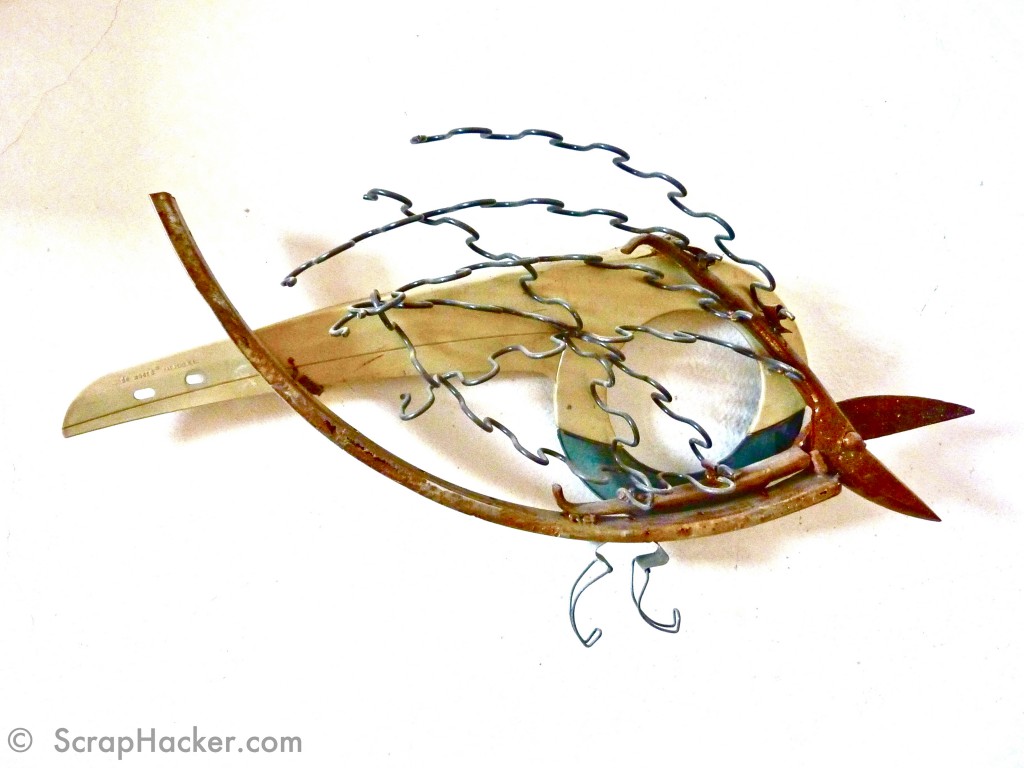 The wood room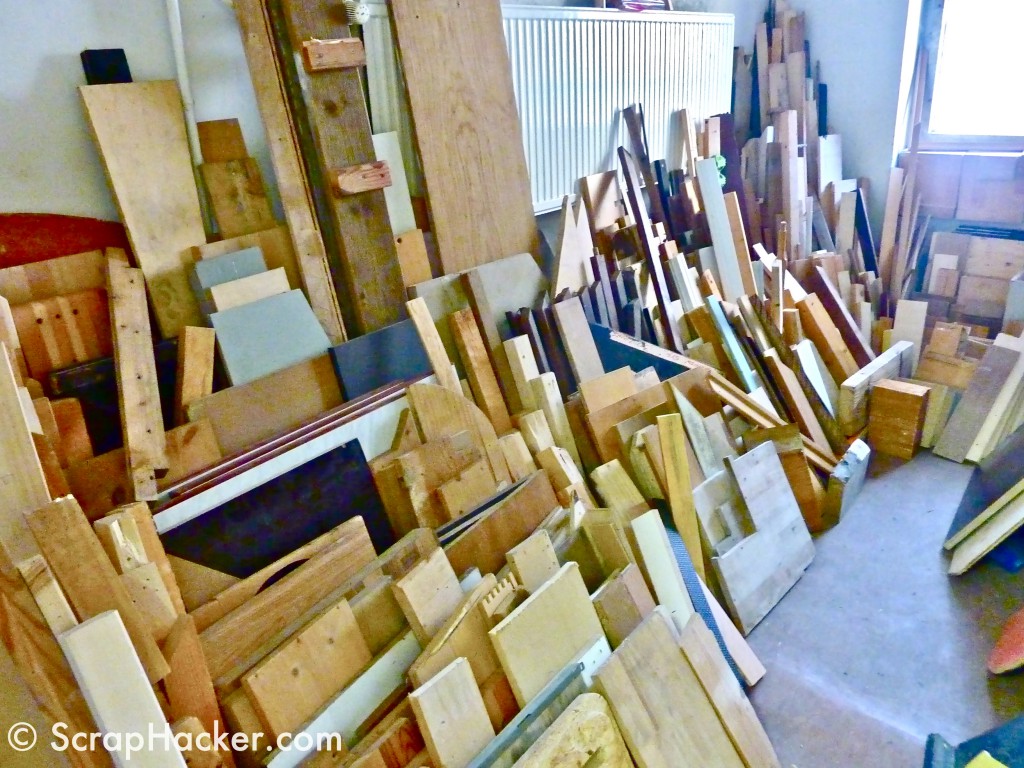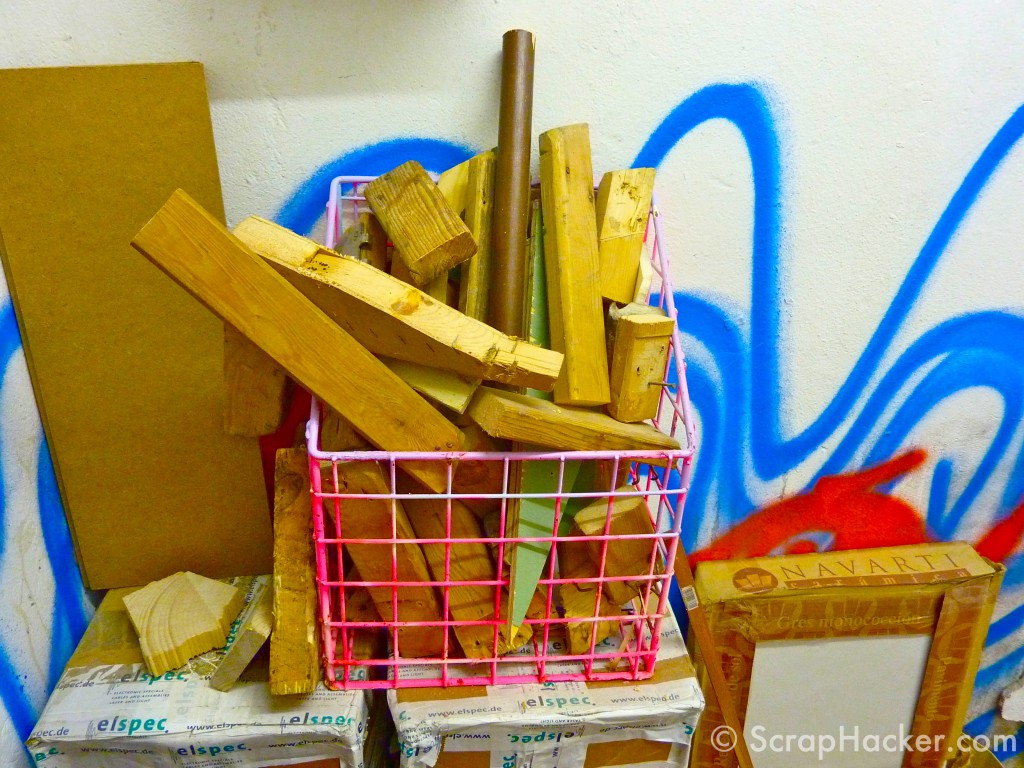 The Scrap storage space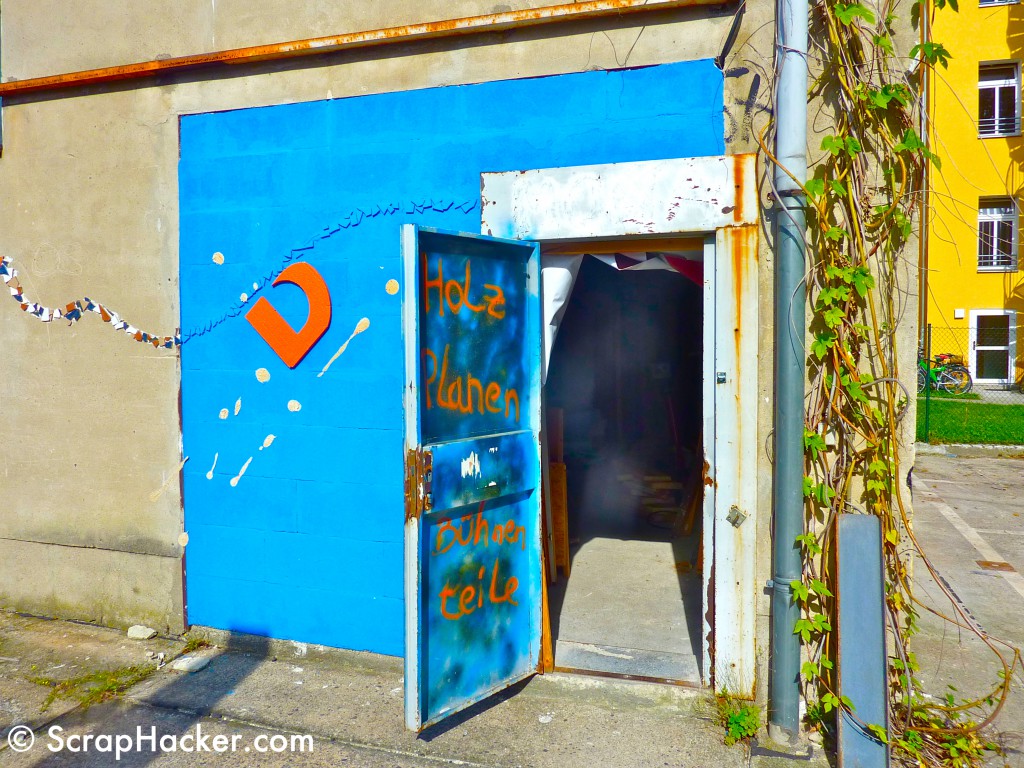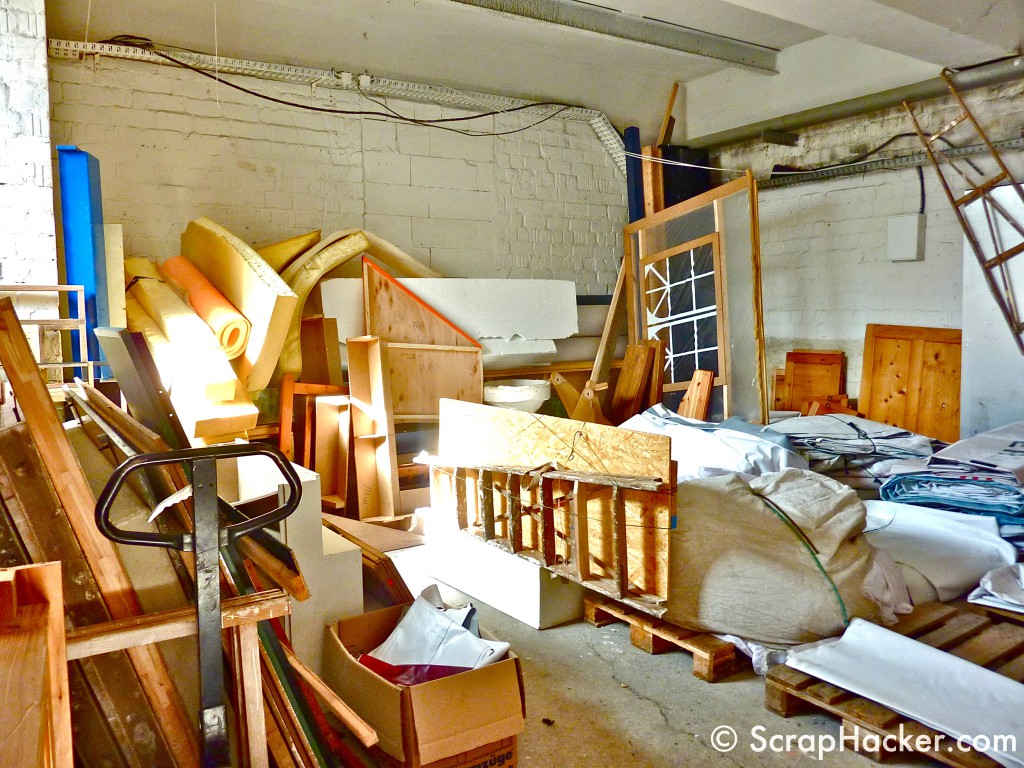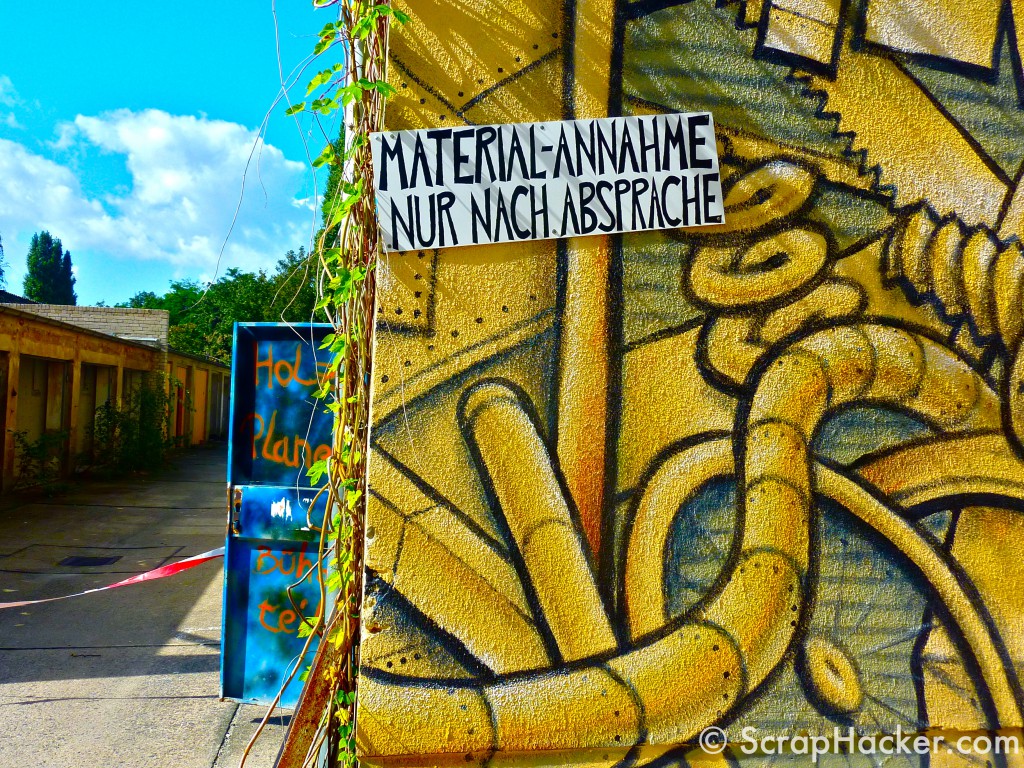 A ScrapHack Bench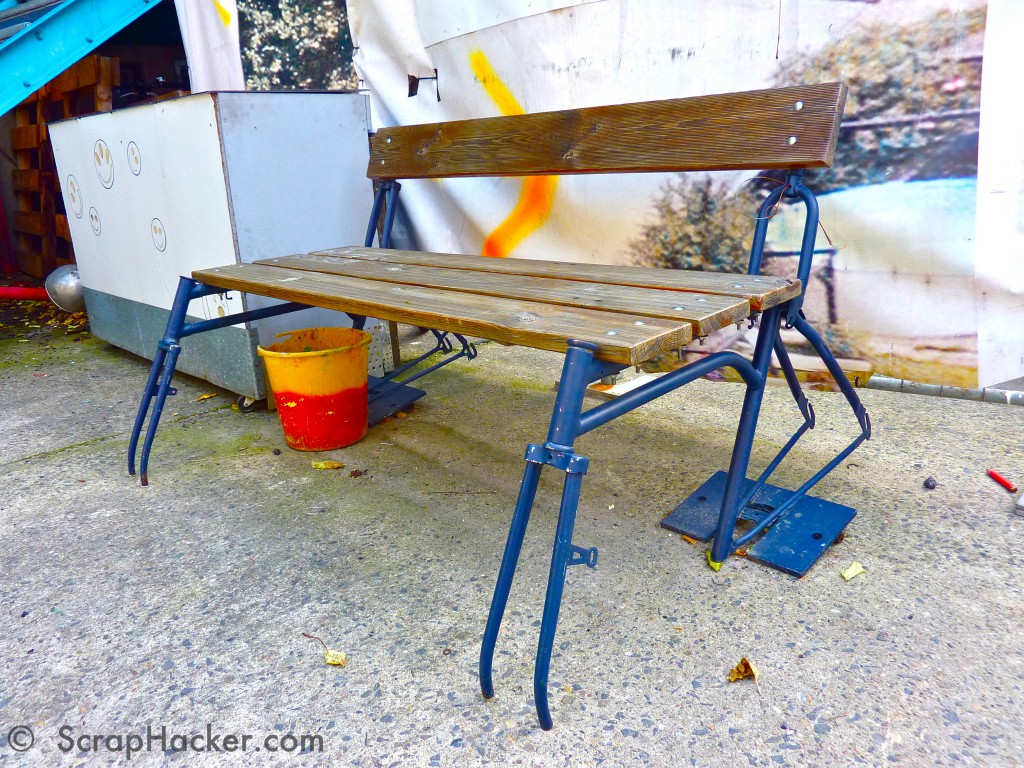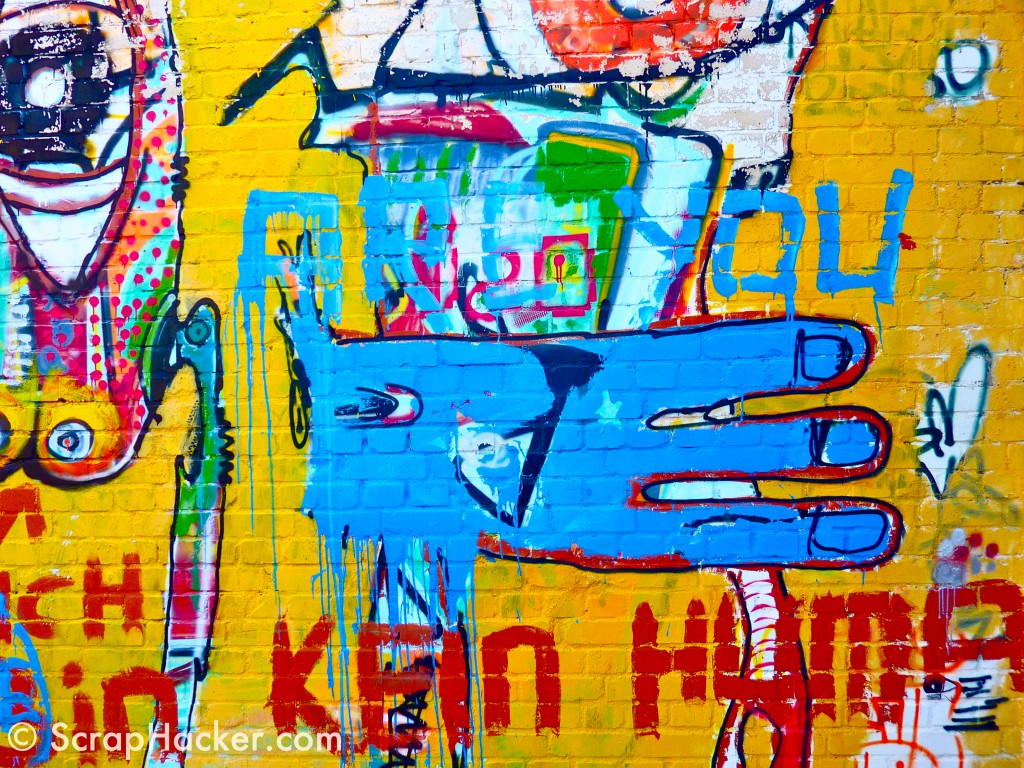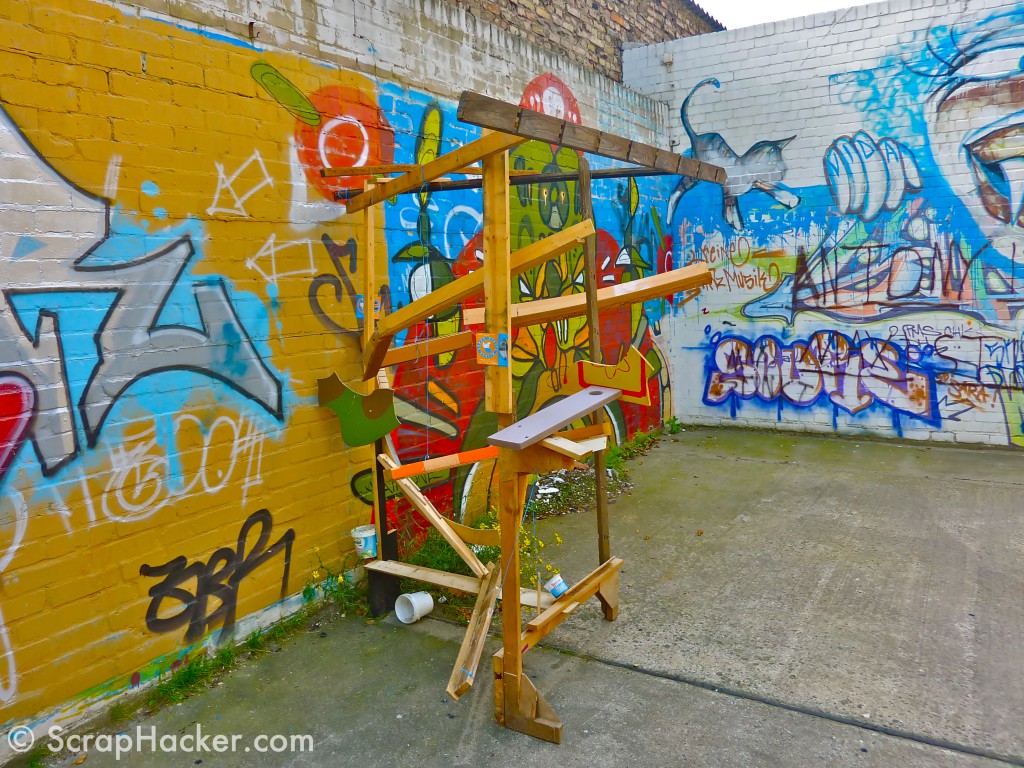 Visit Kunststoffe, Berlin
Online @ www.kunst-stoffe-berlin.de
Real world @ Berliner Straße 17, Berlin (U-bahn Pankow)
Crates are a fantastic ScrapHack raw material…They´re durable, often colorful, and versatile – Upside down they can be a stool, with back against the wall – a shelf…As seen in a previous post on The Wonderful Prinzessinnengarten Garden in Berlin, they can be used to serve practically any function! The featured create cabinet (seen @ Recyclart)  below takes the crate hack one step further…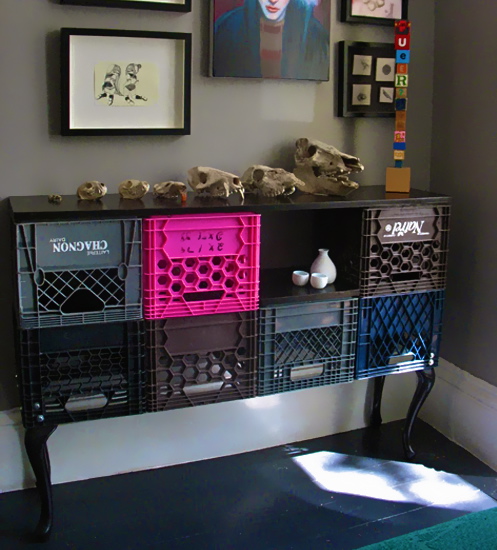 The popping pink crate and the unexpected legs make this piece a feast for the eyes of any ScrapHacker…Milk crates are generally easy to come by if you do some googling. If you like to have a selection of colors, I´ve seen a large crate assortment at The Container Store – the U.S based retailer that makes us dream of that organized life…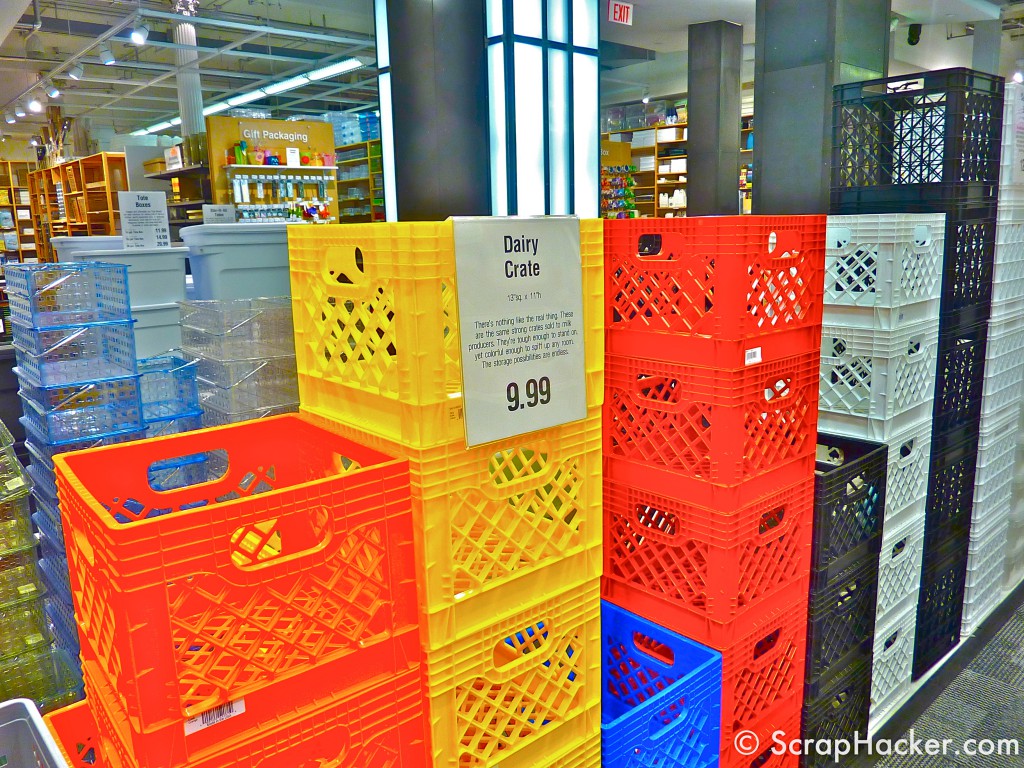 For some D.I.Y action, you´ll need the following if you want it to be similar to the picture:
The Milk Crate Cabinet D.I.Y
Top MDF Board (approx 40cm wide, 140cm long, 2cm thick)
Back board, plywood or MDF (approx 140cm long, 60cm wide)
Some wood to construct a bottom frame
8 crates (i´d also try to create the drawer functionality by making an
interior frame structure and adding sliding rails, that the crates could lean on (and be pulled out from).
4 fun furniture legs (perhaps chopped off from an old piece)
Hope you have fun ScrapHacking!      
James Russell + Hannah Plumb = London based design duo JamesPlumb – "two artists under one name who work with the overlooked and discarded, taking time worn antiques and cast-offs to create one-off assemblages, luminaires and interiors"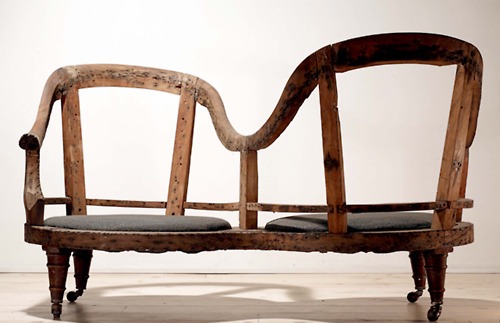 The couple and creative duo met while studying Fine Art Sculpture at Wimbledon School of Art and was recently on the shortlist for TheBritishDesignAwards the prestigeous Designer of the Year category…They young talented team have a great body of work including thematic collections such as "Concrete Stitches" and "Sampson Dog Light" as well as store designs for design boutique Spazio Rossana Orlandi in Milan and menswear designer Hostem in London.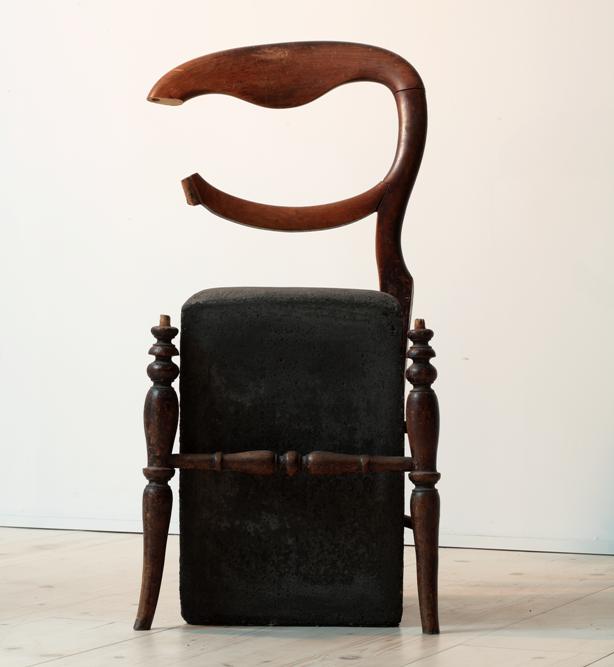 Photo from
www.thetrendboutique.co.uk
The JamesPlumb website features a Christian Boltanski: Objects are waiting for love, for someone to say "I want you"…. Surely, the creative "love treatment" by JamesPlumb makes any deco junkie out there eager to join the love parade celebrating these lovely scraphacked remakes…
Photo from
www.designersblock.blogspot.com
"Bambi"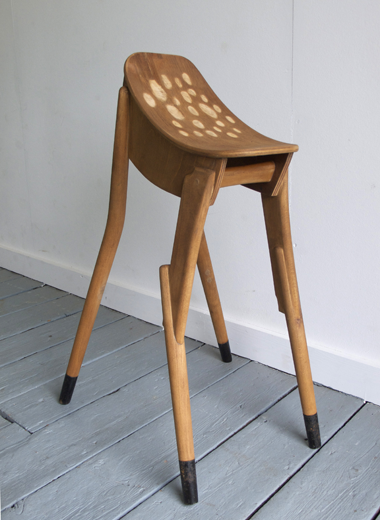 Photo from
www.londondesignguide.com
Sampson Dog Light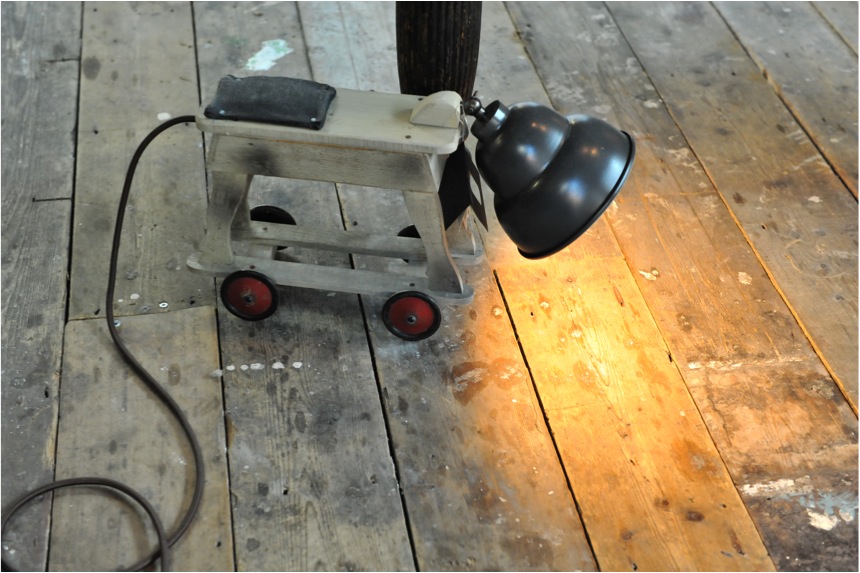 Photo from
www.quattroporte.se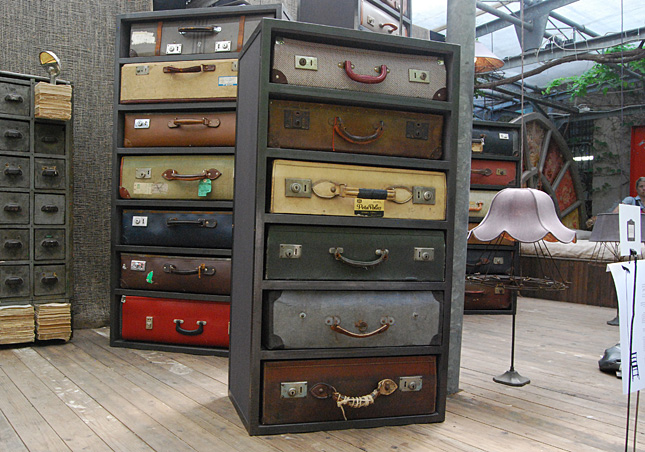 Photo from
www.core77.com
Hostem London store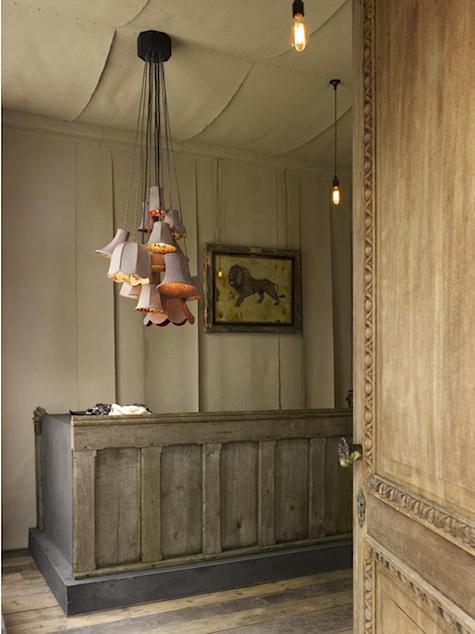 Photo from
www.anthologymag.com
Photo from
www.interiordesign.net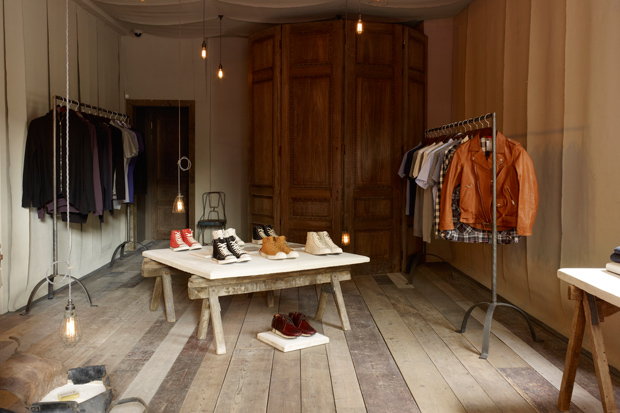 Photo from
www.manmakehome.com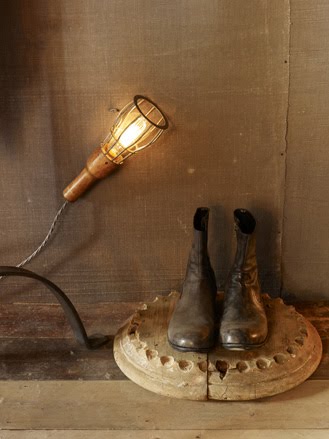 photo from
www.charlotte-jackson.blogspot.com
Hostem Store (41, Redchurch St, London)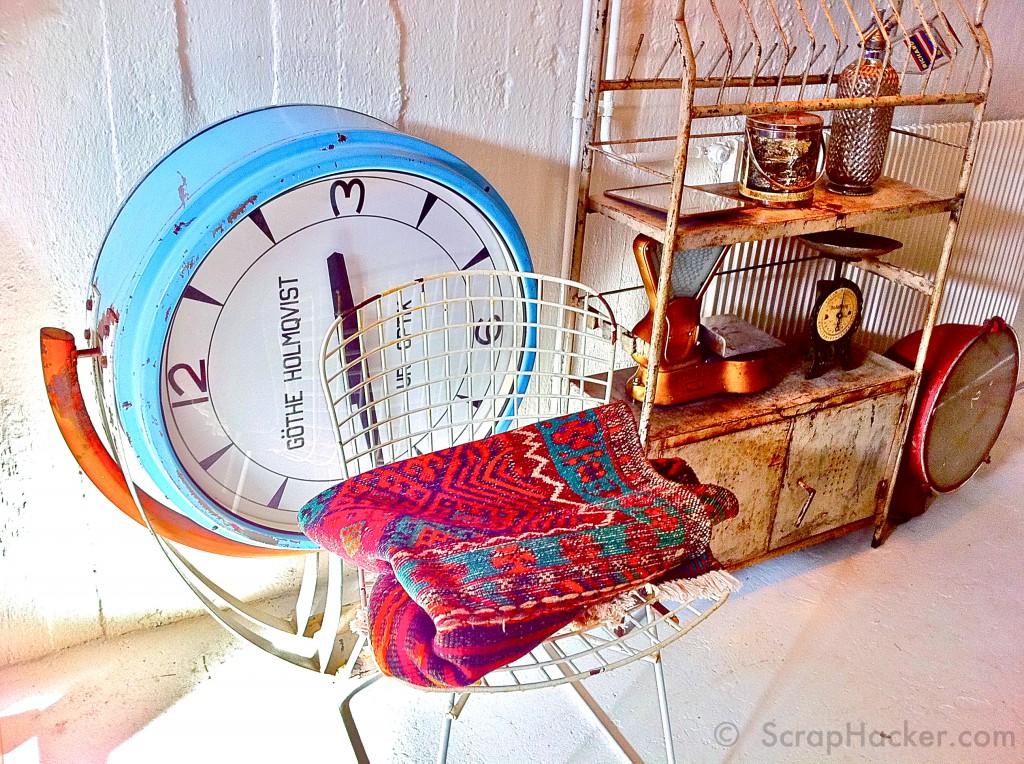 Talented deco duo Edin Memic Kjellvertz and Lina Thofelt are indisputable masters of soulful, scrappy chic. I deem it impossible to leave their Dusty Deco store (or website) feeling anything but hugely inspired by their eye for potential…The assortment is selected with notorious fingerspitzengefühl, and further curated into imperfect perfection in sculptural still lives that make old scrappy vintage pieces shine – as ensembles as well as by themselves…
The pics in this post were snapped during a visit the previous shop venue, to get your dose of Dusty Deco visit their fab website @ www.dustydeco.com or head to new address @ Kocksgatan 23, Stockholm (see map at bottom of this post) where the store is open; Wednesday – Sunday 12.00-18.00.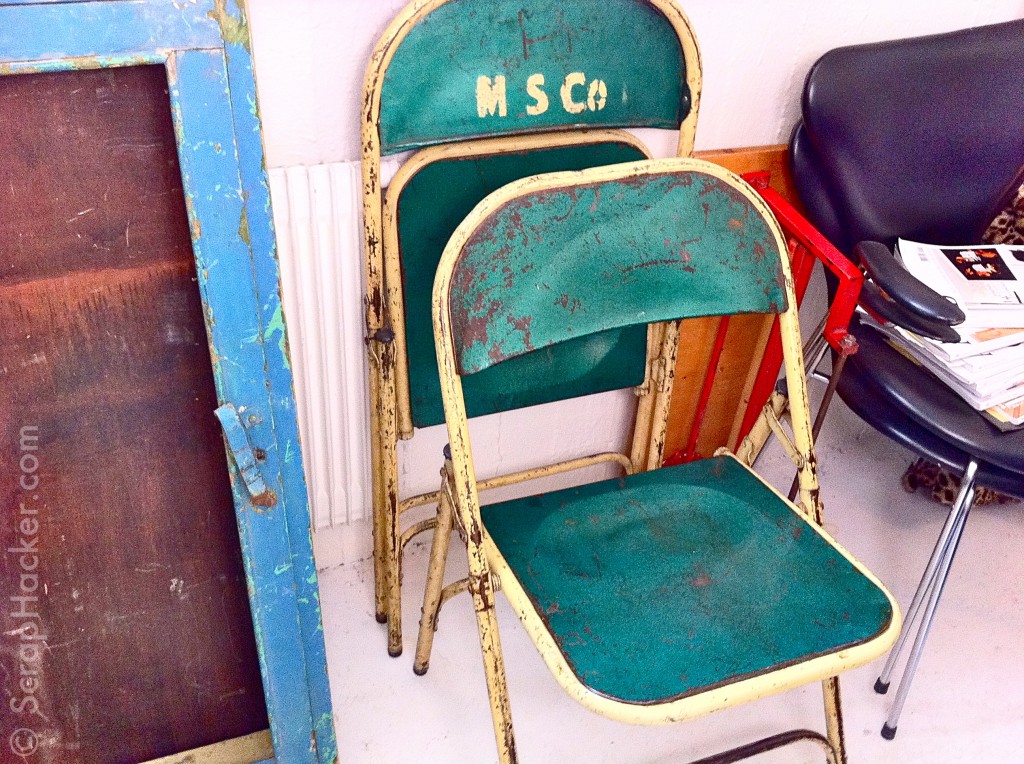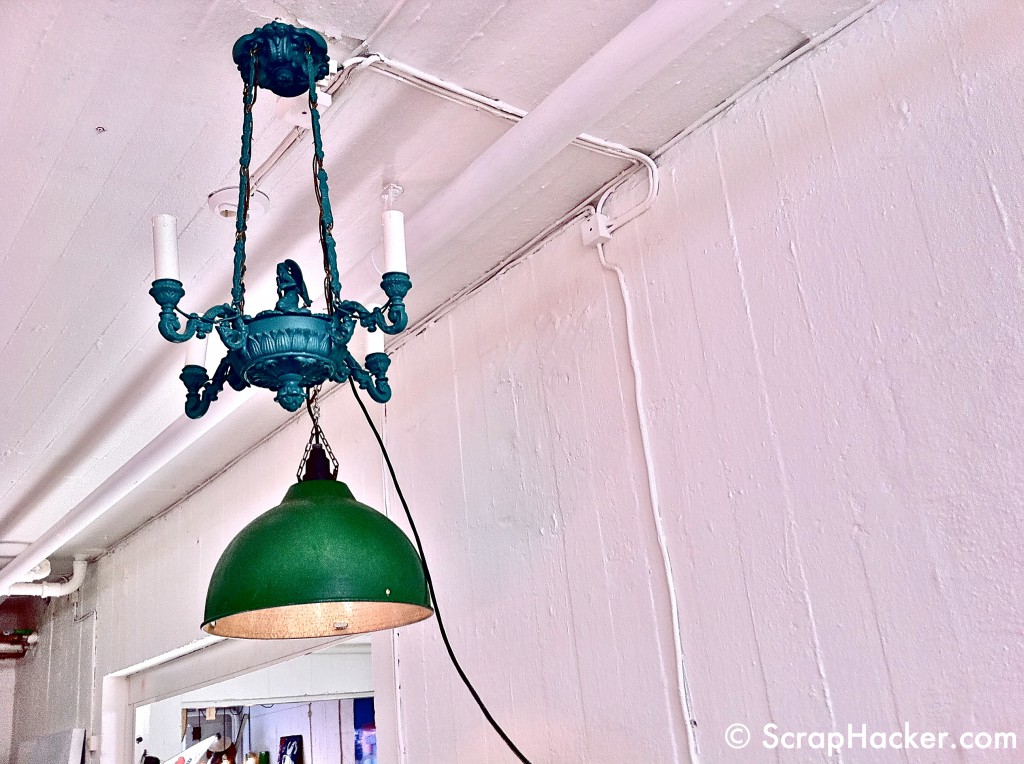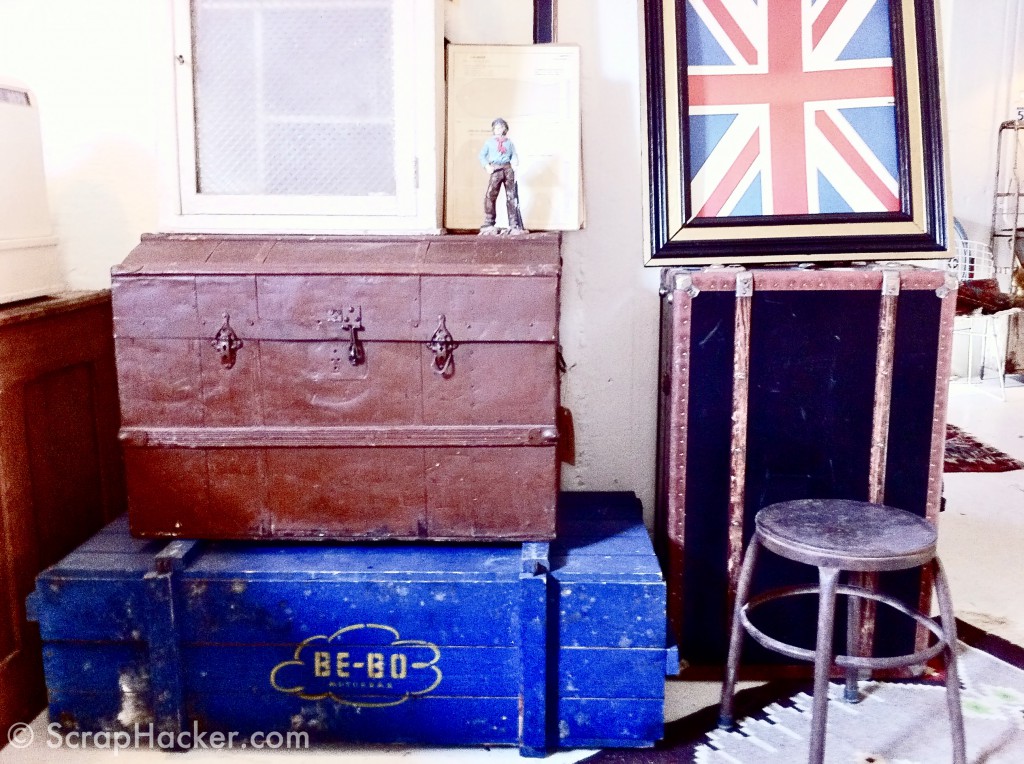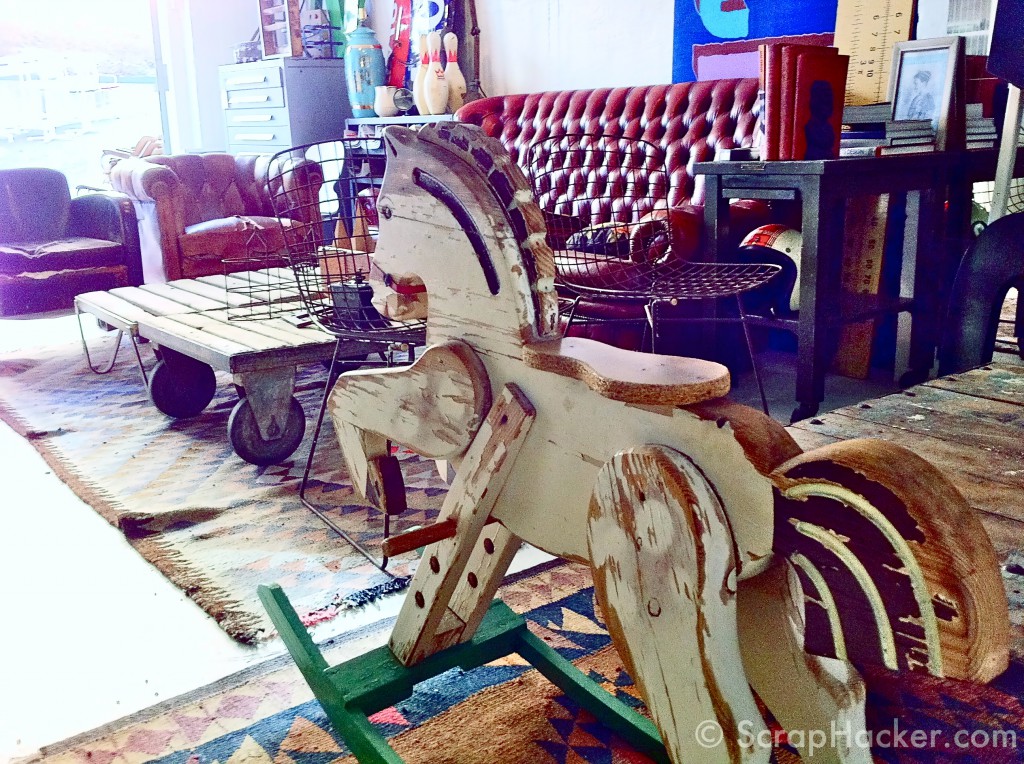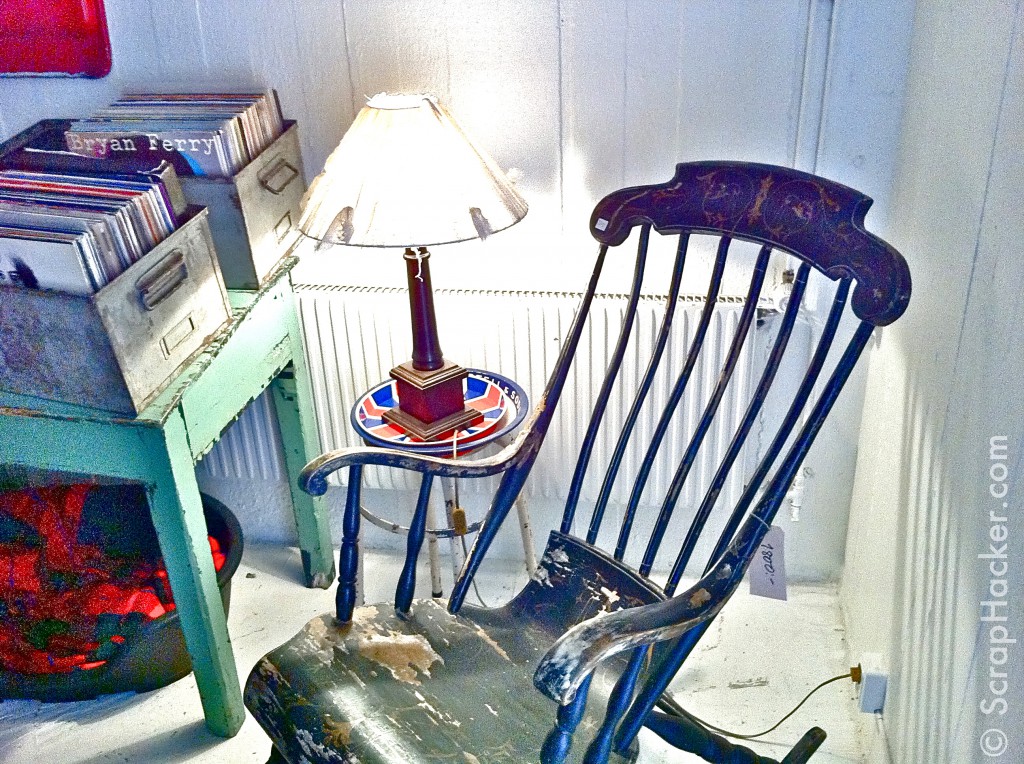 Visit Dusty Deco @ Kocksgatan 23, Stockholm
This glorious sculpture/lounger- "Banco del Pensamiento" (The Bench of Thought") was created by talented recycling artist and designer Alvaro Tamarit. At the base of the construction lies a structural reinforcement of wood. Recovered books has then been tightly stacked and topped with a thick layer of gloss varnish.  Want to have this one? It´s yours for about €6000. Check out the details @ www.SaatchiOnline.com or visit Alvaro´s website @ www.alvarotamarit.com.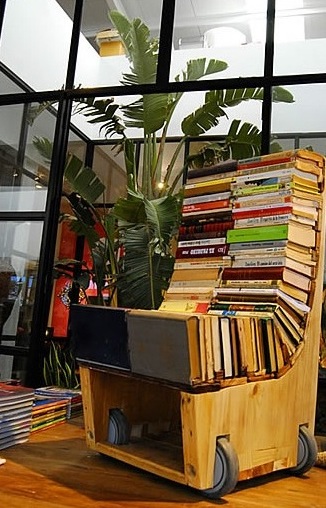 Are you up for the D.I.Y challenge of this great ScrapHack?!
You will most likely not get as great results as in the pictures, but I say it´s worth a hack!  As physical books are cheap and increasingly outdated in the e-book era we live in, they´re easy to come by. If you have a lot of books already – why not find some use of them? How often do you actually read a book twice?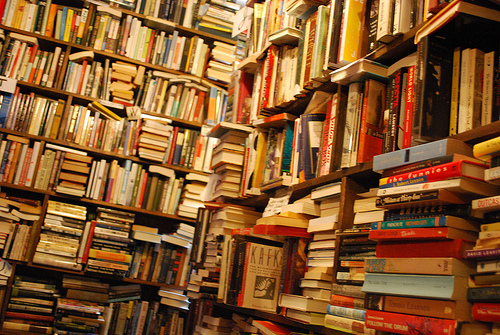 Photo by PoPville flickr user BrennaLM
  The Thoughtful Bench hack keeps the memory of the books, yet offers the chance to create some new awesome memories! A little checklist for you to round off…
D.I.Y Thoughtful Bench inspired by Alvaro Tamarit
4.5 metres of old paperbacks Wood structure Glue 4 Wheels Lots of high gloss varnish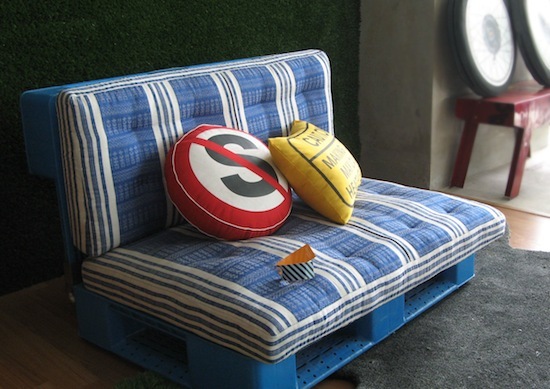 This lovely looking pallet-hack was seen @ fab site www.recyclart.org. It really shows the power of nice textile and color! The pallet frame consists of one and a half plastic pallet (the back is a pallet cut in half). but my guess is that a wood pallet would work just just fine too. So pic below for details on how back support was constructed – a slick execution indeed, no?
Personally, I would probably have solved the back-support problem in a more basic way but I found this example inspirational, it really combines something old, something new, something borrowed (maybe;-)), something blue…
  Photos from
www.recyclart.org
This coffee table (seen at Liberty in London) morphed from plain to special given the vintage/upcycling twist provided by incorporating wood letterpress blocks into the design. Blocks of this type are, perhaps a bit unfortunately, common at U.S Flea markets. They´re the symbol of a fallen industry, of western modern history, freedom of expression…  In some small way, a coffee table might serve as a reminder  by (re-)connecting  our digital homes to this cultural legacy..
  Below: Letterpress wood blocks @ the Williamsburg Flea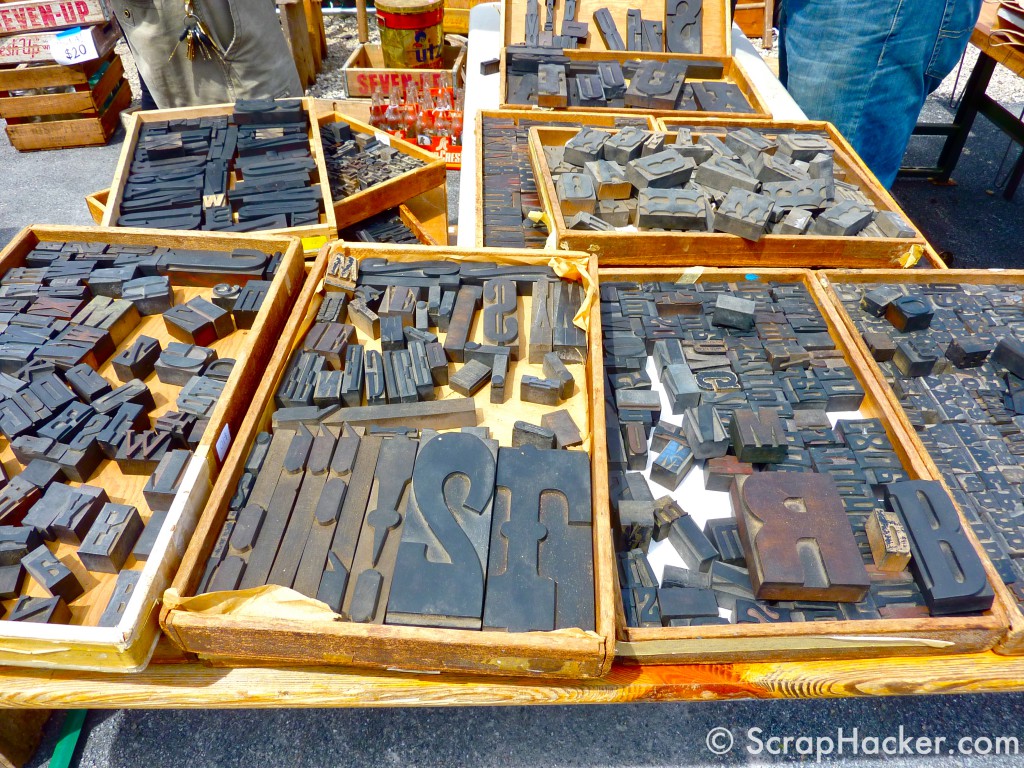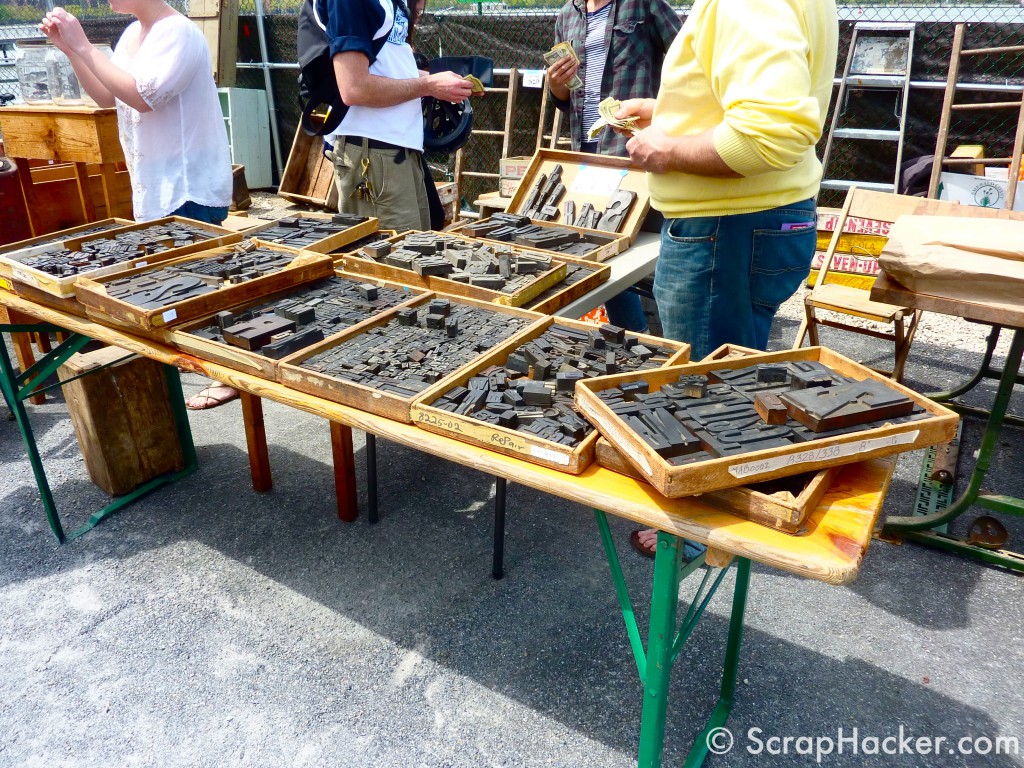 Liberty, London
Details @ www.liberty.co.uk
The Williamsburg Flea
Details @ www.brooklynflea.com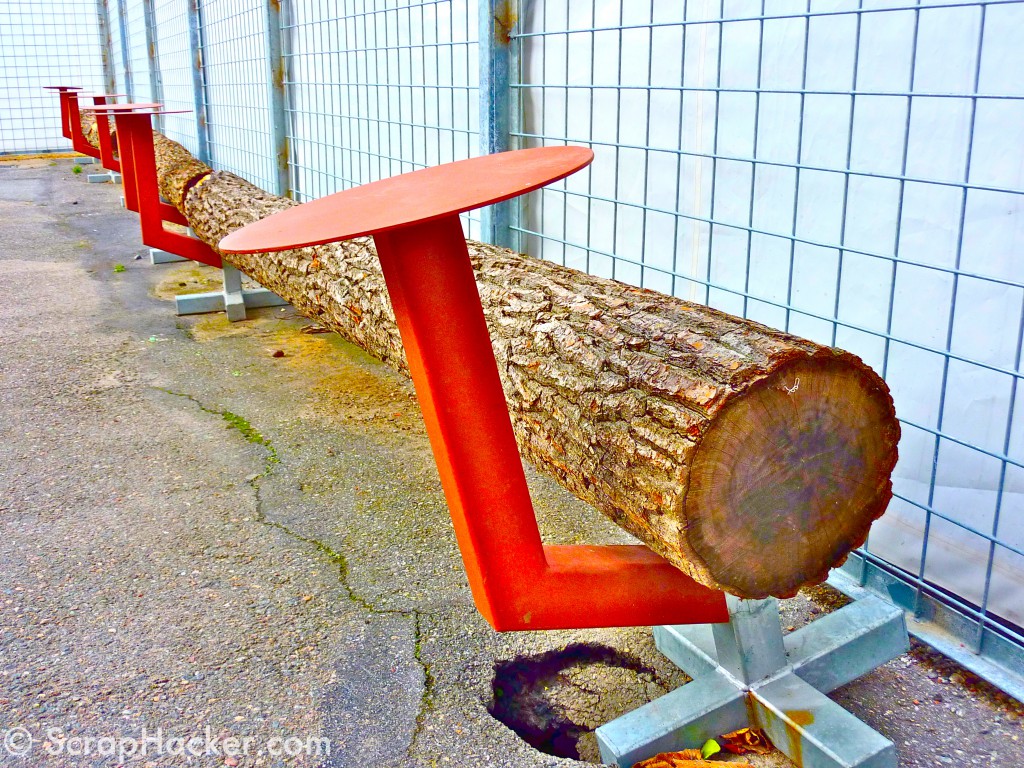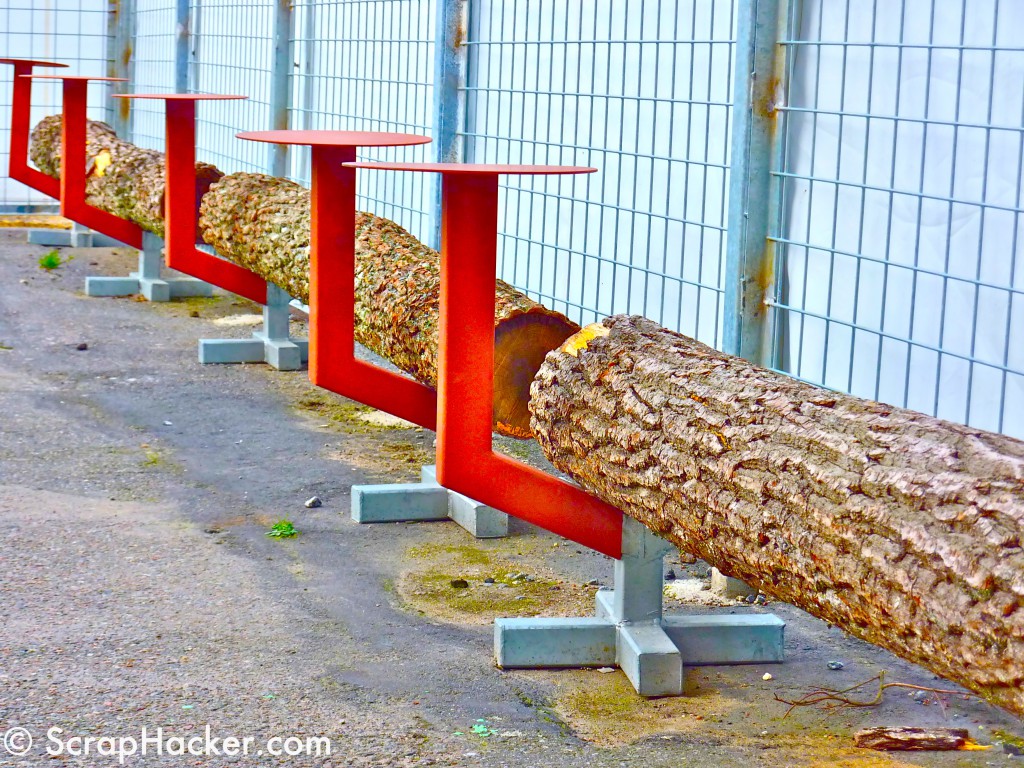 This clever log-hack can be seen at art gallery Färgfabriken in the outskirts Stockholm. Logs are supported by a welded construction which combines the support of crossfeet with table functionality. If you try a go at this yourselves – watch your feet – logs are heavy!!
As logs are really heavy, this other example, The Tree Trunk Bench by Jurgen Bey (available from Droog) combines your local log with some globally acknowledged design (The Tree Trunk Bench is part of the permanent collections of The International Design Museum Munich, Germany, High Museum of Art Atlanta, USA, and the Centraal Museum Utrecht, The Netherlands).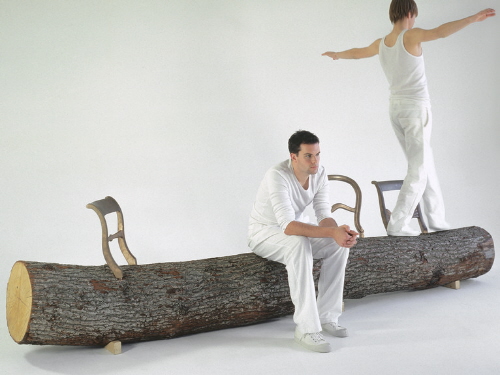 Bey offers the 3 cast bronze chair backs and lets the lumber be purchased locally, a process that most certainly make the shipping and receiving a lot easier. Of course, you´ll have to pay up…Its yours for approx €11,000…
In my book, that´s a clever way of addressing both our need to reduce transports, without compromising our need for design…
(i got the picture of the Bey Bench from Droog.com)