Tubes and pipes are super-versatile hacking material…Add some crafty ingenuity on top of that fact and you get the awesome creations of Etsy vendor Stella Bleu Designs!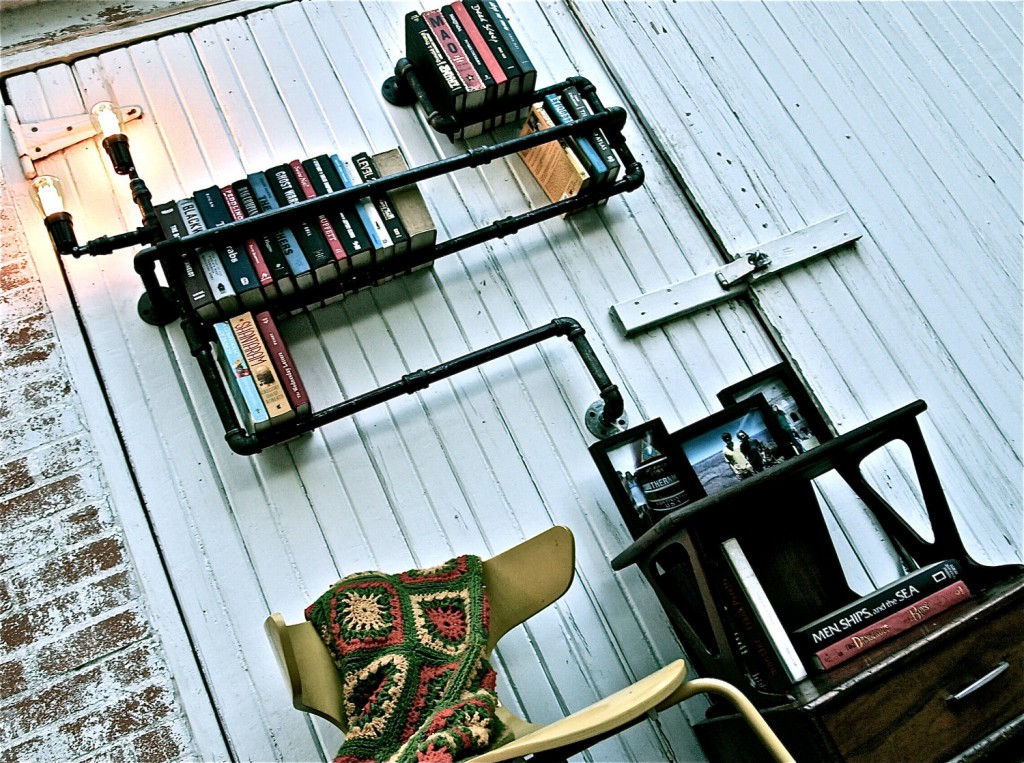 The quirky cool assortment features various pipe shelves and chandelier with built in lighting, all with that industrial, honest grit…Let this great hack inspire some pipe hacks of your own! Not in a hacky mood today? That´s fine – simply head to the StellaBleu Etsy store to marvel and get the kick of instant ScrapHack inspiration…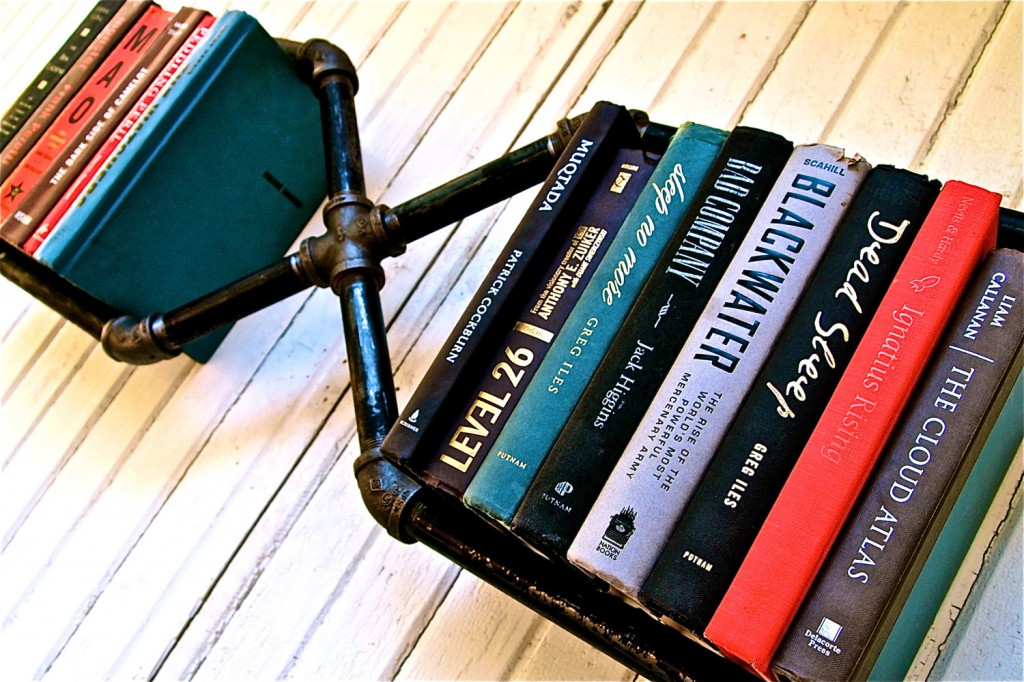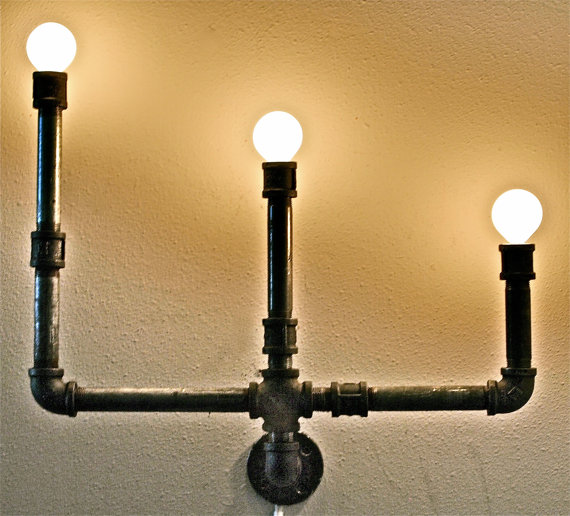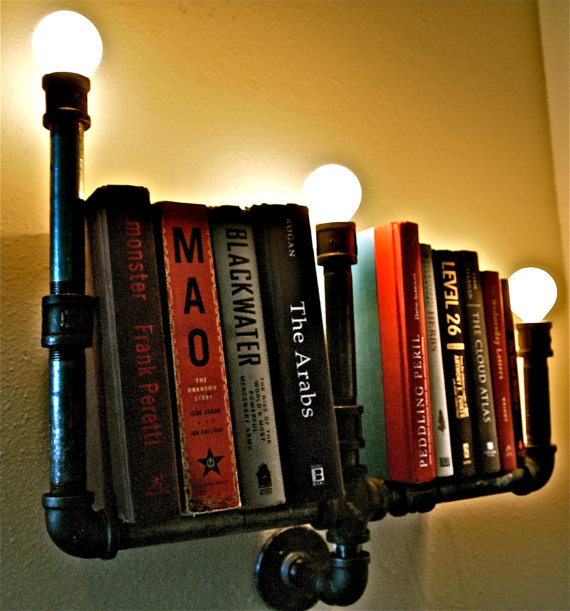 All pics from Stella Bleu Designs @ ETSY
For the record…This is not really a ScrapHack, but…this idea has great scraphack potential! This is the Gradient table by Paul Loebach (produced by Areaware). These are Loebachs own words describing his creation:
Inspired by the contrast of rough construction techniques and the soft beauty of graduating hues of color, the gradient table uses four shades of blue to create an ascent of saturation from floor to the table top.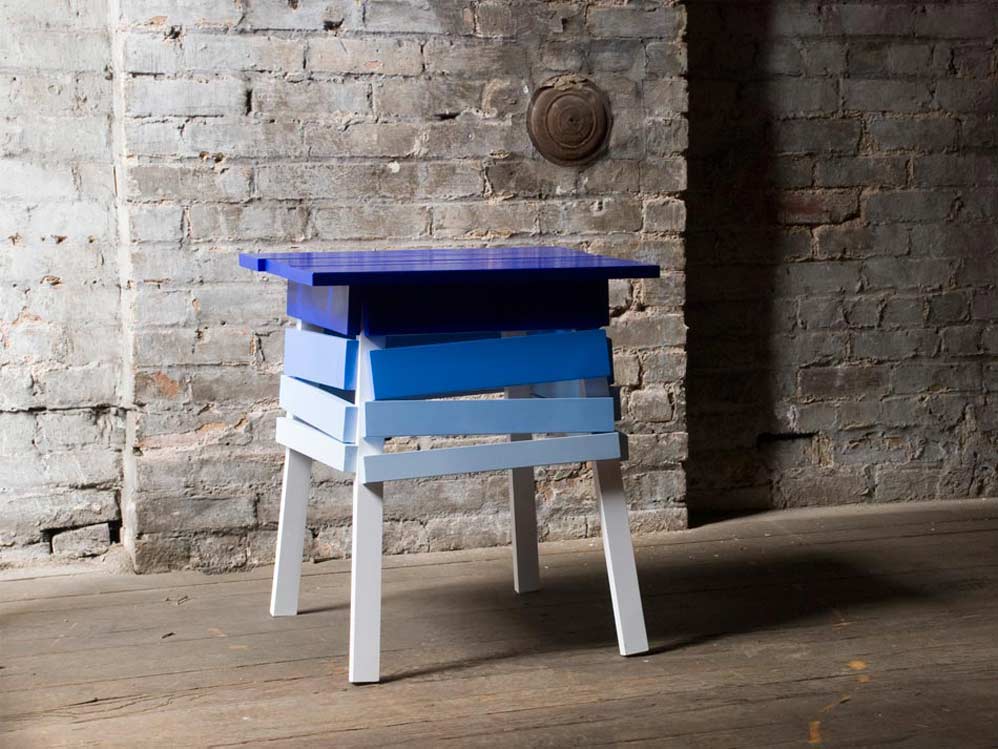 I find the idea of using multiple hues really appealing, the "scrappy" look of the table is really promising – hopefully some of you out there can reinterpret Loebachs idea into your own unique ScrapHacked creations!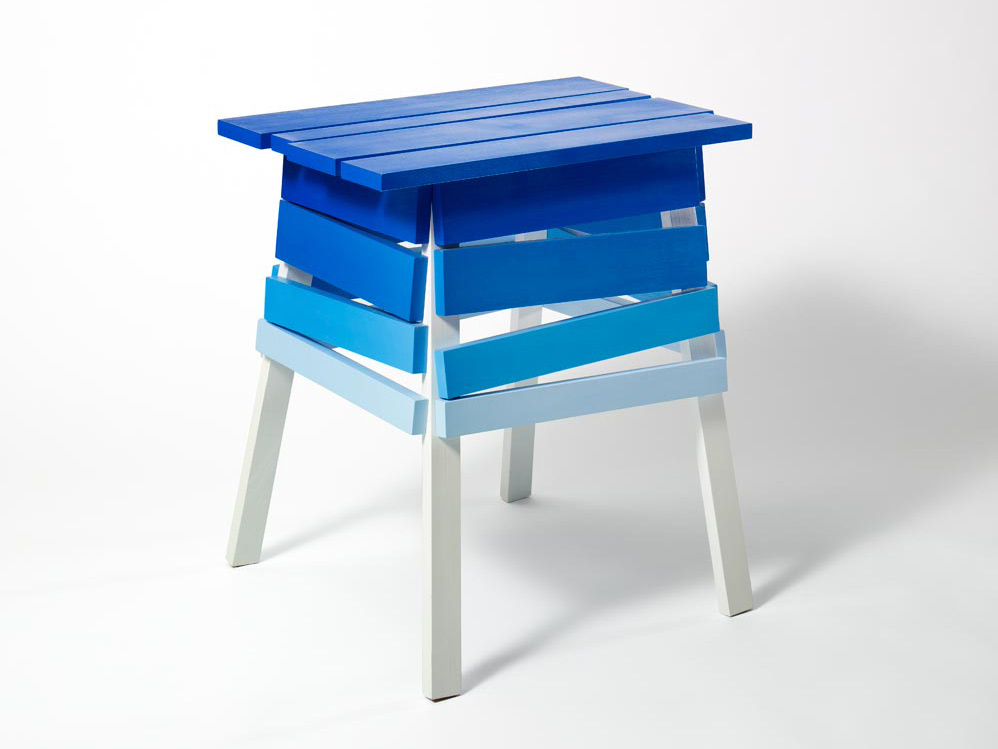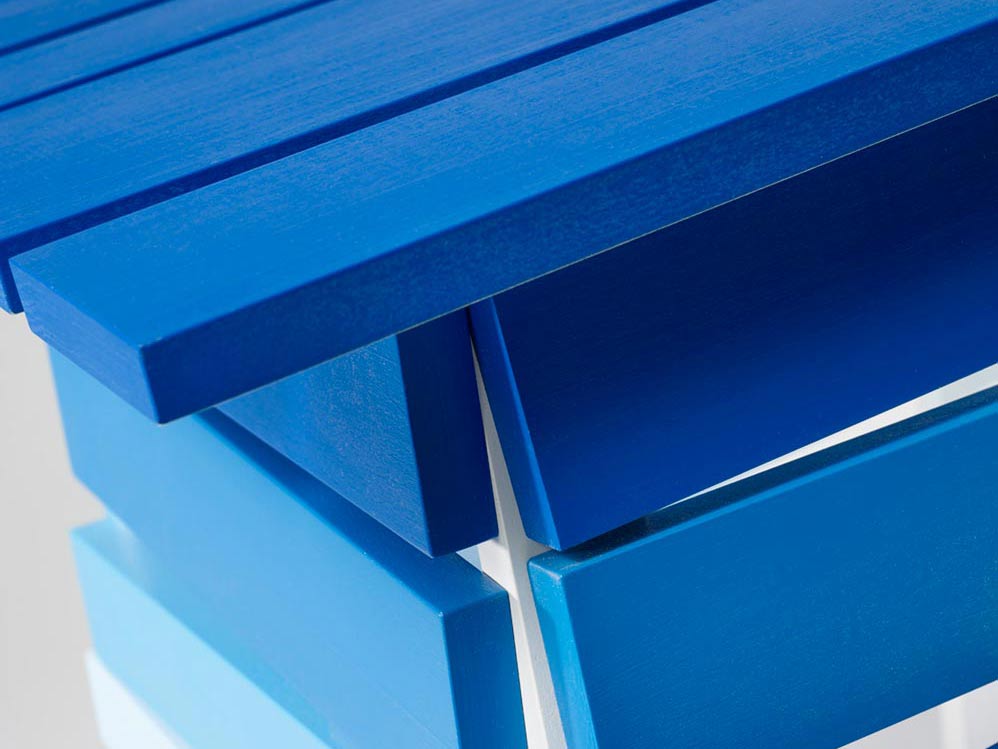 All photos from www.paulloebach.com
Here´s a selection of some pretty neat pallet coffee table hacks I found on the web…To make your own one – follow my 7-step tutorial in the site! I painted my table white – let the pictures inspire some cool customizations – there is a pallet coffee table for every palate – How will you be pimping yours?! (ps. do send me pics of your own D.I.Y Pallet Coffee Table ideas – I´d be happy to post!)

BLACK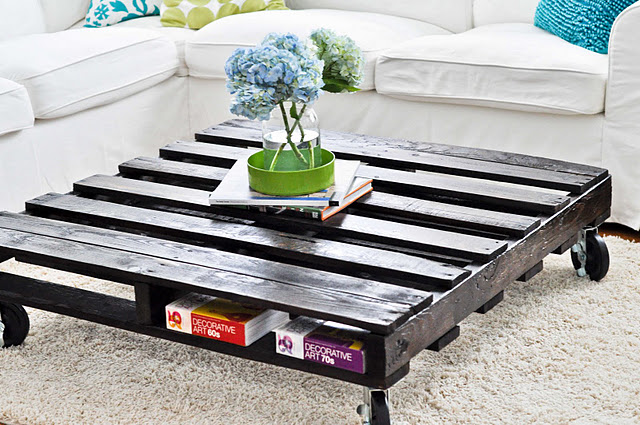 WHITE
GREY

GREEN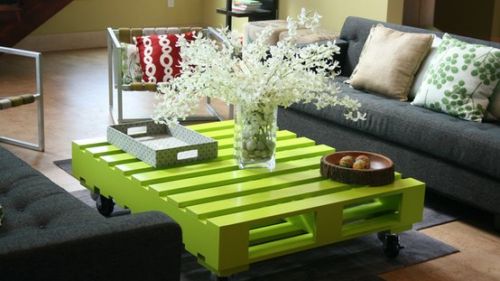 RED

UNION JACK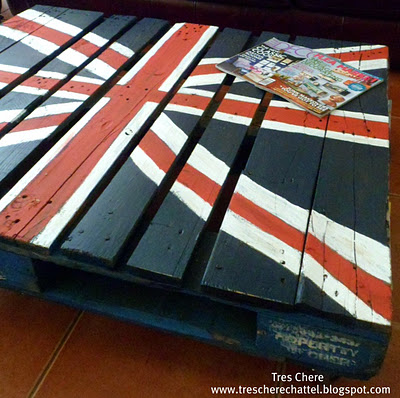 QUEEN of HEARTS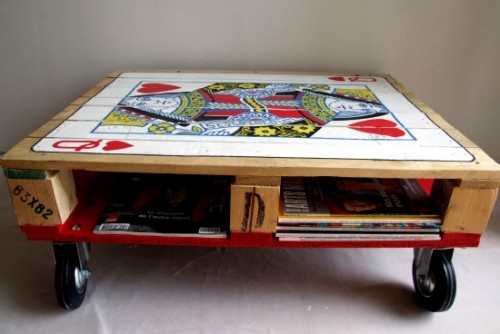 RAW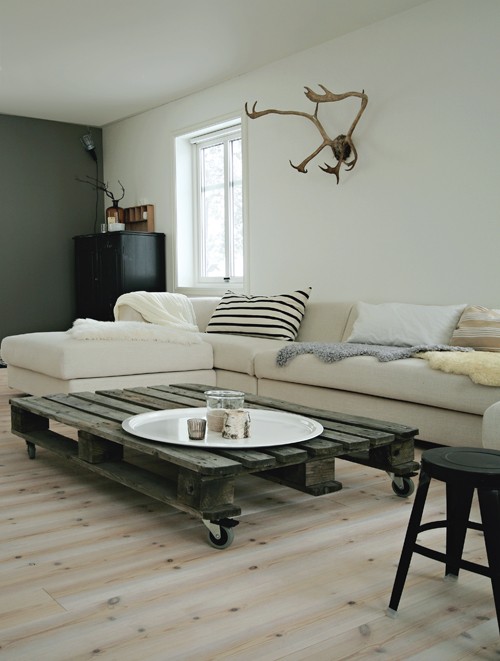 Polished natural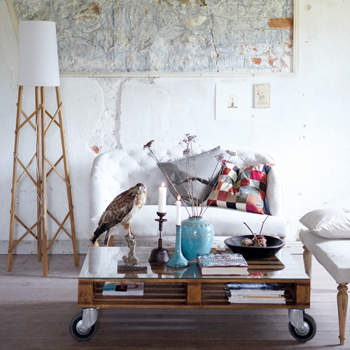 Photos from:
Black:
Concrete & Dust
White:
French by Design @ Pinterest
Grey:
Tatertotsangello.com
Union Jack:
Reuse & Upcycle
Queen of Hearts: By
Doobi
via
Ready Made
Green:
Daisy Diaries @ Blogspot
Red:
Better Homes & Gardens
Raw:
Kool & Kreativ @ Blogspot
Polished natural:
House Doctor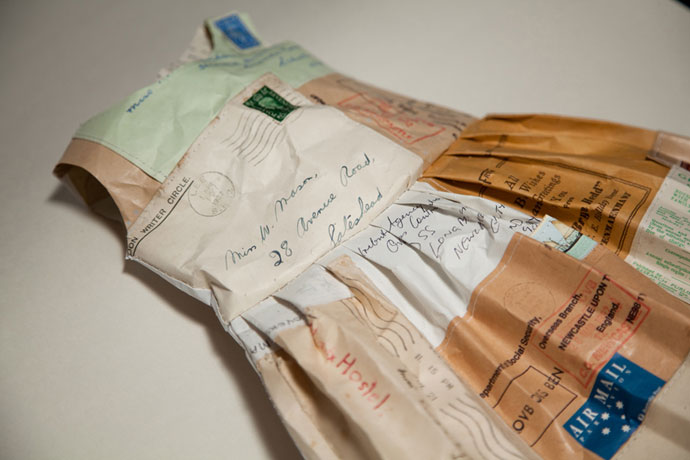 Paper artist Jennifer Collier is a clever scraphacker indeed…Her remarkable art is paper-based and created through various techniques like bonding, waxing, trapping and stitching…Let her vision inspire you!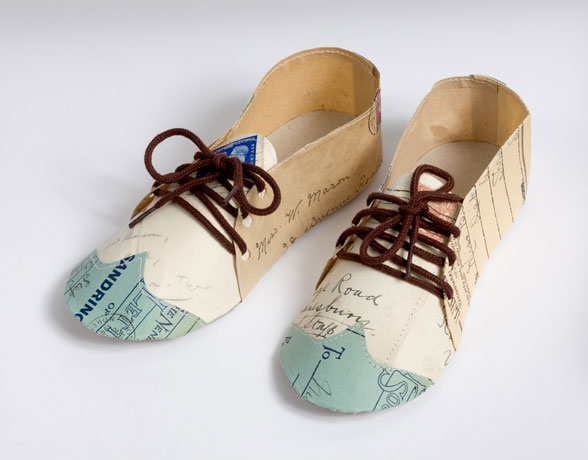 I produce unusual paper 'fabrics', which are used to explore the 'remaking' of household objects. The papers are treated as if cloth, with the main technique employed being stitch; a contemporary twist on traditional textiles.

The papers themselves serve as both the inspiration and the media for my work, with the narrative of the books and papers suggesting the forms. I tend to find items then investigate a way in which they can be reused and transformed; giving new life to things that would otherwise go unloved or be thrown away.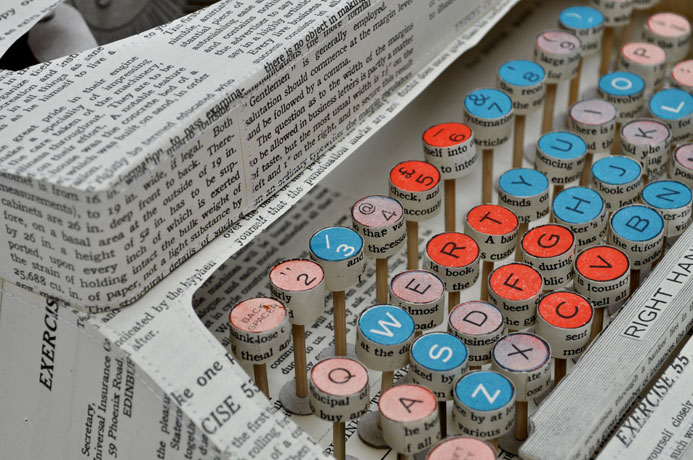 http://jennifercollier.co.uk/
All photos from the Jennifer Collier website.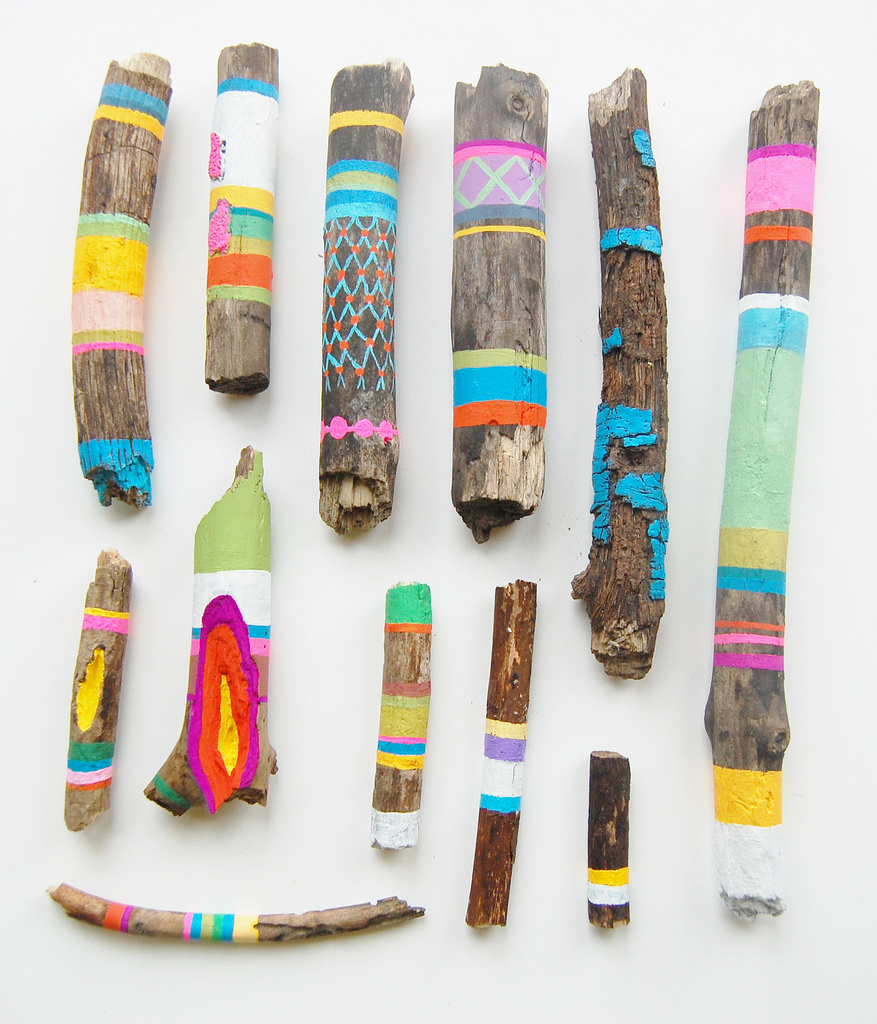 I feel all giddy with inspiration from seeing these flouro-painted sticks by artist Ginette Lapalme…
I guess all you need for some scraphack copycat-action are some branches and some paint…Of course, getting this great result is not to expect for all of us…Artistery like this is hard to mimic! The sticks feel like magical totems for the urban disco tribe… or something like that…
  Quoted from:
http://www.flickr.com/photos/ginettesqulette/4668783471/
© All Rights Reserved by Flickr member
ginette lapalme
This scraphack tribute to tech hacker Steve Jobs was made from a disassembled MacBook Pro by the Foundry research team @ Mint Digital. Hear their words about how they meticulously tore the laptop to pieces and hacked its parts into something quite different…
Beyond the smooth sheen of its outer casing, lays one of the most beautifully set out assemblage of components I have ever seen. It's hard to imagine the amount of detail, concentration and obsession that must go into the creation of one of these machines.

To be honest, I always thought Macs were a bit overpriced for what they were. Not anymore.

It seemed fitting to create a tribute to him using the spare components of the old Mac book pro. Every component has been broken down to its most basic form and reassembled into a portrait of Steve Jobs…
Prints can be ordered here… All profits will go to the Pancreatic Cancer Action Network (http://www.pancan.org)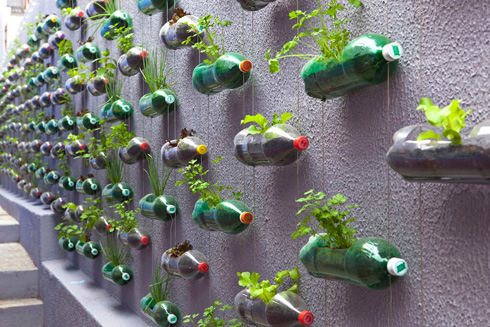 This genius hanging garden in the form of old plastic bottles, strung together and planted with flowers, spices and medicinal herbs, was designed by Brazilian design studio Rosenbaum. The vertical garden was part of TV show Caldeirao do Huck which help boost the quality of life of poor families.

The PET bottle wall was part of a drastic home makeover project for a family in the outskirts of Sao Paulo. The response to this hack was massive, so the team @ Rosenbaum decided to feature a D.I.Y manual in their site – which I feature below:
A D.I.Y tutorial of the Pet Bottle Vertical Garden
This is what you need:
MATERIAL
2-liter PET bottle empty and clean;
– Scissors
– Clothesline rope, cordage, twine or wire
– For those who choose to wire or wire rope, two penny washers are needed for PET bottle
/ / METHOD FOR MAKING
Cut the plastic bottle, as shown below.
To fix the bottles, we make two holes in the bottom of the bottle and two at the top of the bottle. In addition to the holes to pass the rope, you need a small hole in the bottle. The water used to water the flow needs to change. After that, pass the rope through a hole and pull the other.Many people ask us how to make the bottles do not "slip" the rope (or twine, or cordage). Thanks for your help and participation. With this in mind, we prepared two designs, with two suggestions.
For those using string: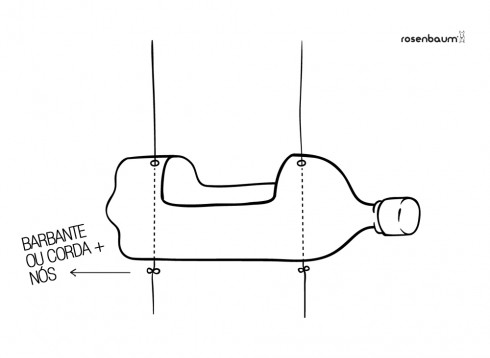 For those using wire: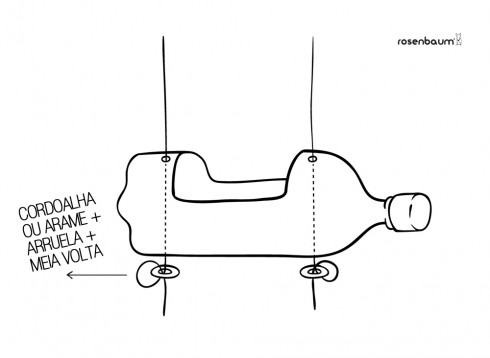 The last step is to pull the structure straight as seen in the back of the picture below: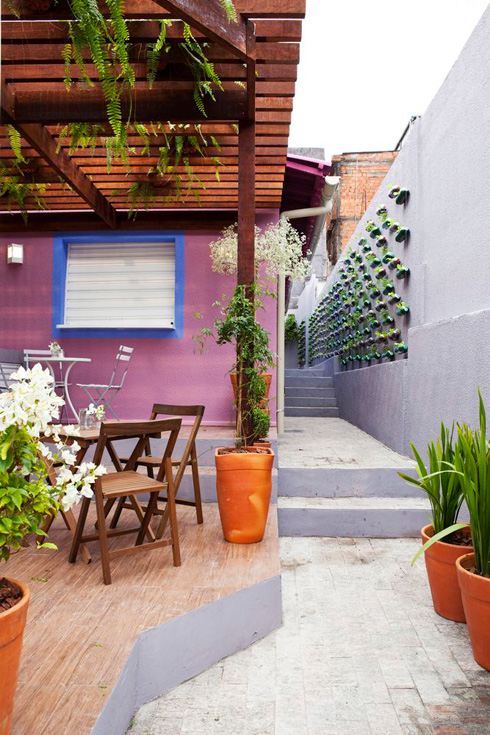 PICS and instructions from www.rosenbaum.com
Doesn´t this scraphacked pallet office make you look straight into the (sad) eyes of your boring office space? I find it really weird that offices in general are so boring, that they get so little love! It´s weird since we spend so much time at the work place and since we seem to have so much energy to spare our home decor projects.
Anyway – time for some ScrapHack inspiration from the nnovative pallet space – the temporary office of Amsterdam based "brand activation" firm Brandbase. The office was designed by Dutch Most architecture) and the behind the commission was the assignment to design a temporary space that was furnished with recyclable material…The architects opted to use old pallets (they used 270 of them to furnish the 245sqM space) – the result is the ultimate ScrapHack office…
If the all-in pallet look is not for you – then simply add a dash of upcycling chic to your space by adding a Scraphacked conference table….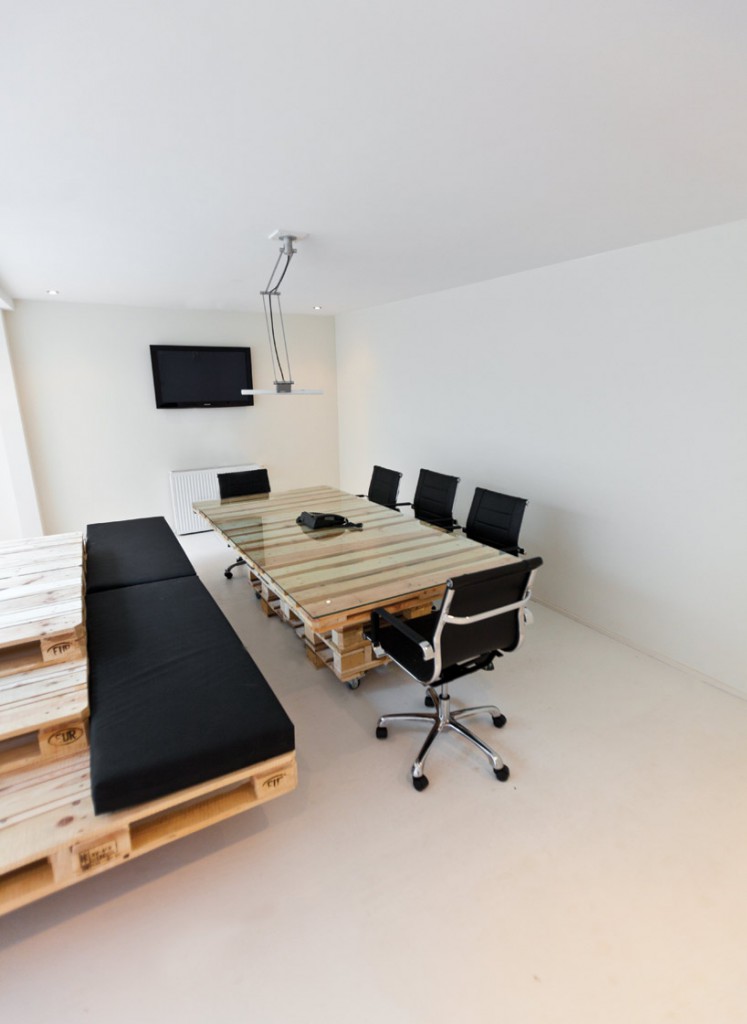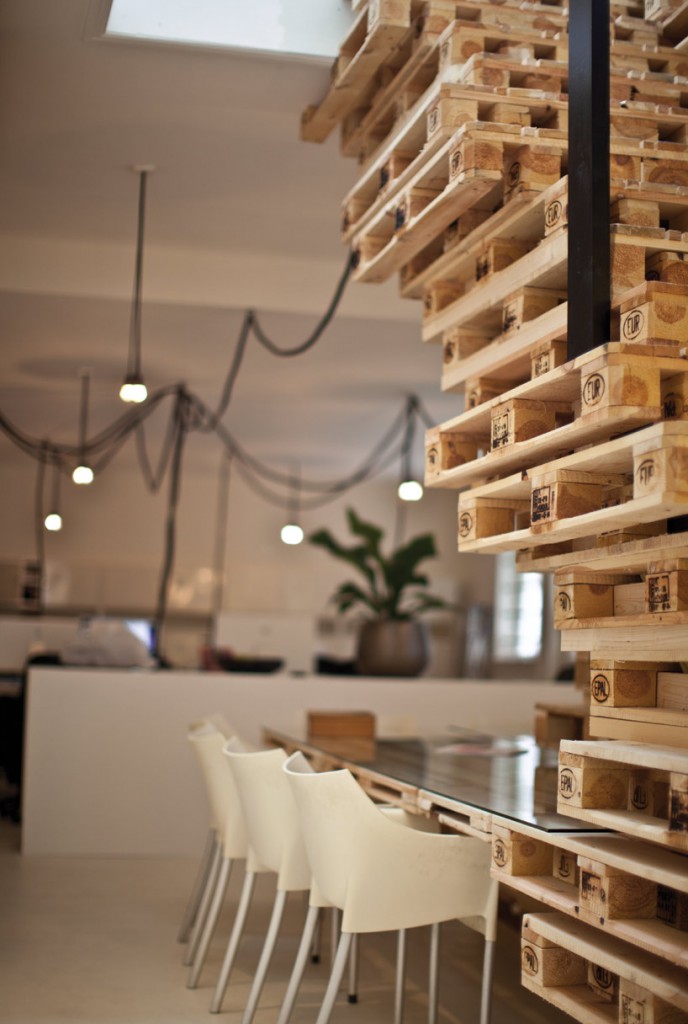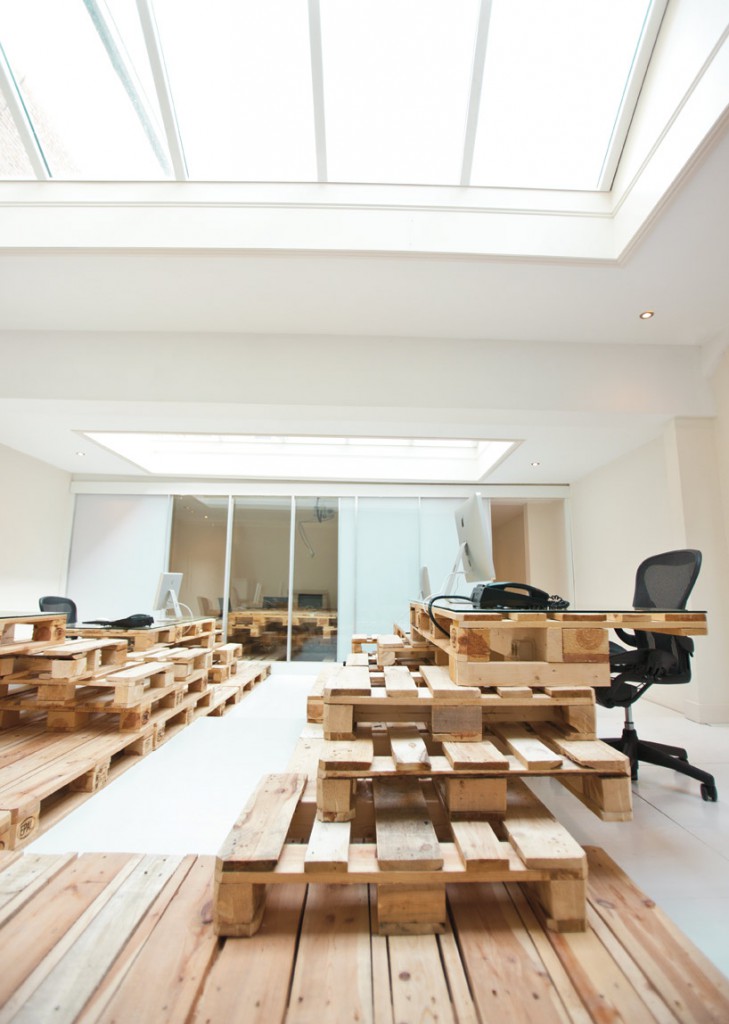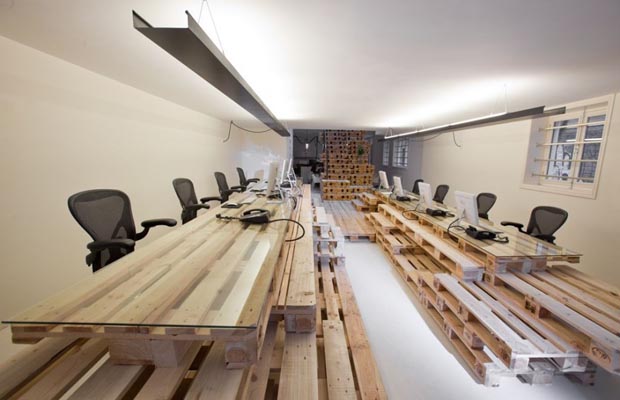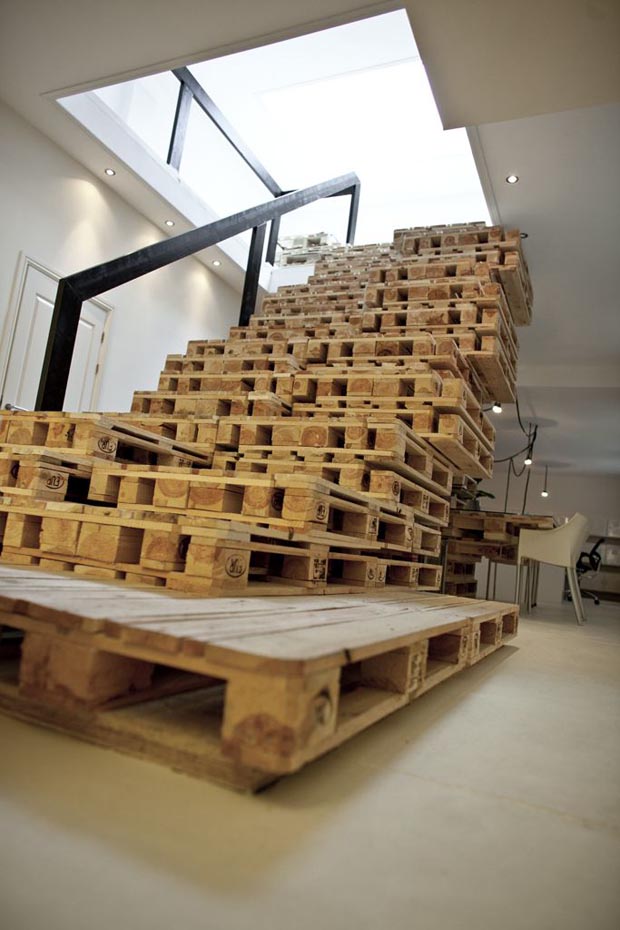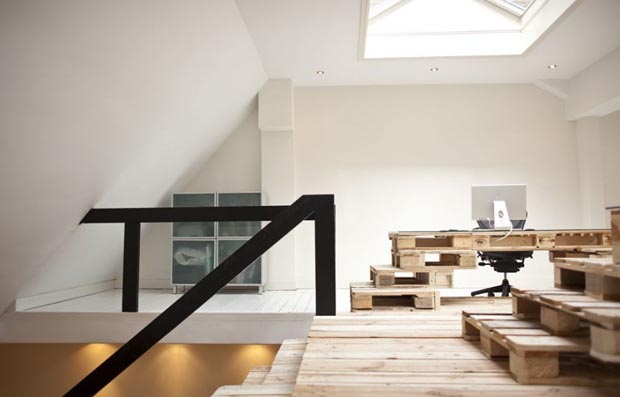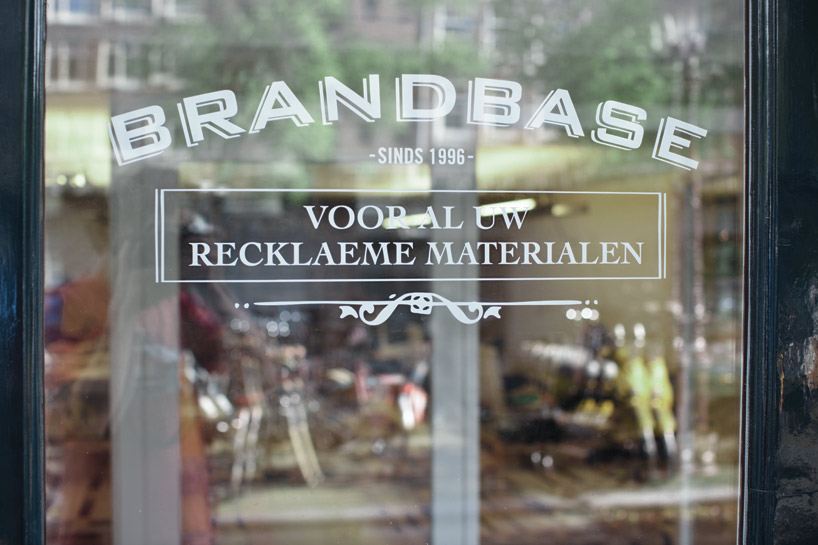 Photos from www.designboom.com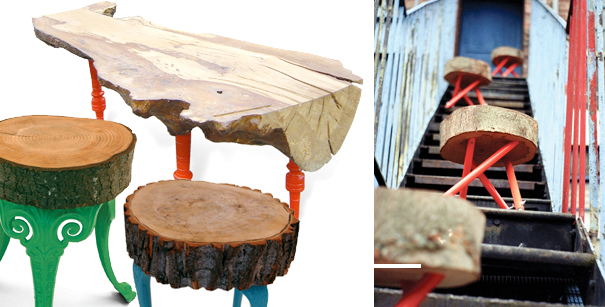 Don´t these clever ScrapHacked stools just make you want to smile? I adore the exciting combo of tree stump top and bright popping bases made from furniture and material found in the trash. The design is by Dave Cameron and Toby Hadden of UK-based studio &made, who set the goal to spark a dialogue about contemporary throw-away culture….Cameron and Hadden work in product, furniture and spatial design and have been featured at the MoMA in an exhibit called Design and the Elastic Mind.
Have a look at the stools below – I guess that had I only had a chainsaw and some old tree trunks I´d be good to go…The types of bases used are rather common… Take this idea with you next time you head to your local thrift furniture store….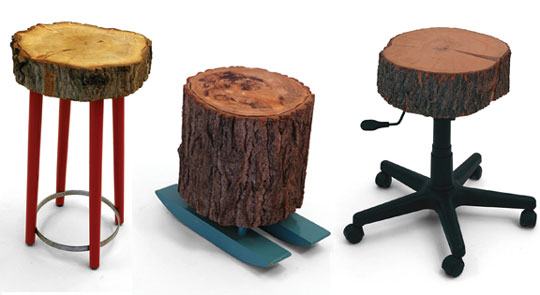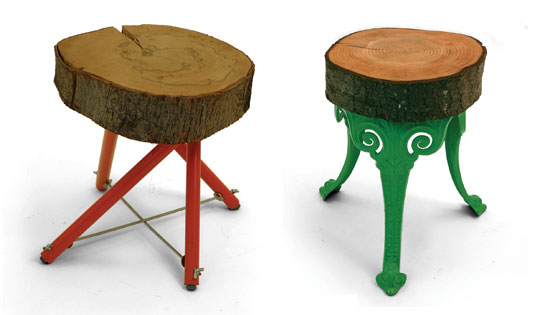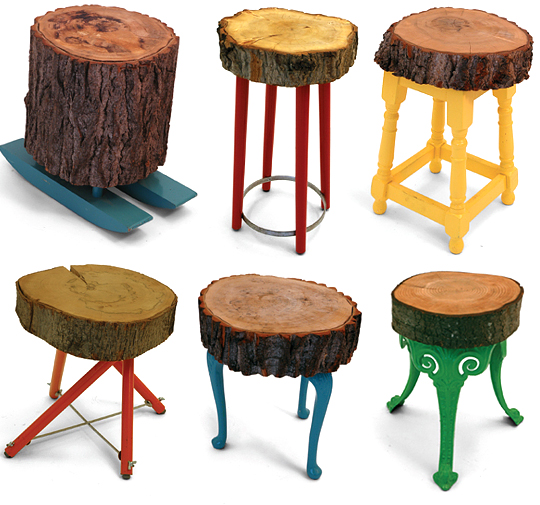 Read More @ Lost & Found Upcycled Furniture and made – Inhabitat – Green Design Will Save the World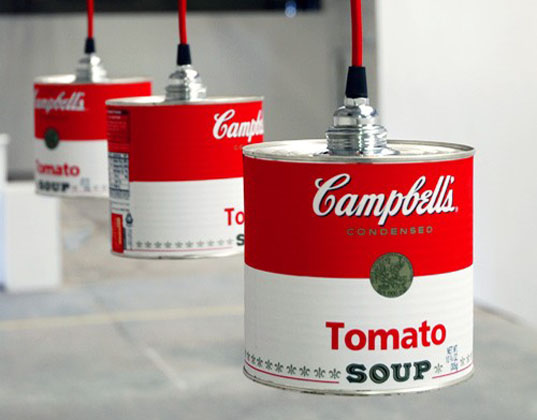 An awesome scraphack idea, no?
I guess that had not Warhol made the Campbell soup can an icon, these ´Can Lights´ by Willem Heeffer for FUSE would perhaps not seem as retro chic…However, the Warhol legacy is one popcultural fact and the iconic graphic paired with a upcycling twist do make quite the couple. The scraphack design is pretty straight forward: You need 1.) A supersized soup can 2.) a textile cord (the Swedish brand Frinab pretty much covers the rainbow with their NUD collection) and 3.) a light bulb…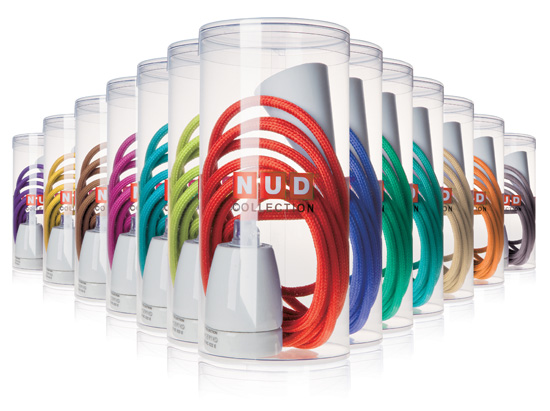 To get a supersleek and consistent look, opt for a top hook cover made from your old tuna can!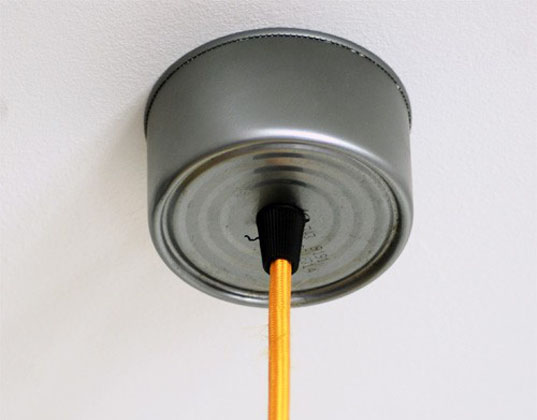 Photos from Inhabitat.com and Frinab
Just like the faintest glimpse of a Volvo car in a foreign movie makes me all giddy with patriotic pride, I find that seeing Swedish stuff/people/anything featured in international magazines also unleashes a smug rush of through my Swedish veins…Add some scraphacking action (and a dash of yellow) on top of that and i´m  hooked…
Last week design savvy online mag Dezeen and eco cred site Inhabitat both featured the newly remade factory-turned-supercool-ecofriendly-facility of the school of Stockholms Stadmission – a local independent actor in the "social good" business (with a variety of practices including hosting homeless shelters, organizing of 2nd hand re-sale business of donated clothes & furniture, remaking donations to new cool stuff c/o business branch ReMake).
Both the articles mention that the new space features a lot of different ScrapHacks, such as salvaged glass to build partitions. I couldn´t help but also notice the sacks hanging on the left hand side of the picture below, they seem to be part of a hacky construction involving the kitchen cabinet doors – no? I would have enjoyed some more details on the ScrapHack aspects of the build, but the rush of patriotic pride of this cool project keeps me going for now…
Here are some pics from the new space, which was designed by firm CoDesign (all pics from Inhabitat)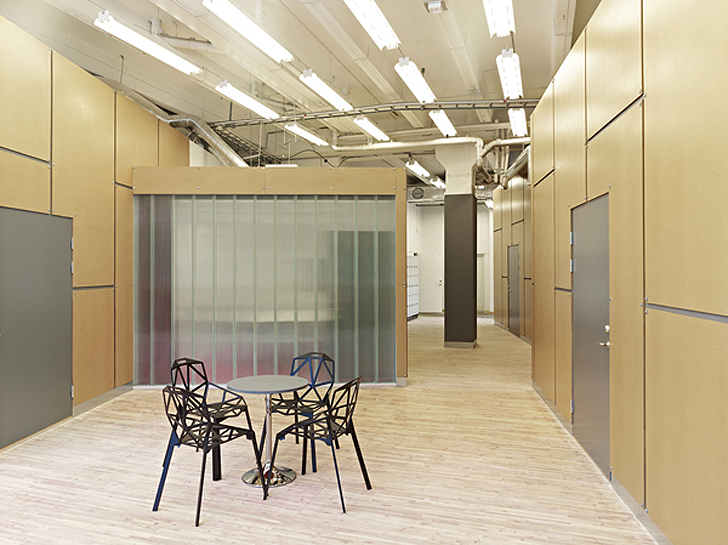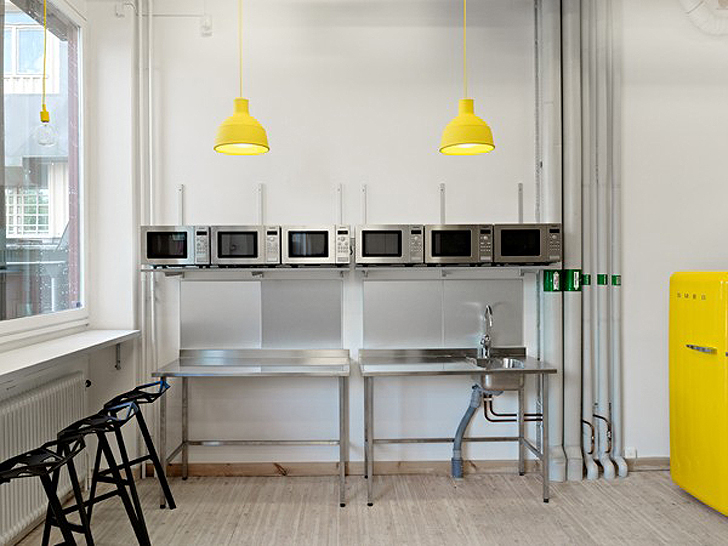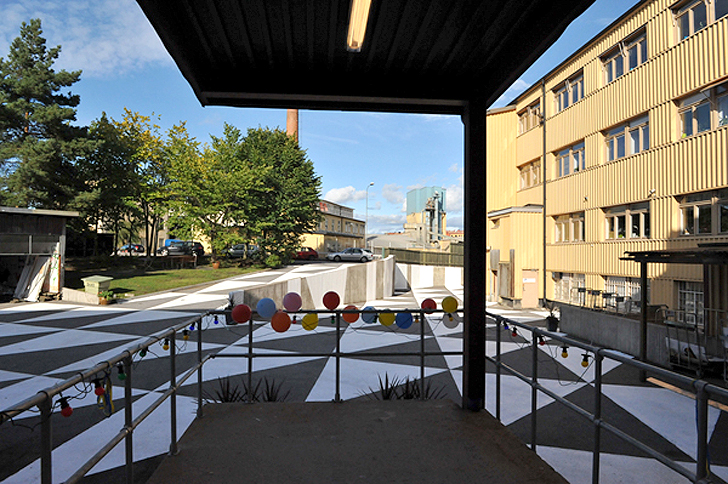 Photographer, Furniture designer and Etsy vendor Wes Bennett is something of a ScrapHacker idol  – not only has this guy got amazing maker skills, he also has a fantastic eye & great taste (in my mind anyway!)…He works his magic out of a Albany (N.Y) studio, his style is industrial yet with a punch of popping color every now and then…
Here´s a treat for you from his Etsy Store – An upcycled locker room cabinet (775$+160$ shipping – US Only), which he polished, flipped 90° and put racy blue castor wheels on…. – This is ScrapHacking at its best!
A lifetime of photography and passion for "eye candy furniture" in bright colors & shiny surfaces, has led to the creation of my shop on Etsy.com…/Wes Bennett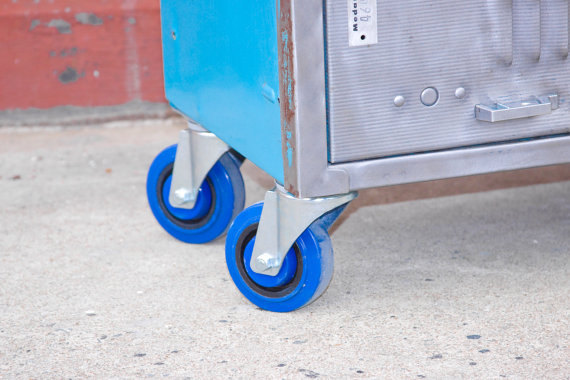 Here´s another great example from his store:
All pics from the Wes Bennett Etsy store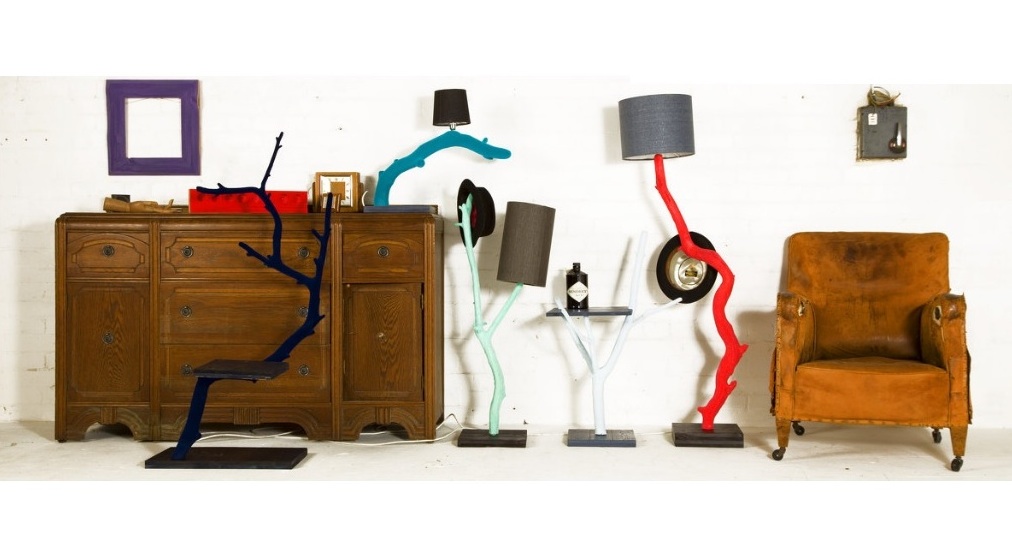 The work of crafty furniture designer and ScrapHacker talent Nic Parnell makes me all warm and fuzzy inside! Last weeks feature @ major eco site InHabitat.com has hopefully achieved a well deserved boost to the career of this super talent. As with any great idea, it´s the simplicity that makes Nic´s stuff stick out from the crowd of contemporary furniture design.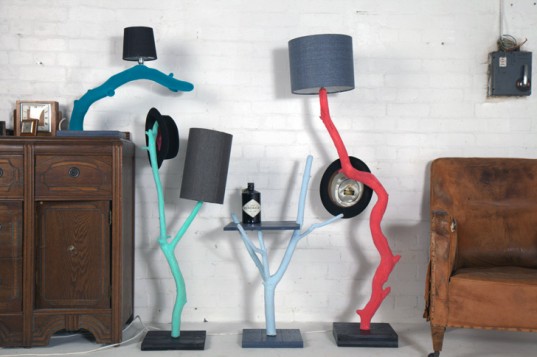 Using the organic – unpredictable but recognizable – shape of tree branches together with graphic, popping colors renders a very fresh result  – Me Like this a lot! Best of all – Nics´cool ideas are pretty easily ScrapHacked, for those of us without the budget to buy the real thing…
How cool is this tree sculpture/hat rack?!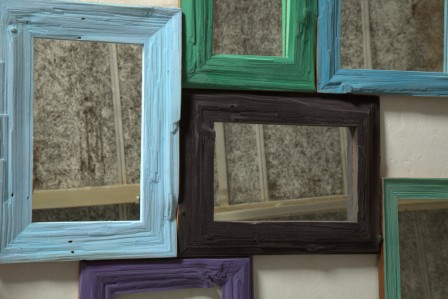 Read more about Nic Parnell @
www.nicparnell.com
Read the InHabitat feature
here
Photos from
Inhabitat
&
Nic Parnell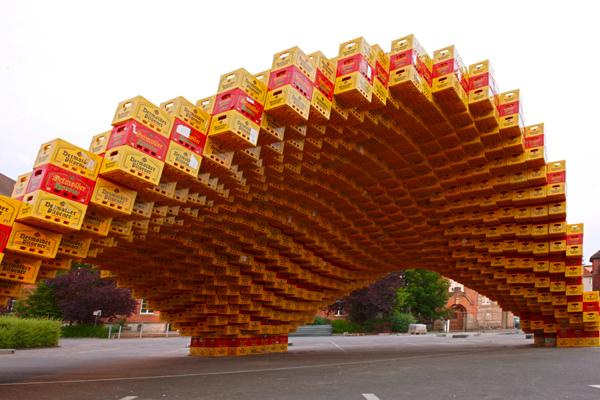 Who´d had thought 2000 beer crates could morph into something as cool as this? The featured (temporary) structure is called the ´The BOXEL pavillion´ and was built as part of course in digital design @ Detmold School of Architecture and Interior Design in Germany. The beer crates, supplied by a local brewery had, prior to the project, been in use for ten years, and went back into regular use after the pavilion was disassembled.
Photos are from ArchDaily where you can read more about this amazing ScrapHack project!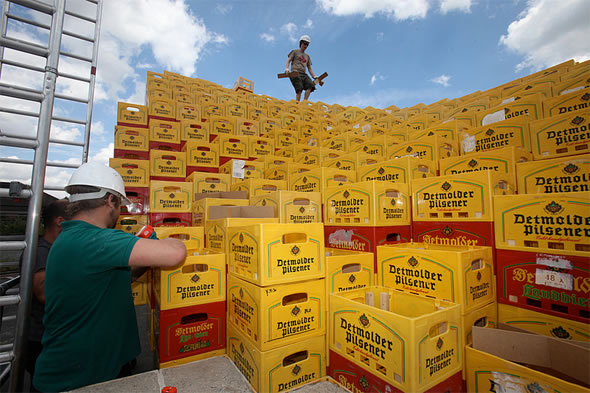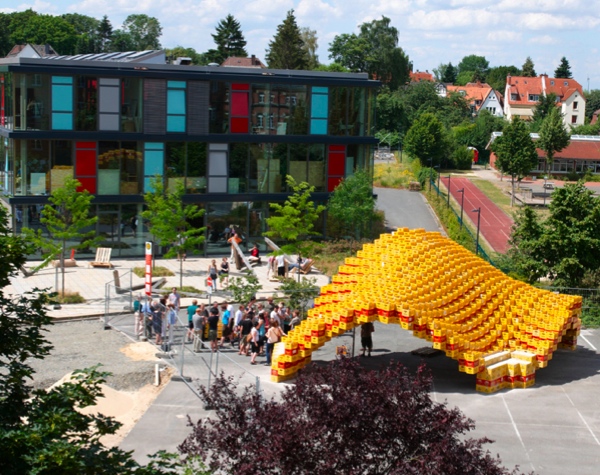 There are a lot of pallet lovers out there, and we´ve seen a lot of great pallet tables, chairs and sofas…Featured here are some great looking, clever applications for the kitchen to inspire your own hacks! Personally, I think the black pallet kitchen island is genius – 6 basic pallets, some screws and some matte black paint is all you need…and so the pallet furniture revolution of our homes continues!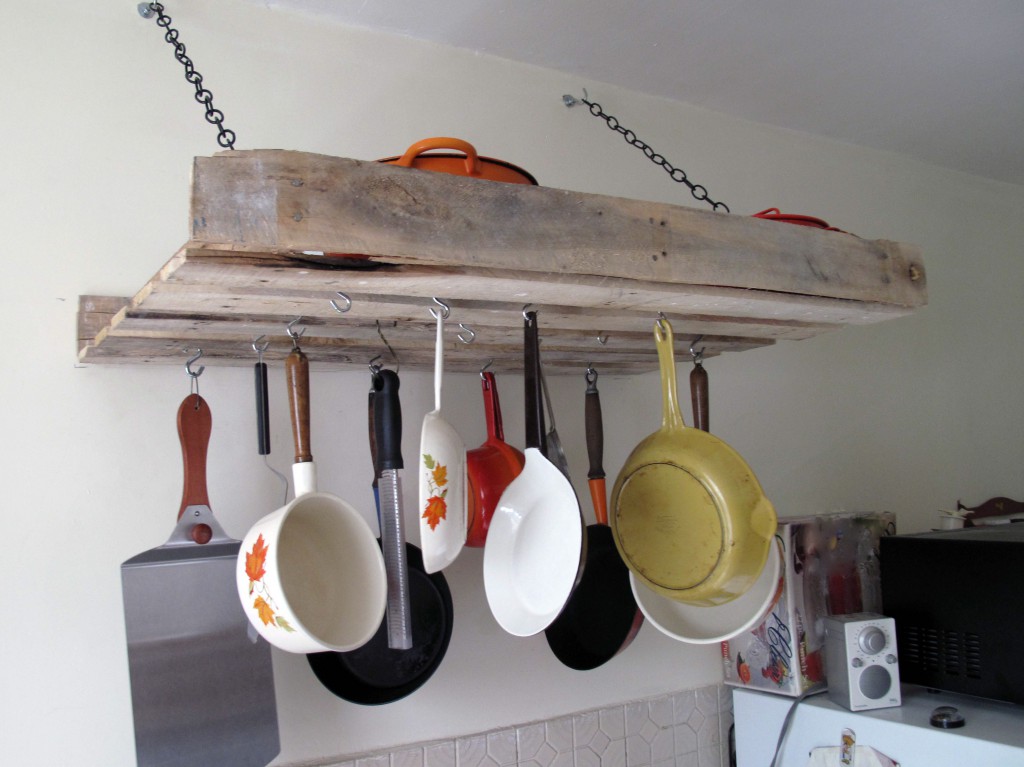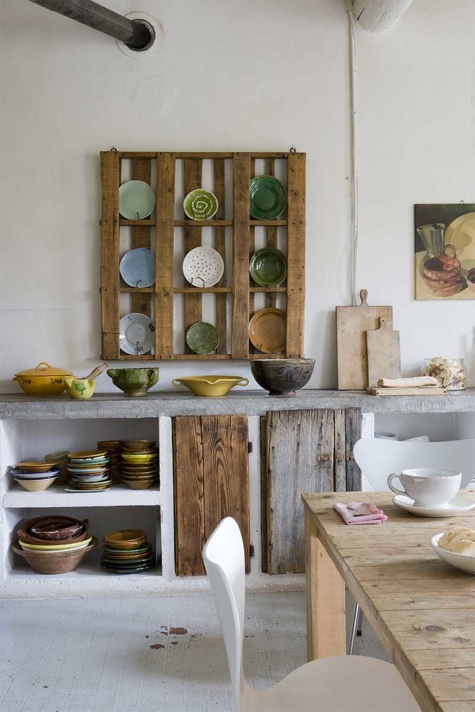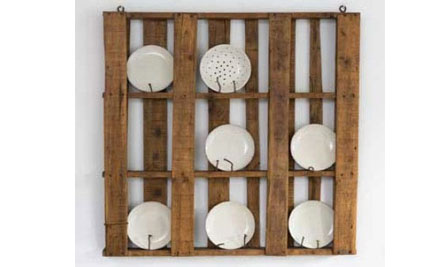 Pics from top:
www.appartmenttherapy.com
www.pinterest.com
www.care2.com
The idea for the installation "The Big Crunch" designed by Raumlabor and part of a summer architectural happening in Darmstadt, Germany, was to assemble a swarm of common scrap that had been cast away at a nearby dump. Items of civilization such as furniture, refrigerators, wooden items, scrap, timber, windows etc were all used to create a sort of mega-sized moving "scrap-magnet". The cool thing was that the scrapshell was built around a inner structure, allowing people to experience this "scrapshack" from the inside…The whole thing is super cool if you´d ask me – what I wouldn´t give for a night at the ScrapHack mansion! Too bad the installation was only temporary…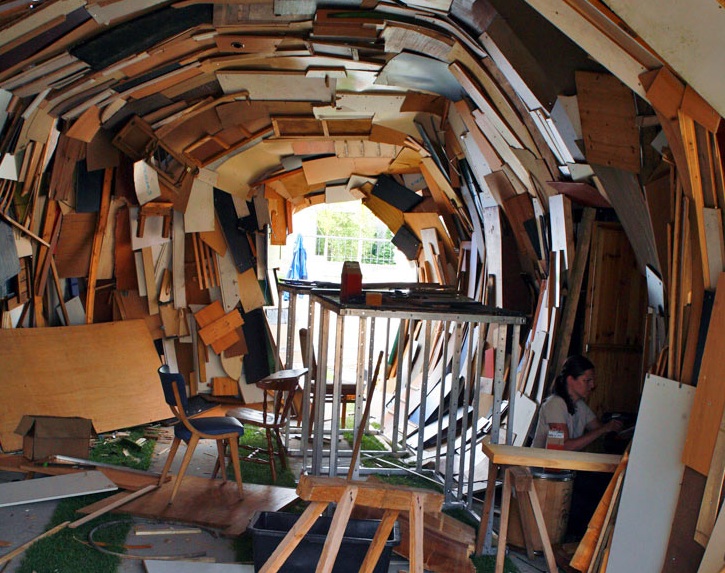 "In physical cosmology, the Big Crunch is one possible scenario for the ultimate fate of the universe, in which the metric expansion of space eventually reverses and the universe recollapses, ultimately ending as a black hole singularity."
Photos above: from www.designfun.com
Read more @ www.raumlabor.net