I've been experiencing somewhat of a writers block lately, meaning no posts on the blog for a while. However, I've been pinning daily doses of D.I.Y onto Pinterest and Facebook, so make sure to connect over there to stay tuned! Anyways, what better way to celebrate ridding the shackles of writers block than with some free flyin' feather D.I.Y?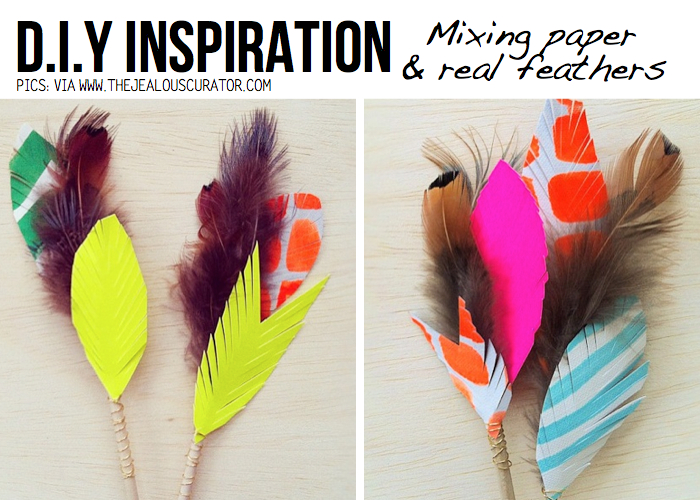 Awesome paper feathers cut out from heavy paper that had been covered in pastel crayon drawings, for the full story, check out crafty Rachael Rice's  DIY TUTORIAL over at FreePeople
"The higher we soar, the smaller we appear to those who cannot fly"/ Friedrich Nietzsche
Feather headdress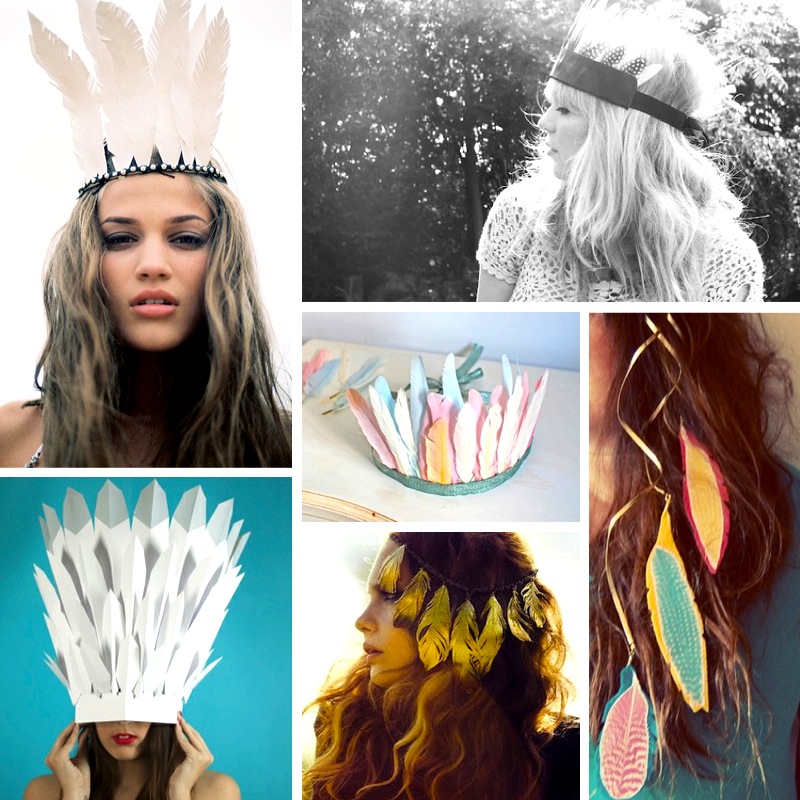 Pic sources gathered here
Fringed, watercolored feathers
(carefully) Work your nail scissors to give paper feathers a fine fringe. These beauties are by Geninne of Geninne's Art Blog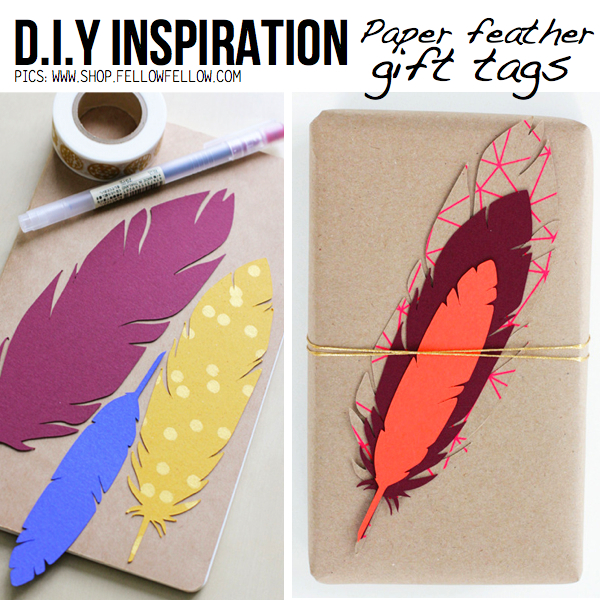 Let the supercute feather gift tags from FellowFellow inspire you, D.I.Y or buy? Go over here to read more
Feather Mobile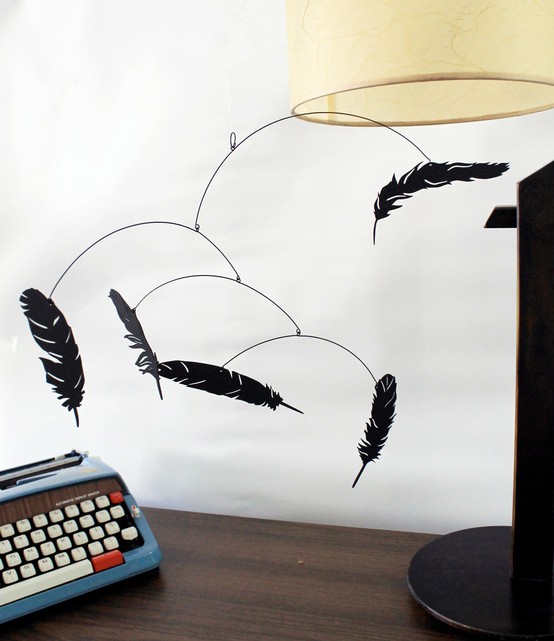 via here
"Feet, what do I need you for when I have wings to fly?" /Frida Kahlo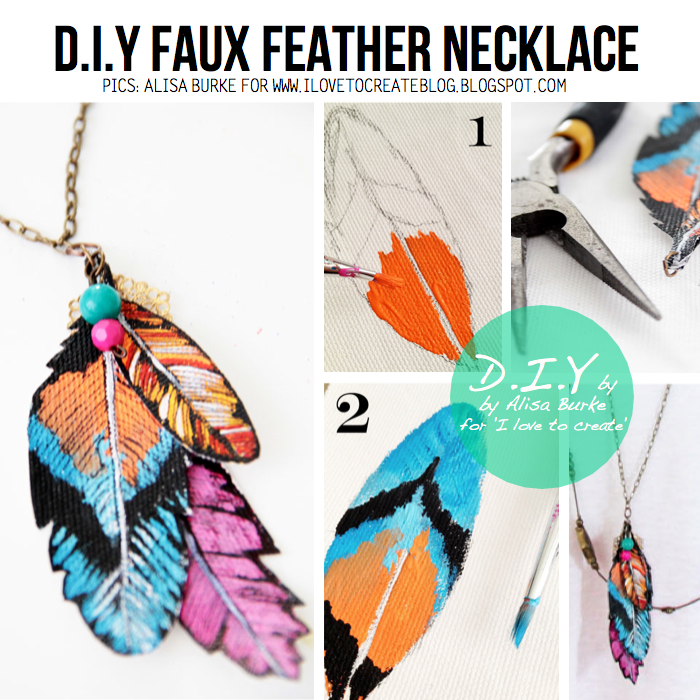 Check out the awesome tutorial from Alisa Burke over at 'I love to create' to make your own Faux Feather Necklace, DIY TUTORIAL HERE
Feather lamp shade
via here
DIY-able golden dipped tips, black version by James of Bleubirdvintage & white ones by Laura Burkhart
A simple wire frame and a few feathers creates an awesome statement piece. The right pic shows a cool flower/feather combo. Pics via '79ideas' and 'Cherry blossom world'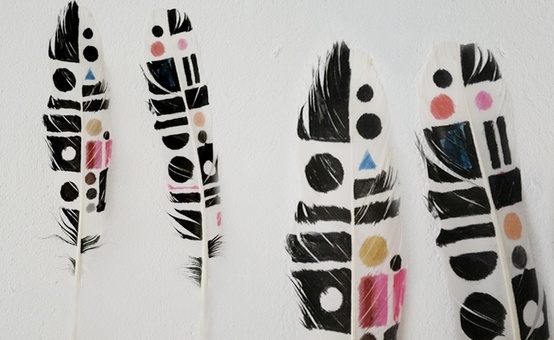 via here
"I fly because it releases my mind from the tyranny of petty things" /Antoine de Saint-Exupery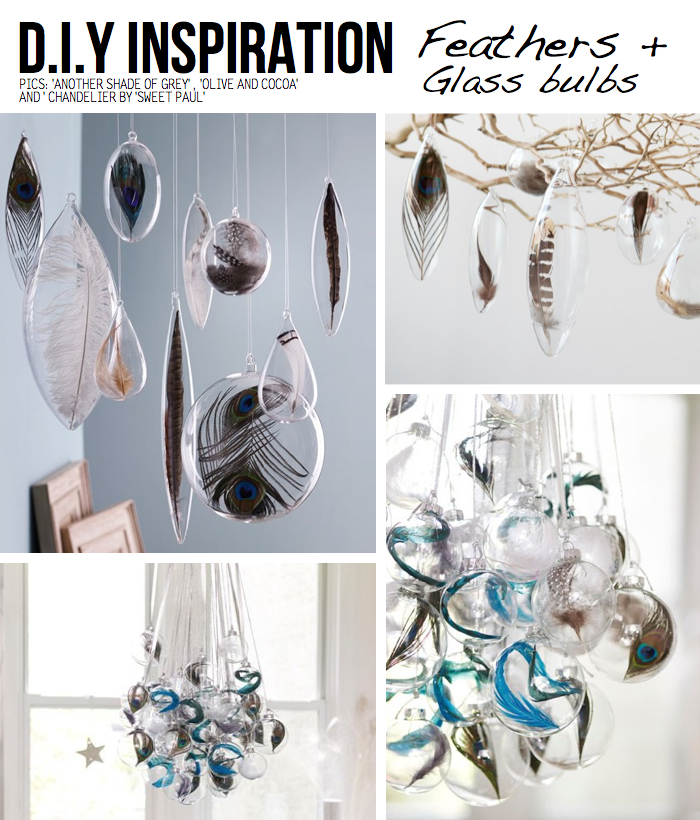 Awesome feather and glass bulb ornaments, i'm thinking they could be D.I.Y-able, just have to find me some glass bulbs with that opening at top – Pics via 'Another shade of grey' , 'Olive and cocoa' and ornament chandelier by 'Sweet Paul'
For lots of more feather D.I.Y links & inspiration, do check out my 'D.I.Y Dreams' board over on Pinterest
Good Luck Hacking!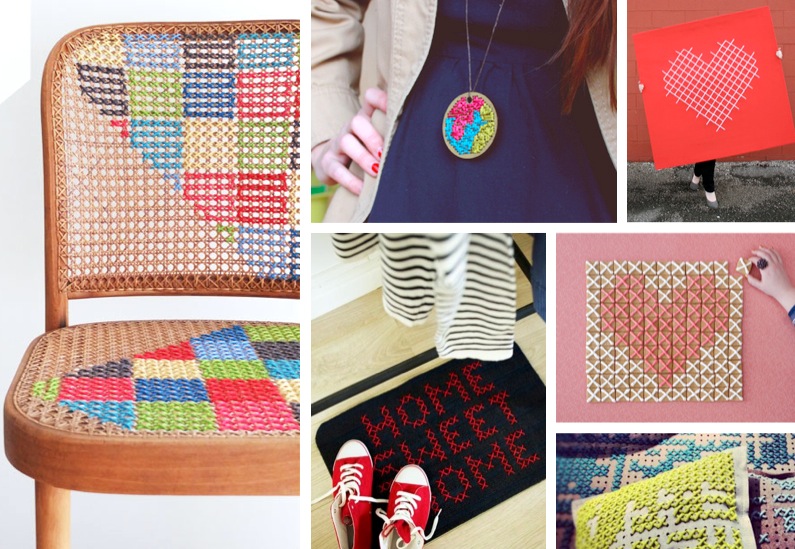 Oh boy have I gotten the itch for cross stitch! In my quest to find a cure, I've stumbled across the most amazing Cross Stitch DIY projects and tutorials, 10 of which I've gathered below. As awesome ideas tend to come from equally awesome people, tapping in to the stories behind the ideas comes highly recommended, you'll find them boosting your inspiration levels one exquisite stitch at a time – See links under each pic for full D.I.Y stories – Enjoy!
I'm nominating this clever project for 'Most clever hack of the year'! Aussie blogger Cintia of the 'MyPoppet' came up with it! Check out her D.I.Y TUTORIAL HERE!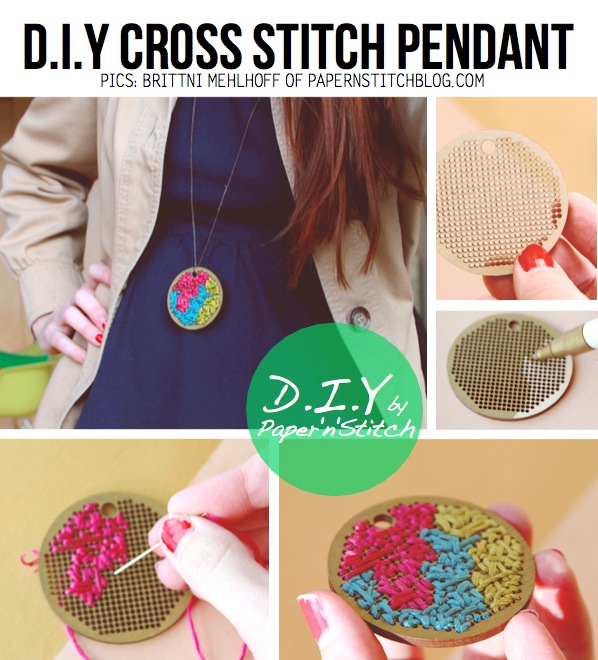 Brittni of awesome Paper'n'Stitch brings you the D.I.Y Cross Stitch Pendant, D.I.Y TUTORIAL HERE!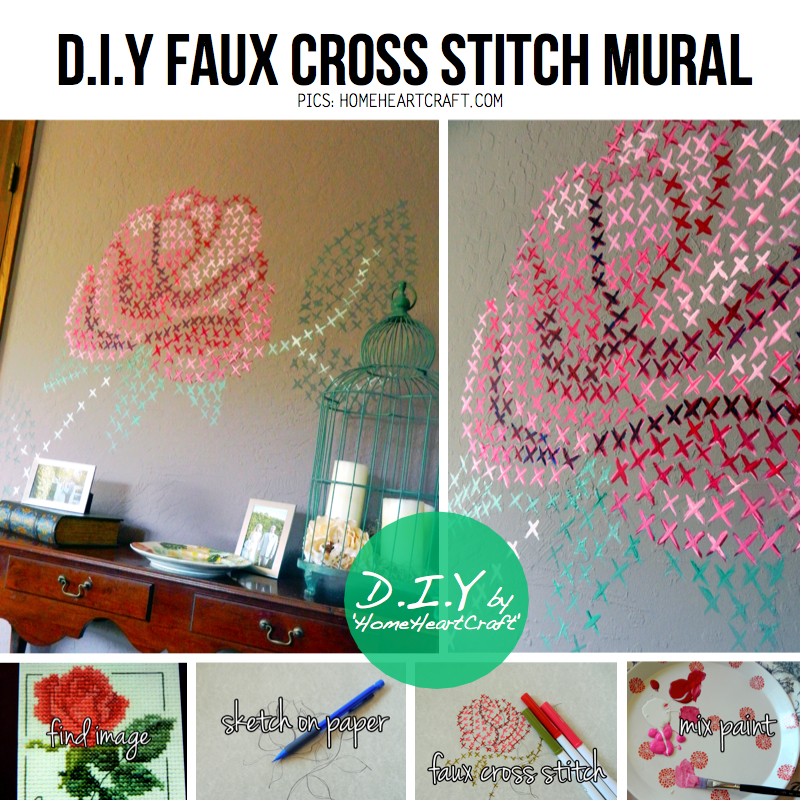 Honor of 'HomeHeartCraft' treats you this this stunning Faux Cross Stitch artwork! Check out her blog for lots & lots of great ideas, her tutorials all aim at "taking less than an hour and costing less than $25" – how awesome is that?! FAUX CROSS STITCH MURAL TUTORIAL HERE!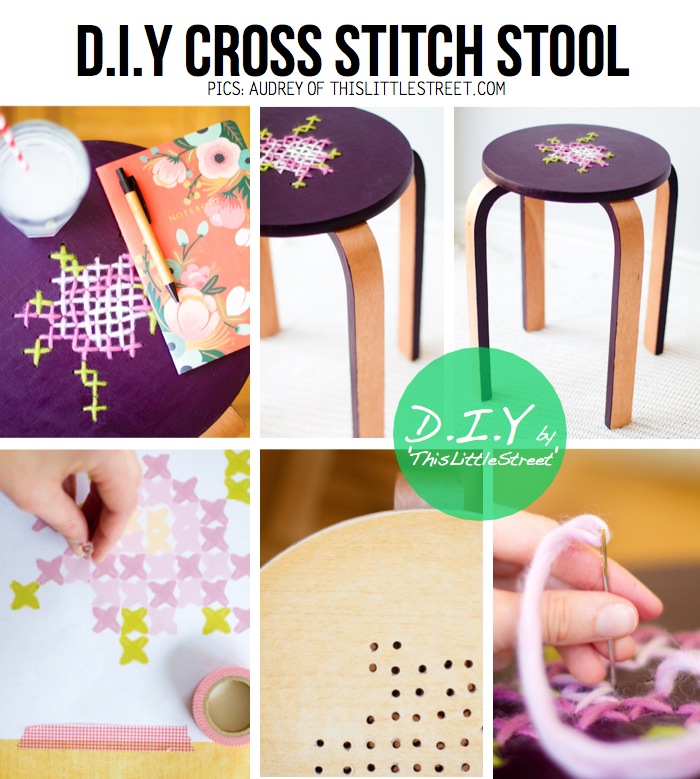 Cross Stitch stool, made by drilling holes into the wooden seat – Pretty neat! Thought up by New York based Audrey of blog 'This Little Street', D.I.Y TUTORIAL HERE!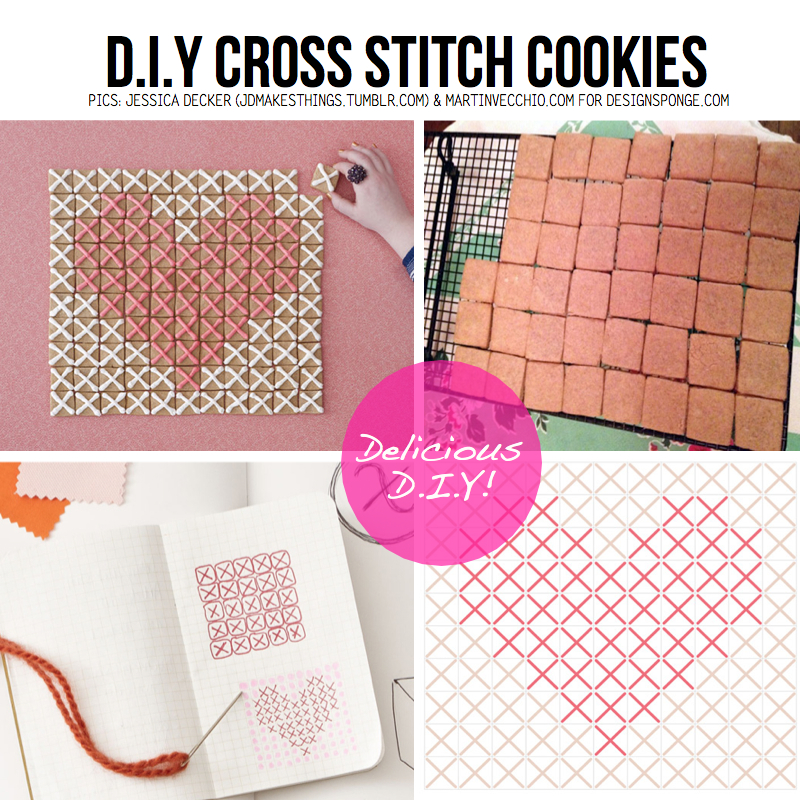 Awesomeness from Jessica Decker ("Miss giant cross stitch") for DesignSponge, TUTORIAL HERE!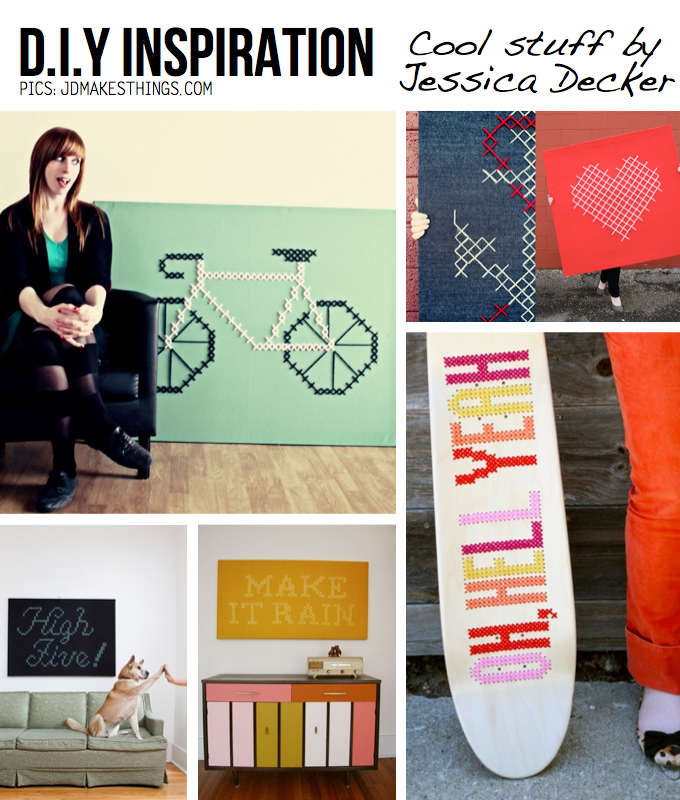 The cross stitch cookie maker, Jessica Decker, is perhaps the No #1 authority when it comes to arty cross stitch ideas, although I could never make anything quite as cool looking, I look to her for inspiration, check out her website HERE!
Let designer Charlotte Lancelot inspire some chunky cross-stitch D.I.Y!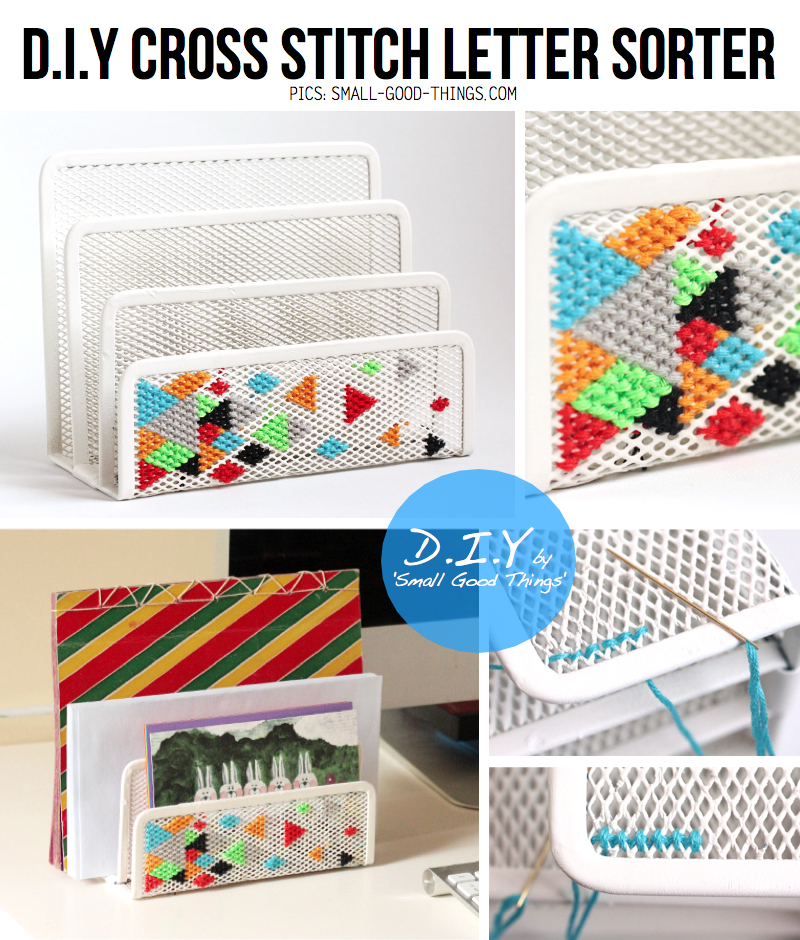 How awesome is this?! Blogger Emi of 'Small Good Things' blows my mind with her Cross Stitch Letter Sorter D.I.Y, check out her step-by-step TUTORIAL HERE!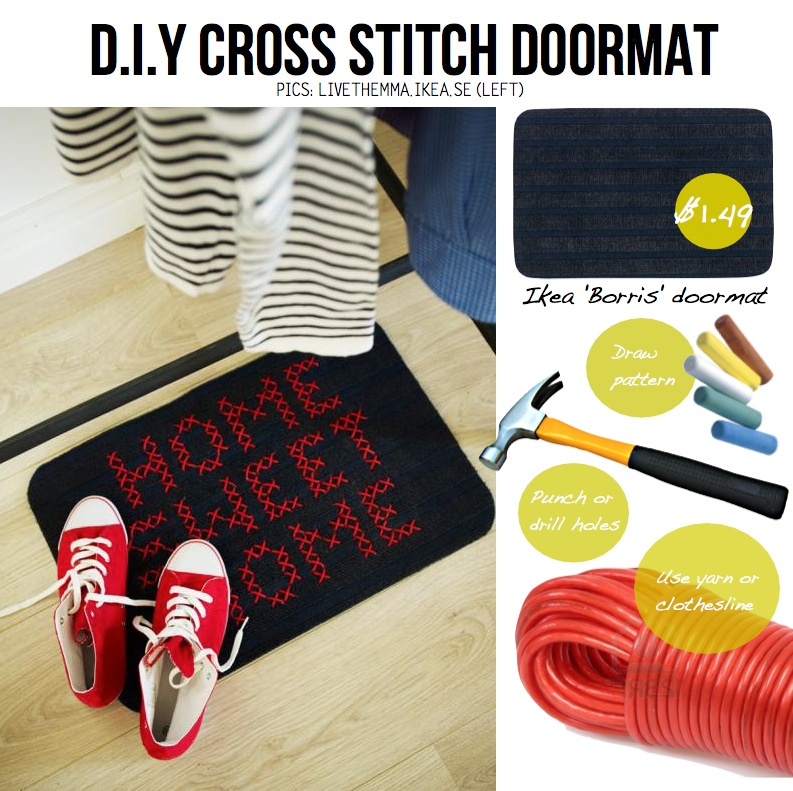 Give an $1.49 IKEA 'Borris' Doormat a serious style boost with a lil' cross stitch TLC! The idea was featured here, and suggests punching holes into the mat using a hammer and a nail and then using a sturdy nail to make the stitches with yarn, but I'm thinking clothesline could work too.
Sam of 'Have & Hold Design' made these awesome cross stitch tags for  'Uschi & Kay'  – Check out the awesome TUTORIAL HERE!
Thats' it for now…til next time,
Good Luck Hacking!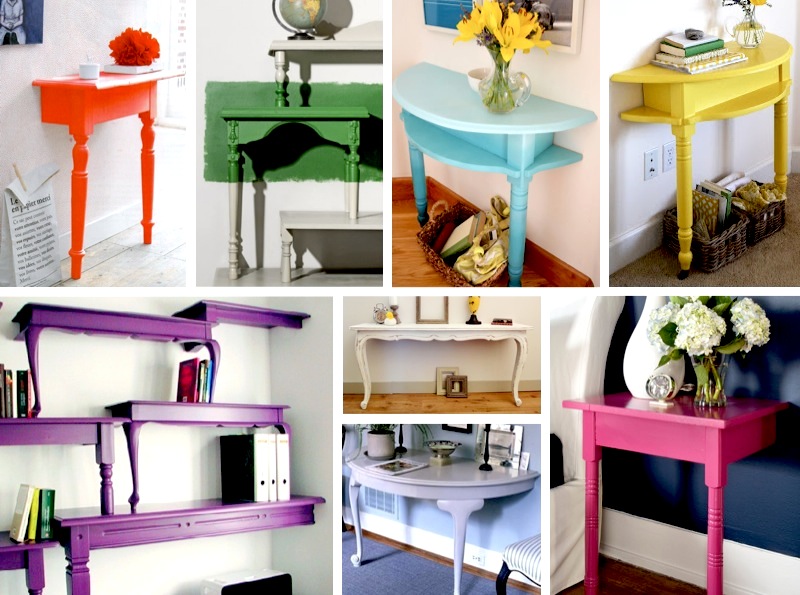 I gotta tell y'all, the D.I.Y blogosphere is indeed where the magic happens! The round-up of ideas in this post aims to prove my case by gathering of bunch of projects that I refer to as 2-in-1 magic makeovers. The featured projects shows how to make the most out of less (with a little help from a circular saw!). With a little luck, this boost of creative split vision might make ignite a lil' spark of inspiration and make you think twice about tossing that odd old table in the attic/basement/garage. The projects may be double the trouble but they're most definitely twice the fun, Enjoy!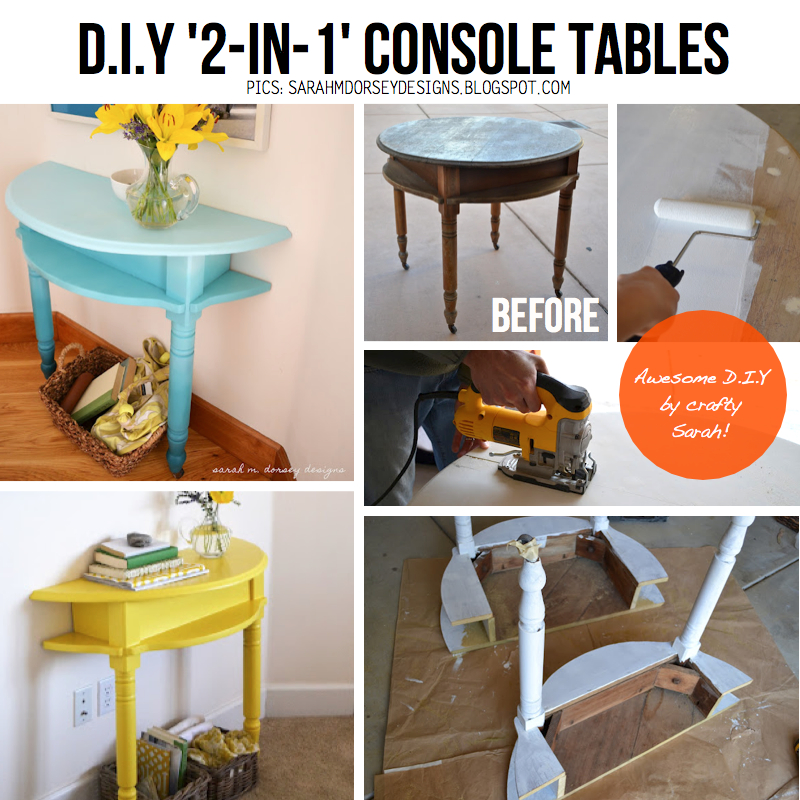 D.I.Y Design by the clever & crafty Sarah M Dorsey! DIY TUTORIAL HERE!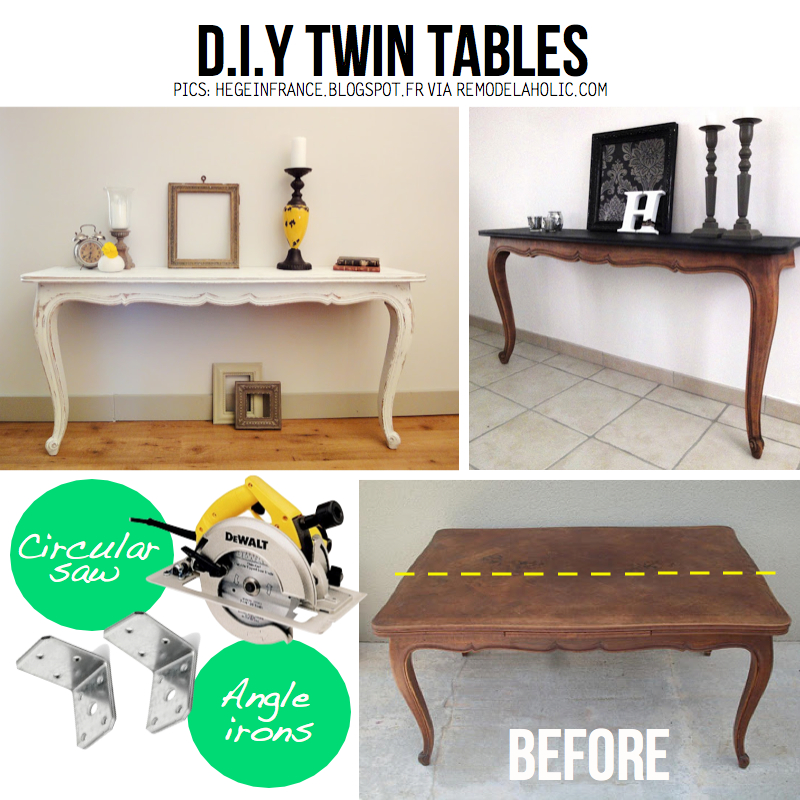 2-in-1 Console Twin table D.I.Y project via Remodelaholic, TUTORIAL HERE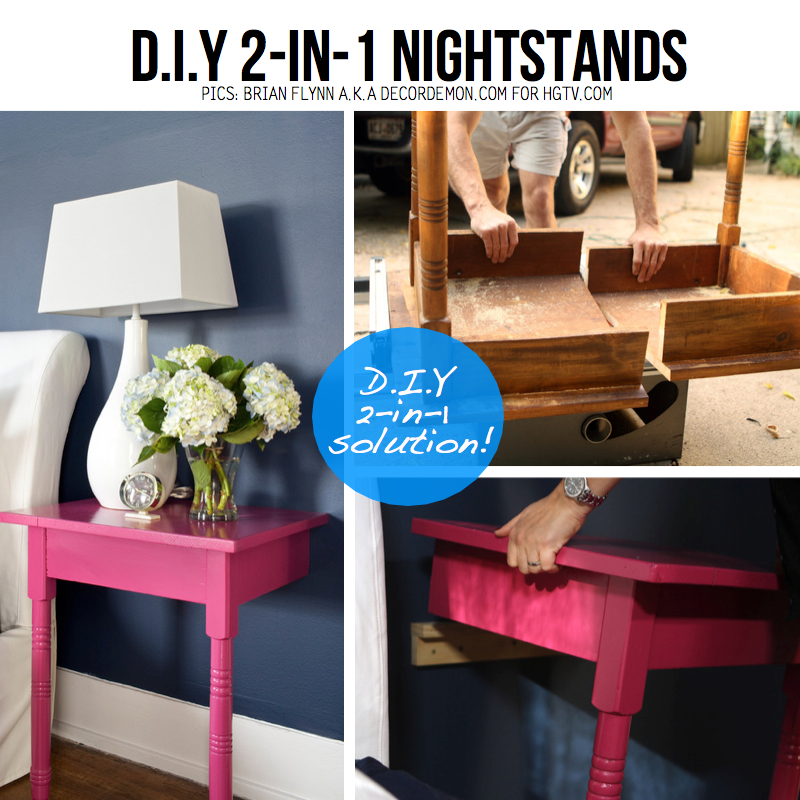 D.I.Y 2-in-1 nightstands from Brian Patrick Flynn a.k.a the DecorDemon – TUTORIAL on HGTV.com, HERE
Awesomeness overload from InfarrantlyCreative! This D.I.Y is simply amazing, DIY TUTORIAL HERE!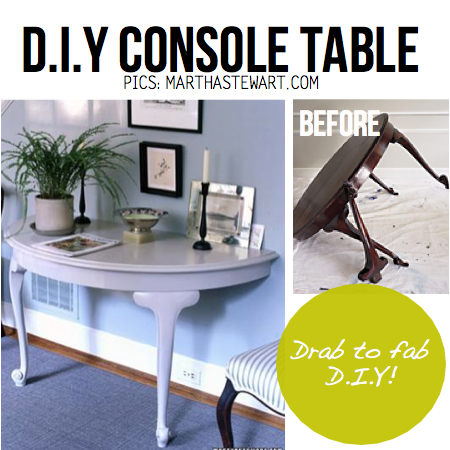 Spotted at Martha Stewart, the cut-in-half idea used to save a broken table – Awesome! DIY TUTORIAL HERE!
Doesn't get much clever than this! Coffee Table remade into entryway benches (!) by '320 Sycamore', TUTORIAL HERE!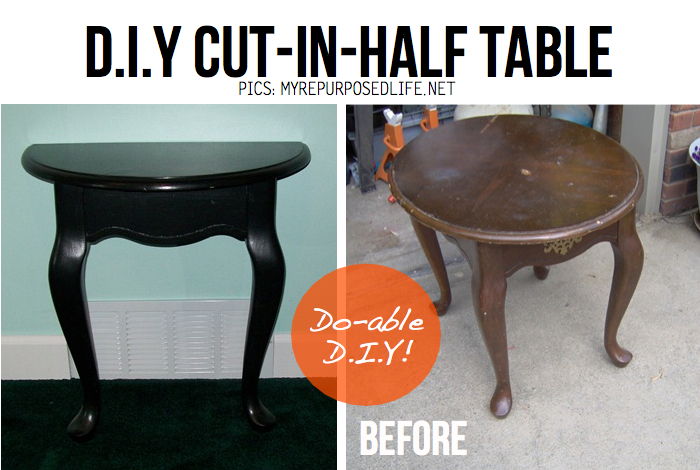 D.I.Y cut-in-half table from MyRepurposedLife, DIY TUTORIAL HERE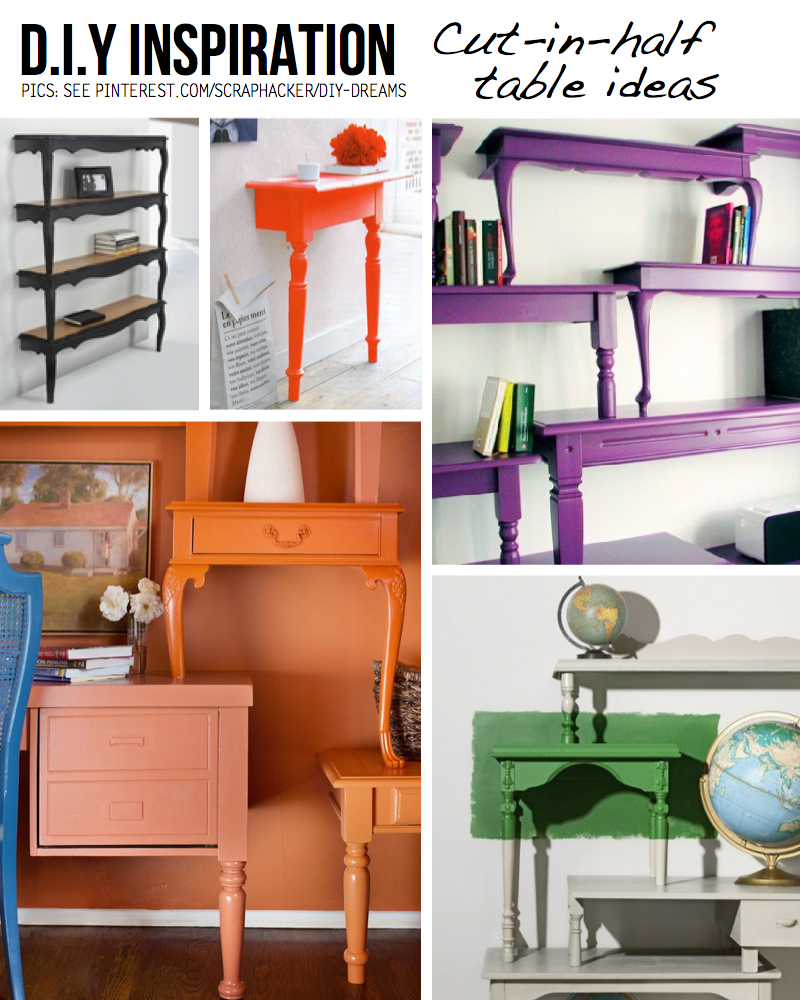 For the full roundup of D.I.Y takes on the cut-in-half idea,head to my 'DIY Dreams' board on Pinterest, Welcome!

Good Luck Hacking!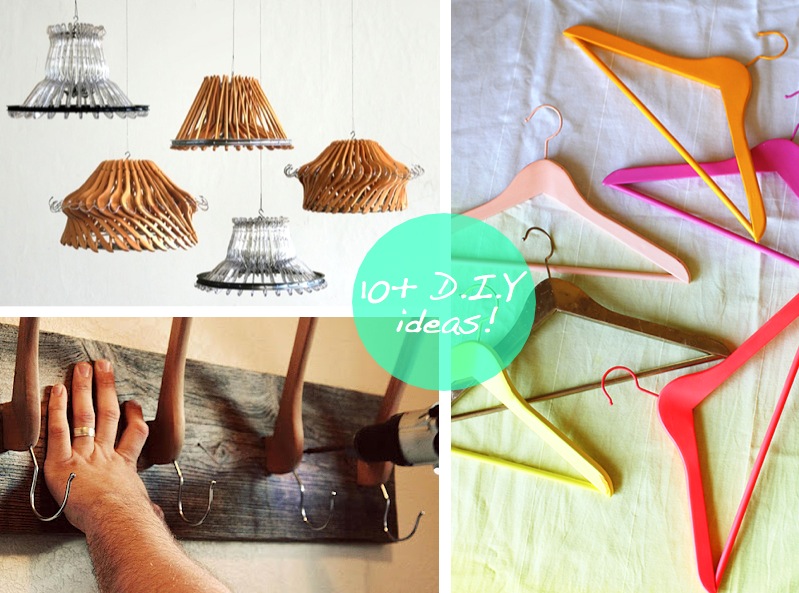 Coat hangers are super easy to come by, you've probably got a bunch of old ones stacked at the back of your closet or in a dusty box in the attic, am I right? Instead of leaving them to that drab destiny, plunge into the pool of inspirational D.I.Y ideas featured in this post! The round-up shows how old hangers can be tweaked into awesome new creations, featuring ideas for wire and wood hangers side by side to make sure there's a little somethin' for everyone in the mix – Happy Hacking!
Super clever an seriously sleek (as always) from Ivana of Love Aesthetics, whose upside-down hanger hook D.I.Y inspired some D.I.Y action from AnnaLeena of 'AnnaLeenasHem'.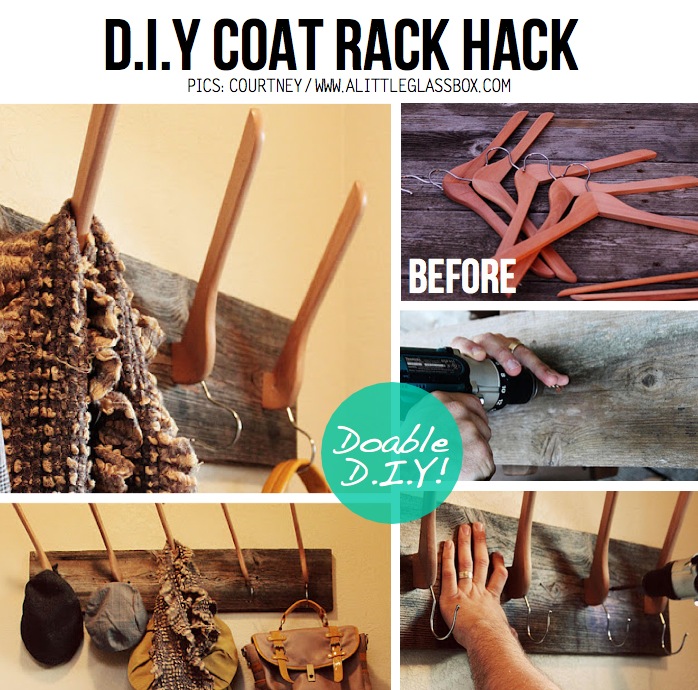 Awesome D.I.Y Coat hanger rack hack from Courtney of 'A little glass box' – DIY tutorial here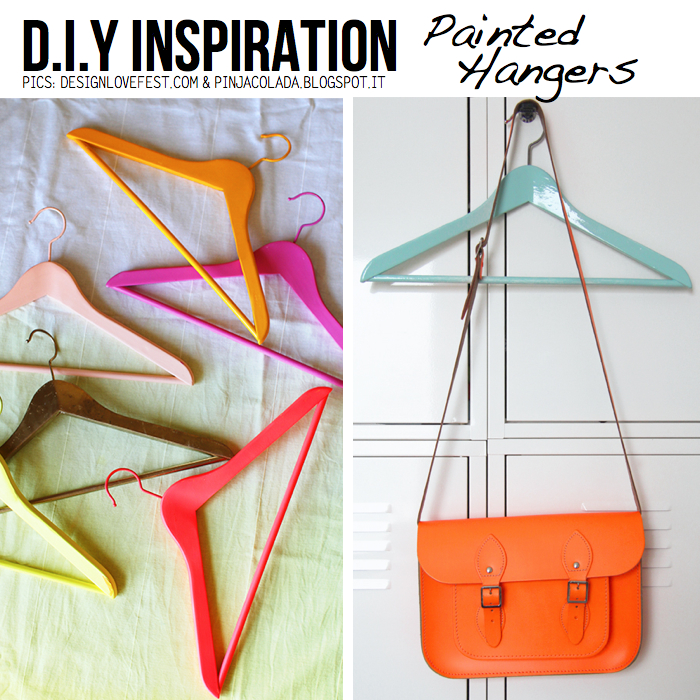 A pop of color to spruce up your wardrobe… via blog DesignLoveFest & 'PinjaColada'
 A lil' tweaking and you're good to go, pics & D.I.Y tutorial from SuperZiper explains how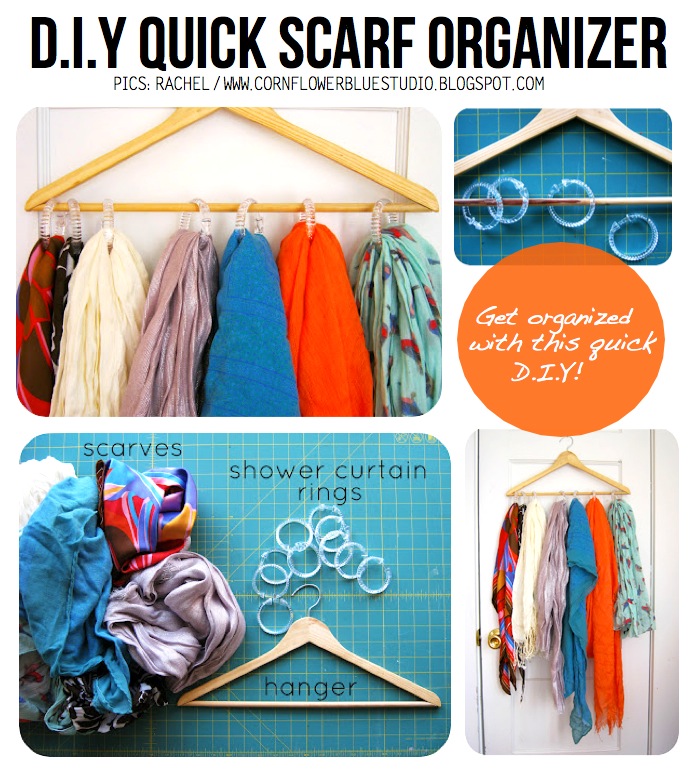 Super clever scarf organizer by crafty Rachel of CornflowerBlueStudio, see her tutorial here!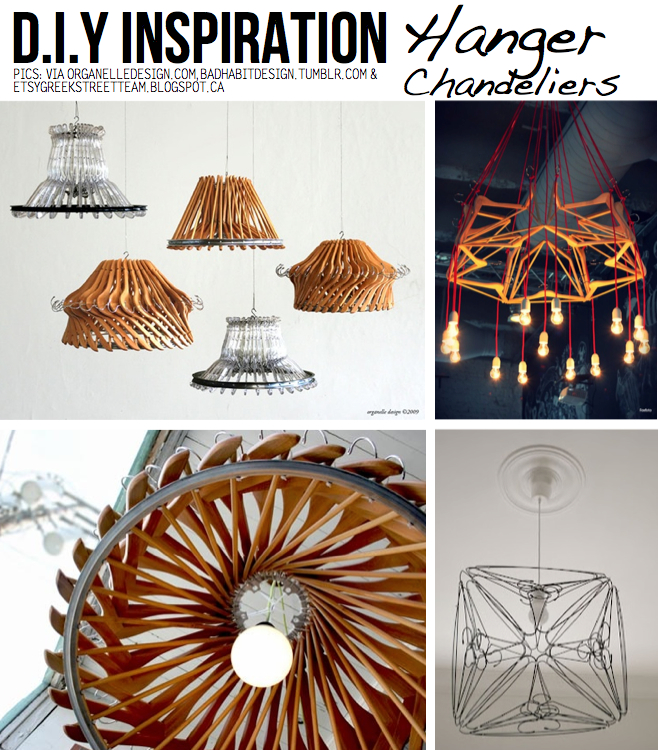 Hanger chandelier inspiration via OrganelleDesign, BadHabitDesign & Etsy Greek Street Team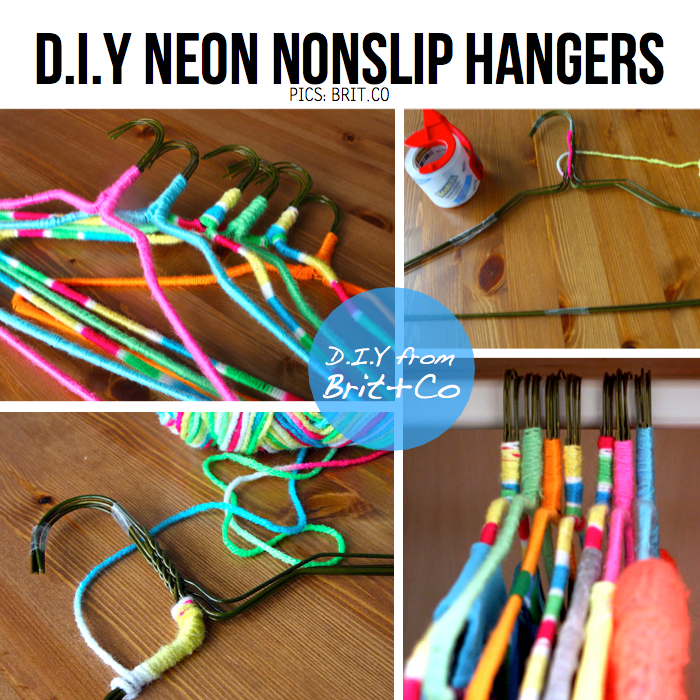 Add new functionality + a pop of color by taking cue from the Neon Nonslip hangers from 'Brit+Co'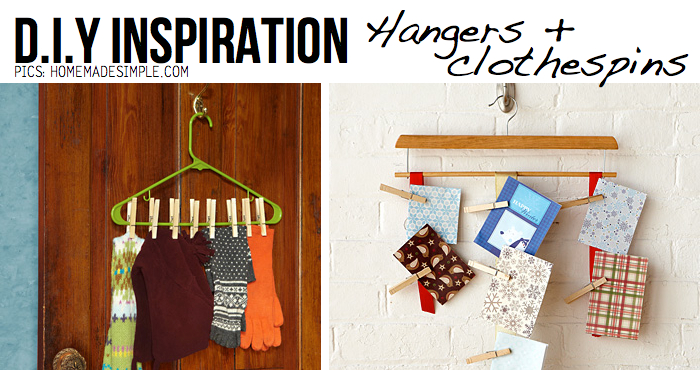 Pics via 'HomeMadeSimple'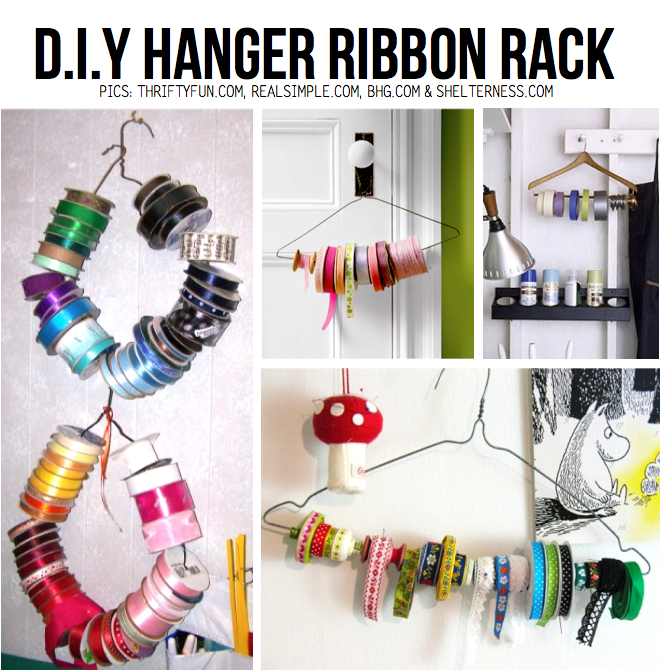 Pics via ThriftyFun.com, Realsimple.com, Bhg.com (via OhLouiseDesigns) & Shelterness.com
Doable D.I.Y Coat Hanger Belt Rack from Martha Stewart, TUTORIAL HERE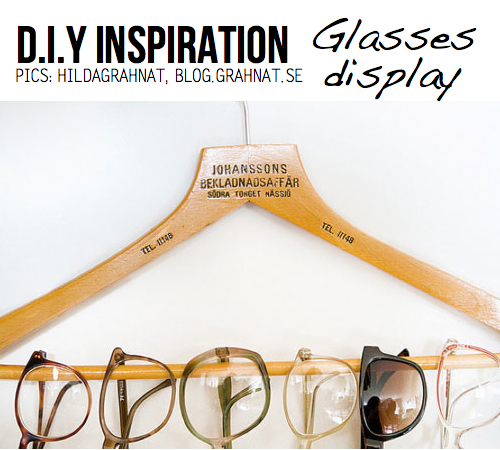 Inspirational pic by photographer Hilda Grahnat, spotted via 'SF Girl By Bay'
Good Luck Hacking!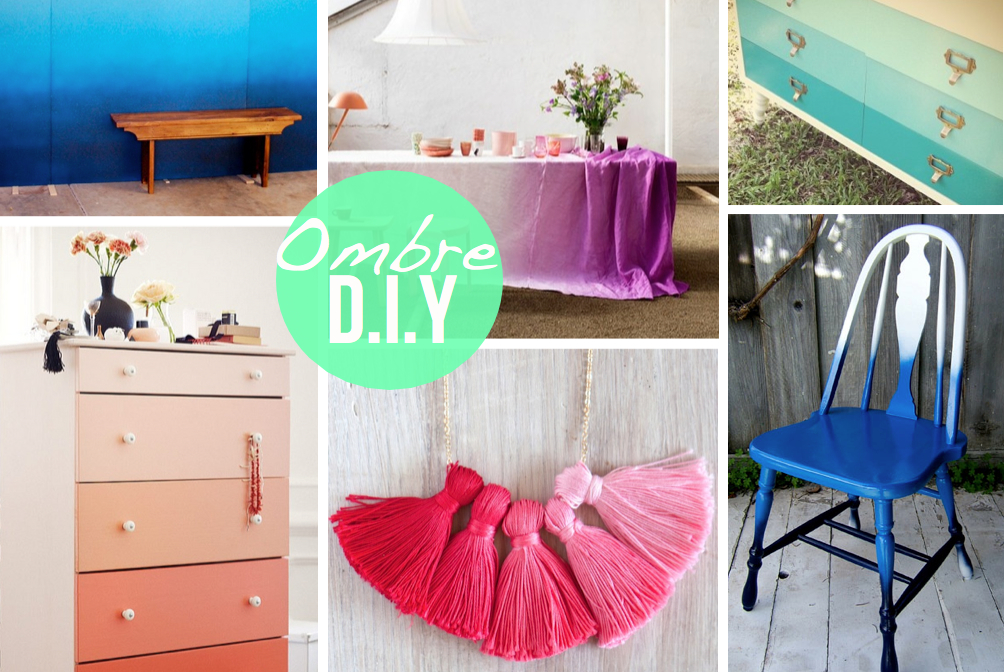 Oh la la, ombre! Dip you toe (and your stuff) into the DIY dip dye and ombre trend. There's lots and lots of awesome adaptations floating around the blogosphere! Here's my lil' pick of ideas to crank up the hotness of old stuff in an instant…enjoy!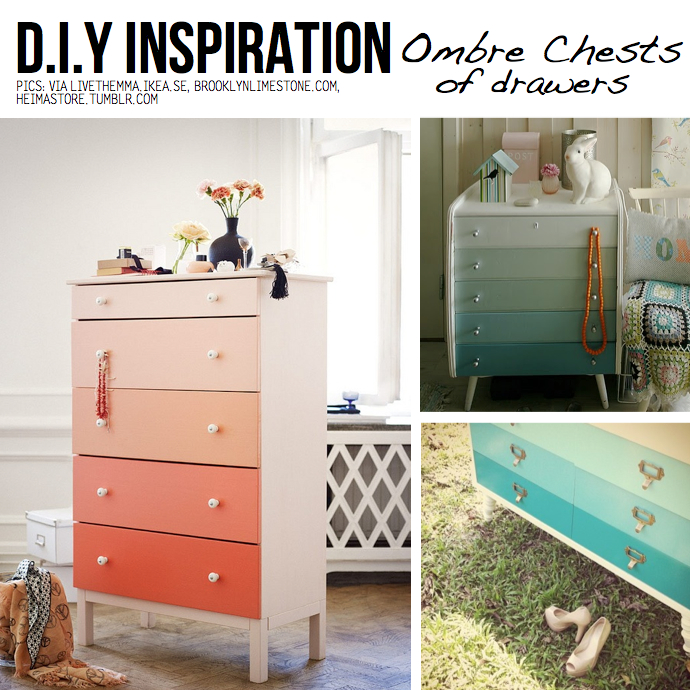 Pics via Ikea Livet Hemma, BrooklynLimestone & HeimaStore
Dazzling D.I.Y Tassels from Clémence of 'Oh The Lovely Things', awesome TUTORIAL HERE
DIY from Jesse Dresbach of the 'Nine Red' Etsy shop – featured on DesignSponge, TUTORIAL HERE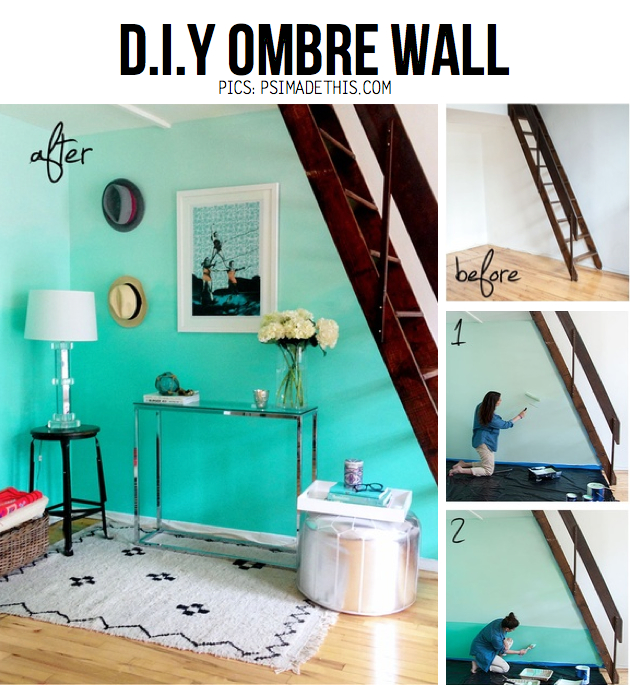 DIY Ombre Wall from 'PS I Made this' – TUTORIAL HERE
Great DIY (as always) from Stripes & Sequins – FULL TUTORIAL HERE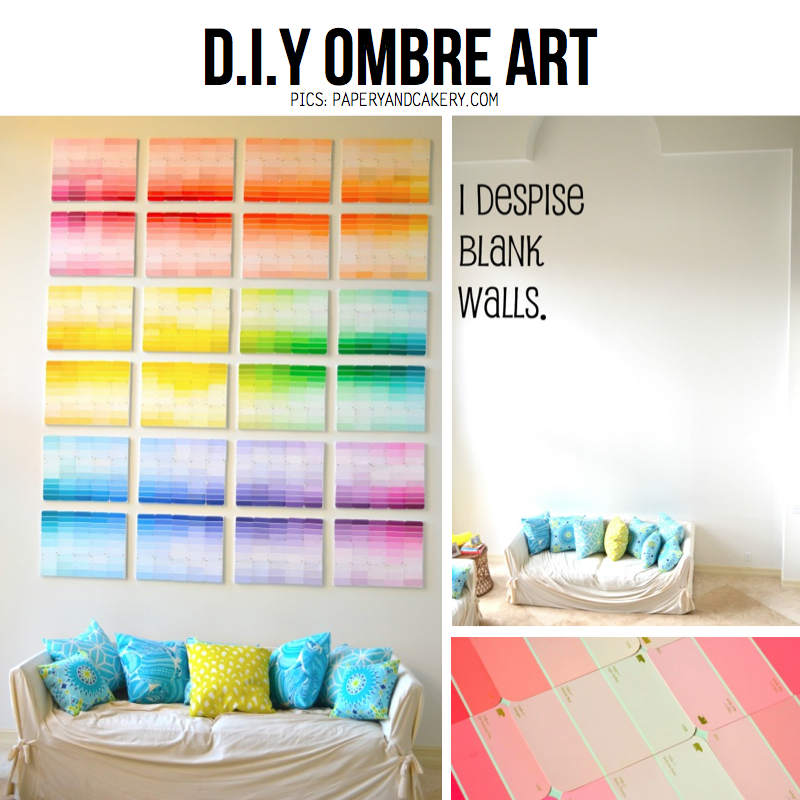 DIY Ombre Art from 'Papery & Cakery' – TUTORIAL HERE
Wanna dig further in to the pool of ombre inspiration?
Head to my 'DIY Dreams' board on Pinterest!
Good Luck Hacking!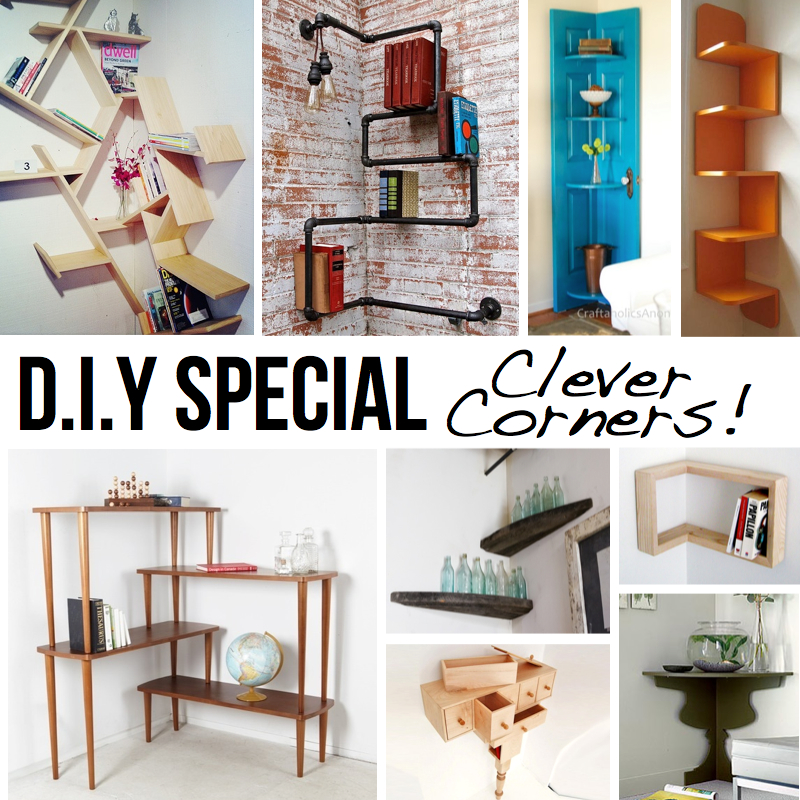 Let creativity sprawl into each and every corner of your home – literally! Narrow corners are surprisingly often overseen and deemed "impossible" to make something out of…Challenged by this 'fact' (further enforced by the lack of pre-made corner solutions from furniture retailers) I thought I'd gather a bunch of corner D.I.Y ideas proving the 'corners are impossible' notion wrong…
DIY from 'Craftaholics Anonymous' – TUTORIAL HERE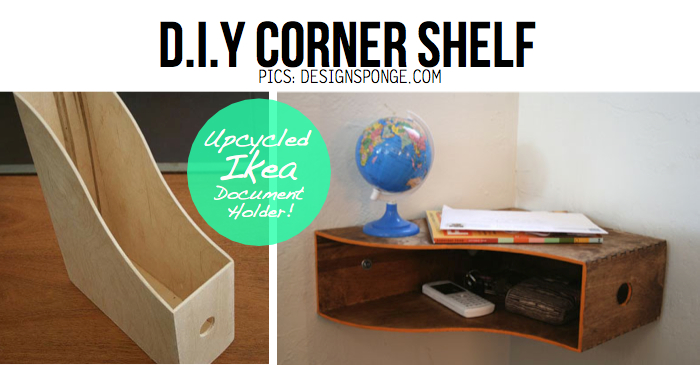 D.I.Y from DesignSponge – TUTORIAL HERE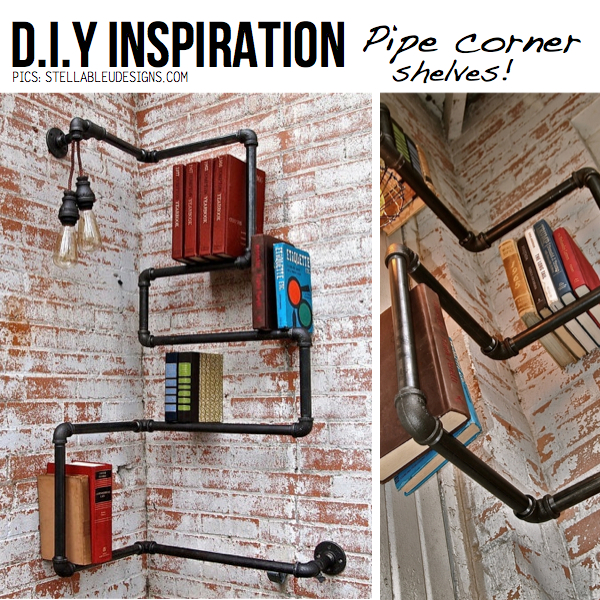 Pics from StellaBleuDesigns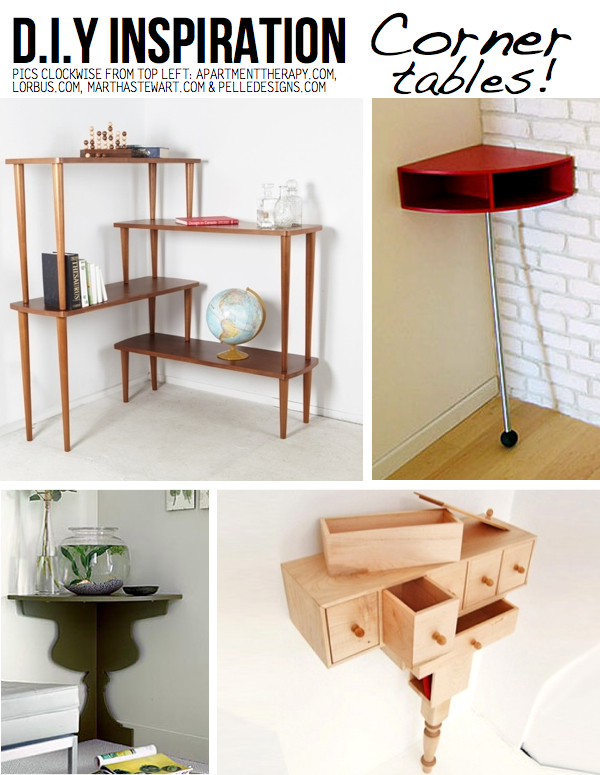 Corner table/shelf DIY Ideas, clockwise from top left: Stacked table DIY idea spotted here, red table spotted here, green DIY corner table from Martha Stewart & lastly naturally clever design from PelleDesigns, spotted here
With those ideas in mind, I hope you feel inspired to inject some love and functionality into a forgotten corner or nook around your house. Topping things off, I'd like to share this very true quote:
"Clean out a corner of your mind and creativity will instantly fill it" / Dee Hock
Good Luck Hacking!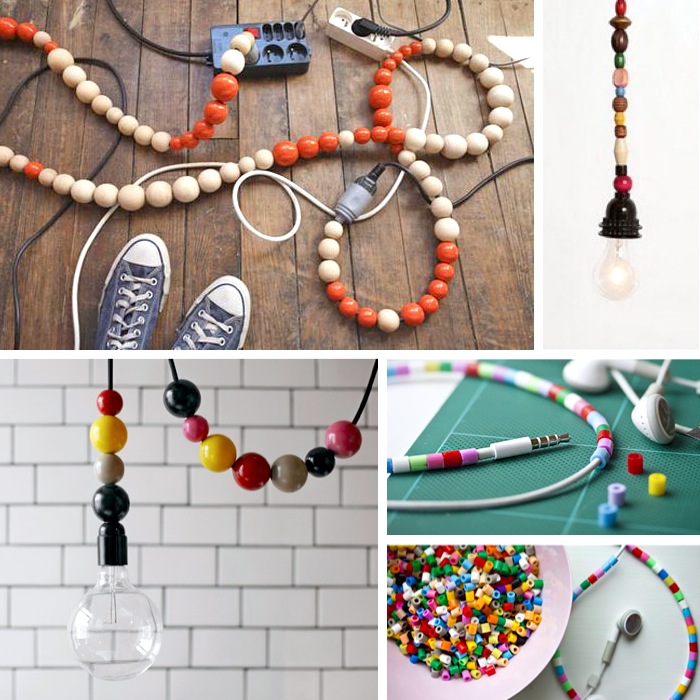 Totally allergic to electrical cords? A lot of us tick that box! I like pretty beads way better, which is why seeing these pimped electrical cords makes me so happy. Not all of them are straightforward DIY'able but some tweaking and you should be good to go, here's a link describing how to go about to make a beaded lamp cord. The beaded iPhone earplugs are basically a 1-hr hack, just follow the tutorial from this lovely blog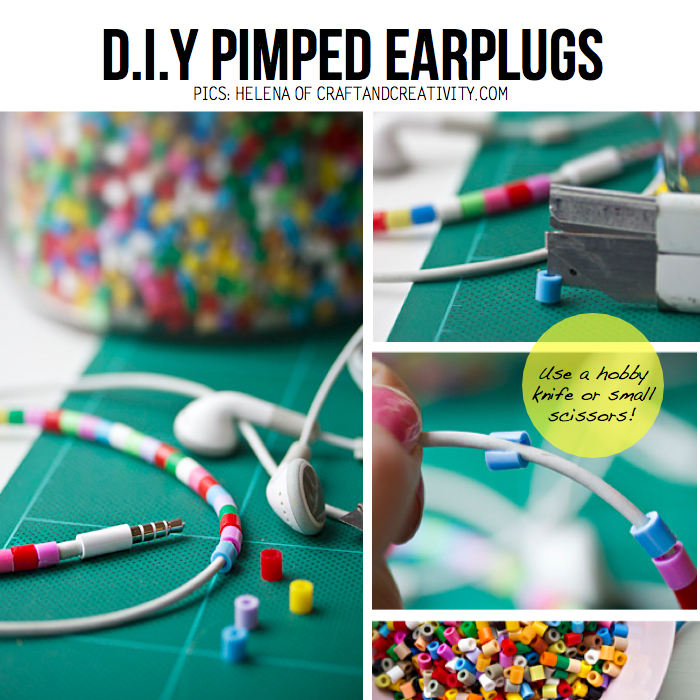 Pics from blogger Helena of 'Craft & Creativity'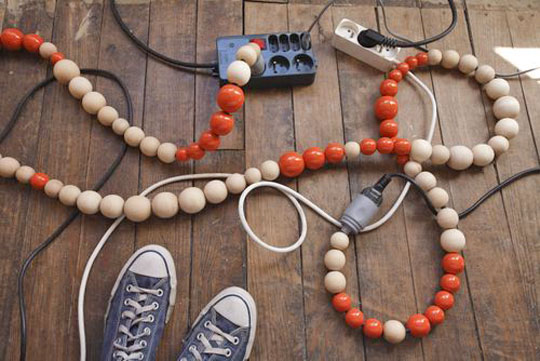 via here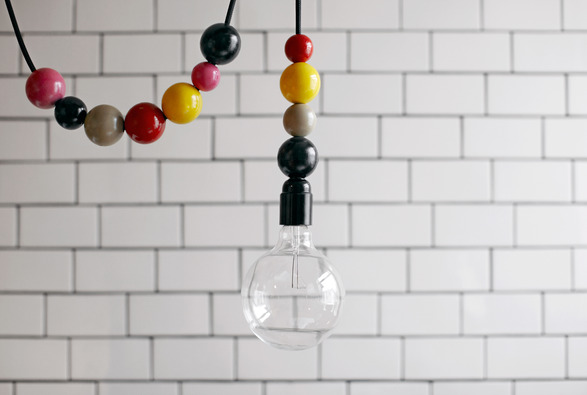 Beaded lamp cord – via here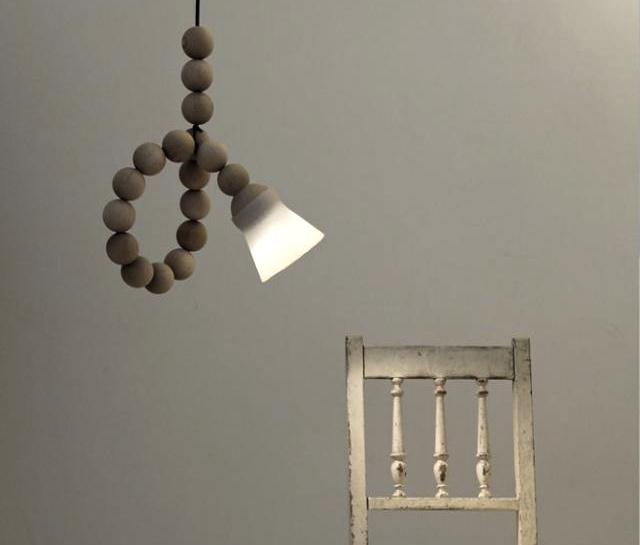 Beaded lamp cord – via here
Beaded extension cord – via here
Good Luck Hacking!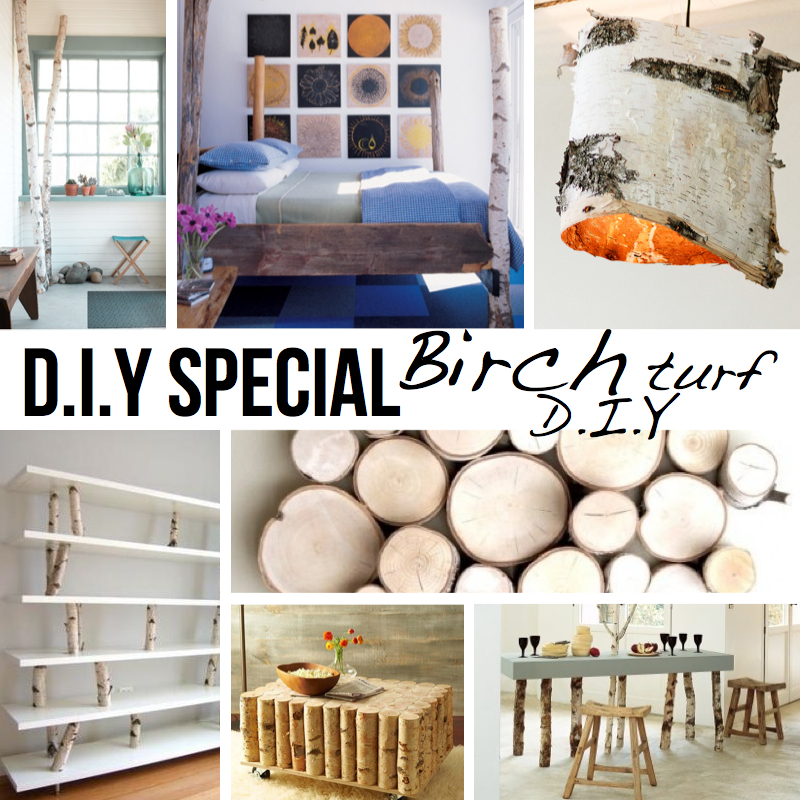 Get ready to explore birch turf with these 10+ Birch DIY ideas. Get inspired by the multitude of ideas the blogosphere has to offer and then get to D.I.Y action with the selection of tutorials featured below. My personal favorite are the hacks in which birch logs are used as table bases, which is yours?
More DIY Inspiration & Pic sources HERE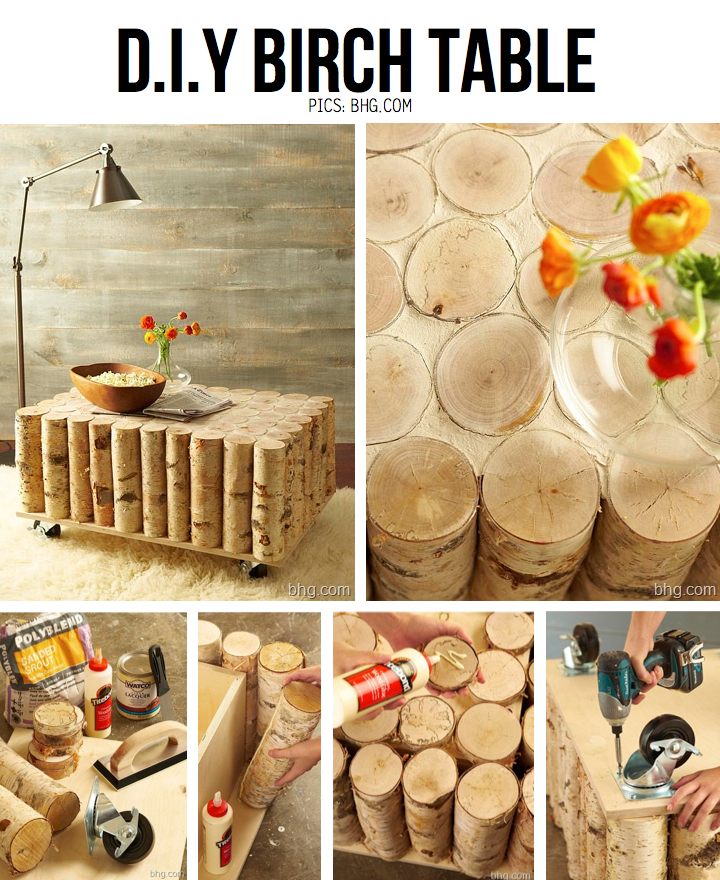 DIY Birch Sofa Table from BHG, check out the awesome DIY tutorial here
Get lots of Birch bed DIY inspiration from my 'DIY Dreams' Pinterest board
Lou of blog HappySerendipity made these awesome wood coasters, head to the blog to get the full DIY TUTORIAL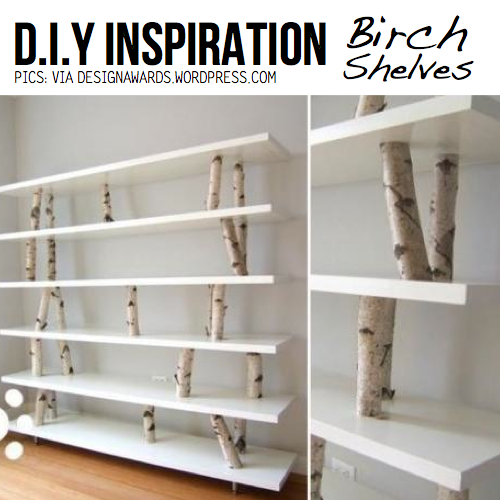 Birch Shelves DIY Inspiration via here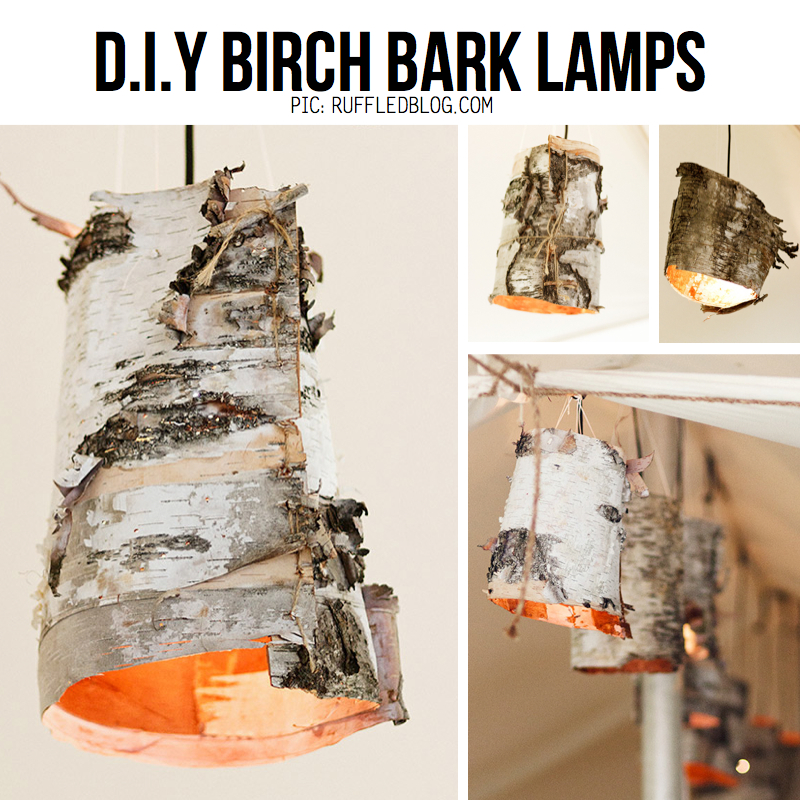 Birch Bark lamps, DIY from RuffledBlogs (with pics by Ellagraph Studios)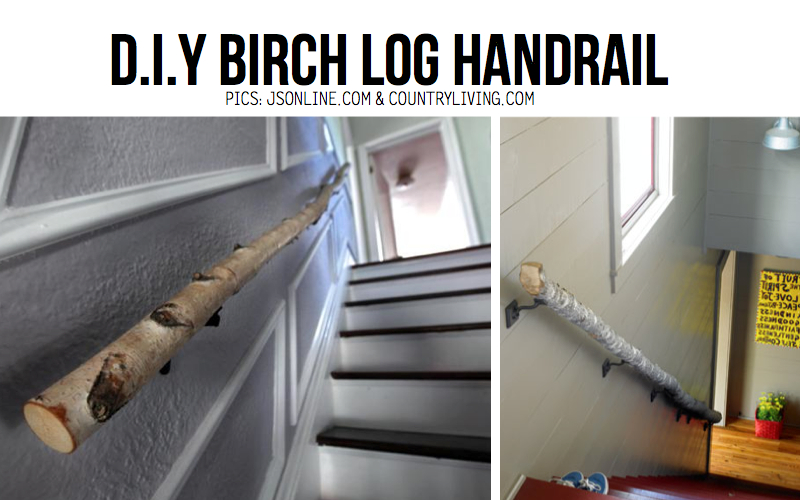 DIY Inspiration via here & here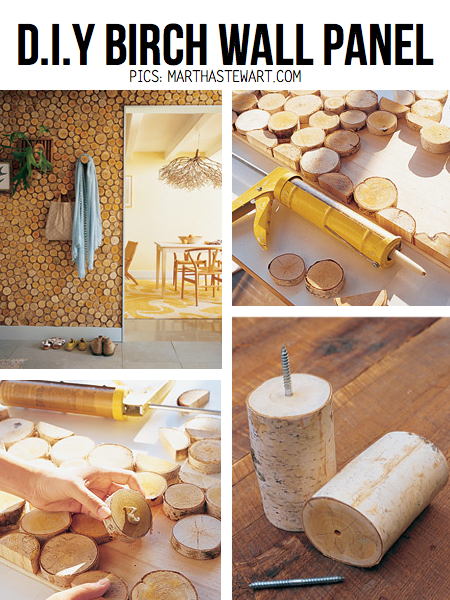 DIY Birch Wall Panel, from Martha Stewart, TUTORIAL HERE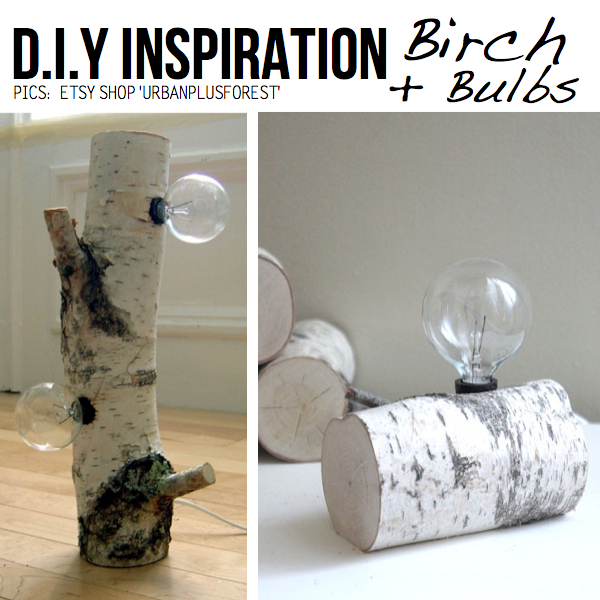 DIY Inspiration from Etsy vendor UrbanPlusForest, details here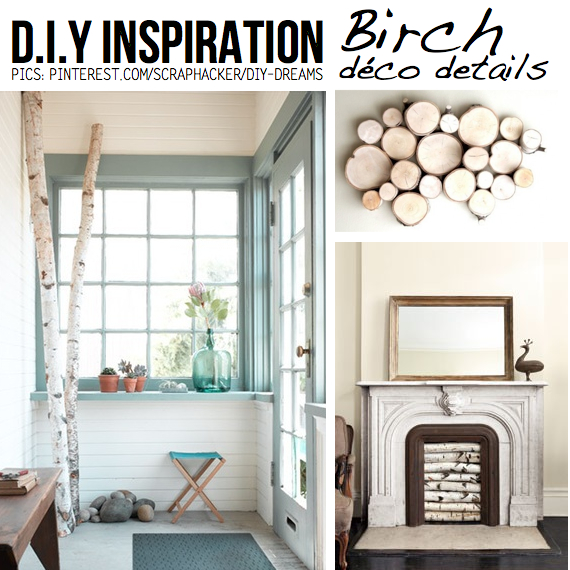 More birch DIY inspiration & for pic sources, here
Good Luck Hacking!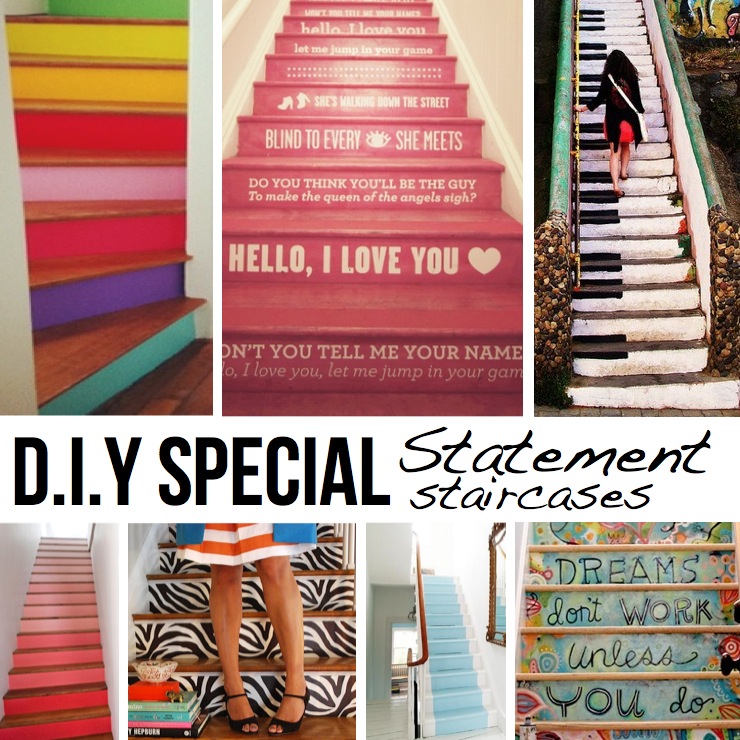 Mondays sure can feel like an uphill climb. Yet, they also bear the promise new (so maybe they're not all that bad after all?) Getting over obstacles requires inspiration & motivation, which got me thinking – What better way to meet the Monday challenge than to channel a vision of oneself climbing one of these awesome statement staircases? Taking the metaphorical vision down to earth, you'll find these amazing ideas work great as hands-on D.I.Y inspiration too!
Pics via here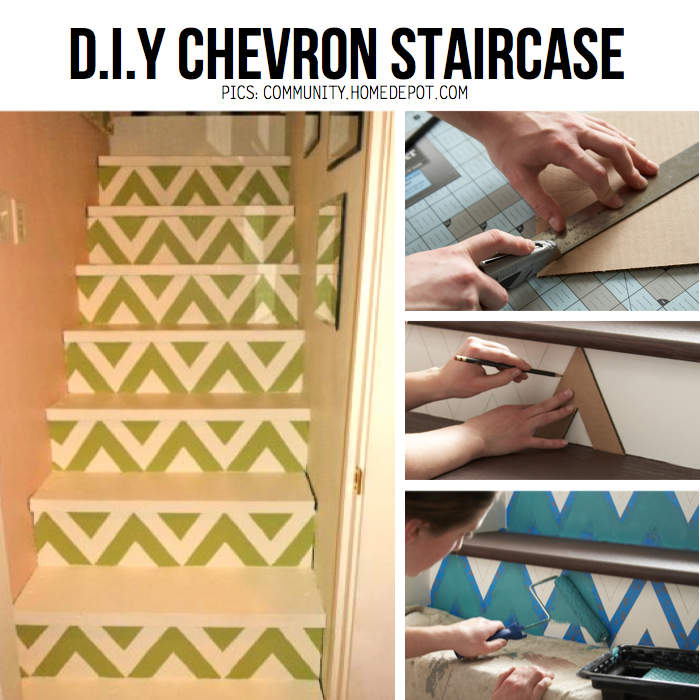 Get full DIY Tutorial from HomeDepot, HERE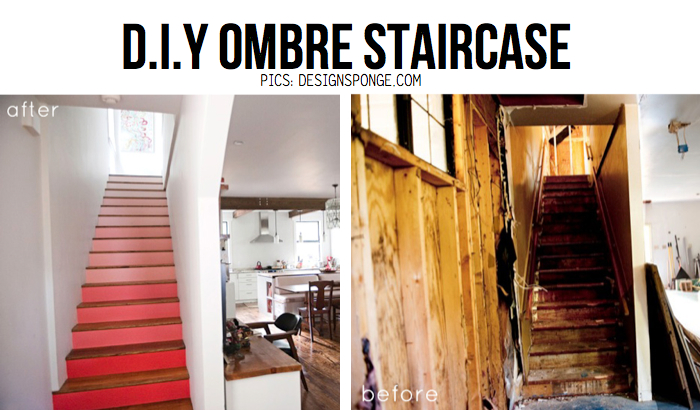 Check out the magical transformation of an dingy ol' staircase in this article on DesignSponge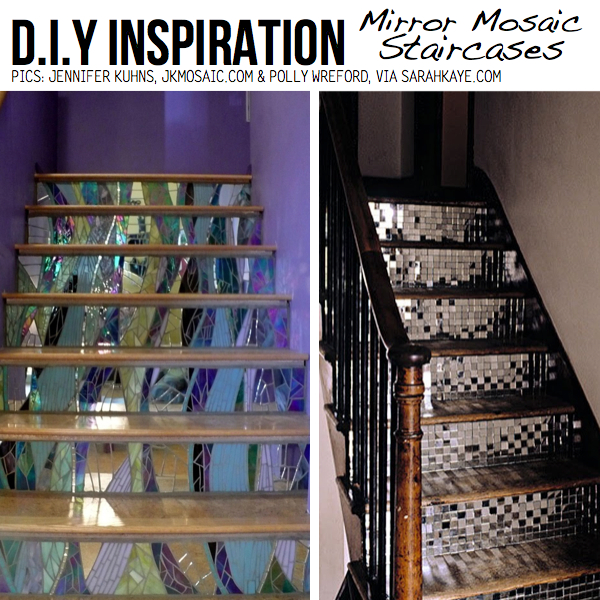 Via Jennifer Kuhns & Polly Wreford (via 'The Bedlam of Beefy')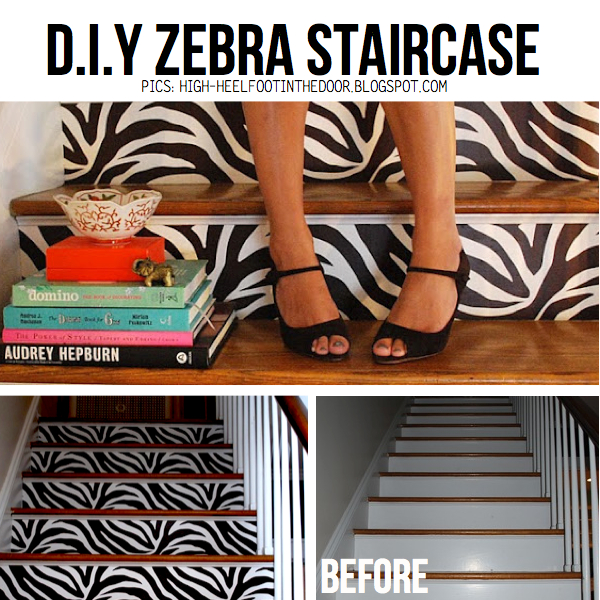 D.I.Y Zebra Staircase tutorial here!

all pics via here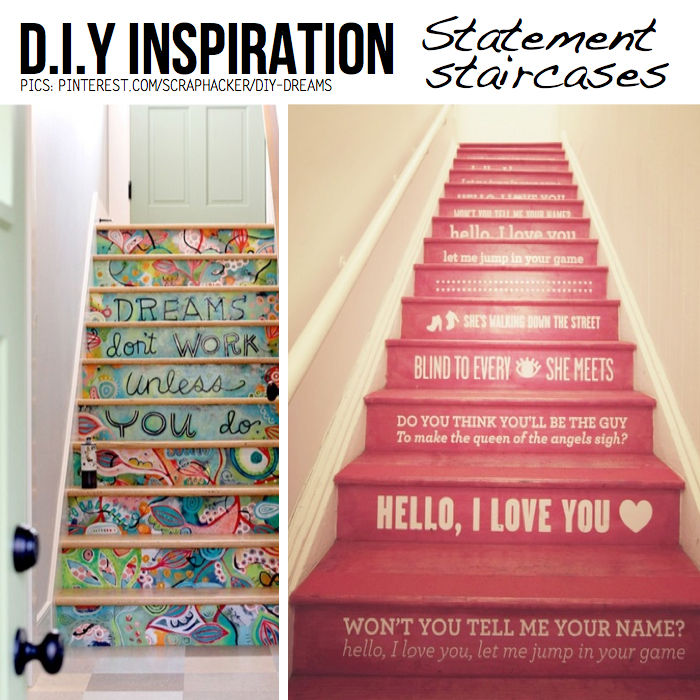 via here
Awesome ideas for the kiddos! Get full DIY Tutorial HERE!
ps. Get lots of more staircase ideas & more on my Pinterest!
Good Luck Hacking!
Been busy hacking around the house the last couple of days! Among other things, I've hacked the crap out of yet another discarded pallet, now enjoying a blissful afterlife as a neat little sofa in my kitchen with some equally neat magic storage, check it out:
The project is really an easy-peasy D.I.Y, and hope you'll give it a go yourself! I've gathered a bunch of explaining pics to give you that boost to get started asap – Good Luck!
Ps. Into pallet hacking? Then check out my other pallet hack tutorials, as the DIY Pallet Dining Table Tutorial, the DIY Pallet Bunk Bed & the DIY Pallet Coffee Table – find all of them under the special section "Pallet Hacks" ds.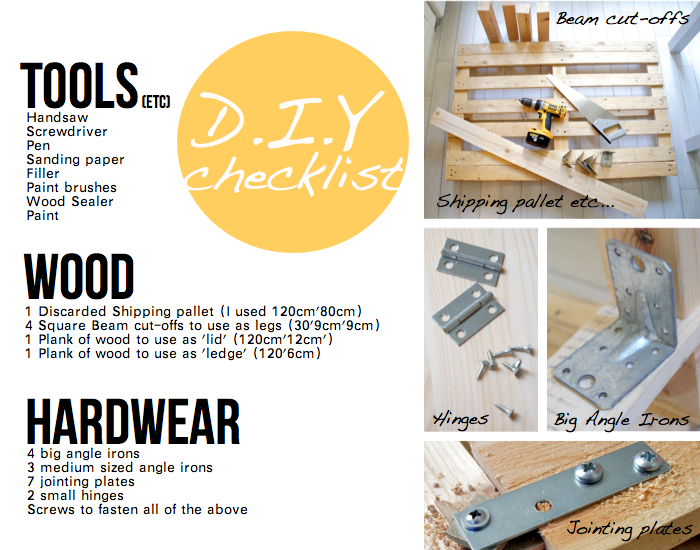 Ps. Into pallet hacking? Then check out my other pallet hack tutorials, as the DIY Pallet Dining Table Tutorial, the DIY Pallet Bunk Bed & the DIY Pallet Coffee Table – find all of them under the special DIY section "Pallet Hacks" ds.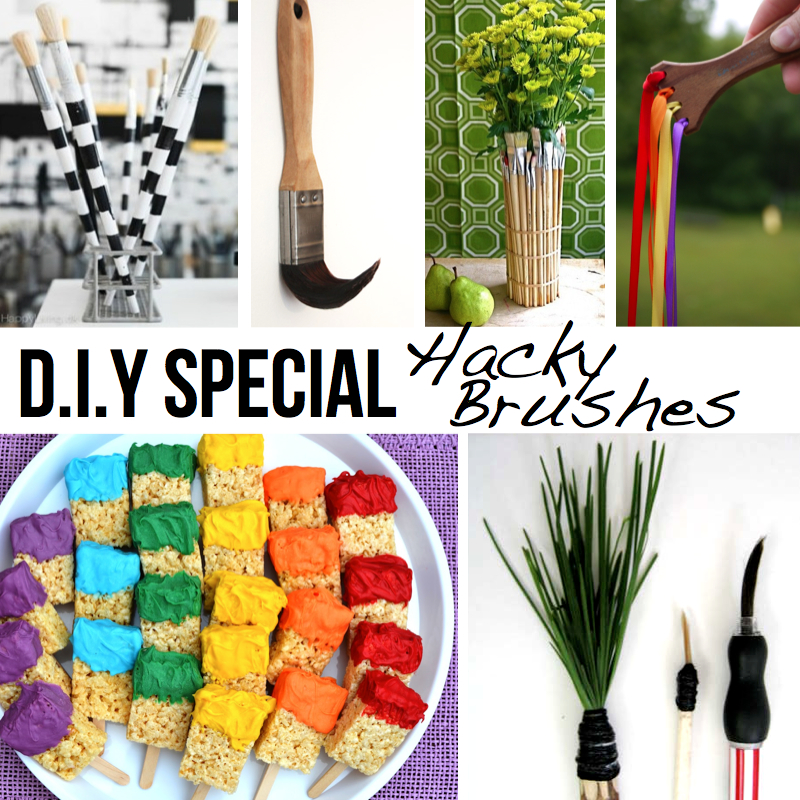 They say the world is our canvas and that we should throw all paint we can at it. But all of that's easier said than done which is why I thought I'd gather a bunch of DIY ideas celebrating the form & function of the wonderful, iconic, indispensable paintbrush. I hope the palette of of 10+ DIY ideas on how to create, hack, pimp and recycle paintbrushes will leave you inspired to add a splash, a dash or a little sprinkle of D.I.Y magic onto that big canvas…Enjoy!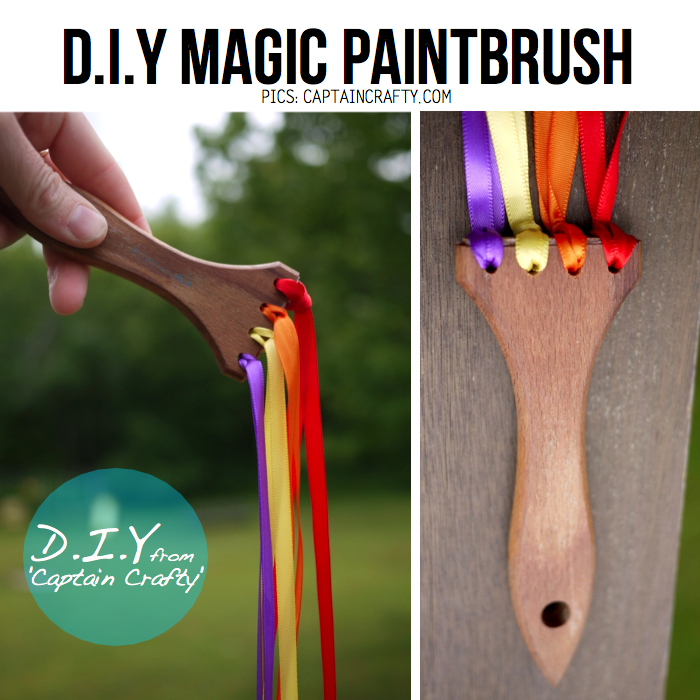 Magic D.I.Y paintbrush from 'Captain Crafty', DIY TUTORIAL HERE
"With the brush we merely tint, while the imagination alone produces colour"/Theodore Gericault
Paintbrushes as hooks! Clever design by Dominic Wilcox – spotted via 'Storage & Glee'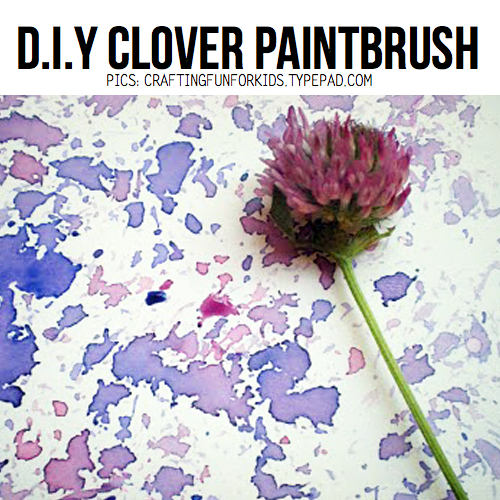 Clever clover from 'Crafting Fun with Kids', read more HERE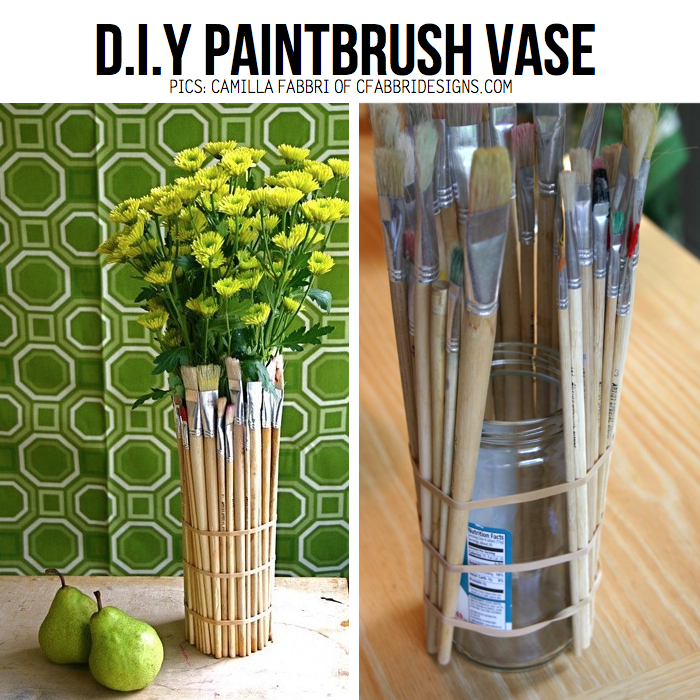 Awesome DIY from Camilla of 'Family Chic', DIY TUTORIAL HERE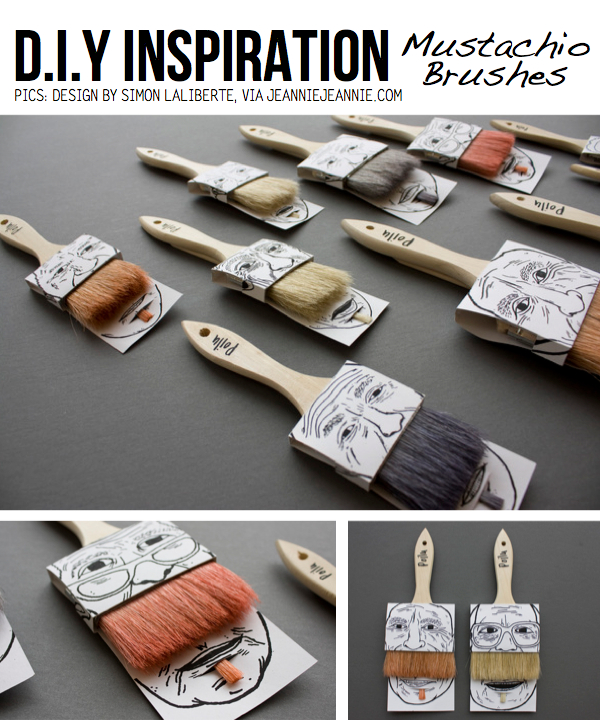 Hacky brushes packaging! Love the design by Simon Laliberté, spotted on JeannieJeannie.com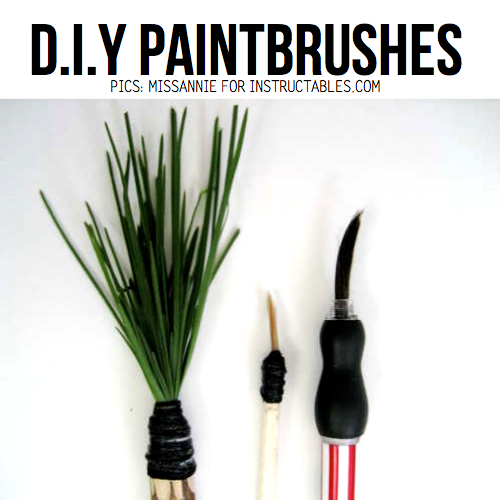 Check out the 'Instructables' DIY TUTORIAL on DIY Paintbrushes HERE
A little paint goes a long way! Let 'A Beautiful Mess' inspire some brush pimpin' DIY action, DIY TUTORIAL HERE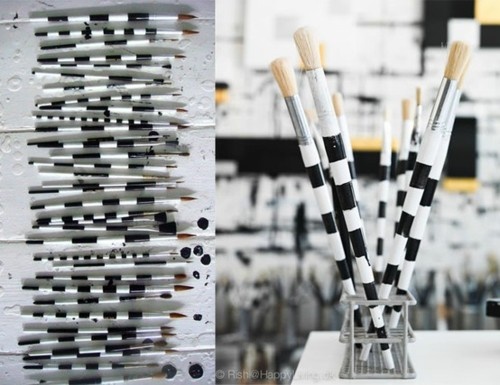 via here
Recycled paintbrushes as wall décor, check out the DIY tutorial on 'ApartmentTherapy'
Perfect for the arty party! Edible Rice Krispies Paint Brushes, recipe & tutorial HERE
and now for one last hacky idea….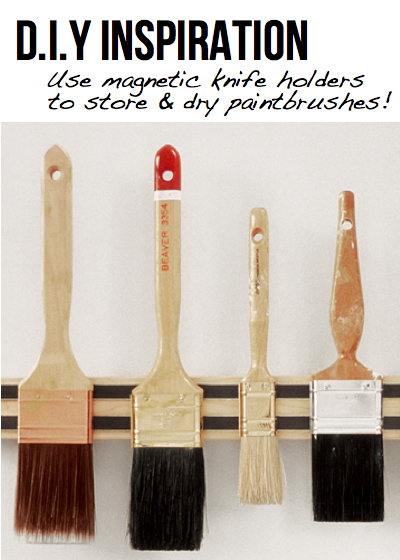 via Martha Stewart
Good Luck Hacking!

Hacking is all about unlocking & unleashing new potential in old stuff. Hence, hacking keys seems like the perfect symbolic ritual, as there are so many old keys lying around gathering dust just about everywhere. We hang on to old keys, because we know they open something, somewhere…But over time we lose track of what old keys fit where, and their function is lost…What better way then, than to embark on a journey of D.I.Y discovery and let those old keys open the doors to something new and surprisingly different? Here are some ideas to get your D.I.Y juices flowing…Enjoy!
A dab of nailpolish and some ribbon or string and you can score something similar to these D.I.Y darlings from Maize Hutton, DIY TUTORIAL HERE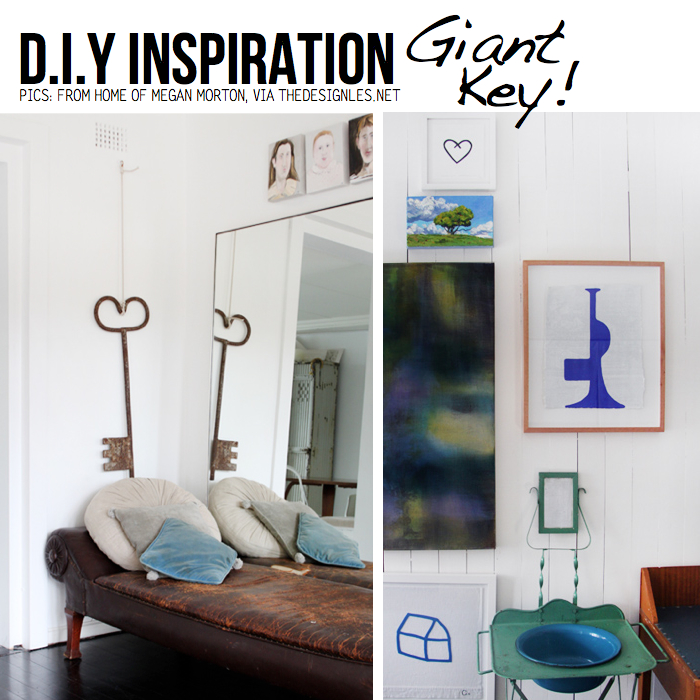 I stumbled across the beautiful home of aussie Megan Morton, featuring a decorative giant key hanging on a wall (among lots of other nuggets of inspiration), full story & more pics on DesignFiles
Let awesome Etsy vendor 'WinterBerryCottage' (left pic) inspire you, framed print right, via here
Driftwood rack from Etsy shop 'Simmons Ranch' & DIY Vintage Frame rack from Shelterness, DIY TUTORIAL HERE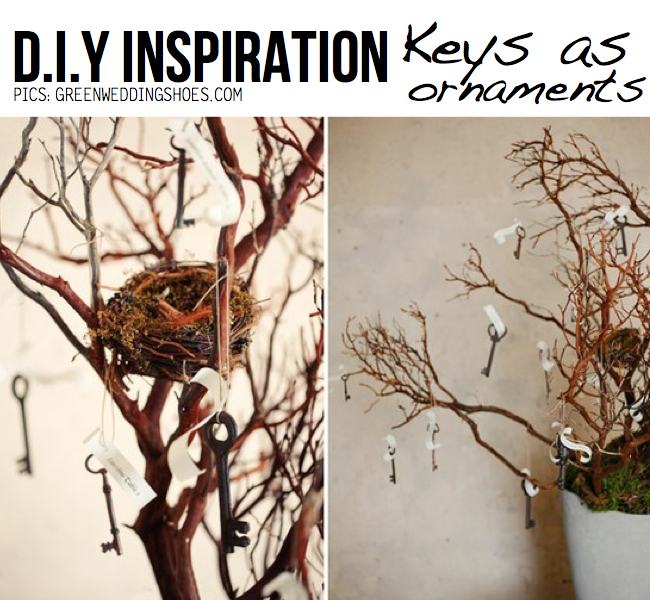 Use leftover keys as decorative ornaments, via 'GreenWeddingShoes'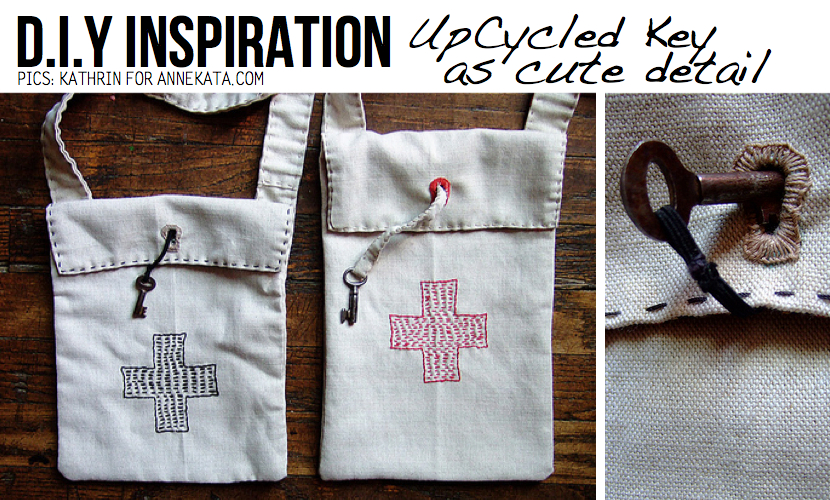 Awesome use of keys as a fun, unexpected detail, from 'AnneKata' – Read more HERE
Learn how to make sparkly keys with a little help from 'Factory Direct Craft', DIY TUTORIAL HERE
This 'less is more' D.I.Y key shelf from Norwegian blog 'Prydelig' is such a little gem! Get the DIY TUTORIAL HERE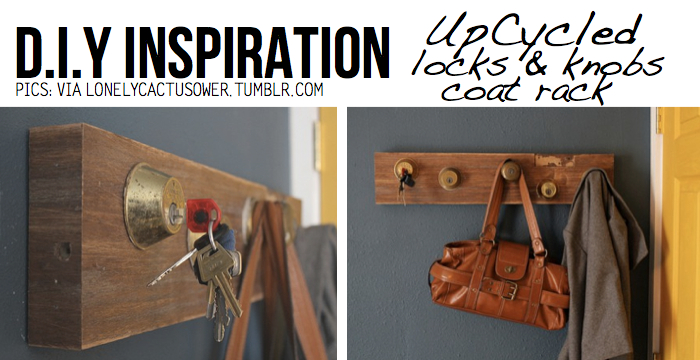 via here
Painted white, adding a little sculptural drama against a backdrop of framed photos, DIY from 'Young House Love'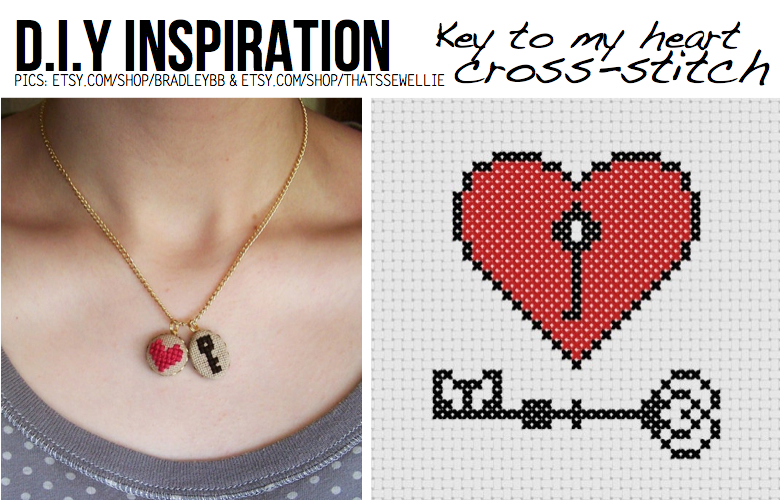 Get the cute cross-stitched pendants from Etsy vendor 'BradleyBB' or go D.I.Y with the pattern from 'ThatsSewEllie'
Lastly, always remember!

Good Luck hacking!
Lately I've been on the prowl for side table ideas…As always, there ain't no better way than D.I.Y to score some of that true quirky cool magic…Only problem is I can't seem to decide which one of all the awesome doable DIY ideas out there I want to go for…While I'm in deciding I thought I might as well share a round-up of my 10 favorite ideas, hoping you too will find a little something in there to tickle your fancy and inspire some D.I.Y action – Enjoy!
D.I.Y genius Brittany of 'The House that Lars built' made this rad copper tubing side table, a beautiful DIY TUTORIAL awaits you at DesignSponge
Jennifer of awesome blog SeaKettle made this D.I.Y Log slice side table using the legs from IKEA Marius, check out here DIY TUTORIAL HERE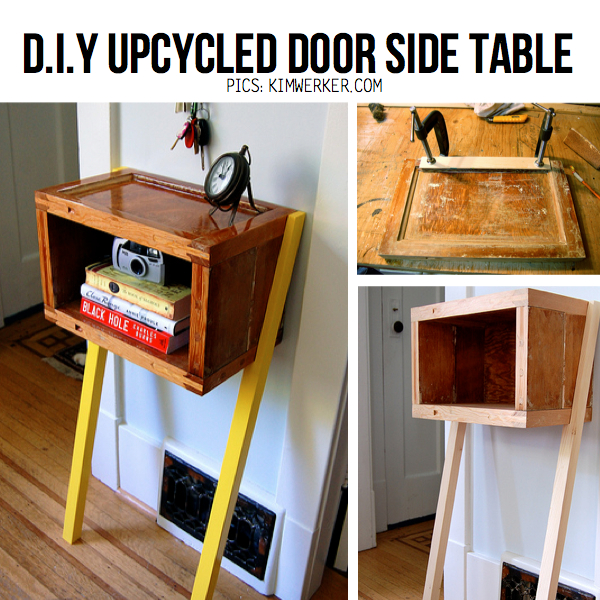 Stylish upcycling of an old door! By Kim Werker – DIY TUTORIAL HERE!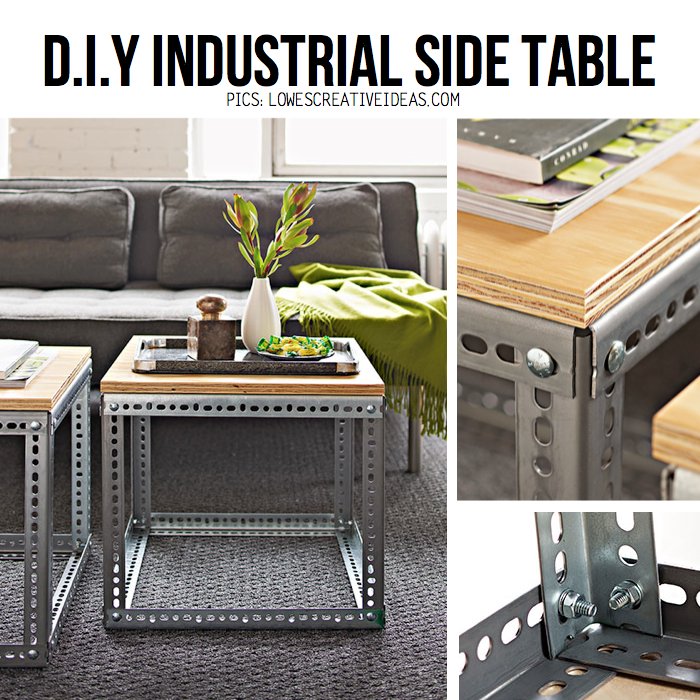 Edgy Industrial DIY Design from 'Lowes Creative Ideas' – DIY TUTORIAL HERE!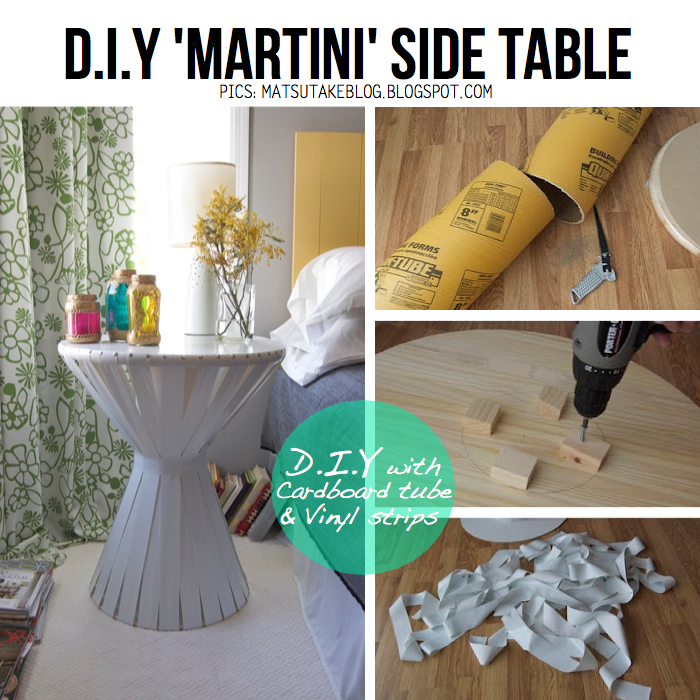 Old cardboard tube, 2 round pieces of wood & vinyl strips is the recipe to cook up this awesome table by Katie of Matsutakeblog – DIY TUTORIAL HERE!
Add instant industrial edge with the DIY Wire Side table from 'Lowes Creative Ideas' – DIY TUTORIAL HERE!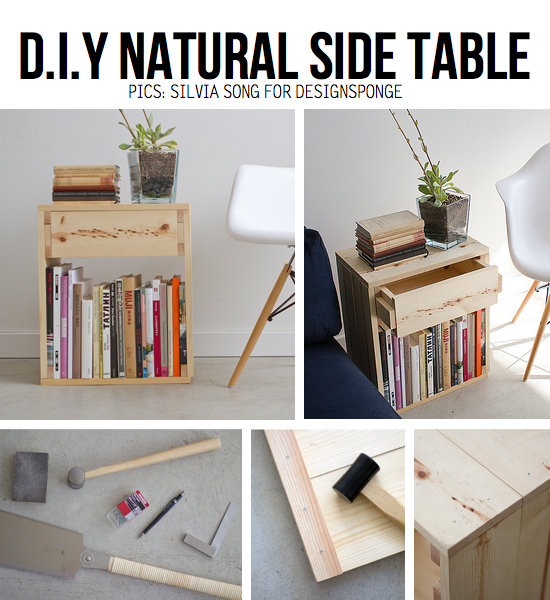 Pure & Simple by designer Silvia Song for DesignSponge – DIY TUTORIAL HERE
Colorful & clever DIY Step Up side table from 'Ana White, Homemaker' – DIY TUTORIAL HERE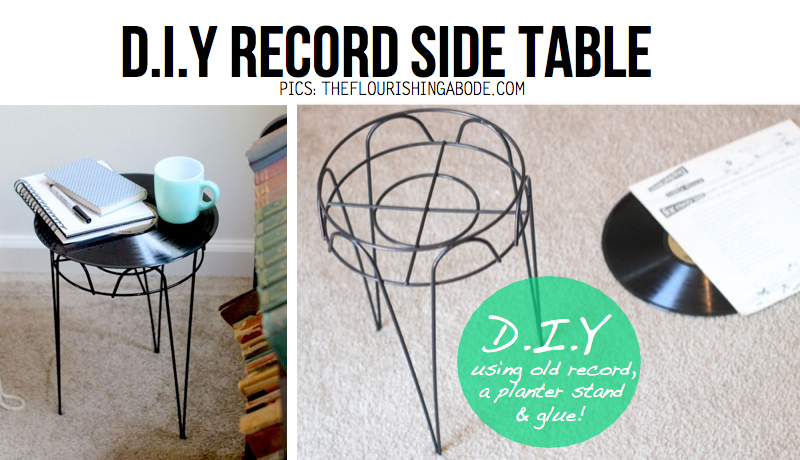 An old record, a planter stand & a glue gun is what you'll need to make this table, as spotted on 'The Flourishing Abode' – DIY TUTORIAL HERE
For a DIY side table with clean, basic lines, why not go for this one from 'Not just a housewife' – DIY TUTORIAL HERE
Good Luck Hacking!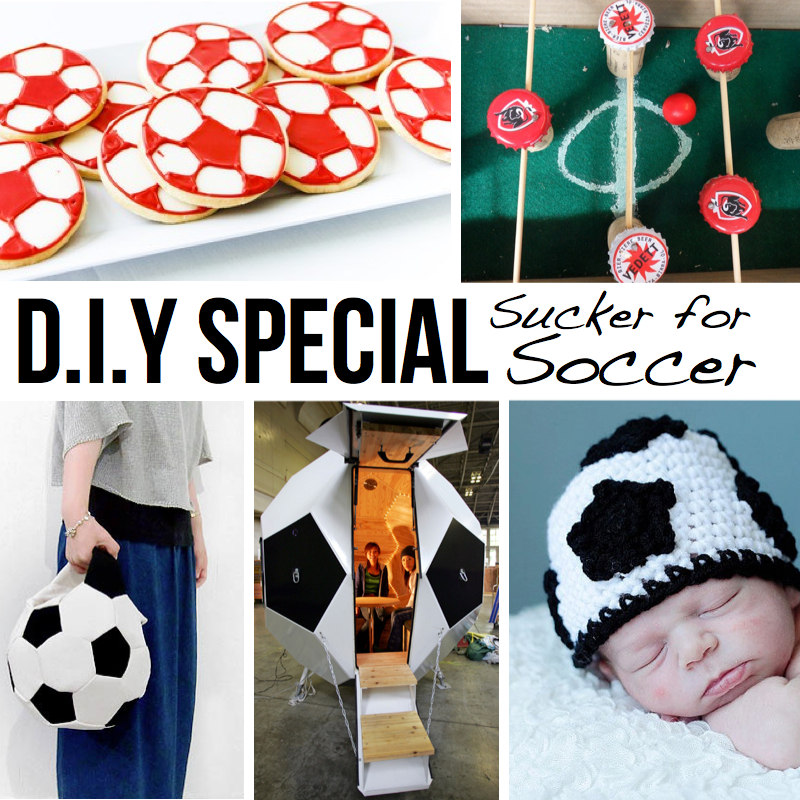 I'm a sucker for soccer. Following the European championship has been a great pastime the last couple of weeks, but it's all coming to an end within a couple of days;-/ That's why I'd thought I'd compile a Soccer D.I.Y special, to keep some of that fun going way after the grand finale on Sunday….- Enjoy!
Japanese brand 'Ore' makes soft soccer ball bags, whereas German 'Abteil' upcycles used balls, turning them inside out and adding shoulder straps – Both pretty cool ideas!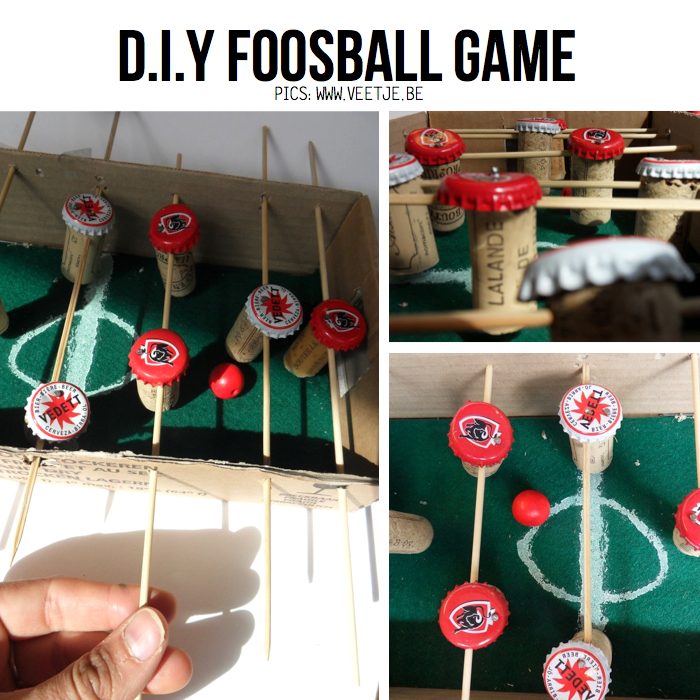 BBQ sticks, corks, caps, a shoe box and some paint=Awesome Foosball DIY from Veetje.be – DIY TUTORIAL HERE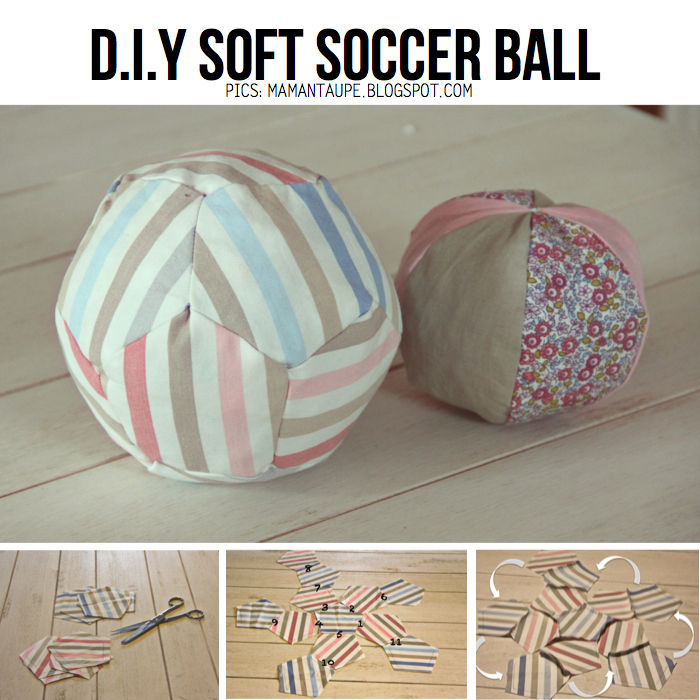 Make your own soft soccer ball with a little help from an awesome 'MamanTaupe' DIY TUTORIAL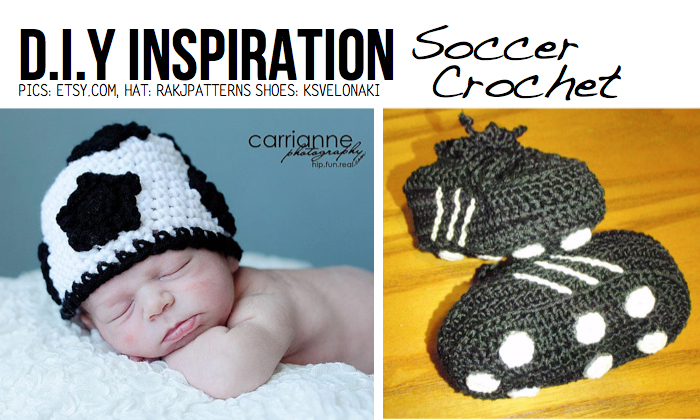 Get the pattern for a soccer crochet hat HERE, and for the soccer shoes HERE
Soccer cookies D.I.Y Tutorial HERE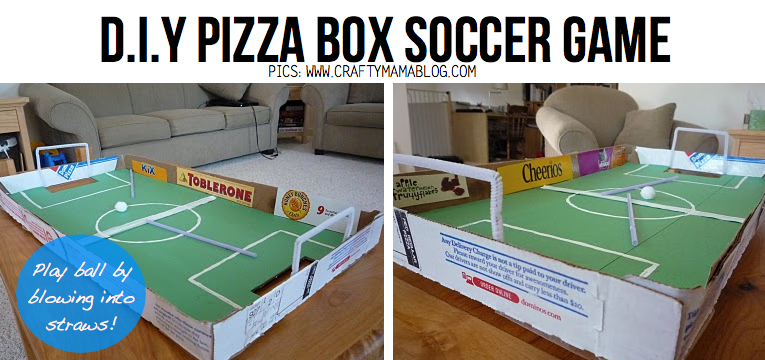 Pizza Box DIY, where the challenge is moving the ball by blowing into straws! Crafty Mama – DIY TUTORIAL HERE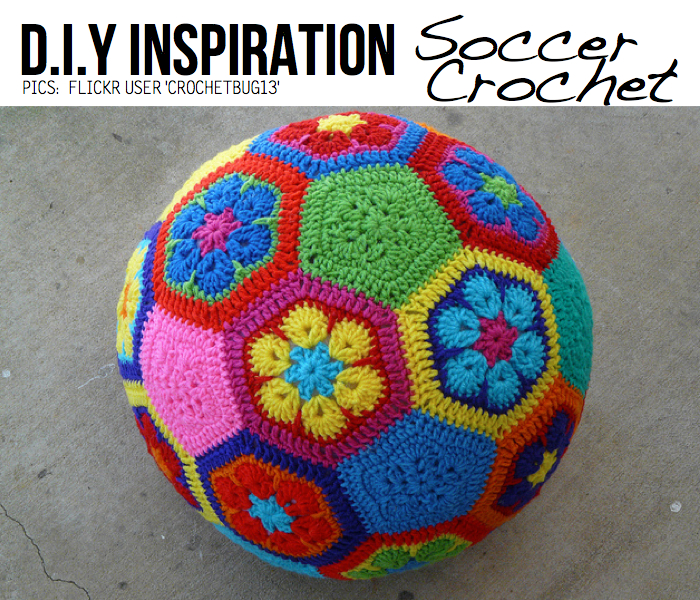 Stunning piece of soccer crochet from crafty 'CrochetBug13', more amazing stuff here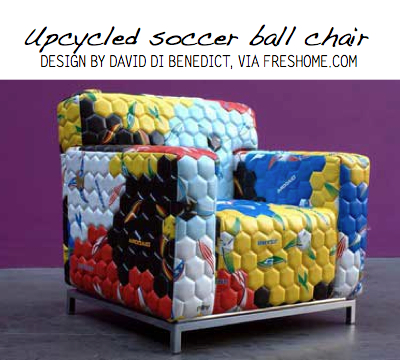 via here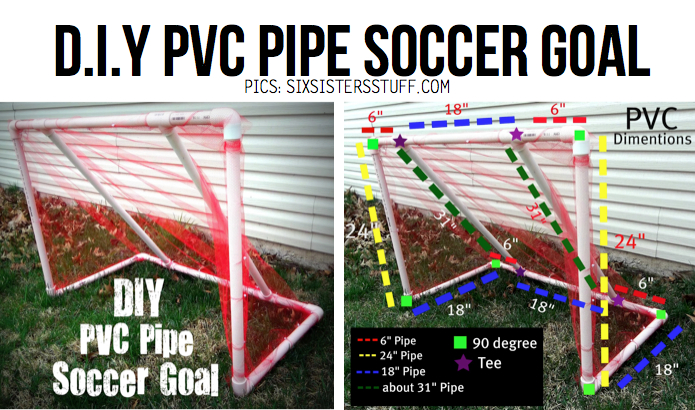 Cheap & sturdy soccer goal made from PVC pipe by crafty gal's over at 'Six Sisters Stuff' – DIY TUTORIAL HERE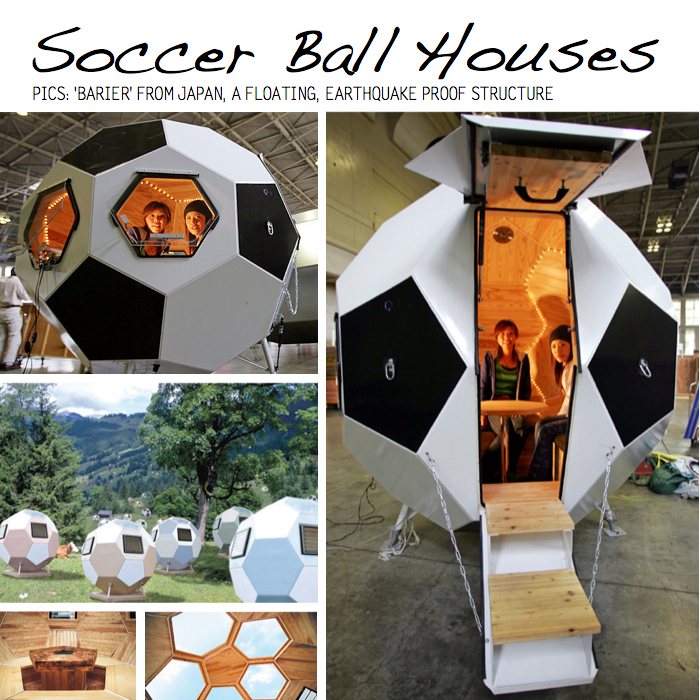 Last but not least, I imagine hardcore soccer fans will find the Japanese 'Barier' houses an inspiration, read about them in this Treehugger article
Good Luck Hacking!
To heck with both feet on the ground! Now's the time to put your ideas up in the air! I've gathered a bunch of supafly D.I.Y to give wings to anything you've got around the house (well, almost!). By showing you a bunch of different applications (from chunky sofas to delicate D.I.Y hanging planters) I hope you'll all find a little something to get your DIY juices flowin' in the mix – Enjoy!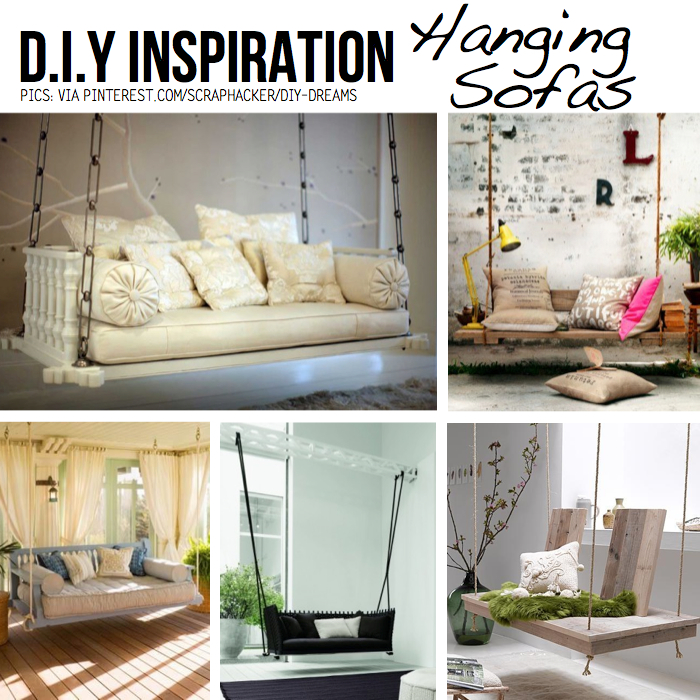 pics via here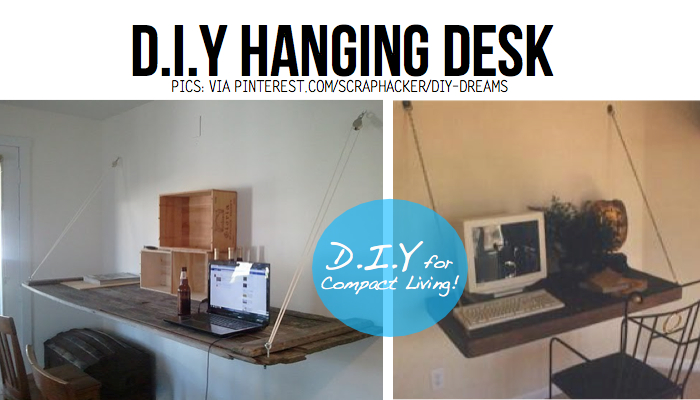 The hanging desk is not only cool looking but an awesome space saver! Pics via here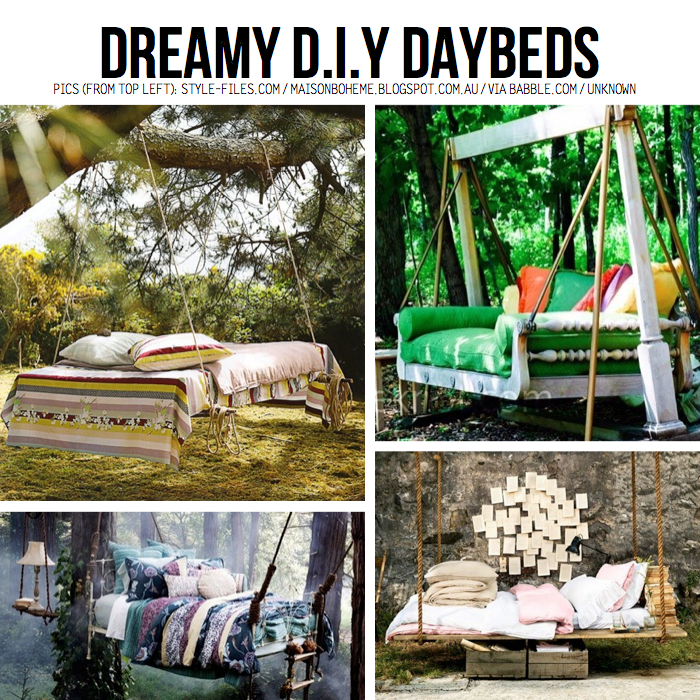 I can't think of a better place to indulge in D.I.Y day dreams…Pics via here, see below on how to D.I.Y!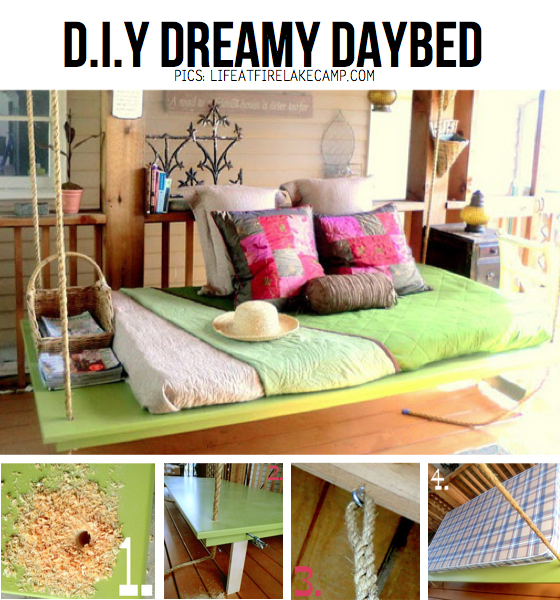 Dreamy D.I.Y Daybed from '
Life at the Fire Lake Camp'
–
DIY TUTORIAL HERE
Pics via GreenWeddingShoes, CapitolRomance & Etsy
Gotta love the swinging chair! Pics via here – DIY TUTORIAL from 'This DIY Life' HERE!
Eleanor from team behind awesome venture SCRAP (a.k.a the School & Community Reuse Action Project), has made a great "Hanging notepad" tutorial for Etsy – DIY TUTORIAL HERE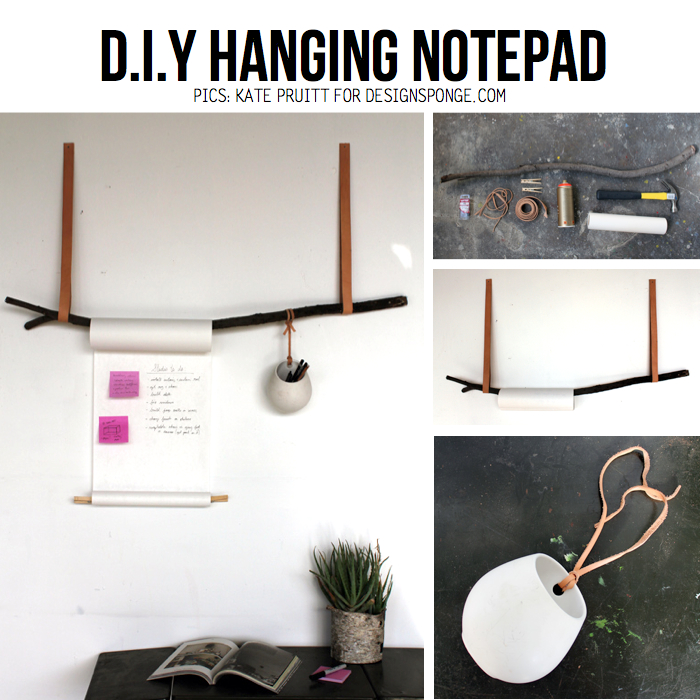 Hanging Notepad #2! This one's from DesignSponge, DIY TUTORIAL HERE!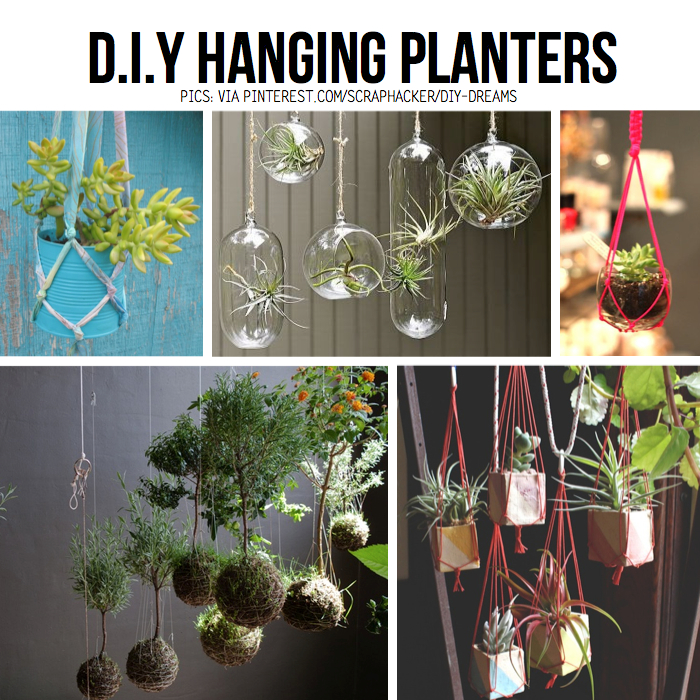 Pics via here
Check out the awesome tutorial on how to make a hanging "Kokedama string garden", by talented Aura Scaringi of Mimimou for DesignSponge – DIY TUTORIAL HERE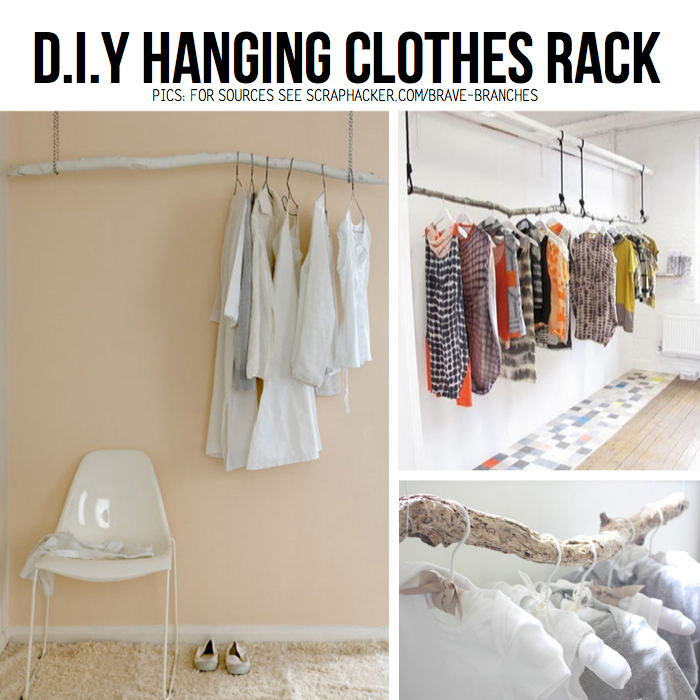 Pics via previous post "Brave Branches", Love Aesthetics has made a great DIY tutorial: DIY TUTORIAL HERE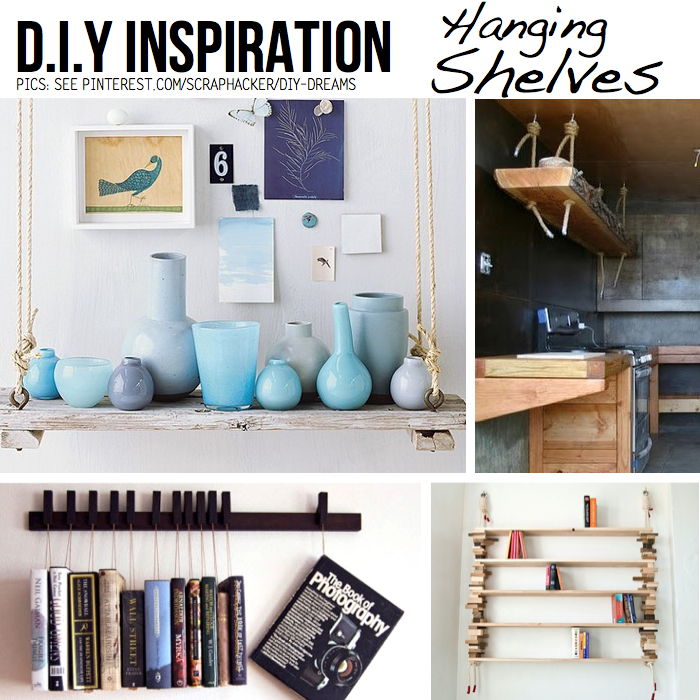 Pics  via here
Pics  via here
Ok, so hope you've gotten swept away by that whirlwind of awesomeness from around the blogosphere! Perhaps start your own project this coming weekend?!
Good Luck Hacking!
Think 'Mad Max meets Pocahontas' to score some of this season's fierce yet fun-loving tribal looks. You'll find the trend opening up lots of ideas for creative re-use of old stuff lurking way back in your wardrobe. To get you started, I've gathered a full range of tip-to-toe ideas from crafty bloggers around the D.I.Y blogosphere, showing us that a little D.I.Y dash goes a long way  – enjoy!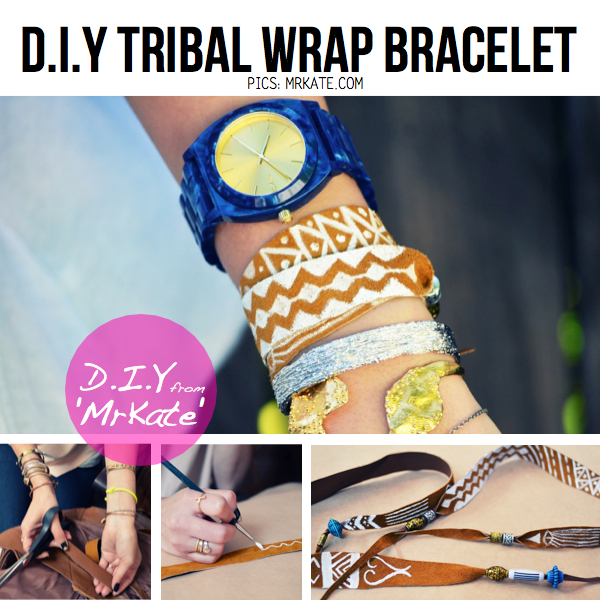 Reinvent ill-fitting old suede pants to tribal print wrap bracelets, learn how from 'Mr. Kate', DIY TUTORIAL HERE
The tribal heels from 'A Pair and a spare' adds D.I.Y dash to old shoes in an instant, DIY TUTORIAL HERE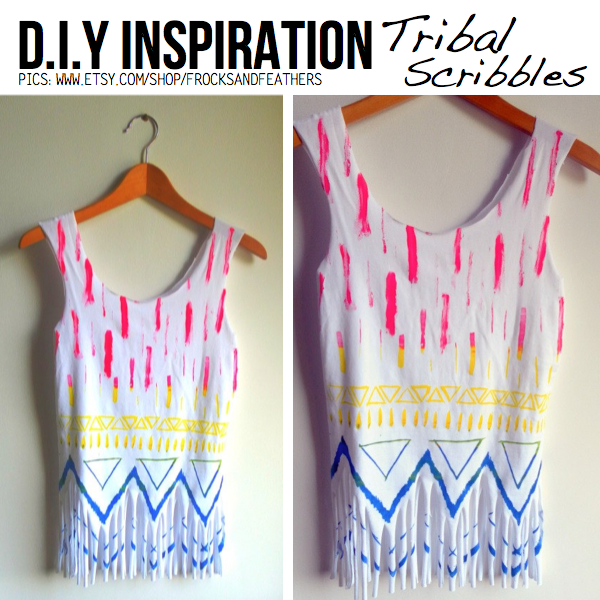 Pimp an old tee or tank inspired by the awesomeness from Etsy vendor Frocks & Feathers, read more here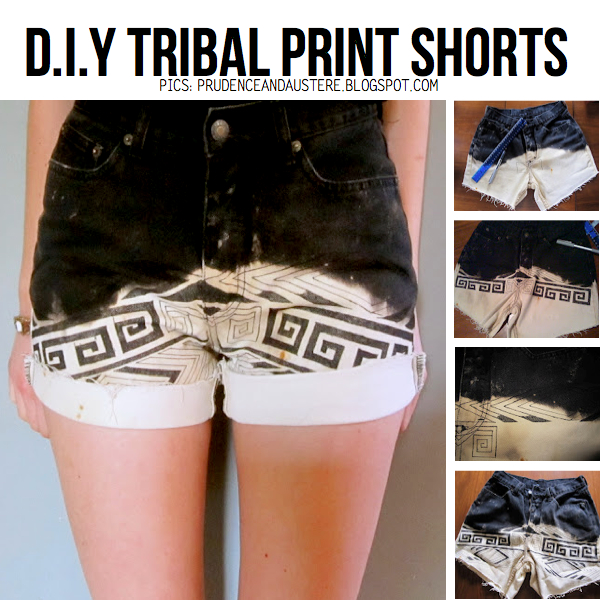 Turn your jeans cut-offs into bleached Tribal doodle shorts! DIY from 'Prudence & Austere', DIY TUTORIAL HERE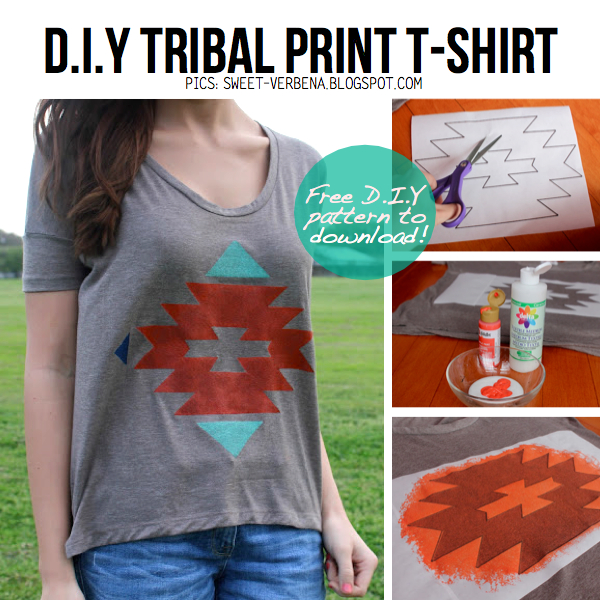 Get started pimpin' an old tee or tote asap! DIY tribal pattern from 'Sweet Verbena' – PATTERN & DIY TUTORIAL HERE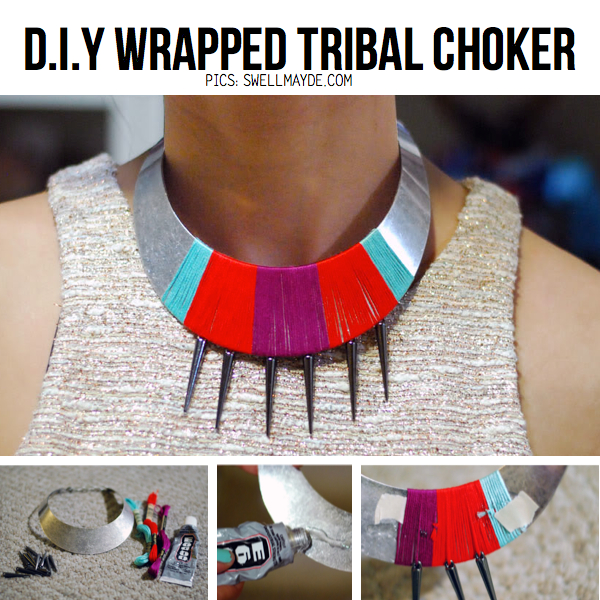 Aimee of SwellMayde came up with this great idea to reinvent an old plain choker – DIY TUTORIAL HERE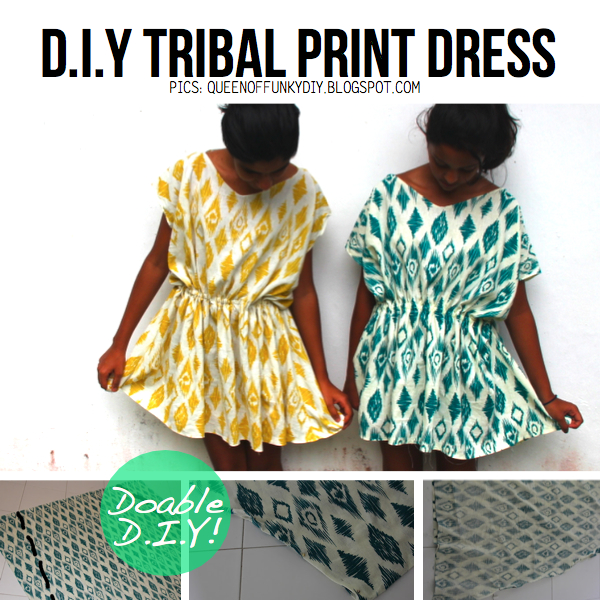 14 yr old Tara, a.k.a 'The Queen of Funky DIY', brings you a tutorial to a Doable DIY Tribal dress! DIY TUTORIAL HERE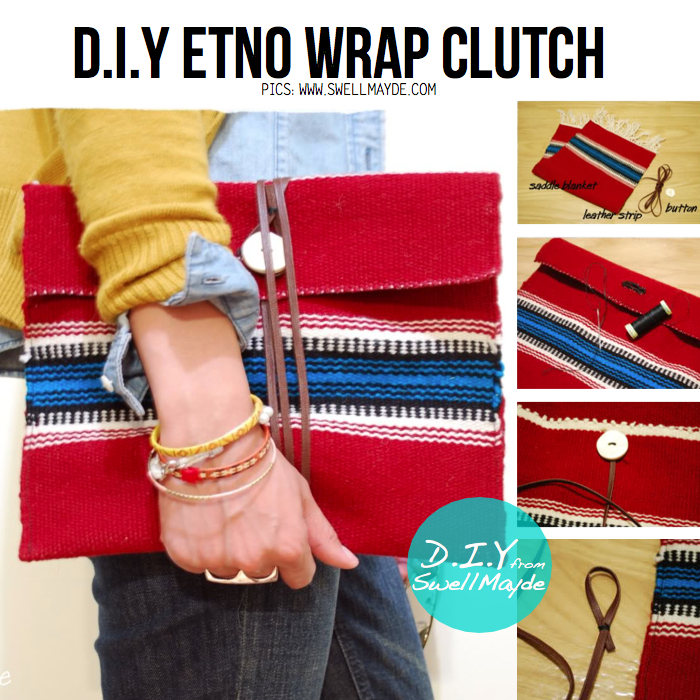 More DIY from Aimee of SwellMayde, check out her blog for a gallery of dazzling hot D.I.Y! The saddle-blanket-turned-etno-clutch is merely one example – DIY TUTORIAL HERE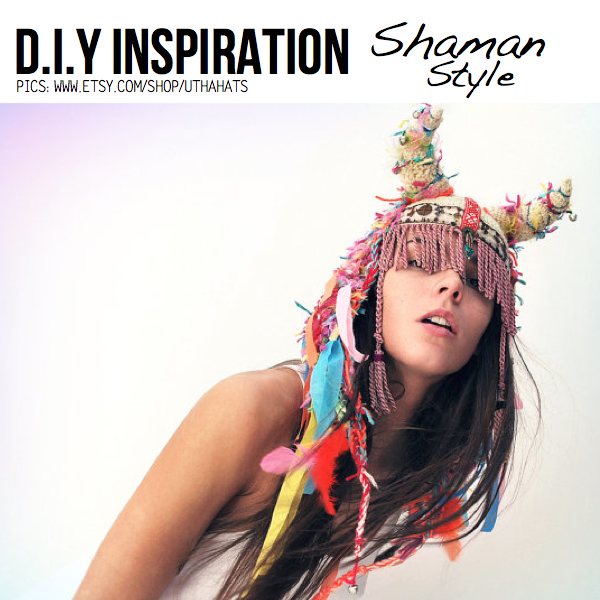 A bit on the crazy side, but still pretty awesome! Check out the 'Utha Hats' Etsy shop here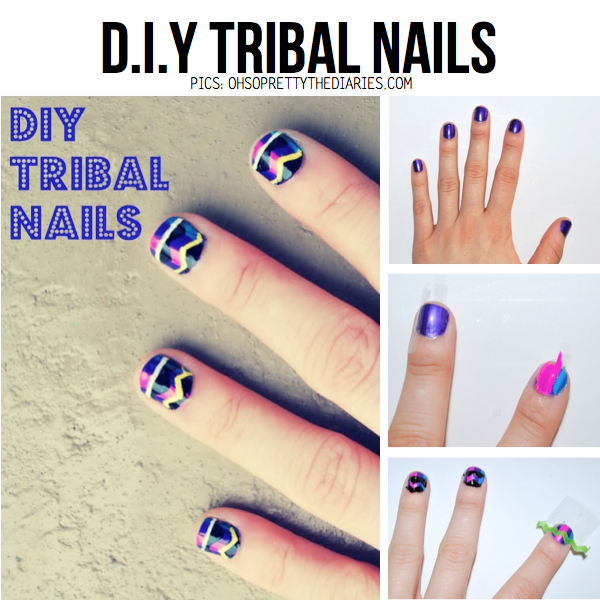 For the full-on, no-nonsense tribal look, go for the tribal nails as spotted on 'Oh So Pretty The Diaries', DIY TUTORIAL HERE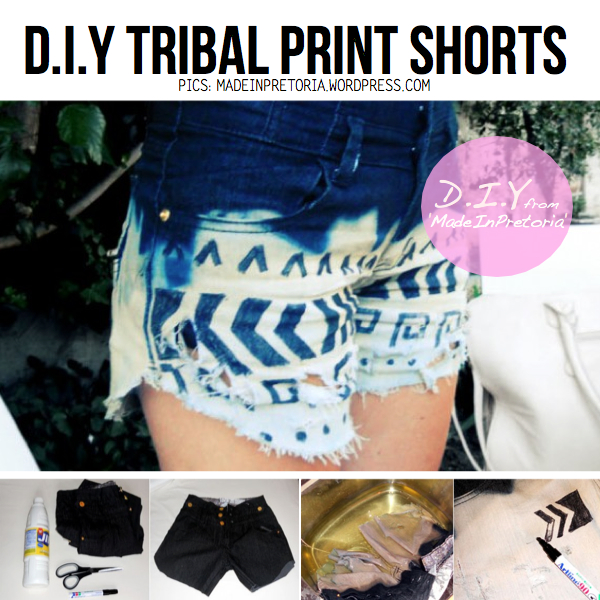 …couldn't resist some more tribal print shorts! These ones are from blogger Anje of 'Made in Pretoria' – DIY TUTORIAL HERE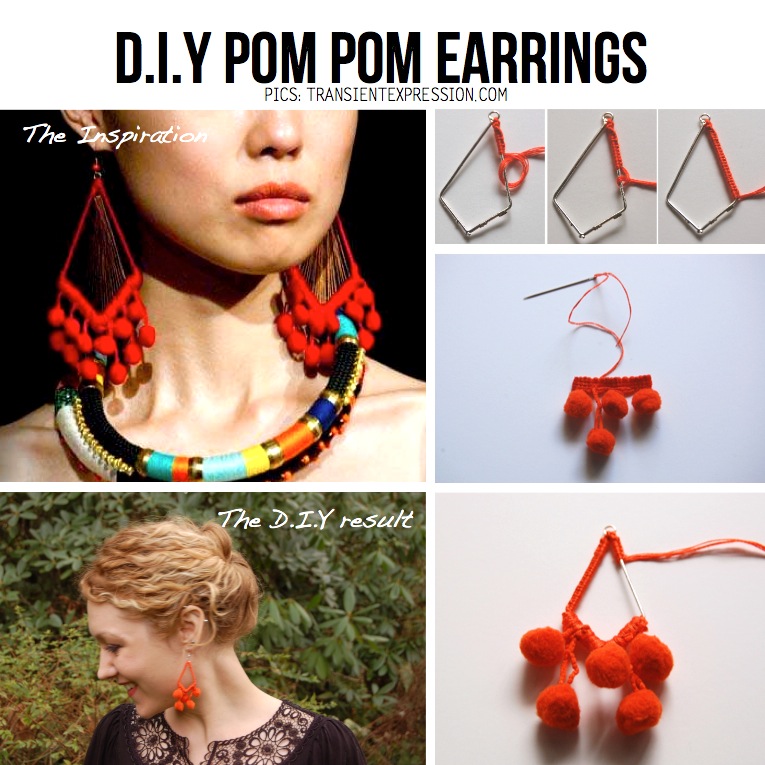 I've previously featured these Pom Pom Earrings in my Pom Pom DIY Special, their tribal feel gives them a place in today's round-up too! Check out the DIY Tutorial from 'TransientExpression' HERE
Good Luck Hacking!