Wheelbarrow Hack´n´roll
Can´t believe we haven´t seen more of these, I mean a wheelbarrow bench – that´s just genius!
Pic by Flickr user kim.rossi
Why so cool? Well, it enables you to move around the heavy bench on your own, ensuring you your place in the sun, or in the shade for that matter. Making a wheelbarrow bench of your own is a pretty straightforward hack. You just add 1.) two long ore-like pieces of wood underneath the bench then 2.) attach a centered wheel on one end and 3.) shape grips of some sort on the other end. 
Pic from ForTheLoveofBikes.blogspot.com
Some research made me find that a popular version of the bench (like the one featured above & below) was designed by Dutch designer Rogier Martens – and best fact is that distributor Weltevree has got the construction manual public and ready for you to take some D.I.Y hacking action- Click here for link to the tutorial (available as PDF)
Pic from Weltevree.nl
Here are some other hacky wheelbarrow bench/chair examples: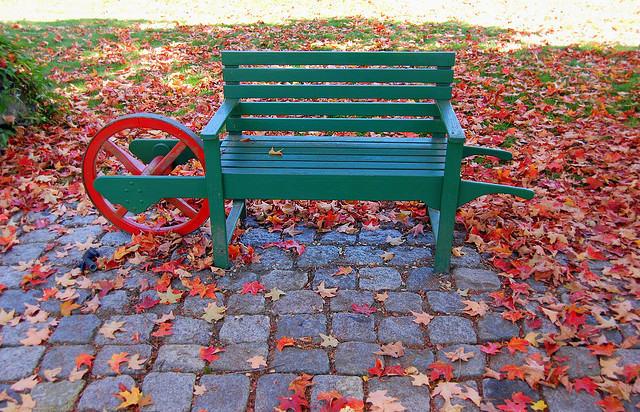 Pic by Flickr user Zenonjr
Wheelbarrow Chairs
Chaise Lawn Chair,  designed by Deger Cengiz.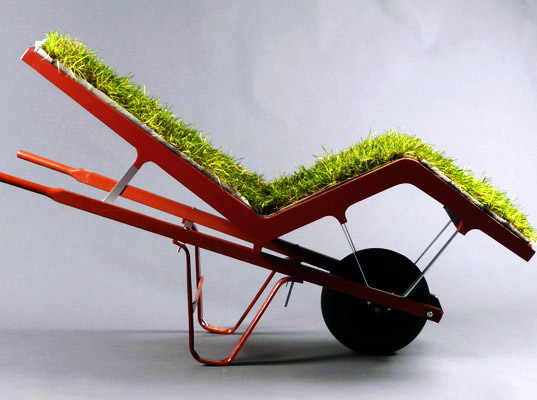 Pic from Inhabitat
"Throne Follower" chair by Florian Borkenhagen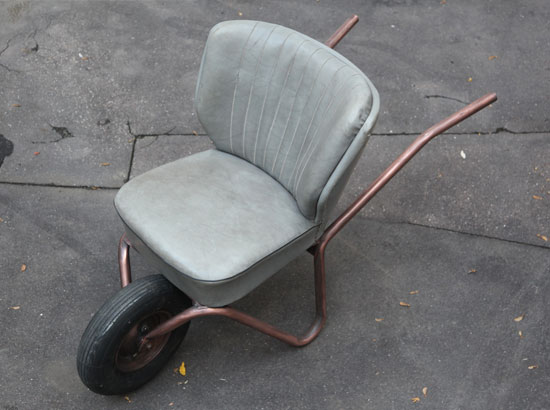 Pic from Chairblog.eu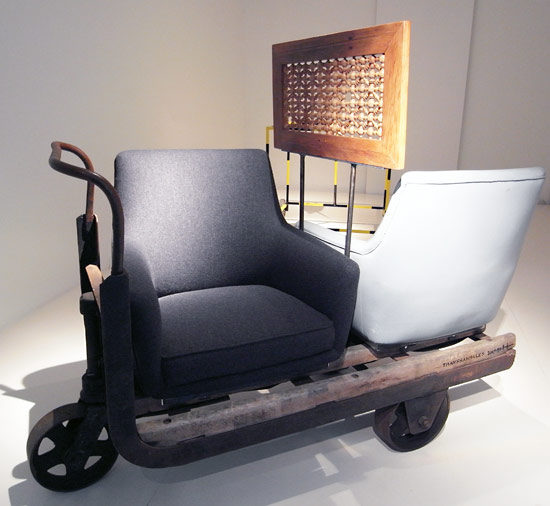 Pic from Designboom.com
Last but not least – There´s always the obvious hack of simply converting a wheelbarrow into a chair, like German Sascha Urban and Dorothea Wirwall did with their chair Loungebarrow.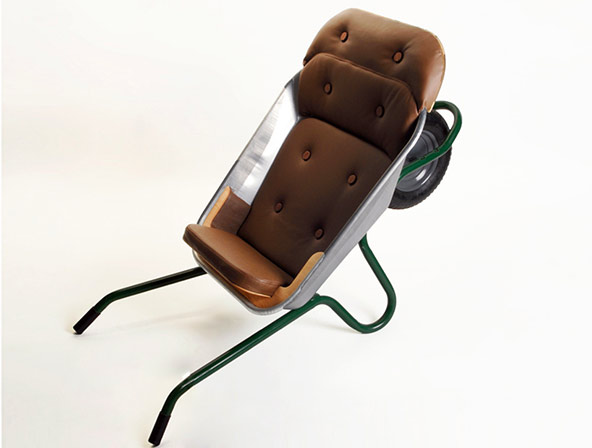 Pic from DotheGreenthing.com

Small outro essay asking why pieces like the wheelbarrow benches and chairs are so rare….
On the paradox of static furniture in an era of change
In these times of constant societal and digital movement and change around us, I find it interesting that most furniture, even brand new pieces, still have the static design features of a pre-industrial era: they´re often heavy and difficult to move (like say, an old computer or a villager dreaming of moving to the big city) they´re also often hard to customize beyond the moment of purchase (like computers before the millions of different cases and before the billions of apps came along to enable a multitude of post purchase change options, or like the child of a by-gone era, unable to defy his pre-set place in social hierarchy after birth). All-in-all I think it´s fair to say that the development of user experience in the design of everyday furniture is lagging behind, probably due to a stronghold of classic aesthetic notions of beauty and taste, somehow minted in the fibre our social DNA, shaping imagery and attitudes floating in our shared space, through our front doors and eventually into our living rooms. There, at home, we might find comfort and solace in the static, although we might spruce things up now and them by going through the ordeal of moving our heavy sofas across the room, or enhancing the performance of our old hardwear, like our sofa, by investing in new soft wear – like a cashmere throw or some new perfect velvety pillows.
Seeing how society and technology around us have changed, whilst the design of everyday furniture have not, I wonder what the future has in store for our homes. While they might be the last bastion to conquer, my optimism in inviting change into our living rooms is un…..I do believe that change will unlock dynamics, for the better, also in our private realm, making our lives lighter to live, more customizable, without necessarily losing touch with nostalgia & sentiment. It´s a conceptual challenge I know, just like the recent years major shifts around us have been. They say no man is an island, I don´t believe our homes should be one either. Let´s all have the courage to open the door when change comes knocking. When that is, that, we´ll just have to wait and see.