D.I.Y Cutlery Upcycling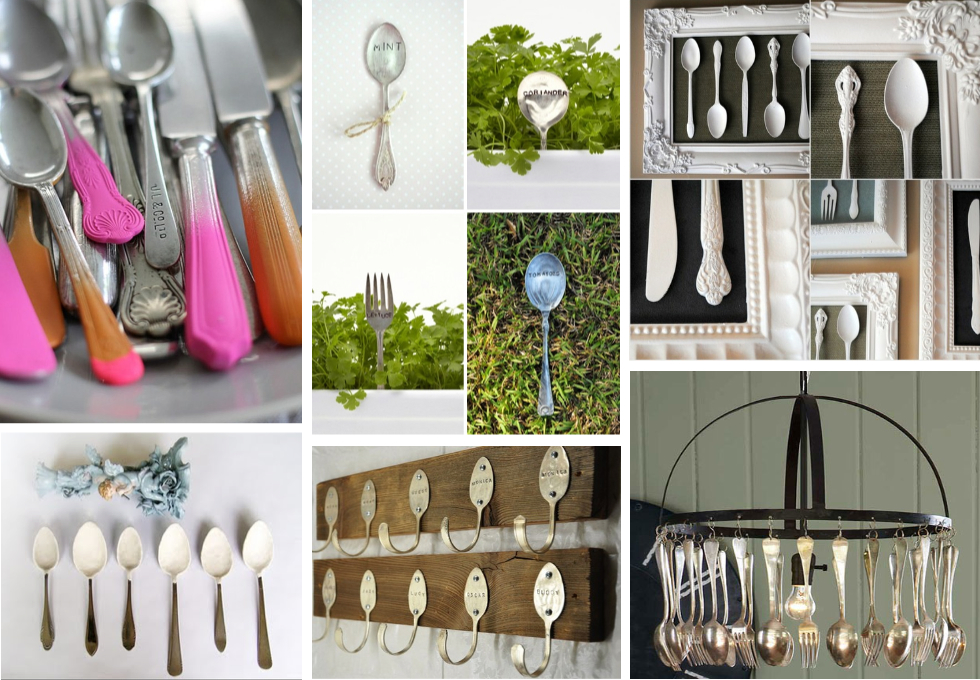 In drawers, attics and thrift stores of the world, stacks of cutlery just keep piling up. Although we might on occasion appreciate antique cutlery, most of us stick to our everyday IKEA sets, leaving inherited sets or thrift finds all packed up. This fact made me search for reuse ideas, and my gosh, there are tons out there! Here are my top-10 doable D.I.Y picks – enjoy!
1. Neon Tips
A splash of neon adds contemporary vibe in an instant.
2. Framed as art
Matte white spray painted cutlery (in a matching shade frame) looks crisp against a contrasting backdrop.
CraftyTexasgirls.com
Prefer a dash of color? How 'bout this arty hack idea then?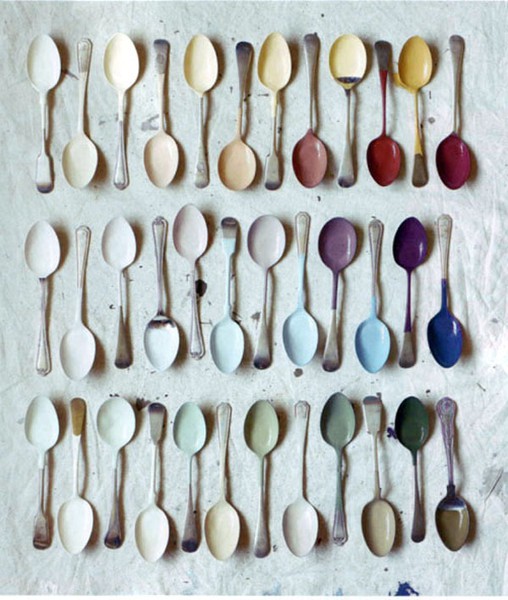 NanaMoonShop.com
3. Stamped Garden Markers
The most straightforward cutlery hack idea is probably turning them into garden markers…
BeachHouseliving.blogspot.com
Pics from Shrimpsaladcircus.blogspot.com / Collage by ScrapHacker
  The blog ShripSaladCircus features a great tutorial, check it out here.
4. Hooks & Racks
Bending the grip results in hooks which can be used individually or grouped together for some serious wow-factor…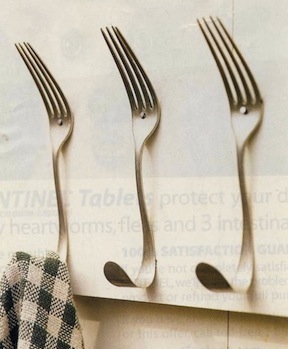 Grouped together, these upcycled spoons form an eye-catching coat rack.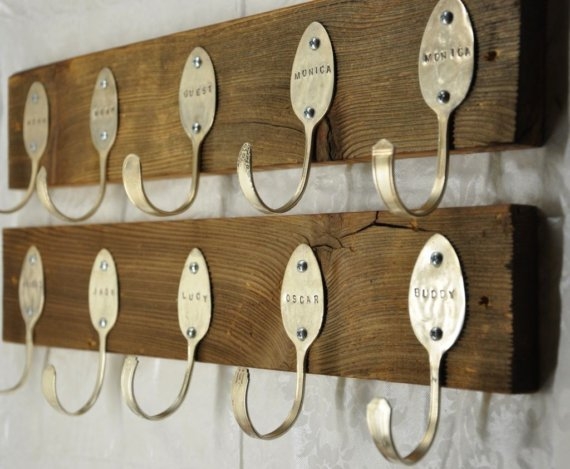 UrbanComfort.typepad.com
5. Cutlery Chandelier
A basic structure, punched holes, S-hooks and a bunch of old cutlery creates this piece of eye-candy…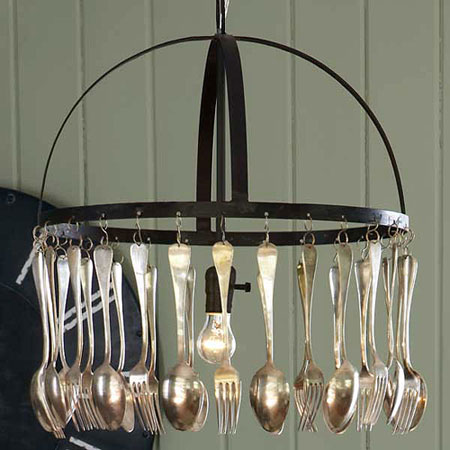 StyleHive.com
6. Magnet (with an important message)
Etsy vendor VintageGardenArt added a magnet on the back of a stamped spoon, giving it a new life as a cute little messenger…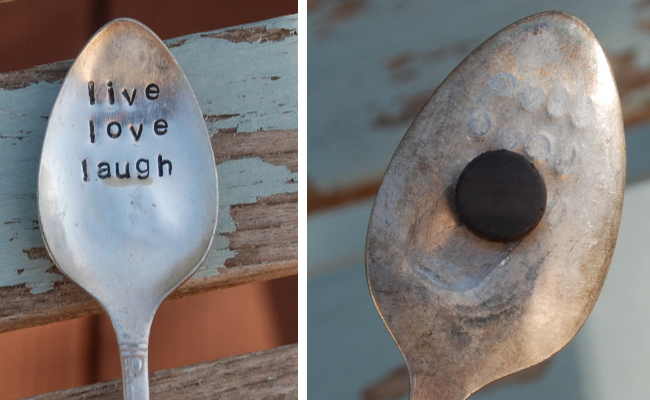 7. Spoon & Fork Napkin Rings
Check out a tutorial on Hammers&Heels here or over at blog BrooklynLimestone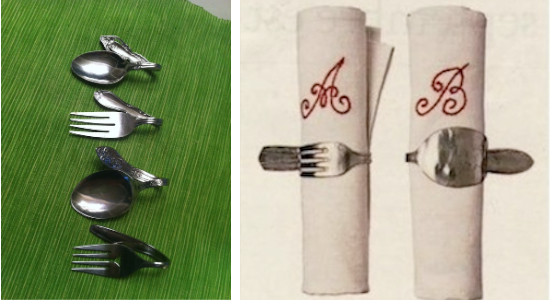 8. Simply Stamped
Etsy vendor SycamoreHill makes these awesome stamped creations. Let them inspire some D.I.Y action of your own – they´ll make a perfect gift.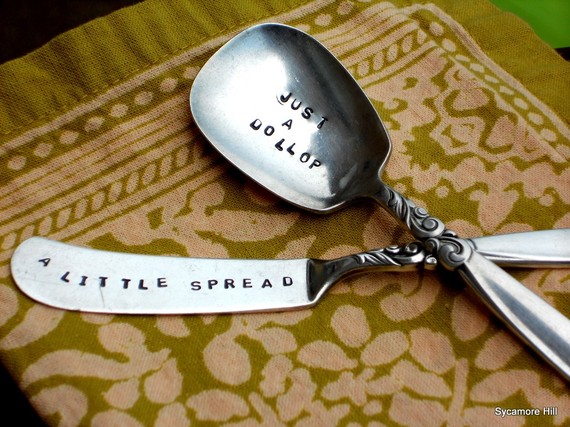 9. Necklace Pendants
Hack idea from Etsy Vendor VintageGardenArt.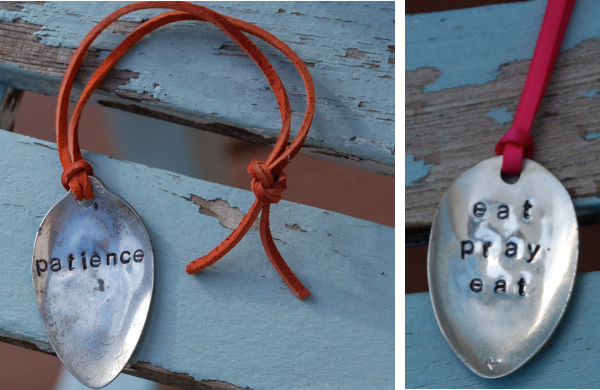 10. Bottle Dryer Rack
Ok, so this ain't as photogenic as the other hacks, but it's just as genius – from WeUpcycle.com

And lastly, the most challenging hack idea, cutlery furniture. Personally I figure they´re a bit out of my league, but you might be up for the challenge?
(11. Cutlery Furniture)
Designs by Osian Batyka-Williams.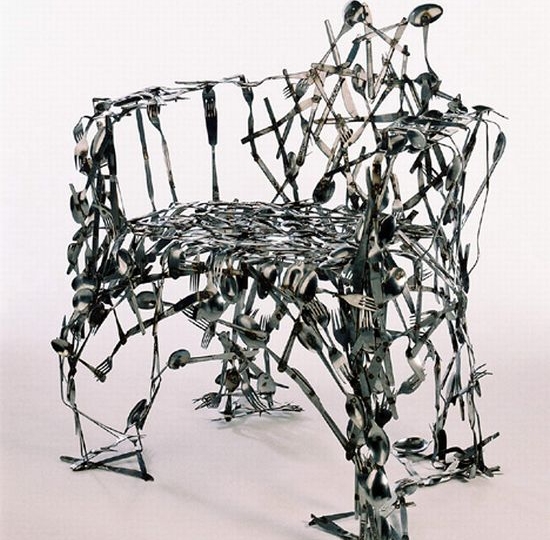 Core77.com
Good Luck Hacking!