Jonathan Adler D.I.Y Ideas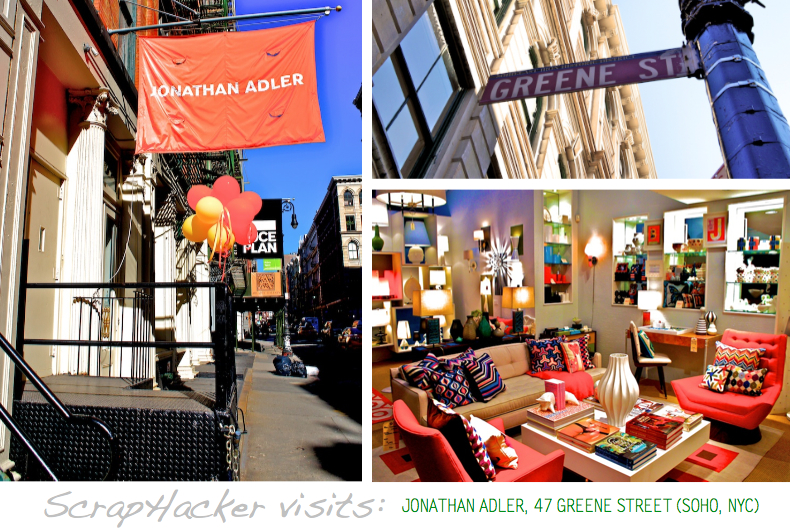 Today I'm happy to share some of my snapshots from interior designer Jonathan Adler's N.Y.C Soho Store (47, Greene Street). Adlers signature bright'n'quirky "Happy Chic" style might not appeal to all of you… However,  I think the 10 DIY décor ideas I have extracted from from my snaps can be tweaked into suiting your own personal style…so here goes:
Quirky pillow overload
D.I.Y TakeAway 1: Quirky pillows are everywhere in the Adler store. Thematic unity holds it all together, like the animal theme spotted in the sofa here or the geometric theme in the pic further down. This is a very doable D.I.Y Idea, just pay some attention when curating your stash of pillows…


Bold and bright lamp bases
D.I.Y TakeAway 2:
Add instant Wow-factor by spray painting an old set of lamp bases bright yellow.
(ps…D.I.Y Takeaway 3:
Let the quirky starburst mirror inspire some D.I.Y action too)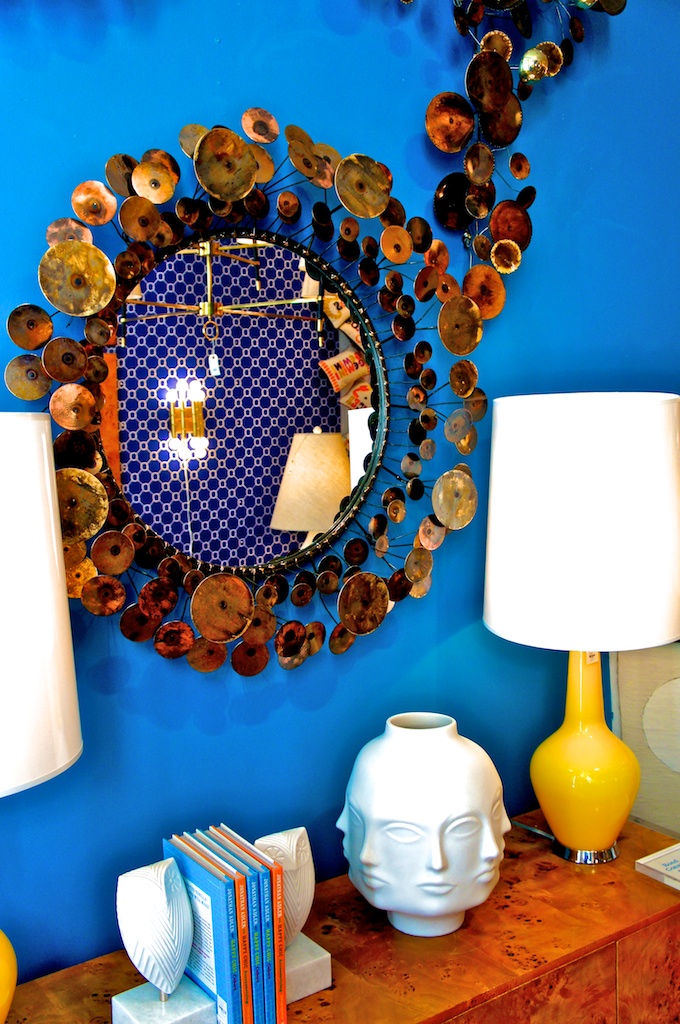 Monochrome unity
D.I.Y Takeaway 4: A grouped arrangement like the one on the table in the picture looks cool. It's a doable D.I.Y idea, just head out to get some matte white spray paint and grab some un-loved odd old pieces of china from the bottom of that box in the attic or from the forgotten corner in the thrift store. Items with great tactile surface qualities like a "studded" or a wavy feel (see the pic for examples) will look awesome with a coat of spray paint.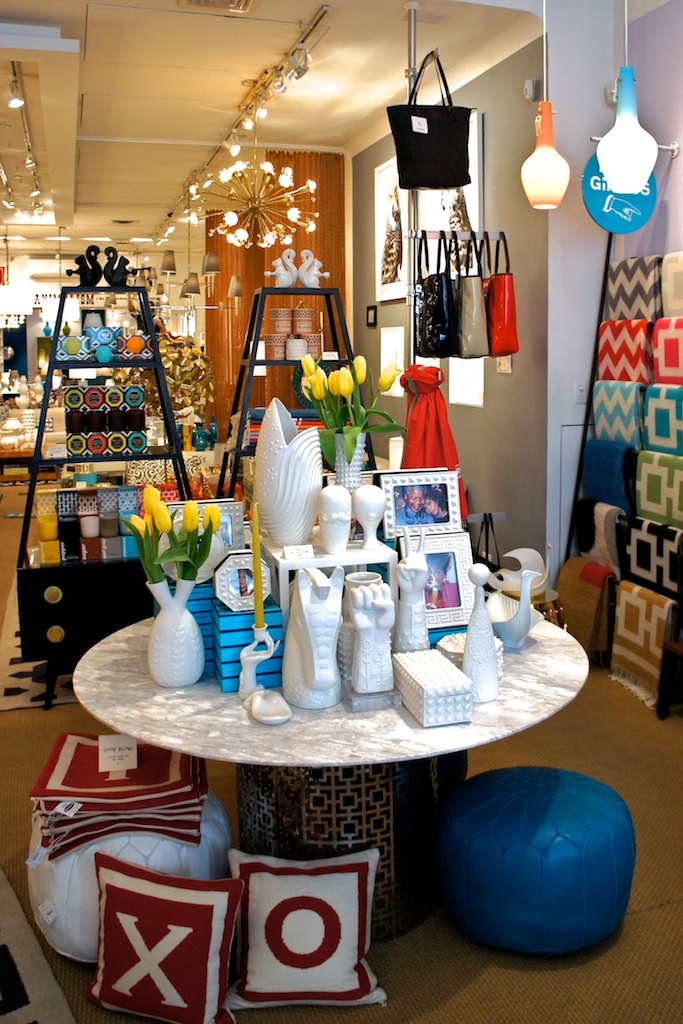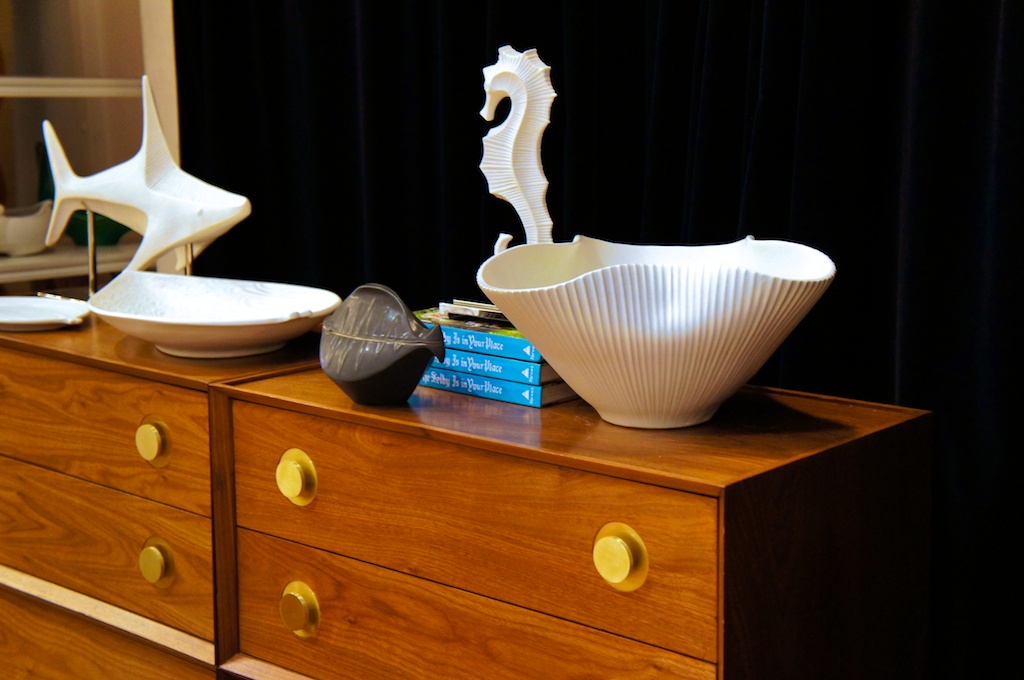 Abstract art wall
D.I.Y TakeAway 5: One wall in the store features a gallery wall with small abstract paintings hung together (with the circle as the common graphic denominator). This is a doable D.I.Y idea, just remember to keep a common element, stripes, dots or perhaps triangles. Grab paint and paint 10 pictures onto whatever paper or wood you've got lying around the house. When you're done, group the pics together and make it pop with a mirror in the same "shape family".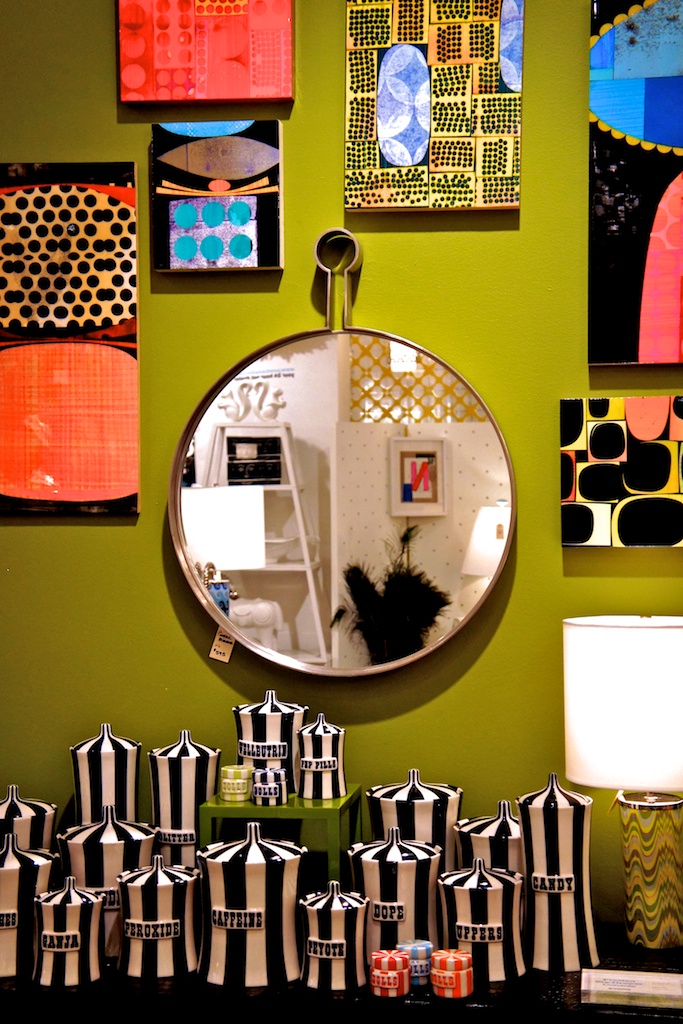 Stripy jars
D.I.Y TakeAway 6: The boldly striped jars are supercool. What's cool is that they're many and that they share a strong graphic element. The shape is hard to mimic, but the main concept is an easy peasy DIY idea. I'd grab a 10-15 glass jars (or tin cans) and re-create the look using masking tape (to get "clean lines") and black and white glass paint.
Eclectic coffee table mix
D.I.Y Takeaway 7: The sculptural arrangement for the coffee table is held together by the matte white finish. This is all about the D.I.Y takeaway No 4, monochrome. So grab that matte spray paint and remake an old vase an book stands into contemporary pieces of décor.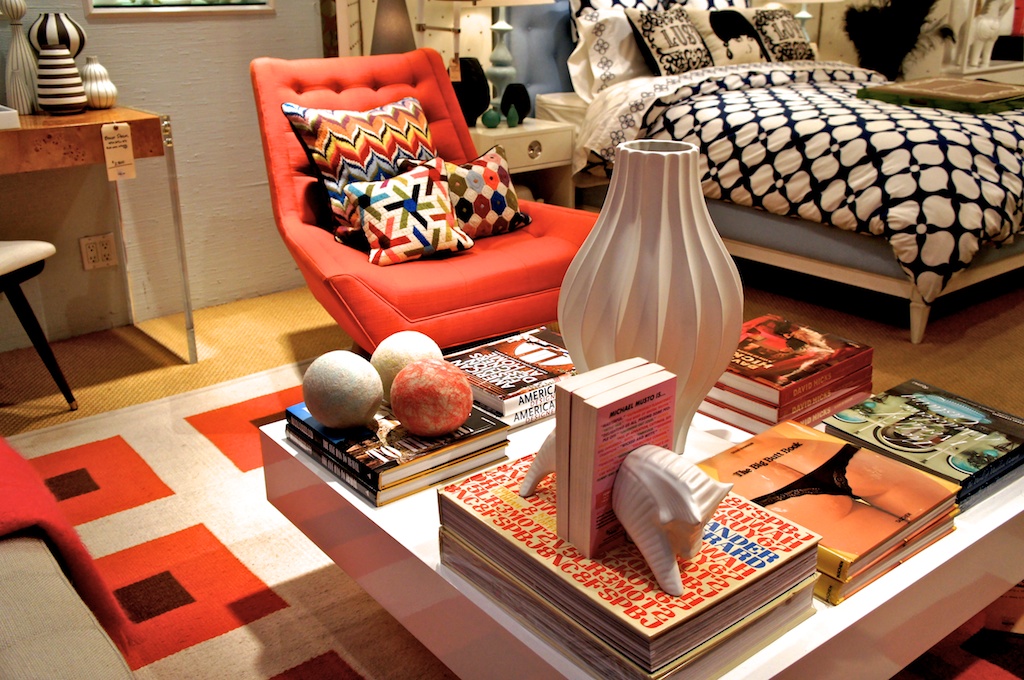 Go for gold
D.I.Y Takeaway 8: While you're getting some white spray paint, get some gold too!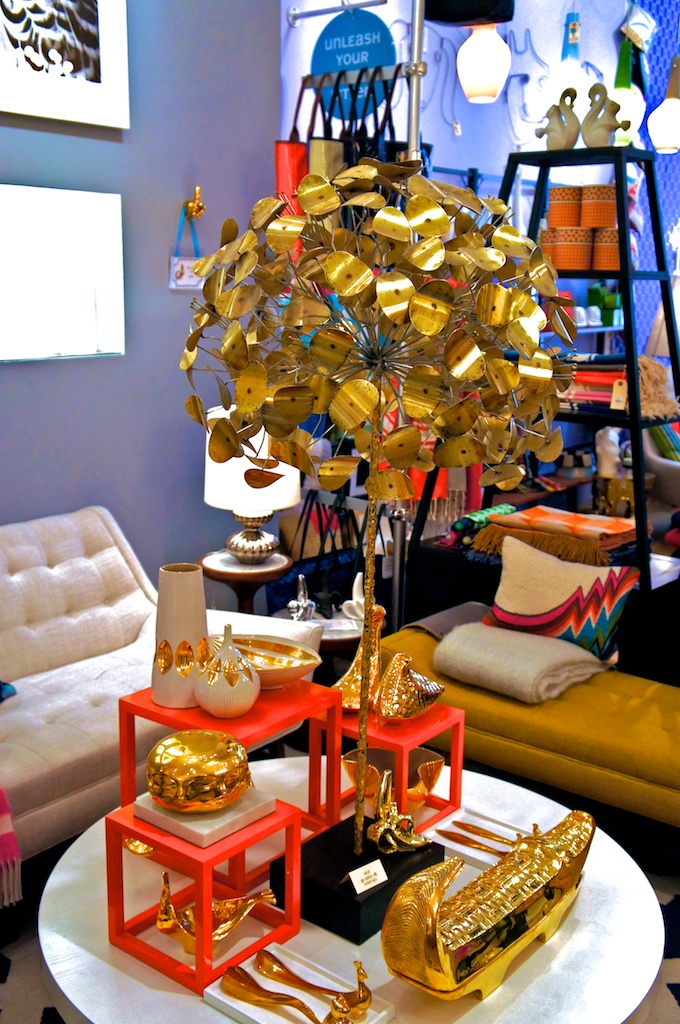 Cross-stitched souvenir pillows
D.I.Y Takeaway 9: The cross-stitched "souvenir" pillows are practically begging for some DIY action. You don't necessarily have to go for the same jet-set destination theme, just find your own theme and stick to it.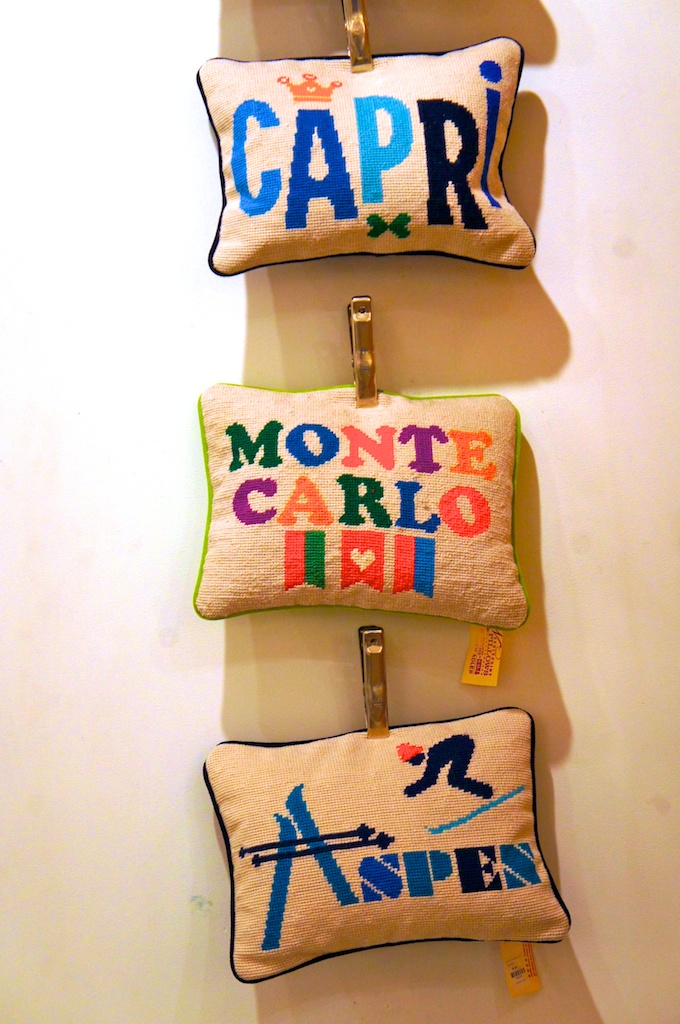 Spiky starburst mirror
D.I.Y Takeaway 10: DIY starburst mirrors are all over the DIY blogosphere. Let the spiky Jonathan Adler version inspire some DIY action, a great DIY Starburst Mirror Tutorial is available over HERE
    Like the 'Happy Chic' style? Jonathan Adler's inspiring books comes highly recommended!
Visit Jonathan Adler in NYC