Inside a (w-)hacky hotel
Michelberger Hotel in Berlins oh-so-hip Friedrichshain area is one of my favorite spots. As it´s full to the brim of hacky inspiration, i´ve featured the hotel and its decor in many previous ScrapHacker posts. In this one you´ll find my best pics of the great interiors, divided into 15 idea stacks, each with one hacky deco takeaway. But hey – pay some attention to detail and you´ll surely find ideas in every corner of every pic.
Idea 1. Odd chair orchestra
An eclectic ensemble of chairs & stools achieve a hacky harmony when put together.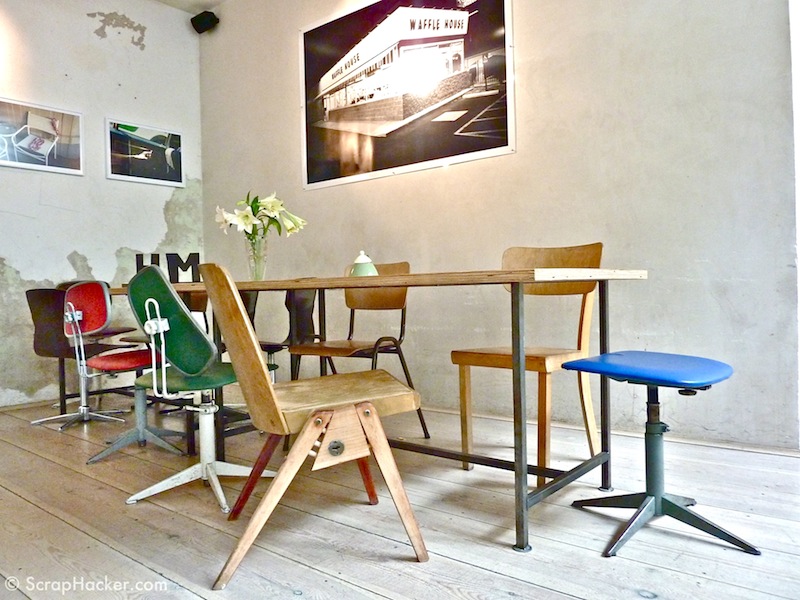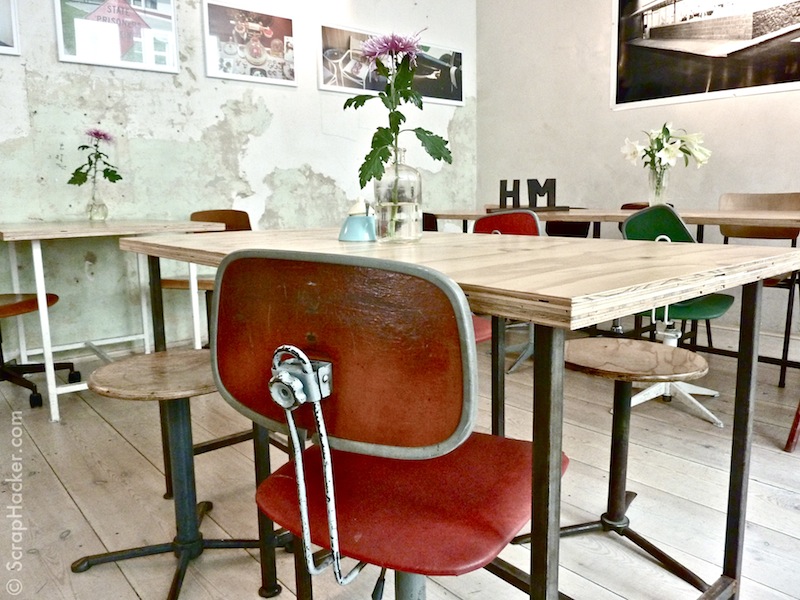 Idea 2. A flirty flower
A single flower with some attitude goes a long way.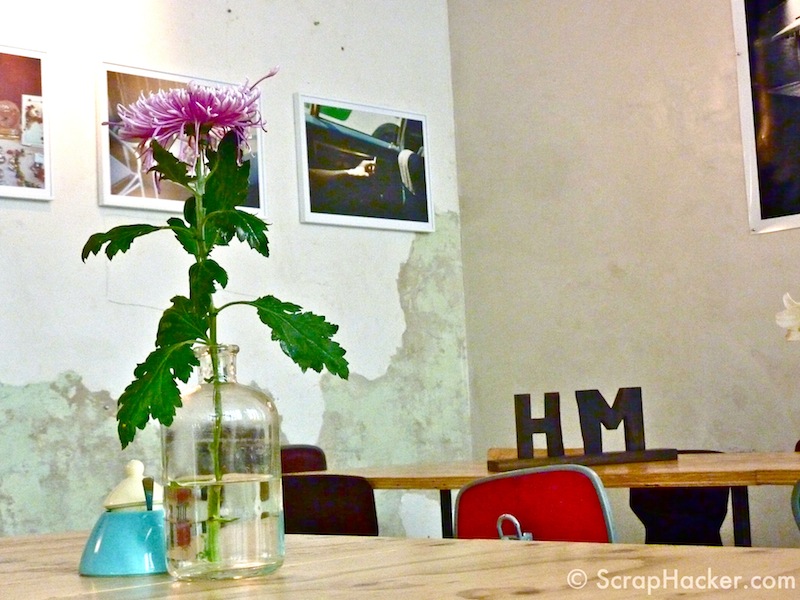 Idea 3. The fringed pendant lamp
The fringed pendant lamp is a great D.I.Y idea. Check out my previous DIY hack tutorial here.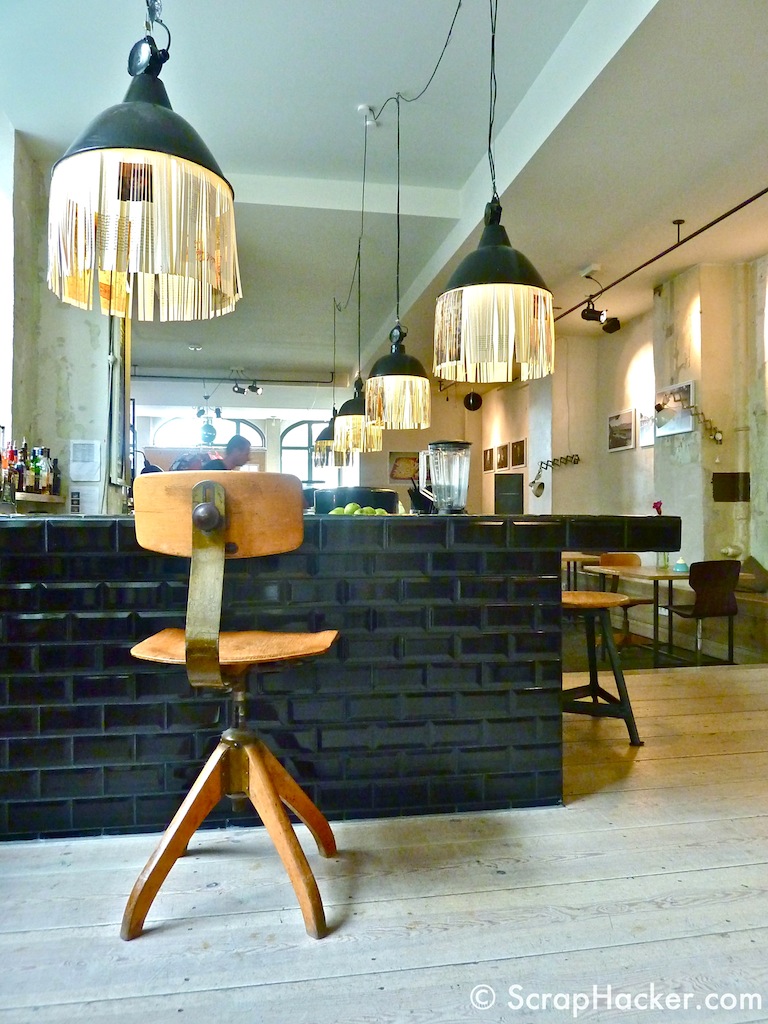 Idea 4. Social seating
Creating one long seating area makes socializing effortless and natural.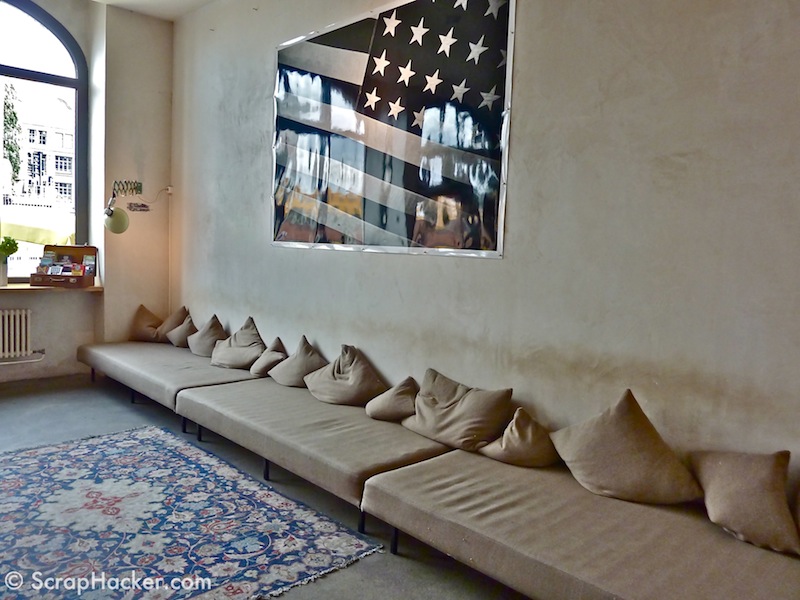 Idea 5. Mad mag lamp shades
The mad mag lamp shades creates a popping focal point, and relieves some of the muted austerity. Check my previous post featuring a DIY tutorial here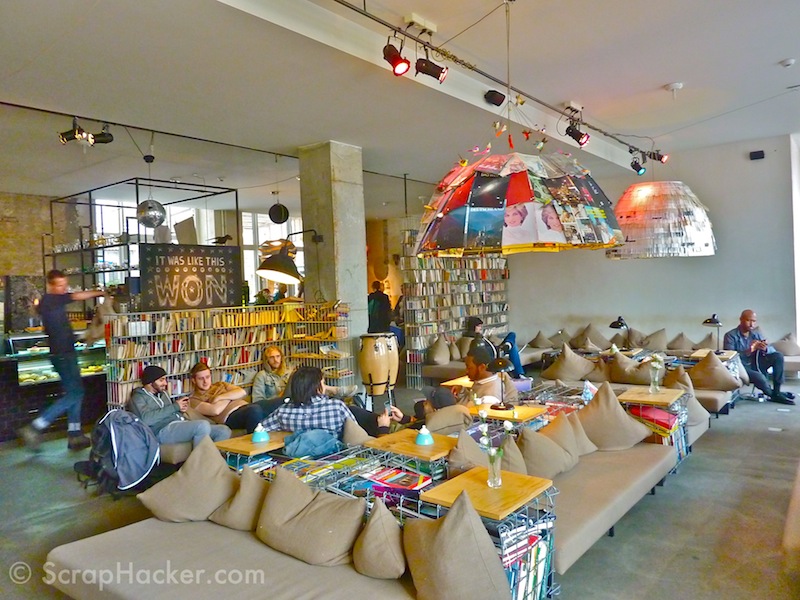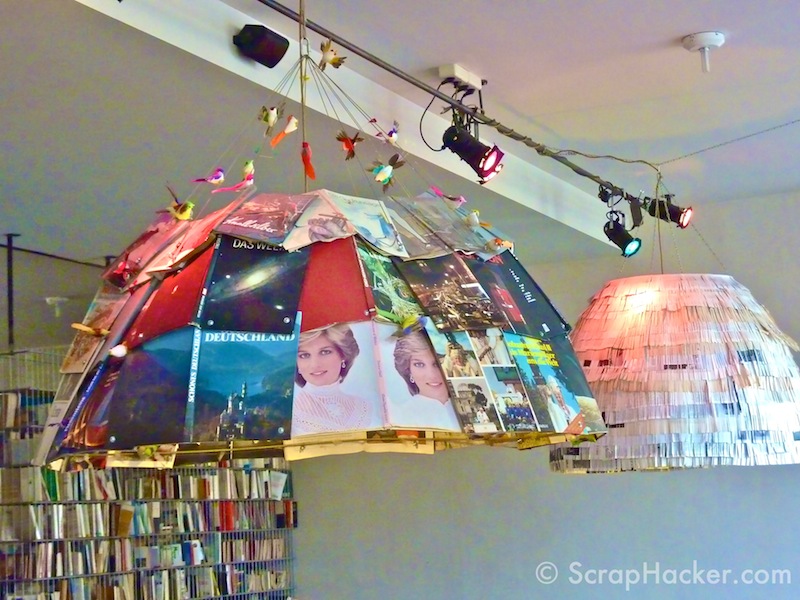 Idea 6. Pop-culture gabion sideboards
The gabion sideboards are a fun hack. Filled with old books (that cost nothing at a thrift shop), they add some retro sentimentality to the room. Check out my Gabion Sideboard DIY hack tutorial here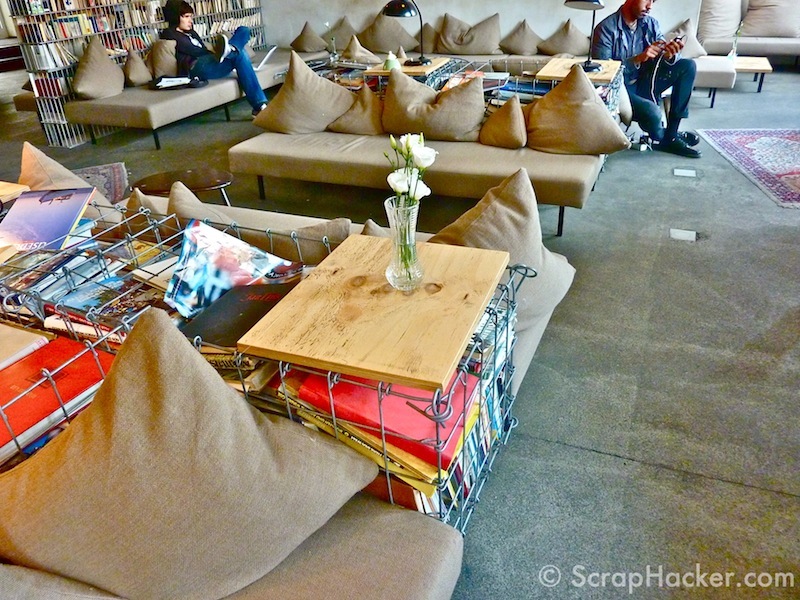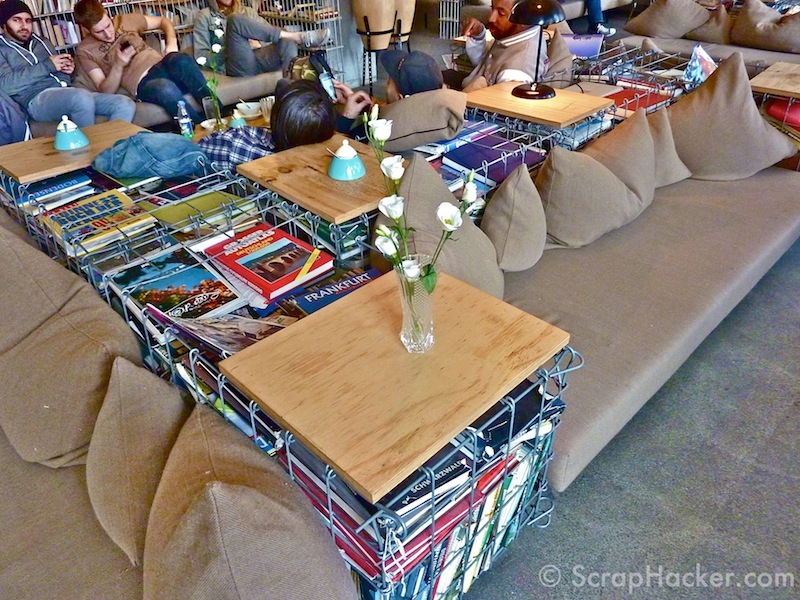 Idea 7. Room-in-a-room
The cabin like structure built by the entrance adds intimacy and protects from breezy currents of air from the door.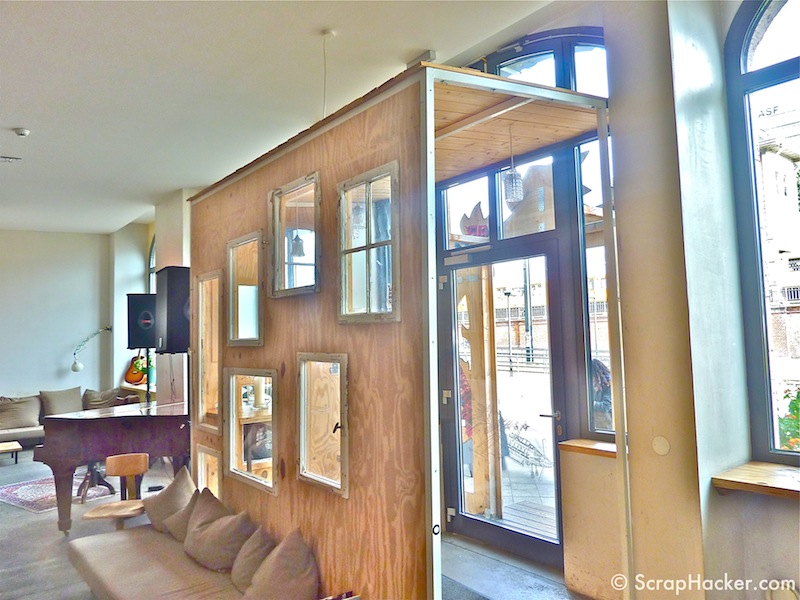 Idea 8. Musing to music
Musical instruments are shamefully cheap to buy these days. They add instant warmth to any room.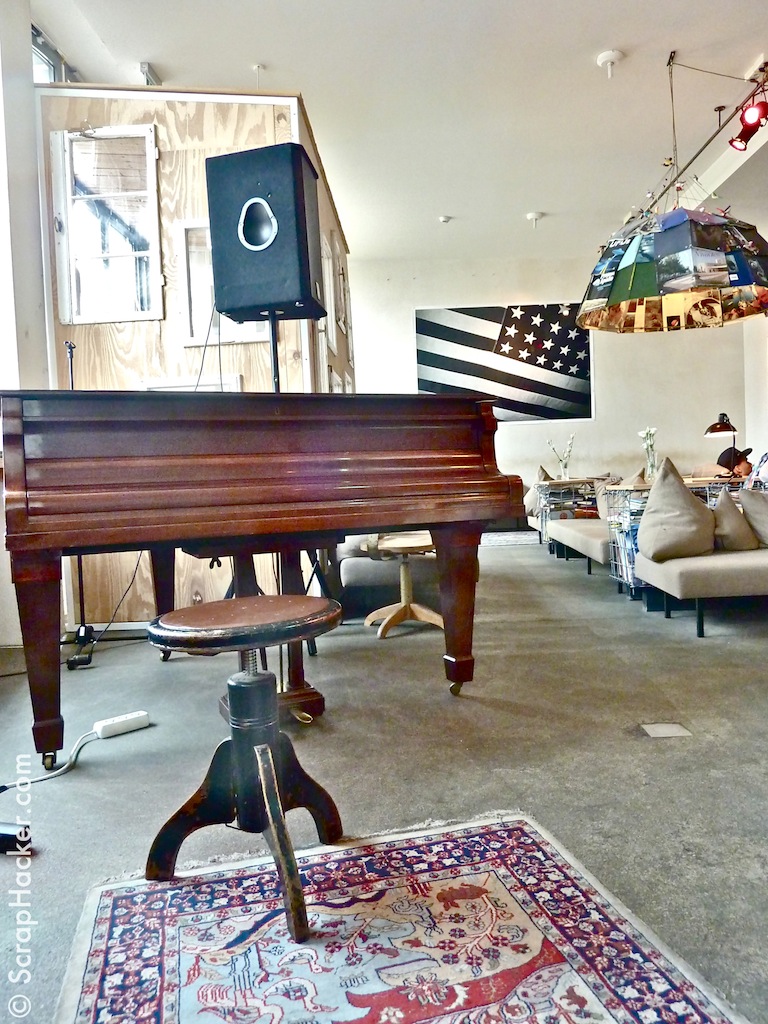 Idea 9. Stretchy lamps
Lamps stretching out from the walls, seem to seek connection and invite conversation. Coming over with a good book have never seemed so appealing.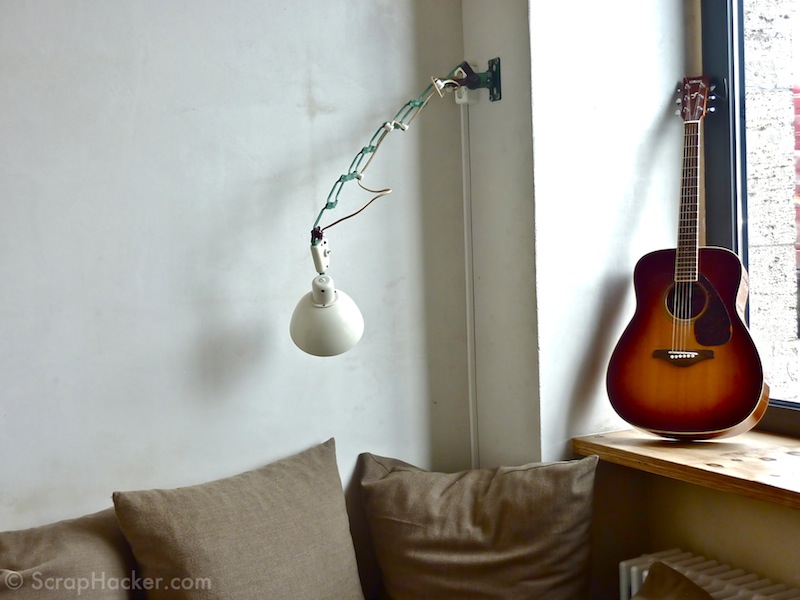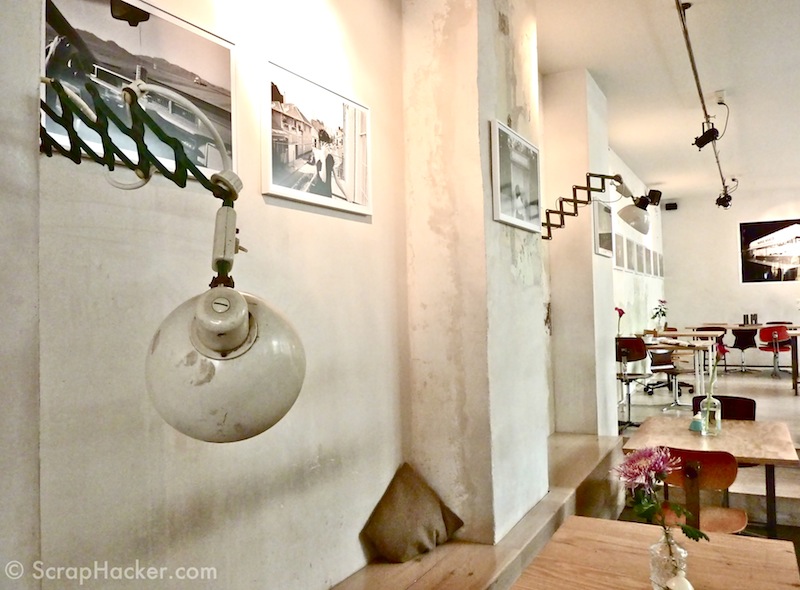 Idea 10. Frizzy lamp shade
The frizzy lamp shade is the cousin of the fringed lamp shade and the mad mag lamp. To make this one, use a document shredder.
Idea 11. Slotted gabion shelving
The gabion book case creates individual slots for the books, creating a isolating wall, as well as a graphic effect. Some social seating and a dash of yellow brighten moods.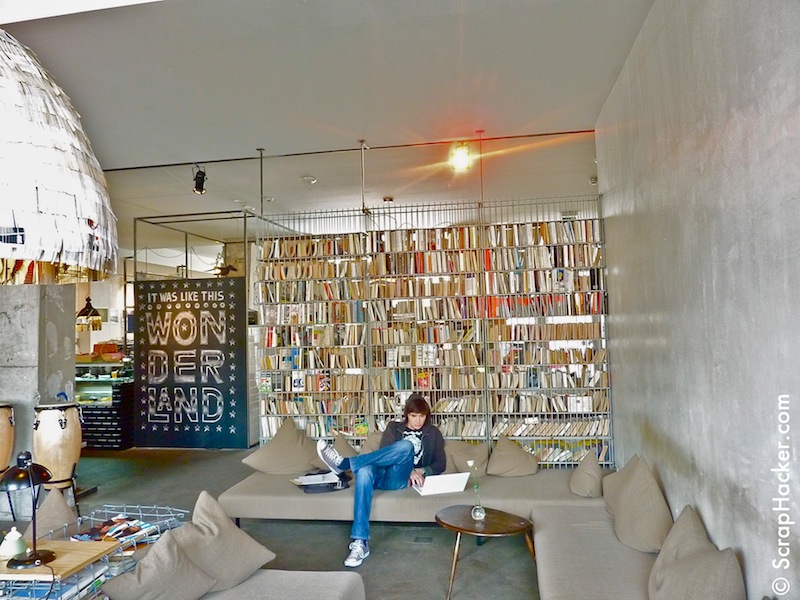 Idea 12. Trunk  towers
Trunk towers evoke the anticipation of traveling.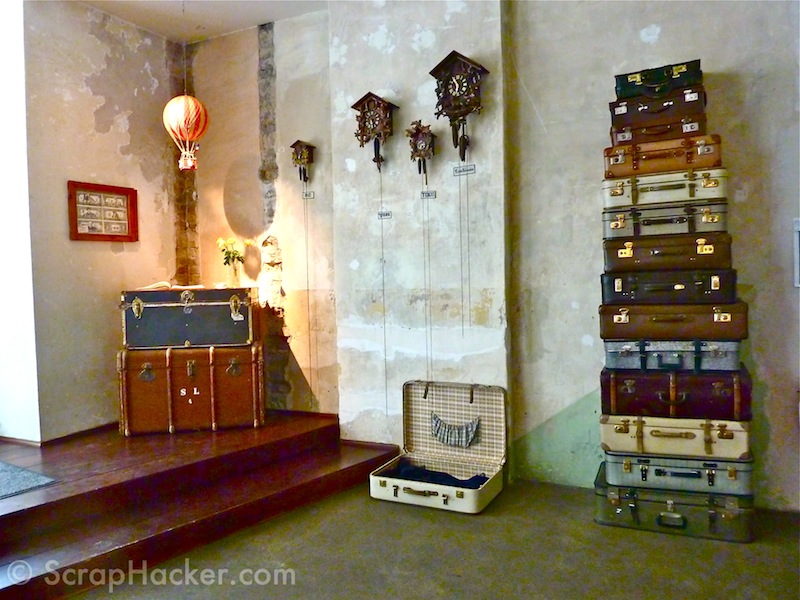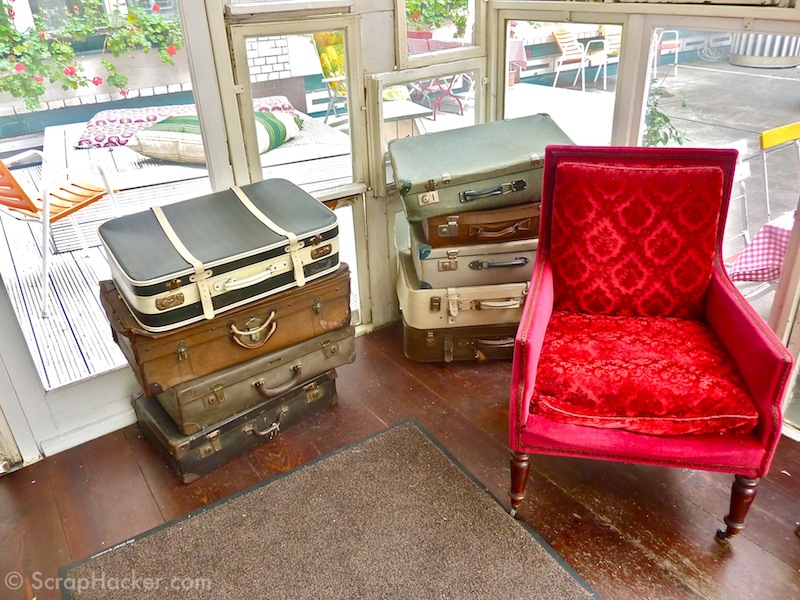 Idea 13. A round reception desk
The round reception desk means you can ask questions coming from any direction. This feels refreshingly communicative and inviting, far from the rigid desks of traditional hotels.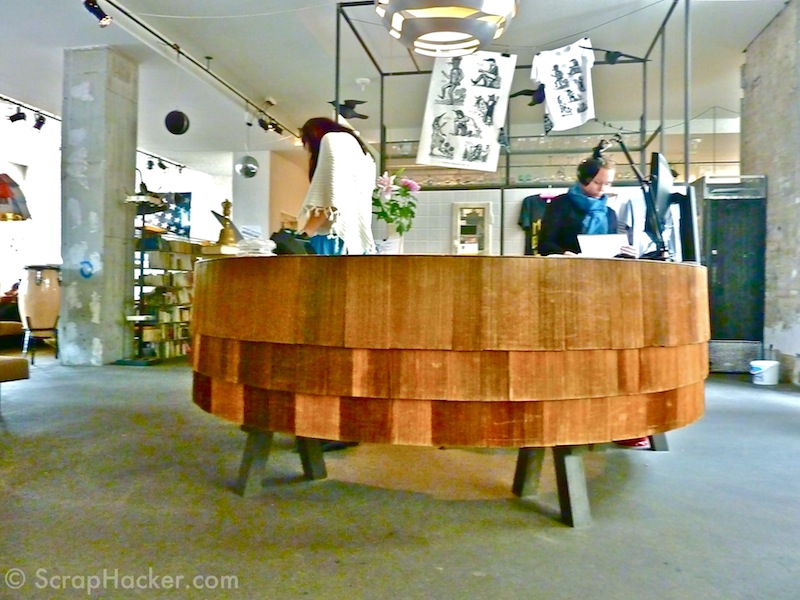 Idea 14. Terrific tile
Gleaming tile walls may be 2011, but hey, I think they´re still pretty cool. Note the cool lights!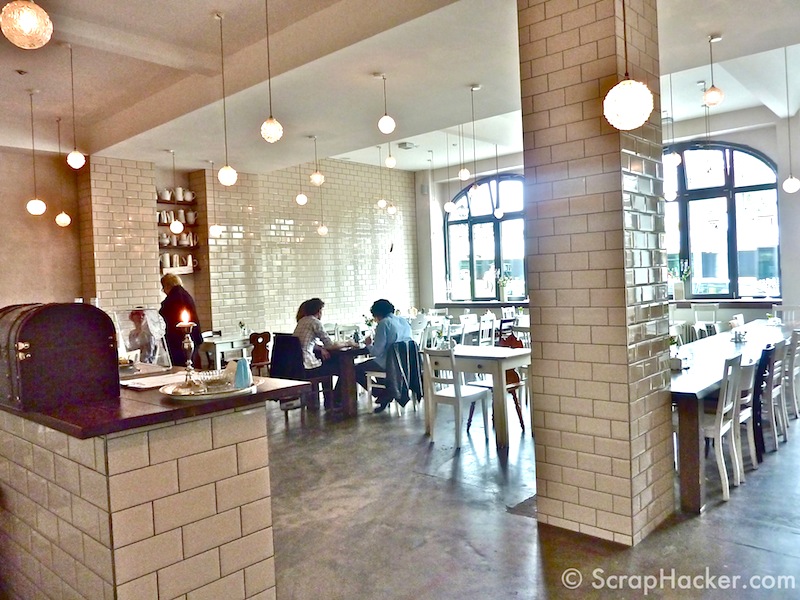 Idea 15. Come out and play
The playground outside will make any grown man (or woman) cry from joy. With the ping pong, the bright pops of color and retro pattern, you feel like 12 all over again, energetic and ready to play.

Visit Michelberger Hotel